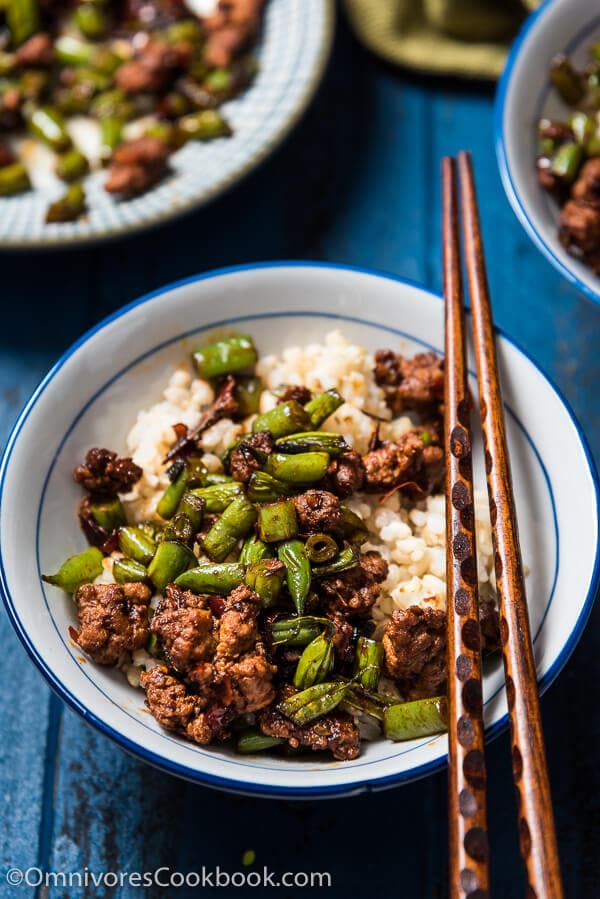 Stir fried green beans are the best example of the magic power of Chinese cooking. Create a healthy dish using the minimum amount of protein and bring yourself the greatest satisfaction.
Fuchsia Dunlop highly praises Chinese home cooks at the beginning of Every Grain of Rice, for they way they transform humble and largely vegetarian ingredients into wonderful delicacies. Not only do the methods create a taste that delights the senses, but they also make sense in terms of health, economy, and the environment.
This is so true. And it's a pity to see that these homestyle dishes are still not well known outside of China. Dishes like the vinaigrette spinach salad, bok choy with garlicky soy sauce, zucchini stir fry, braised radish, and stir fried bok choy with crispy tofu – they might seem really plain from their names. But once you try them, you'll be hooked, as well as surprised that such a simple plate of veggies can taste so good.
The stir fried green beans fall into the same category.
They require very little prep and just five minutes to cook. You can top them on a bowl of steamed rice or noodles. They use a minimal amount of meat to bring you a very satisfying meal. The best part is that the leftovers taste even better, and you can even use them to make fried rice.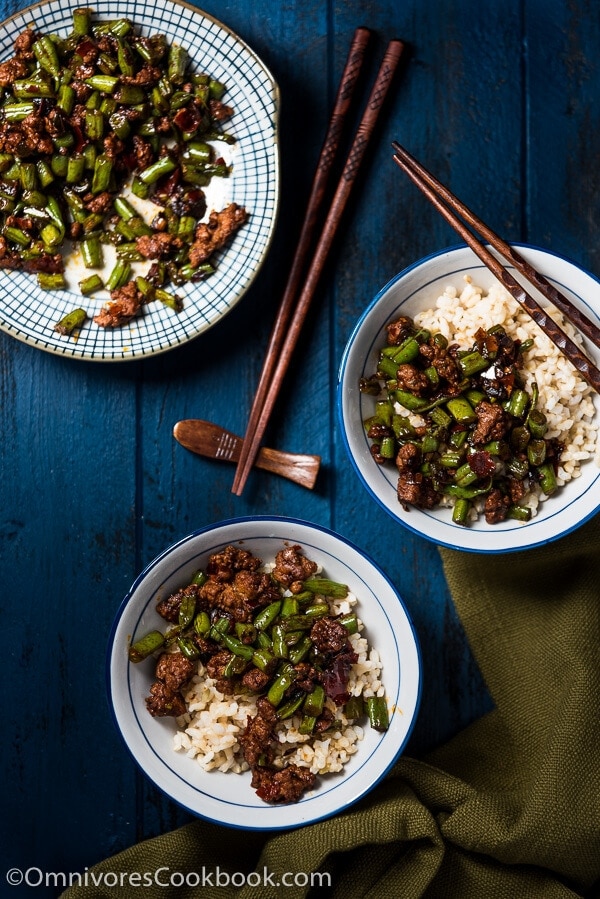 Cooking tips
The only part that is slightly time consuming is chopping the beans into small pieces. To do it faster, line up a few beans and chop them together at the same time. Or you can use a pair of kitchen shears to cut a few at a time.
The seasoning in this dish is very flexible. If you have any Sichuan spicy sauce (such as lao gan ma), you can replace doubanjiang with that. If you like a less spicy dish, use 1 tablespoon hot sauce and add salt (or soy sauce) at the end, to taste. If you have homemade chili oil, use a big spoon of oil and chili flakes, with a tablespoon of oyster sauce (or hoisin sauce).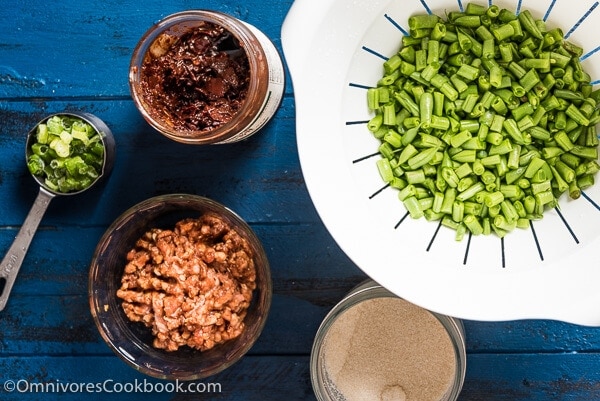 This dish is intended to be pungent, spicy, and quite salty, so you can finish a bowl of rice with it to satisfy your stomach. But if you don't want any carbs in your meal, cut the hot sauce to one tablespoon (and maybe add a bit of soy sauce at the end).
If you do not want to add any meat into the dish, you can skip the "marinade" part of the recipe, as well. But I do suggest you use a bit of oyster sauce or hoisin sauce to enhance the flavor.
I always prefer to make a big batch of these beans, so I can have some leftovers for lunch the next day. They heat up well. And the leftovers will be even more flavorful. One thing I enjoy doing is using leftover rice and these green beans to do a simple fried rice – basically just heat them up together really quickly. You can even add a bit more veggies into it (stir fry the veggies with a bit of oil until half cooked; add the rice and green beans; cook until everything heats up evenly).
If you like green beans, you might also want to check out my Szechuan Dry Fried Green Beans, Curry Pork and Green Beans Stir Fry, and Green Beans with Spicy Peanut Sauce.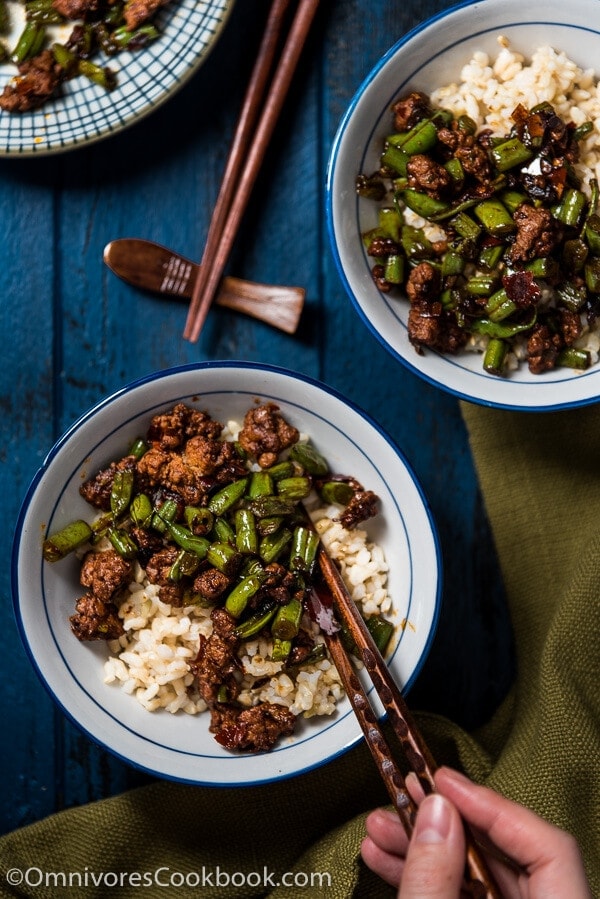 Want to Know More?
Receive our 5-Day Chinese Cooking Crash Course & Recipe Updates! Subscribe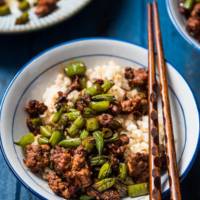 Stir Fried Green Beans with Ground Pork (豆角炒肉末)
Stir fried green beans are the best example of the magic power of Chinese cooking. Create a healthy dish using the minimum amount of protein and bring yourself the greatest satisfaction.
Ingredients
Marinade
4

ounces (120 grams)

ground pork

(or ground turkey or ground beef)

1

tablespoon

Shaoxing wine

(or Japanese sake, or dry sherry)

1

teaspoon

dark soy sauce

(or soy sauce)

1/2

teaspoon

ground ginger
Stir fry
1

tablespoon

peanut oil

(or vegetable oil0

1/4

cup

chopped green onion

(or onion)

1/2

pound (230 grams)

green beans

2

tablespoons

doubanjiang

spicy fermented bean paste (*see footnote)

1

teaspoon

sugar
Instructions
Combine ground pork, Shaoxing wine, dark soy sauce, and ginger in a small bowl. Mix well and let marinate for 5 minutes.

Snip tough ends from the green beans and discard ends. Chop into 2/3-cm (1/4-inch) pieces.

Heat oil in a large nonstick skillet (or a wok) and heat over medium heat until warm. Add green onion. Cook until it starts to sizzle. Add ground pork. Cook and stir until the surface is cooked. Add doubanjiang and sugar. Continue stirring until mixed well.

Add green beans. Stir to mix well, cooking for 1 minute.

Cover skillet and turn to medium low heat. Cook until the green beans are cooked through, about 2 to 3 minutes. You typically won't need to add water during this process. But if you're using oyster sauce or hoisin sauce to replace the spicy bean paste, it might get burnt if the skillet is too hot. Uncover and check on the beans every 1 minute. If they're drying out too much, swirl in 2 tablespoons water, cover, and continue cooking.

Transfer to a serving plate and serve warm over steamed rice (or boiled noodles, or top on noodle soup).

Save the leftovers in an airtight container and store it in the fridge for up to 2 days. To reheat, you can use the microwave or a skillet.
Notes
The dish will be quite spicy if you use 2 tablespoons of doubanjiang. For a less spicy dish, replace 1 tablespoon doubanjiang with 1 tablespoon oyster sauce or hoisin sauce (or homemade hoisin sauce). In this case, you can ignore the sugar since oyster sauce and hoisin sauce already contains sugar.
Nutrition
Serving:
100
g
,
Calories:
107
kcal
,
Carbohydrates:
9.1
g
,
Protein:
8.8
g
,
Fat:
4.3
g
,
Saturated Fat:
0.9
g
,
Cholesterol:
49
mg
,
Sodium:
222
mg
,
Potassium:
246
mg
,
Fiber:
2
g
,
Sugar:
4.6
g
,
Vitamin A:
400
IU
,
Vitamin C:
13.2
mg
,
Calcium:
30
mg
,
Iron:
1.1
mg