Why do I need another beef bulgogi bowl recipe? The answer is—less marinating time, more flavor, extra tender meat, and perfectly caramelized surfaces. Additional tips and sides are included for meal prep <3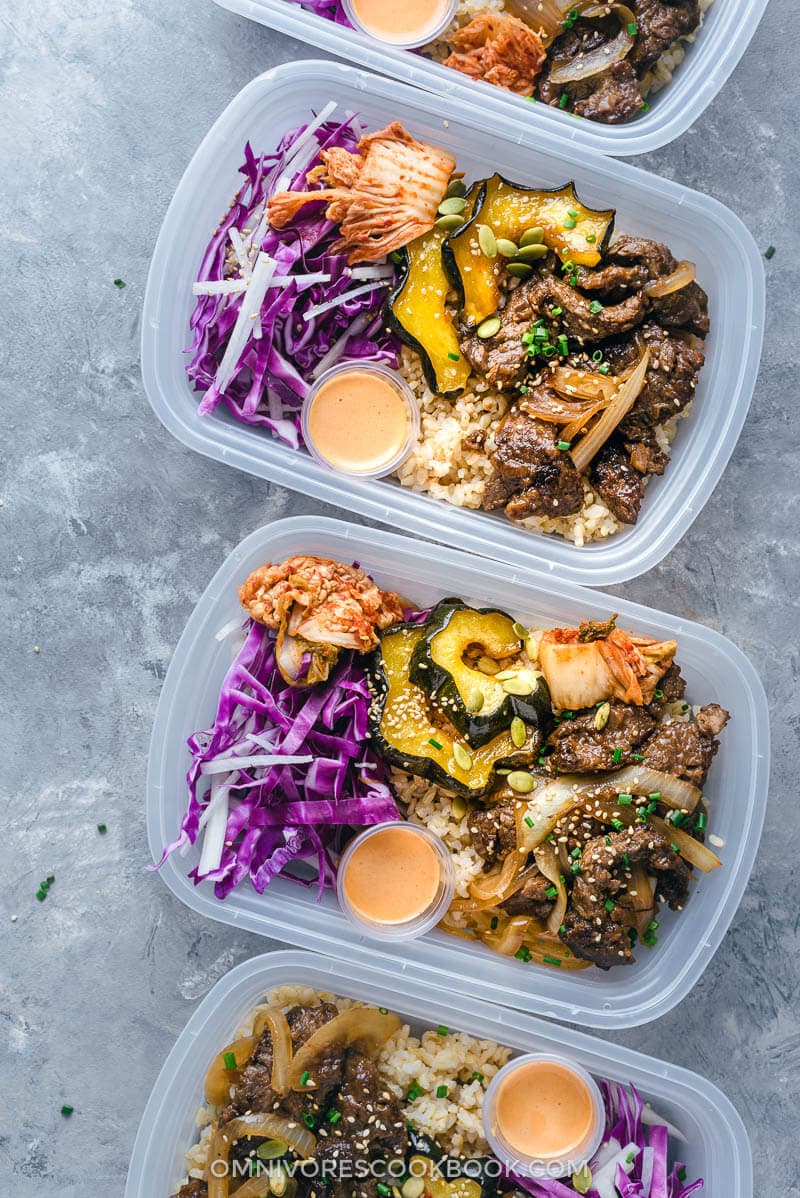 When I have a long trip coming up, I cook some of my husband's favorite dishes in advance so he won't have to survive on energy bars while I'm away. This Korean beef bulgogi bowl serves this purpose well. It is easy to prepare a large quantity in advance. The dish holds up after reheating, stays good in the fridge for days, and can be frozen too.
You're probably wondering "Why a Korean dish? I thought your husband was American!"
Well, there is a back story.
Thomas was actually born in Korea and grew up there until he was 2 years old, while his parents were working at a US military base there. When he was a baby, his nanny made a habit of sneaking spicy kimchi into his food. His mom found out about it later and was furious about it. But it was already too late! Thomas had developed an acquired taste for kimchi, spicy sauce, and stinky fish sauce before moving to the States.
As a result, we always have a giant jar of kimchi in the fridge. Dishes such as kimchi stew, fried wings in Korean hot sauce, and Korean pancakes are regulars on our dinner menu. And I still remember my jaw-drop moment when he cooked kimchi fried rice topped with melted cheese and a sunny-side-up egg for our third date.
When I got news that I'd be away again, more than a week this time, I decided to make these bulgogi bowls and store them in meal-prep containers. To assemble the bowls, normally I'd blanch some carrots and broccoli and call it a day. But since I'd picked up this beautiful acorn squash and purple cabbage at the market, I decided to assemble a hearty bowl with fall flavors. 🙂

Best beef bulgogi at home
In this recipe, I did a few different things to yield the most fragrant bulgogi beef that has a melt-in-your-mouth texture.
1. More marinade and less marinating time.
Most bulgogi recipes recommend marinating overnight. But the fact is, marinades do not penetrate too far, no matter how long you leave the meat in the liquid. In this recipe, I used my Vitamix to make a large batch of marinade, so all the steak pieces are fully covered. Not only did it save me the time of mincing all the ingredients, but it also made a more effective marinade. When you fully break down the aromatics and incorporate them into the liquid, the marinade creates a more fragrant and tender steak. As a result, you can get the best results by marinating for merely 30 to 60 minutes.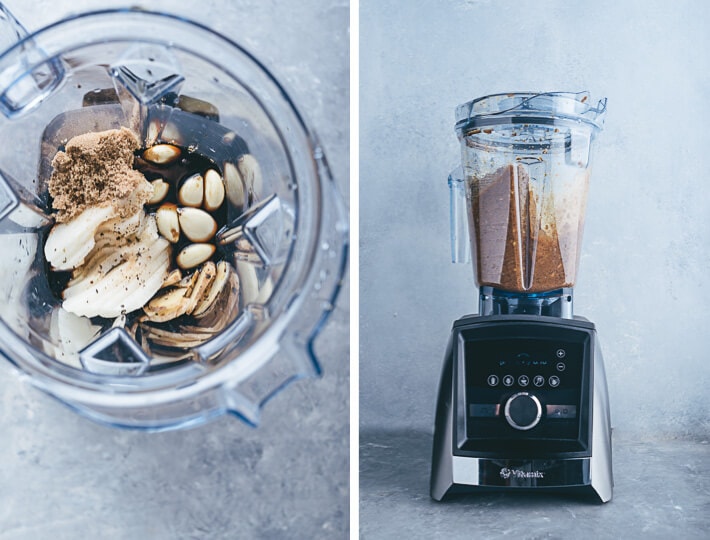 2. Drain the steak before cooking.
This step is very important. Excess liquid will cause oil to spatter when you add the steak to a hot skillet. It also lowers the pan's temperature significantly and will cause the meat to be steamed instead of seared. That's why we drain the liquid thoroughly before cooking, to give the steak a crispy and caramelized surface.
3. Thick-cut steak + cornstarch and oil coating = extra tender steak.
I call this method the ancient Chinese secret for creating super tender meat on the stovetop.
It is extremely difficult to cook thin-sliced beef and yield a great texture. Basically, you need a wok and a gas stove with high output for a hot flame, to cook the steak in small batches with lots of oil, and to finish the tossing within a matter of seconds.
Not practical for your home kitchen.
Instead, I coated the meat with some cornstarch and oil, just like when I cook other Chinese stir-fries. The cornstarch will protect the meat from the high heat, so it won't turn into a tough rubber eraser the second it hits the pan.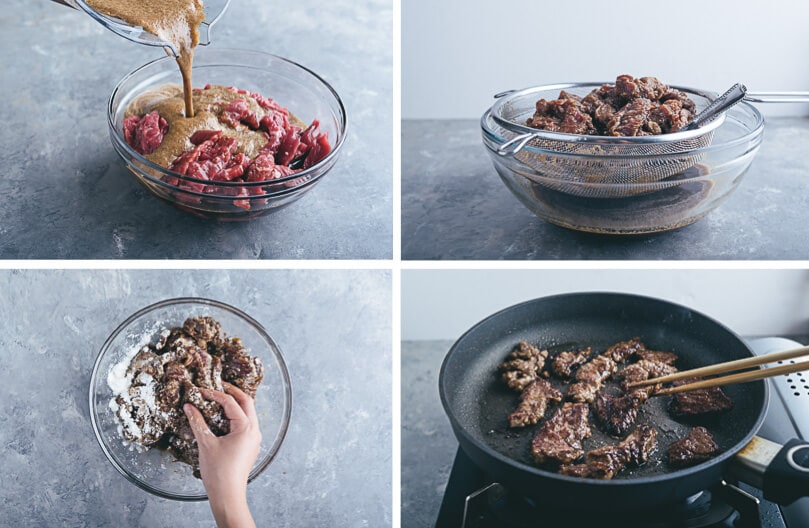 I prefer to use a nonstick skillet to cook this recipe, which allows you to use less oil and evenly grill more steak at one time. Since we're cooking the steak more like on a grill than in a stir-fry, I recommend a slightly thicker cut (but no more than 1/4-inch thick).
Prepare to be surprised at how tender this steak turns out!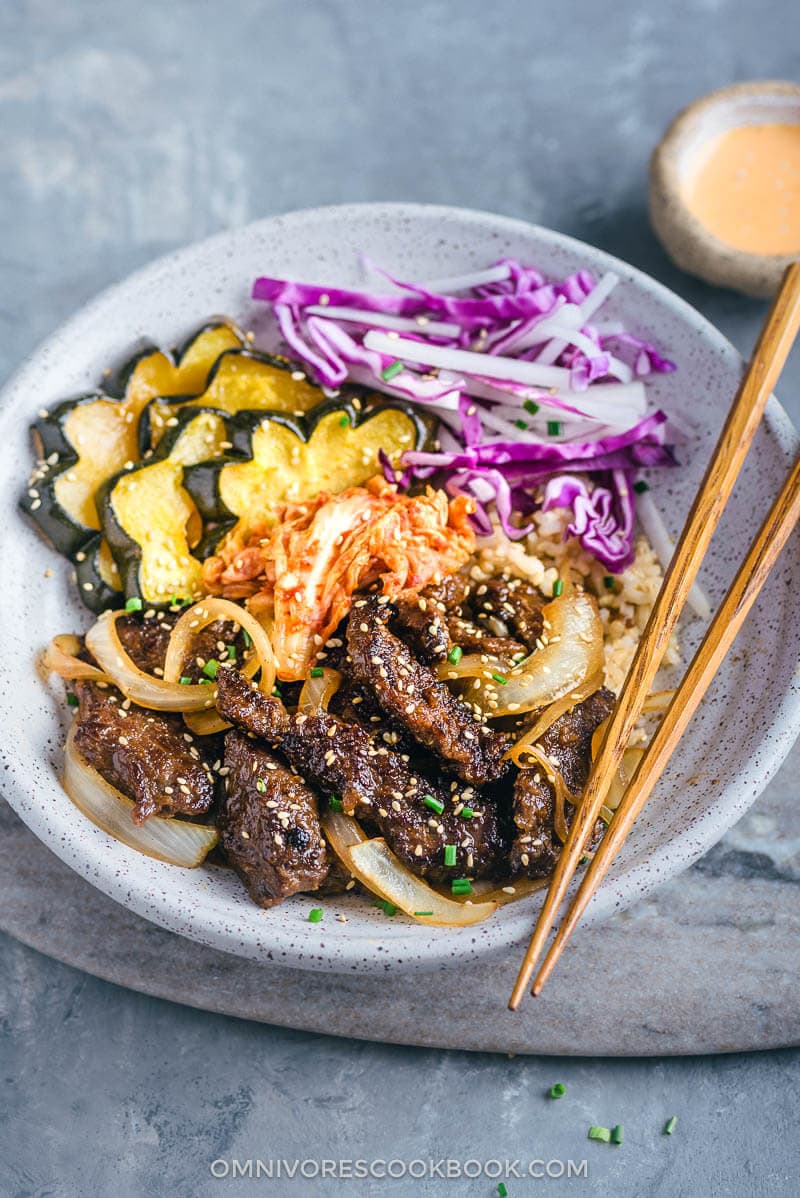 I served the beef bulgogi with roasted acorn squash and a purple cabbage and daikon radish coleslaw. You can find the recipes for the two side dishes at the bottom of this post.
If you give this recipe a try, let us know! Leave a comment, rate it (once you've tried it), and take a picture and tag it @omnivorescookbook on Instagram! I'd love to see what you come up with.
More delicious Asian steak recipes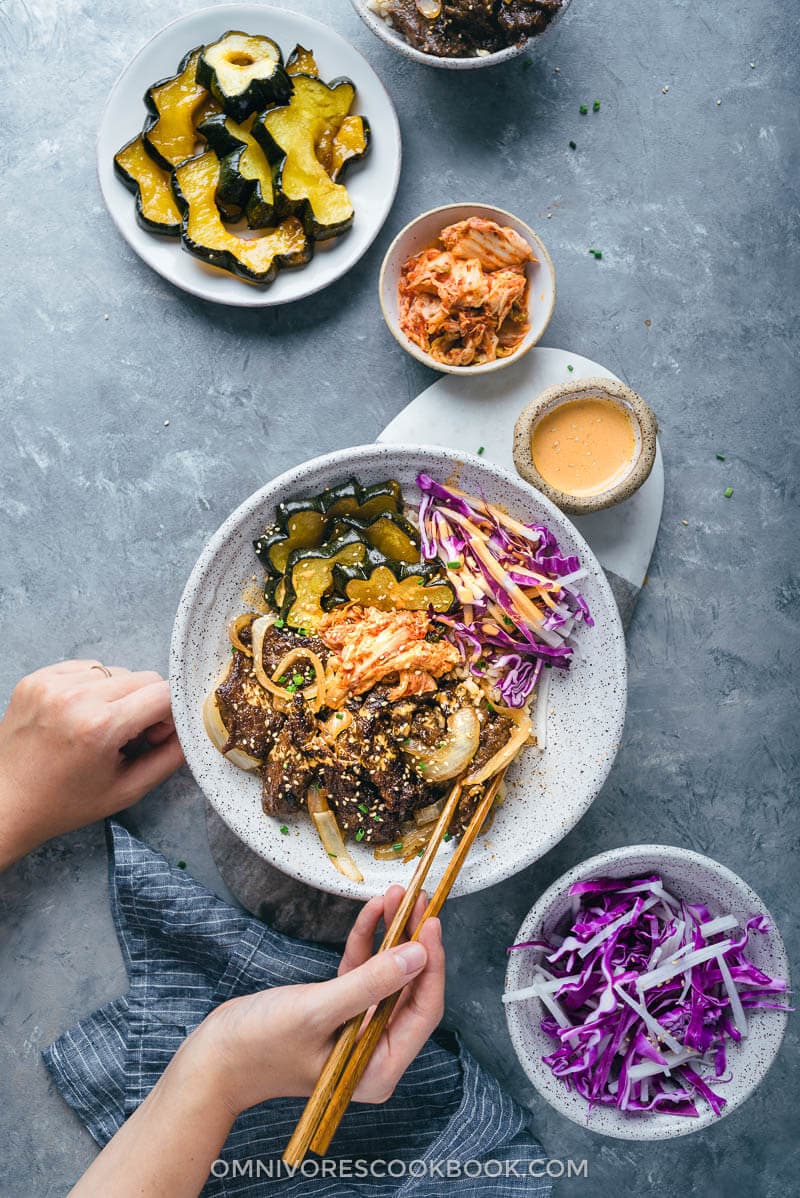 This post is sponsored by Vitamix. All opinions expressed are my own. Thank you so much for supporting the companies that keep this this blog going.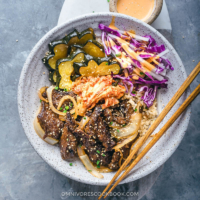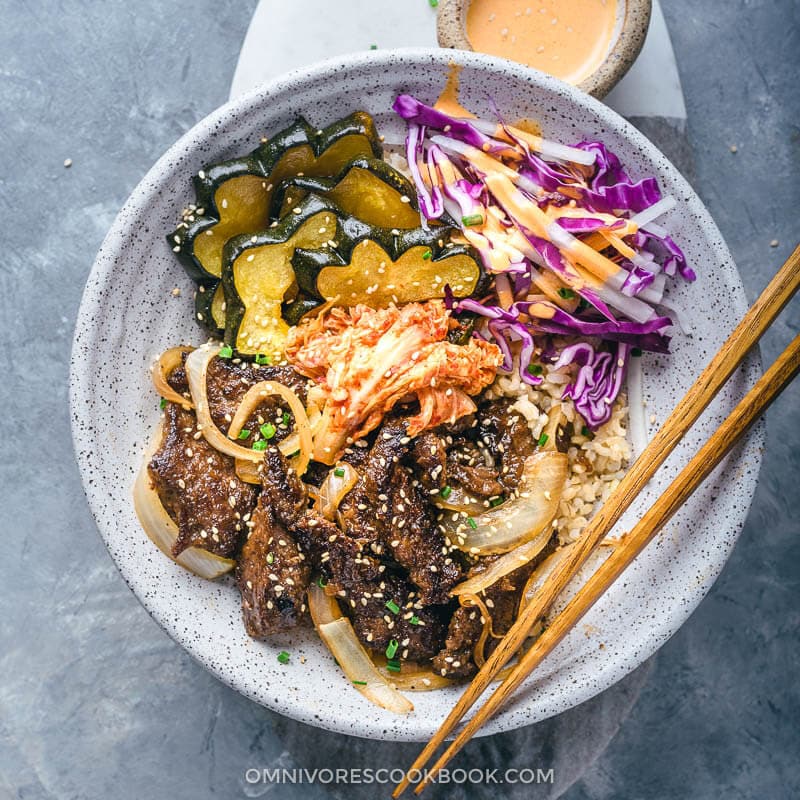 Korean Beef Bulgogi Bowl (Perfect for Meal-Prep)
Why do I need another beef bulgogi bowl recipe? The answer is—less marinating time, more flavor, extra tender meat, and perfectly caramelized surfaces.
Ingredients
2

pounds (900 grams)

steak

flank, plank, loin, or tenderloin), cut to 1/4-inch (5-cm) sliced against the grain.
Marinade (*Footnote 1)
2/3

cup

soy sauce

1/3

cup

brown sugar

1/3

cup

rice wine

(or dry sherry, or Shaoxing wine)

6

cloves

garlic

1

thumb ginger

, coarsely chopped

1/2

Asian pear

(or regular pear or apple, coarsely chopped)

1/4

teaspoon

ground black pepper
Bowls & meal prep
2 to 3

cups

cooked rice

(or cooked noodles)

Kimchi, chopped green onions, and/or toasted sesame seeds for garnish

(Optional)
Instructions
Combine all the marinade ingredients in a blender. Start at low speed and increase to high, blending for 1 minute, until the mixture turns smooth. Add the sliced steak and marinade into a big bowl. Toss to mix well. Marinate at room temperature for 30 to 60 minutes, or refrigerate covered, up to overnight.

Prepare the roasted squash and coleslaw while marinating the beef.

Drain the steak with a colander and discard the marinade. Transfer the steak into a big bowl. Add 1 tablespoon sesame oil and cornstarch. Toss with a pair of tongs or with your hand until the steak is evenly covered with cornstarch.

Heat the remaining 1 tablespoon of sesame oil in a large skillet and heat over medium high heat until hot. Cook the beef in batches. Spread one third of the beef into a single layer with minimal overlapping. Cook without touching for 30 seconds or so. Shake the pan gently and continue cooking until the bottom turns golden brown. Flip to cook the other side, until golden brown. Transfer the beef to a plate immediately. Cook the remaining batches using the same method. Add more oil if needed. Turn to medium heat if the pan starts to smoke too much.

Once you've cooked all the beef, add the onion to the skillet. Sprinkle a pinch of salt over the onion. Cook and stir until the onion turns tender. Add the onion to the beef and toss to mix well.

Serve hot as a main course over steamed rice or noodles with roasted squash and coleslaw on the side (see recipes below). Or you can assemble it in meal-prep containers and store it in the fridge for up to 4 days.
Notes
The marinade is enough for 2 to 3 pounds of steak. Halve the amount if you intend to cook 1 to 1.5 pounds of steak.

If you want to make a sauce, reserve 1/3 cup marinade. Once you finish cooking all the beef, mix the marinade with 1/3 cup water and 2 teaspoons cornstarch. Whisk to dissolve the cornstarch completely and cook over medium heat until the sauce thickens.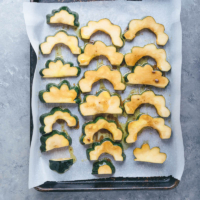 Roasted Acorn Squash
Ingredients
1

medium acorn squash

about 1.5 pounds/680 grams

1

tablespoon

olive oil

4

tablespoons

brown sugar

1/4

teaspoon

salt
Instructions
Heat oven to 425 degrees F (220 C). Line a baking sheet with parchment paper for easy cleaning.

Heat the whole acorn squash in the microwave for 1 to 2 minutes, or put it into the heated oven for 5 minutes, so it becomes easy to cut. Slice the squash in half lengthwise. Remove the seeds with a spoon. Then lay the squash skin side up and cut into 1/2-inch (1-cm) slices.

Transfer the squash slices onto the lined baking sheet. Add oil, sugar, and salt. Toss to coat well. Spread into a single layer. Cook until the squash is tender and the surface turns golden about 35 minutes.
Coleslaw
Ingredients
1/4

cup

apple cider vinegar

1/4

cup

mayonnaise

2

teaspoons

light sesame oil

2

teaspoons

maple syrup

Optional 2 teaspoons gochujang (or sriracha hot sauce)

1/4

teaspoon

salt

1/4

head purple cabbage

sliced (yield 4 cups)

1/2

daikon

sliced (yield 2 cups)
Instructions
Blend apple cider, mayonnaise, light sesame oil, maple syrup, gochujang, and salt until smooth.

Combine the purple cabbage and daikon in a bowl. Right before serving, add the dressing and toss to mix well. If assembling as meal prep, store the dressing in a separate container.