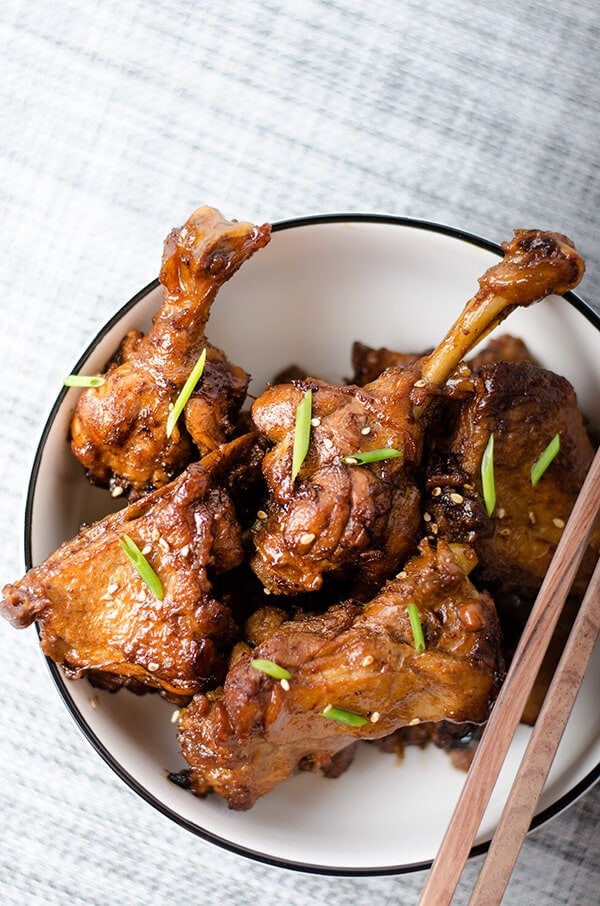 Mom's best braised duck leg is a traditional family cooked dish. The moist and tender duck is cooked in a rich, savory broth with fresh herbs. It's comforting and soothing. Packed with high quality protein and low in calories, the braised duck is perfect as a main dish for dinner.
My grandma was a big foodie and she really loved cooking. Among all the delicious foods she cooked, she was especially good at making braised meat and poultry, as well as all sorts of dumplings, buns and potstickers. She never used a scale, measuring spoon or measuring cup. However, she didn't need them, as she had the magic to produce high quality dishes that were consistent in flavor. She was very proud of her cooking skills. Sometimes she would taste dishes made by my mom and complain that an ingredient was missing or that there wasn't enough of a certain spice.
If you ever read stories written by Chinese bloggers, you might have heard that Chinese recipes are generally not accurate (I'm talking about the ones written in Chinese). The truth is, people don't care about measurements here. The first time I went to Japan, I was thrilled that I could actually follow a recipe because it contains specific measurements! When I asked my mom to teach me how to braise, she was a bit annoyed because I forced her to measure everything. She always rebutted that she never measured anything and she's just doing fine.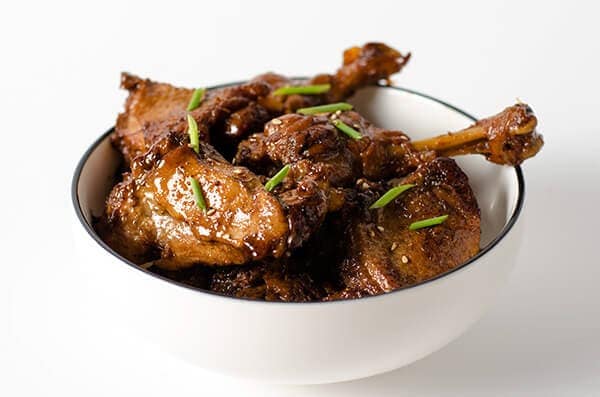 A lot of recipes also refer to Chinese style braising as red cooking. It usually involves browning the meat with hot oil and sugar to give it a shiny appearance, then simmering it with fresh herbs and soy sauce to add a savory flavor. For family cooking, because the process of browning meat generates a lot of smoke and can stink up the room, the recipe is usually simplified to blanching the meat. Especially for cooking pork and beef, blanching will also remove any unpleasant flavor in the meat. However, blanching doesn't work so well when cooking braised duck.
Duck is quite challenging to work with. If cooked improperly, it could turn out with a very chewy and dry texture and even a raw smell.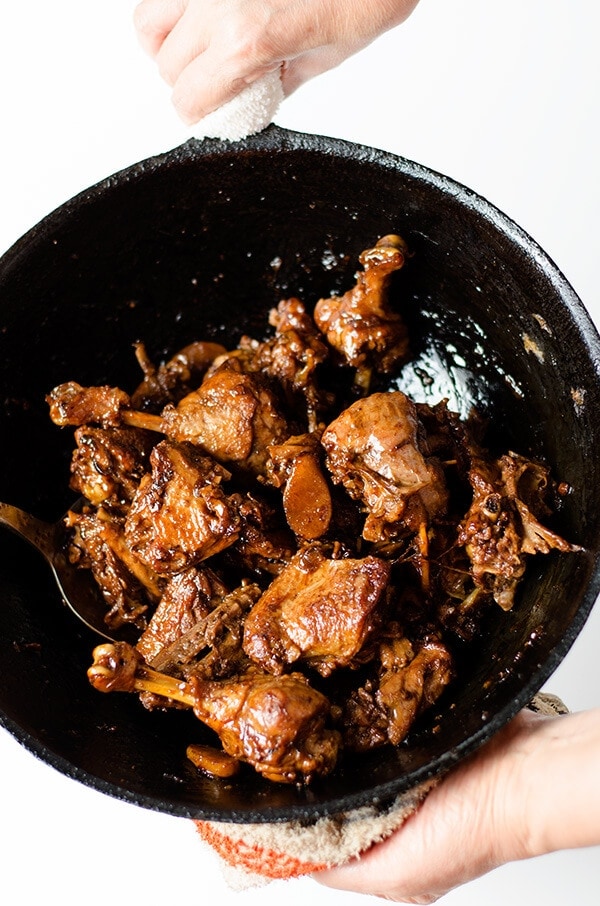 Tips for Braising Duck
Choose a piece with bones and chop it into smaller pieces. You could use other parts of the duck, but try your best to select the ones that come with bones. It will bring a much better flavor. We chopped the duck legs into 3 to 4 parts, so they would be easier to stir fry and get evenly browned. The smaller parts also will be infused with more flavor during braising.
Browning the meat at high heat (usually using a wok) before braising is very important to get a tender and moist texture. Although I avoid wok cooking as much as I can, using a wok for this dish is totally worthwhile.
Adding plenty of ginger and Sichuan peppercorn is the most effective way to season duck correctly and eliminate the raw smell. Sichuan peppercorn is quite versatile. In this case, it helps adjust the flavor of the dish, and you won't even taste the numbness of the peppercorn when eating the finished duck.
Do not overcook. It will make the duck tougher instead of help it fall of the bone. Many people have the impression that you can braise meat as long as you want, or that longer is always better – not true when it comes to cooking poultry. The meat might become very soft and fall off the bone, but it can also dry up if cooked for too long. Properly cooked duck has a moist, slightly spongy, and waxy texture.
This recipe is one of the recipes from my Mom's Best collection. The collection contains family recipes handed down from my grandma to my dad, then to my mom. Now, the torch has been passed to me. In this same series, you can also find Mom's best beef stew with tendon, Mom's best braised pork spare ribs and Mom's best braised pork feet.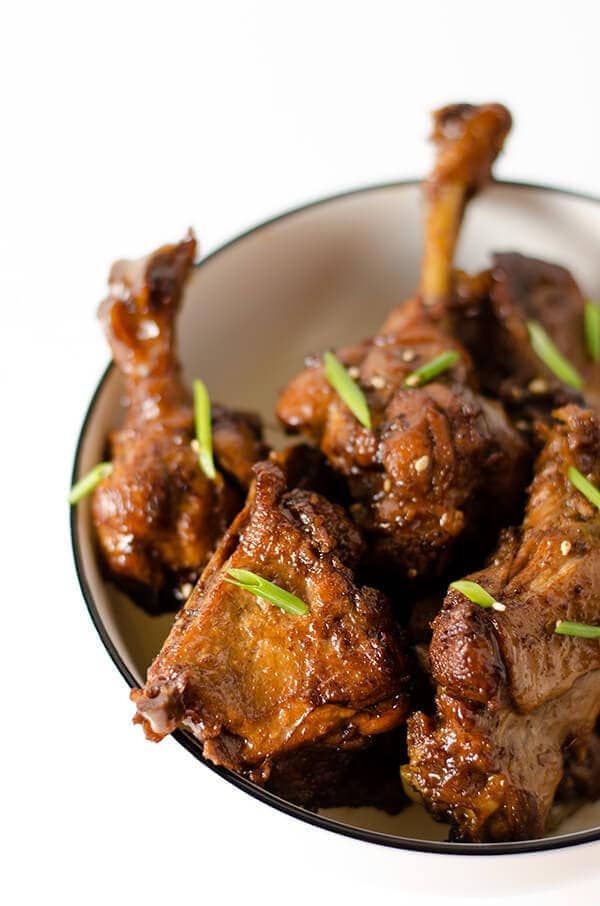 Want to Know More?
Receive our 5-Day Chinese Cooking Crash Course & Recipe Updates! Subscribe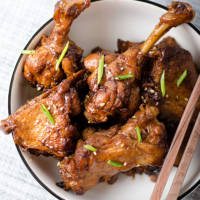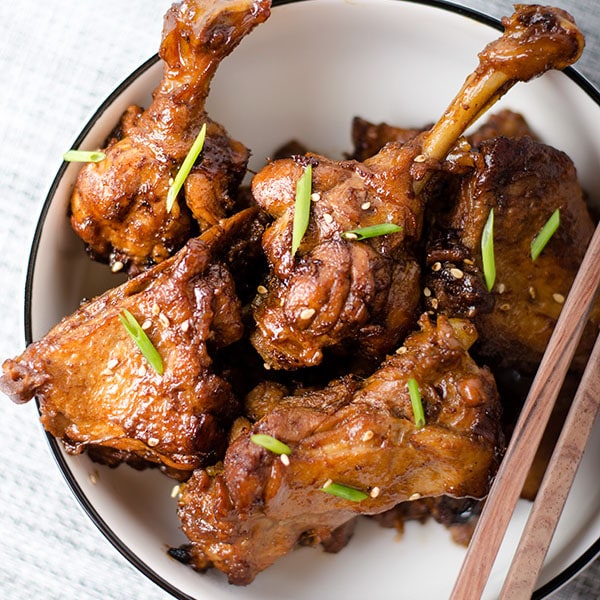 Mom's Best Braised Duck Leg
Mom's best braised duck leg is a traditional family cooked dish. The moist and tender duck is cooked in a rich, savory broth with fresh herbs. It's comforting and soothing. Packed with high quality protein and low in calories, the braised duck is perfect as a main dish for dinner.

Ingredients
2

kilograms (4.5 pounds)

duck legs with thigh

30

grams (1.4 ounces)

scallions

, chopped

20

grams (3/4 ounces)

ginger

, sliced

1

tablespoon

peanut oil

(or vegetable oil)

1

teaspoon

Sichuan peppercorn

4

tablespoons

Shaoxing wine

2

tablespoons

light soy sauce

1

tablespoon

dark soy sauce

1

tablespoon

sugar

1/2

teaspoon

salt
Instructions
Separate the thigh from the drumsticks. Continue chopping each into 4 to 5 parts.(*see footnote)

In a large pot, add duck and enough water to cover. Bring to a boil over medium high heat. Turn to medium heat and boil for 3 minutes. During boiling, use a ladle to skim any foam from the surface, and discard it. Transfer the duck legs to a large colander and drain them. Discard boiling water.

Bring 4 cups water to a boil and set aside.

Heat a wok (or a large dutch oven) over medium high heat until hot. Add oil and swirl to coat the bottom of wok. Turn to low heat. Add Sichuan peppercorn and fry until fragrant, about 1 minute. Use a ladle to scoop out peppercorns and discard them. Add scallion and ginger and stir a few times until fragrant. Turn back to medium high heat. Carefully add duck legs back into the wok and stir immediately. Stir until duck is slightly browned on the outside, about 5 minutes.

Add boiled water to cover the duck legs. Add shaoxing wine, light soy sauce, dark soy sauce and sugar. After bringing to a boil, turn to low heat and simmer, covered, for 30 minutes. Add salt and stir well. If the broth has reduced and no longer covers the duck, add more boiling water (about 1 cup). Simmer for another 30 minutes, covered. During simmering, check on the duck every 15 minutes. Use a spatula to scoop the duck from bottom to prevent burning. Add more water if needed.

The duck should turn very soft after 1 hour. The broth should be reduced to a thick sauce, just enough to coat the duck. If the sauce is still too thin, turn to medium heat and boil uncovered to thicken the sauce. Stir the duck constantly during the process.

Serve the duck leg warm over steamed rice or noodles. You can store duck leg in the fridge for up to 1 week or in the freezer for up to 1 month.
Notes
Smaller pieces of duck leg are easier to stir fry. If you don't feel like chopping the duck, you could simply separate the thigh and drumstick by cutting the joints, or buy duck drumsticks directly.
Nutrition
Serving:
182
g
,
Calories:
324
kcal
,
Carbohydrates:
2.9
g
,
Protein:
49
g
,
Fat:
11.2
g
,
Saturated Fat:
2.4
g
,
Cholesterol:
175
mg
,
Sodium:
504
mg
,
Potassium:
45
mg
,
Sugar:
1.2
g
,
Vitamin A:
1
IU
,
Vitamin C:
7
mg
,
Calcium:
2
mg
,
Iron:
24
mg