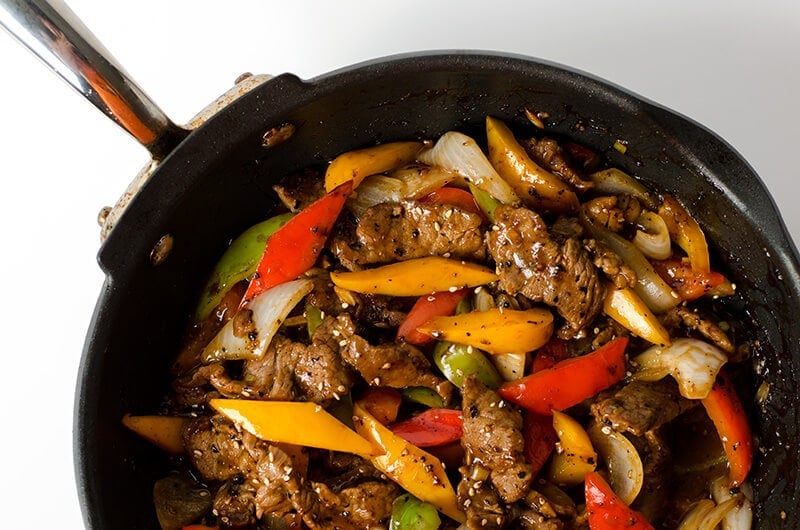 The black pepper steak is so juicy and flavorful. You can smell the peppery tangy fragrance from the hot and just out-of-the-skillet steak. The beef is tender, moist and rich, with a pungent and spicy flavor that goes perfectly with steamed rice. The bell peppers add crispy texture to the dish, infused  with beefy flavor.
Beef stir-fry is another must-have recipe on a Chinese recipe sharing site such as mine. It is extremely popular among overseas Chinese restaurant patrons. Quite a lot of readers have told me they want to learn beef stir fry recipes and try to make them at home.
Here is something you may not know.
1. Local Chinese families seldom make stir fried beef at home. Due to the high price and low quality of the average Chinese domestic beef, the average supermarket has a poor selection of beef. Beef is not as popular as pork or chicken for cooking everyday dishes.
2. Beef steak is one of the trickiest ingredients in stir fry dishes. No kidding! Beef steak stir fry is really easy to mess up. If it is your first time  trying out Chinese style stir frying,  I wouldn't advise you to experiment with this dish. Unlike chicken or pork, the doneness of beef during stir frying is more difficult to control. If you keep it a bit too long in the skillet, it will become so chewy that is close to inedible. (Do not let those facts intimidate you from trying out this recipe though! Continue reading and you will find a lot of tips that will help you to create a super yummy beef stir-fry dish!)
3. There is no such dish as Mongolian beef on restaurant menus in China. There are mainly two types of Mongolian beef in China. One is a dried beef jerky that originated in Mongolia, usually sold as a snack. The other type is a super spicy stir fried dish, which is a creative Hunan dish that didn't exist until recently.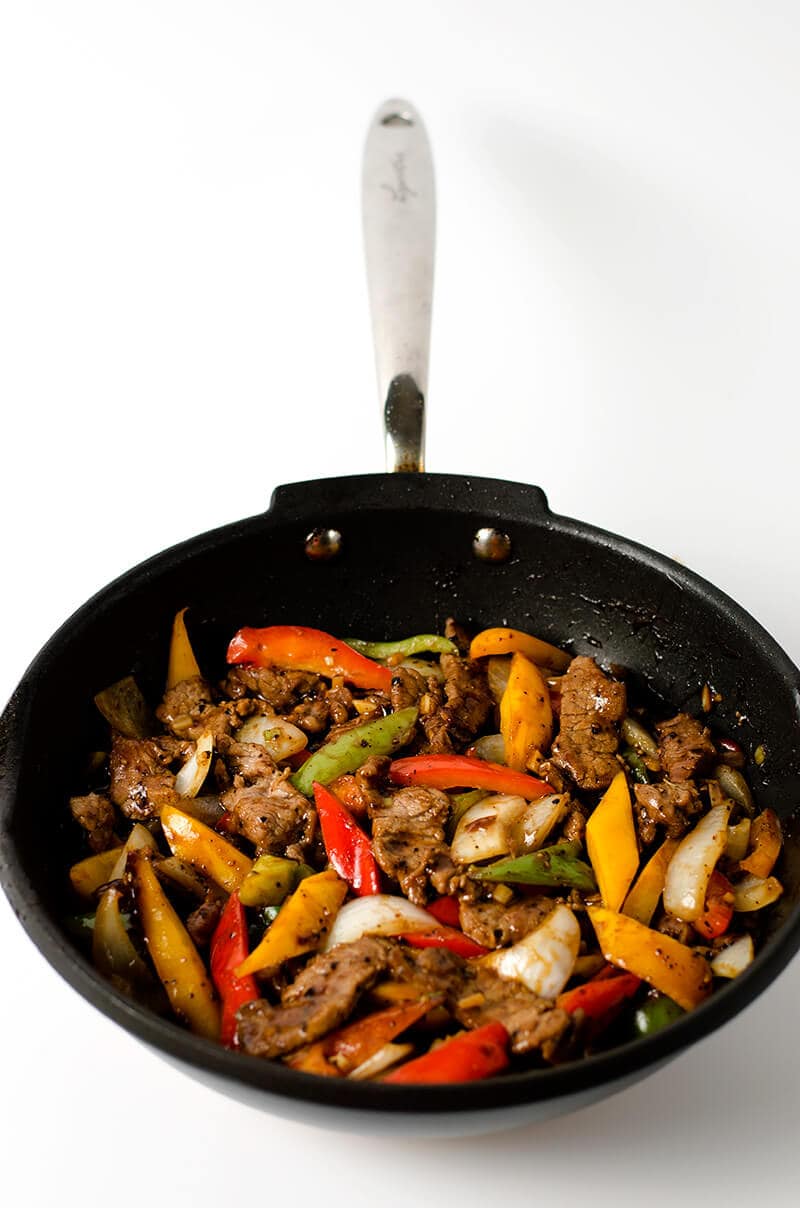 To speak the truth, I am not so experienced with cooking beef dishes and seldom make them at home. Nonetheless, I felt like I need to practice more, because I got so many requests from readers for black pepper steak and Mongolian beef recipes.
In creating this recipe, I failed miserably so many times. There were two times that the beef tasted so dry and flavorless. I had to throw it away because it was like chewing shoes. The recipe I'm sharing today is the fruit of many hours in the kitchen, many cuts of beef and a burn mark on my right arm.
However, the result was worth everything. The beef finally turned out so tender, juicy and flavorful, that I really could not stop eating! Even before I reached for the chopsticks, I could smell the peppery tangy fragrance from the hot and just out-of-the-skillet steak. The beef was moist and rich, with a pungent and spicy flavor that went perfectly with steamed rice. The bell peppers added crispy texture to the dish, now infused with beefy flavor.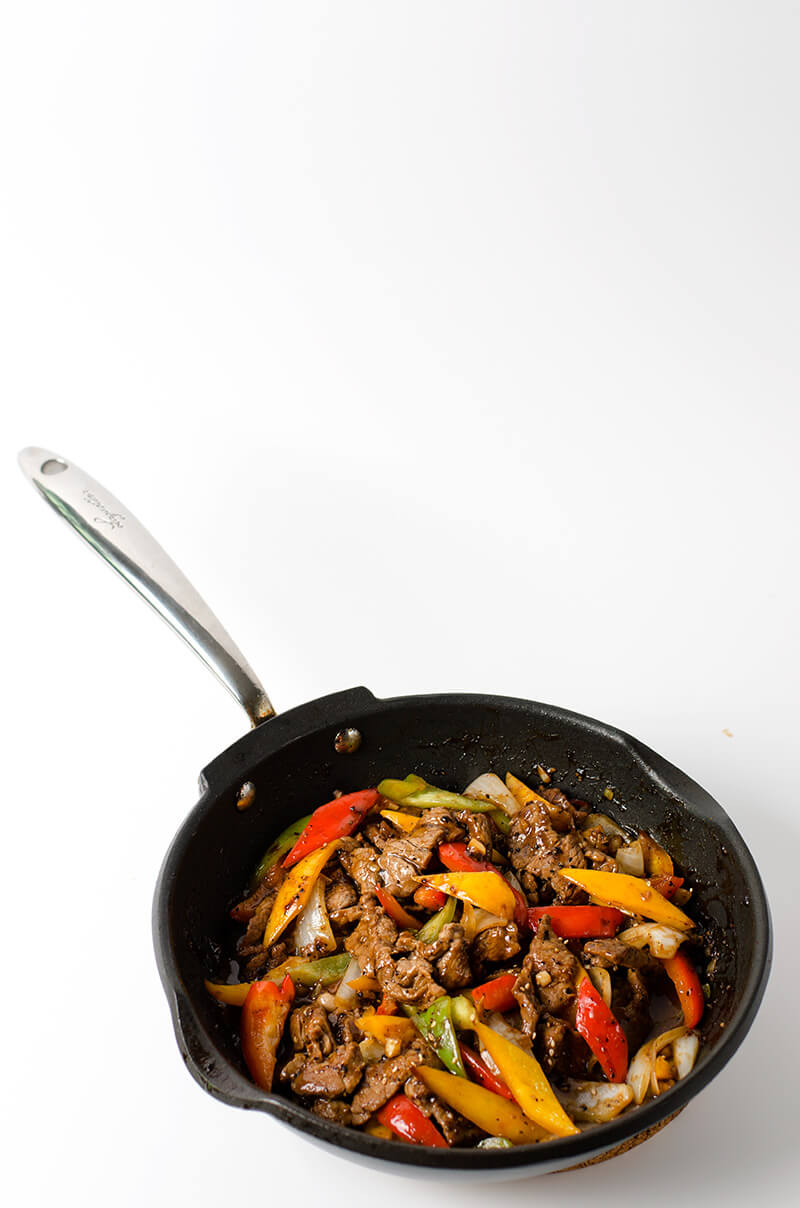 With different experiments, I finally found out the best and easiest way to stir fry beef without overdoing it. Surprisingly, the best result I got was by using a heavy nonstick skillet, not a wok. By using the recipe here, you won't need a wok or a gas stove to create a super delicious black pepper steak dish.
I also summarized several bullet points for you to browse through, which emphasize the crucial steps that help you to create tender and moist beef.
1. Choose a nicer cut of beef, like sirloin or tenderloin. Like cooking a steak, stir fried beef requires less cooking time and a high temperature. A cut that is tender, with finer grain and contains some fat will generate better results in stir fry.
2. Always cut the beef against the grain. Try to maintain same thickness and size for each slice. It's impossible to get tender beef if you do this step wrong.
3. Always marinate the beef beforehand. The whole process will help soften the beef and add flavor.
4. Cornstarch, alcohol and light soy sauce are essential ingredients for the marinade mixture. The thin layer of cornstarch coating the outside of the beef helps to insulate it from high heat, so the beef will be less likely to get overcooked. The light soy sauce will add umami and charred color when you sear the beef. The alcohol will remove the raw flavor from the meat. I used Shaoxing wine in this recipe. You could replace it with rice wine (1 tablespoon), dry sherry or rum (1 teaspoon).
5. Use a heavy skillet and heat up the oil until hot before adding the beef, and do not move beef for a few seconds after it's just been added. This is the same logic as cooking steak. A heavy skillet will hold more heat and cook the beef quickly without drying it out.
6. Add the beef piece by piece and do not overlap, in order to sear each piece evenly.
7. Move fast! While grilling the beef at first, the thin slices will get seared really quickly and you have to transfer them to a plate immediately, because you want to keep it medium rare inside. In the final step, the beef will be cooked through quickly by the steam that evaporates from the boiling sauce. Quickly add veggies back and stop heat immediately.
That's it! I sincerely hope those tips will help you create a stupendous beef dish that you'll enjoy. Let me know if I missed something here or if you have any question about the recipe.
Happy cooking! 🙂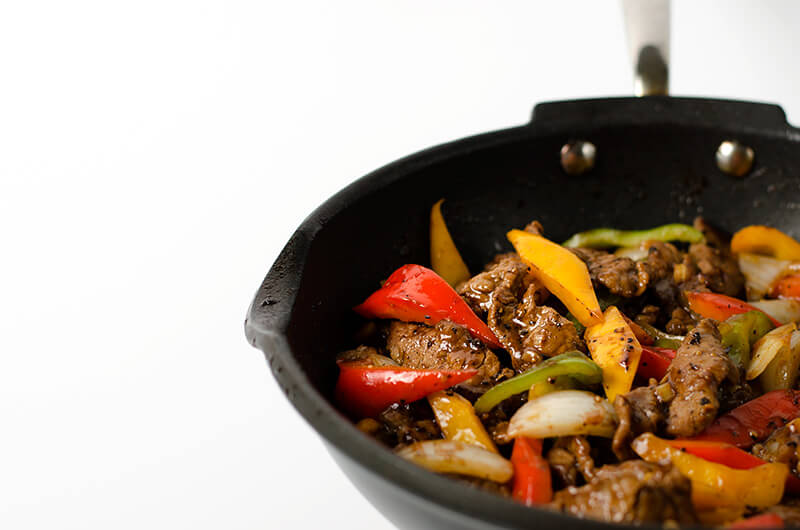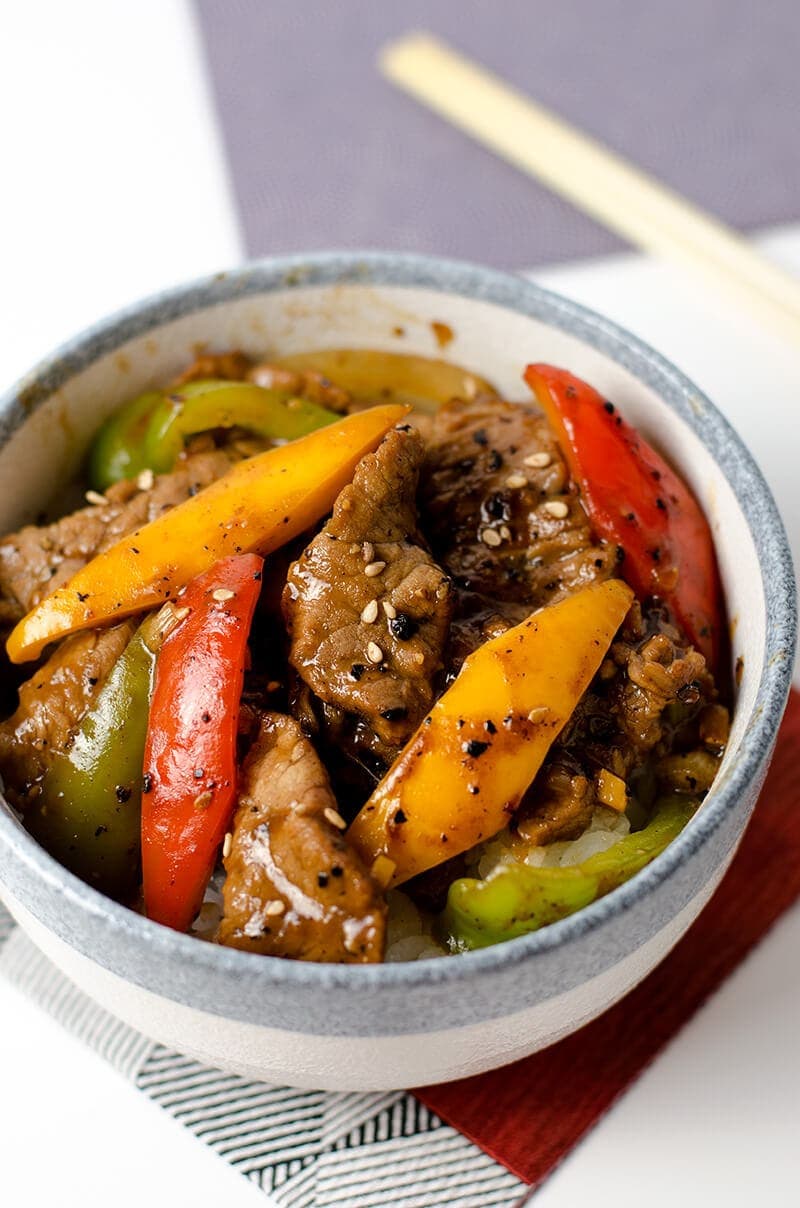 Black Pepper Steak
Ingredients
220 grams (0.5 pound) bone-less beef short ribs or sirloin (*See footnote 1)
Marinade
Sauce
2 tablespoons light soy sauce
2 tablespoons Shaoxing wine
1 teaspoon dark soy sauce
2 teaspoons sugar
1 teaspoon cornstarch
1 teaspoon ground black pepper
1/4 teaspoon salt
Stir fry
2 tablespoons peanut oil (or vegetable oil)
1/2 white onion, chopped
1 bell pepper chopped
1 teaspoon minced ginger
2 cloves garlic, minced
Instructions
Cut beef into slices 3 to 4 millimeters thick. If you find it difficult to slice thinly, seal beef in a ziplock and place in freezer to 15 to 20 minutes. If you're using frozen beef, slice it while only partially thawed. Place beef in a bowl and wait until completely thawed.
Add vinegar, light soy sauce, Shaoxing wine and cornstarch. Gently mix beef and other ingredients by hand until the beef is coated with a thin layer of the mixture. Seal the bowl and place in fridge. Marinate for 15 minutes.
Combine all the ingredients for the sauce in a small bowl. Mix well and set aside.
Add ginger, garlic and green onion in a small bowl, set aside.
Add onion and all the chopped pepper in a bowl, set aside.
Heat 1 tablespoon oil in a nonstick skillet (or a wok) over medium high heat on a gas stove (high heat for electric stove). When oil is hot, spread beef in the skillet and let it sear for 1 minute. Flip beef with spatula, stirring occasionally, until both sides are slightly charred but still pink inside. Turn to lowest heat. Transfer beef to a plate, set aside.
Add 1 teaspoon oil in the same skillet. Turn to medium high heat. Add onion and pepper and stir until half cooked, about 2 minutes. Turn to lowest heat. Transfer vegetables to a plate, set aside.
Add the remaining oil into the same skillet and turn to medium heat. Add ginger and garlic. Give it a quick stir until fragrant. Stir the sauce mixture until cornstarch is dissolved completely. Add into the skillet. Stir with spatula immediately and boil until sauce thickens. Add beef again and give it a quick stir. Add onion and pepper again. Stop heat and mix everything well with spatula.
Serve warm with steamed rice.
Notes
(1) You can use beef chuck too, but try to select a fattier cut so the steak will stay tender after cooking.
The nutrition facts are calculated base on 1 of the 2 servings generated from the recipe.