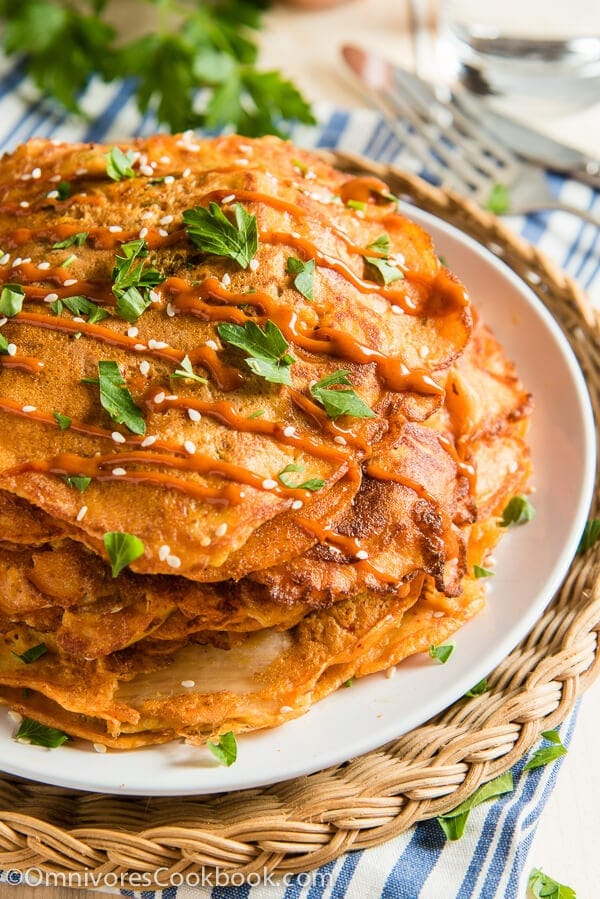 These cheesy kimchi pancakes require minimal prep and only 20 minutes to cook. They also provide a clever way of using up leftovers. Isn't it a great lunch solution?
Kimchi pancakes are one of my favorite breakfast dishes. But lately, I found them a perfect lunch item, too. As long as you have flour, eggs, and kimchi (I always keep a gallon-sized jar of it in my fridge) in your kitchen, you can make these fluffy and appetizing pancakes in minutes.
Plus, the pancakes require minimal prep. The only thing you need to chop is leftover meat. If you want to make meatless pancakes, you won't need to cut anything at all.
Even better, cleanup afterward is really easy – just one big mixing bowl and a skillet.
Here I want to emphasize the reason you should always keep a jar of kimchi at home.
Kimchi goes well with almost anything, no matter whether it's

fried rice

or

chicken quesadillas

.

You can use minimal ingredients when cooking with kimchi, because it contains such a potent flavor and can be used on its own to season an entire dish. You can get an idea of this power from my popular

three-ingredient kimchi filling

for steamed buns.

It's super fast and easy to cook with. Kimchi can be eaten raw and can never be overcooked.

It tastes delicious!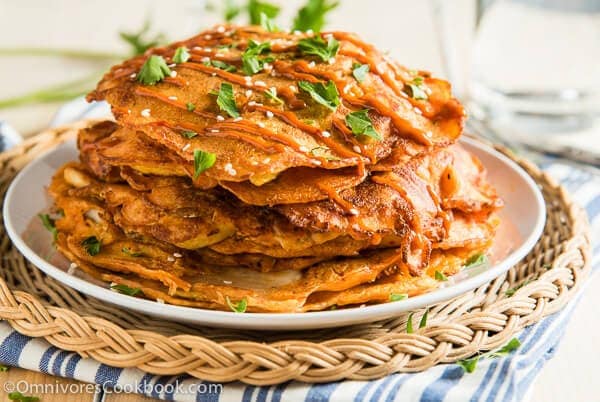 That's why when you cook these pancakes, you don't really need other spices such as ginger, scallion, or soy sauce, to create authentic Asian flavor. Yes, I did add gochujang into the batter, but you can skip it without any problem. I used leftover roast chicken to add volume and protein to our lunch. But you can skip that too, without affecting the flavor of the pancakes.
I created a savory spicy mayo sauce to go with the pancakes. If you don't have these ingredients, no worries. You can use plain mayo and the dish will still taste like heaven.
I cooked these pancakes for our lunch (2 people) and it was a satisfying meal.
The recipe was inspired by Maangchi's kimchi pancake with a few twists. Again, the ingredients for the batter are very flexible. You can add other meat, seafood, or whatever vegetables you like. Just be careful not to add too much of the extra ingredients. The pancakes will fall apart if there's not enough batter to hold all the ingredients together.
Bon Appétit!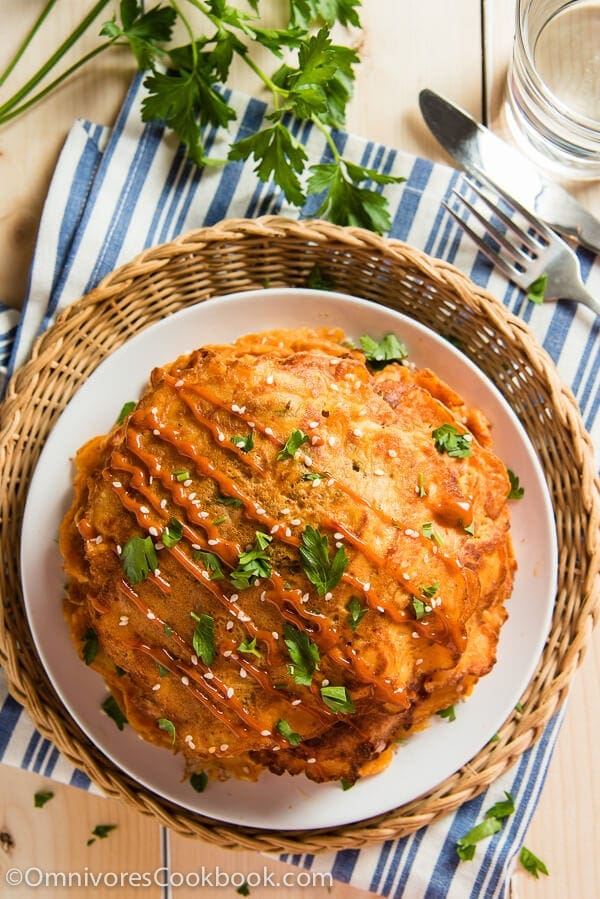 Do you like my recipes? Sign up for Omnivore's Cookbook's weekly newsletter to get the latest updates delivered to your inbox and a free e-cookbook! And stay connected via Facebook, Instagram, Pinterest and Google+. Thanks so much for reading, and happy cooking!
Want to Know More?
Receive our 5-Day Chinese Cooking Crash Course & Recipe Updates! Subscribe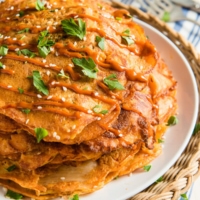 Cheesy Kimchi pancake
These cheesy kimchi pancakes require minimal prep and only 20 minutes to cook. They also provide a clever way of using up leftovers. Isn't it a great lunch solution?
Servings:
8
to 10 pancakes
Ingredients
1

cup

all-purpose flour

1

cup

water

2

cups

kimchi

, cut into bite sized pieces

1

cup

chopped leftover meat

such as roast chicken, beef, or pork

4

eggs

1/3

cup

mozzarella cheese

, shredded

2 teaspoons gochujang (Korean hot pepper paste)

(Optional)

1

teaspoon

salt

3

tablespoons

vegetable oil
Instructions
Combine flour and water in a large bowl. Mix well until it becomes a smooth and thin batter.

Add kimchi, eggs, cheese, and gochujang (if using). (*See footnote) Mix well. The batter will be very runny but should be able to coat a spoon. If you find the batter too thin, blend in a bit more flour and mix well again.

Combine all the ingredients for the sauce in a small bowl. Mix well and set aside.

Cook pancakes one at a time. Add 1 teaspoon vegetable oil in a nonstick skillet and heat over medium heat. When oil is warm, add a ladle of batter into the center of the skillet. Quickly swirl the skillet to let batter spread into a thin disc. Spread the batter evenly with the back of the ladle. Cook for 1 to 2 minutes until the bottom is firm and slightly browned. Flip and cook the other side until the batter sets, about 1 minute. If the skillet gets hot and starts to smoke, turn to medium low heat or remove the skillet from heat for 30 seconds to cool.

Transfer the pancake to a plate and continue to make pancakes with the rest of the batter.

Serve warm with sauce.
Notes
If you are using gochujang, be sure to dissolve it thoroughly in the batter. The paste is very, very thick. If you don't mix it well, you might end up with a huge chunk of paste in a single pancake.
Nutrition
Serving:
93
g
,
Calories:
159
kcal
,
Carbohydrates:
11.8
g
,
Protein:
8.8
g
,
Fat:
8.2
g
,
Saturated Fat:
2.1
g
,
Cholesterol:
79
mg
,
Sodium:
431
mg
,
Potassium:
64
mg
,
Sugar:
1.3
g
,
Vitamin A:
150
IU
,
Calcium:
50
mg
,
Iron:
1.1
mg
The post is updated by 30 August, 2015.