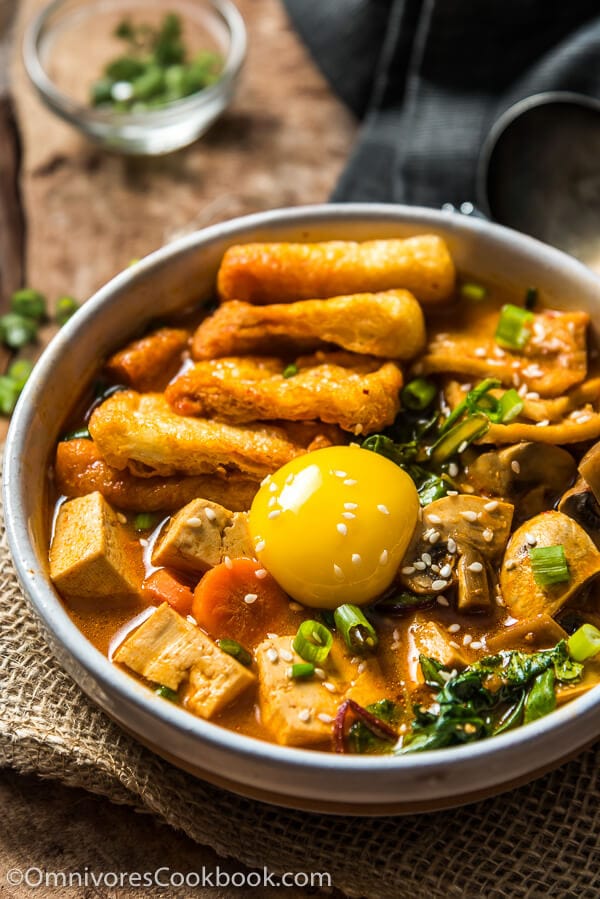 A warm bowl of Korean stew is the most comforting dish on a chilly day. It's also a powerful healing dish after a hangover or a holiday feast. The best part? You can assemble your own Korean stew with whatever ingredients you have in the fridge!
Thomas and I are both obsessed with Korean food. For me, kimchi is also part of Chinese culture, and I often enjoyed it growing up. For Thomas, because he was born in Korea and lived there until the age of 2, he may have developed a fondness for kimchi at a very early stage. That's why you'll find all sorts of kimchi dishes here, such as kimchi pork buns, kimchi fried rice, kimchi pancake, and kimchi quesadillas, even though this blog is mainly about Chinese food.
We cook kimchi stew all the time. A few times every month. No matter whether it's in the middle of the summer or at a time our fridge is practically empty. When the craving for comfort food arises, like on the day after Thanksgiving, we rush to the Korean market to get all the ingredients and make a giant pot of Korean stew. Then we'll watch TV shows while polishing off a pot of stew intended to serve four people.
I've already written two Korean stew recipes – Kimchi Tofu Meatball Stew and Korean seafood tofu stew. I recently realized I've been changing the recipe all the time. Today I'll give you some detailed instructions so you can assemble the most hearty Korean stew with whatever ingredients you like.
Here we go!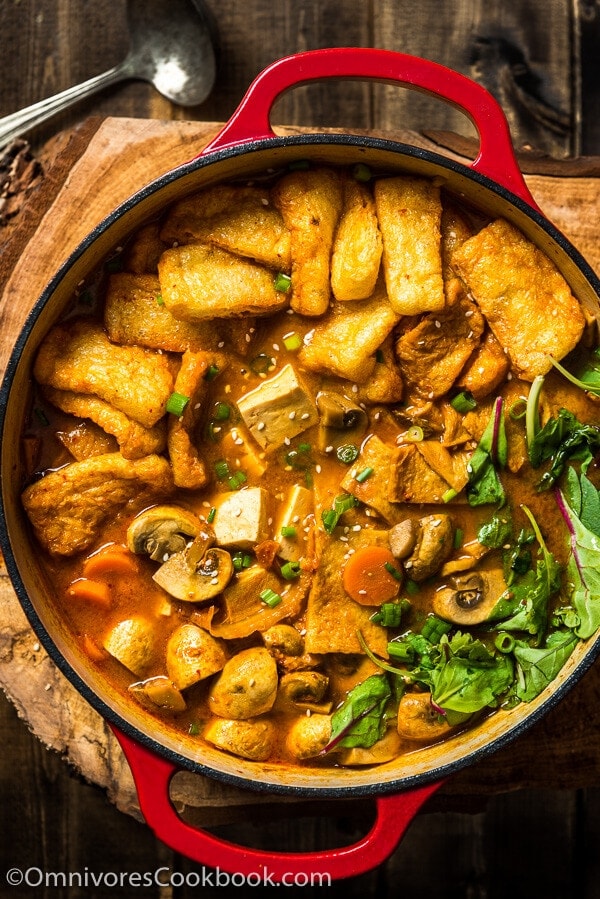 How to assemble your own Korean stew
– Must-have ingredients: doenjang and gochujang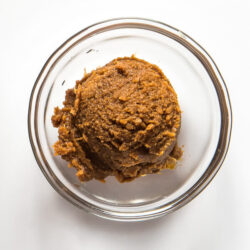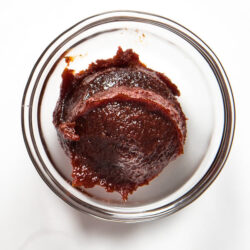 These two fermented pastes are the foundation for the true Korean flavor you'd get at a restaurant. You can find them at any Korean market and at most Asian markets. Or you can buy them from Amazon (here: gochujang and doenjang).
The amount of paste you can use is pretty flexible. We found that two parts doenjang to one part gochujang makes a delicious stew that isn't too spicy. You can tweak this ratio according your tastes.
– Add extra flavor by adding kimchi (optional)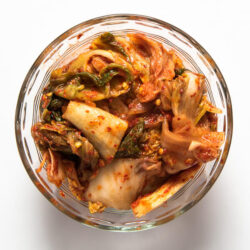 If you like the flavor of kimchi, definitely add some into the stew, even though authentic Korean tofu stew (Sundubu jjigae) does not use this ingredient. We typically love to add tons of kimchi into our stew when we don't have any fresh vegetables at home.
– Be sure to stir fry the paste and kimchi thoroughly before adding any liquid. Your stew will be much more flavorful this way.
– Choice of protein (This is a must!)
You can add any type of protein into this dish, whether meat, seafood, or tofu.
As far as meat goes, my personal favorite is ground meat (esp. turkey and beef). Because ground meat has a larger surface area, even a small amount will infuse tons of flavor into the stew and make it very rich. Plus, you don't need to marinate it or worry about it getting overcooked.
If you want to use a more intact piece of meat, boneless beef short ribs (or tenderloin), pork tenderloin, and chicken thighs are good choices. For a half-pound (220 grams) of meat, you can slice it, combine it with 1 teaspoon soy sauce, 2 teaspoons Japanese sake and 2 teaspoons cornstarch. This marinade will keep the meat tender and moist throughout cooking.
To cook with seafood, mixed frozen seafood is the best choice (you can see how to use it here). And of course you can use fresh shrimp, too. Be sure to combine them with a spoonful of Japanese sake, some salt, and some cornstarch before cooking, so the shrimp won't dry out.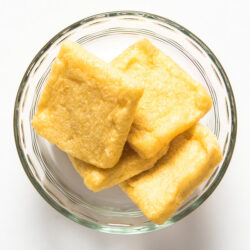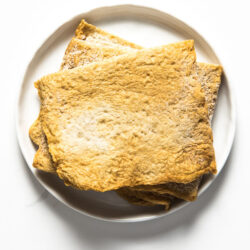 Alternatively, if you're cooking a vegetarian stew, fried tofu will add texture and flavor, too. My favorite type is Aburaage. It's a Japanese style fried tofu that has a very fluffy texture. The Chinese style deep fried tofu works great, too.
– Use fish tofu, regular tofu, or konnyaku noodles to make the stew satisfying as a paleo dish (optional)
Fish tofu does not contain tofu at all. It's a fried fish cake that has a slightly sweet flavor. I like to add it with tofu to my stew, so it becomes even more filling.
Konnyaku noodles, or shirataki noodles, are a "zero-calorie" type of noodles that are mostly water and fiber. They have a crunchy texture that is a bit reminiscent of rice noodles. They absorb flavor well in this case, so you can have a satisfying meal without eating extra carbs.
– Add your choice of veggies
I found that all sorts of mushrooms work great. You can also use root vegetables and green leaves. Just to note, add the root vegetables at the early stage so they can be cooked through. You can throw in any green leaves at the end of cooking. They will be cooked in a minute.
– Other ingredients to adjust seasoning
My go-to ingredients are green onions, soy sauce, Japanese sake, and sugar. Since you start the dish with the two Korean pastes, the soup should be very rich even without these others. But I found that they do add an extra layer to the soup and make it taste even better. You can skip the sake if you do not want alcohol in your dish, but adding sugar is a MUST. It balances the spiciness of the dish and makes it less hot.
That's it! Below is an example recipe to show you the general steps of creating a Korean stew. You can tweak it according to your tastes and the ingredients you have on hand.
Hope you enjoy!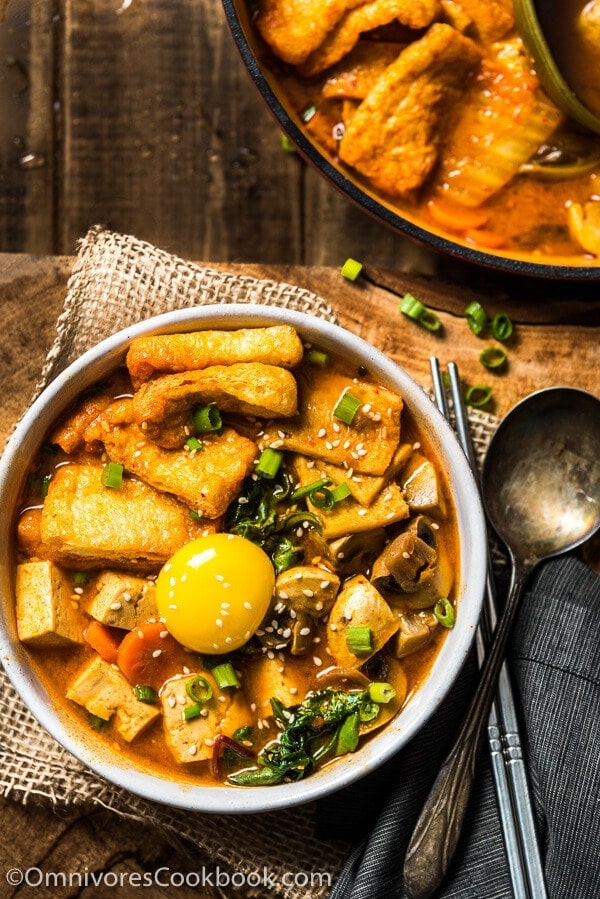 Do you like my recipes? Sign up for Omnivore's Cookbook's weekly newsletter to get the latest updates delivered to your inbox and a free e-cookbook! Tag #omnivorescookbook on Instagram if you tried my recipe. I'd love to see what you've cooked!
Want to Know More?
Receive our 5-Day Chinese Cooking Crash Course & Recipe Updates! Subscribe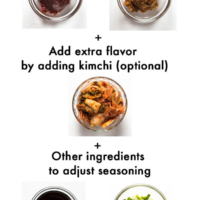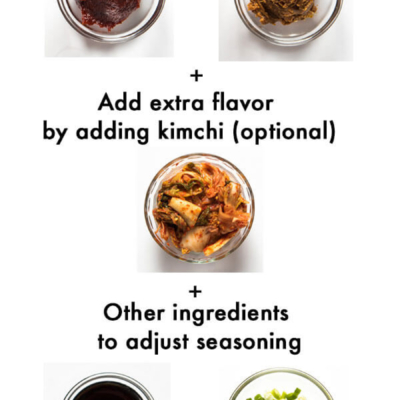 How to Assemble your own Korean Stew
A warm bowl of Korean stew is the most comforting dish on a chilly day. It's also a powerful healing dish after a hangover or a holiday feast. The best part? You can assemble your own Korean stew with whatever ingredients you have in the fridge!
Ingredients
2

tablespoons

peanut oil

(or sesame oil, or other vegetable oil)

2

green onions

, chopped

1

cup

napa cabbage kimchi

3

tablespoons

doenjang

Korean fermented soybean paste

1

and 1/2 tablespoon

gochujang

Korean spicy pepper paste

1

cup

chopped carrot

(or other root veggies)

4

cups

chicken stock

(or vegetable stock, or water)

1

tablespoon

soy sauce

1

tablespoon

Japanese sake

1 to 2

teaspoons

sugar

(or to taste)

2

cups

chopped mushrooms

1/2

block (19-oz. / 539 g)

soft tofu

1 to 2

cups

fish tofu

(*see footnote 1)

1 to 2

cups

aburaage

Japanese fried tofu, or regular deep fried tofu

Eggs (*see footnote 2)

(Optional)

2 cups mixed salad (or mustard greens, or spinach)

(Optional)
Instructions
Heat oil in a 3-quart (2.8 L) dutch oven (or a heavy skillet) over medium high heat. Add kimchi and green onion. Cook and stir until the ingredients start to sizzle (*see footnote 3). Continue to cook for 1 minute.

Add doenjang and gochujang. Smash and stir the paste until the ingredients are evenly coated. Add carrot. Stir a few times.

Add chicken stock (or water). Cook over high heat until boiling.

Add soy sauce, sake, and sugar, give it a stir. Taste the soup and adjust seasoning by adding more sugar, doenjang, and/or gochujang.

Add mushrooms, soft tofu, fish tofu, and aburaage. Cook over medium-high heat for 10 minutes, or until the mushrooms are cooked.

(Optional) Add eggs and mixed salad. Cook until the eggs reach desired doneness.

Serve warm. You can pair the stew with steamed rice.
Notes
Fish tofu is tasty and makes the stew satisfying. Skip it to make the stew vegetarian.
You can poach the egg in the stew. If you want to serve the dish in one Korean style, separate the eggs first, cook the egg whites in the stew, and then place an egg yolk on top of each bowl of stew once served.
If you would like to add meat to your stew, this is the time to add it. You should cook the meat until the surface is cooked through before continuing to the next step.
Nutrition
Serving:
582
g
,
Calories:
268
kcal
,
Carbohydrates:
18.6
g
,
Protein:
14.6
g
,
Fat:
16.3
g
,
Saturated Fat:
2.2
g
,
Cholesterol:
82
mg
,
Sodium:
996
mg
,
Potassium:
340
mg
,
Fiber:
5.2
g
,
Sugar:
7.1
g
,
Vitamin A:
4900
IU
,
Vitamin C:
5.8
mg
,
Calcium:
120
mg
,
Iron:
2.5
mg