Triple-crunch crispy fried chicken wings tossed in a sticky-sweet spicy sauce. The wings stay crispy even when they're no longer hot!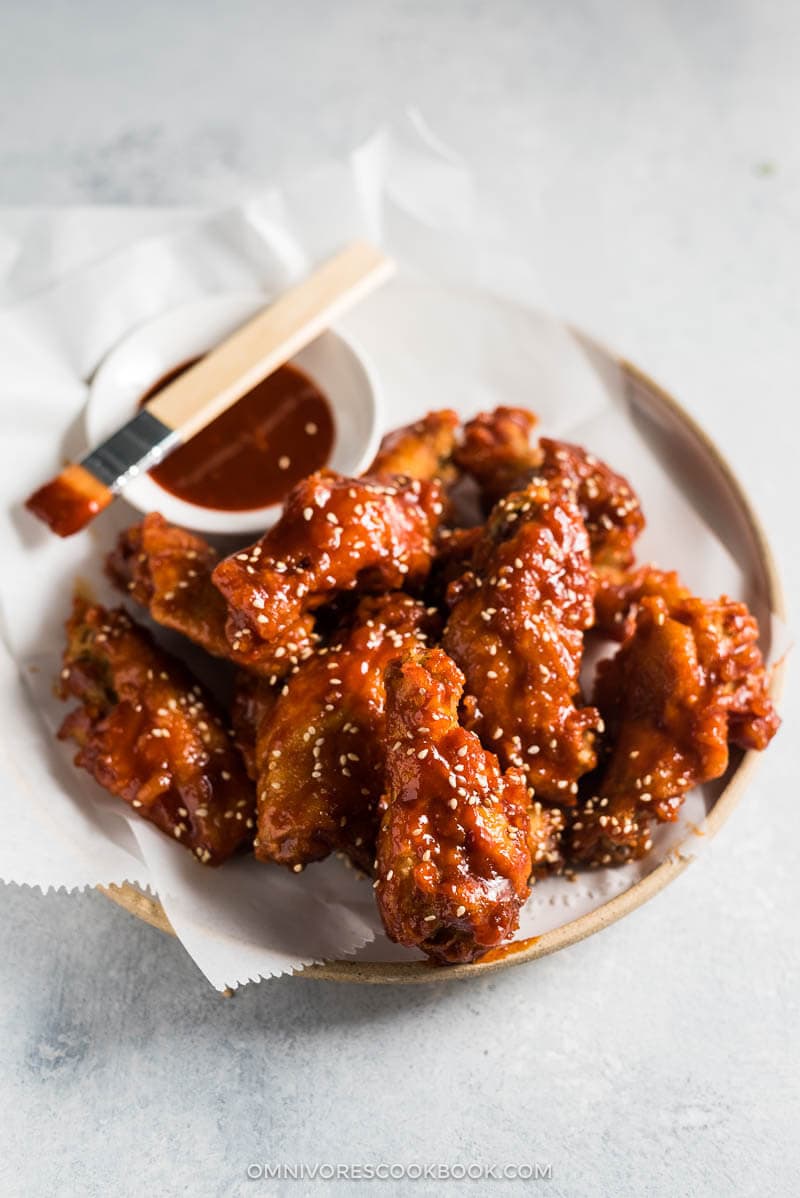 If you love fried chicken but don't like deep frying food at home, you're not alone.
Over the years I've avoided deep frying my food whenever possible.
However, there are times that you just want properly fried chicken. No shortcuts!
Let's face the truth, fried chicken has a unique texture that cannot be 100% replicated by baking. The crunchy crackling sound it makes when your teeth sink into the heavenly crispy crust; the feel of the succulent, tender meat; the urge of picking up all the crumbs on the table with your fingers… it is the full package of joy that deep fried chicken offers!
When I saw the fried chicken lesson on America's Test Kitchen Cooking School, I rushed to Trader Joe's immediately and bought 3 pounds of wings.
The cooking results exceeded my expectations!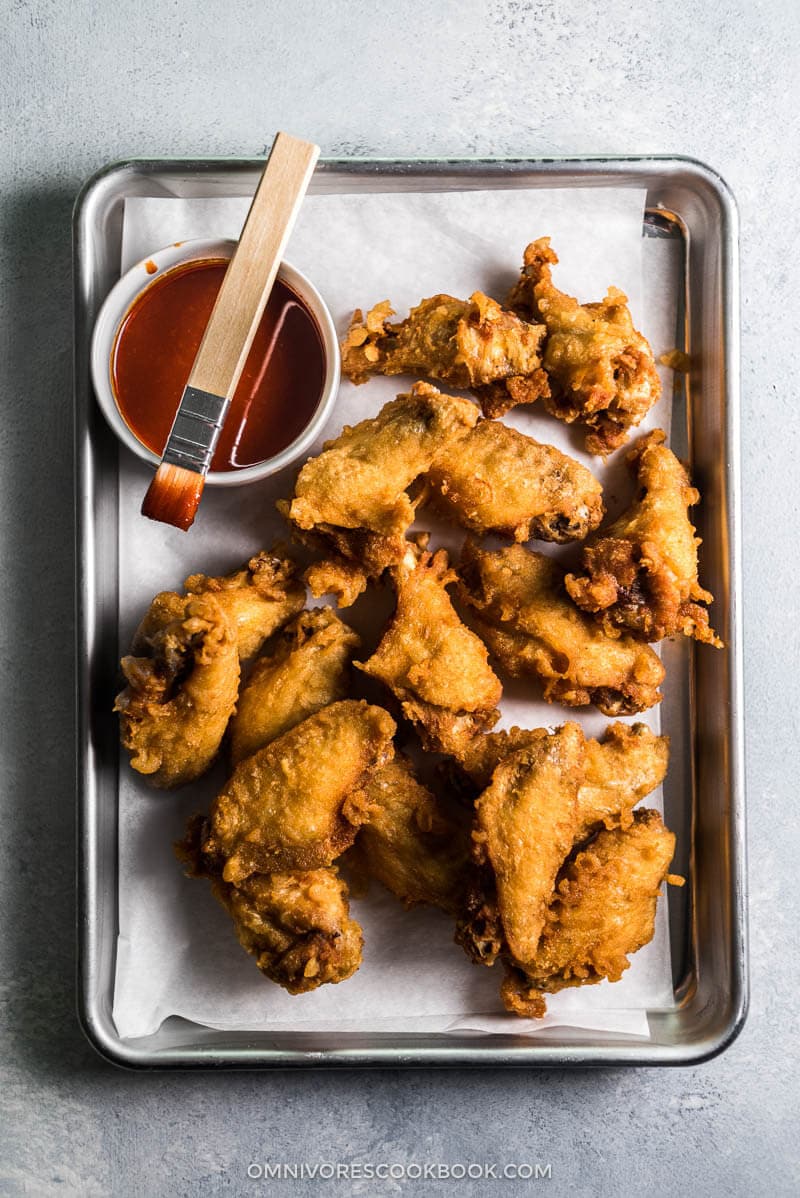 How to make perfect crispy fried chicken wings
In this recipe, the goal is to make extra crunchy wings that stay crisp even after being coated with hot sauce. According to America's Test Kitchen you only need to follow these two key points:
Use a runny batter that is mixed with cornstarch, so the coating clings to the wings well and creates a light and crispy texture with perfect golden color.
Fry the chicken twice. The process will remove extra water from the wings and make the coating doubly crispy.
When I followed this, the batter stayed on the wings tightly without sliding off, which resulted in a perfectly coated crust. Not only were the wings crispy right off the stove, they retained their amazing texture after they were tossed in the sauce. Once the wings were done, I spent about 30 minutes shooting pictures for this blog post, so we ended up enjoying these wings cold… BUT they were still just as crunchy!
Quite magical isn't it?
Moreover, the cooking process was such a breeze due to the clear instructions from the course that I've actually started enjoying deep frying.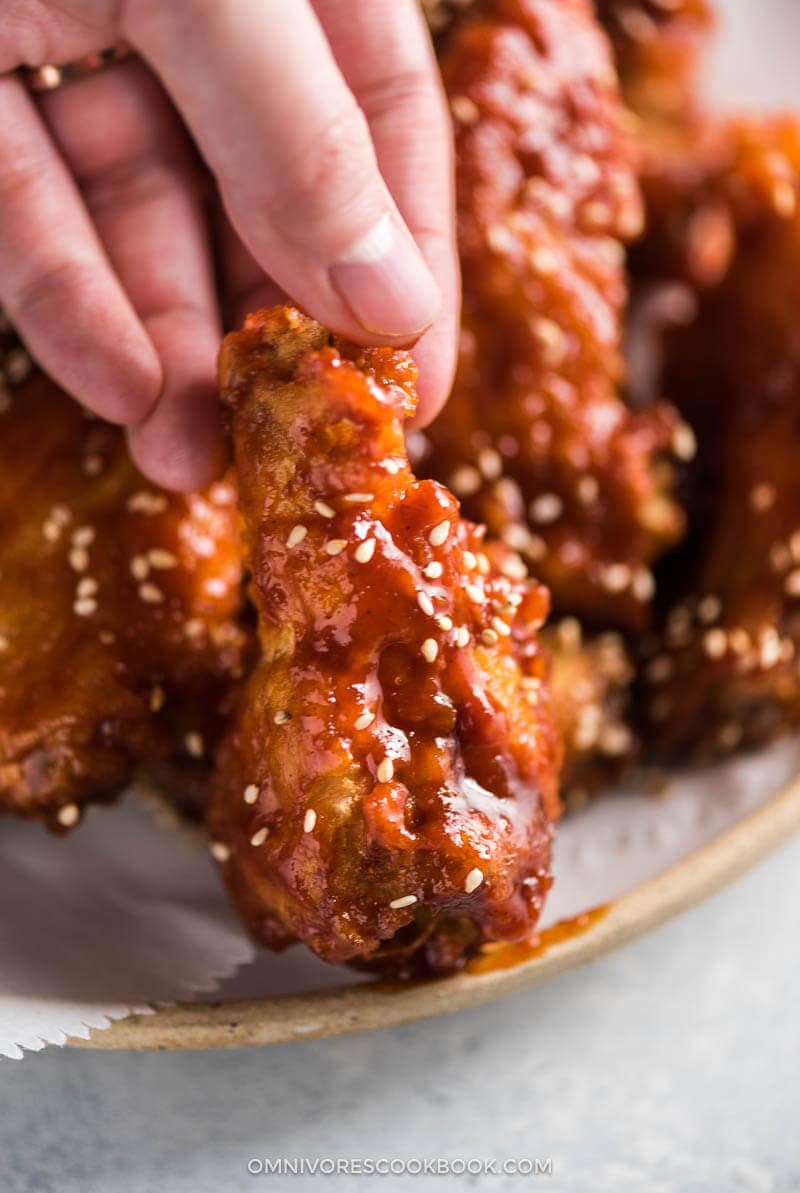 Deep fry food painlessly
When you deep fry food properly, very little mess is generated on your kitchen counter and you will yield perfect results every single time.
Prepare the equipment:
A dutch oven (6 to 8 quart) – not only does it hold heat well, the tall wall prevents hot oil from splattering onto your kitchen counter
Thermometer – very important for deep frying to ensure your food is properly cooked without getting soggy or greasy.
Tongs – to transfer the food without damaging the coating or puncturing the food
Wire rack and sheet pan – to rest the fried food, so it stays crispy on the bottom.
Splatter screen – it reduces the oil splatter to a minimum to prevent burns.
Use oil that has neutral flavor with a high smoking point; vegetable oil or refined peanut oil for example. Do NOT use canola oil, sesame oil, or olive oil for deep frying.
Use enough oil: the food should fully submerged in the oil. Since we're already going through all the troubles for deep-frying, do not skimp on oil.
Do not crowd the pan; fry in batches so the batter will stay intact and the oil temperature won't drop too low.
Keep the food warm in a 200 degree F (93 C) oven so the cooked chicken wings stay hot and crispy.
Leftover oil? Wait until the oil is completely cooled first.
To dispose of the oil, create a quadruple-layered bag out of plastic grocery bags and ladle the oil into the bags. Tie up and throw away.
To reuse the oil, strain it through a fine mesh to an airtight container. Store in the fridge if you plan on using it soon or in the freezer until you're ready to use it.
All I did was follow these simple steps when cooking these triple-crispy fried chicken wings. Not only did my biggest fear about deep frying completely vanish, now I'm confident to say that I can create perfect crispy hot wings in my kitchen! 🙂
The original recipe claims to yield enough servings for 4 to 6 people… but my husband and I finished the whole 3-pound wings in one sitting and craved for more.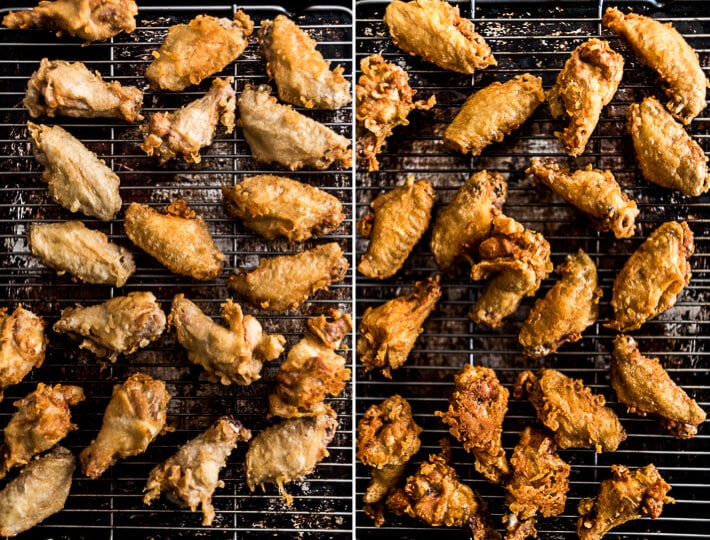 Because the wings stay crispy for such a long time, even after they've gone cold, it makes them THE perfect party food or a movie night snack. Do yourself a favor and cook these wings next time instead of ordering delivery. You'll be surprised that you can cook better than restaurant chefs!
If you love cooking and appreciate good food, check out America's Test Kitchen Cooking School. It has more than 200 lessons with videos and pictures to guide you through each cooking process. The lessons range from all-time classic dishes such as chicken pot pie and blueberry cobbler, new flavors such as Asian dim sum and Indian curry, to unique techniques like grilled frozen steaks. I've followed the course for 2 months and tried out quite a few recipes. They all produce great results, and some were beyond expectations. The cooking school offers a 30-day free trial, which is a great way to test out whether the course works for you.
Giveaway
Today I'm super excited to partner with America's Test Kitchen to give away 6 months of FREE access to their online cooking school! Click this link to ENTER for a chance to win!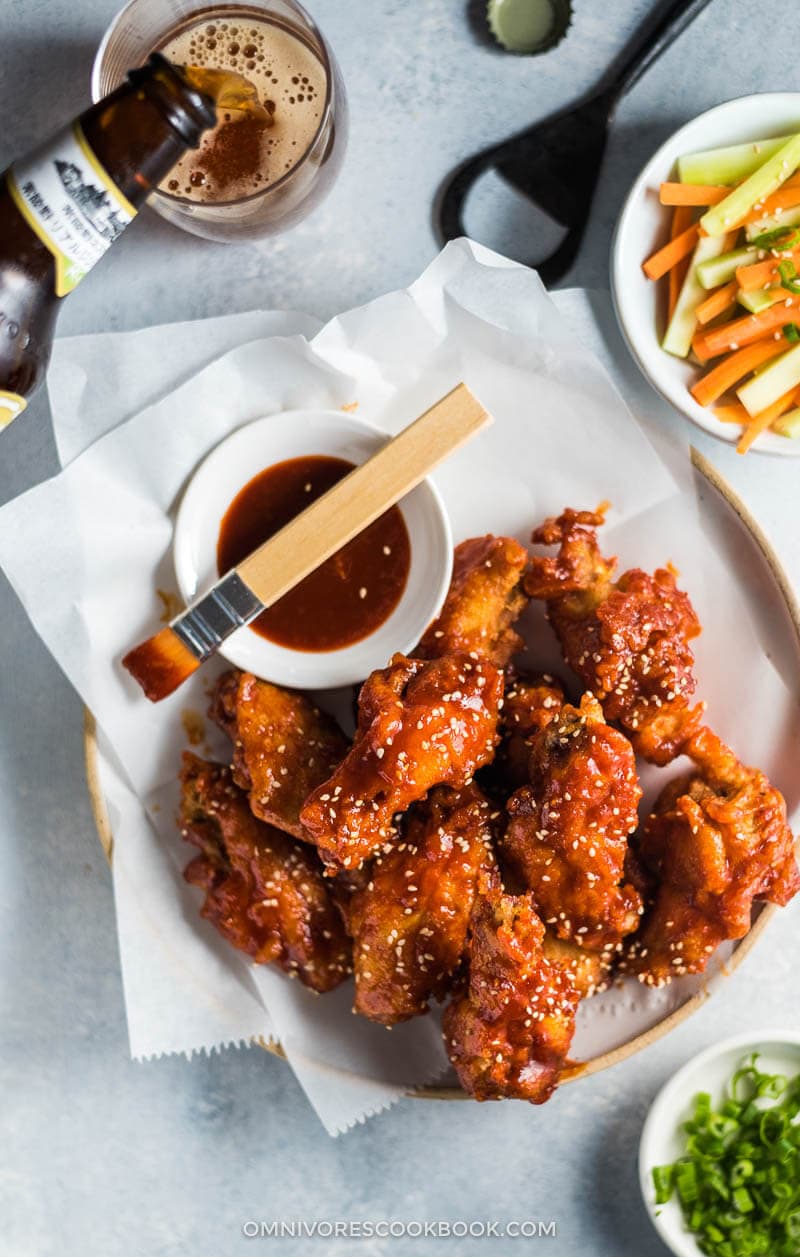 More party recipes
If you give this recipe a try, let us know! Leave a comment, rate it (once you've tried it), take a picture and tag it @omnivorescookbook on Instagram! I'd love to see what you come up with.
Disclosure: this is not a sponsored post, but I did get free access to America's Test Kitchen Cooking School in exchange for a honest review. All opinions are entirely my own.
Want to Know More?
Receive our 5-Day Chinese Cooking Crash Course & Recipe Updates! Subscribe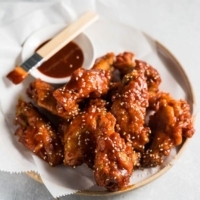 Fried Chicken Wings in Asian Hot Sauce (Crispy Even When Chilled!)
Ingredients
3

lbs (1.4 kg)

chicken wings
Sauce
1

tablespoon

toasted sesame oil

2

large cloves garlic

, minced (approx. 1 teaspoon)

1

teaspoon

ginger

, grated

3

tablespoons

agave syrup

(or sugar) (*Footnote)

2

to 3 tablespoons

Gochujang

(or Sriracha sauce)

1

tablespoon

soy sauce

(or tamari for gluten free alternative)
Deep fry
8

cups

vegetable oil

1

cup

all-purpose flour

3

tablespoons

cornstarch
Instructions
Add sesame oil, garlic, and ginger in a large bowl. Microwave until the mixture is bubbly and the herbs are fragrant but not browned, 40 to 60 seconds.

Add 2 to 3 tablespoons water (*Footnote 1), syrup (or sugar), Gochujang (or Sriracha), and soy sauce until smooth. Set aside.

Heat oil in a 6-quart dutch oven (or heavy duty pot) over medium heat until it reaches 350 degrees F (176°C). Place a cooling rack over a large baking sheet.

Whisk the all-purpose flour, cornstarch and 1 and 1/2 cup water in a large bowl until it forms a smooth, runny batter. Add half of the wings. Toss to coat evenly.

When the oil is ready, carefully add the wings using a pair of tongs. Turn to medium-high heat. Let cook for a minute to allow the batter to set. Then stir occasionally to prevent the wings from sticking. Fry until the coating is light golden, about 7 minutes. Transfer wings to the cooling rack.

Wait until the oil returns to 350°F (176°C). Cook the remaining wings using the same method.

Reduce the heat to medium and heat oil to 375°F (190°C).

Return all the wings back to the oil. Arrange them so they are submerged in the oil. Stir occasionally and fry until deep golden brown and very crispy, about 7 minutes. Transfer the wings to the cooling rack and leave to rest for 2 minutes.

Transfer the wings to the big bowl with the sauce. Toss gently until evenly coated. Return the wings to the rack and leave to rest for 2 minutes, until the coating sets.

Serve on a platter as an appetizer, or as a main dish over steamed rice and slaw.
Notes
The original recipe calls for 1/4 cup water, 3 tablespoons sugar, and 3 tablespoons Gochujang. I prefer using syrup because it produces a more consistent texture. In this case, only add 3 tablespoons water. If you use Sriracha sauce instead of Gochujang, only add 2 tablespoons water.