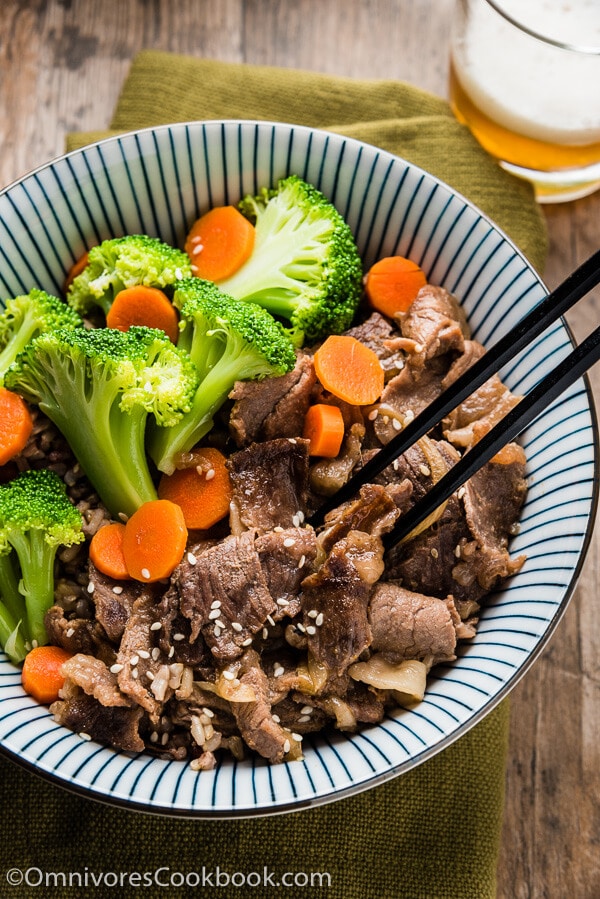 Beef rice bowl is a delicious and comforting one-dish meal that is easy to cook. Learn the secret sauce and cook the best braised beef – it's even better than takeout!
Beef rice bowl is a very popular dish in China. Although it originated in Japan (its original name is Gyudon), lots of cafeterias in Beijing have adopted it and put it on their lunch menu.
This is quite a special dish for me. When I was living in Japan, it was the only restaurant dish I could afford before I started working a part-time job on top of school. Dining out in Japan is expensive, but a big bowl of beef and rice is really affordable and so delicious. It's also a great pre-drinking food. We would always go get a beef bowl before any party involving drinks, because ordering food at an izakaya (sake house) can be pricey.
The beef bowl is really simple. It uses very thinly sliced beef and onion, braised in a sweet savory broth until tender, and then served on a bowl of steamed rice. Most recipes use soy sauce, mirin, and sugar to create the broth.  I've tried to recreate this dish a few times by using this combination, and the results were tasty, but not as good as what you'd get in a restaurant.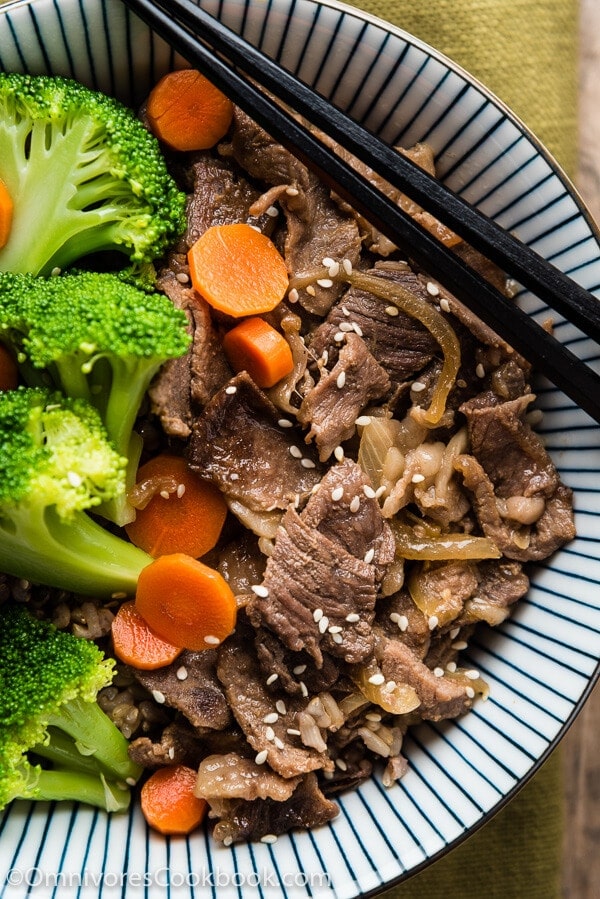 Then I discovered a secret ingredient – miso. It works like magic. If you add miso into the broth base, it will create a very special umami that makes the dish really taste like the one at Yoshinoya. When you finish cooking, you won't notice the flavor of the miso, and that's why you might not think of adding it in the first place.
Most of the beef bowl recipes out there tell you to cook the beef for just a few minutes, until it's just cooked through. Doing this creates a delicious dish, but not one as flavorful as at a restaurant. I tried simmering the beef for 50 minutes, to let the beef get tender and for the broth to thicken. It worked out really great!
I sliced the beef myself when preparing this dish. It wasn't as thin as it would have been, had I bought pre-sliced beef at an Asian market, but close enough. If you have access to thin pre-sliced beef, you might not need to braise it for quite so long. Check on the meat in 20 to 30 minutes, and stop cooking when it gets tender.
If you cook more than you can finish, store it in the fridge and serve it for lunch the next day. The flavor only gets better!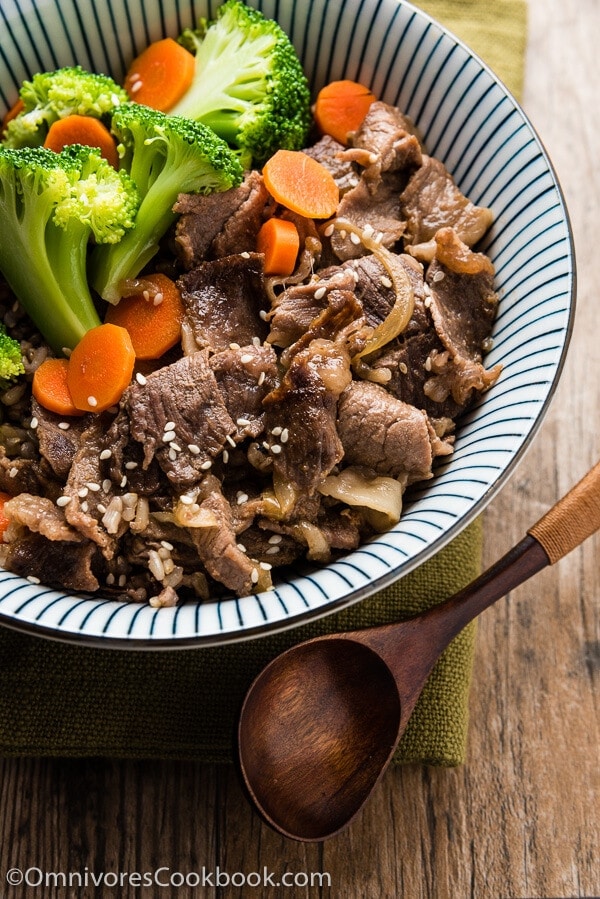 Do you like my recipes? Sign up for Omnivore's Cookbook's weekly newsletter to get the latest updates delivered to your inbox and a free e-cookbook! And stay connected via Facebook, Instagram, Pinterest and Google+. Thanks for reading and happy cooking!
Want to Know More?
Receive our 5-Day Chinese Cooking Crash Course & Recipe Updates! Subscribe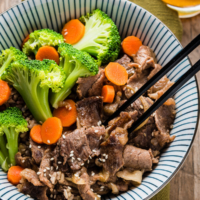 Beef Rice Bowl (肥牛饭)
Beef rice bowl is a delicious and comforting one-dish meal that is easy to cook. Learn the secret sauce and cook the best braised beef – it's even better than takeout!
Ingredients
2

pieces (400 grams / 12 oz.)

beef short ribs

(or sirloin, or tenderloin), thinly sliced (*see footnote 1)

2

tablespoons

light soy sauce

(*see footnote 2)

1

tablespoon

Japanese sake

1

tablespoon

oyster sauce

1

tablespoon

miso

1

and 1/2 tablespoon

sugar

1/8

teaspoon

black pepper powder

1

tablespoon

peanut oil

(or vegetable oil)

1/2

onion

, sliced

2

cups

chicken stock

1/2

broccoli

(or cauliflower, separated and cut to bite size)

2

small carrot

, sliced

rice

, steamed
Instructions
To slice beef thinly, place fresh beef in the freezer for 20 minutes, or use half-thawed beef. Slice along the grain into 1/16 inch (2mm) thick pieces (or as thin as possible). (*see footnote 3)

Cut and Prep veggies.

Combine light soy sauce, Japanese sake, oyster sauce, miso, sugar, and black pepper in a small bowl. Mix well and set aside.

Heat peanut oil in a large skillet over medium heat until warm. Add onion. Cook and stir until soft, about 2 minutes.

Add chicken stock and the mixed sauce. Cook until bringing to a boil.

Spread beef slices in the skillet. Cook until bringing to a gentle simmer and immediately turn to low heat.

Simmer uncovered until beef turns tender and the sauce thickens, for 40 to 50 minutes.

While simmering the beef, bring a pot of water to a boil. Add broccoli and carrots. Cook until just soft. Drain and set aside.

Add rice to serving bowls. Top with broccoli and carrots on one side, and the beef on the other side. Drizzle with the beef sauce. Serve warm.
Notes
You can use thinly sliced beef directly if you have it.
You can use 2 tablespoons soy sauce and 1/4 teaspoon salt as an alternative.
The beef will fall apart easily during braising if you slice against the grain.
Nutrition
Serving:
592
g
,
Calories:
591
kcal
,
Carbohydrates:
35.1
g
,
Protein:
66.5
g
,
Fat:
20.4
g
,
Saturated Fat:
6
g
,
Cholesterol:
179
mg
,
Sodium:
1507
mg
,
Potassium:
1527
mg
,
Fiber:
6.2
g
,
Sugar:
19.8
g
,
Vitamin A:
17350
IU
,
Vitamin C:
133.7
mg
,
Calcium:
100
mg
,
Iron:
39.1
mg