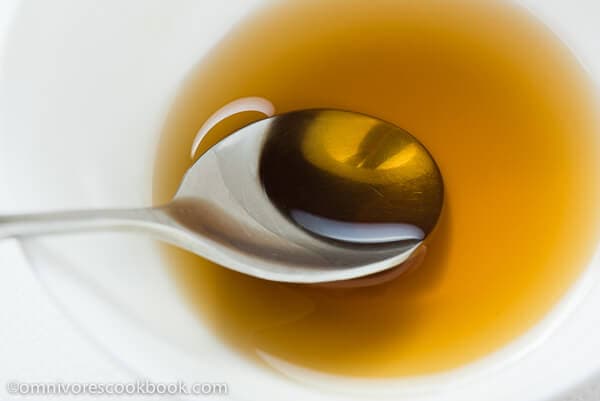 Sesame oil (香油, xiang you, 胡麻油, hu ma you) is a cooking oil made from roasted sesame seeds. It has a transparent reddish brown or amber color, a pleasant aroma, and a strong nutty flavor. It is usually used as a flavor enhancer in Chinese cooking.
Use
There are light colored and dark colored sesame oils. For Chinese cooking, the latter one is most commonly used, if not otherwise specified. Dark sesame oil has lower smoking point and is not suitable for deep-frying or extended cooking.
Sesame oil can be added to salads, soups, and stir fried dishes. It is often added at the end of cooking or in cold dishes. If added too early or heated too much, its aroma will disappear.
When cooking Chinese dishes, it's highly recommended to buy a Chinese brand instead of one from Korea or Japan. Because of the different processing methods, the flavor and uses of the different types of sesame oil varies significantly.
Recipes that use sesame oil
Shrimp and Vegetable Fried Noodles
Buy
You can find sesame oil at Chinese markets.
Store
Store sesame oil in an airtight bottle in a cool, dark place for up to 12 months.