O Mandarin in Westchester NY serves some of my favorite Chinese food in the US, including a solid Peking Duck, in a clean, traditional-chic setting. If you live in the area or are just passing through, it's worth a visit for their authentic dishes from several parts of China.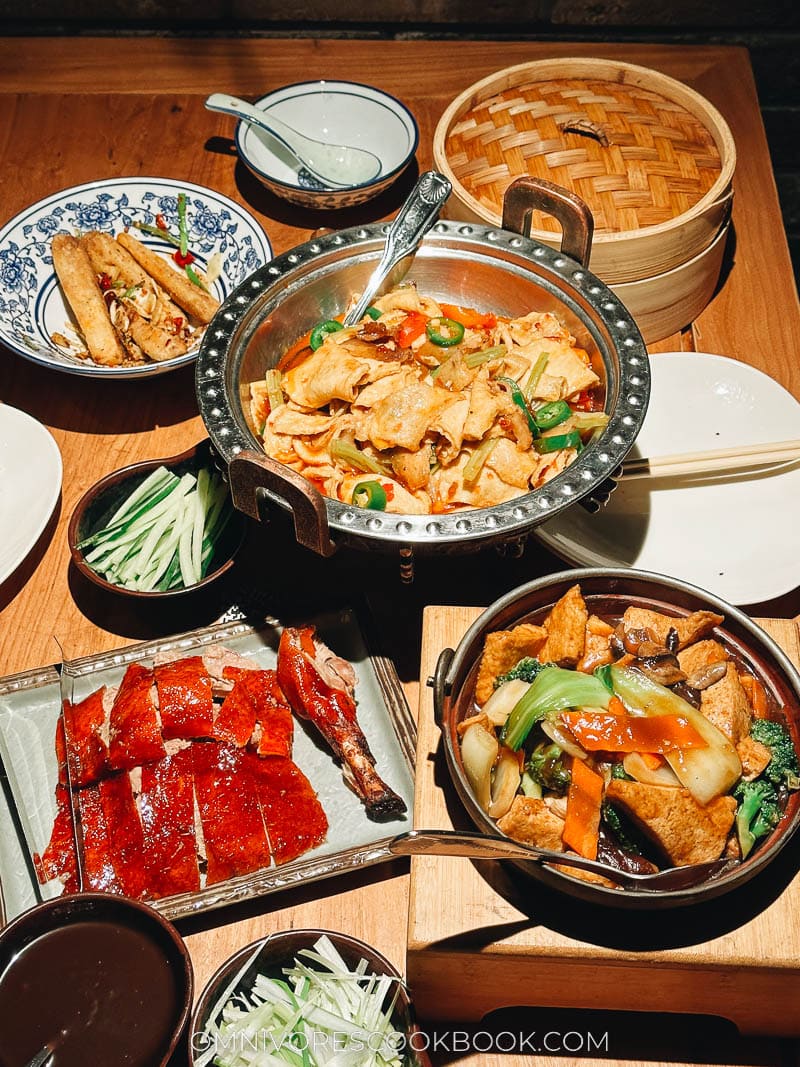 O Mandarin: Strip Mall Chinese Surprise
It took me several months of visiting H Mart in Hartsdale, NY before I even considered trying the restaurant in the same shopping center, O Mandarin. Having had lots of mediocre Chinese food in the suburbs, I had my doubts about this place that had Sichuan, Shanghainese, and dim sum on the menu.
Those doubts immediately dissolved when I took a chance and ordered their Peking Duck and several other specialties that I recognized from back home.
O Mandarin's Vibe
The decor of the restaurant is easy to overlook, but it is quite nice. They did a bit of work to capture the imperial-era atmosphere of many restaurants back in China, with gray brick walls, paper lanterns, carved wooden decorations, and traditional-style furniture.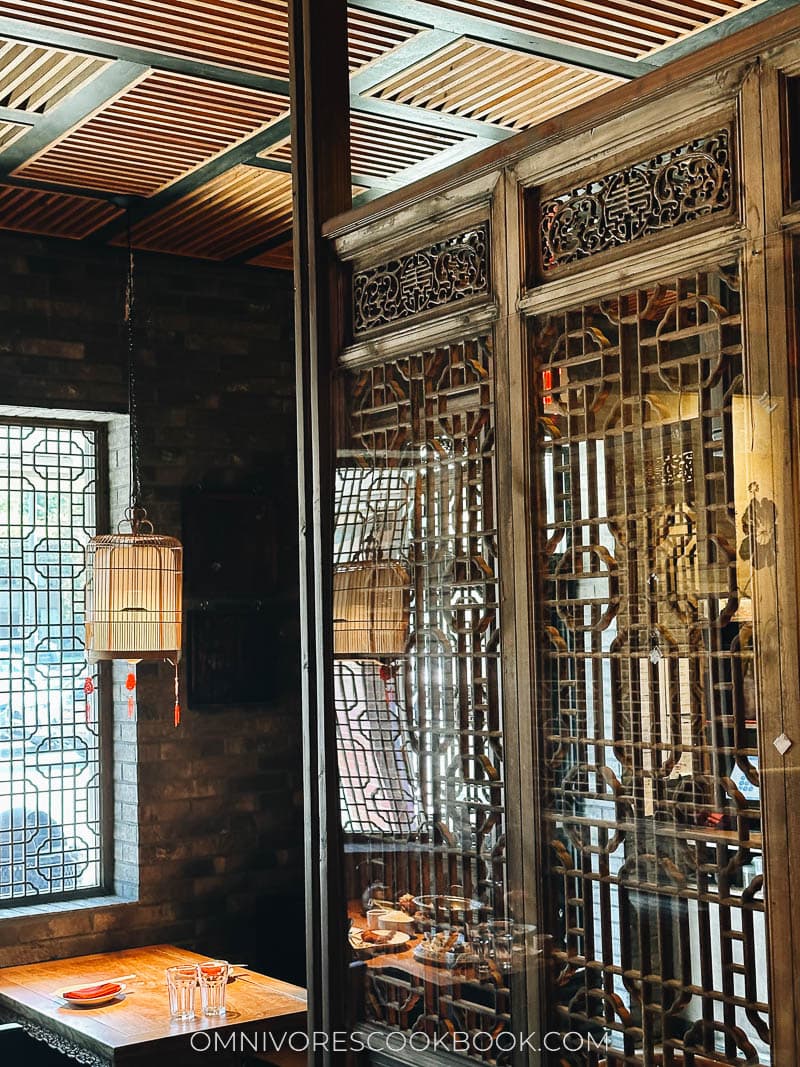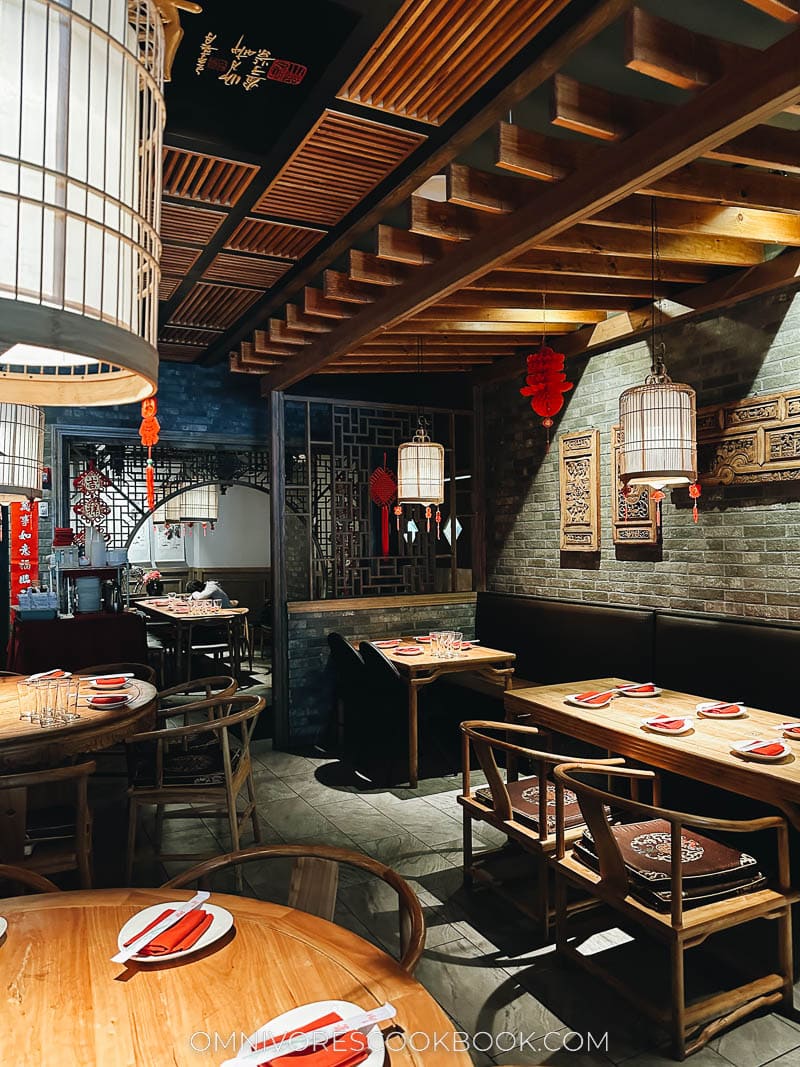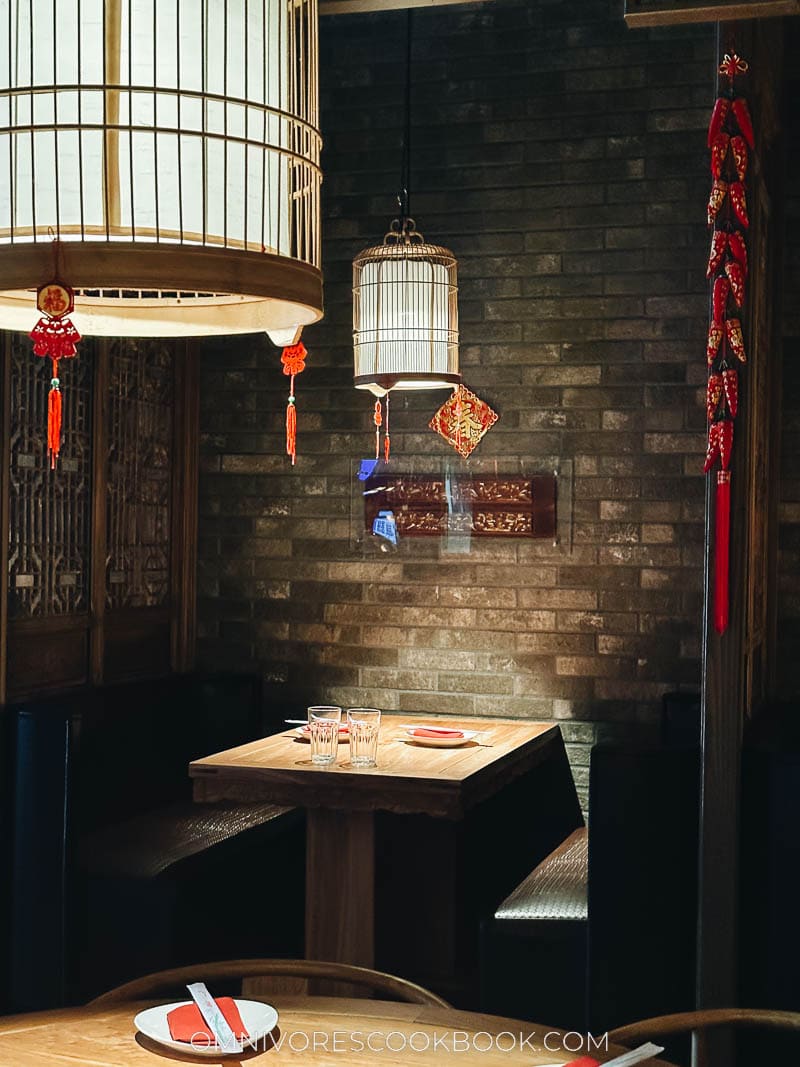 Not Just Good for the Suburbs
Before I dive into the food (there is a lot to talk about there) I just want to tell you that this is a special restaurant – I put it on par with my favorite restaurants in New York City.
The food largely embodies the spirit of the same dishes from back in China, and the restaurant executes quite well on them. I've tried about half of the menu, having visited eight or 10 times now. And I'm still impressed by the quality of the food.
Dishes at O Mandarin
O Mandarin's Killer Peking Duck
This is the dish that I would say makes the restaurant worth a little bit of a drive. It's a specialty of theirs and they prepare it better than anywhere I've tried outside of China.
The skin is glazed and crispy yet slightly melting with fat. The meat is tender and juicy and richly flavorful. In proper Peking style, they give you thin, house-made duck pancakes, sweet bean sauce, green onion, and cucumber.
You basically make yourself a tiny burrito with it: wrap some meat, skin, onion, cucumber, and sauce and roll it up before devouring it.
You can either get half a duck (good for 2-3 people) or a whole duck (good for 4-6). Whatever you choose, you won't have any leftovers.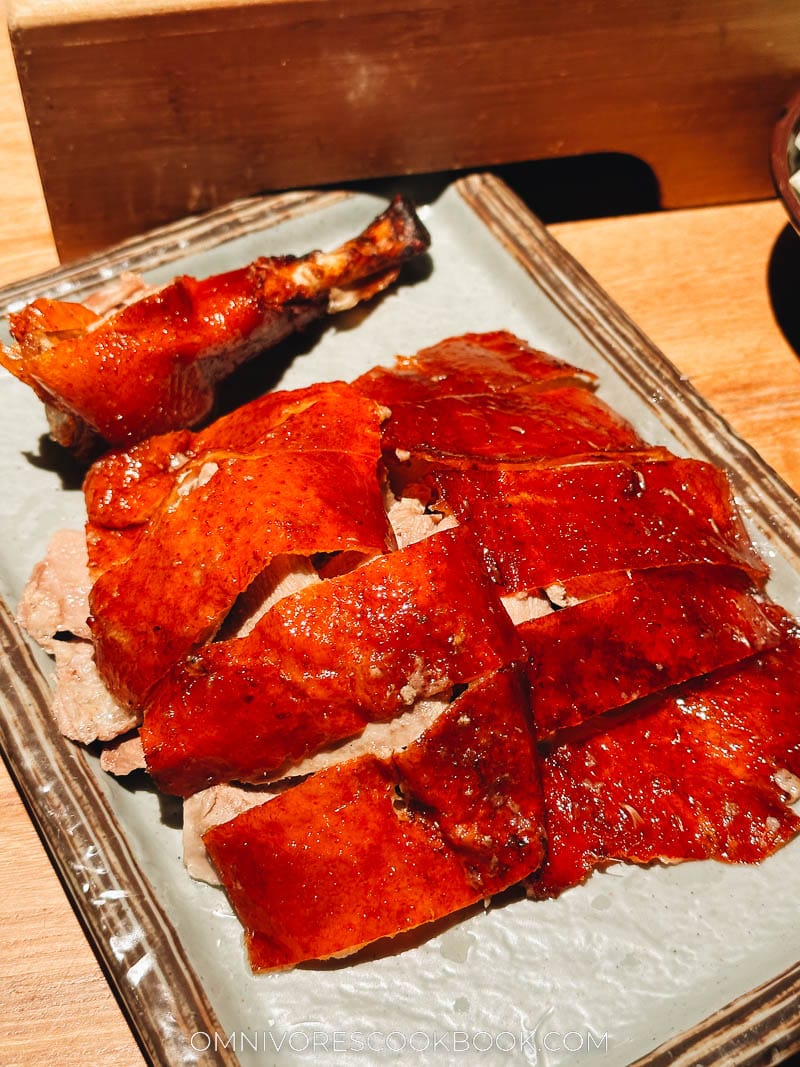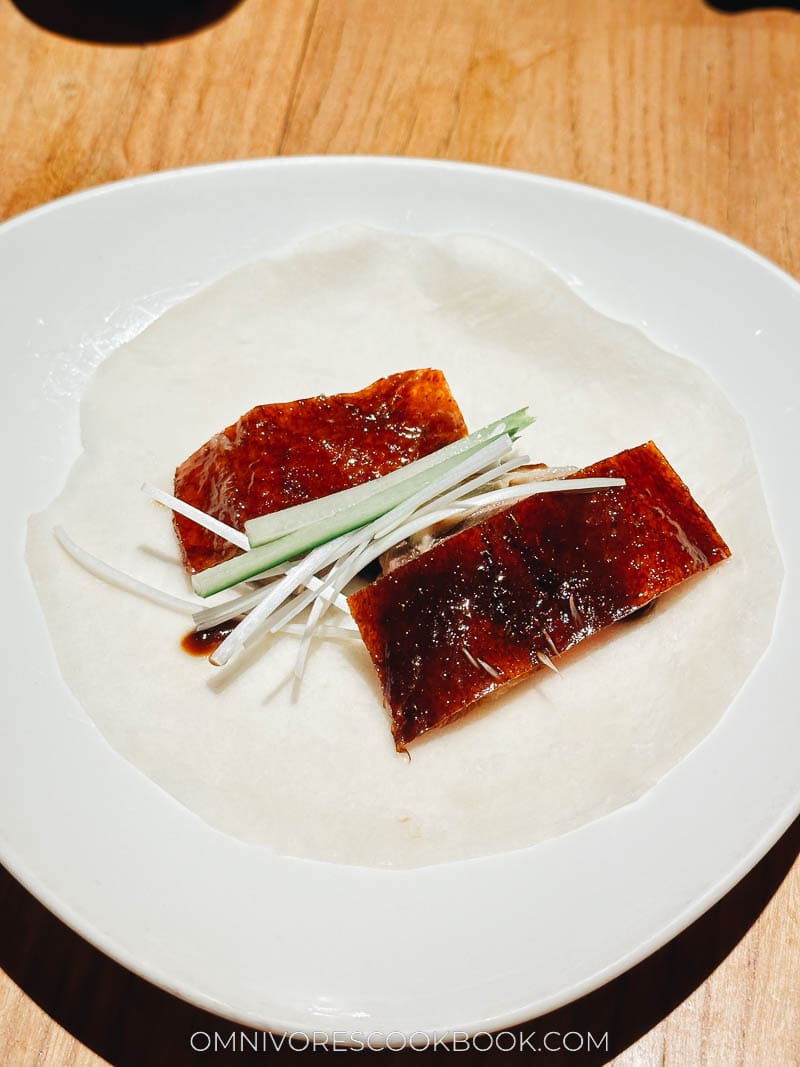 For me, a Beijinger, the Peking Duck stands above the rest, and I usually build my meal around it. But it's a great place, even if you're not a duck person, as the menu has so much to offer.
Sichuan Specialities on Offer
The menu features flavors from all around the country and they are fairly strong in the Sichuan department.
Prime Rib Sichuan Hot Pot
This dish is like a pre-assembled hot pot – a huge bowl of dazzlingly spicy-numb broth and oil loaded with thinly sliced steak and a variety of veggies.
This is a fun and substantial dish with a nice balance of meat and veggies and it packs a ton of flavor. It's also an easy way to feed a mild to moderate hot pot craving.
Famous Chengdu Fish Soup
This soup has a beautiful umami-spicy-sour broth with tender fish filets. The green peppercorns give it a grassy spiciness that is somehow refreshing, even though it's hot.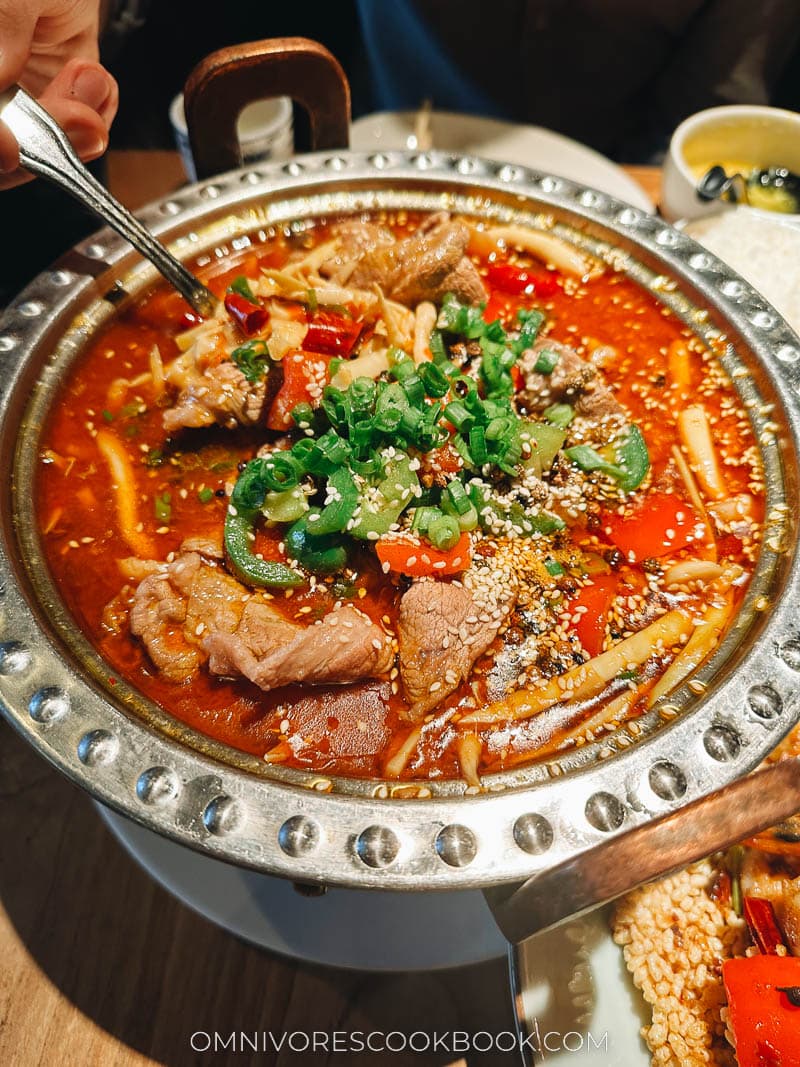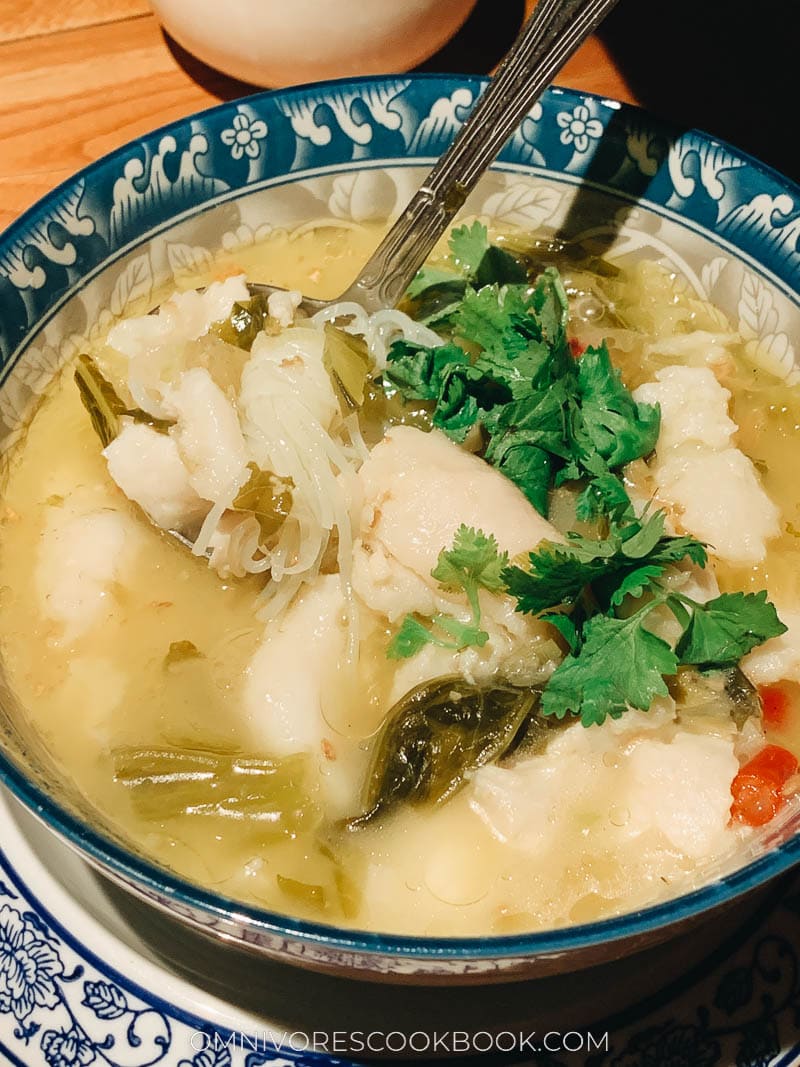 Organic Cauliflower Wok Fry with Pork Belly
This is a Sichuan-style "dry pot" dish, where the cauliflower is cooked with some spices over high heat. The spices that stand out are chili flakes and cumin, which are fragrant but not forceful.
It's not saucy and has just a little bit of oil, and the beauty is in the caramelization and smoky, nutty flavor that you get from the frying. The pork belly adds a little bit of richness.
Tea Smoked Duck
I did not expect this to be as tasty as it was! The meat is tender and juicy and the skin a bit crispy. The meat is a super flavorful smoky umami. I like the duck by itself, but if it's too intensely smoky, they serve it with a sweet chili dipping sauce that will balance it out.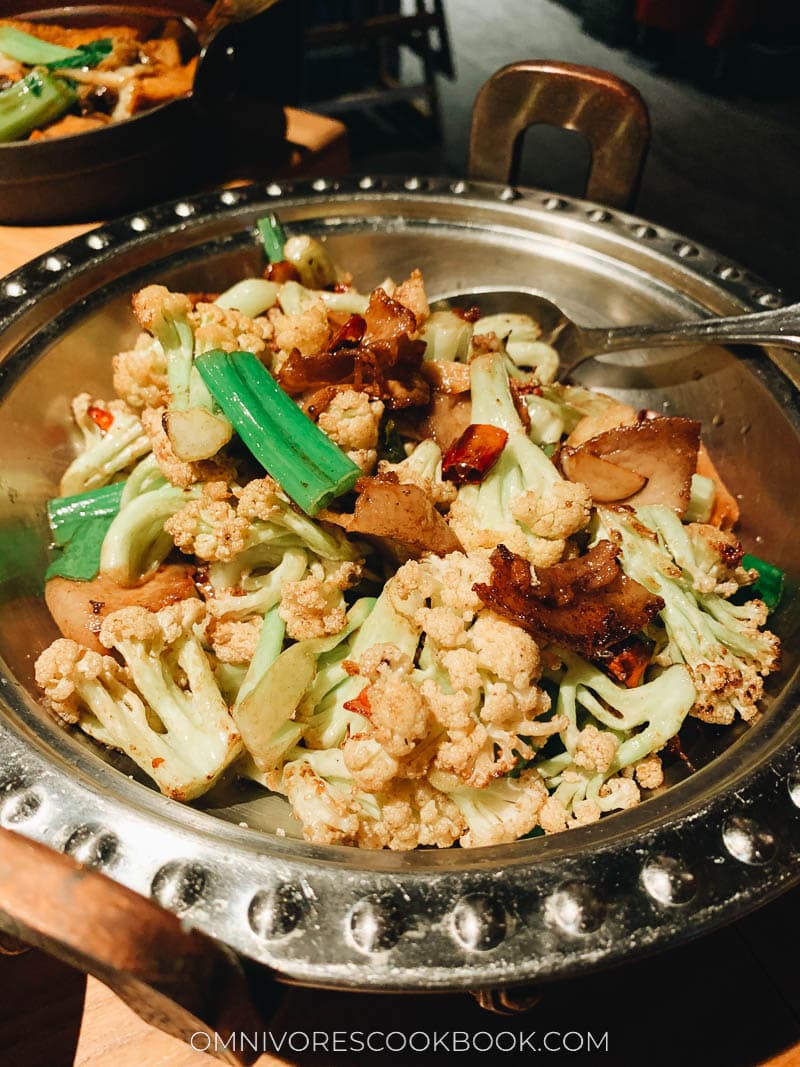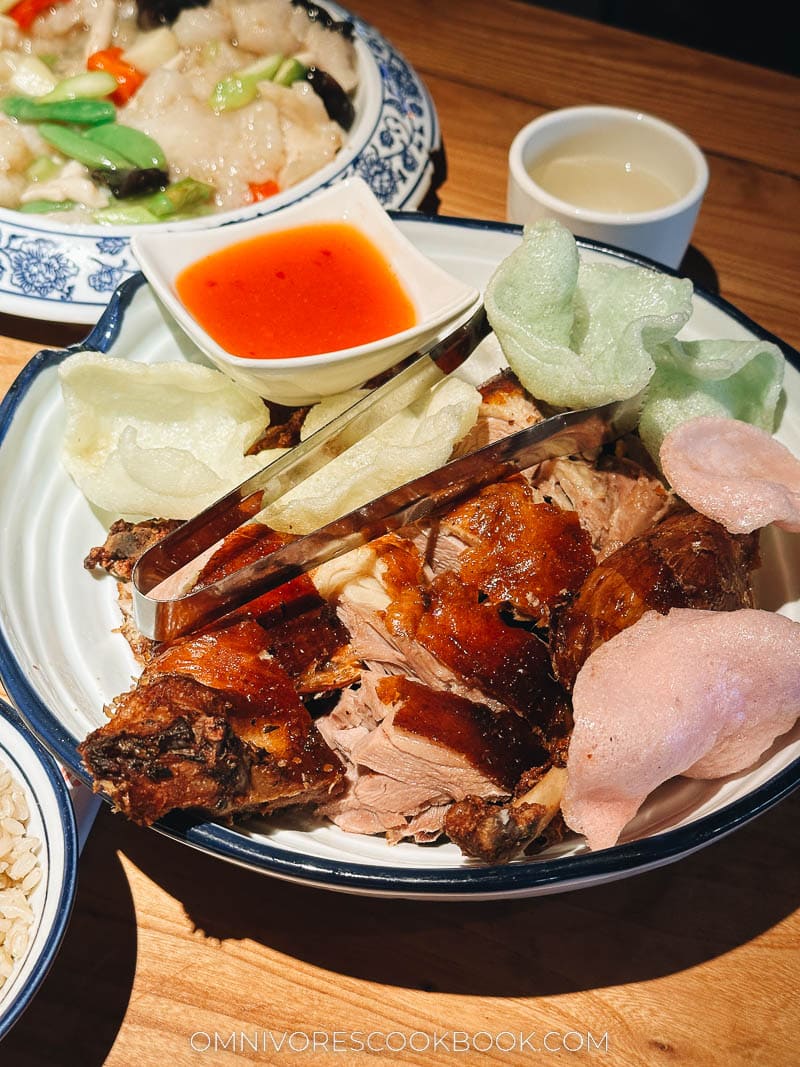 Sichuan Peppercorn Tofu Skin
This cold appetizer is very simple but addictively tasty. Chewy shards of tofu skin are dressed in a tangy spicy-numb sauce and garnished with cilantro for a bright pop. This makes a lovely warm-up for your taste buds.
Sichuan Eggplant
This is a hot appetizer featuring strips of eggplant battered and fried until crispy and seasoned with some dry spicy-numb seasonings. It's a bit less intense than these other Sichuan dishes but still fun to eat.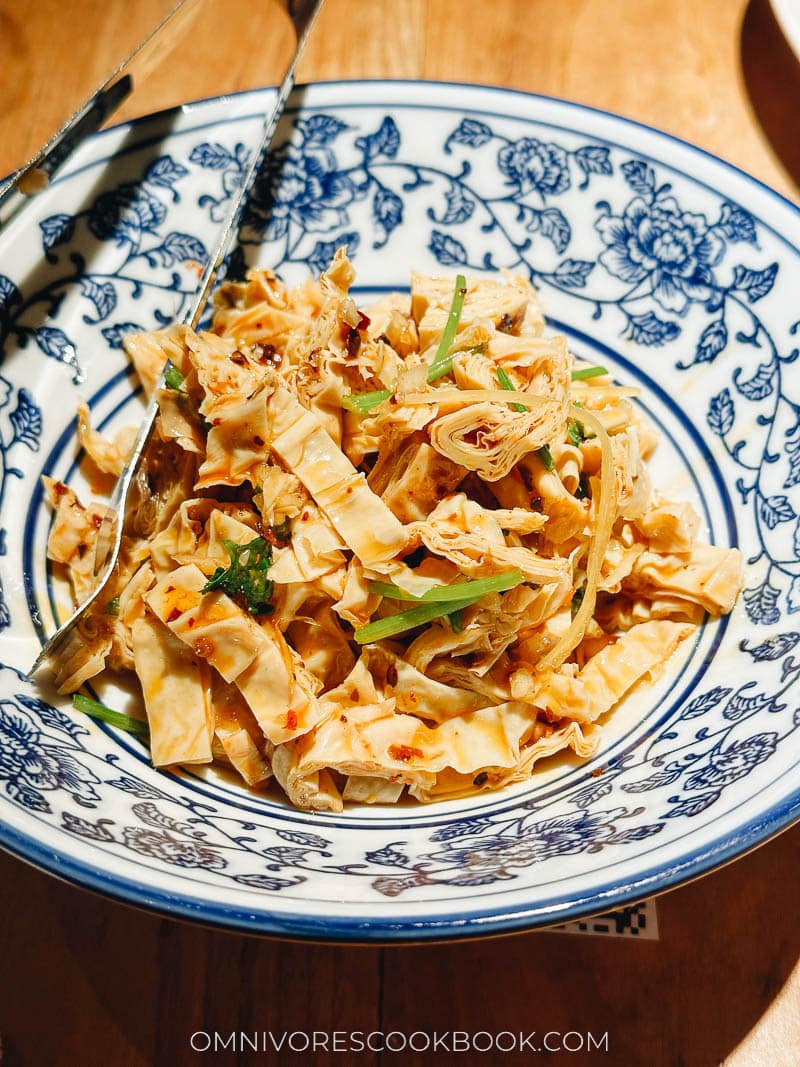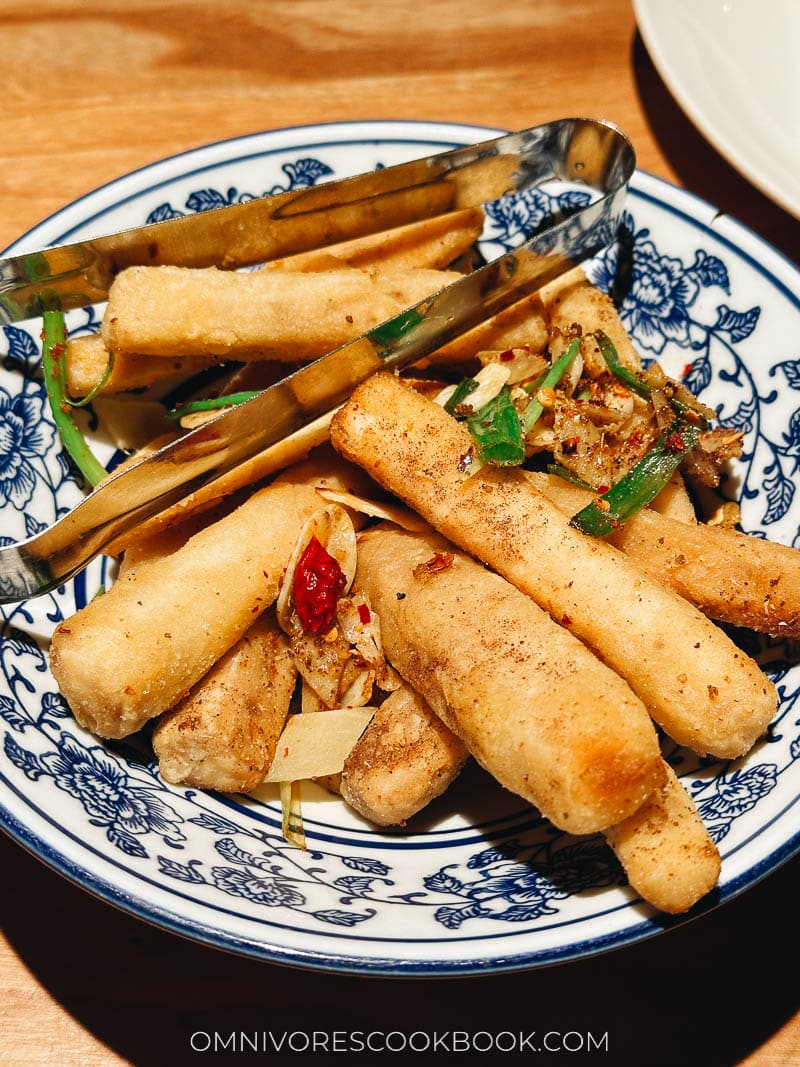 Shanghainese Dishes
Cuisine from Shanghai is significantly more subtle than Sichuan, and I was impressed that they make tasty dishes from both of these regions. Here are some that I really enjoyed.
Fluke Filet in Rice Wine Sauce
Very tender fish filets, apparently flash fried, and served with asparagus, wood ear mushrooms, snow peas, and red bell pepper.
The flavors are subtle but really enjoyable – the fragrance of the wine sauce with a pop of vinegar, the grassy asparagus, and sweet bell pepper all play nicely with the mild fish filet.
Chinese Pea Leaves in Shanghainese Broth
Pea leaves have become one of my absolute favorite veggies in recent years, and this might be my most favorite version of them. The grassy pea tips are served in a creamy umami chicken broth with century egg, mushroom, and tofu – it's a little decadent and totally irresistible.
You can also get pea leaves stir fried with garlic, and they are tasty that way, too.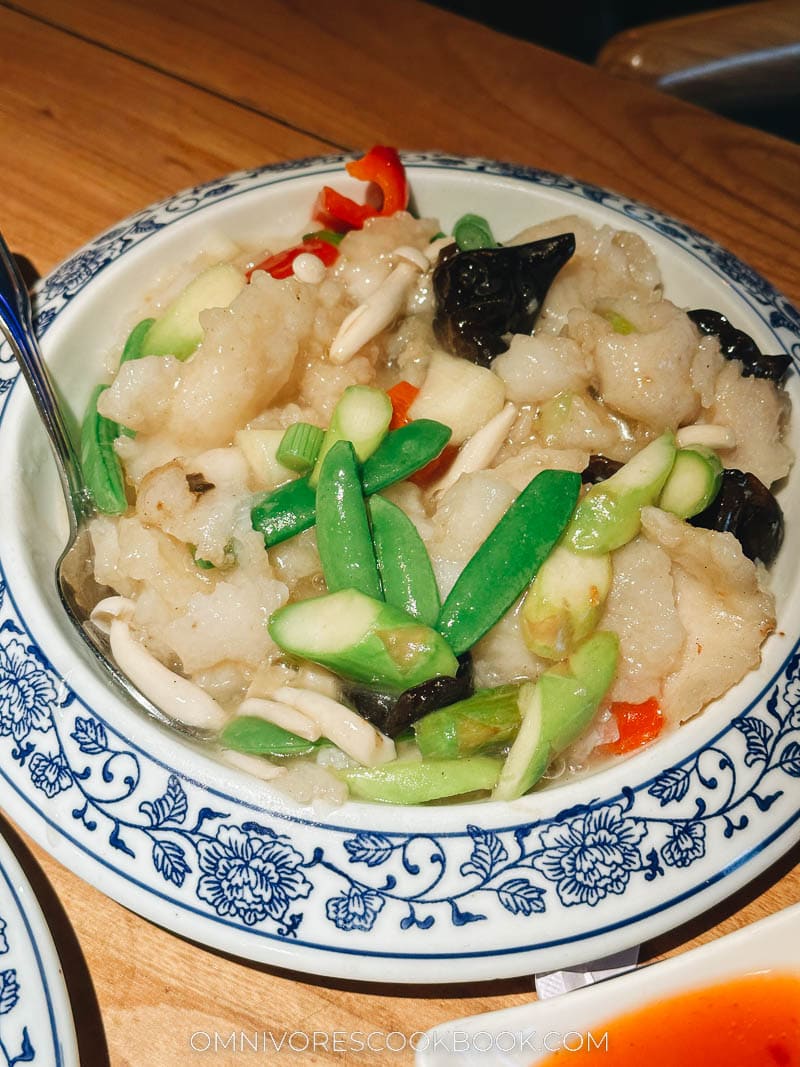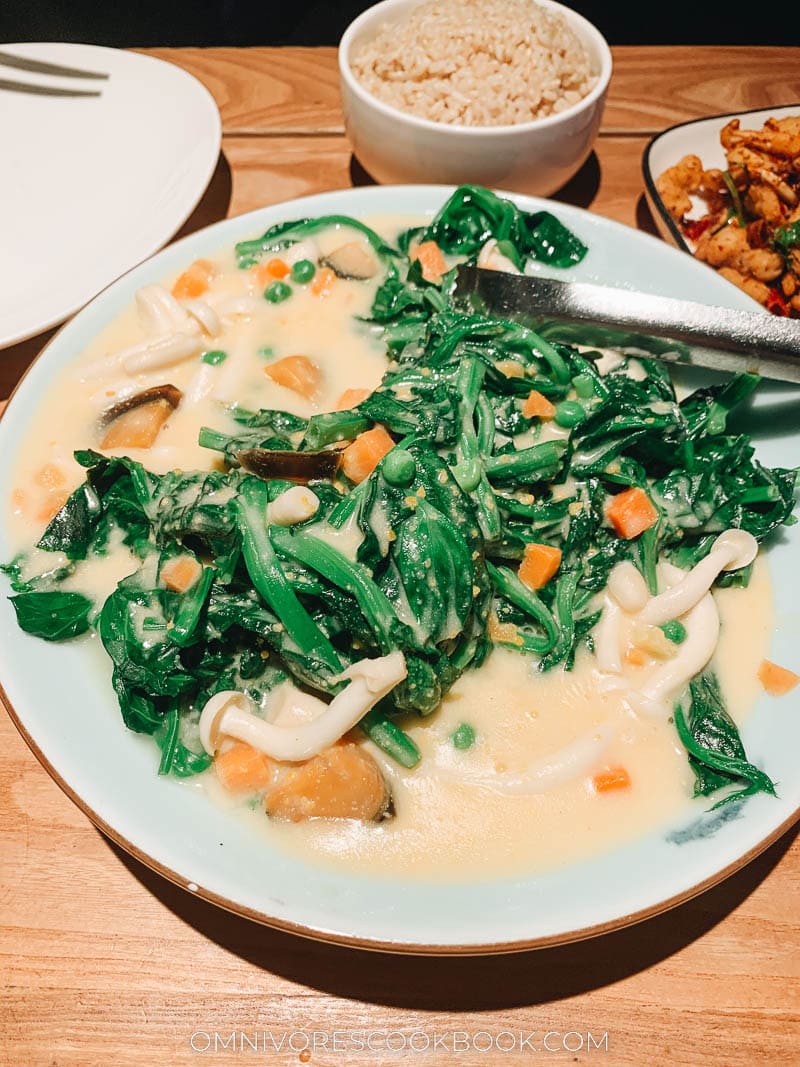 More Recommended Dishes from Around China
Smoked Bamboo and Pork Belly
This is another dry pot style dish, featuring smoked bamboo shoots. The bamboo shoots are just fun to eat – they have a neat texture and the smokiness goes perfectly with the rich pork belly.
Thousand Layer Tofu
They make a special type of tofu in house, and it has this really interesting texture. It's both bouncy and tender and all the little nooks and folds contain the flavors of the sauce, which is infused with the richness of pork belly, Chinese celery, and chili peppers. This is a fun dish with bright but not overwhelming flavors.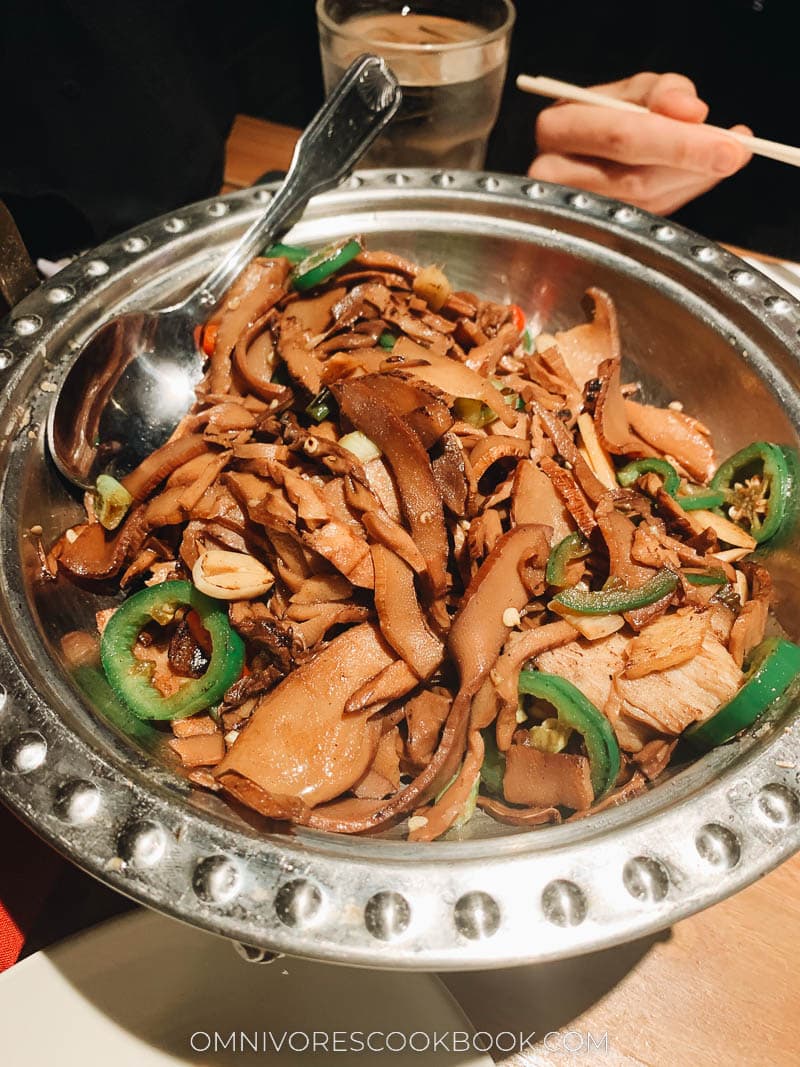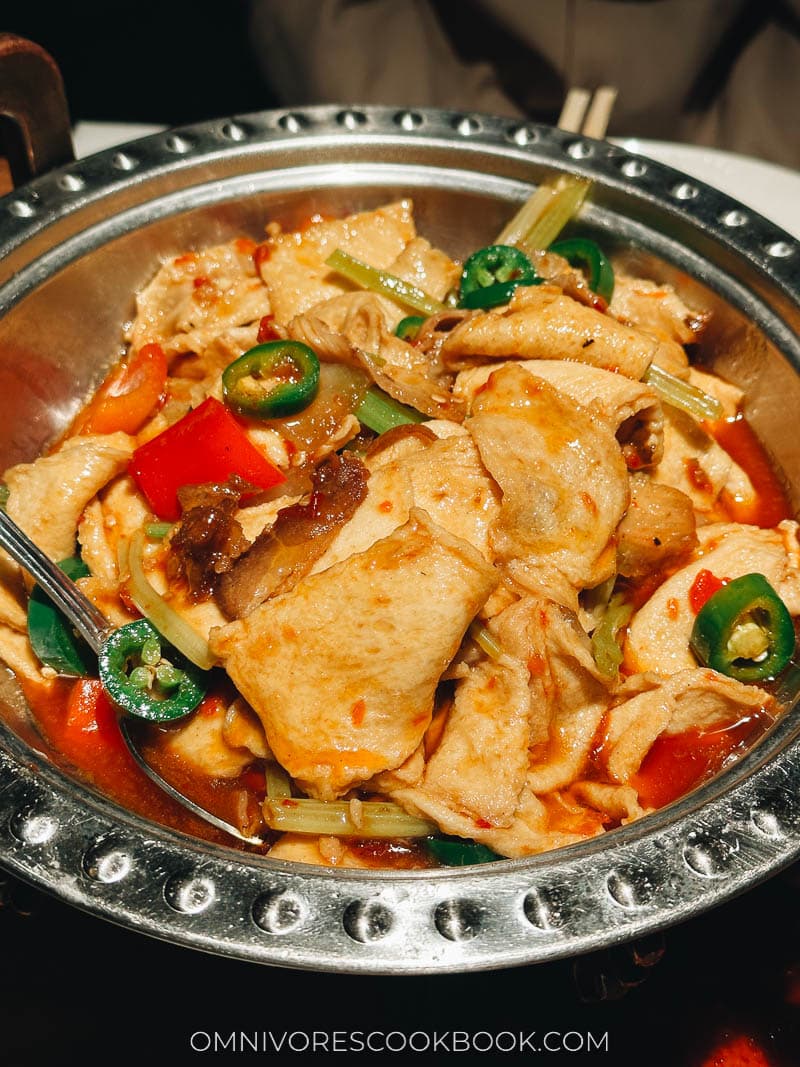 Tofu Skin and Napa Cabbage
This one was unexpectedly delicious and surprisingly simple. Chewy tofu skin (yuba sheet) is served with stir fried napa cabbage. The seasoning seems to come from chicken broth and a bit of garlic.
Chicken and Corn Soup
This is a favorite comfort dish of mine: corn soup with bites of chicken blended into the broth. You get lots of corn flavor and fragrance on top of the chicken. It comes in a huge bowl that you can share with the table.
Scallion Bubble Pancakes
This is not your typical scallion pancake but it is a very fun appetizer. The pancakes arrive at your table filled with air and they are both crispy and chewy. They come with a yummy (mild) red curry coconut dip.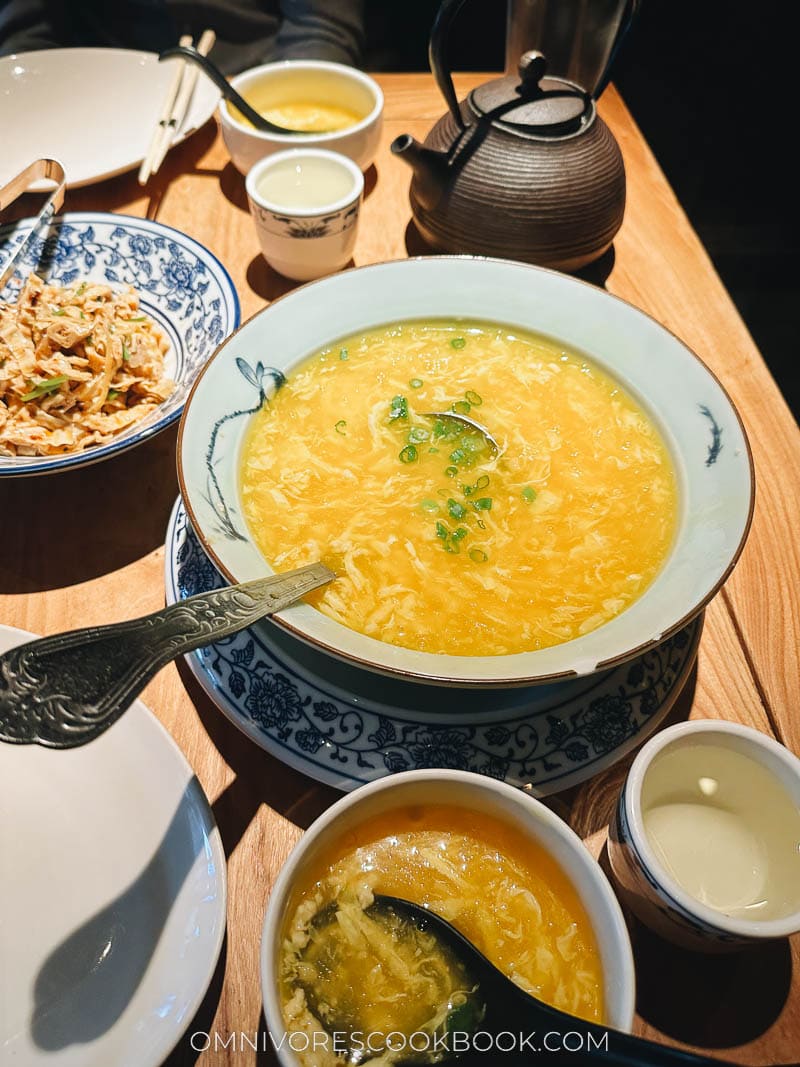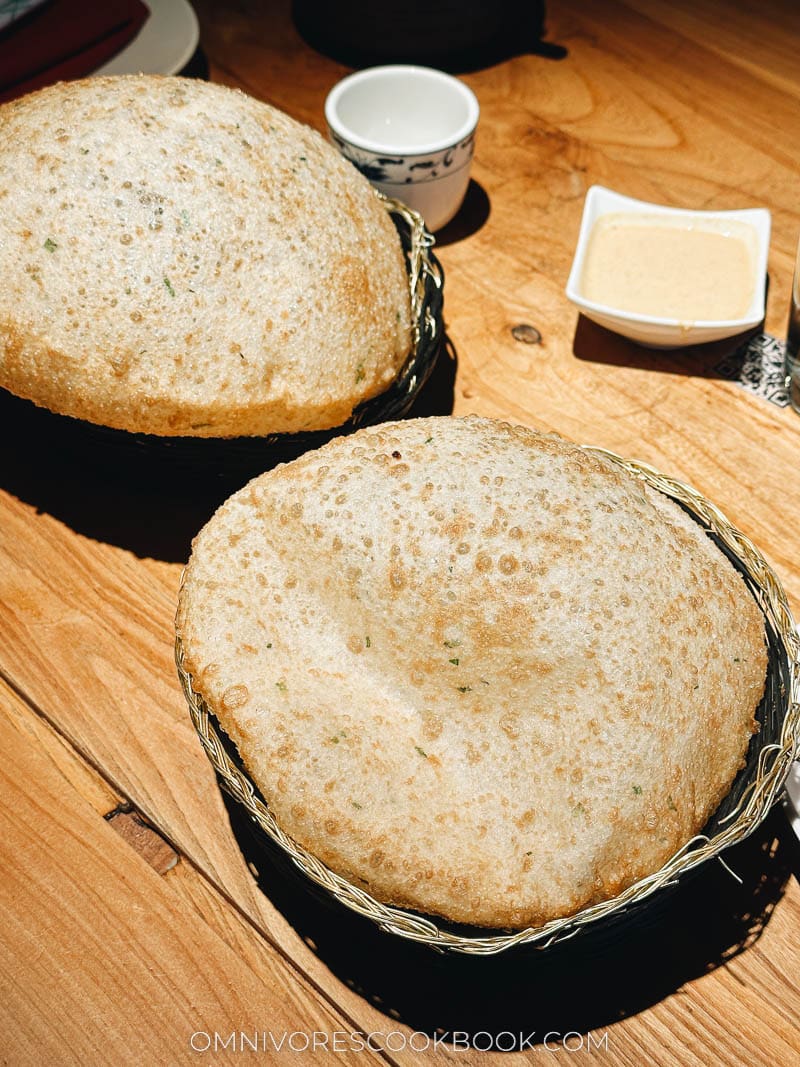 More Dishes I Want to Try
After discovering a few dishes I really love here, it's been a challenge to branch out and try other things on the menu. But there are some that I've had my eye on and want to try next:
Lion's Head Meatballs
Crispy Whole Fish w Sweet and Sour Sauce
Chongqing Chili Chicken
Toothpick Lamb
Final Thoughts
I know that you come to this blog to learn how to cook Chinese food at home, but it can be great to try new restaurants and discover what's possible. This restaurant has given me a much needed taste of home lately, not to mention some kitchen inspiration. I hope you have a chance to try O Mandarin if you're in the area.
More New York Chinese restaurants reviews