Cafe China offers impeccable regional Chinese cuisine and great service in an elegant, nostalgic 1930s style setting. The menu is centered around Sichuan dishes but includes classics from around the country. Read the full review for impressions of and tips on this very special restaurant.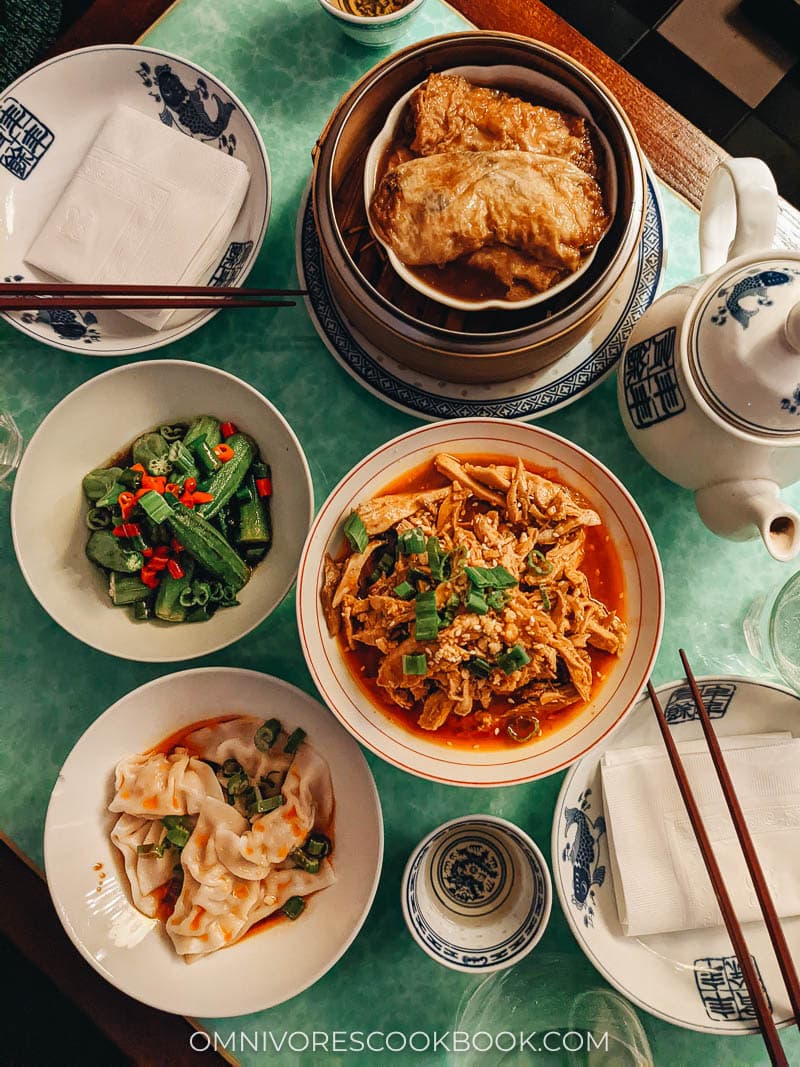 Cafe China: Faithful, Polished Chinese in the Heart of NYC
I'm on a quest to share with you my favorite Chinese restaurants in the New York City area and today's post features Cafe China, an institution of Chinese cuisine in Manhattan for over 10 years now. The restaurant has made quite a name for itself, having earned a Michelin star in eight consecutive years during that span.
Late last year, the business relocated to a new building, and while I had dined at the previous location a few times and really enjoyed it, I was excited to see the new space and try the food again.
I found the food to be just as tasty, possibly better than before, and the dining experience overall, including food, drink, ambience and service, was exceptional.
The Design and Ambience of Cafe China
New York City has no shortage of very thoughtfully designed restaurant spaces, but Cafe China stands out for its meticulous and sentimental reimagination of a 1930s-era Shanghai lounge. Shanghai during that time was one of the most cosmopolitan places in the world and the architecture and interior design were (and are) quite remarkable.
The palette of the place uses many pleasant shades of green and the fixtures at the bar and tables, and even in the bathrooms help you travel back in time a bit. Vintage prints and photos decorate, and peaceful period music fills the air. Dim lighting helps create an even deeper sense of intimacy.
While Cafe China is definitely a place to enjoy a full meal, the special atmosphere is enough to make it a worthwhile place to stop for a drink and maybe a dim sum snack at the bar while enjoying the setting.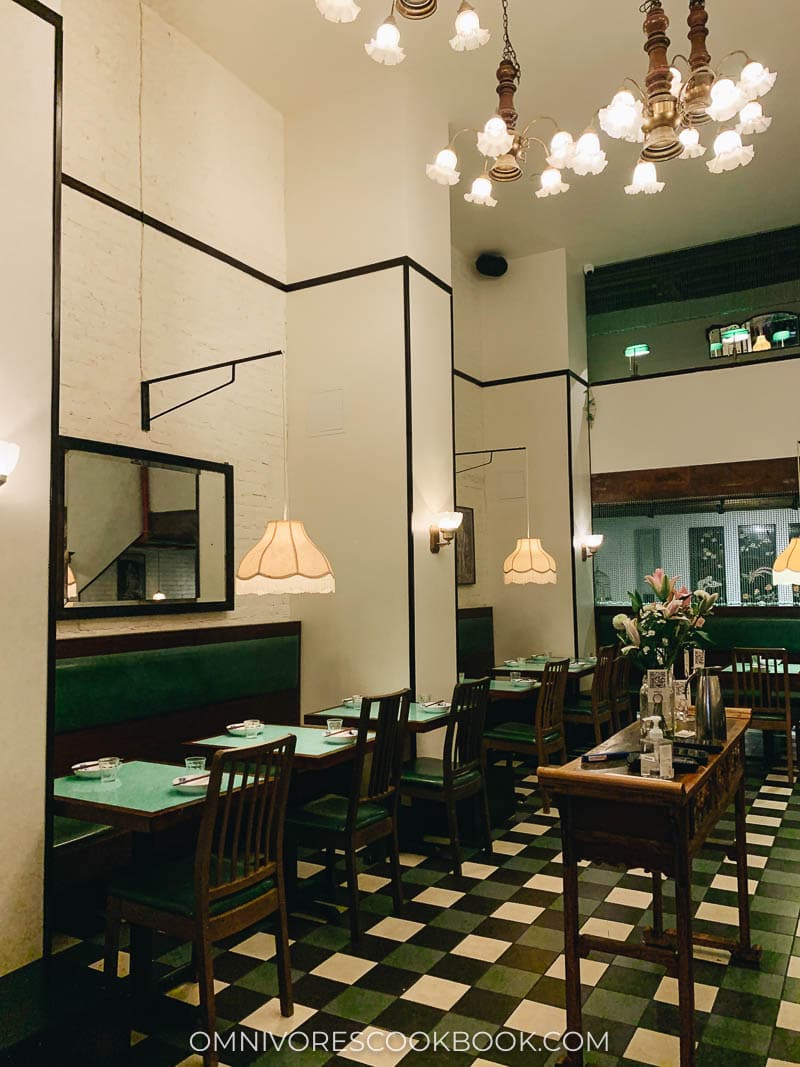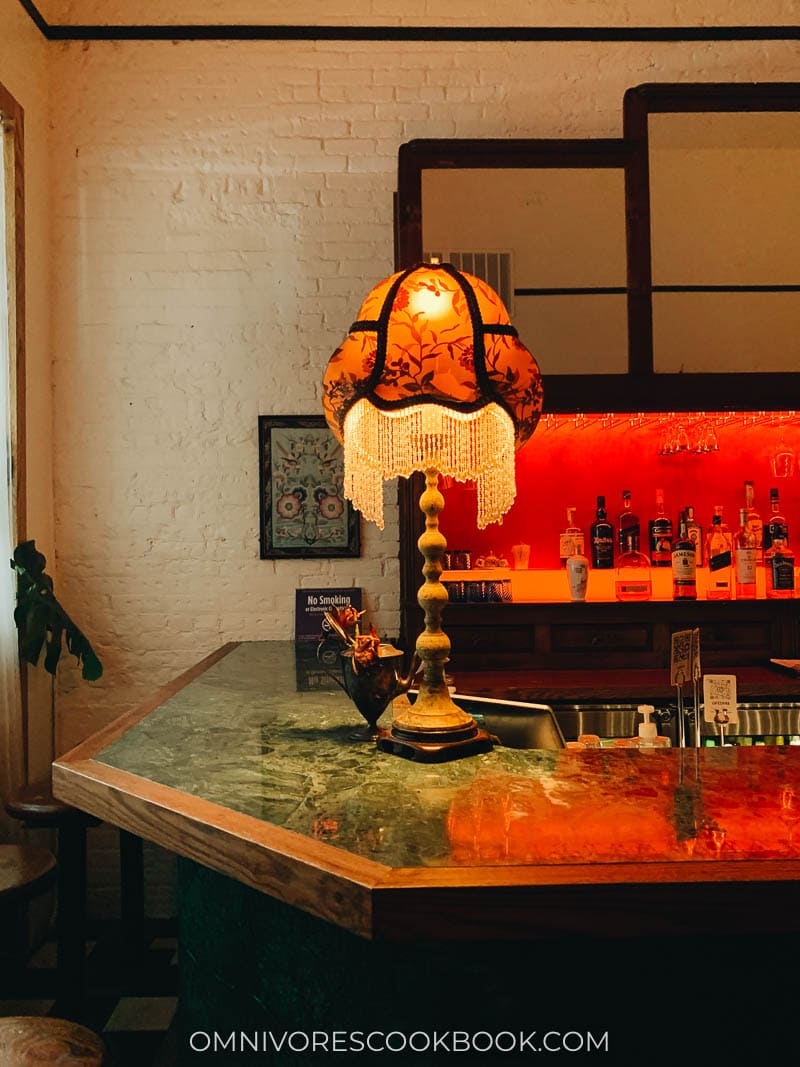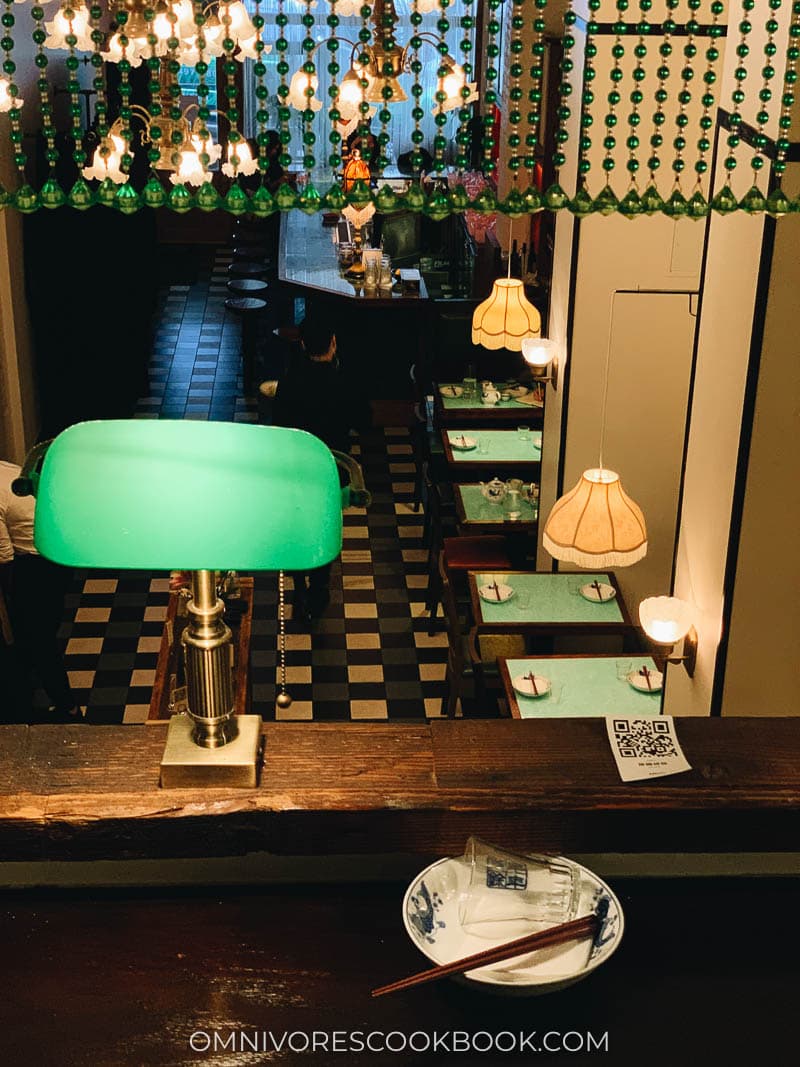 Unusually Good Service at Cafe China
I don't usually have much to say about service, but it's worth pointing out here that it's better than the vast majority of similar restaurants in the city. By US standards, it's quite abundantly staffed (though in China it's not unusual to have several people helping one table) so you never have to wait long for help. And the quality of help we received was as I would expect from a Michelin-star place.
Back-of-house service, judging from how promptly and rapidly our dishes came out during the Saturday lunch rush, appears very well run, too.
A Quick Word About Price
Cafe China isn't a budget restaurant in any sense, but for me the value is huge. I'd expect around $30-50/person on average here, if sharing with a group and not drinking, which may seem steep. But consider that as a Michelin one-star restaurant, the food and service are comparable to that of a place that charges $100-200/person. And it is possible to get lunch for less than $20 before tax and tip. (Prices as of March 2022)
Cafe China's Sichuan-Centric Pan-Chinese Delicacies
Finally, we get to the best part – the food! The menu features many Sichuan specialties, and many of those are quite similar to those found at Cafe China's sister restaurant, Birds of a Feather in Brooklyn (it also gets a rave review from me). There are also a number of tasty non-Sichuan dishes that are nonetheless true to how they're made in China.
Here are some of my favorites:
This is a classic Sichuan cold dish that I order nearly every time I see it, and they do a really nice job with it at Cafe China. The sauce is low-key electrifying – with a vibrant sizzling mala that's balanced and complemented by a bit of nutty sesame paste. Take a bite and just let your mouth buzz.
Vegetarian Bean Curd Rolls (香菇腐皮卷)
These tofu rolls, a common hot dim sum item, are an umami texture treasure. Tender tofu skin surrounds shiitake and wood ear mushrooms, and jicama(!) in a thick, brothy sauce. They are a lot of fun to bite into and satisfyingly savory. The jicama is a brilliant textural touch despite its unconventionality. I suspect they first steam the tofu to get it tender and then fry it to give it a rich, buttery mouthfeel.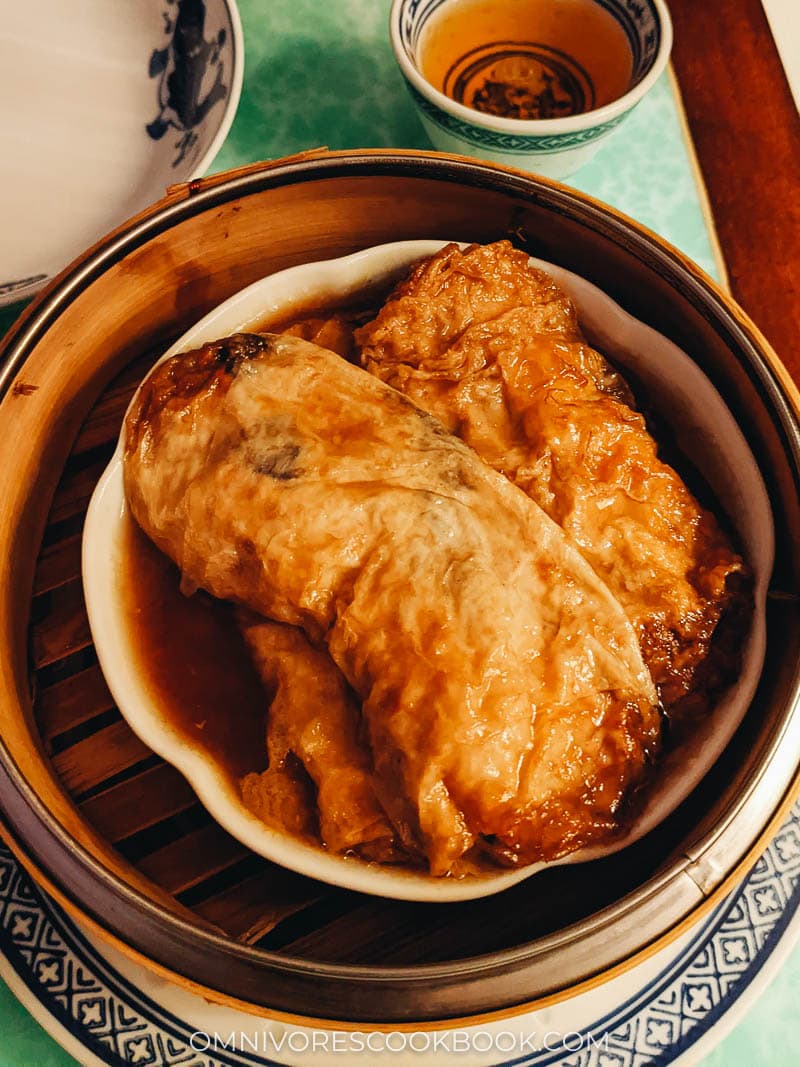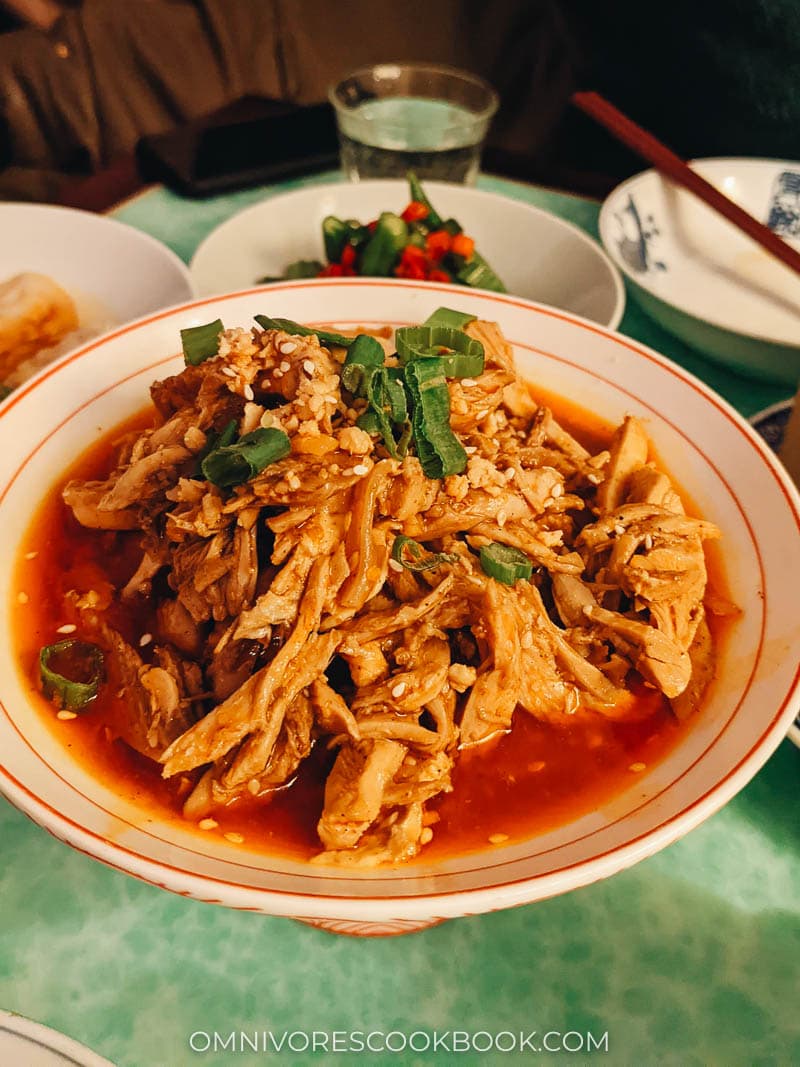 Poached Okra (捞汁秋葵)
This cold appetizer uses an ingredient you might not expect in Chinese food (okra) and prepares it perfectly using traditional Chinese flavors. The okra, mysteriously slime-free, is blanched until bright green and punctuated by fresh tabasco chili peppers. It's bright and powerful but not quite eye-watering. The soy sauce, green onion, and sesame oil give some depth and balance.
Pork Dumplings in Chili Oil (红油水饺)
This is a classic Sichuan dim sum item that tastes a lot how it looks and sounds. The overall flavor is a rich umami from the pork, with just a hint of chili spiciness. The sweet soy sauce provides a pleasant counterbalance to the chili oil.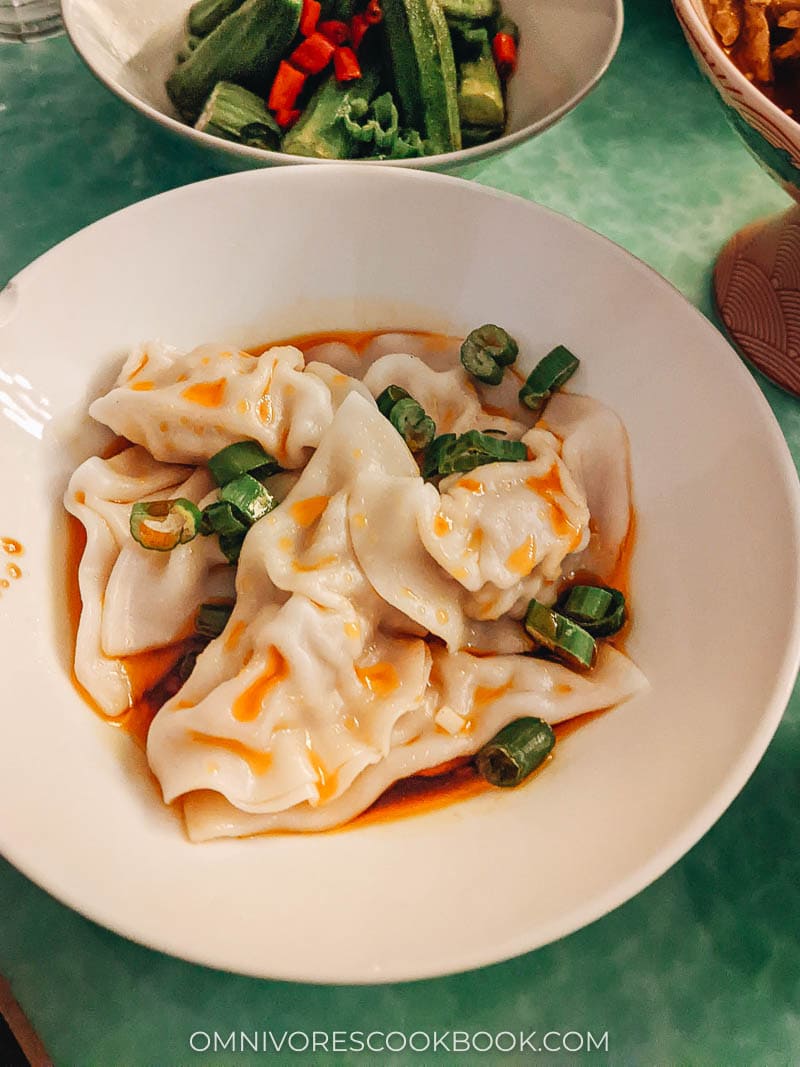 Fish Blossom, aka Squirrel Fish (松鼠鱼)
A traditional dish from Suzhou, near Shanghai, and it's loved all around China. It features a whole fish, sliced very carefully like a flower and the bones removed, deep fried until crispy, then served in a savory-sweet-sour sauce with pine nuts and veggies.
It's less sweet and more complex than your typical sweet-and-sour and the textures and aroma are really lovely. This is a good one to share with a group.
Shredded Beef with Green Chili (小椒牛肉)
This one features super tender thin steak strips and blistered mild green chili peppers stir fried and overflowing with beautiful smoky wok hei. This isn't really spicy but has a ton of rich green chili pepper fragrance. The dried bamboo shoots sprinkled in add another layer of fun texture.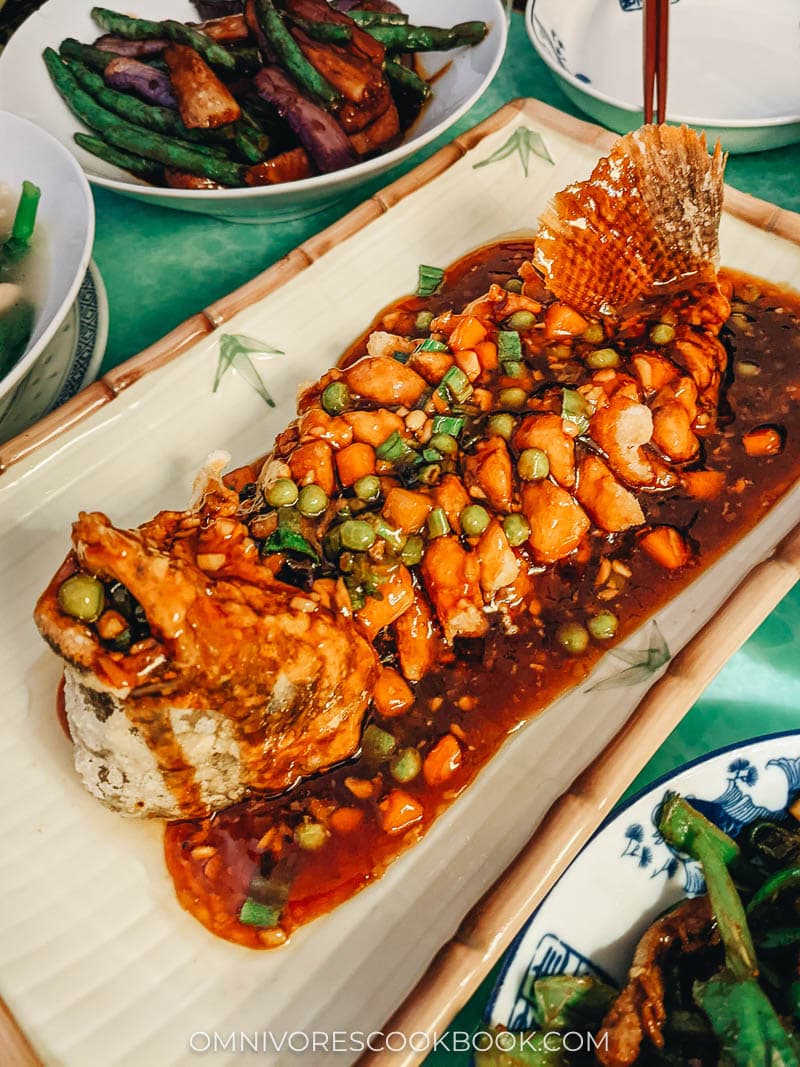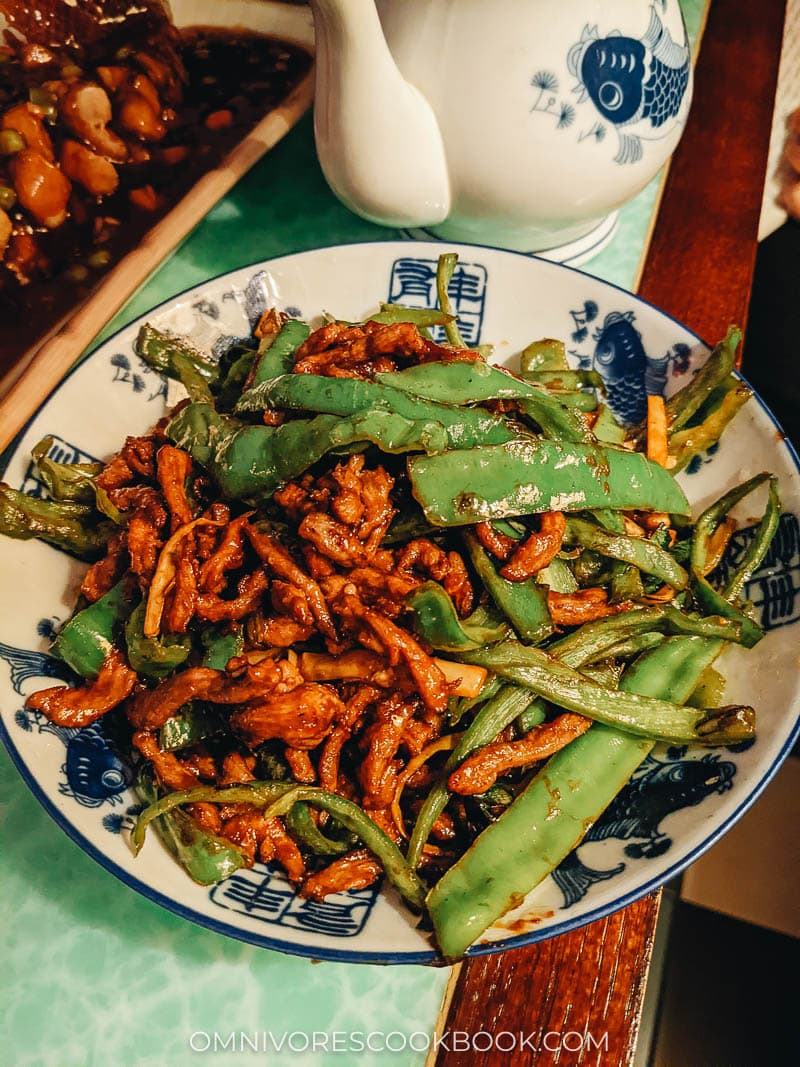 Poached Snow Pea Shoots (上汤豆苗)
This dish is a luxurious rendition of a common homestyle dish. Typically, pea shoots are just poached in chicken broth, but Cafe China supercharges that chicken broth with dried shrimp and scallops, which lend a subtly powerful sea-tasting umami to the whole dish. The enoki mushrooms give a bit of earthy flavor and a fun crunchy texture. The pea shoots, with their bright, grassy flavor and crunchy-tender texture are elevated at the top of this pyramid.
Pea shoots are one of my favorite vegetables, and these might be the best pea shoots I've eaten.
String Bean and Eggplant (四川双素)
This is a savory and satisfying dish of string beans and Chinese eggplant stir fried in oyster sauce. While it's well executed, the flavor is very mild – I recommend this dish as a counterbalance to some spicier ones.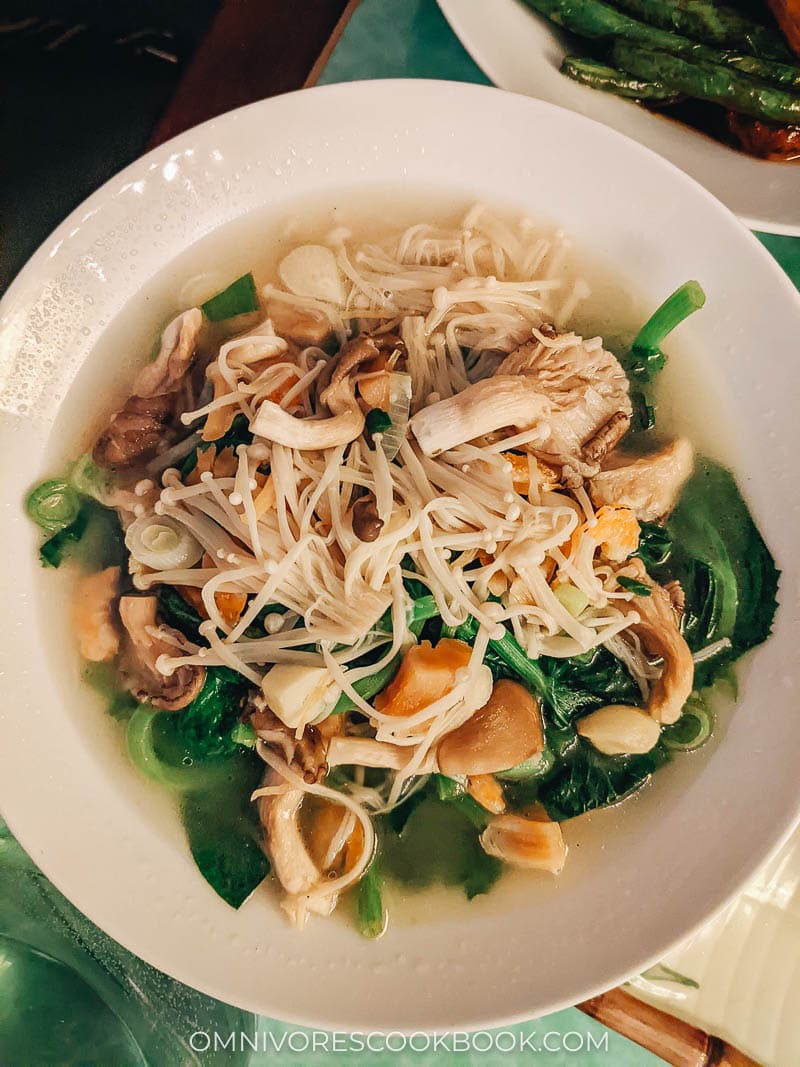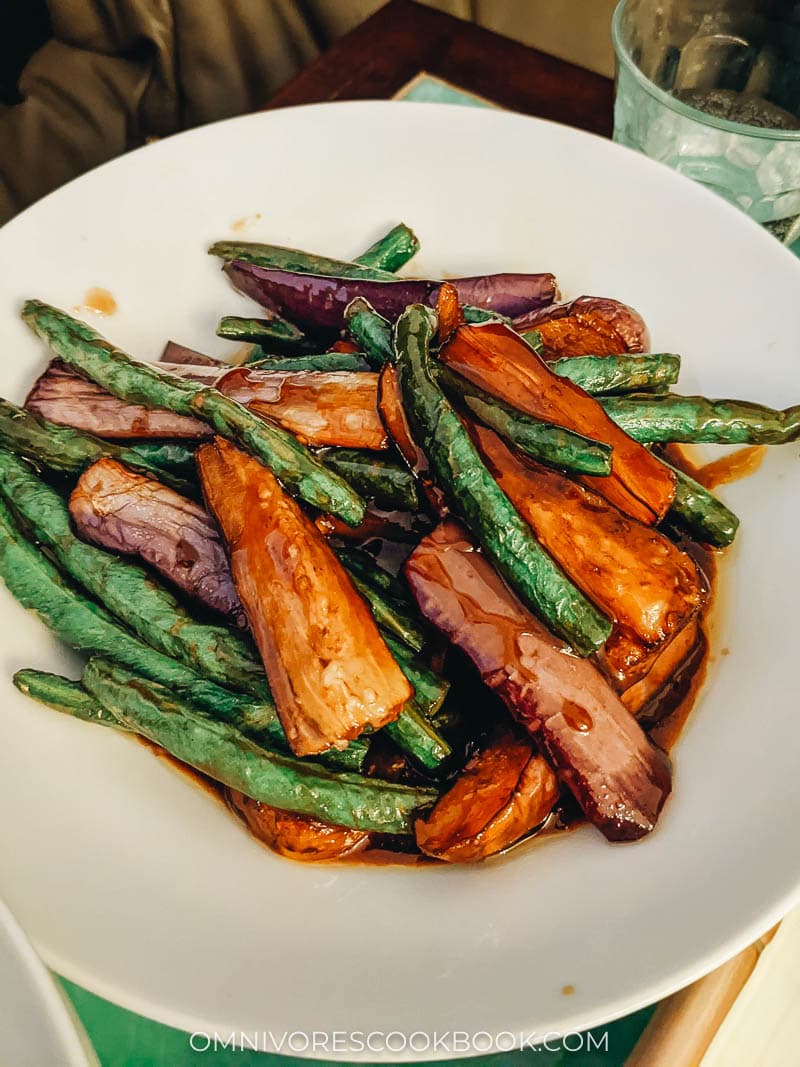 Red Bean Ice Cream with Vanilla Mochi (糯米糍红豆)
This is the perfect capstone to a spicy Sichuan meal – it is creamy yet light and refreshing and not especially sweet. The mochi has a wonderful chewy tooth feel and is filled with ice cream itself. One of these is convenient to share between two people.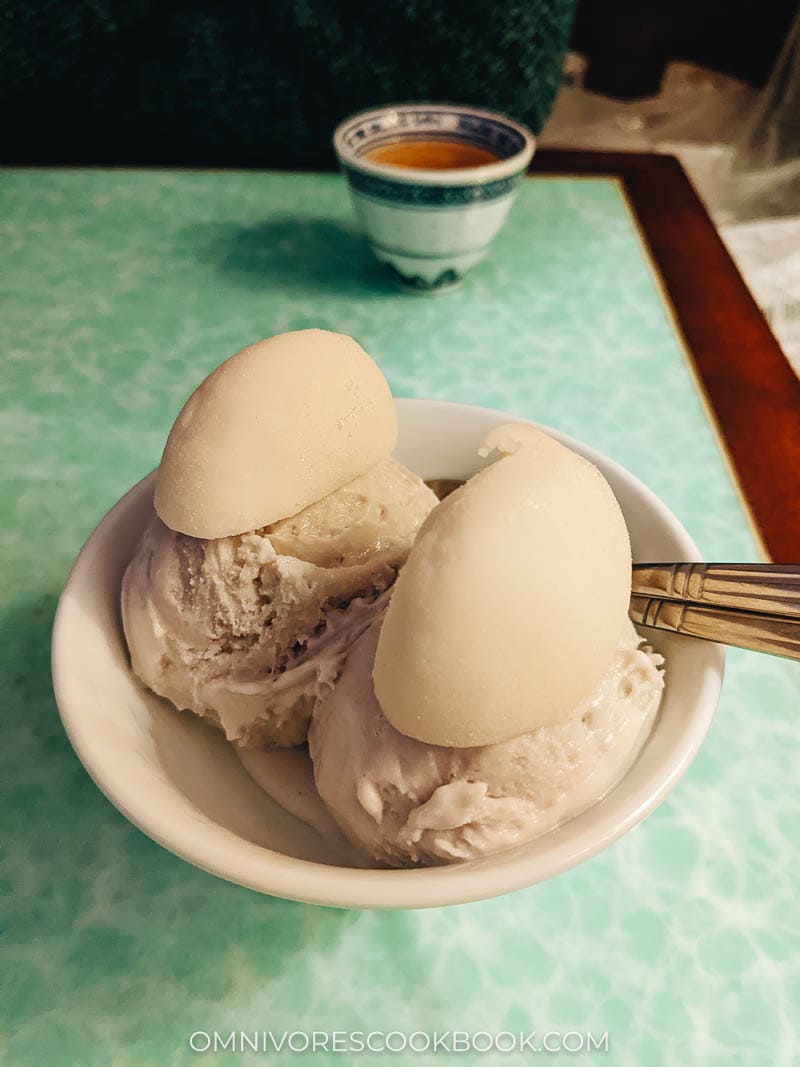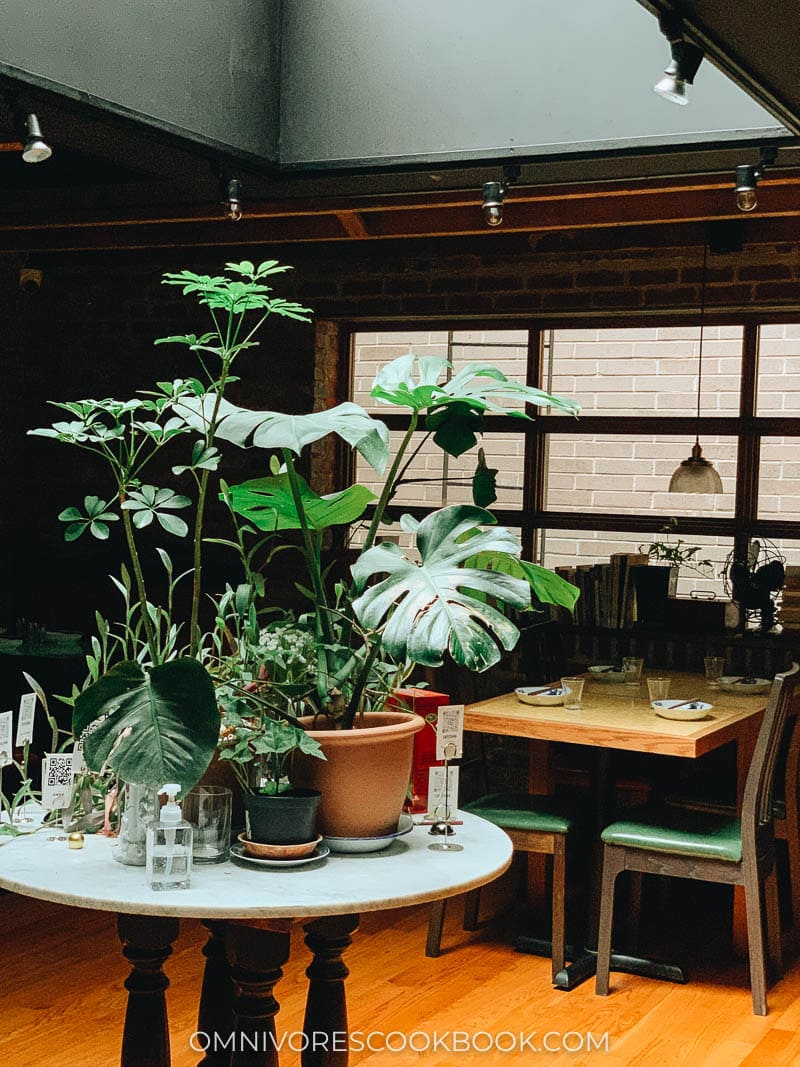 Tips for Dining at Cafe China
It's Pretty Good for Vegetarians and Vegans
I noticed a "V" sign on some 20% of the menu items, including some really good ones, so I think this should be a solid place for a vegetarian meal. Definitely try the mapo tofu, bean curd rolls, okra, and eggplant in garlic sauce. They also have a couple types of vegetable dumplings and the mala cured daikon and smoked tofu appetizers look great. Check with your server when ordering to confirm ingredients.
Mind the Spice
It's possible to come here and enjoy a meal of non-spicy dishes, sure, but some of their tastiest Sichuan dishes pack a lot of mala spice. Keep the average spice level of all your dishes in mind as your order, as even huge spice fans will want a counterbalance to the heat. I really like spicy food and even I try to aim for around 50% spicy dishes.
Final Thoughts
As I write this, I'm already looking forward to my next trip to Cafe China. Since it's in Midtown it's easy to access from Grand Central or Penn Station, making it a good destination for a day trip into the city.
I hope you've found this review helpful! I can't recommend Cafe China enough for its tasty, authentically prepared food, unique atmosphere, and stellar service.
Cafe China
Address: 59 W 37th St, New York, NY 10018