Birds of a Feather in Brooklyn serves authentic, soulful Sichuan specialties and Chinese classics in a clean, trendy setting, and it comes at a great value for the price. Read on for my review and tips on this can't-miss restaurant.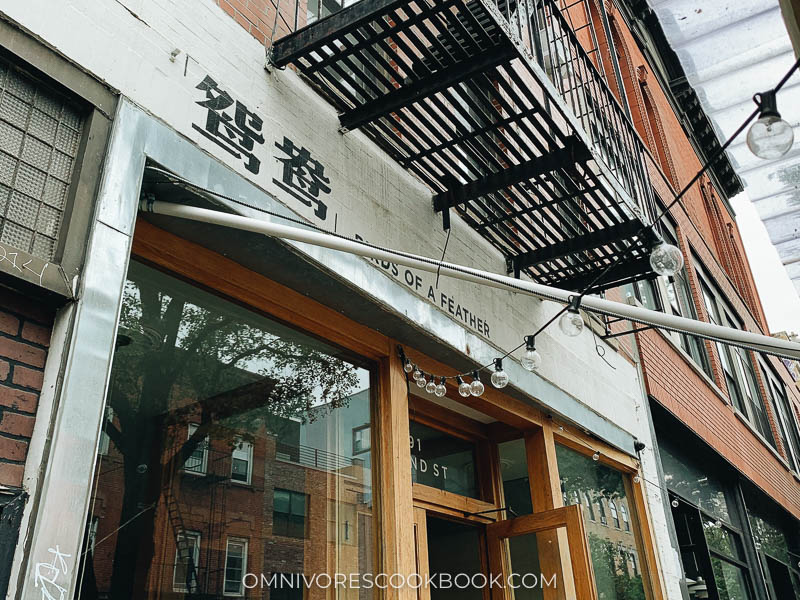 Birds of a Feather: A Special Kind of Chinese Restaurant
Following up on my previous Chinatown tour posts, I wanted to share a bit with you about one particular restaurant in New York City that I love.
I've eaten here ten or so times, easily making this my favorite restaurant outside my old neighborhood in Manhattan. I ate there before moving to the city, visited while I was living there, and continue to visit since moving out of the city. The friends I've brought there, both adventurous and unadventurous eaters, have loved it.
The restaurant overall has this uncommon (but becoming more common, especially in NYC) combination of:
A great menu of authentically prepared regional Chinese food practically indistinguishable from what you'd get at a high-midrange restaurant in China.
A polished, minimalist, modern, and even fashionable aesthetic, high user-friendliness for non-Chinese, and excellent customer service.
Reasonable pricing given the high quality of food (as of June 2021, $20-$40 per person for a large meal, depending on what's ordered; with lunch specials a person can eat for $10-15).
I love that restaurants like Birds of a Feather are starting to take off in the US, as they give a glimpse beyond the food-court/buffet/takeout genre, of what great Chinese food can be.
If you live in or near the city or if you plan to visit, I highly recommend a visit to Birds of a Feather.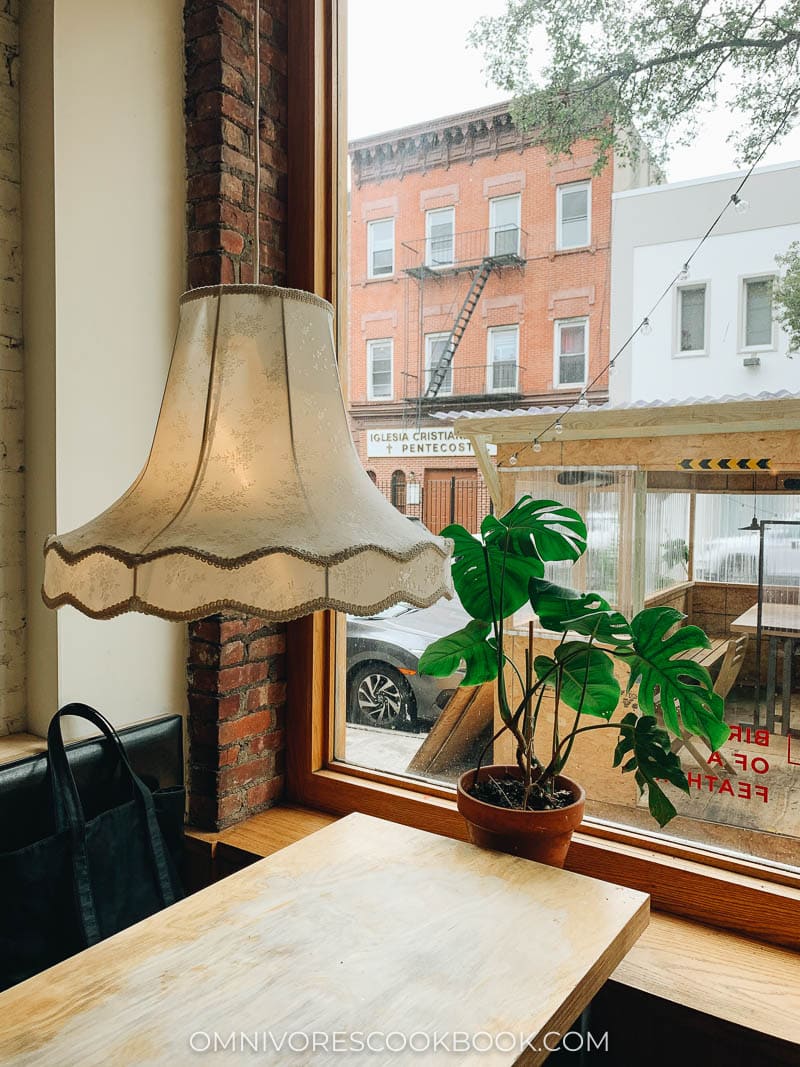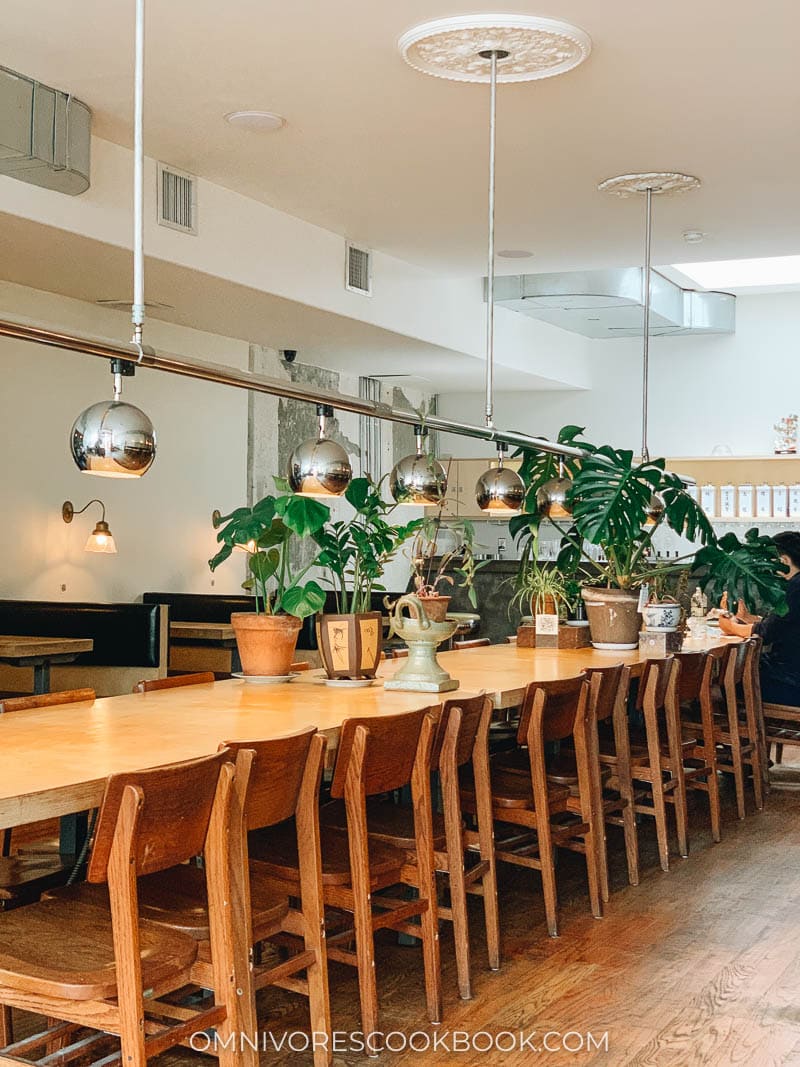 Sharing is Caring and Helps Maximize the Deliciousness
There are some restaurants, even Chinese ones, where I would say it's fine to visit alone or with one other person and get the full experience of the place.
But given the vast menu at Birds of a Feather, bring as many people as you can if you want to enjoy the great variety available there. And all of the dishes are intended to be shared, family style.
There are a few benefits to this:
You can try more of the menu, which has a ton to offer
You share the risk with spicy or adventurous dishes – if you only want one or two bites of one dish, someone else in the group can pick up the slack
A large meal comes out at a cheaper per-person rate than a small one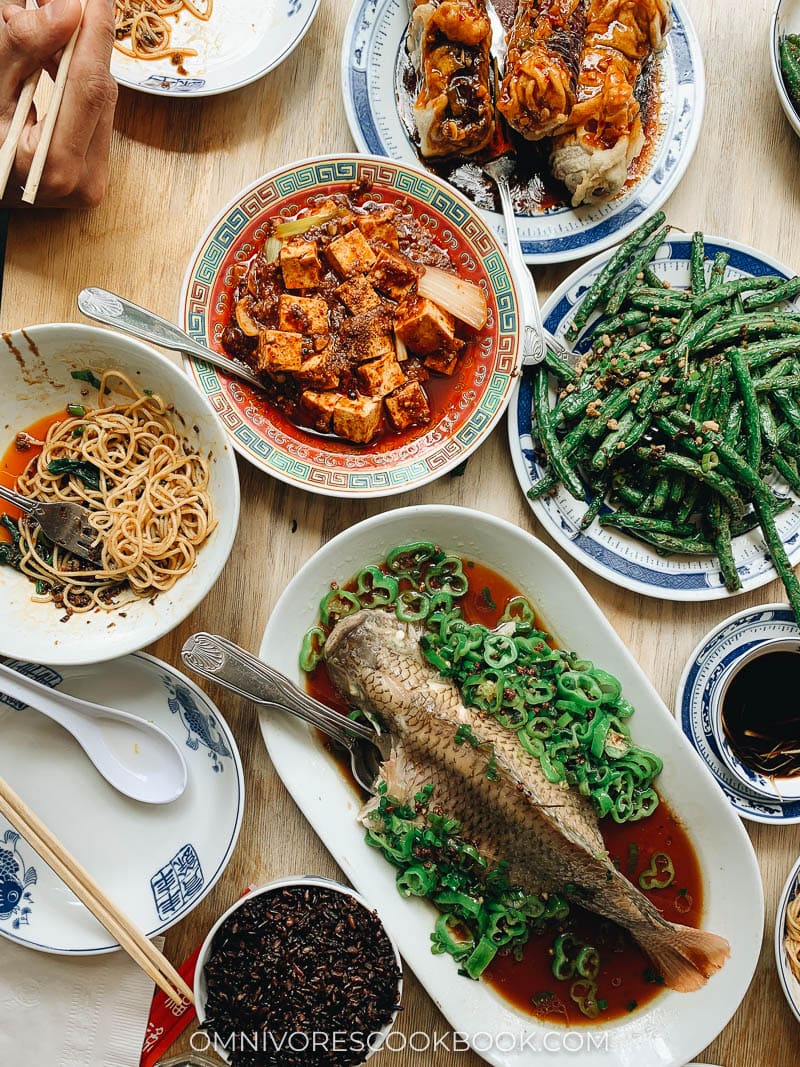 The Birds of a Feather Menu
Here's the lowdown on my favorite dishes on the menu at Birds of a Feather. Though feel free to order what strikes your fancy! You can't really go wrong in the end.
Dishes from Sichuan province make up the majority of the menu. Most of them are at least a little bit spicy, but there are some that are not. Regardless, flavors are big and bold across the board and the quality is on the same level as nicer mid-range restaurants in China.
Cold Appetizers
Perhaps lesser known outside China, it's very common to serve cold dishes with a traditional Chinese meal and they provide a sense of balance for the meal.
Okra with Sichuan Pepper Sauce – The okra are cooked just right, so they're bright green, tender, and not slimy at all. The sauce has green peppercorn but not chili pepper, so it's umami and a bit numbing but not actually spicy. It's a wonderful warm-up for the palate.
Husband and Wife Special – This sliced beef and tripe seasoned with chile-peanut sauce is just fun to eat – the varied textures of the meat and tripe combined with the spicy-numb-umami sauce that will just light up your taste buds. I loved this dish so much that I developed my own recipe for it.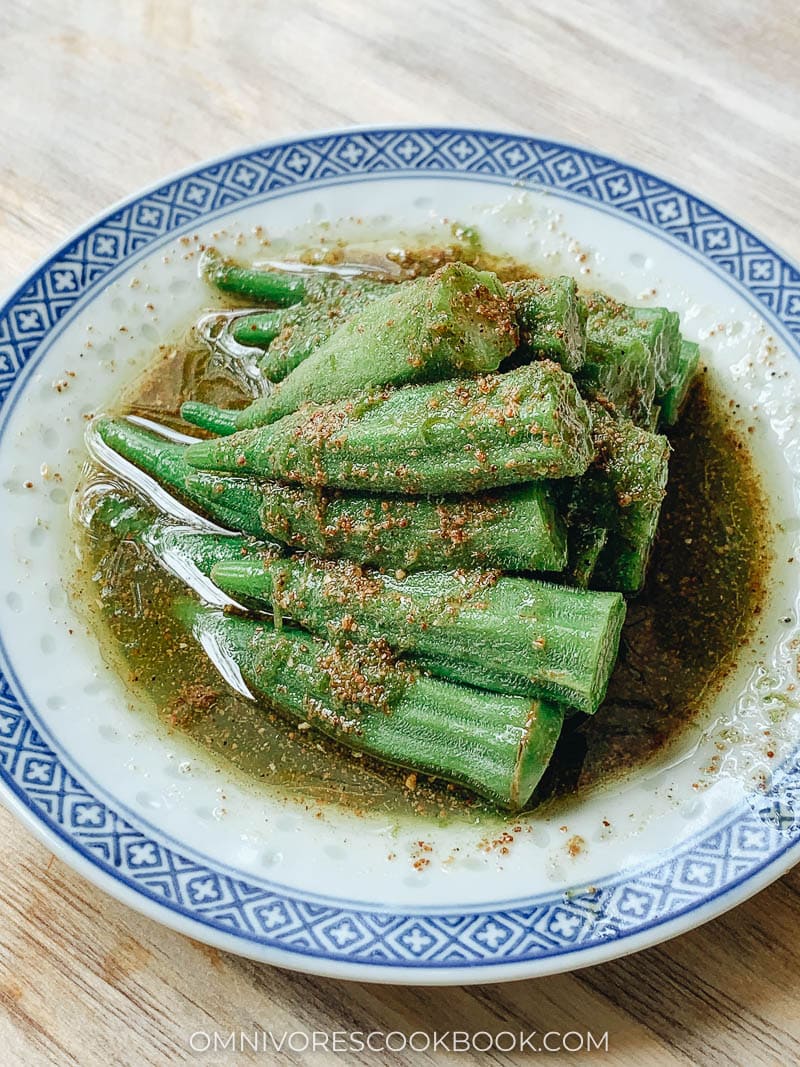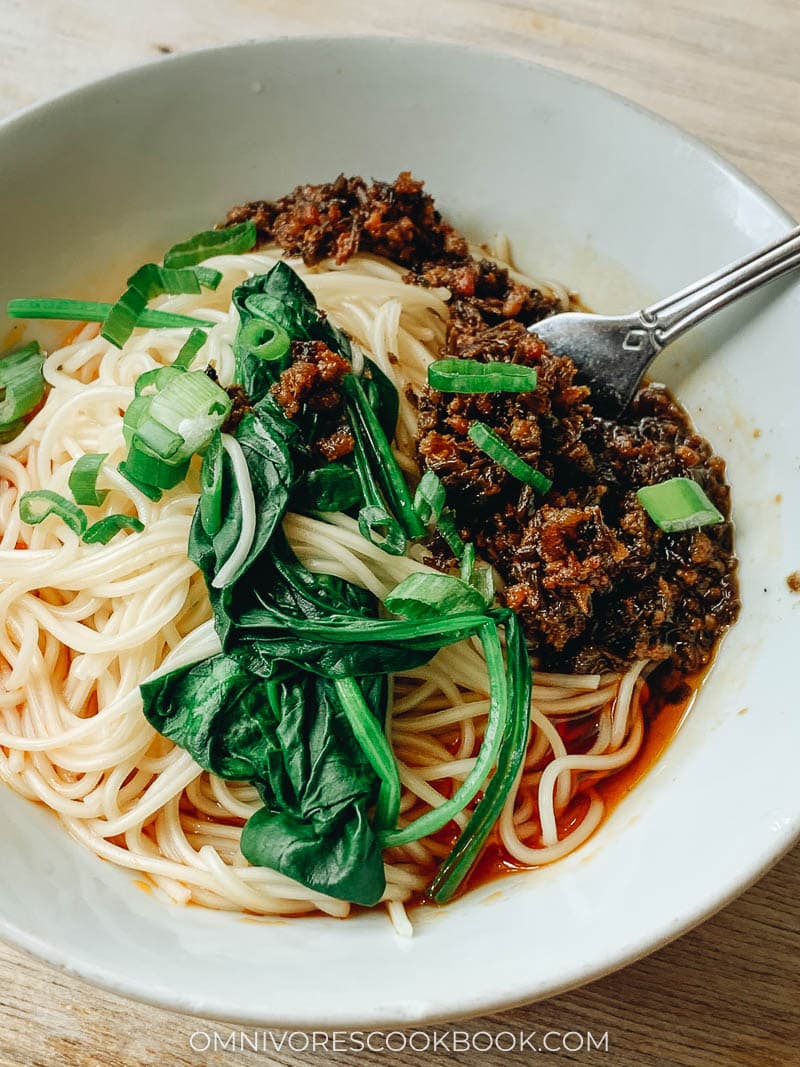 House Made Dim Sum
The hot appetizers here are categorized using the Cantonese word "dim sum", though there is a mix of Sichuan and other regional Chinese dishes on the list. A few of my favorites:
Spicy and Sour Tofu Pudding – this is a typical street food throughout much of China, and this one has a signature Sichuan flair of chili, peppercorn, and pickled veggies.
Dan Dan Noodles – a Sichuan staple, their version has a really satisfying balance of spicy-sour-umami-nutty.
I can confirm that their (Shanghainese) crab soup buns are quite tasty. Though if fantastic soup dumplings are your objective, there are better places to go for them. 😉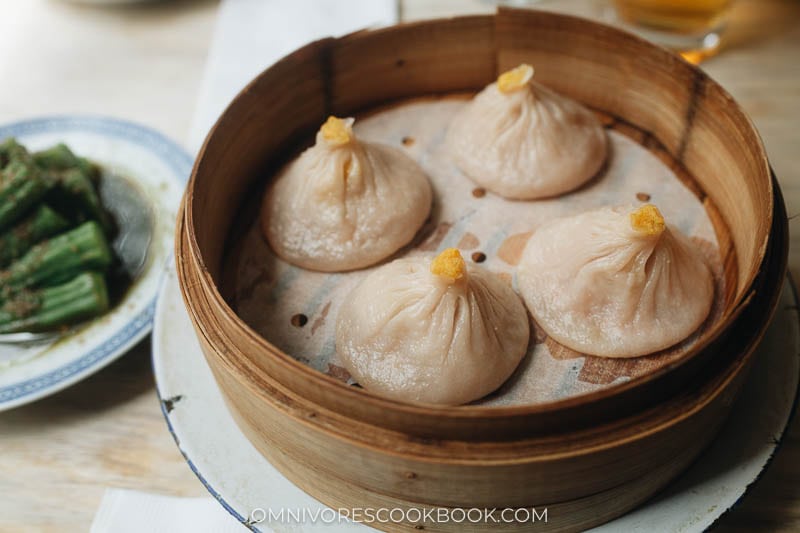 Entrees
As it turns out, the recommended dishes are all fairly classic dishes, executed masterfully. Those who have spent time in China will find that these are on point, while those new to the dishes will be pleasantly surprised. Feel free to pair one of these with something less familiar.
Kung Pao Chicken – as it was meant to be. Spicy, numb, umami chunks of tender chicken with crunchy peanuts. Just a touch of sweetness.
Ma Po Tofu – one of the more intense versions of this dish that I have had at a restaurant. The sauce is spicy, but really packed with flavor on several dimensions. You may want a bite of rice with this one.
Spicy Cumin Lamb – the great warming fragrance of cumin on tender stir-fried lamb slices, with the spicy-numb flavor profile that Sichuan is famous for. The combination is addictive.
Steamed Whole Fish with Asian Chile – super fresh bone-in tilapia, steamed in a sauce that is delightfully accented with the essence of fresh chile pepper (most Sichuan dishes use dried peppers). If you don't mind a few bones, this is a really enjoyable one to share.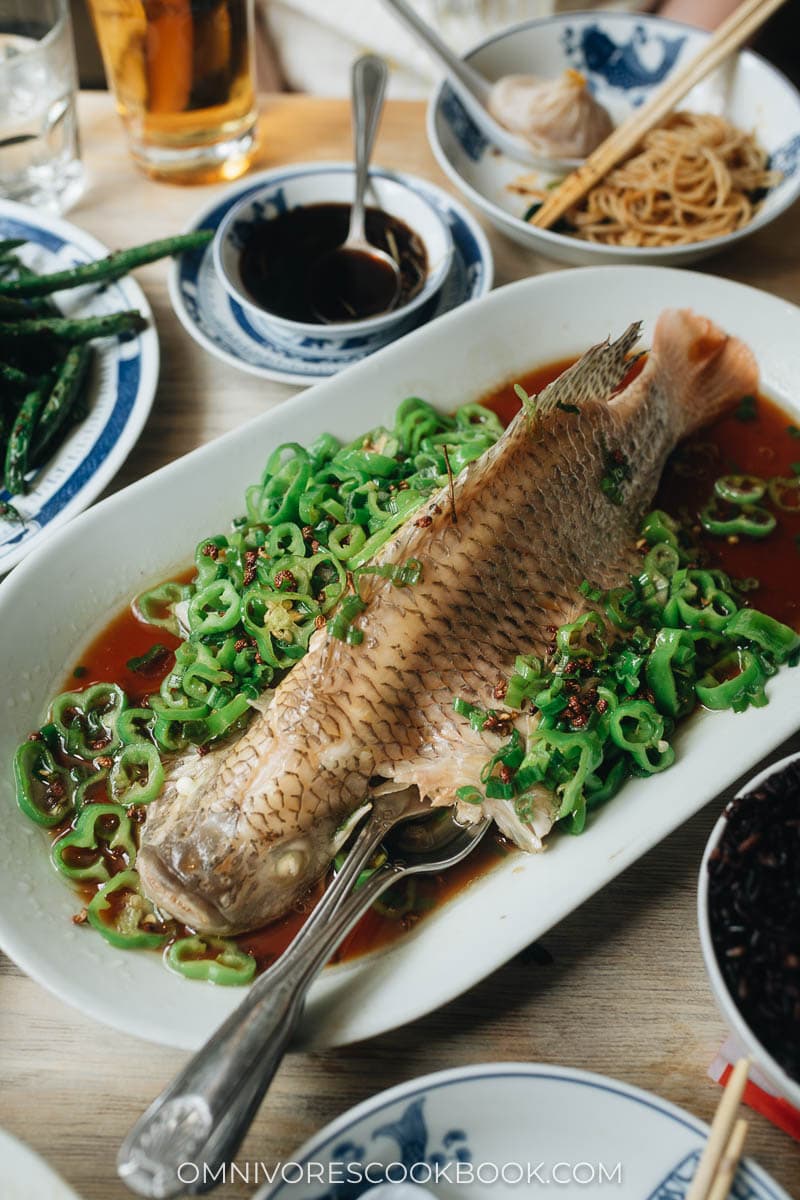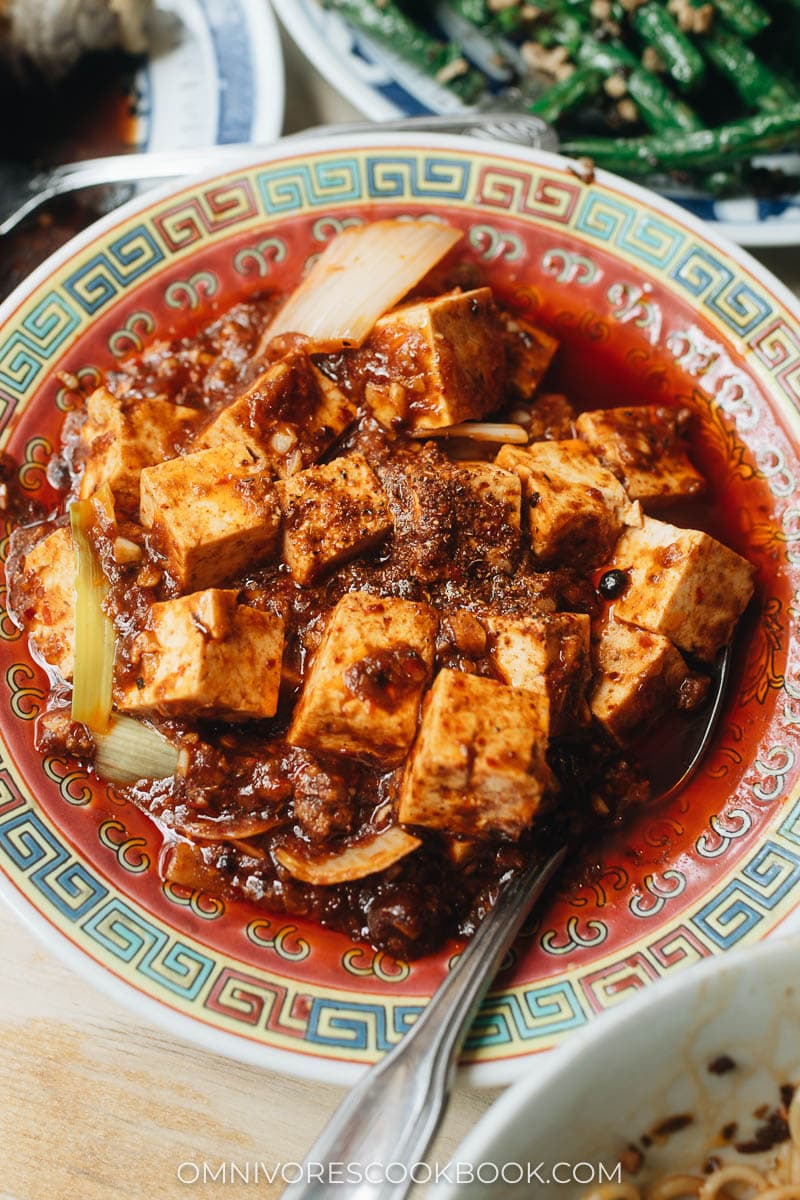 Vegetables
Sichuan cuisine is known for its judicious use of intense seasoning, but all of the veggie dishes are prepared with mild seasonings, cooked just right, to highlight the cooling essence of the vegetables and give you a break from the spice of your entrees.
The snow pea shoots with garlic and the sauteed luffa (sounds funny but tastes amazing) are the most cooling dishes, if that's what you're going for (in addition to being really satisfying for their own sake).
The sauteed string beans with minced pork and the fried eggplant are a bit more indulgent but still mild enough to balance the heat of the meal.
Desserts
While dessert is less of a consideration in traditional Chinese cooking than in Western practices, there are a couple that Birds of a Feather does nicely.
Eight Jewel Rice Pudding (I love their version so much better than the traditional version so I've developed my recipe based on theirs)
Japanese Pumpkin Cake
Possible Menus
To highlight the benefit of variety that you can get with more people, as well as help you get an idea of roughly how much to order for a balanced meal, here are some potential menu templates depending on the size of your group:
For 2: one entree, one veggie dish, a bowl of rice to share; add an appetizer, dim sum, or dessert if desired
For 4: two appetizers or dim sum, two entrees, one veggie dish, two bowls of rice or one fried rice or one noodle; add dessert if desired
For 6: three-four appetizers or dim sum, one whole fish, three entrees, two veggie dishes, one fried rice, one noodle
Although last time I had a gathering of four, we ordered three appetizers, two entrees, one whole fish and two veggies, accompanied with a small side of rice to share. And we finished it all!
Whatever dishes you're thinking about, it's totally fine to start ordering and then ask the server if that's too much or too little food. This is not an unusual question. 🙂
(The purple rice here is quite nice, but one bowl is a lot for one person, hence the 2:1 sharing above.)
Final Thoughts
I hope this review gives you a taste of what you can expect at Birds of a Feather and that you are able to give it a try. If you live in the city, it's totally worth the trip from another borough. Or if you'd like to visit the city and make a stop here, there's plenty to explore in the surrounding neighborhood (Williamsburg).
If you have any questions or comments, I'd love to read them – leave them in the comments below!