Hunan Slurp offers expertly prepared, vibrantly flavored cuisine in true Hunan style. Their menu includes both elevated comfort dishes and innovative restaurant fare. A bit on the adventurous side, it is a faithful representation of the modern food enjoyed in China.
Hunan Slurp: A Neighborhood Spot with Huge Flavors Worth Traveling For
When I was living in New York City I was lucky enough to live not far from Hunan Slurp in the East Village. I loved their food and ate there every couple of months during that time, and ordered delivery when indoor dining was paused in 2020.
After enjoying their food on so many occasions, including a couple of returns since moving out of the city, I'm excited to finally share this review with you.
As the name of the restaurant might suggest, Hunan Slurp specializes in noodle dishes – particularly rice noodle dishes – that feature Hunan ingredients and methods.
While their rice noodle bowls make a delicious and relatively affordable easy meal, they have a full menu beyond noodle bowls that includes stir fries, seafood, veggies, and more to fully celebrate the rich intensity of Hunan cuisine.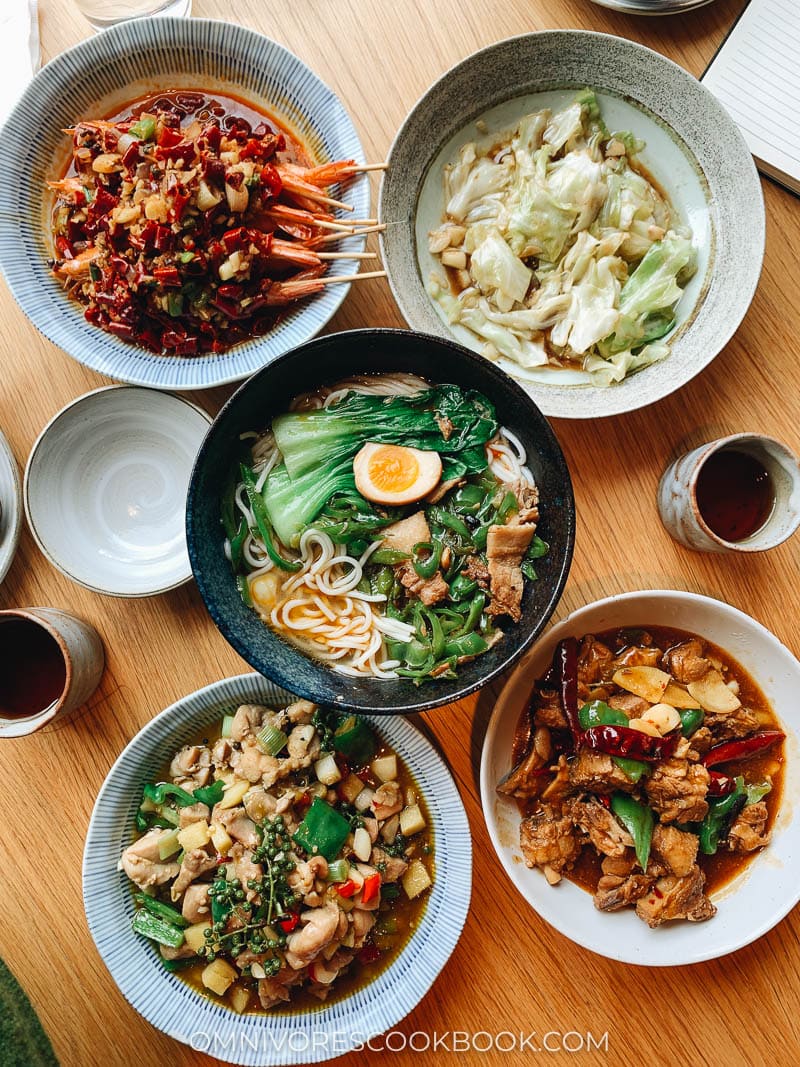 The General Vibe of Hunan Slurp
The ambience of the restaurant is bright and modern, with catchy Chinese pop music on the speakers. It fits right in, in the East Village with its clean, minimalist feel and lots of wood and brass textures around.
Their glass-walled kitchen is in full view toward the back of the space. Once you've tried the food, you'll appreciate how quick, efficient, and versatile this modestly sized kitchen really is.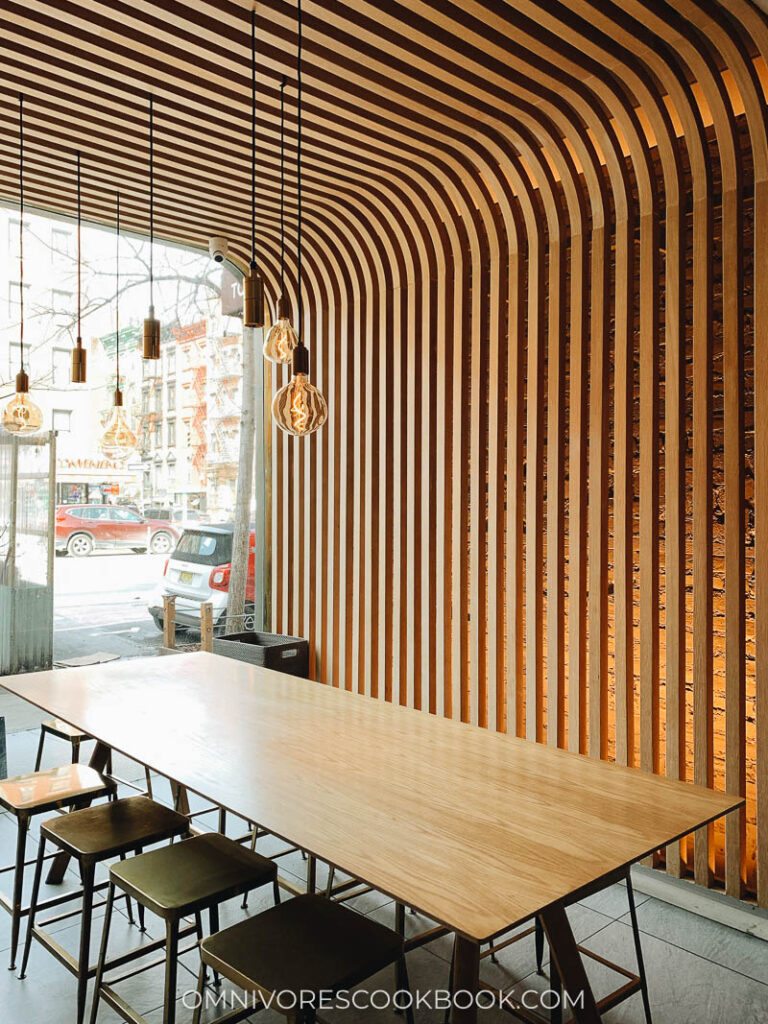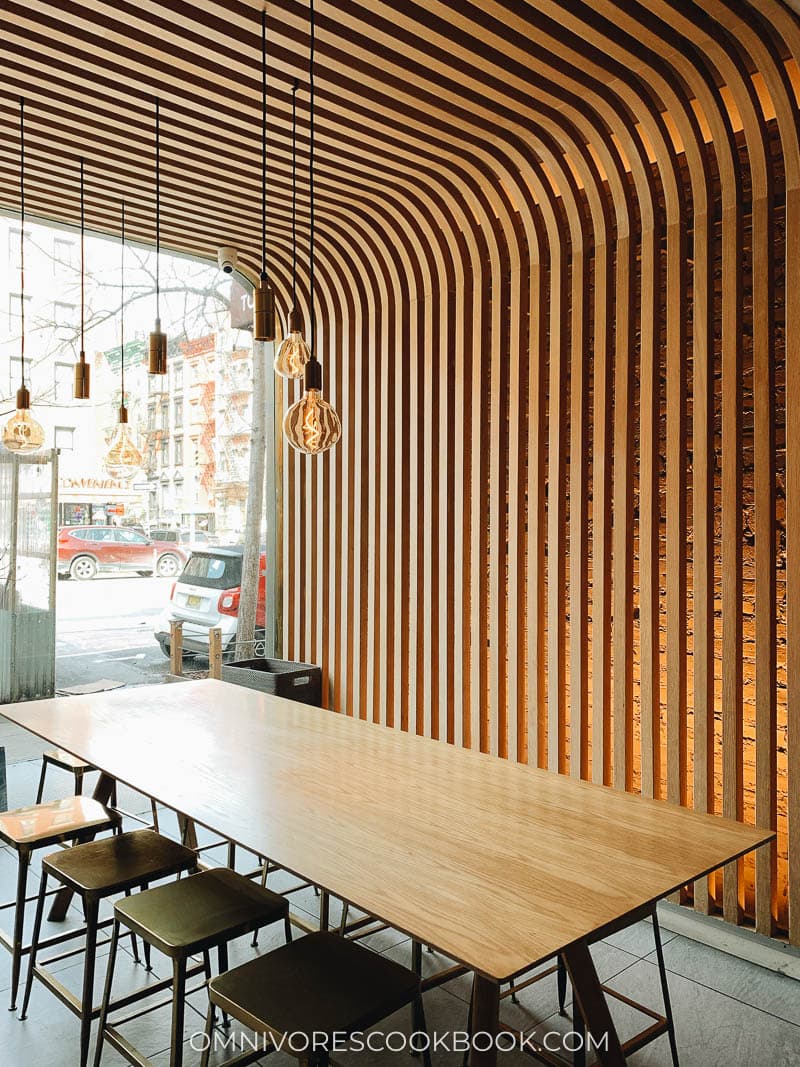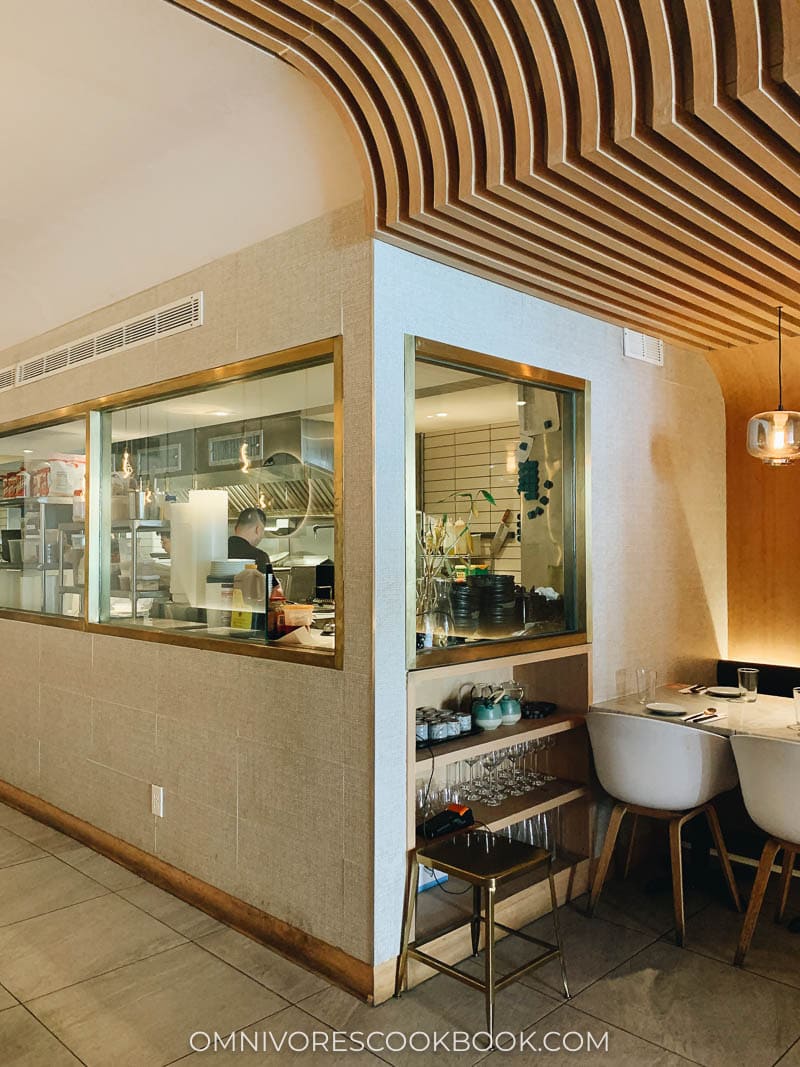 The menu (as of March 2022) is accessed via QR code and changes daily depending on the best available ingredients. There is a menu on Hunan Slurp's website, though it doesn't perfectly align with what was available when we visited most recently.
You can either order through the QR code-linked system or speak with your server and place your order that way. Even after so many visits here, we still prefer to chat with the server to get expert advice on what to order.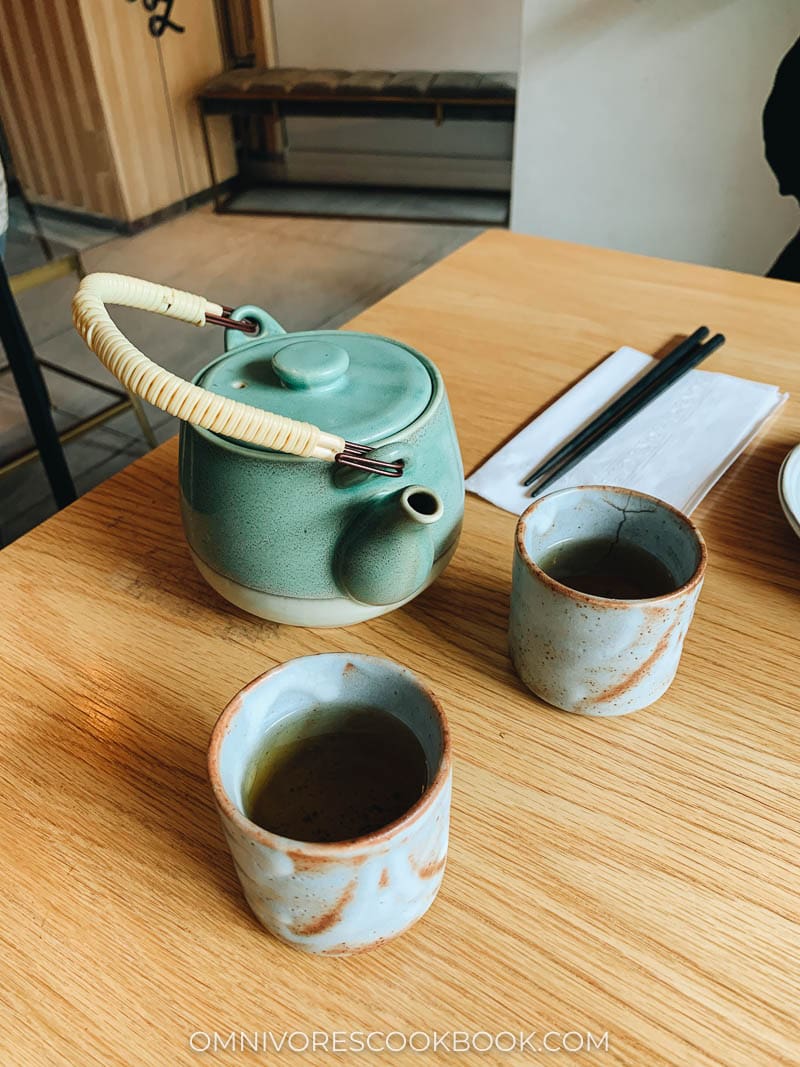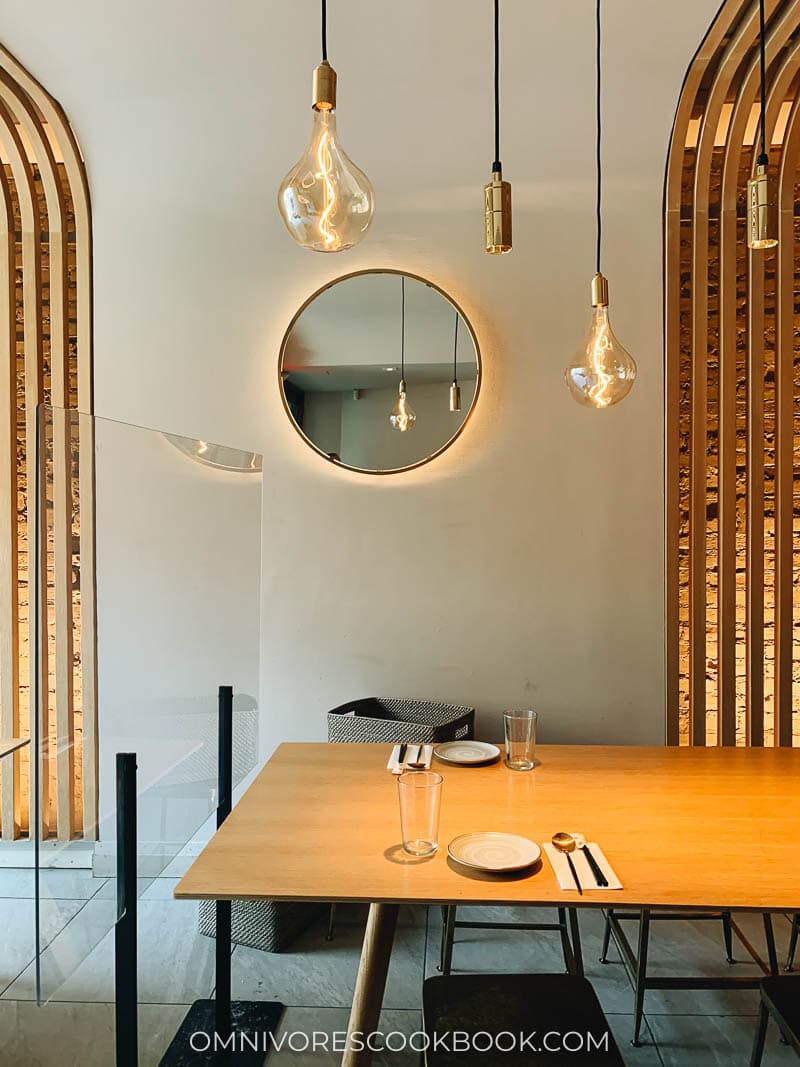 Tips for Dining at Hunan Slurp
It can help to be a bit strategic when ordering at a Chinese restaurant. Since you'll be pairing several dishes together, you'll want to keep in mind the sum of the parts you're selecting.
Share Your Food!
I know I say this in every restaurant review but it's worth repeating. Sharing is caring and gives everyone a richer, more communal, more enjoyable meal.
Balance the Spice
Hunan food features abundant use of fresh (and sometimes dried) chili peppers and the Hunan Slurp cooks use chilis masterfully. That said, you may not want every dish to be spicy! I'm a big spicy fan and try to aim for 50% spicy dishes, even here. Depending on your goal, you may want more or less than that, but do keep spice level in mind.
Balance the Meat-Veg Ratio
Veggies, animal proteins, and staple foods should also be balanced according to your liking. I usually go for about 1/3 animal protein and divide the other 2/3 between veggies and staples, like noodles and rice. Whatever your preference, just keep this balance in mind too.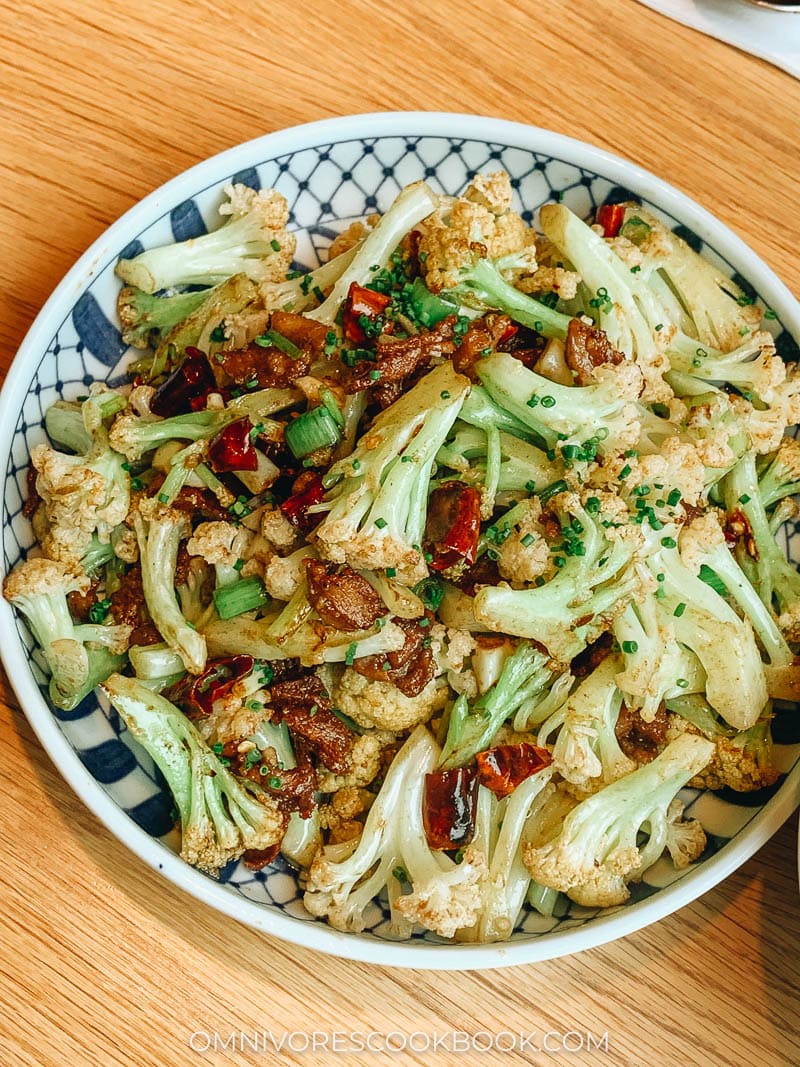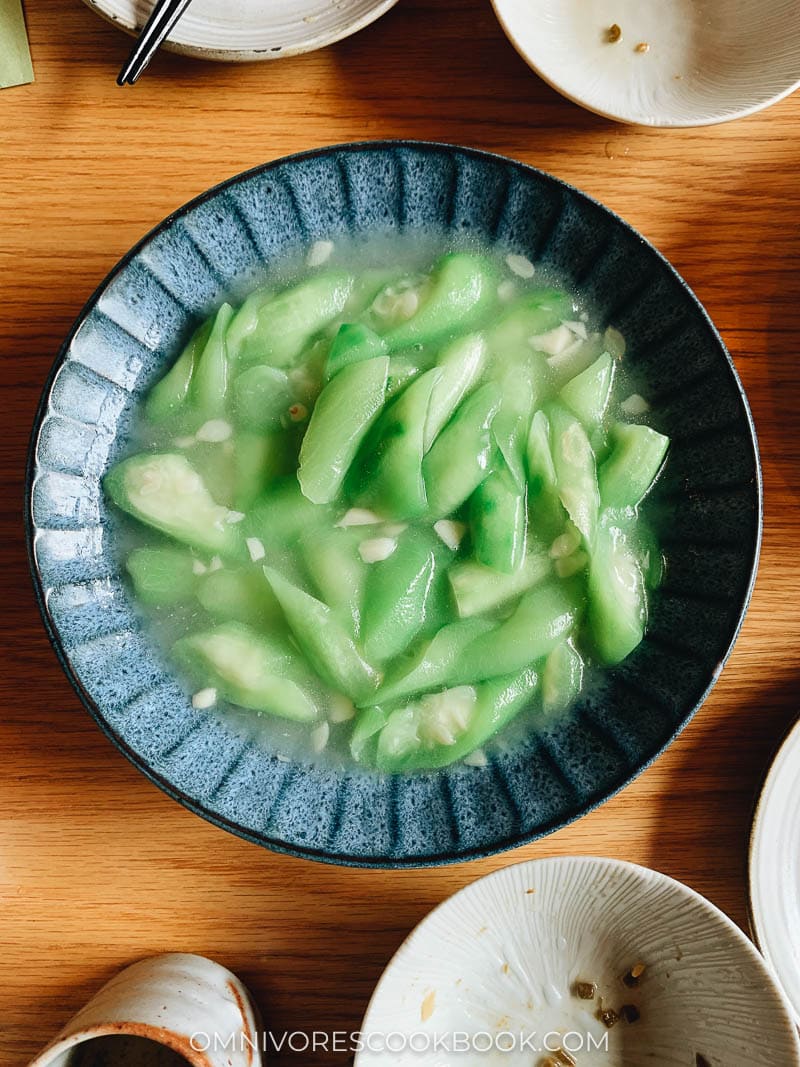 Don't Eat the Whole Spices
Many of the dishes here are generously infused with whole spices – garlic, ginger, chili pepper, Sichuan peppercorns, and more. This is key to imparting lots of flavor in precise amounts, but do your best not to eat any of the whole spices (unless you really want to). It could blind your taste buds for the next 15 minutes.
Adventurers Welcome
Some of my favorite Chinese restaurants in the US steer clear of the less Westerner-friendly proteins, but not Hunan Slurp!
If you're keen to try something like duck tongue, duck feet, pork intestine, or frogs' legs, this is your place. I personally haven't tried any of these dishes, but based on my experience with Hunan Slurp's amazingly talented cooks, I'd say that if you're going to try these kinds of proteins anywhere, try them here.
There are some slightly-less-adventurous dishes that I do love here – the shredded potato with salted duck egg yolk and grilled pepper and eggplant with century egg. They do a great job of highlighting the richness of preserved eggs in both of these.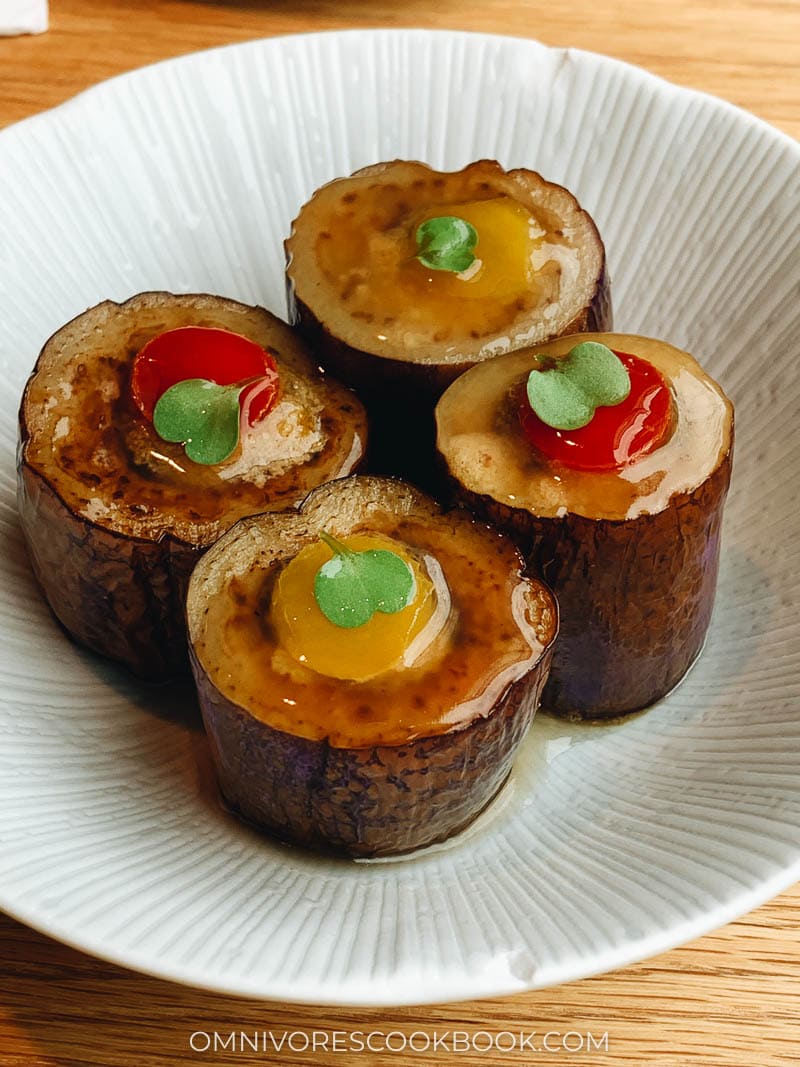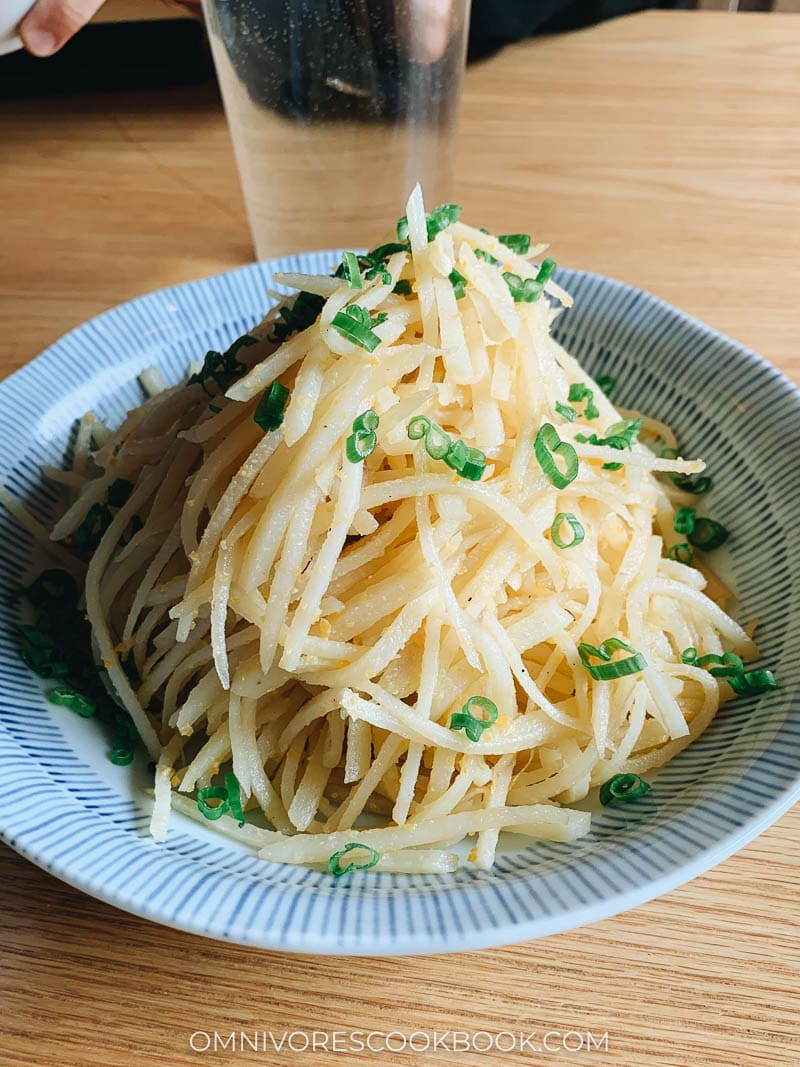 Some Hunan Slurp Favorites
Having eaten here so many times, I could recommend the entire menu, but that wouldn't be especially helpful. Below are some that I've tried recently and really enjoyed, but keep in mind that the menu has a lot of depth and it's hard to go wrong here.
Pork and Pepper Stir Fry Rice Noodle Soup
This dish is a beautiful adaptation of a very common homestyle dish (called "small fried meat" 小炒肉 in Chinese): stir-fried thin-sliced streaky pork with green chili peppers added to a soothing hot bowl of rice noodle soup.
The stir fry has the signature smoky "wok hei" aroma to it and the chili peppers have more aroma than spiciness. A great stir fry on its own, but with the balanced and fragrant broth with a touch of sesame and a few floating fermented black beans (umami bombs!), it is like a double comfort dish.
The rice noodles are round, thick, and bouncy but not rubbery. Freshly made, I suspect, and perfect for slurping.
You can't really go wrong with their rice noodle soups overall – it's just a matter of what flavor profile you want to pair with the soup. I also love their version with pickled string bean, pork, and runny egg.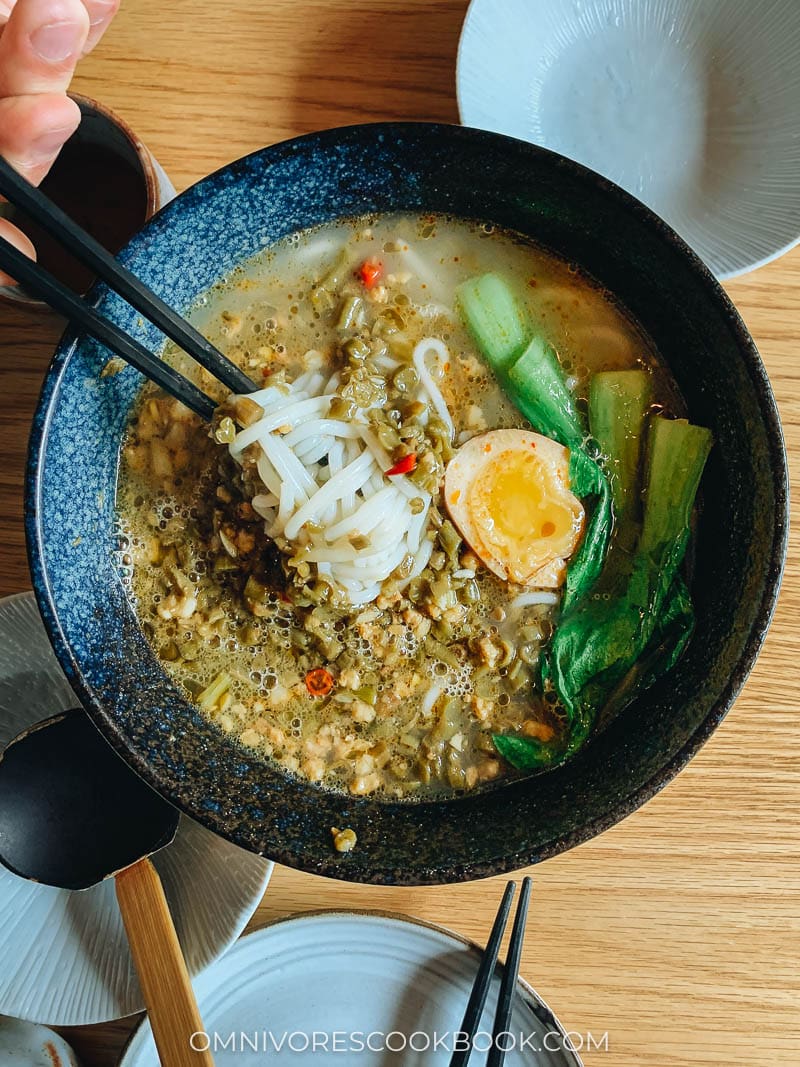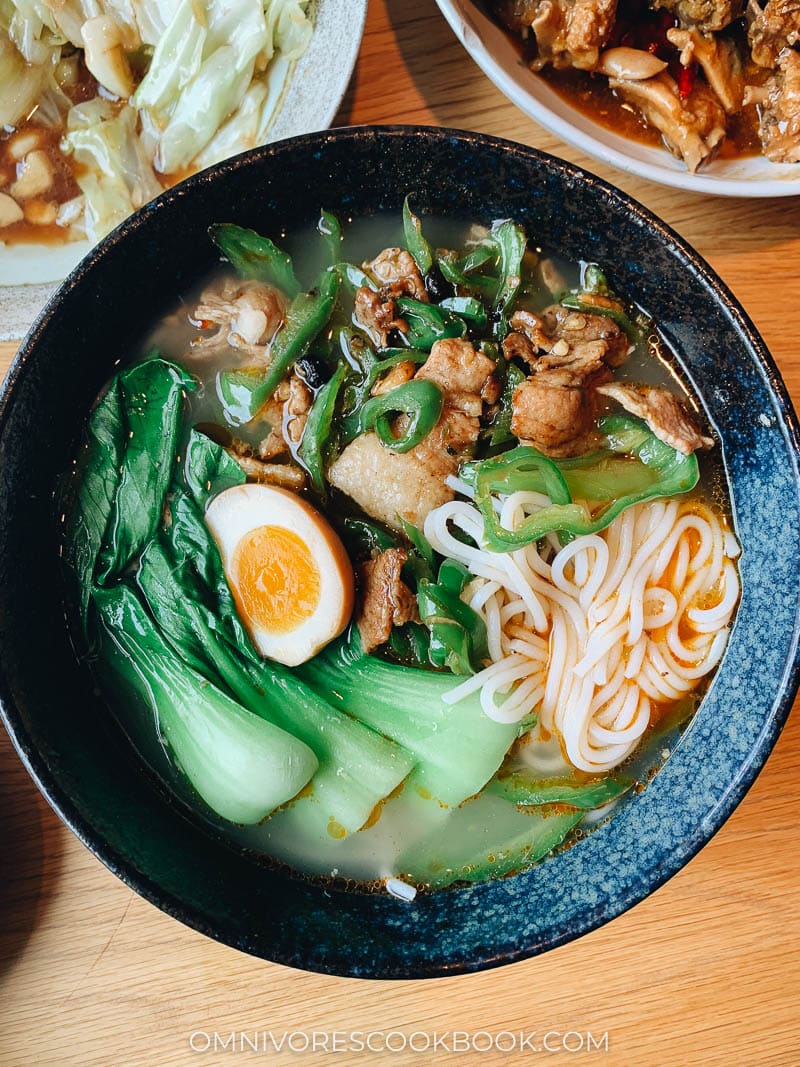 Chicken Thigh Stir Fried With Green Peppercorn and Hot Pepper
This is a chicken stir fry dish, maybe a little like kung pao, but with a dazzlingly intense flavor profile. It uses tons of fresh green Sichuan green peppercorns, still on the branch to infuse a lovely grassy mala flavor. The fresh red and green chili peppers are a Hunan mainstay and add to the electric aroma of the dish.
I like this dish a lot but be ready – a few bites will leave your taste buds dancing for a few minutes afterward. You may want some rice to accompany this one.
Duck Braised with Chili Pepper and Ginger
This dish features tender braised duck leg chunks in a complex, umami master sauce, the aroma of which will hit you as soon as the plate reaches your table.
With its home-cooked charm, it reminds me of the braised dishes my mom makes, but at a level of sophistication that might be impractical for a home cook – notes of cinnamon, chili, star anise, and peppercorn, with a pleasant amount of heat, and the savory base of soy sauce and rice wine.
It's on the spicy side but not on the same level as the chicken dish above.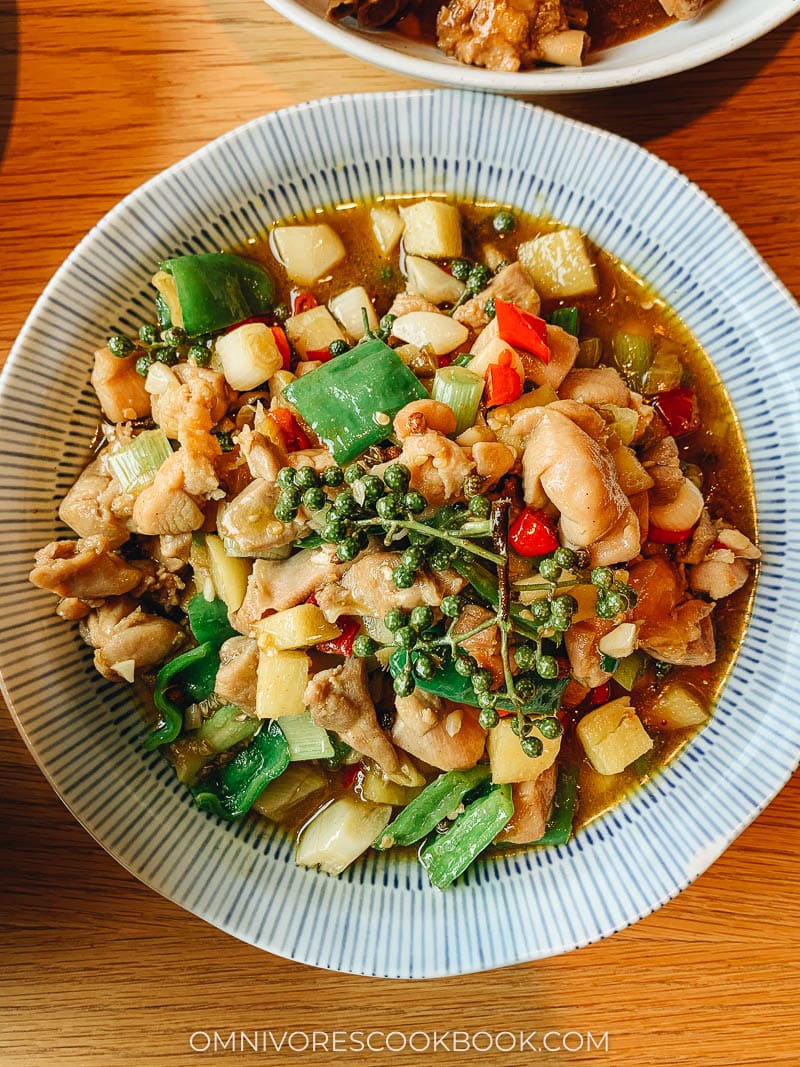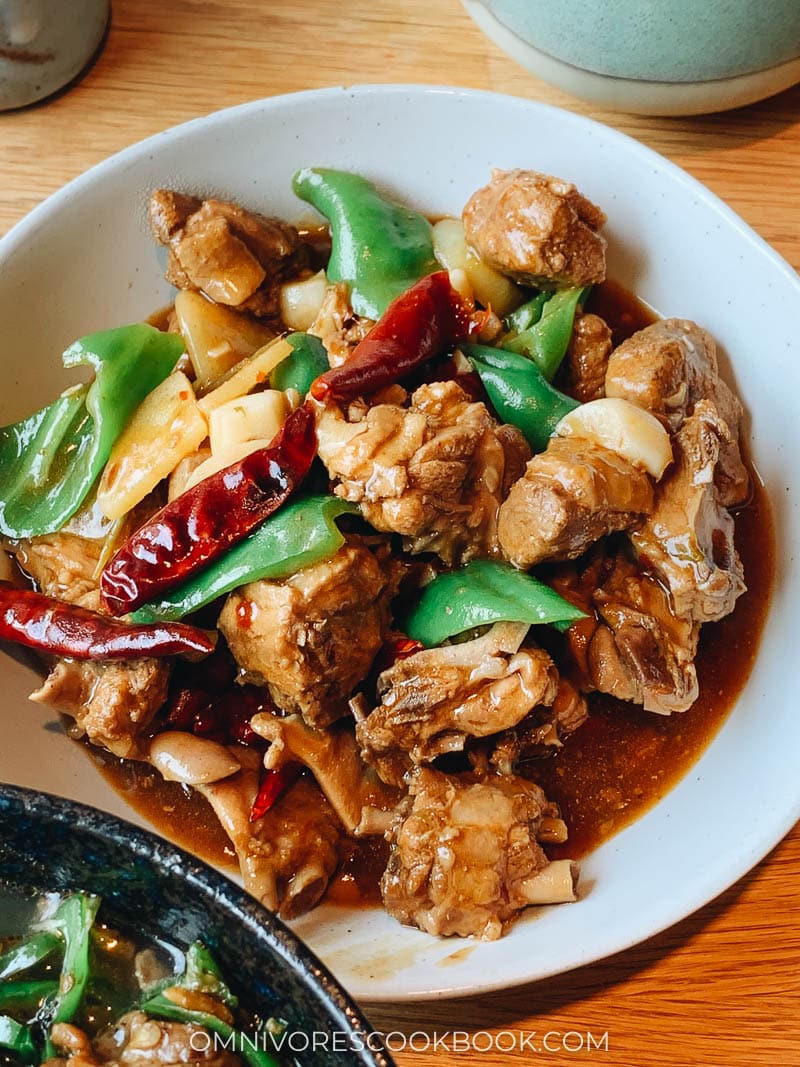 Veggie Dishes
There are so many good veggie dishes at Hunan Slurp and while I don't have pictures of all of them, I've ordered many of them multiple times and can vouch for their authenticity and tastiness. 🙂
Note that most of these are non-spicy and serve as good balancing / palate-cleansing dishes.
Shredded Potatoes, Two Styles
Hunan Slurp serves two different shredded potato dishes that are both worth ordering.
The duck egg version that I mentioned above is slightly adventurous but has a super rich and unique mouth feel that I like a lot.
The spicy and sour version is a bit more friendly to diverse palates and has an addictive and not-too-spicy flavor.
Both of these dishes feature just-cooked shredded potatoes that have an enjoyable crispiness to them.
Stir Fried Cabbage
This is a classic comfort dish instantly recognizable to nearly every Chinese person and it's very well executed here.
It has a mild wok hei aroma, some soy sauce, garlic, and a touch of vinegar. It's cooked until tender with a little bit of crunch remaining and you can really taste the natural sweetness of the cabbage.
Chinese Cauliflower Stir Fried with Bacon
I've ordered this one so many times because the flavors here are just irresistible – nutty Chinese long-stem cauliflower is stir-fried in cumin with bacon.
It's not a complicated dish in terms of ingredients but it's done so well and honestly just satisfying.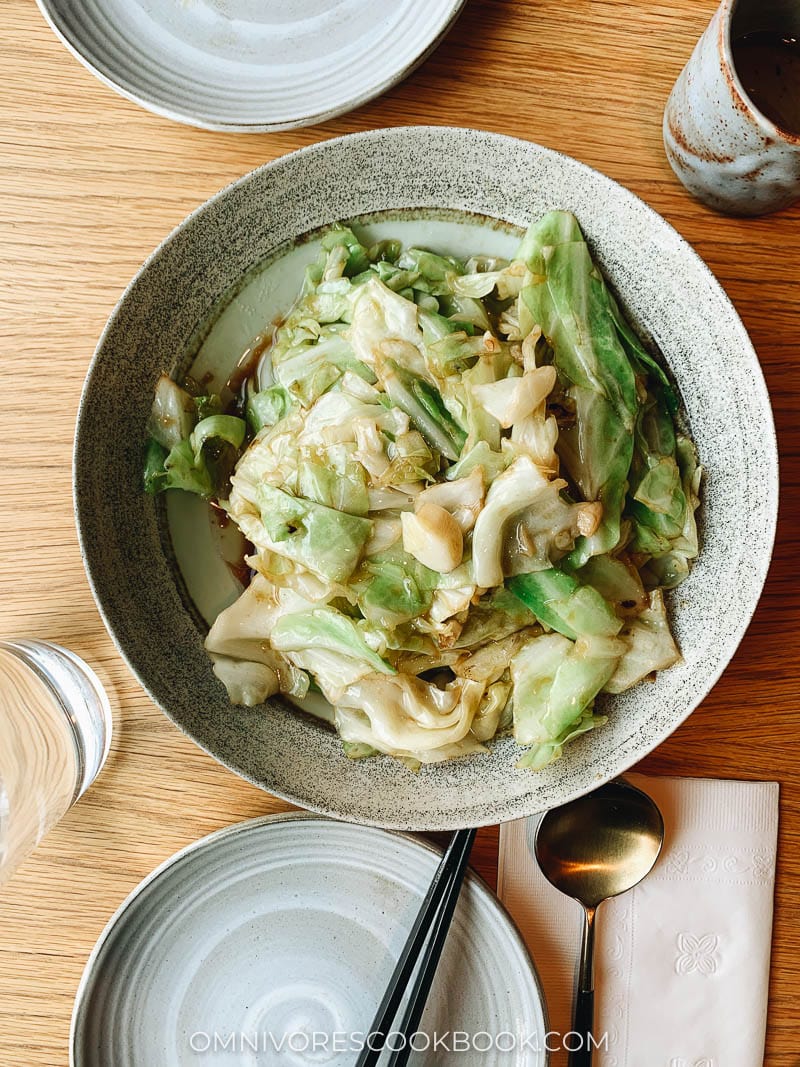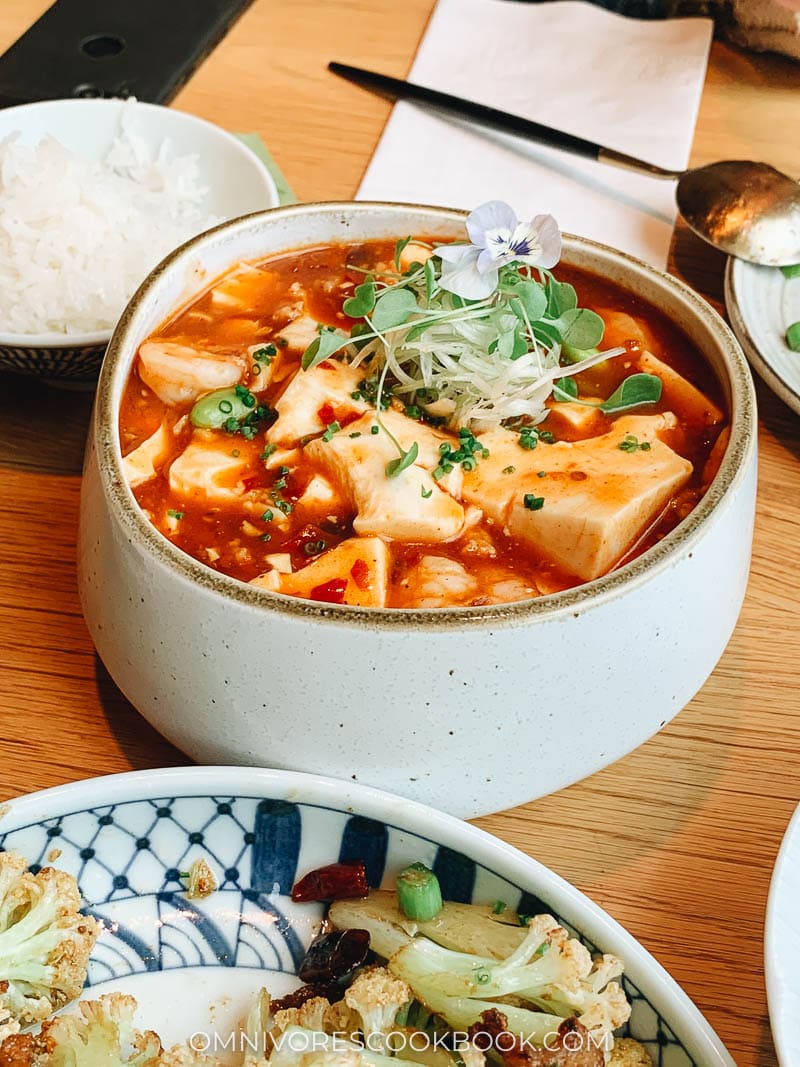 Pea Shoots Stew
I can't get enough pea shoots. It's one of the best green veggies I know of, and they cook it delicately in an impossibly flavorful yellow chicken broth.
So you have the grassy green pea shoots and a lovely broth, all in one. Deeply comforting.
Other Favorites
Here are a few more dishes that I've enjoyed multiple times.
Whole Steamed Fish with Chili Peppers
Tamago (Egg) Tofu with Seasonal Mushrooms
Hunan Style Cumin Ribs
Lotus Meatballs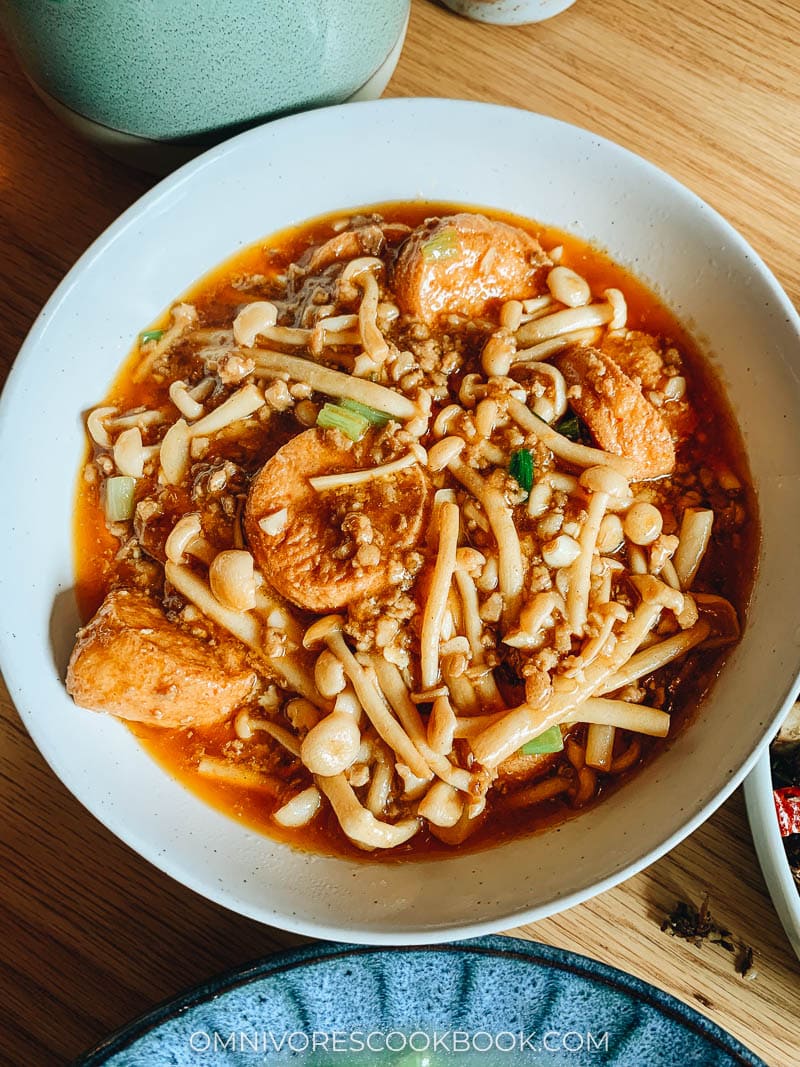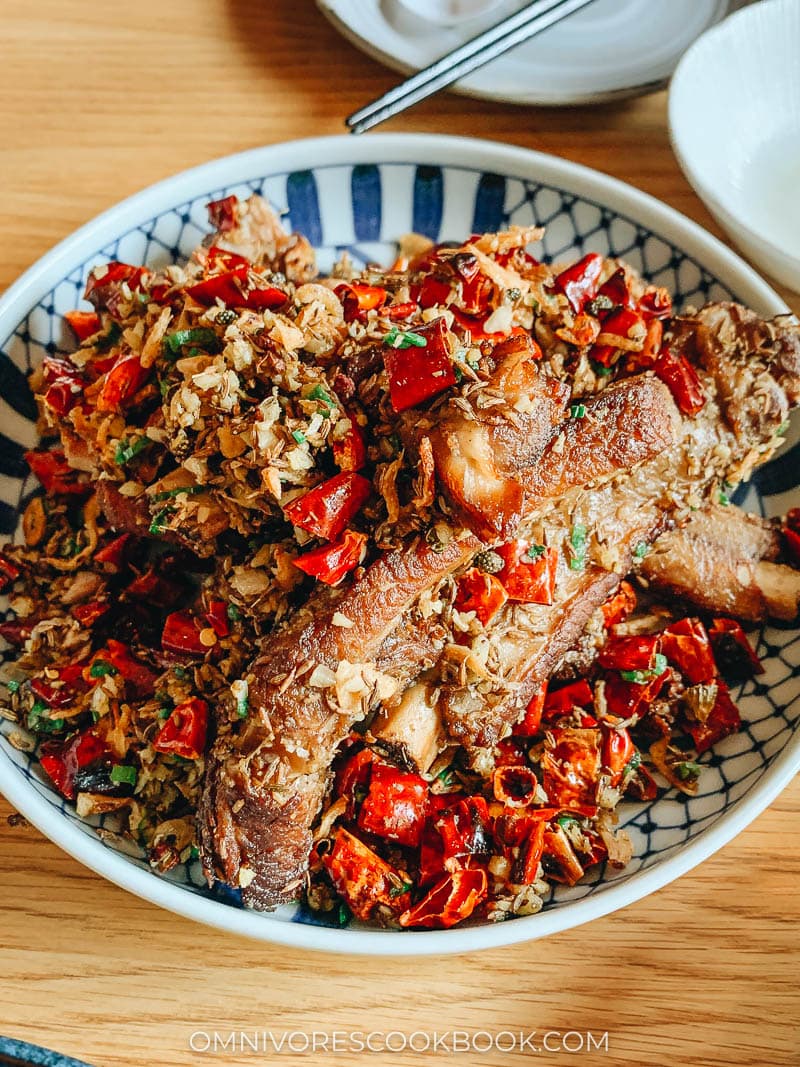 Final Thoughts
Hunan Slurp is a modern, refined, and slightly playful way to experience the kind of food that the Chinese middle class enjoys. The flavors are intense yet comforting and faithful to the Hunan style of cooking. Everything I've tried here has been prepared with great care.
If this post comes across as more of a sales pitch than a review, it's because I'm biased. I really like Hunan Slurp and appreciate their work to bring a more diverse array of Chinese foods into the mainstream culinary awareness.
Other great Chinese restaurant in NYC