Manhattan's Chinatown is a national cultural treasure and home to some of the tastiest and most authentic Chinese food in the country. But the neighborhood is hurting and needs our help as many longtime family-run institutions there are in danger of closing. A lot of well-known establishments have closed forever, including the Jing Fong, a landmark and the largest restaurant in Manhattan's Chinatown.
Join us for a culinary tour as we explore cheap eats, sit-down meals, and shopping and learn how you can help.
This the second post in a series about dining and shopping in Manhattan's Chinatown includes our highlights for shopping of all kinds – the tastiest Asian produce, fresh fish and meat, cooking gear, and more.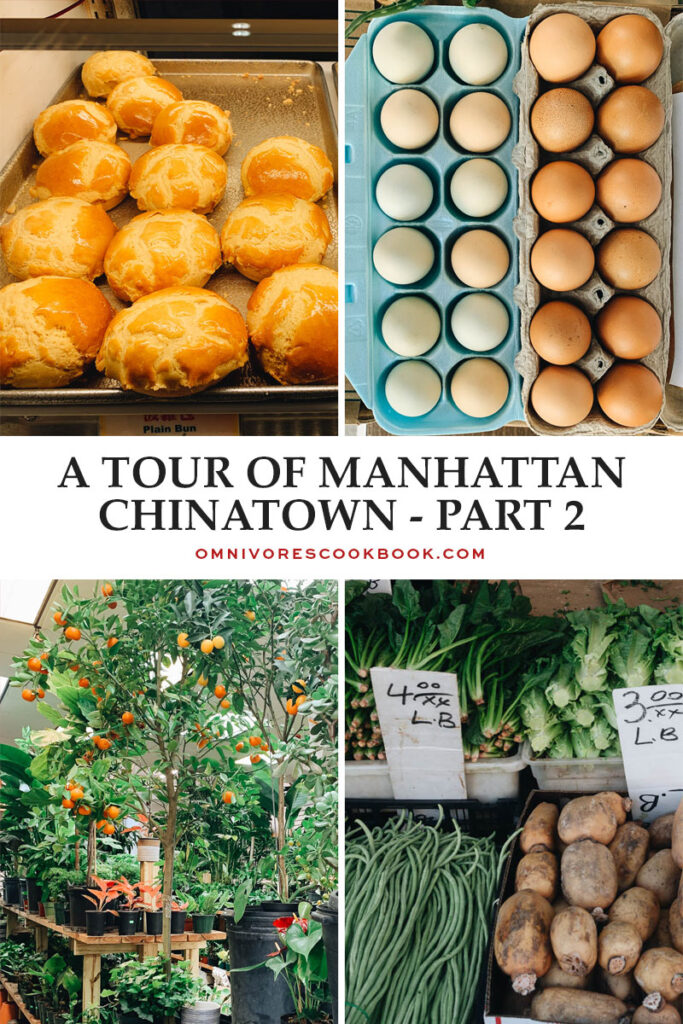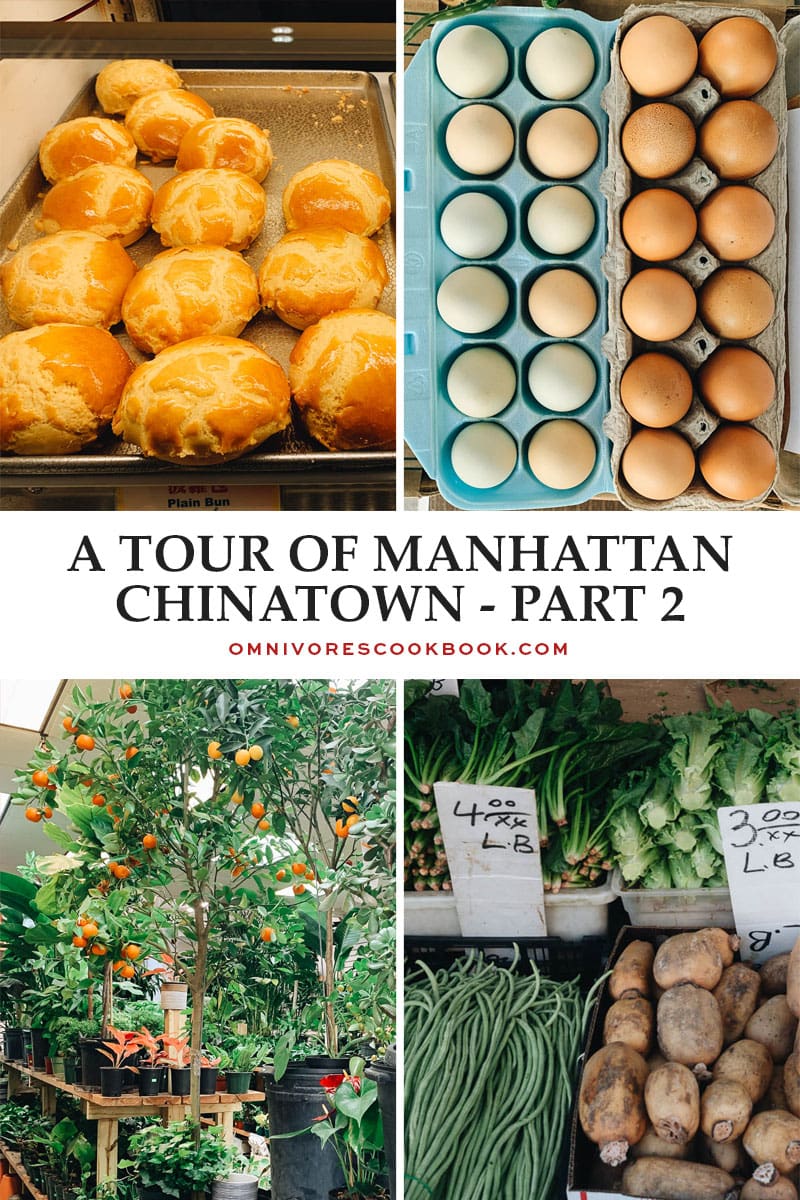 Fresh Produce, Fish, and Meat in Chinatown
There isn't a clear delineation of where exactly the boundaries of Chinatown are, but you can be sure you're there when you find yourself surrounded by these beautiful sidewalk displays of fresh groceries.
Whether you have something in mind, want to find something new to cook, or just want to do some window shopping, Chinatown has a wealth of great options for you.
An approach we like to take, is to visit with nothing in mind, and just buy what looks freshest and tastiest, then cook it the same day. And we don't necessarily buy everything at one place, but browse and pick our favorites at a few places.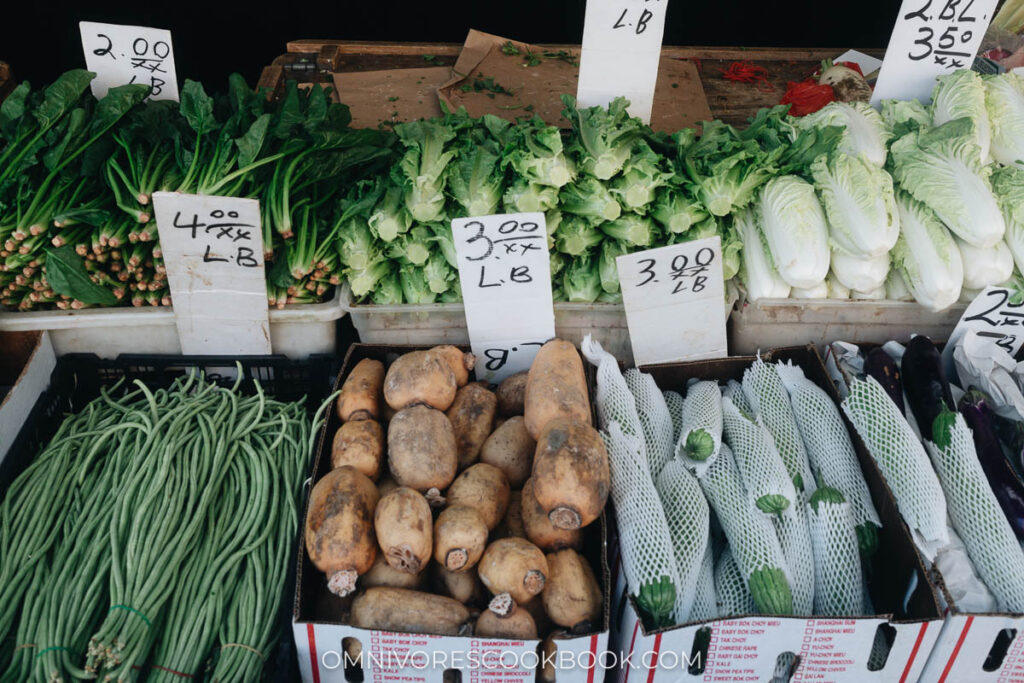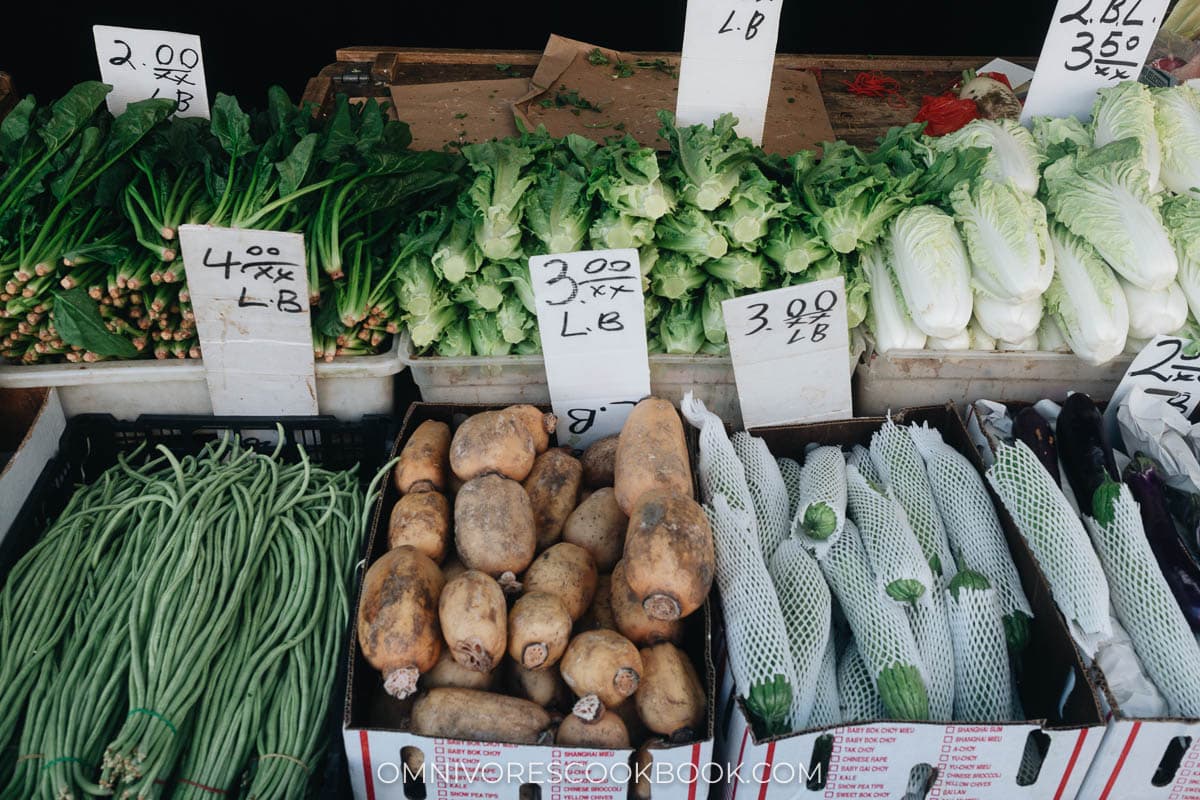 Most of the produce stands only have pricing marked and you might see Chinese greens that you've never cooked with before. Check out my Chinese produce guide here, which shows pictures and the name of the produce, including recipes that you can cook with them.
CT Seafood Mart
This is our go-to spot for fresh fish and seafood, which vary by season, and they always have some great-looking produce out front. This part of Grand Street is especially good for produce shopping, and we buy from shops along both sides of the street.
Address: 249 Grand St.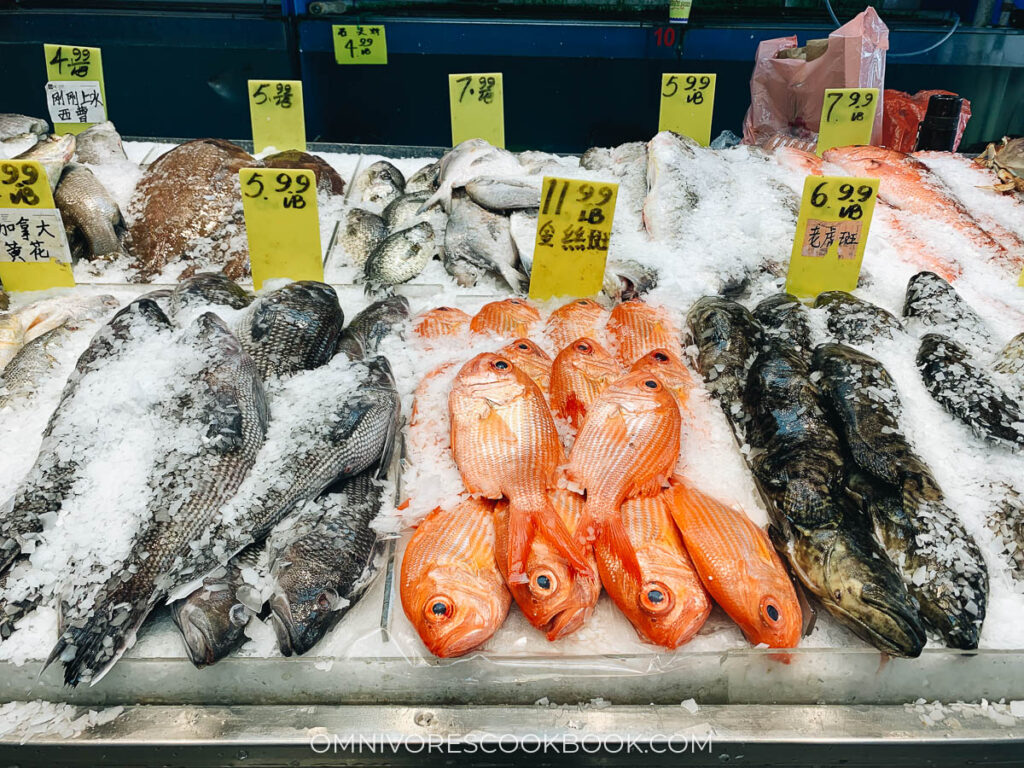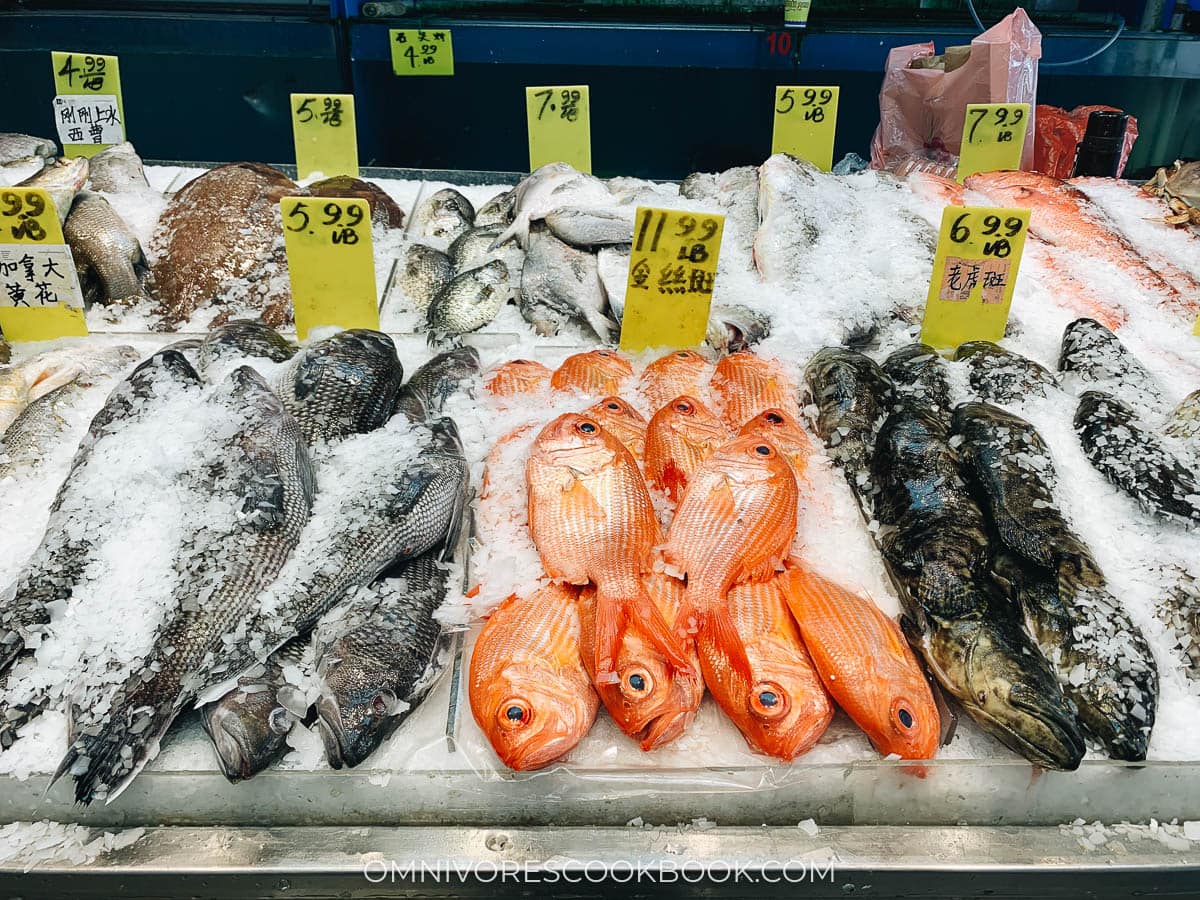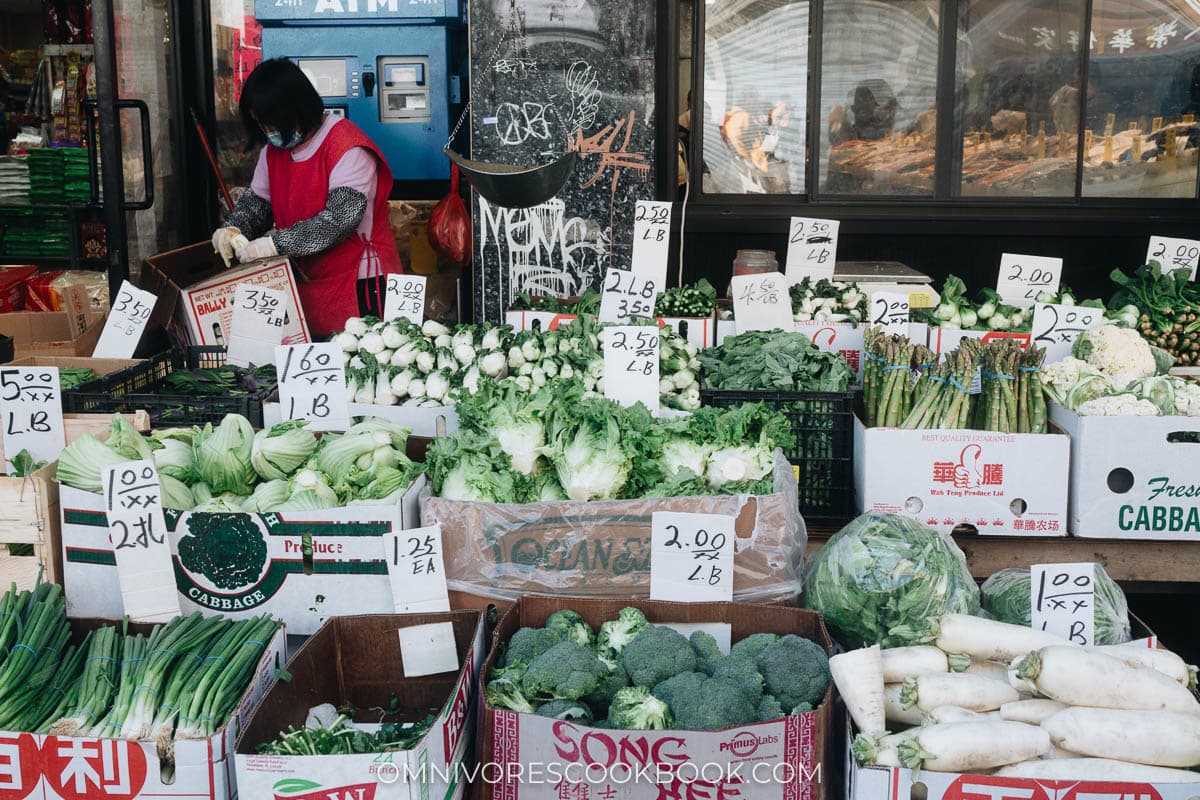 88 Natural Food
Another produce shop that we like to frequent, this one is in the southwest part of the neighborhood. This is a great place to stop for fresh Asian staple vegetables, as well as southeast Asian fruits.
Address: 88 Mulberry St.
Hong Kong Market
This is by far the largest of the three stores, and it has a good selection of packaged and refrigerated goods in addition to fresh produce and fish. Though their produce is fresher on some days than others and the store can get crowded. This is our go-to store for inexpensive Asian mushrooms. And it's also a great place to get pantry staples, since they carry a wide range of sauces.
Address: 157 Hester St.
Prepared Food to Take Home
While most Chinatown restaurants offer takeout as an option, this place specializes in food meant to be taken home, and we've given it its own category here.
Deluxe Food Market
This is a great place to visit if you're interested in a very quick, very inexpensive meal to take away, if you want to stock up on expertly prepared traditional dishes, or even if you just want to do some window shopping.
Their barbecue and meat display is a sight to behold – watch as they bring out freshly roasted ducks, glistening slabs of char siu, crispy skin-on pork belly, and more.
Their soy sauce chicken is a masterpiece – perfectly cooked with just enough seasoning, tender, juicy, and tight skin. Enjoy it hot or save it for later and eat it cold with the aromatic dipping sauce.
Their baked goods section features a wide array of Asian pastries, both savory and sweet. Try a bun filled with red bean, winter melon, or coconut for a satisfying treat that's a bit less sugary than its western counterpart.
They have a huge variety of all kinds of freshly prepared foods that are already in takeout containers. While there is a menu overhead, my favorite way to order is to look at what's there on the counter and ask questions if I'm not sure what it is.
They have a small grocery section as well, if you're interested to take some raw materials home along with your prepared goodies.
The crowd and setup can be intimidating, but the people who work there are friendly and helpful – don't be afraid to ask for a recommendation!
Address: 79 Elizabeth St.
Chinatown Plant Shops and Florists
Plants and flowers are ever more popular these days, and some of the trendy spots can charge pretty steep prices for a healthy-looking plant in a nice pot. You can get the same plants (and often the same pots) from shops in Chinatown for a lot less, and we always buy our plants from these places.
Dahing Plants
This lovely shop on the eastern side of Chinatown specializes in houseplants to enhance your home environment, which is huge in the time of COVID remote working.
I bought a large pot of Bird of Paradise for my New York apartment when I moved there. The shop staff provided instructions and helped me figure out the best way to use a decorative plant pot that doesn't come with a drainage hole. It has been two years since. The plant thrived with my bare minimal care (water once per week) and it almost doubled its size. Now we moved to upstate NY, but sometimes I still come back to this shop to get plants for our new home.
They have a wide variety, including bonsai, fig, rubber, and other small trees, orchids, and ferns. You can find most of the trendy plants here. They even carry some of the more exotic plants and Asian plants, such as pitcher plants, venus fly traps, money trees and bamboo.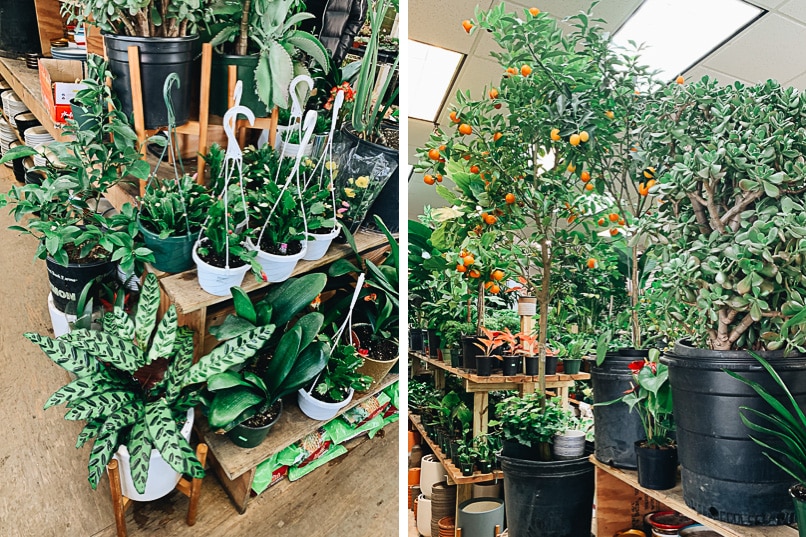 In recent years, they have expanded from their modest Chinatown shop into a greenhouse in New Jersey, and they now offer plant delivery in the city and around the country.
Still, you can't beat the experience of walking by, browsing, and surprising yourself with a new plant to take home (plus it's cheaper to shop at their store).
Address: 289 Grand St.
G&J sells a number of flowering plants and house plants, as well as fresh flowers to bring home and put in a vase.
We've gotten houseplants here, as well as blooming pansy plants, and they're all been great.
As a bonus, they sell some of the best farm-fresh eggs and high quality seasonal produce they sourced from Pennsylvania. Come early to snag some eggs before they run out.
Address: 91 Elizabeth St.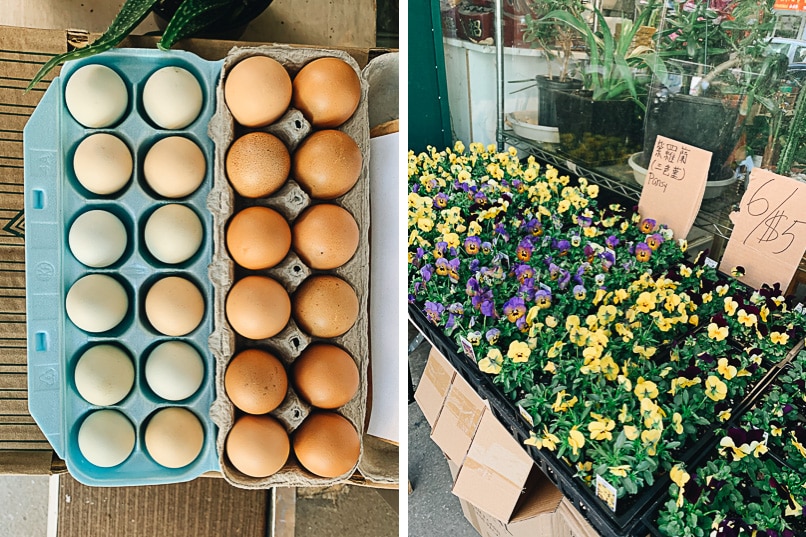 Shopping in Chinatown
While Chinatown is indeed a food lover's paradise, there are some great family-run stores to shop at as well.
These shops manage to carry an impressive amount of inventory, given the space, the shopkeepers are always friendly and ready to help out, and you'll find goods you may not be able to find anywhere else.
Grand Tea & Imports
This shop is run by the Liu family and sells various loose-leaf Chinese teas, as well as various holiday, celebratory, and ceremonial goods.
The teas we have tried from here have been lovely – they have a tangerine pu-erh tea that is very grounding and warming and a dragon pearl jasmine tea that has a heavenly fragrance.
If you're interested in incense, Chinese holiday decorations, and gifts, this is a great place to shop for those items as well.
For those not able to visit NYC, fortunately they have an online shop where you can browse the wares and have them delivered directly to you.
Address: 298 Grand St.
KK is a Chinatown institution that makes the most of the store space. You'll find practically everything you need for your kitchen and dining table in this shop, especially as relates to Chinese food.
Their variety of plates, bowls, and cups is so wide that you're sure to find the right size and shape for what you need.
They have an especially strong offering of bamboo steamers that you can use to steam veggies, dumplings, fish, meatballs, and more.
Address: 78 Mulberry St.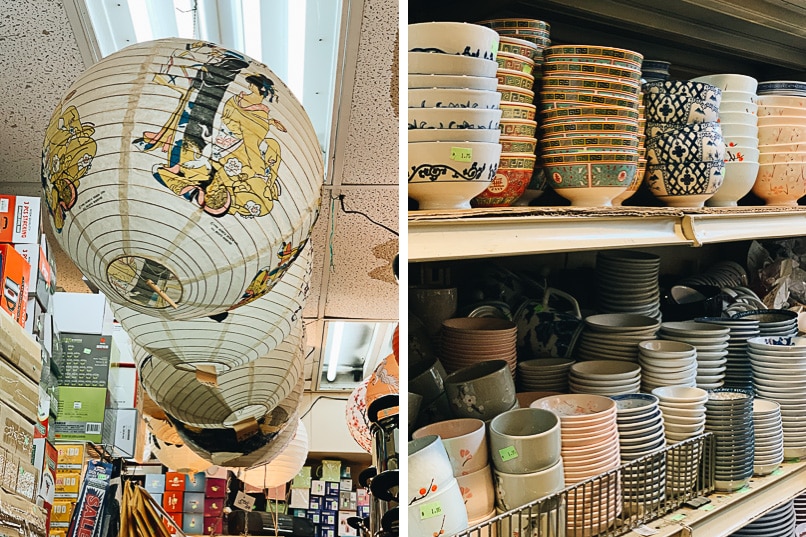 Ting's Gift Shop
You'll feel the history of Ting's as you approach it at the corner of Pell and Doyers Streets in the heart of Chinatown – you can tell that it's been there for generations.
Inside you'll find all kinds of unique Chinese wares and gifts – wooden flutes and other instruments, decorative ceramics, tea sets, figurines, incense, and more.
The items at Ting's are both unique and historic, and you won't find anything like them in the more tourist-centric shops scattered throughout the neighborhood.
Address: 18 Doyers St.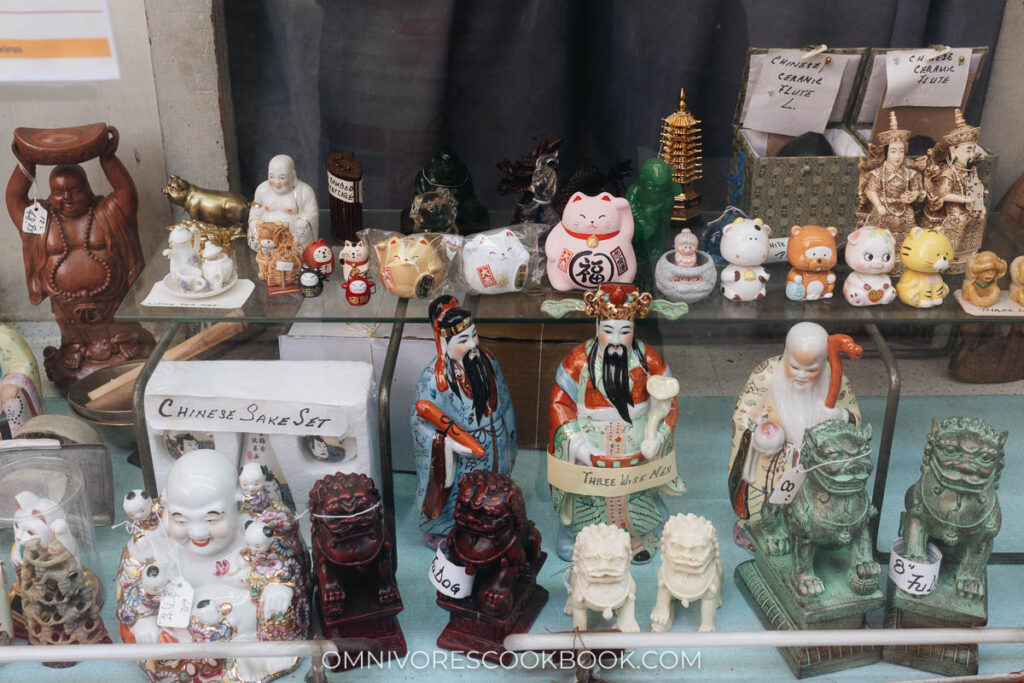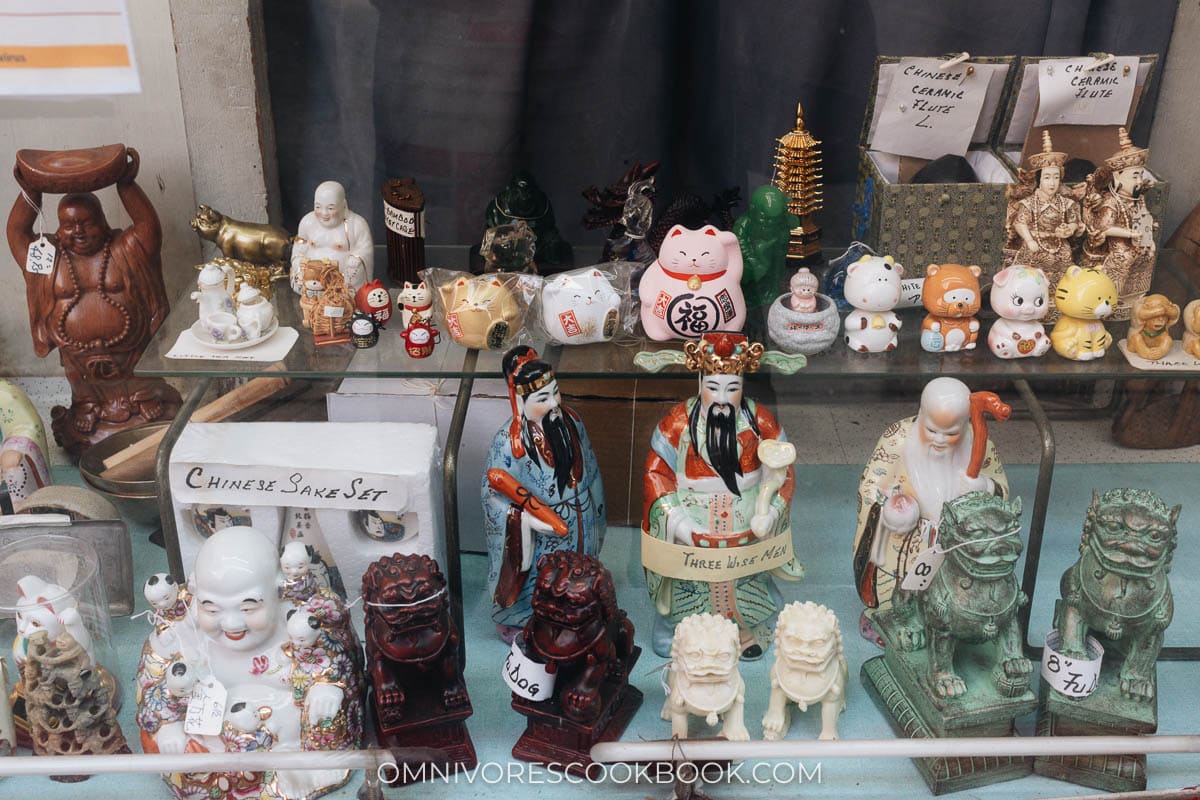 More Chinatown guide:
Do you have any favorites I didn't mention? Or questions about visiting Manhattan Chinatown? Let us know in the comments. Thanks for reading and happy eating!