Street food in China is one of those luxuries that at first comes across as a little wacky but which you end up sorely missing when you leave. Convenient, cheap, and most importantly delicious, it would be quite easy to subsist on 'small eats' (小吃, xiǎochī) from local cart vendors alone (guilty as charged). As China has developed, the street food scene has changed drastically, and nowhere more obviously than in its capital, Beijing.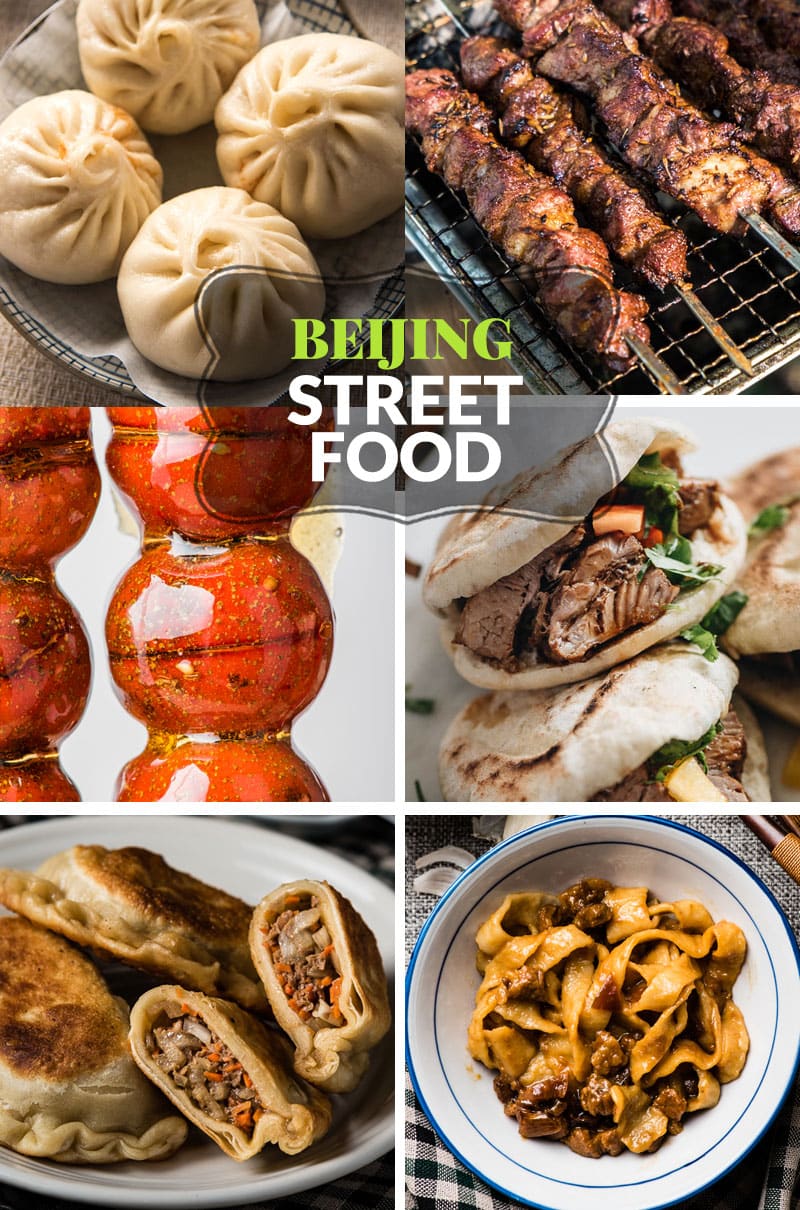 Beijing street food overview
Most tourists will hear 'Beijing street food' and think 'Wangfujing Snack Street'. This is only natural as Wangfujing in downtown Beijing is promoted as the capital's snacking epicenter; perhaps the biggest of its kind in China. Yet enduring the hungry hordes, blaring music and flashing signs, you'd be forgiven for feeling something's missing… authenticity, perhaps?
Much of what they sell in Beijing's biggest street food market is stuff that everyday Beijingers would not eat: fried insects on sticks, grubs, seahorses, starfish. However, Wangfujing does offer the opportunity to try many lost gems of Beijing street food all in one place, as well as street food that can be found in other provinces in China (including fried or grilled insects).
Straying further from the center, it is becoming more difficult to seek out ordinary street food vendors because of crackdowns by local authorities to 'harmonize' the once-chaotic vibe of the city. Unlicensed vendors can often be seen peddling their wares with one eye on the street, ready to leg it as soon as they see the cops. Over the past few years, the variety of street food you can find in Beijing has diminished considerably. Many classics have been appropriated by restaurants and chain shops. Such a shame for a city whose streets have historically provided a feast for anyone short on time, money, and home cooking equipment.
When you visit Beijing, and you come across a street cart billowing steam clouds and wafting powerful aromas, don't let the opportunity pass you by to pick up something heavenly. What follows is a list of the common foods I found still being sold on the side streets of Beijing, although I hope you discover and dare to try others (here is a picture list of 100 more!) If you can't get to Beijing right now but want to make your own versions at home, there are links throughout to show you how. To sound cliché as hell, street food in the 'Jing really is a voyage of discovery.
15 Beijing street food you can't miss
Savory Crepe (Jiān bǐng, 煎饼)
Jianbing is the universal life force of Beijing street food. Its popularity has made it perhaps the country's most ubiquitous snack. Mostly ordered as a breakfast item on the daily commute, jianbing is grab-able for lunch and dinner too. Just watching it being made on the hot plate is hypnotic in itself. It starts life off as a massive crêpe made with a mung bean flour and wheat flour batter, with an egg cracked and swirled on top. Then it's sprinkled with a medley of cilantro, scallions and mustard pickles from recycled plastic tubs. It's flipped over, hoisin and chili sauce are slapped on, followed by the icon of crunch, 薄脆 báocuì (crispy fried cracker). Fancier carts will let you choose your crêpe batter. Let's just say it's not the healthiest breakfast out there, but damn is it goooood.
Jianbing shops in New York
I'm so happy to find that this famous street food finally arrived in the US.
Gem Bing Shop (East Village) – Not only do they offer the classic version, but you can also choose a fancier topping such as crispy Beijing duck, spicy braised beef, and Spam.
Jian Bing Man (Inside of Food Gallery 32, Mid-Town) – I haven't tried out this spot yet, but I've heard their food is legit.
Fried Sauce Noodles (Zhá jiàng miàn, 炸酱面)
This is the dish that just screams Beijing. There are whole restaurants devoted to it, but really it's a simple yet surprisingly tasty dish. Noods topped with sliced veggies and soybean paste-fried minced meat, all muddled together with chopsticks. So easy you can make it at home.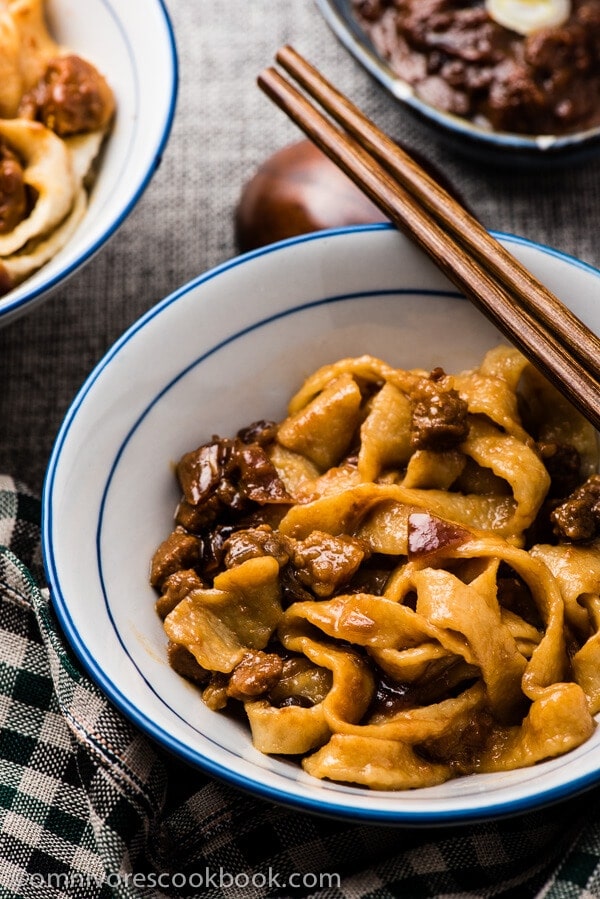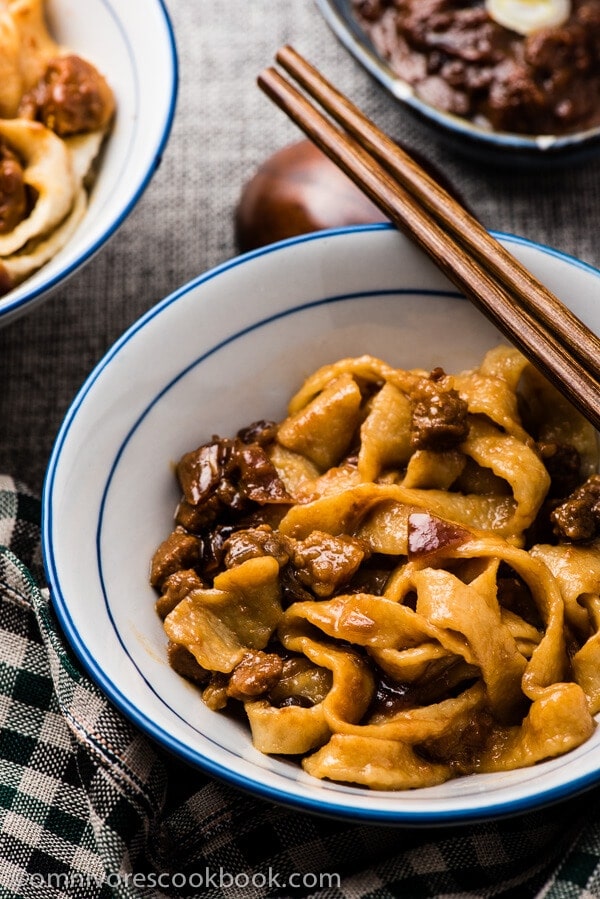 Donkey Burger (Lǘ ròu shāobǐng 驴肉烧饼 / Lǘ ròu huǒshāo 驴肉火烧)
Quite a few people are unaware that until fairly recently, Beijingers were partial to a bit of donkey meat, brought over by their neighbors in Hebei. Lǘ ròu (shredded donkey), green chilis, and cilantro make the filling in this otherwise unASSuming pastry snack. Due to 'harmonizing' and higher prices for quirky meats, lǘ ròu shāobǐng is more difficult to track down than its more generic cousin, ròu jiā mó.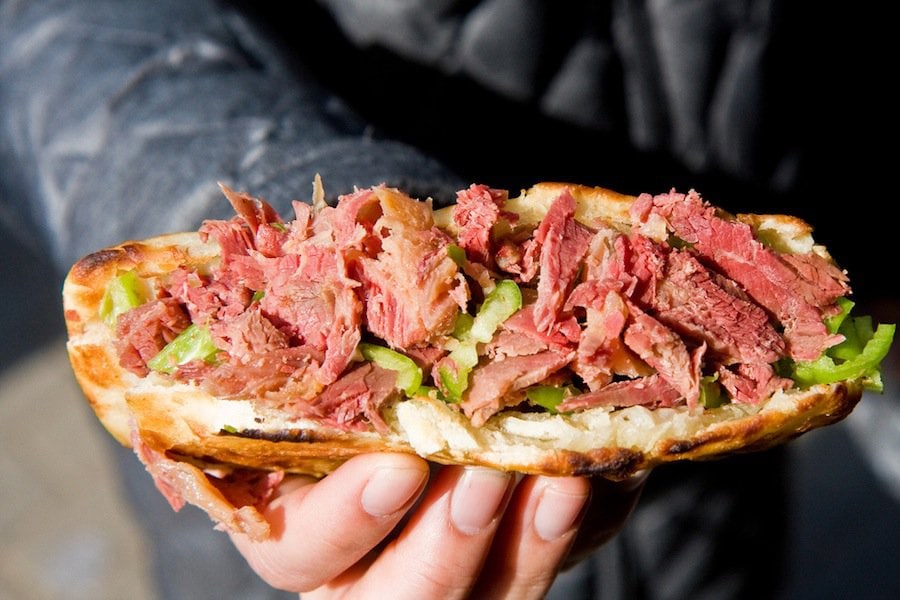 Foreign immigrants to Beijing give this snack the inspired nickname Roger Moore. This down-to-earth 'Chinese hamburger' is a flaky bread bun stuffed with shredded pork; probably the last thing 007 would pick up on a mission. The standard also comes with a chopped boiled egg, chives, chili peppers, and cilantro, but most of the flavor comes from the sauces the pork has been slow-cooked in.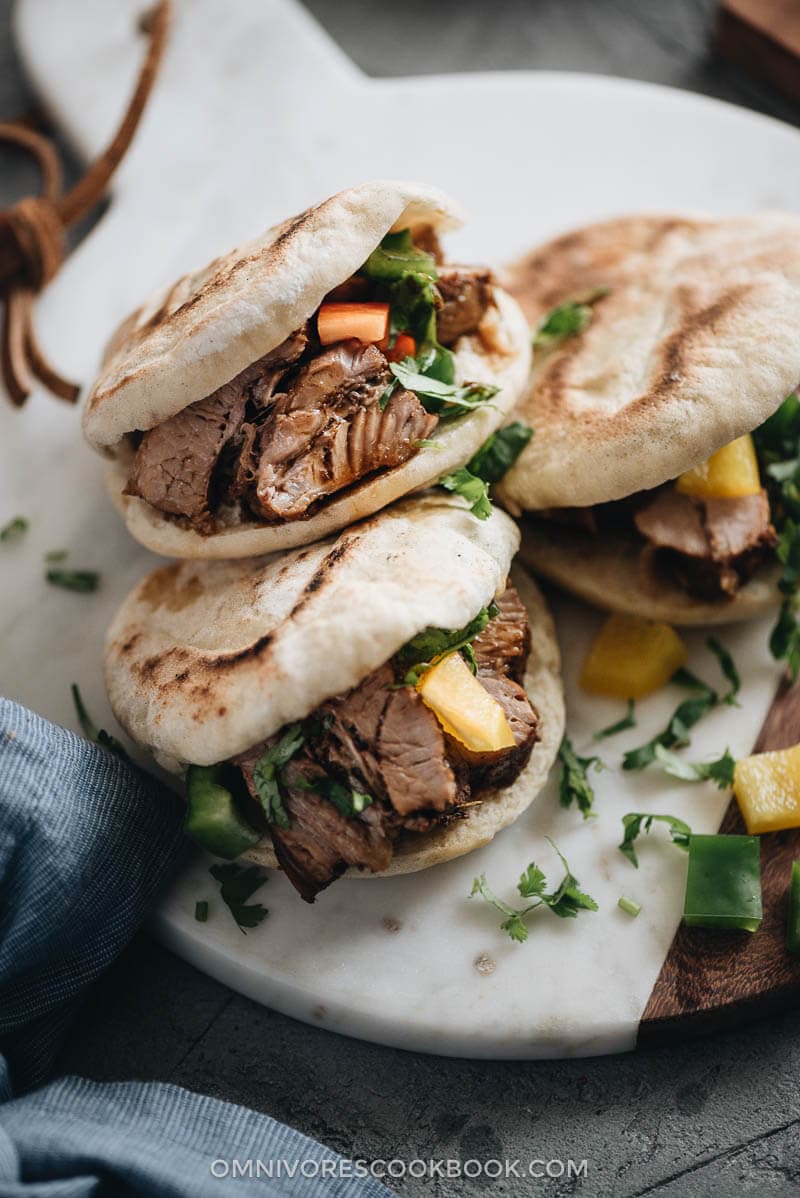 Recipes:
Restaurants:
Hot Pot Bowl Soup (Málà tàng 麻辣烫)
Although the 'málà' in the name indicates Sichuanese origin, you'll find malatang absolutely everywhere in Beijing. You take a basket, choose from the array of meats, vegetables, tofus, noodles and other bits available and they will cook it for you in a spicy broth (usually made from pork bones, but you can get plain). It's served in the spicy soup it's cooked in, and is out of this world with condiments and spices added (particularly sesame paste). It can often be found at the same street vendor selling chuan'r. Nowadays, you can usually find small shops that specialize in malatang more often than street vendors.
Beijing's urban landscape would not be the same without the pictographic 串 symbol (reminiscent of pieces on a bamboo stick) lighting up its backstreets. Usually, chuan'r just involves grilled lamb meat on sticks. But some places will offer the same array as for the malatang, from chicken wings to potatoes. Vendors will brush your chuan'r items with oil and spices as they're being grilled. The best ones are from the Muslim region of Xinjiang.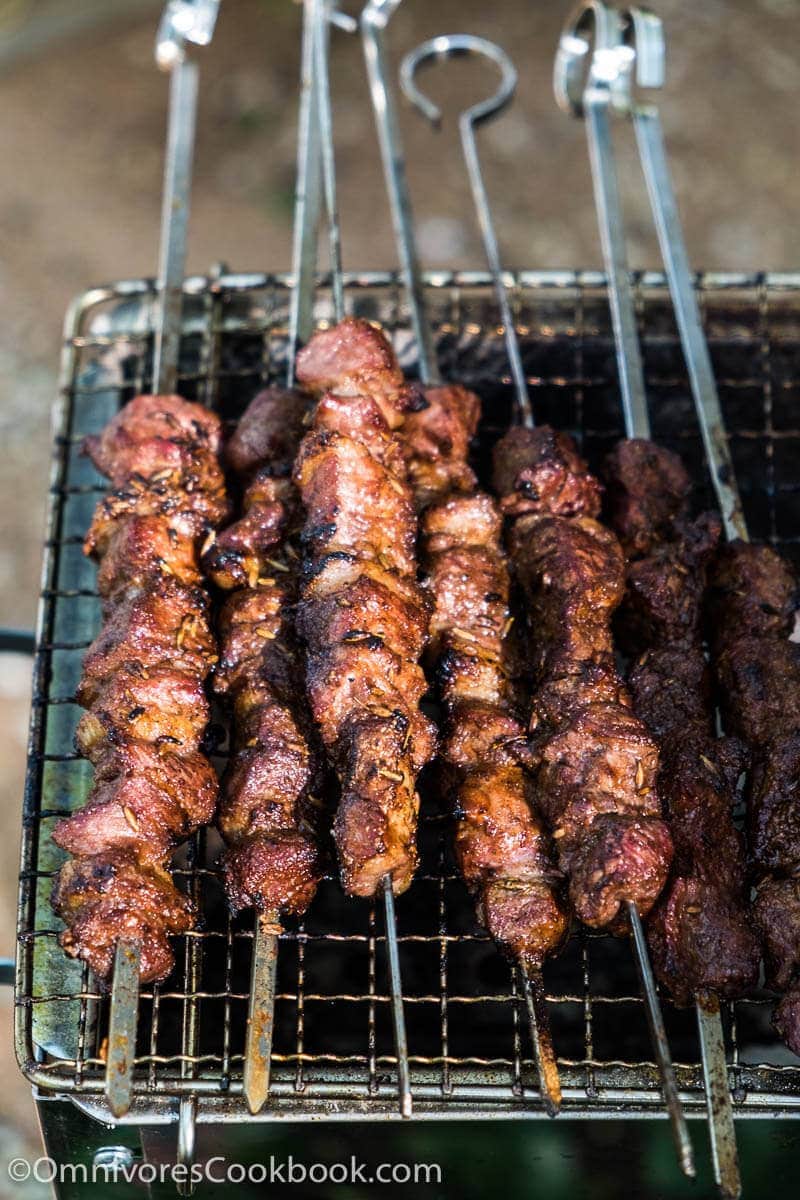 Recipes:
Cold Skin Noodles (Liáng miàn凉面/ Liángpí 凉皮)
A refreshingly cold vegan dish for the summer months, 'liáng miàn' literally means cool noodles. The street carts are notable for the noodle assortment piled into small mountains next to the glass. Just choose the type you want (liang mian are the yellowish rice noodles, while liangpi are the thick, flat white ones made from wheat) and they will add a variety of vegetable strips, spices, and delicious condiments. Combine it in the pot and chow down.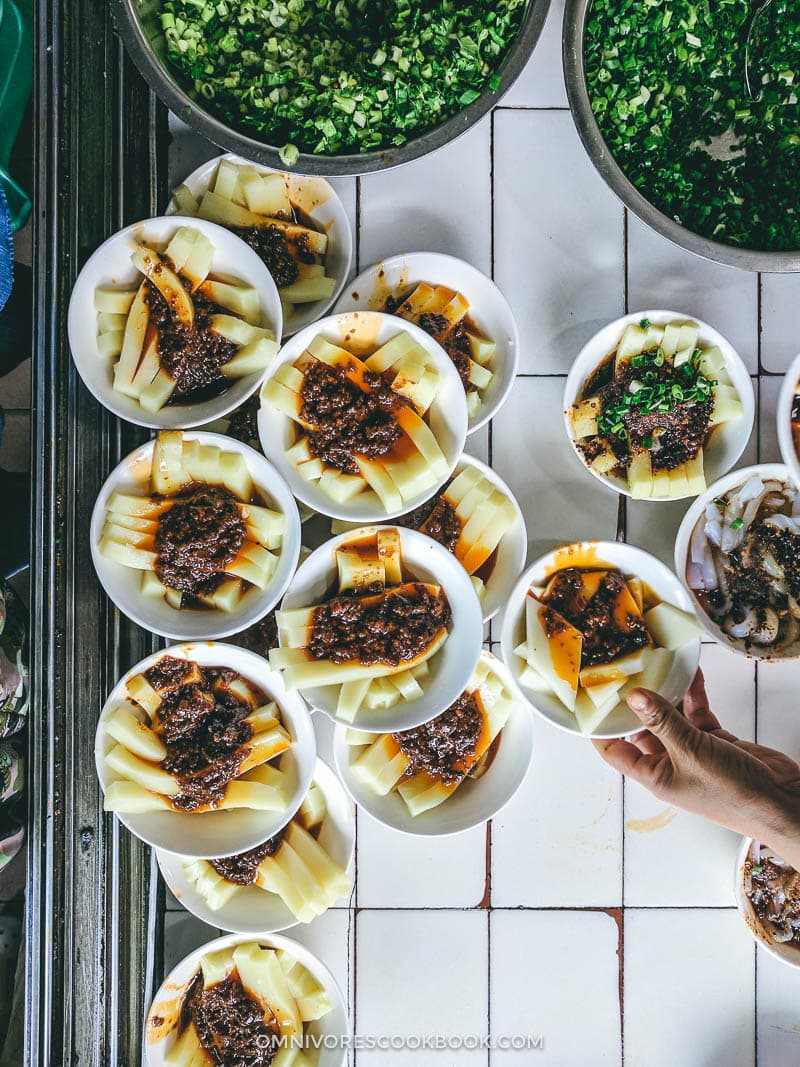 Restaurants:
Steamed Buns (Bāozi 包子)
Another breakfast staple that can also be enjoyed at any time of day. These are steamed white rice flour buns with a wide selection of fillings (the plain unfilled buns are called mantou). The vendor always knows exactly where the different fillings are in the many towers of bamboo or metal steamers. Their normal trick is to put a clue on the top of the bun, like a carrot shred. Beijing favorite savory fillings are pork, beef, chicken, chives, egg, cabbage, carrot, eggplant, spicy vermicelli, mushroom, radish (in many combinations), while favorite sweet fillings are red bean, sugar, peanut, and sesame.
Recipes:
If you go out on Beijing's street late at night, you will witness a wonderful phenomenon: street vendors appearing from seemingly nowhere to sell steaming dumplings. Customers will sit on mini stools at plastic-covered tables to enjoy a dozen of these small, soft bites of deliciousness. Rarer still are vendors selling guōtiē or potstickers – crunchy dumplings that are fried, steamed and fried again. Normally there will be two fillings offered (one meat, one veg), but sometimes they will have a wider selection like the bāozi.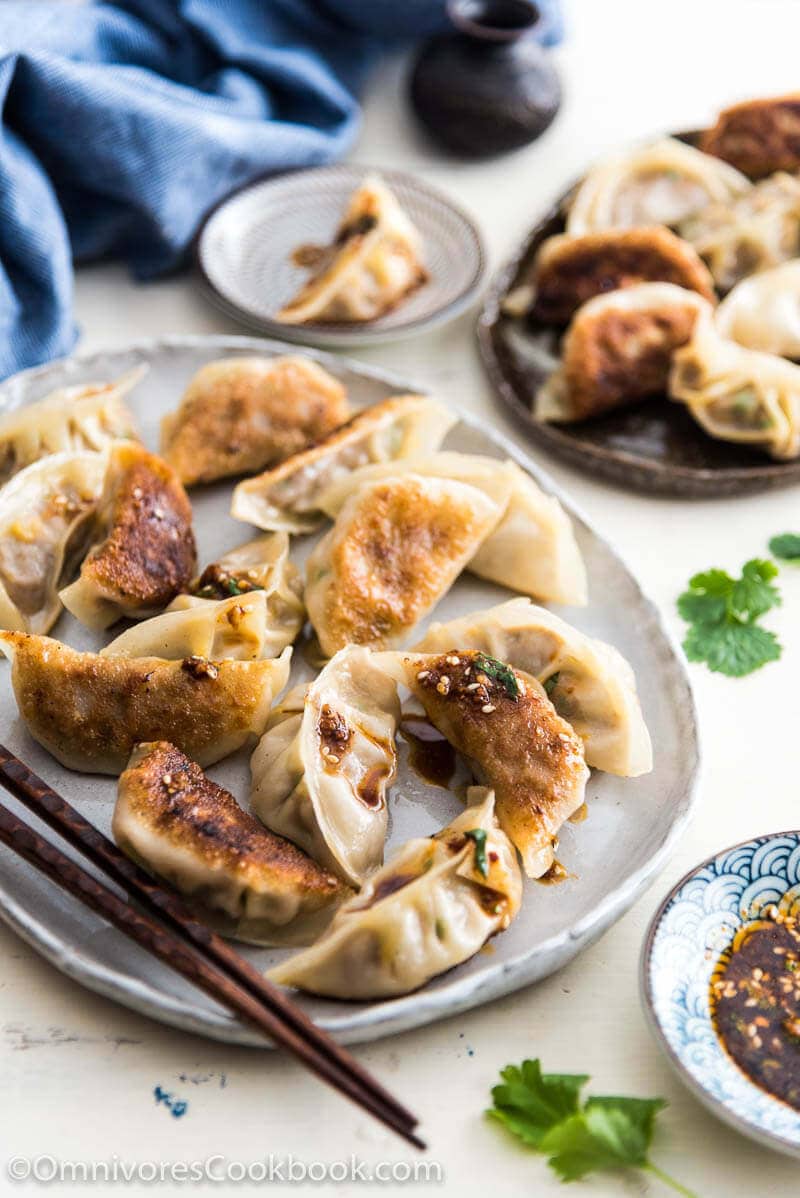 Meat or Vegetable Stuffed Pie (Xiàn bǐng, 馅饼)
Basically like a giant potsticker, or an oriental Cornish pasty, the Chinese pie is the pinnacle of comfort foods for the northern Chinese. It has a layered dough to create a super crispy, pastry-like surface that you don't get with potstickers. Its size means a more substantial filling. The fillings are usually made with meat, such as pork or beef. You can also find veggie types filled with Chinese chives and egg. Beijingers eat them throughout the day, but it's also a popular breakfast item because you can easily grab and go.
Recipes: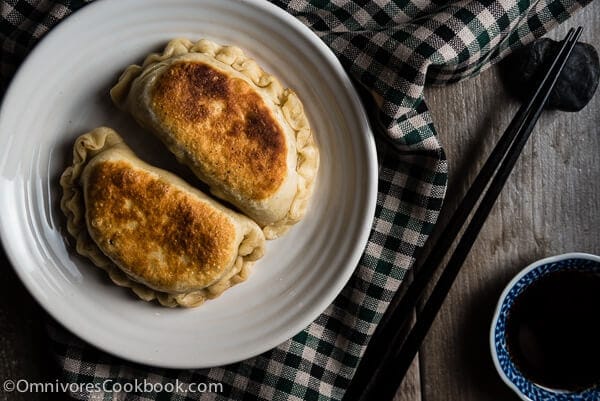 Roasted Sweet Potato (Kǎo hóngshǔ 烤红薯) / Roast Chestnuts (Kǎo bǎn lì 烤板栗)
Beijing gets cold in winter, and I mean cold. Even the street food vendors have learned to stave off the chill with piping hot treats like roasted tubers, which they sell from large, heated metal pots. Another enticing snack is roast chestnuts, which you can smell from a mile off and attracts the longest lines. Get them while they're hot!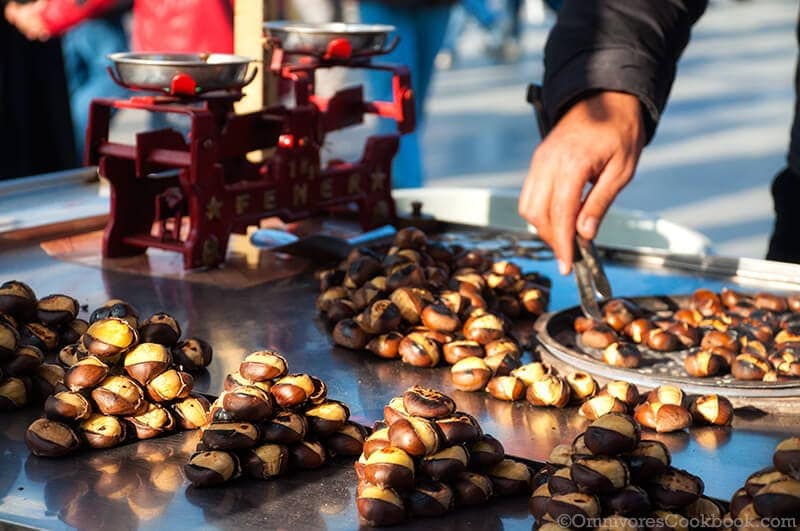 Candied Hawthorn (Tánghúlu, 糖葫芦)
Actually, tánghúlu can refer to any kind of small fruit coated in crunchy caramelized sugar (including baby tomatoes), but hawthorn is the most traditional. Vegan-friendly too! If you go down Beijing's rabbit-warren hutongs in the winter, you may be lucky enough to hear an old man rolling his cart down the street hollering 'TANG HU LUUUU!' So you best be buying. These days you might also able to find them at the entrance of shopping malls and supermarkets.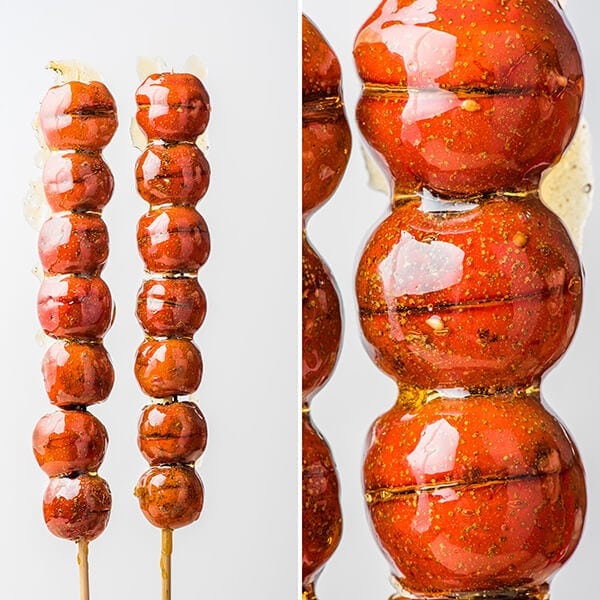 Chestnut Cake (Lìzǐ gāo, 栗子糕)
Made from puréed chestnuts, this sunshine yellow slab studded with sweet red beans is a super warming treat when visiting Beijing's temples in the winter. Sometimes you can find the chestnut cake in the restaurant dessert menu where they serve traditional Beijing food or Imperial Cuisine. You can also find packaged chestnut cakes for gifting in shopping malls or traditional Chinese pastry shops.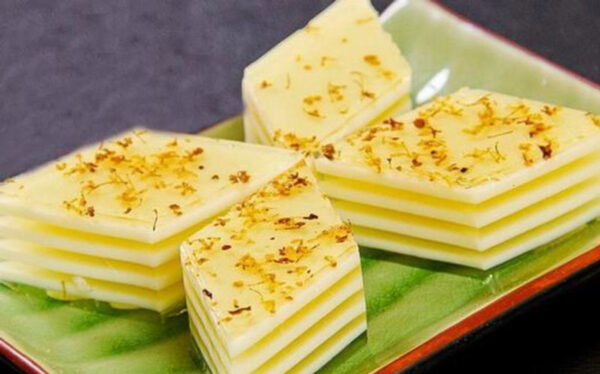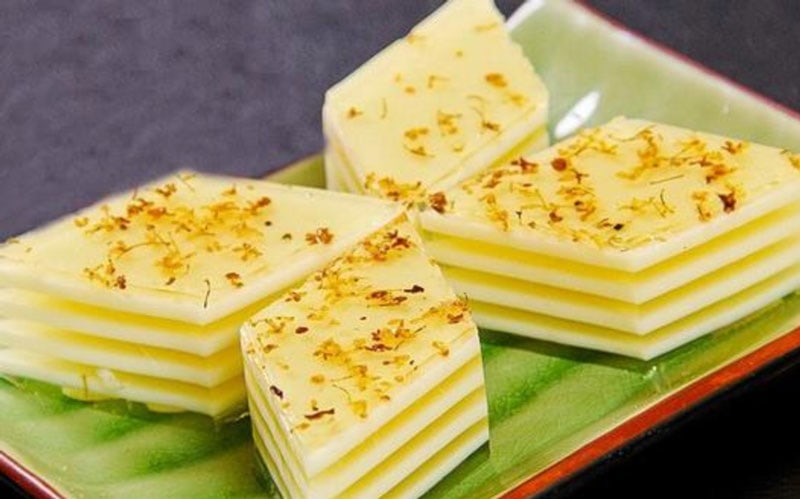 Stewed Liver (Chǎo gān, 炒肝)
Only for the most intrepid street food addicts! Chǎo gān is inexplicably one of Beijingers' all-time fave breakfast snacks. Gooey, brown, salty and oh, full of intestines, you'd have to be hardcore to stomach this one in the morning.
Beijing Yoghurt (Cípíng suānnǎi, 瓷瓶酸奶)
I'm not sure what all the hype is but locals are obsessed with this brand of yogurt. Recognizable by its little white pot with blue topper and straw, it's sold virtually everywhere. The old porcelain bottles used to be returned to the vendor, but now they have slowly been replaced by disposable plastic ones.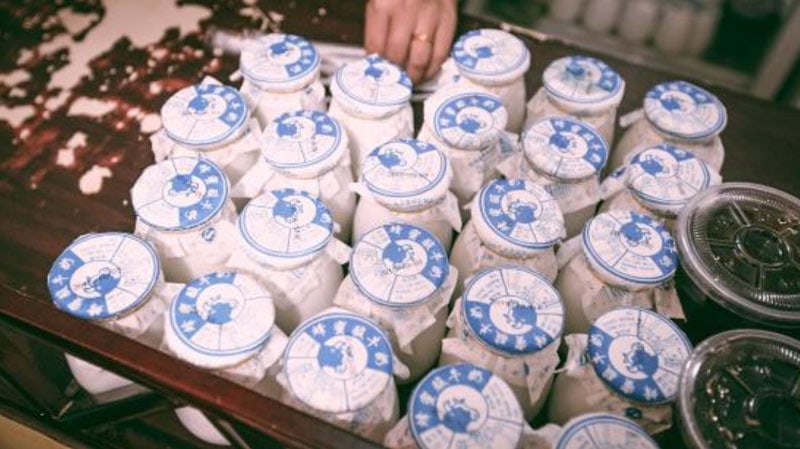 Happy eating!
The post is written by Sally Jensen and edited by Maggie Zhu.
---
[one_fifth]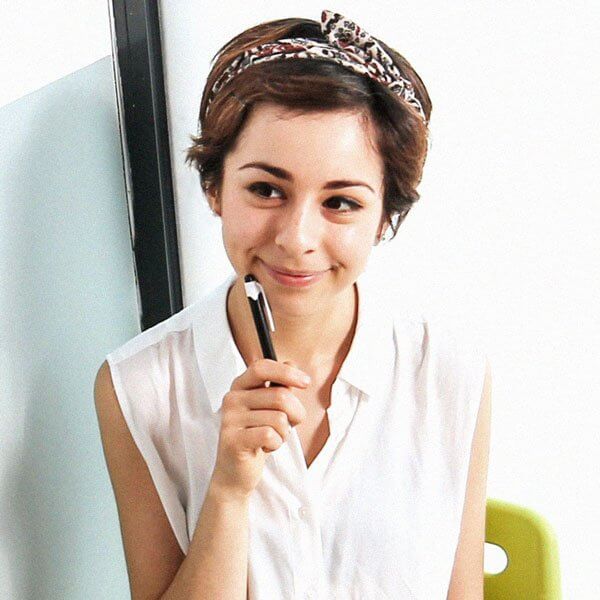 [/one_fifth]
[four_fifth_last]
Meet Sally
Sally Jensen tried pretty much every weird food during her three years in China before it all got too much and she went vegan. Now she spends her time worrying about the planet here and sporadically tweeting here. All views her own.[/four_fifth_last]