Manhattan's Chinatown is a national cultural treasure and home to some of the tastiest and most authentic Chinese food in the country. But the neighborhood is hurting and needs our help as many longtime family-run institutions there are in danger of closing. A lot of well-known establishments have closed forever, including the Jing Fong, a landmark and the largest restaurant in Manhattan's Chinatown.
Join us for a culinary tour as we explore cheap eats, sit-down meals, and shopping and learn how you can help.
This first post in a series about dining and shopping in Manhattan's Chinatown includes our highlights as far as cheap eats, sit-down dinners, and a couple dessert and drink spots.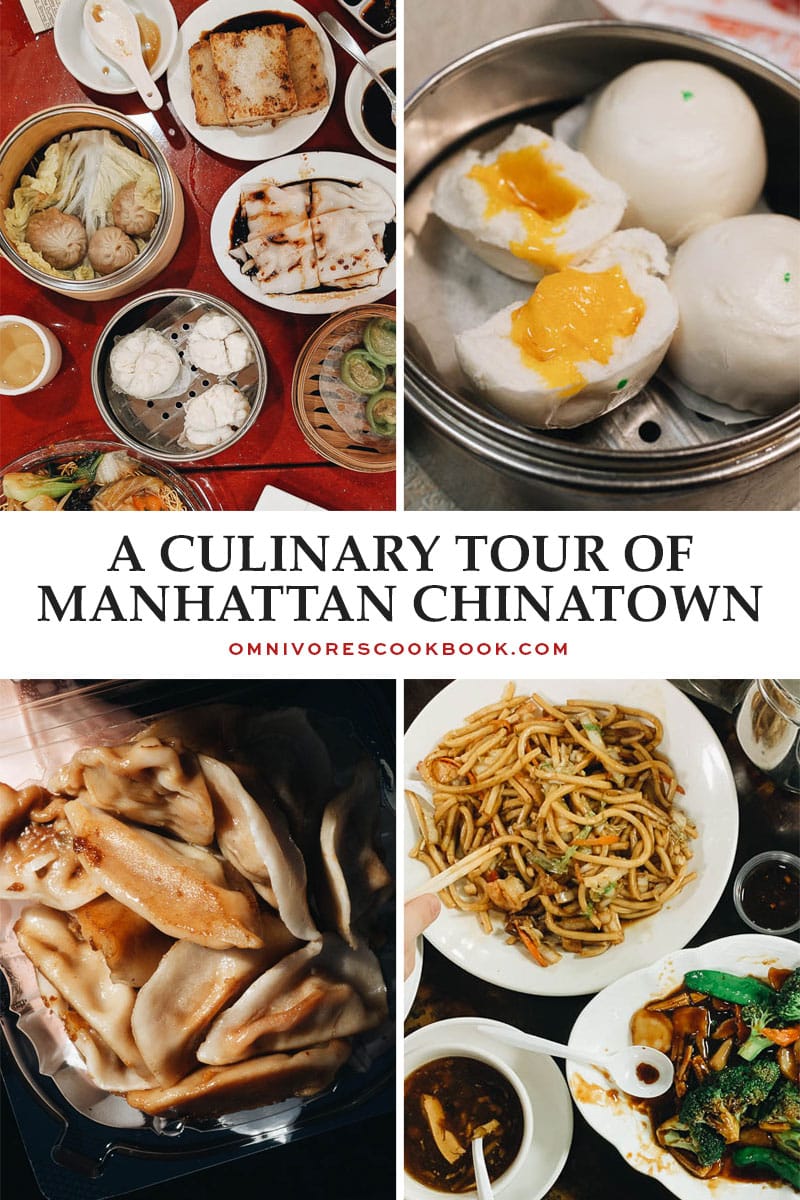 Street Food / Cheap Eats / Snacks
These restaurants are small, unassuming shops that sell amazing handmade food, including noodles and dumplings, at startlingly low prices.
The food quality and flavor is on point – quite similar to the food you'd get in China.
These shops may have small seating areas, though you can easily take the food out and enjoy it in a nearby park.
And the portions are small enough that you can get one or two items to share with friends as a snack. Or combine several of them for an inexpensive feast!
You can eat well at any of these spots for $10 per person or less, including tip.
Shui Jiao Fu Zhou (aka Fu Zhou Cuisine), focuses on southern (Fujian) style boiled dumplings and has some other regional treats. Favorites include the pork and chive dumplings, wheat noodles with peanut butter sauce (a Fuzhou staple), and fish ball soup.
Address: 118 Eldridge St
This shop specializes in northern style pan-fried and boiled dumplings, as well as noodles, soups, and savory pancakes. I recommend the pan-fried dumplings, zha jiang mian (aka Noodle w. Meat & Bean Sauce), and chive pancakes – these goodies are straight out of Beijing..
Address: 27 Essex St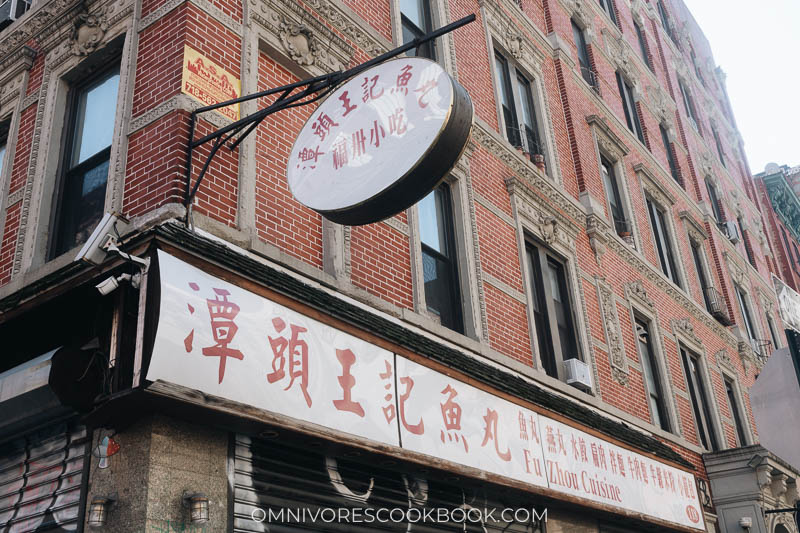 This shop sells noodles and dumplings as well, but in the regional style of Lanzhou, a city in northwest China. Try their house special noodles or Mt. Qi beef or pork noodles. If you order any noodle dish, you have a choice of noodle type – go for hand-pulled or knife-cut for some great toothy texture. The stewed pork burger (aka rou jia mo) and dumplings are also delicious.
Address: 26 N Eldridge Street
The most straightforward of all these shops, this one currently serves only fried dumplings in the style of Shandong province. The skins are doughy and chewy and the filling is a savory pork with a touch of chive. If you're in a sampling mood, this is a great place to stop on your way through the neighborhood – you can get a small order of dumplings ($5 for 17 pieces by the date of March 10, 2021) and continue onward. They also sell frozen dumplings to take home.
Address: 106 Mosco St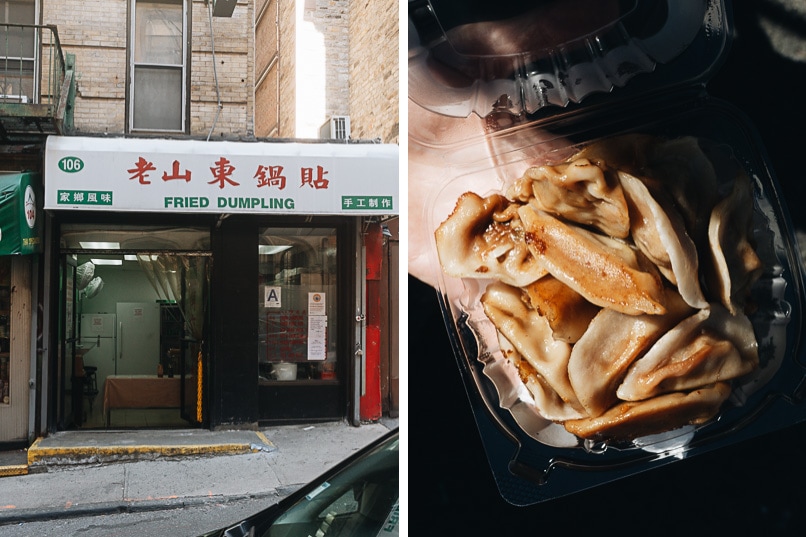 Table Service Restaurants
These restaurants work for any kind of meal from a quick bite to a grand feast.
In non-pandemic times, you might share a large table with another party – this is how they keep up with the high volume and keep wait times down. These days, you can dine at their outdoor seating area, or order takeout to go.
They have deeper menus than the spots above, and while they're a bit pricier, the food is vastly underpriced for what you get.
A Shanghainese restaurant with dishes ranging from handmade dumplings and buns, Shanghai lo mein, giant pots of comforting stew, to Chinese-American classics like General Tso. A great place to bring a group once the pandemic is behind us, as there is something for everyone. You CANNOT miss their soup dumplings (xiao long bao), which some describe as a religious experience. While the whole menu is solid, their seafood chow fun, home style tofu, and winter melon soup with bamboo are all excellent as well.
Address: 66 Bayard St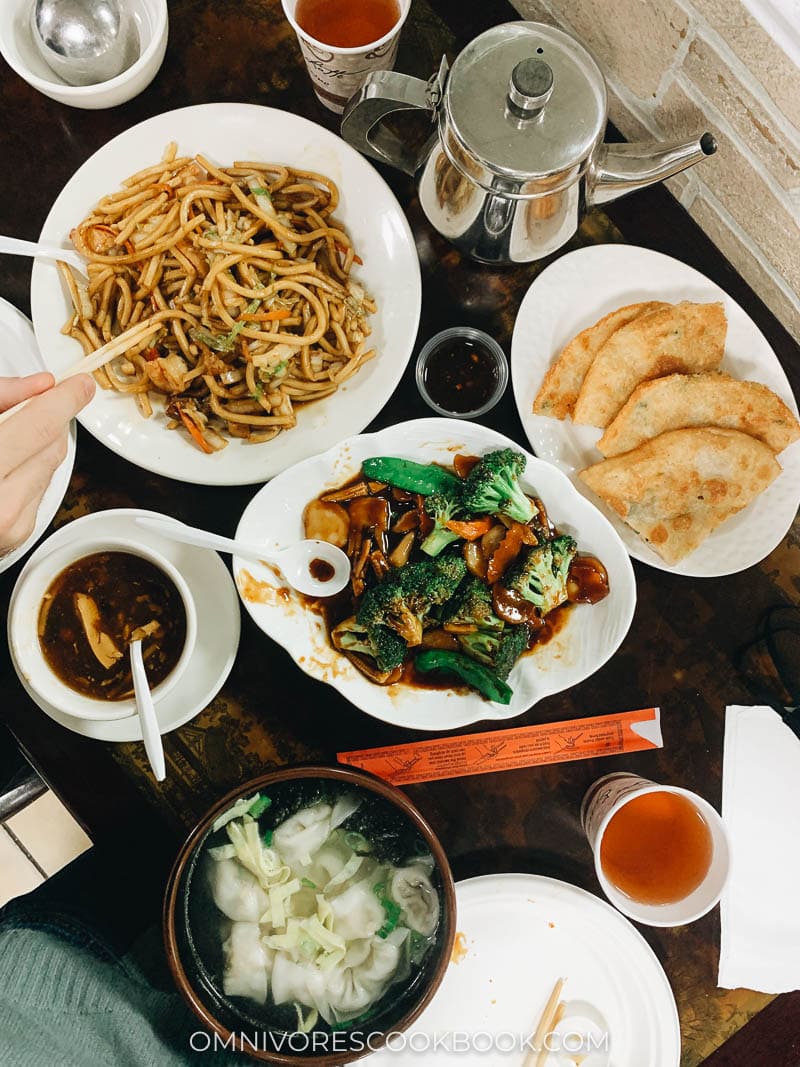 Their dishes are all Chinese standards – shumai, BBQ pork buns, hot and sour soup, cumin lamb, shrimp fried rice, etc., but everything is vegetarian and practically everything is vegan! They make each of their mock meats in house, do not use MSG, and they have taken meticulous care to make them taste very close to what they imitate. If you do not like to eat mock meat, you can easily get a delicious meal made with natural ingredients and produce, because they mark all their dishes if it uses mock meat in it.
They have an extensive plant-based dim sum menu as well. If you are curious how tasty vegan food can be, give this place a try! Their BBQ meat (and any dish using it), black pepper portobello mushroom, chicken fried rice, and stuffed eggplant-tofu-pepper are our all-time favorites, but everything we've tried there has been wonderful.
Address: 5 Mott St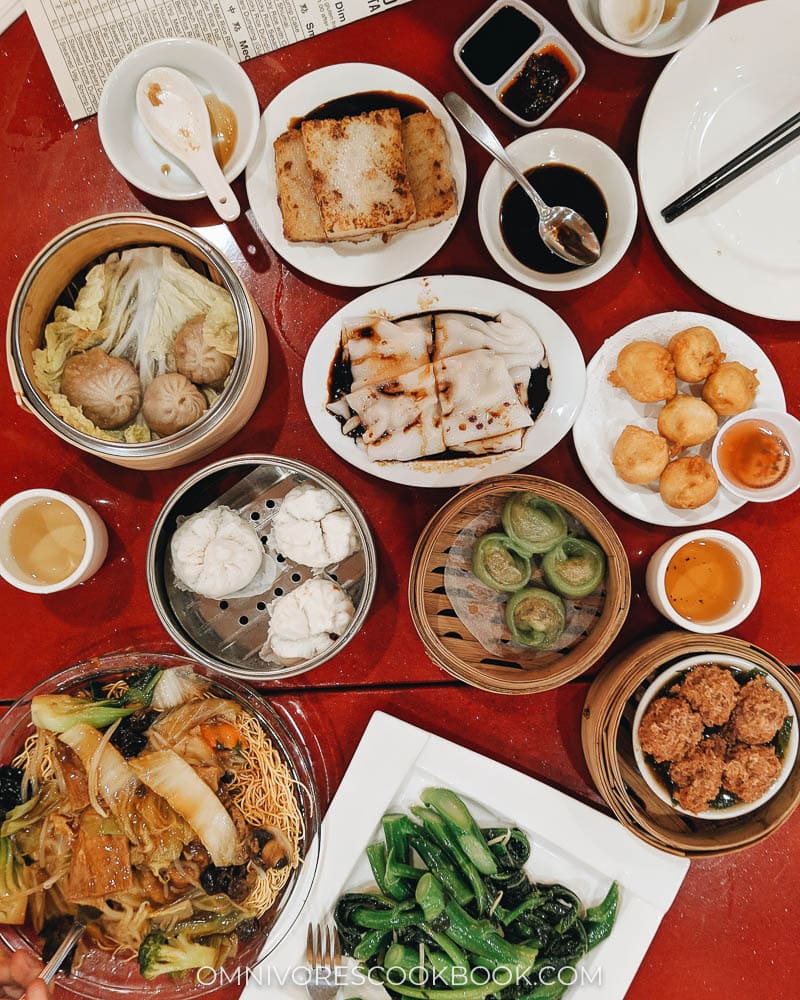 Our go-to hot pot restaurant, they run an all-you-can eat operation at a set price that varies by the day of the week (weekend pricing is higher due to demand). Their broths and sauces, while perhaps run-of-the-mill by domestic Chinese standards, still combine for a very satisfying meal. If you're familiar with hot pot, this place should be a breeze. But if you're not, check out this post for some tips on how to approach it. It's a really fun meal to enjoy with a friend or five. (We are also fans of the hot pot at the nearby 99 Favor Taste and usually go to whichever has the shortest wait time.)
Address: 92 Hester St
Dessert and Drink Shops
Depending what you're in the mood for, there are some great places to grab a sweet bite or a drink you couldn't find anywhere else.
They make cheesecake tarts that are a great example of creative east-west fusion. Flaky tart shells are filled with a delightful runny cheesecake accented with Asian flavors such as black sesame, taro (Japanese yam), and matcha. Best enjoyed warm.
Address: 11 Mott St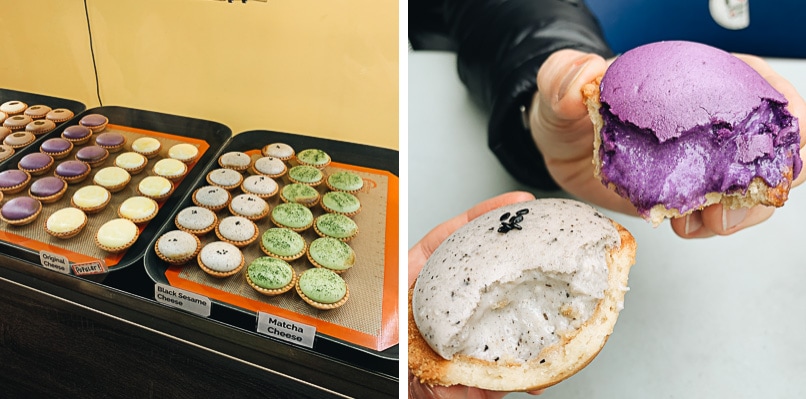 Their menu features a number of very high quality Chinese teas, as well as coffee, iced teas, fresh fruit drinks, snacks, waffles, and desserts. We had a great experience with the Bai Mu Dan / white peony tea (delicate white tea rich with fruity and floral aroma) and milk tea with coconut jelly (satisfying chewy cubes, similar to boba).
Address: 30 Mott St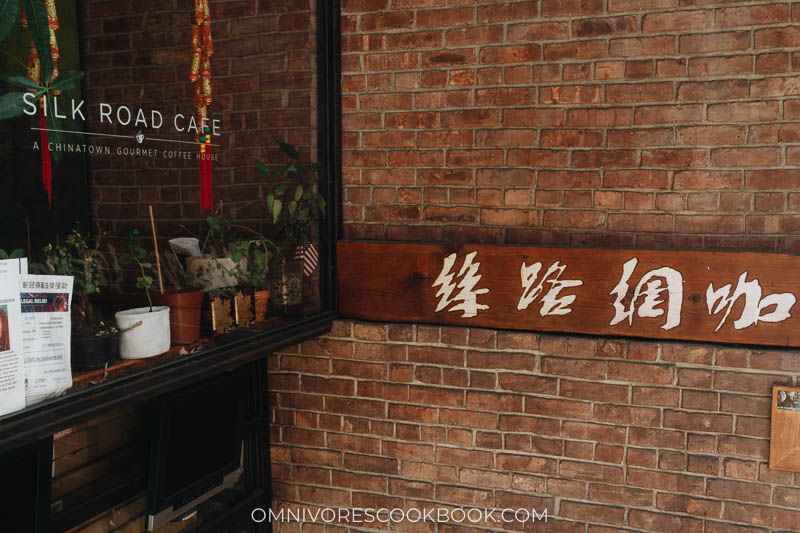 Cantonese Chinatown Institutions
I felt that Cantonese food deserves special attention here, given Manhattan Chinatown's largely Cantonese roots.
Cantonese restaurants have been the mainstays of the neighborhood for over a hundred years and continue to be a major part of Chinatown's core.
My understanding of Cantonese cuisine is limited, as I was born and grew up in northern China. But I have a deep appreciation of the Cantonese goodies I am familiar with, and some of the dishes I was fortunate to encounter while traveling to Guang Dong and Hong Kong.
One famous Cantonese place in Chinatown came to my mind – Nom Wah Tea Parlor.
It's been in operation since 1920 and features dim sum and other Cantonese classics in a nostalgic/historic diner ambience. While everything we tried there was tasty, the shrimp siu mai and phoenix buns (steamed buns filled with a sweet salty runny yolk custard) were especially nice.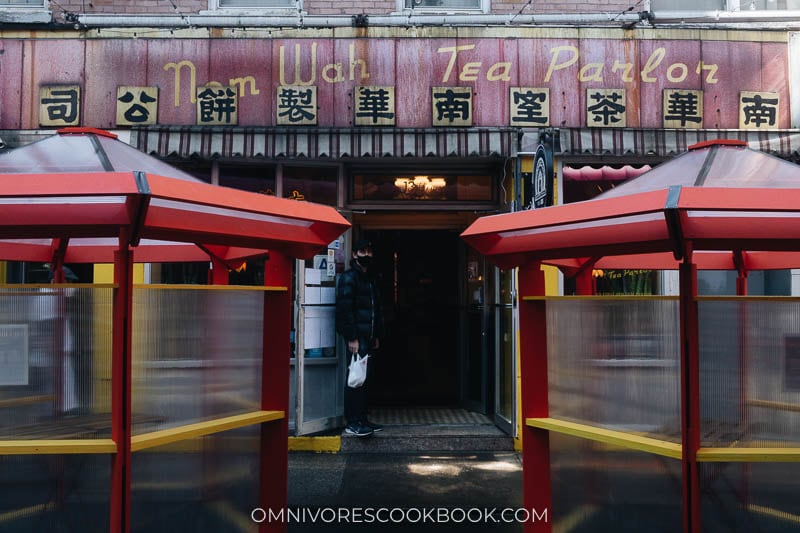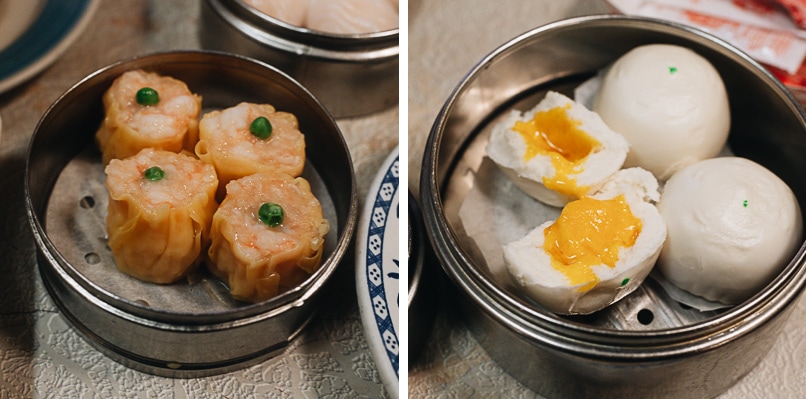 We're working on a post to share our recommendations for a few more of our favorite Cantonese spots in Chinatown, as well. Stay tuned to find out where to get the best barbecue, wontons, and dim sum!
A Few Final Tips for Dining in Chinatown
Bring cash
While many businesses in the neighborhood accept credit cards, Venmo, etc., many also accept only cash. Fortunately, everything is quite inexpensive so you needn't bring a large amount.
Ask questions
Don't be afraid to ask for a recommendation from the restaurant staff if you're not sure. I've included some of my favorites in the post above, but I still ask staff for help if I'm feeling lost as to what to order. And I've never been disappointed.
Explore
Follow your senses and curiosity. As you walk through the streets of Chinatown, you'll see and smell things that you might not find elsewhere. If you smell some amazing food cooking, or if you notice a great aroma at a fruit stand, stop and give it a try! Or if you see something that intrigues you – a plant, type of produce, anything – ask someone about it. This is the place to indulge your curiosity.
More Chinatown guide:
Do you have any favorites I didn't mention? Or questions about visiting Manhattan Chinatown? Let us know in the comments. Thanks for reading and happy eating!