A bowl of Chinese corn soup is the ultimate comfort food on a chilly day. The chicken broth is cooked with ground chicken, corns, eggs, and peas to create a rich taste and silky texture.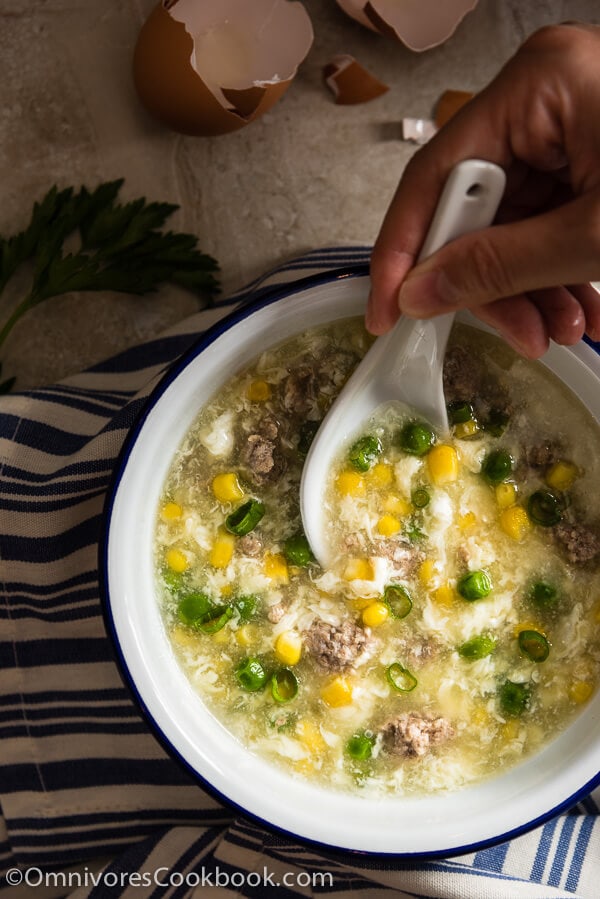 Chinese corn soup is called "corn stew" (玉米羹, yu mi geng) in Chinese. It is a different form of Chinese egg drop soup. With loaded corns and chicken meat, the dish features a thick silky broth with a richer taste than that of the average egg drop soup.
Egg drop soup might be the most famous soup on the menu of Chinese restaurants in the US. But Chinese corn soup is my favorite soup growing up, because it is richer and contains more goodies.
My mom makes egg drop soup a few times a week, but rarely makes corn soup due to the time involved. It is a dish we'd rather ordering in restaurants. But in fact, corn soup only takes one extra step to make, and you only need 20 minutes to prep and cook it. The soup is so satisfying, that I usually serve it as a main dish for a one-bowl light dinner.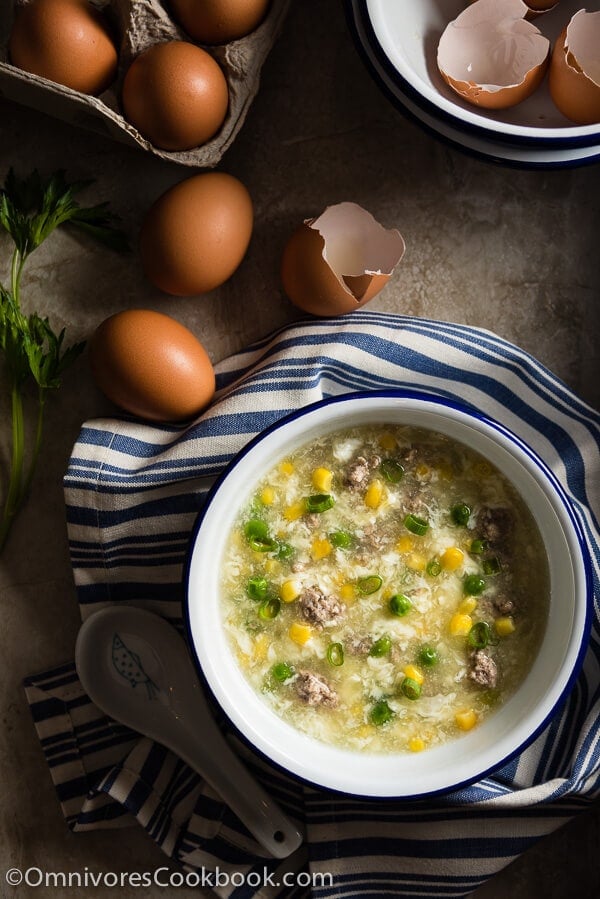 To Make a meatless version
Skip the ground chicken and add 4 cups of chicken stock (instead of 2 cups chicken stock + 2 cups water). It makes a perfect side dish to wash down your dinner.
I personally like the version with ground chicken, because the browned bits add tons of flavor to the soup. That's why I only used two cups of chicken stock rather than four. Plus, the ground chicken add pleasant texture to the soup. If you add a small handful of noodles and green vegetables such as spinach, the soup makes a hearty full meal.
Meal Plans
Light dinner: Corn soup with added noodles and collard greens / or a green salad.
30-minute meal: Steamed rice + A quick stir-fry (such as scallion beef stir-fry) + Meatless corn soup
Cook for 4 people: Steamed rice + Braised (cook ahead) / roast protein + Corn soup with added collard greens
A few super quick main you can cook in the oven: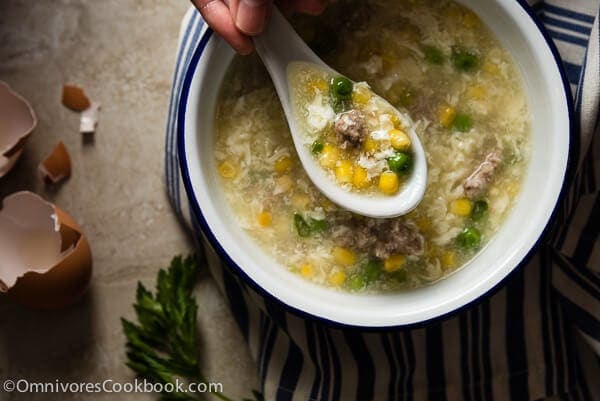 Do you like my recipes? Sign up for Omnivore's Cookbook's weekly newsletter to get the latest updates delivered to your inbox and a free e-cookbook! And stay connected via Facebook, Instagram, Pinterest and Google+. Thanks for reading and happy cooking!
Want to Know More?
Receive our 5-Day Chinese Cooking Crash Course & Recipe Updates! Subscribe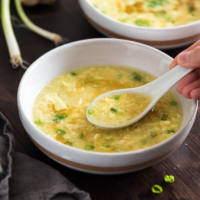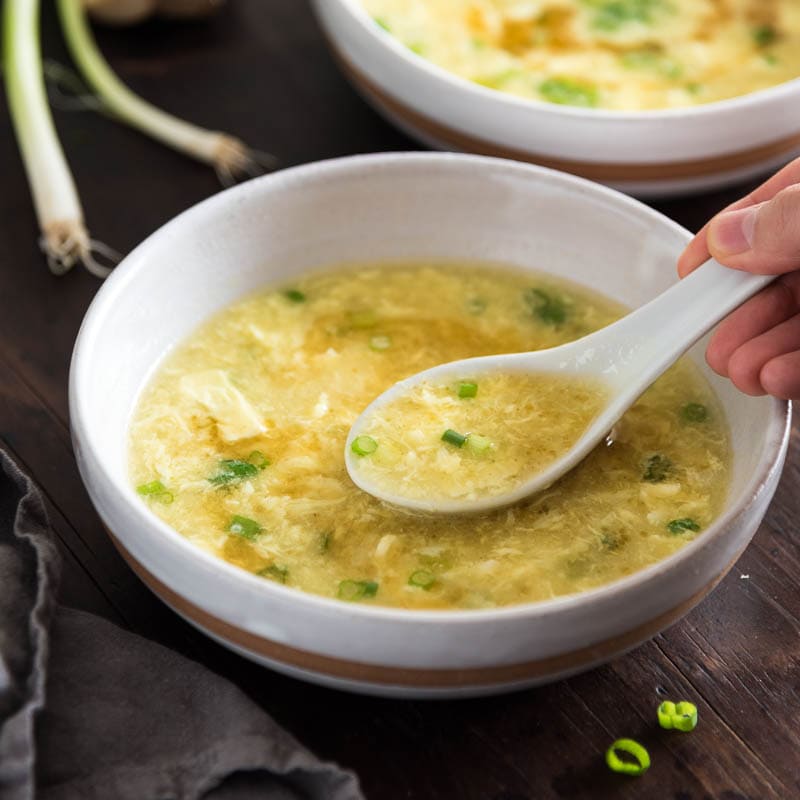 Chinese Corn Soup (鸡蛋玉米羹)
The ultimate comfort food you can easily create at home. My recipe uses the traditional approach to cook chicken, corn, and peas along with eggs in a hearty chicken soup.
Ingredients
1

tablespoon

peanut oil

(or vegetable oil)

1/2

teaspoon

ginger

1

green onion

, chopped

1/2

pound (200 grams)

ground chicken

(or ground turkey)

1 tablespoon Shaoxing wine (or Japanese sake)

(Optional)

1

teaspoon

salt

(or to taste)

2

cups

chicken stock

(*see footnote 1)

1 to 2

cups

frozen corn

(*see footnote 2)

1/4 cup frozen peas

(Optional)

2

tablespoons

potato starch

3

eggs

or 4 egg whites, beaten
Instructions
Heat oil in a big pot until warm. Add ginger and white part of green onion. Stir a few times until fragrant.

Add ground chicken. Stir and cook until the surface turns white. Add sake and salt. Keep cooking until the chicken is almost cooked through.

Add chicken stock and 2 cups water. Turn to high heat. Cook until bringing to a boil. Add frozen corn and peas. Continue to cook until bringing to a boil again.

While boiling the soup, combine potato starch with 1/4 cup water in a small bowl.

Skim the foam from top of the soup if you want it to look prettier (optional). Turn off heat.

Swirl potato starch slurry into the soup. Mix well.

Put a spatula (or a fork) against one end of the bowl with the egg in it. Slowly drizzle egg into the soup in a swirling motion.

Mix the soup again and taste it with a small spoon (be careful, the soup is very hot!). If the soup is not as thick as you'd like, mix a bit more potato starch slurry and add it into the soup. Add more salt to adjust seasoning if necessary.

Serve warm.
Notes
I used 2 cups chicken stock plus 2 cups water in the soup, because the ground chicken adds a great flavor and helps create a rich soup. If you want to skip the ground chicken, or if you prefer an extra rich soup, use 4 cups chicken stock instead.
Use 1 cup for a lighter soup as a side. I prefer using 2 cups to make a rich soup, and serve it as a main dish for a light dinner.
Nutrition
Serving:
1
bowl
,
Calories:
176
kcal
,
Carbohydrates:
22
g
,
Protein:
8.5
g
,
Fat:
6.3
g
,
Cholesterol:
67.2
mg
,
Sodium:
489.2
mg
,
Fiber:
2.3
g
,
Sugar:
9.8
g