Auntie Guan's Kitchen is my go-to spot for Northern Chinese food in NYC. If you're interested in some of the most authentic and delicious regional cuisine outside of China, you can't miss it!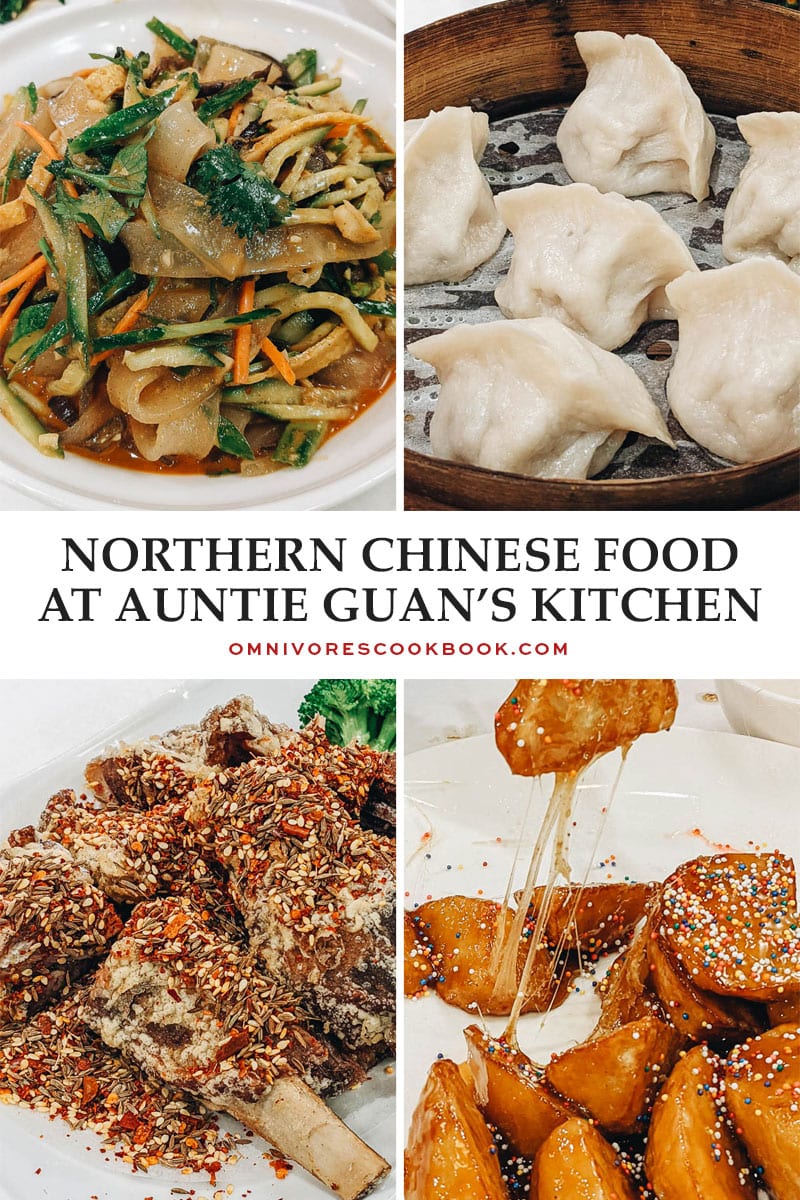 Auntie Guan's Kitchen: Like Being Back in Beijing
While New York City has a really solid contingent of all sorts of regional Chinese restaurants – Sichuan, Cantonese, Shanghainese, Northwestern, and so on – there's one that holds a special place in my heart for its honest, soulful Northern style cuisine, Auntie Guan's Kitchen.
If you've read my previous restaurant reviews on the blog, you know there are some spots that I absolutely adore – Sichuan food at Birds of a Feather and the Shanghainese goodies at Deluxe Green Bo, to name a couple.
Auntie Guan's belongs to a special category of restaurant, however, because their menu consists largely of dishes that I ate growing up. And they execute wonderfully on those recognizably classic dishes. Everything – the ingredients, methods, flavors, textures – is on point. It's like I'm in a neighborhood restaurant back in Beijing.
Auntie Guan's Laid-Back Family Style Vibe
Some of my favorite Chinese spots in the city go the extra mile with decor and ambience. While Auntie Guan's space isn't uncomfortable in any sense (and quite clean by US standards), they don't go out of their way to impress with the setting and really let the food do the talking.
The interior feels like a family-run restaurant, one that could be in China, the US, or anywhere for that matter. White paper table coverings let you know that you can relax and not worry about small messes as you enjoy your meal.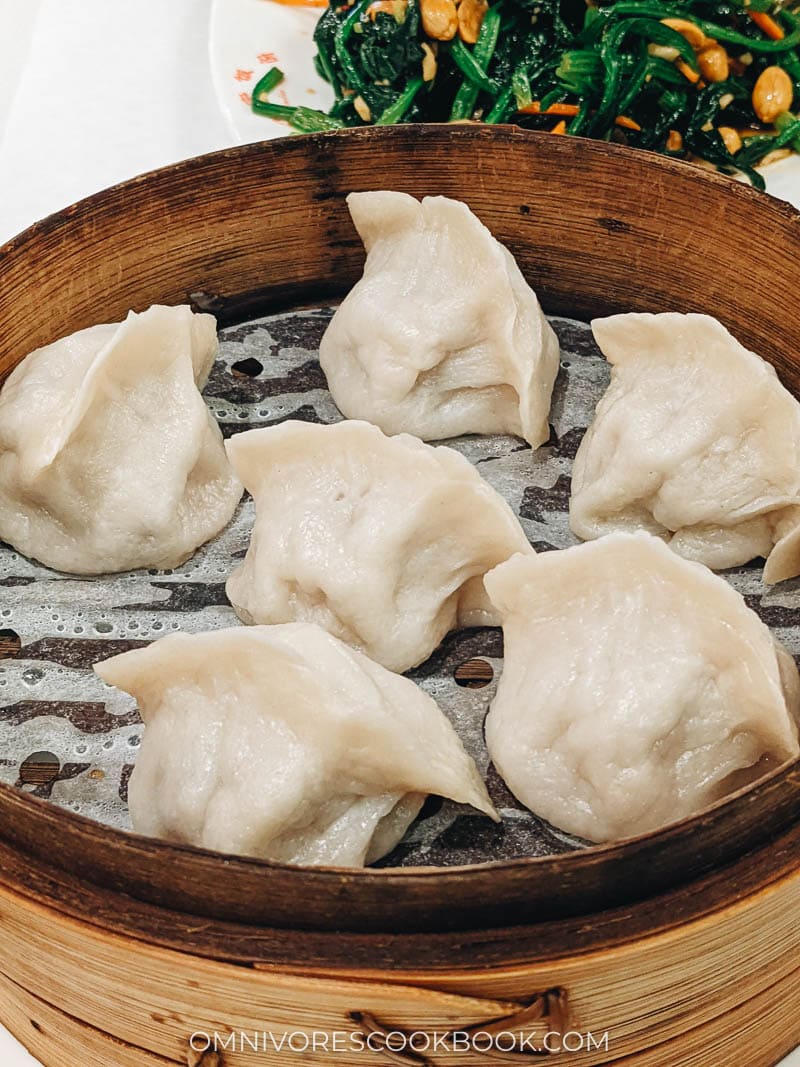 The Unmistakably Northern Menu
As soon as I opened the menu I felt a sense of comfort wash over me. From front to back, it is loaded with dishes I ate as a kid, enjoyed with family, friends, and visitors from overseas. The things I took for granted for much of my life but find myself missing a lot nowadays!
Some of the dishes I would categorize as delicious but perhaps unexpected for some: spicy fish soup with Chinese sauerkraut (Suan Cai Yu), fried steamed buns (Zha Man Tou) with condensed milk for dipping, and strips of pork fried and served in savory bean sauce with tofu skin wrappers.
Other dishes hint at the region's not-too-distant history as a land of peasants, with offal cuts made into hearty delicacies – for example, pig's kidney (or intestine) on a sizzling platter and braised pig's feet.
Overall, the menu is loaded with dishes I recognize instantly, from the cold appetizers, dumplings, and soups, to the roasted meats, whole fish, and stir fries. I might have only tried 30% or so of the menu over the years, but everything has been more or less true to how things are done back in the old country.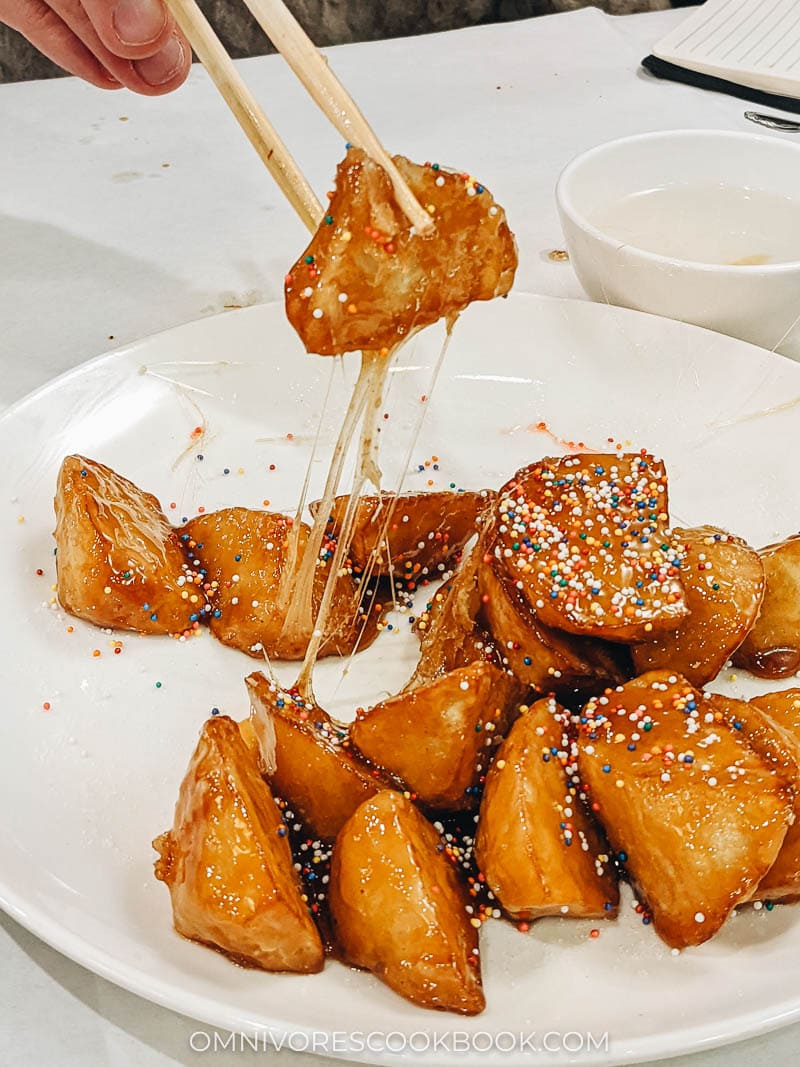 How to Order at Auntie Guan's: Strive for Balance and Harmony
A common rookie mistake when ordering at a Chinese restaurant is to just order the things that look tastiest (or the most familiar ones). If you do this you might end up with three meat dishes, a seafood dish, and a dessert – hardly balanced and hardly representative of the wide range that the cuisine can offer. Don't do this.
Approach your selection holistically when deciding what to order – to create a balance between hot and cold; between veggie, animal protein, and noodle/dumpling; between savory, spicy, sweet, and sour flavors – and you will create an experience beyond the sum of the parts for you and your dining mates. It's like choosing a wine to compliment your meal in a Western restaurant, but with way more possibilities!
Here are some considerations I keep in mind as I figure out what to order with my party:
Start by selecting one or two cold dishes. If just one, make it a veggie; if more than one you can add a cold meat dish if you like.
Choose a hot animal protein dish. It could be something like pork ribs, Peking duck, or a whole fish if you want to go all out. If you don't want to go too big, make it a meat-veggie stir fry. If you're vegetarian, choose a prominent tofu or vegetable dish.
Choose one or two hot vegetable or tofu dishes. If your hot protein dish is a spicy one, make this one non-spicy. If it's a sour one, this one could be on the sweet side. In any case, you want the flavor profiles of your hot dishes to complement each other.
Choose a dumpling or noodle dish. Both are specialties of Northern cuisine, so you can't go wrong with either. I love both pork and sauerkraut dumplings and Zha Jiang Mian (noodles with savory soybean sauce, or fried sauce noodles)
Add on a soup or a sweet dish if you like. Depending on how many people you have, you may want neither or both.
Some of my Favorites at Auntie Guan's Kitchen
Peanuts with Spinach and Vinegar (陈醋菠菜花生米)
This is a cold appetizer that's often served at inexpensive diners and even as street food. Blanched spinach and roasted peanuts are served in a tangy, umami sauce. It's a lovely, refreshing warmup for the taste buds, especially with the perfectly toasted peanuts and just a touch of raw garlic for aroma.
Da La Pi (大拉皮)
This is a cold dish that includes bouncy starch (gluten-free) noodles, cucumber, carrot, egg, and wood ear mushrooms in a sesame sauce accented with wasabi and cilantro. There are just so many fun textures and flavors going on here that every bite is a joy.
(This dish is shown on the menu in English as "Green Bean Sheet Jelly w. Sesame Sauce")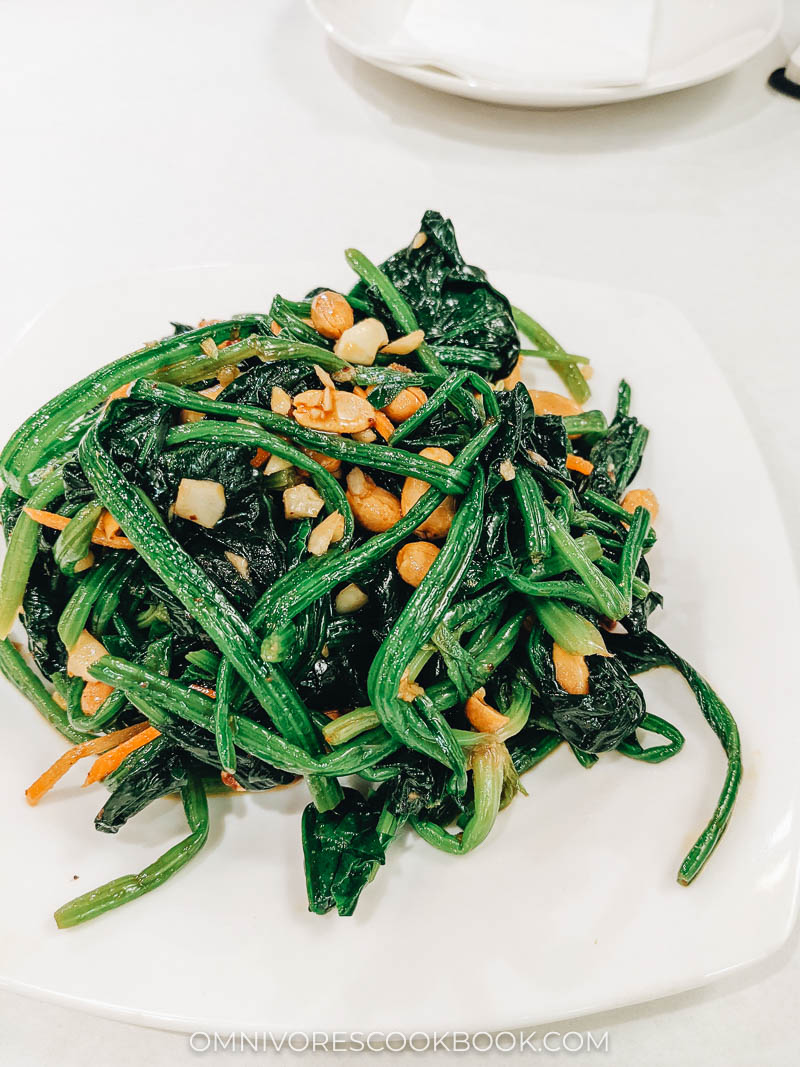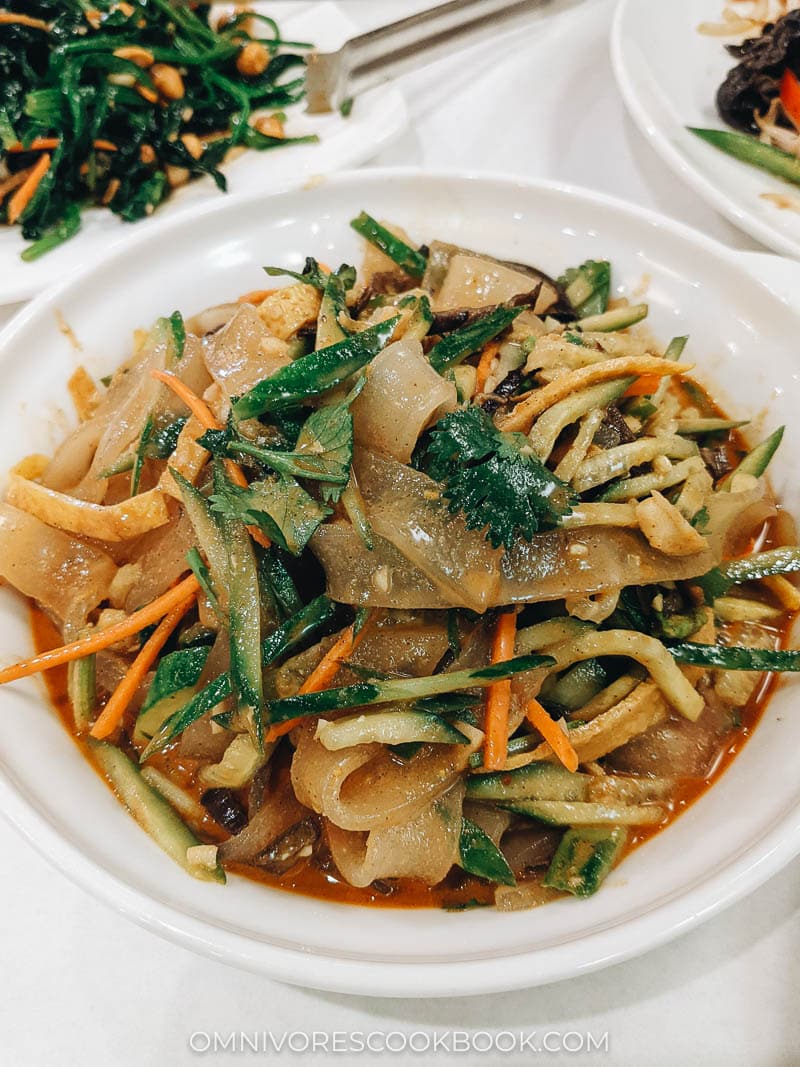 Chun Bing He Cai (春饼合菜)
This dish consists of stir fried bean sprouts, wood ear mushrooms, and eggs served alongside freshly made thin pancakes (like the ones served with roasted duck or moo shu in the US). It sounds simple but they make it so nicely, with the distinctive "wok hei" aroma infused into each bite. It's a great veggie dish on its own, and wrapping a bit of the stir fry in a pancake with sweet bean sauce just takes it to the next level.
(This dish is shown on the menu in English as "Bean Spout, Scrambled Egg, Wood Ear Mushroom Wrapped w. Thin Pancake" and it's categorized with the dumplings.)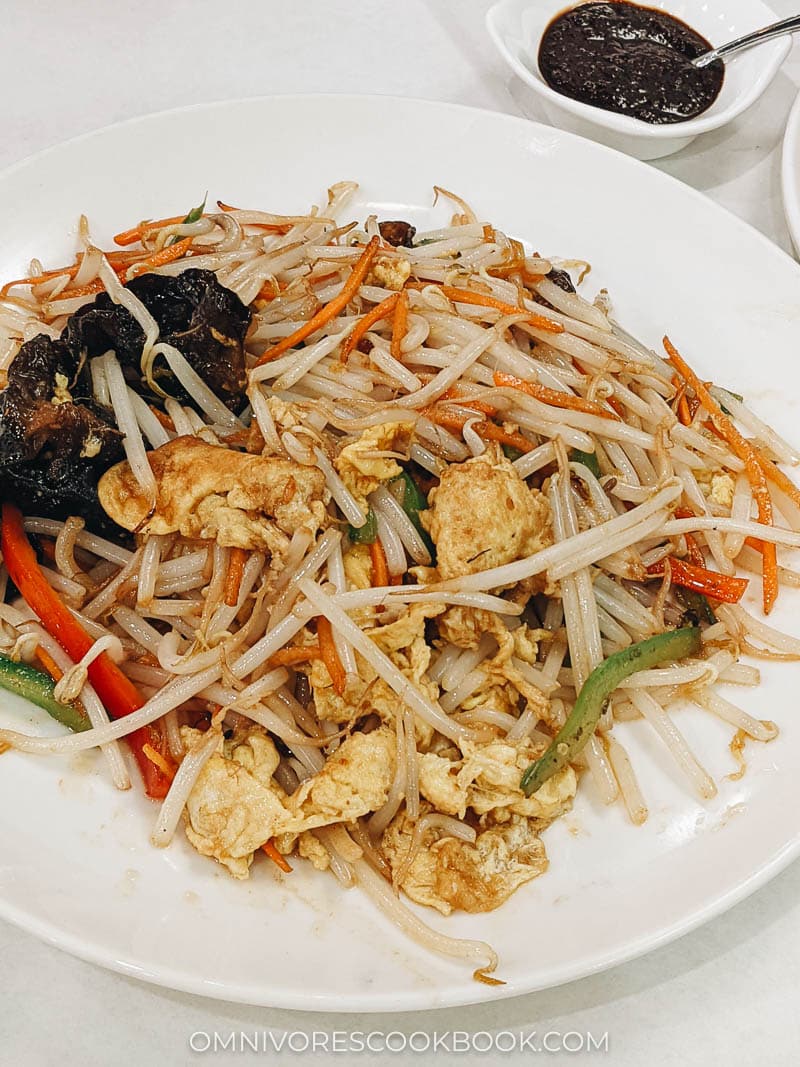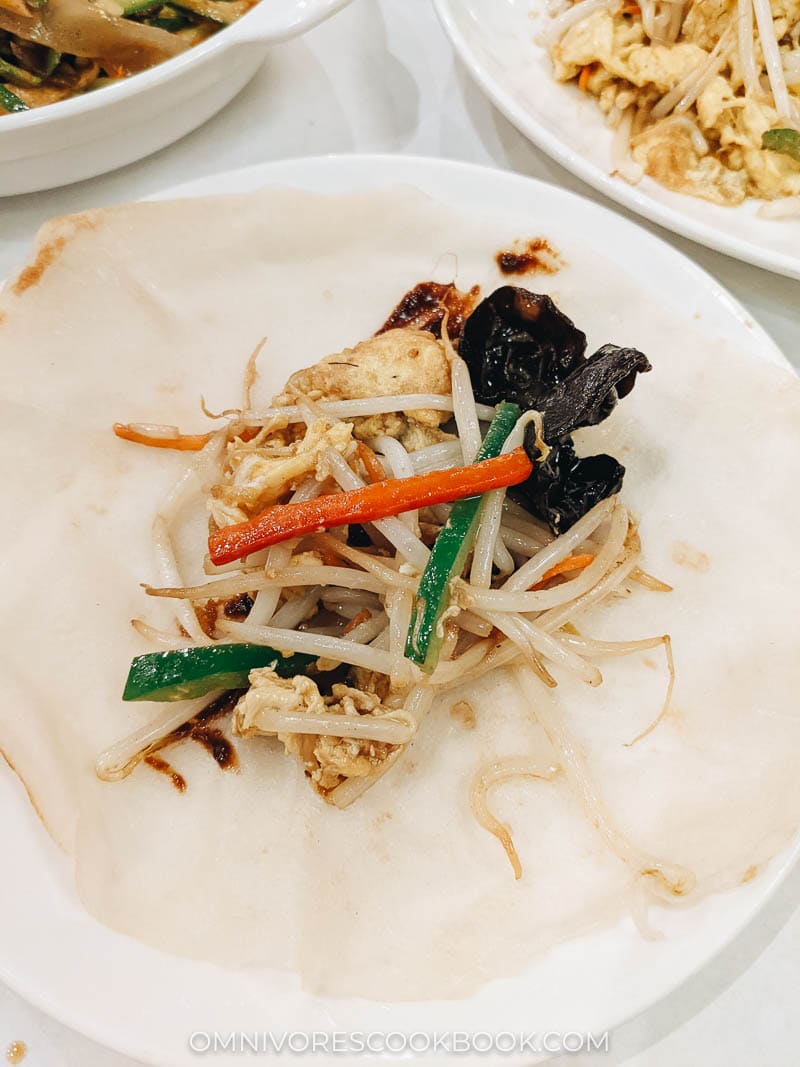 Lamb Chop With Chili Pepper (孜然羊肉)
These are not your typical lamb ribs! Not only are they bigger than you might expect (almost pork size), but they are shockingly tender, with not even a hint of gamey flavor.
I suspect that they cook the ribs low and slow to get them super tender, then flash fry them to get a lovely crispy crust on the outside. They're then topped with a dry spice mix that's balanced between chili pepper, cumin, fennel seed, and sesame.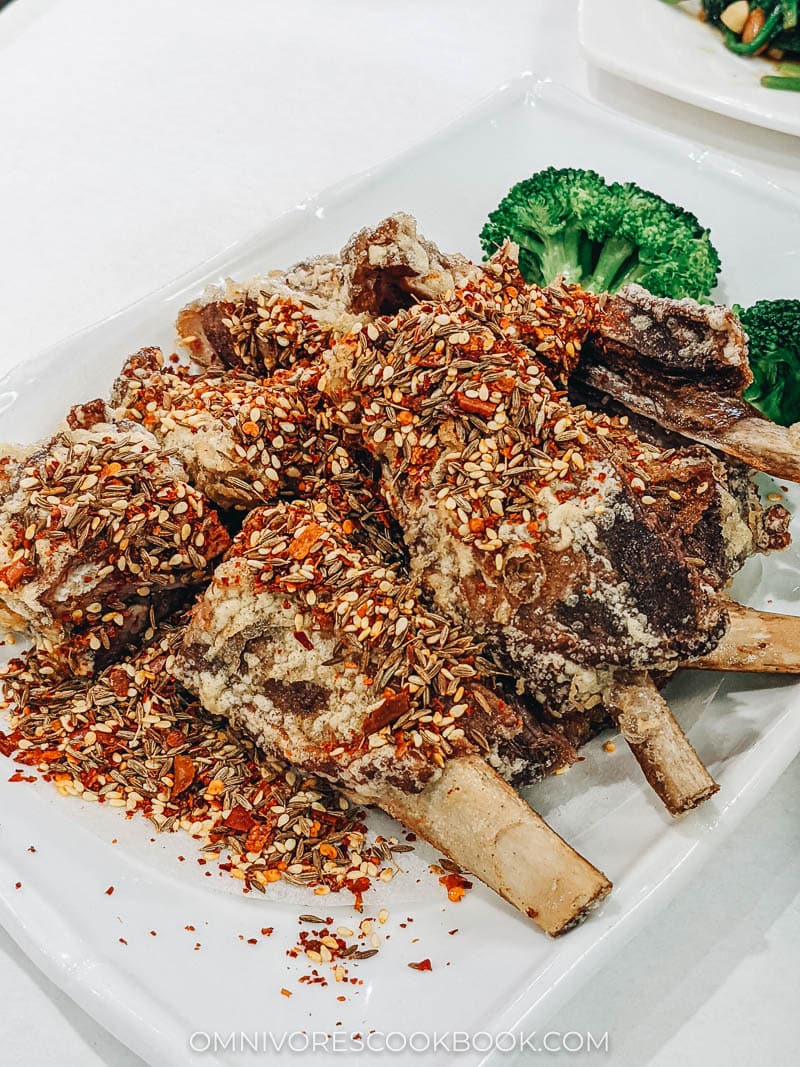 Handmade Dumplings (蒸饺)
A specialty from Northeastern China and, as far as I'm concerned, a must-order, they offer handmade steamed dumplings with a variety of fillings. The wrappers are substantial and doughy but not filling, and they seal in the juice perfectly.
My favorites are (1) the leek, shrimp, and pork and (2) the pork with pickled cabbage (Chinese sauerkraut). The lamb ones are also quite nice. I love the fish dumplings and the tomato and egg dumplings, which were out of stock when I was there the last time. But check them out when you're there.
Feel free to choose a dumpling filling that suits your fancy.
Sugar Glazed Sweet Potato (拔丝地瓜)
I always say that Chinese cuisine isn't big on desserts, but this is an exception, and it is a fun one! The potatoes are cooked until tender, then very quickly and skillfully glazed in a sticky sugar sauce and served immediately.
The sugar is still molten when the dish arrives at the table, but not for long – you need to move fast! Quickly grab a piece of potato (coated in thick, gooey sugar) and dunk it in the bowl of water to harden the sugar. It's suddenly crunchy and crispy, like a freshly candied apple.
This is the kind of dish that anyone's inner child can appreciate. 🙂
Other Recommendations
There are some other recommendations from Auntie Guan's Kitchen's menu. I have not tried all of them, but these are the Northern Chinese dishes they are good at. So far all the Northern dishes I ordered, all of them were very good and on point. 
Appetizer: Cucumber Country Style, Tofu w. Preserved Eggs
Soup: Hot & Sour Soup, Braised Beef Ribs Noodle Soup
Main: Chinese Style Braised Meat Ball, Pork Ribs w. Garlic Cumin, Sauteed Pork w. Sweet Bean Sauce, Crispy Pork or Chicken or Fish in Sweet Sour Sauce, Griddle Spicy Tofu, Sweet & Sour Squirrel Mandarin Fish
Vegetables: Sauteed Potato, Green Pepper & Eggplant, Dry Stir Fried Tea Tree Mushroom,
Dessert: Fried Pumpkin Mochi, Eight Treasury Sticky Rice
Final Notes
If you take a peek at the reviews of Auntie Guan's Kitchen on Google, they seem to be split between unknowing people who order "typical" take-out type stuff (General Tso's, Orange Chicken, and other non-Chinese dishes) and get disappointed and those who know the secrets of Northern Chinese food and really enjoy the food. I hope that this review helps land you in the latter category.
One obvious hint – the menu is full of pictures. The bigger the picture, the more popular the dish is (or the more it's recommended by the chef). If a dish does not have a picture, for example, sesame chicken, Mongolian beef, and chicken with orange sauce, take their hint and do not order these dishes.
Since moving away from the city, we have made the drive back, simply to eat at Auntie Guan's – it's that good. The superb quality of food is well worth the price and I hope that you give it a try if you have the chance and are interested in the food we eat in my part of China.
Other great restaurants in NYC