My Instant Pot whole chicken recipe brings you fall-off-the-bone chicken with a fragrant savory gravy. Use this easy brine to make the juiciest chicken and finish it up with a soy glaze for an extra kick.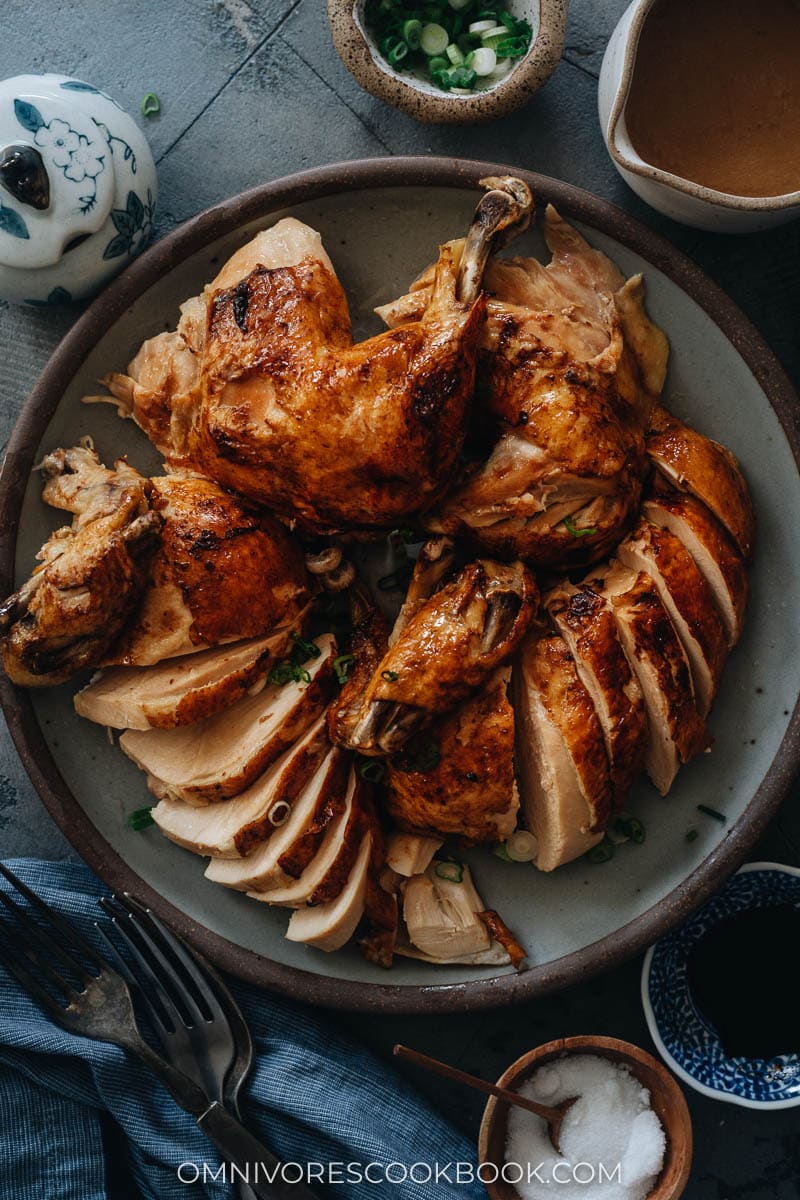 A whole roasted chicken takes some effort to make. One wrong move, and parts of it could turn out dry. Plus, since the weather is getting warmer every day, I'm less enthusiastic about running my oven all the time. That's why I love this Instant Pot whole chicken, because it gets the meat so incredibly juicy. Bite for bite, it will make a perfect hearty meal to bring you great comfort.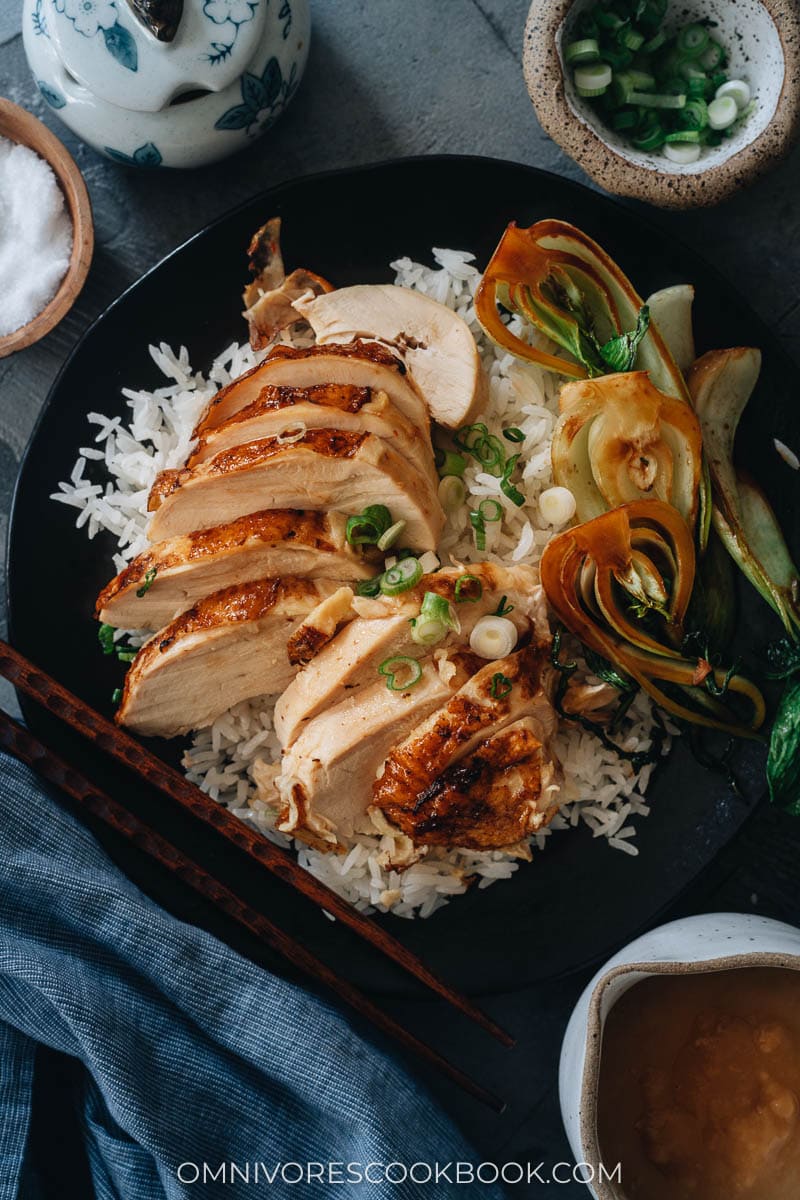 Highlights of this recipe
The Instant Pot has to be one of my favorite kitchen tools for exactly this reason. You get a healthy, delicious, home-cooked meal in a fraction of the time. And there's no beating the taste.
An easy brine to make extra juicy and flavorful chicken.
I used aromatics in the Instant Pot to steam the chicken, to infuse it with extra fragrance.
Finished up the chicken with a dark soy sauce glaze and 5 minutes of oven roasting, to create a crispy skin that resembles Chinese roast chicken.
A super simple 5-minute gravy made from pan drippings that tastes super rich.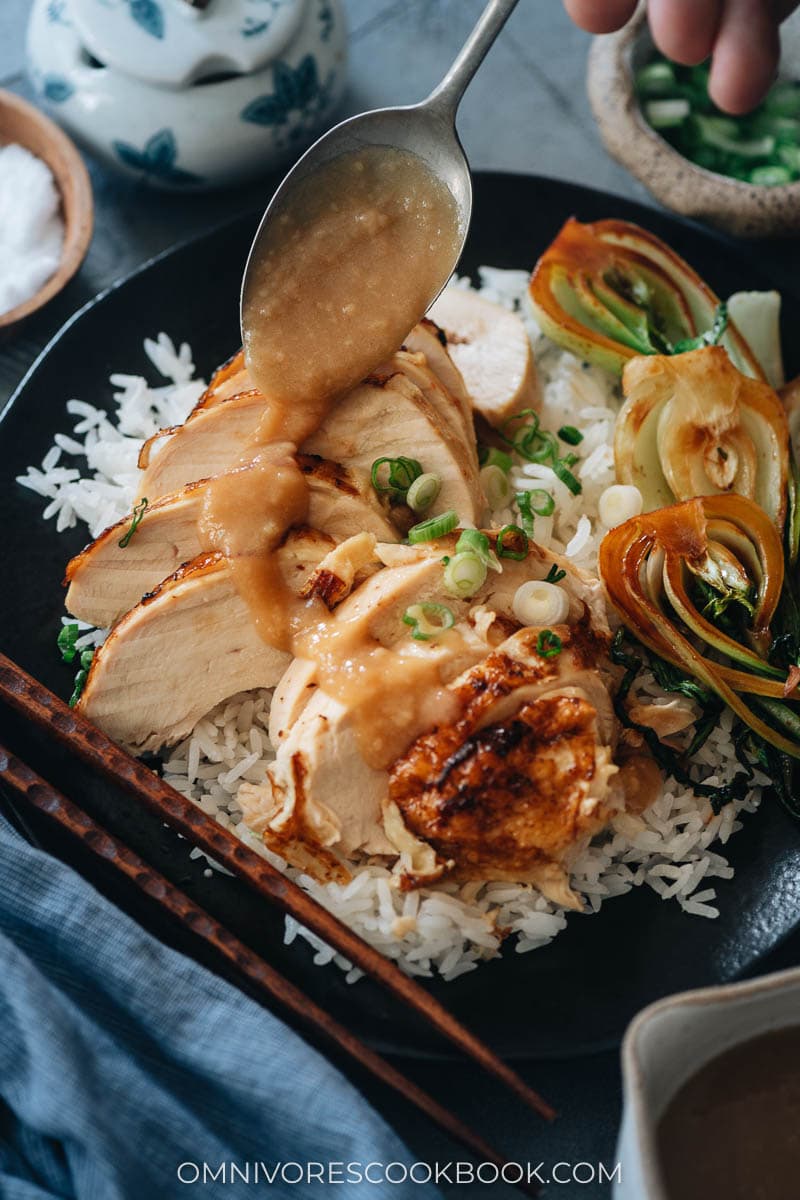 Cooking process
Brine the chicken
The secret to this Instant Pot whole chicken recipe is to brine the chicken first. You can start that process up to 24 hours beforehand. But even if you forget, 4 hours will suffice. The brine is infused with aromatics including garlic, ginger, and peppers, which create a fragrant aroma that will make your stomach rumble in anticipation, and they give a slightly spicy effect, too.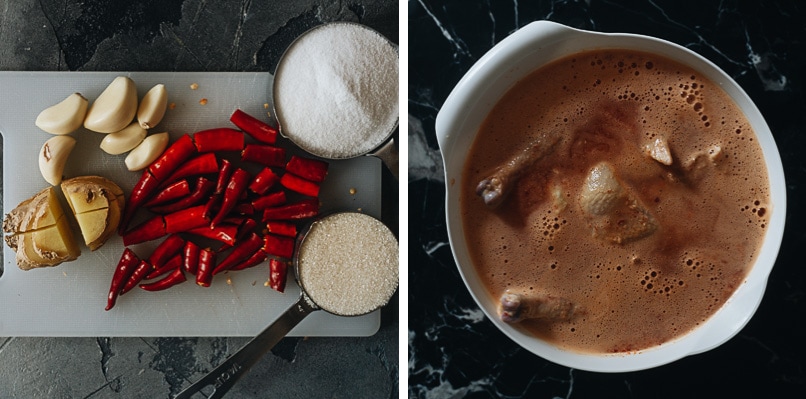 NOTE: When you purchase the whole chicken, try to find one that's on the smaller end of the spectrum, so it will fit into your Instant Pot.
Cook in Instant Pot
Set up the Instant Pot by adding chicken broth and aromatics
Place the chicken onto the steaming rack.
Cook at high pressure.
Brush the chicken with a thin layer of dark soy sauce
PRO TIP 1: Instant of steaming the chicken with water, the aromatics in the chicken broth will keep infusing the chicken with a rich fragrance throughout the cooking. Once you're done cooking, you can either use the chicken broth (without the aromatics) to steam your rice, to make Hainan Chicken Rice style savory rice. Or you can use the recipe below to make a rich gravy.
PRO TIP 2: Brushing a layer of dark soy sauce onto the chicken will add another layer of flavor and make the skin look more appealing.
Crisp up the chicken
If you prefer to have that crispy-skinned roast chicken texture, I recommend placing it in the oven (or under the broiler) for a few minutes.
This step is not necessary though, because the chicken is super delicious and ready to serve, straight out of the Instant Pot.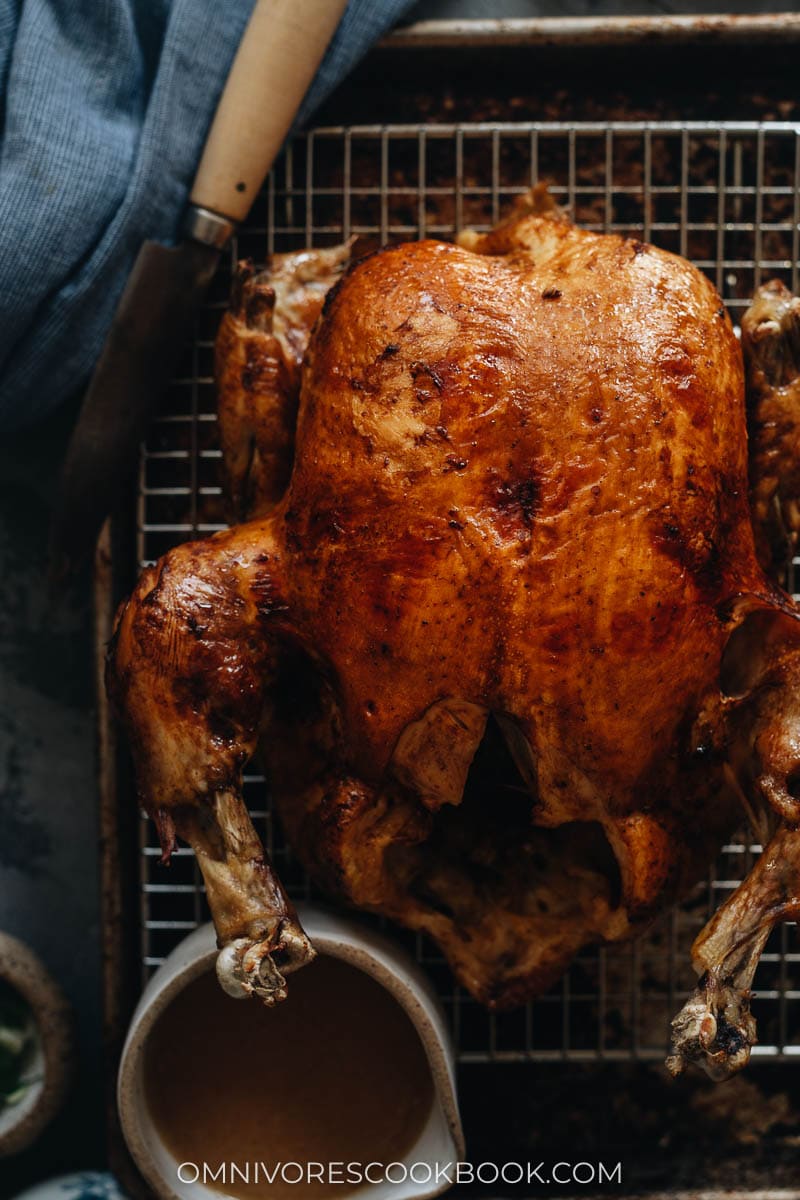 NOTE: You should always rest the chicken for at least 10 minutes once you're done cooking it. Only carve the part of chicken you plan to serve right away, to retain the moisture in the chicken meat.
10-Minute gravy
You can (and should!) also make gravy to go with your Instant Pot whole chicken. Simply use the drippings and you'll have a rich and lovely gravy with a slight spiciness.
Once you've done the Instant Pot cooking, you will have quite a lot of chicken broth. I would pour it into a measuring cup and skim the chicken fat from the top, and use the chicken fat (instead of butter) to make the gravy, for an extra rich result.
To make the gravy:
Add the chicken fat and flour into a saucepan
Cook until the flour is fully incorporated and turns light golden
Add chicken stock in batches and stir to mix
Simmer until the gravy thickens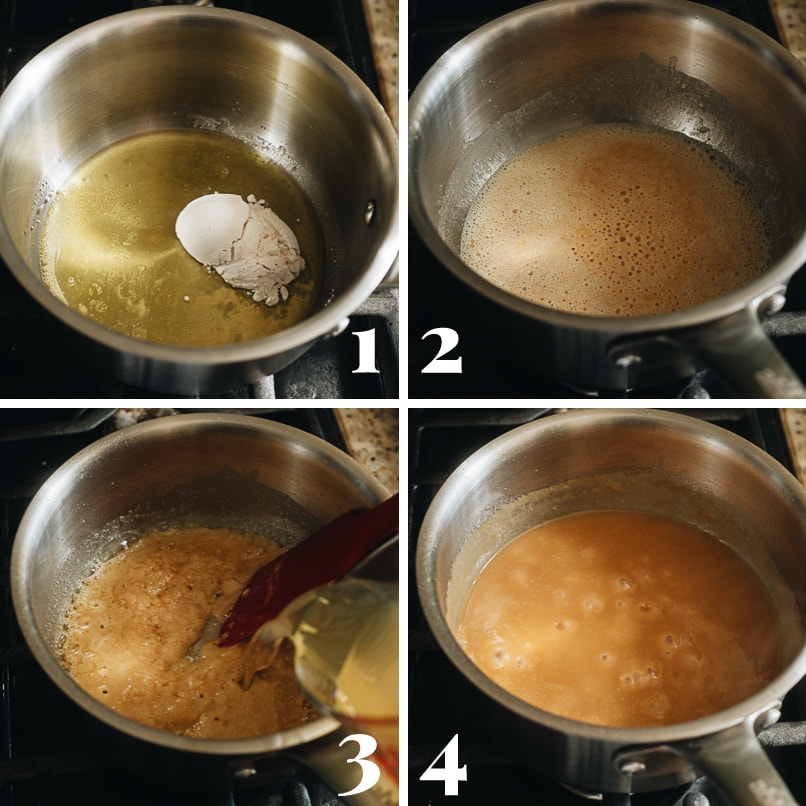 NOTE: I added 1/2 teaspoon of dark soy sauce into the gravy to give it a darker color. You can skip it if you like.
NOTE: The gravy will continue to thicken once it has cooled down. If the gravy turns too thick, you can stir in a bit more chicken broth and heat it up again to bring back the texture.
How to serve
Once the chicken rests, you can serve the chicken with steamed rice or boiled noodles and put the gravy in a gravy boat to allow guests to pour on as much of it as they'd like. I also like to serve some blanched or pan-fried vegetables on the side, to make my meal more balanced. Greens like broccoli, baby bok choy, Chinese broccoli, spinach and mustard greens are great options. And of course, don't forget to drizzle the gravy onto your veggies, too!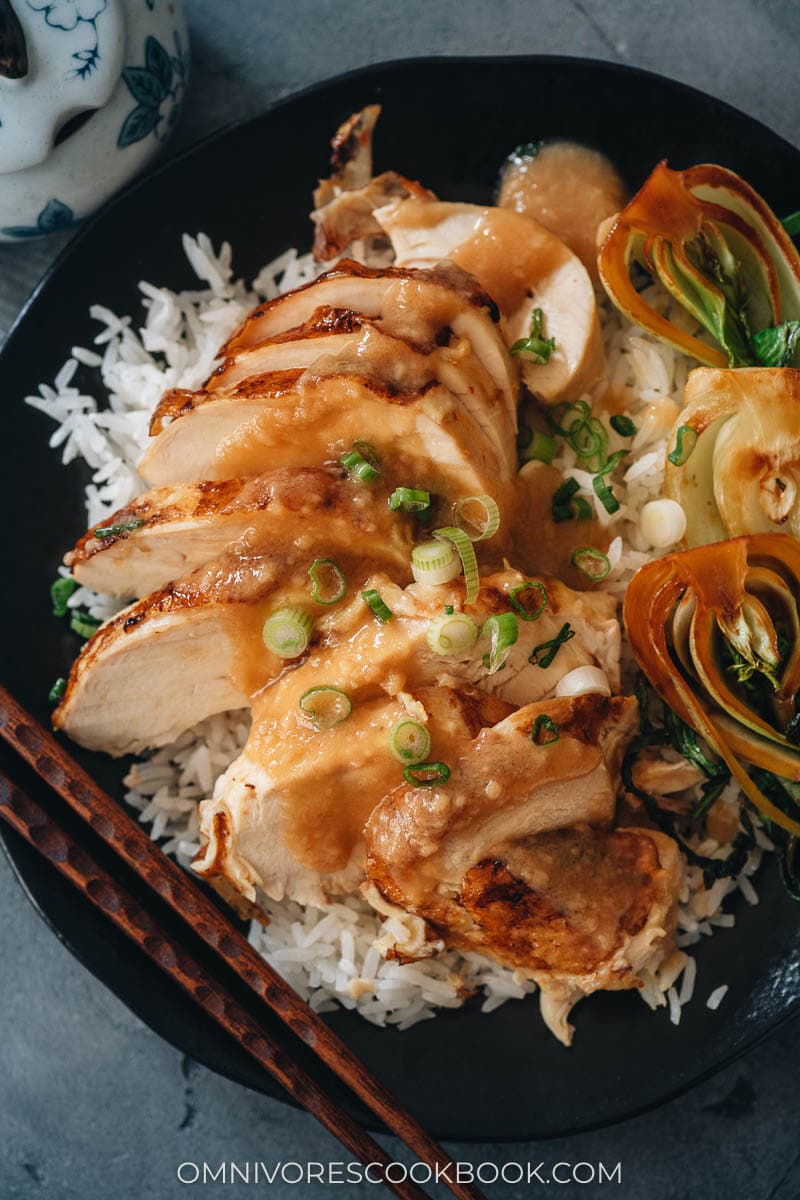 Thanks to the method of the Instant Pot, the meat is super moist and falls right off the bone. It turns any daily dinner into a more extravagant experience without you having to work too hard. It's easy enough for any night and impressive enough for guests.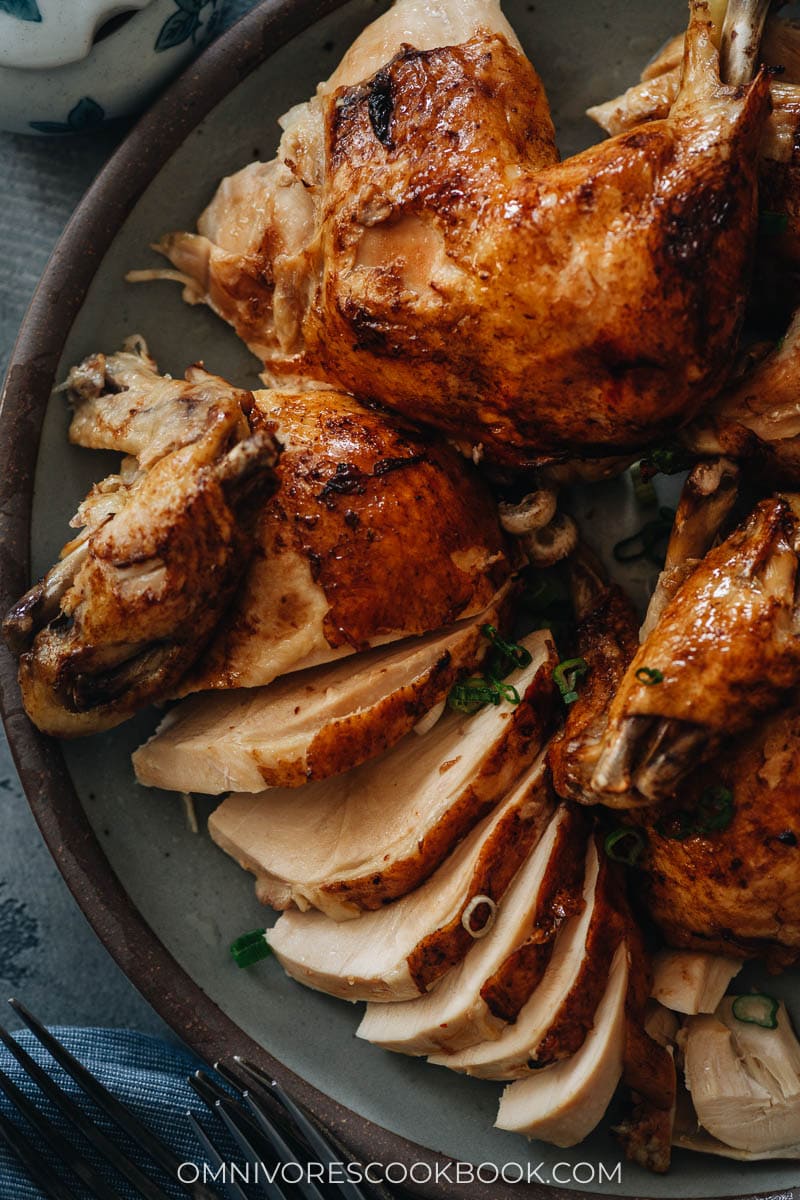 Easy side dishes that go with the chicken
If you give this recipe a try, let us know! Leave a comment, rate it (once you've tried it), and take a picture and tag it @omnivorescookbook on Instagram! I'd love to see what you come up with.

Want to Know More?
Receive our 5-Day Chinese Cooking Crash Course & Recipe Updates! Subscribe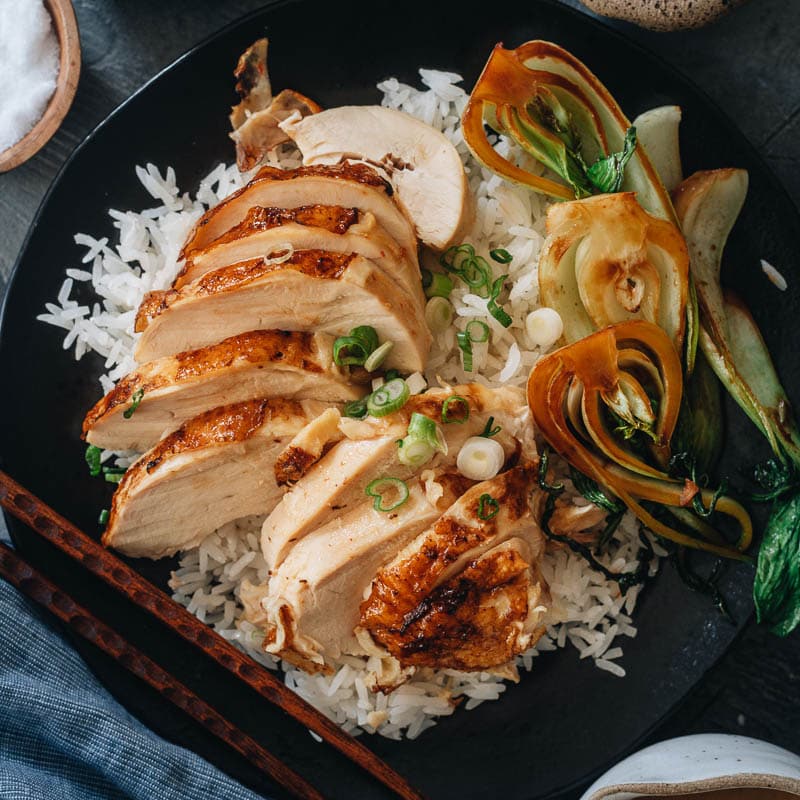 Instant Pot Whole Chicken
My Instant Pot whole chicken recipe brings you fall-off-the-bone chicken with a fragrant savory gravy. Use this easy brine to make the juiciest chicken and finish it up with a soy glaze for an extra kick.
Servings:
4
to 6 servings
Ingredients
Brine:
10

cups

water

, separated

1/2

cup

salt

1/4

cup

sugar

4

in (10 cm)

ginger

, roughly chopped

6

cloves

garlic

6

red chilis

stems removed and cut in half
Cook:
1

cup

chicken broth

2

in (5 cm)

ginger

, sliced

4

cloves

garlic

, smashed

2

chilis

, sliced

Dark soy sauce

, to glaze the chicken (Optional)
Gravy
2

tablespoons

chicken fat from the drippings

(or butter)

2

tablespoons

all-purpose flour

2

cups

pan drippings
Instructions
Brine the chicken
Add 4 cups of water and the rest of the brine ingredients into a blender and blend until the aromatics are chopped and the salt and sugar are dissolved.

Pour the blended mixture into a large bowl that can hold 10 cups of water, and add the remaining 6 cups of water.

Add the raw chicken into the brine and make sure it is fully submerged. Allow it to brine in the fridge overnight, up to 24 hours, or brine at room temperature for a minimum of 4 hours.
Cook
Add the chicken broth, ginger, garlic, and chilis into the Instant Pot. Add the steaming rack. Pull the chicken out of the brine and place it onto the rack, breast side up.

Seal the Instant Pot and set to pressure cook for 25 minutes, or 6 minutes per pound of chicken. After cooking, allow the Instant Pot to release the pressure naturally for 15 minutes.

While the chicken cooks, set your oven to 500°F and prepare a roasting pan with a rack.

Once you have removed the chicken from the Instant Pot, carefully place it onto the prepared rack.

(Optional) Brush the chicken with a thin layer of dark soy sauce, to give it a caramelized look after crisp up in the oven.

Bake for 5 minutes, or until golden brown.

Allow the chicken to rest for 10 minutes before slicing.
Gravy
Prepare the gravy while resting the chicken. Transfer the liquid from the Instant Pot to a 4-cup measuring cup. You should get more than 2 cups of chicken broth. Skim the oil on top using a large spoon and transfer it to a small saucepan. You will need 2 tablespoons for the gravy.

Heat the saucepan with the chicken fat over medium heat until hot. Add the flour. Cook and stir until it becomes smooth. Cook and stir for another 2 minutes, until golden.

Slowly add the chicken broth (from the Instant Pot), a few tablespoons at a time, and whisk it with a spatula, until fully incorporated. Once you've added all the liquid, let it simmer until the gravy thickens just enough to coat the back of a spoon. Transfer the gravy to a serving bowl or gravy boat.

Serve the carved chicken over steamed rice with the gravy. Enjoy!
Nutrition
Serving:
1
serving
,
Calories:
272
kcal
,
Carbohydrates:
2.3
g
,
Protein:
34.7
g
,
Fat:
12.7
g
,
Saturated Fat:
4.9
g
,
Cholesterol:
111
mg
,
Sodium:
767
mg
,
Potassium:
348
mg
,
Fiber:
0.1
g
,
Sugar:
0.2
g
,
Calcium:
22
mg
,
Iron:
2
mg
Lilja Walter is a part of the Omnivore's Cookbook team and worked closely with Maggie to develop and test this recipe.