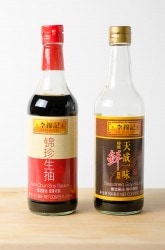 Light soy sauce (生抽, sheng chou) is a thin, reddish-brown liquid condiment made from fermented soybeans and wheat. It is one of the most crucial ingredients in Chinese cooking, along with rice vinegar and Shaoxing wine. It is quite salty and has a rich soy aroma. Back in China, we mostly use light soy sauce other than the regular soy sauce.
Use
Light soy sauce is extremely versatile in all sorts of cooking. It is widely used in cold appetizers, stir-fry dishes, soups, stews, dipping sauces, and marinades. We also pair it with dark soy sauce, to add color to a dish, if needed.
In Chinese dishes, light soy sauce is usually added at the beginning of cooking. Its saltiness varies by brand and flavor, so take note that no matter which recipe you're using, you should taste the sauce beforehand and slightly adjust the amount of soy sauce (or salt) according to your own palate during cooking.
Type
I usually use two types of light soy sauce – Kum Chun light soy sauce and seasoned light soy sauce from Lee Kum Kee. The seasoned soy sauce contain syrup and alcohol. It is slightly saltier, tastes a hint of sweetness and the aroma of sea. I recommend to the seasoned soy sauce be used in dumpling dipping sauces or for cooking seafood.
Store
Once opened, light soy sauce can be stored in a cool, dark place for up to 6 months. If you seldom use it, it can be stored in the fridge for up to a year.
Buy
Read the label before you buy any soy sauce. The main ingredients should be just soybeans, wheat, water and salt. The flavor enhanced-soy sauces also contain syrup and alcohol. These should always come after the main ingredients.
You can find Lee Kum Kee light soy sauce on Amazon and at Chinese markets.