Light soy sauce, 生抽 (Sheng Chou), is one of the most frequently used ingredients in Chinese cooking. And I use it almost every day. If you are familiar with soy sauce, you have probably come across light soy sauce in the grocery store as well. It is different from regular "soy sauce" and it's the key to authentic tasting Chinese food. 
Let's explore this unique ingredient and learn how to use it to enhance all of your favorite Chinese recipes.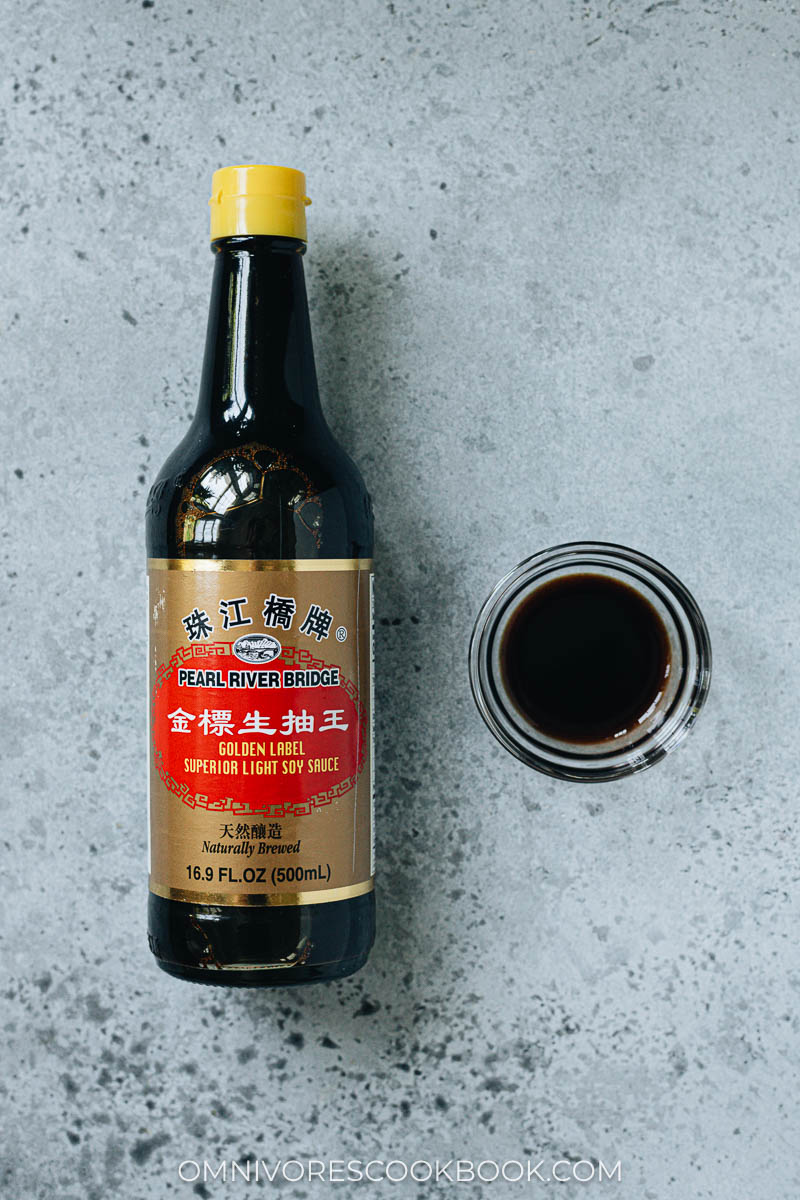 What is Light Soy Sauce
Light soy sauce is a condiment that is made by fermenting soybeans, grains, and yeast for several months. It is the standard, go-to type of soy sauce in Chinese cooking. It is what most chefs reach for when they need soy sauce for a recipe.
You may have guessed that there is also dark soy sauce. Dark soy sauce is thicker and sweeter than light soy sauce. It is also darker in appearance. Both are made in much the same way but have different textures, appearances, and tastes.
Keep in mind that light soy sauce is different from low-sodium soy sauce. Low sodium soy sauce contains less salt while light soy sauce has the regular quantity of sodium, it is just lighter in color, hence the name. See the section below for more info on low-sodium soy sauce.
How is Light Soy Sauce Made?
Light soy sauce is made from soybeans, wheat, water, and salt. First, the soybeans are steamed and the wheat is roasted. Both ingredients are then mashed together and a specific type of mold is added to the mix to jump-start the fermentation process.
The mixture is spread on wooden trays and left to ferment for several days. Light soy sauce is traditionally made from the first press of fermented soybeans. The beans can be pressed several times but it is that first, potent juice that is the best!
Water and salt are added to the fermented mixture and a new type of yeast is blended in to start another type of fermentation. The soy sauce then sits for several months or even years until it has reached maturity.
Some companies age their light soy sauce for only a few days, adding things like hydrochloric acid to speed up the fermentation process. These quick soy sauces are lighter in flavor and tend to be cheaper.
Once aged, the soy sauce is pasteurized, strained, bottled, then shipped to be sold.
What Does Light Soy Sauce Taste Like?
Light soy sauce has a savory salty taste with a subtle soybean flavor. It contains a bit more sodium than regular soy sauce but has a lighter color.
While it is salty, it is much more than simply salty. It has a distinctive, irreplaceable umami that gives many Chinese dishes their signature flavor. Compared to simply using salt, soy sauce will impart much more flavor while actually adding less overall sodium.
Uses for Light Soy Sauce in Chinese Cooking
Light soy sauce is used in many different ways in Chinese cooking: as a seasoning, a marinade ingredient, a sauce component, and a condiment. It is widely used in cold appetizers, stir-fry dishes, stews, dipping sauces, and marinades. We also pair it with dark soy sauce, to add color to a dish, if needed.
It is such a powerful ingredient that you can easily use it to create the flavor profile of a dish. For example, Soy Sauce Noodles and Soy Sauce Fried Rice all use it as their main seasoning.
How to Shop For Light Soy Sauce
Look for naturally fermented light soy sauce. Avoid any soy sauce that contains a "hydrolyzed" ingredient. Soybeans should always be listed as a main ingredient and the word "brewed" should be somewhere on the bottle, indicating that it was fermented.
Shopping in Asian markets and Chinese grocery stores is always your best bet, though some supermarkets carry a good Chinese light soy sauce.
The brands I recommend (and use most often) are:
Pearl River Bridge (珠江桥牌)
Haday (aka Haitian, 海天)
Lee Kum Kee (李锦记)
Pearl River Bridge and Haday each make a "Golden Label Superior Light Soy Sauce" – these two are my favorites, as they have great flavor. The "golden label superior" designation means that the sauce comes from the first extraction of sauce from a batch of fermented soybeans. It's like extra virgin olive oil, but for soy sauce.
Lee Kum Kee has a "Premium Soy Sauce" that is a similarly high grade light soy sauce, though they do not include the word "light" on the bottle.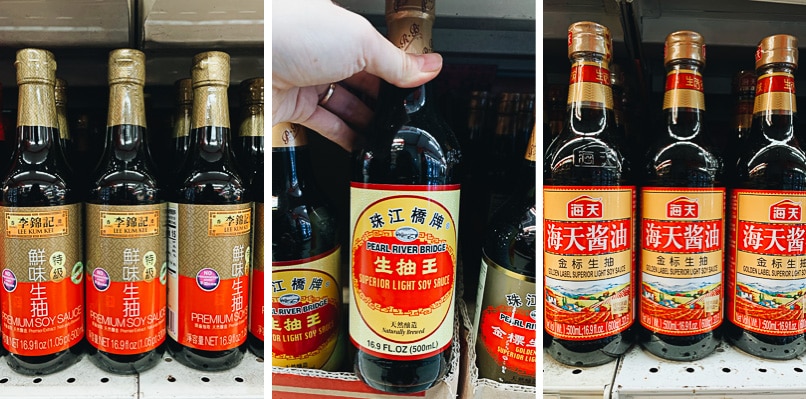 Note that Lee Kum Kee sells something they call "Supreme Soy Sauce" (金酱油) that is actually a Japanese-style soy sauce – this is not a proper light soy sauce.
Ultra-Premium Light Soy Sauce
If you're looking for a really special light soy sauce, the Zhongba 360 Light Soy Sauce from Mala Market is amazing. It's on the pricey side, but it's the best light soy sauce I've ever tasted. It's artisanally made over the course of a year, contains just 5 ingredients with no additives, and is just exploding with rich umami.
How to Store Light Soy Sauce
Light soy sauce should be stored in a cool, dark place. You can keep it in your pantry, kitchen cabinet, or refrigerator for up to two years. Light soy sauce does not need to be refrigerated but if you don't use it quickly, refrigeration will help protect the flavor.
Substitutions
Since light soy sauce is such a key ingredient in Chinese cooking, if I'm being honest, there are not any true substitutes for it. Japanese-style soy sauce (usually just called "soy sauce") may be the closest relative to light soy sauce.
If you need a gluten-free alternative to light soy sauce, tamari will be your best choice.
And if you have a soy allergy, Sempio No-Soy Sauce is made from peas using essentially the same process used to make soy sauce. It is the closest that I've found to the real thing.
I do not recommend coconut aminos as a substitute for soy sauce.
What About Reduced Sodium Soy Sauce?
Every type of soy sauce contains a considerable amount of sodium. If you are looking to cook with soy sauce and reduce your sodium consumption, you might consider a low-sodium variety.
A low-sodium soy sauce will not replicate the taste of light soy sauce exactly, as it is typically a variety of Japanese-style soy sauce. But it can be a good alternative nonetheless.
My favorite type of low-sodium soy sauce is made by Yamasa and is called "Soy Sauce Less Salt". The name may vary depending on the specific bottle size and labeling but their product has about 1/2 the salt of the regular soy sauce and light soy sauce. And its flavor is quite nice.
Health Benefits
Soy sauce does have a few health benefits that you might appreciate. It has been shown to support healthy digestion and help the gastric tract process foods better. Soy sauce is anti-allergenic, helping to reduce allergic reactions and anaphylactic shock. It is also rich in antioxidants which help keep your body balanced.
FAQs
What is the difference between light and regular soy sauce?
Light soy sauce and "regular" soy sauce are similar but not the same thing. When a recipe calls for light soy sauce, it needs the Chinese variety of everyday soy sauce. Light soy sauce is not low sodium soy sauce which is a different ingredient altogether.
In my recipes, sometimes I suggest using soy sauce instead of light soy sauce, because it's the closest substitute. I also sometimes use regular soy sauce in my own cooking, when I want to add a little color to a dish but do not want to use dark soy sauce.
Is Kikkoman dark or light soy sauce?
Kikkoman is considered a "soy sauce" but not a light soy sauce. It is naturally brewed and darker than light soy sauce. Kikkoman does have a few different types of soy sauce under its brand, but the classic bottle of Kikkoman soy sauce is not light soy sauce.
Do light and dark soy sauce taste the same?
No. Light soy sauce is a little less salty, thinner, and less rich than dark soy sauce. Dark soy sauce is sweet, thick, and has a more powerful soybean taste and lends much more color to dishes. 
Recipes using light soy sauce