This Lu Rou Fan recipe is sponsored by the National Pork Board. All opinions expressed are my own. Thank you for supporting the companies that keep this blog going.
Take your taste buds to Taiwan with the classic one-bowl Lu Rou Fan: a dish of tender-braised pork belly with a rich and savory gravy, eggs, and veggies over steamed rice.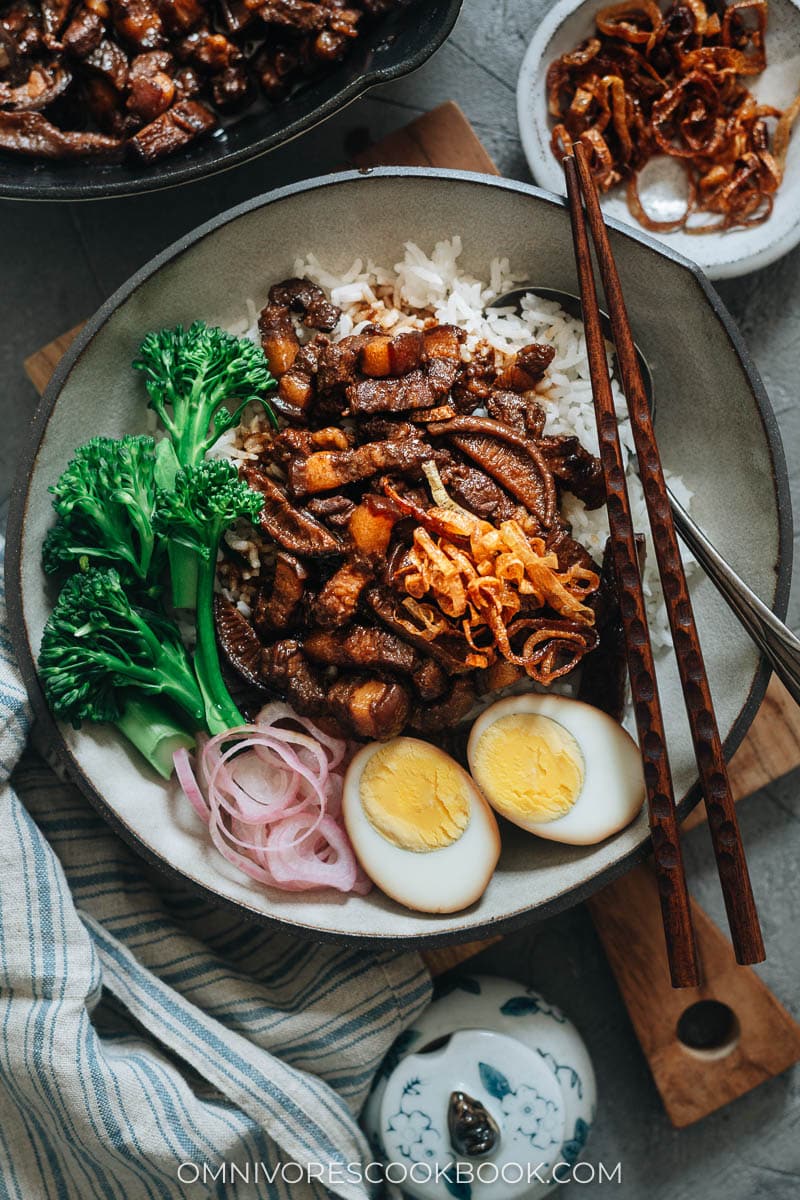 Pork is not only a satisfying protein, but well-loved all over the world. It can also transport our kitchens and bring exciting new dishes. Take your taste buds to Taiwan with the classic one-bowl Lu Rou Fan, a dish of tender-braised pork belly with a rich and savory gravy, eggs, and veggies over steamed rice. This flavorful dish is a sure way to help you "escape" the ordinary.
Lu Rou Fan is a Taiwanese pork rice bowl that you're going to love. It's easy to make but pays off big in terms of flavor, all in one bowl. It calls for pork belly diced into small pieces and browned. This gets braised in a broth made with soy sauce, along with crispy fried shallots and mushrooms, until the fat melts away, leaving the meat so tender that it melts in your mouth.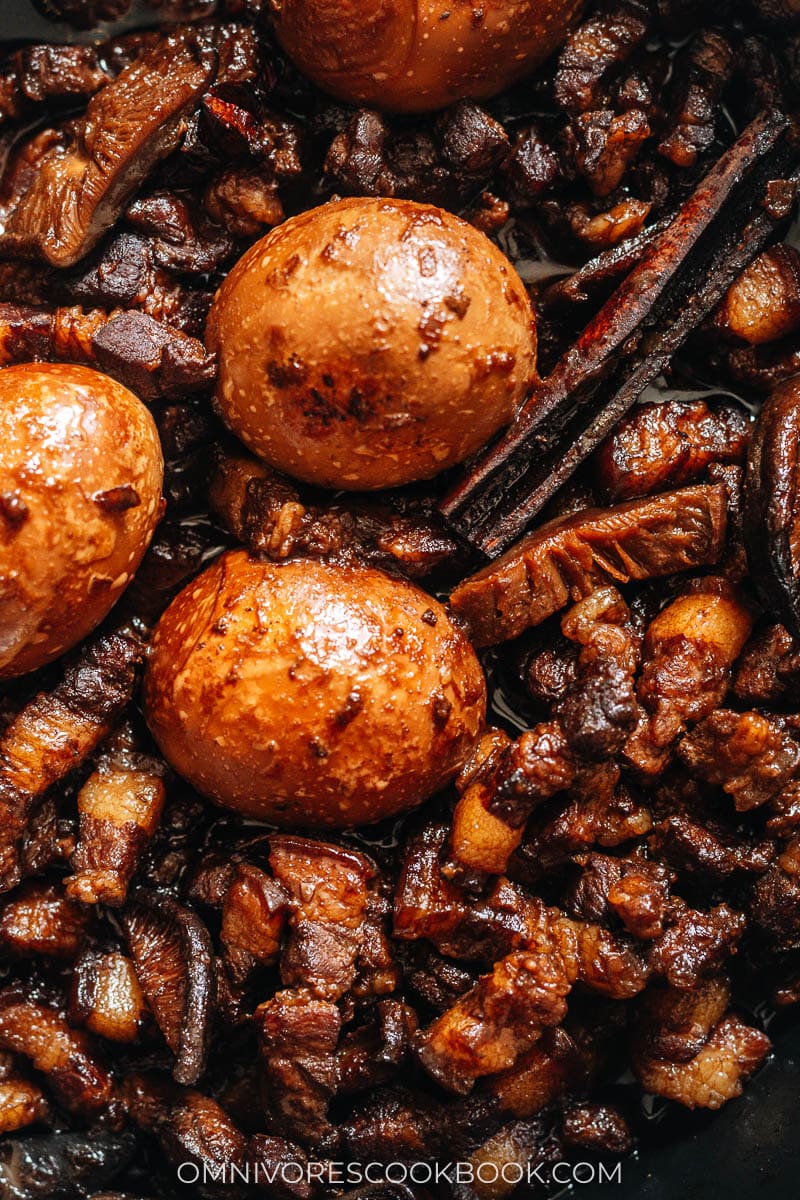 In China, pork is one of the most important staples of all. It's affordable, versatile, and delicious – a wonderful meat that joins cultures together over delicious meals. Pork is one of the most common items on menus in China. We literally use all parts and cuts to make various dishes. For example, pork bones for hearty broth, chops for scrumptious fried pork steak, loin for the popular dim sum char siu, tenderloin for stir fries such as sweet and sour pork, ribs for a slow braised stew, ground pork for juicy dumplings, and feet for a warming stew.
A new way to cook with pork belly
Lu Rou Fan is traditionally made with skin-on pork belly. You cut the pork belly into thin strips, brown it, then braise it in a super savory broth to release the grease and soak in the flavors. So, the end result is small bites of super rich umami bombs that just have enough tender fat to add flavor and a small piece of skin for some extra fun texture.
How to cut pork belly for lu rou fan
To make lu rou fan, try to get a cut of pork belly that has a good mix of lean and fat, with skin on. I would avoid a cut that is too fatty. If you do not like the texture of the skin, you can use a skinless cut instead.
If your cut has some bones attached, the first step is to remove them.
Slice the pork belly into about 1/4" (1/2 cm) pieces
Further cut the slices into strips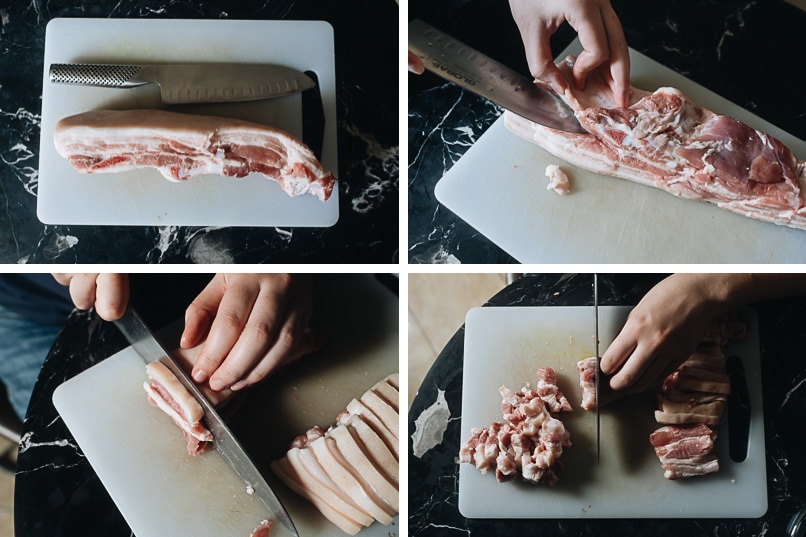 Once cut, I use a simple marinade containing dark soy sauce and Shaoxing wine. The wine will eliminate some gamey taste from the pork, and the caramel in the dark soy sauce makes the pork very easy to brown.
Using pork belly creates a more indulgent and authentic flavor, though you can use a different cut. For example, you can use pork shoulder, which gives you a good mix of lean meat and fat, though it's less fatty than pork belly.
Ingredients
Creating extra rich sauce with fried shallots
There are variations of Lu Rou Fan throughout Taiwan and Fujian Province, though the spirit is always the same, with pork cooked until super-tender in a heavenly sauce. The sauce really is the entire point of this classic dish, and the secret ingredient is – fried shallots. Different from using fresh shallots, fried shallots will eventually melt into the sauce and add an extra rich, smokey, and unique flavor that makes Lu Rou Fan stand out.
You can use store-bought fried shallots (or even fried onions), but I highly recommend you to make your own. They have a better texture and a fresher taste. Plus, you can make extra and top them on the Lu Rou Fan when you serve it.
Mushrooms
Another key ingredient in the sauce is dried shiitake mushrooms, to add another earthy savory flavor. At the end of the braising, the mushrooms will soak up all the pork essential and the sauce, making it taste as good as the main star of the dish.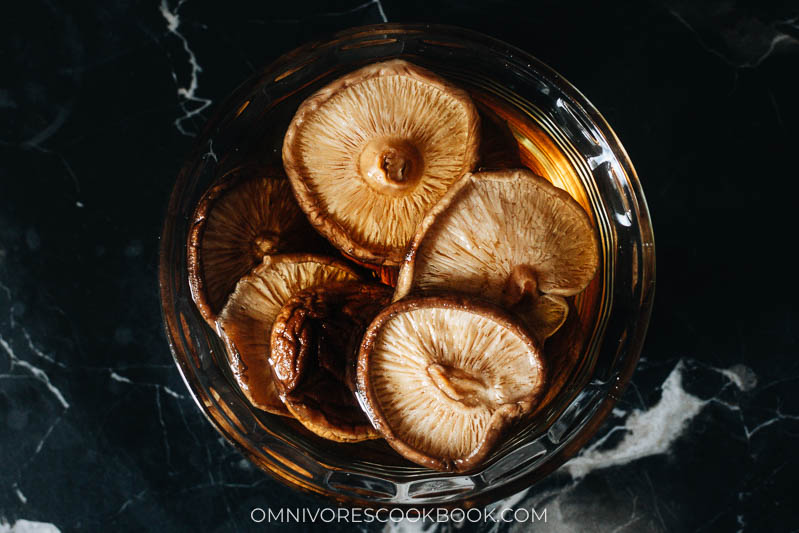 Rock sugar
Rock sugar provides a more roundup taste and makes the sauce glossier. You can replace it with regular sugar as well.
Prep
Once you've done prepping, your table should have: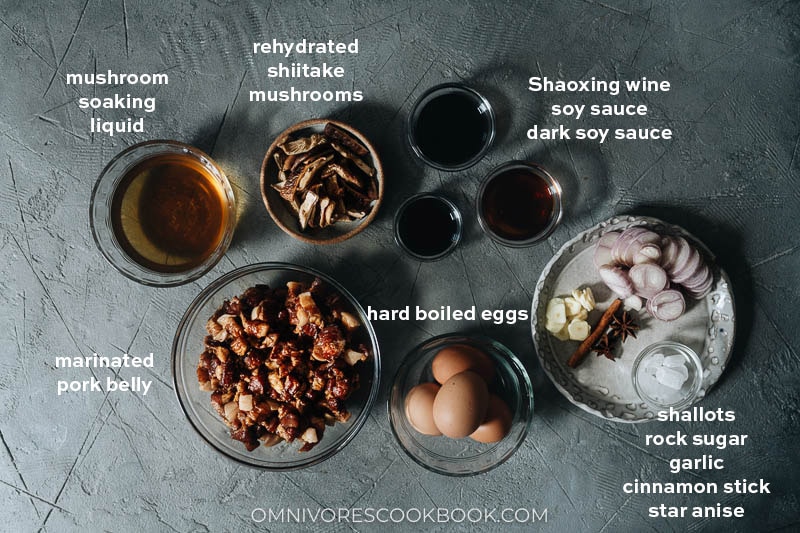 Cooking process
Cooking lu rou fan takes a bit of time but it's pretty easy:
Fry the shallots
When shallots start to turn light golden, add the garlic
When the shallots turn golden, remove them from the pan and drain off the excess oil
Brown the pork belly
Add the seasonings and stir together
Pour in the broth and fried shallots. Let braise
Add the hard-boiled egg for the last 30 minutes
Braise until the meat turns super tender and the broth thickens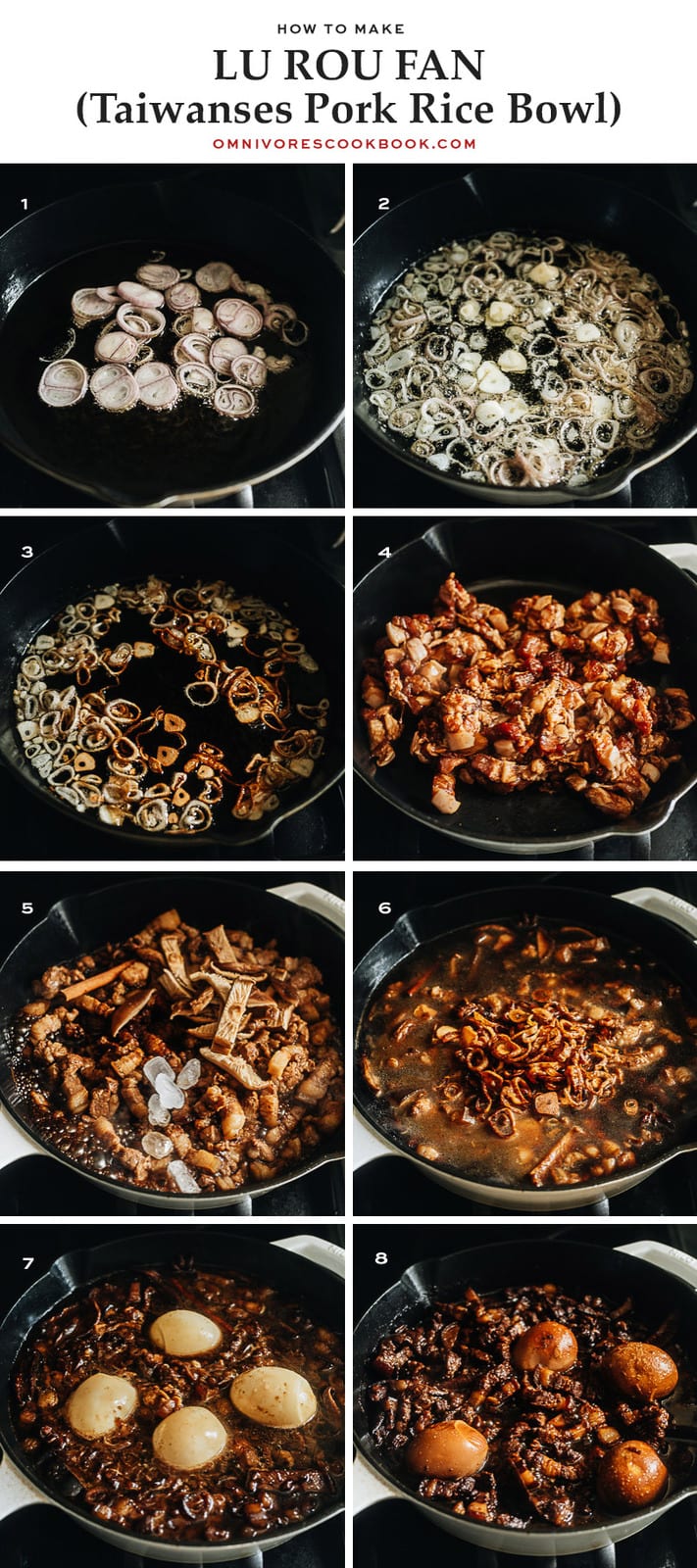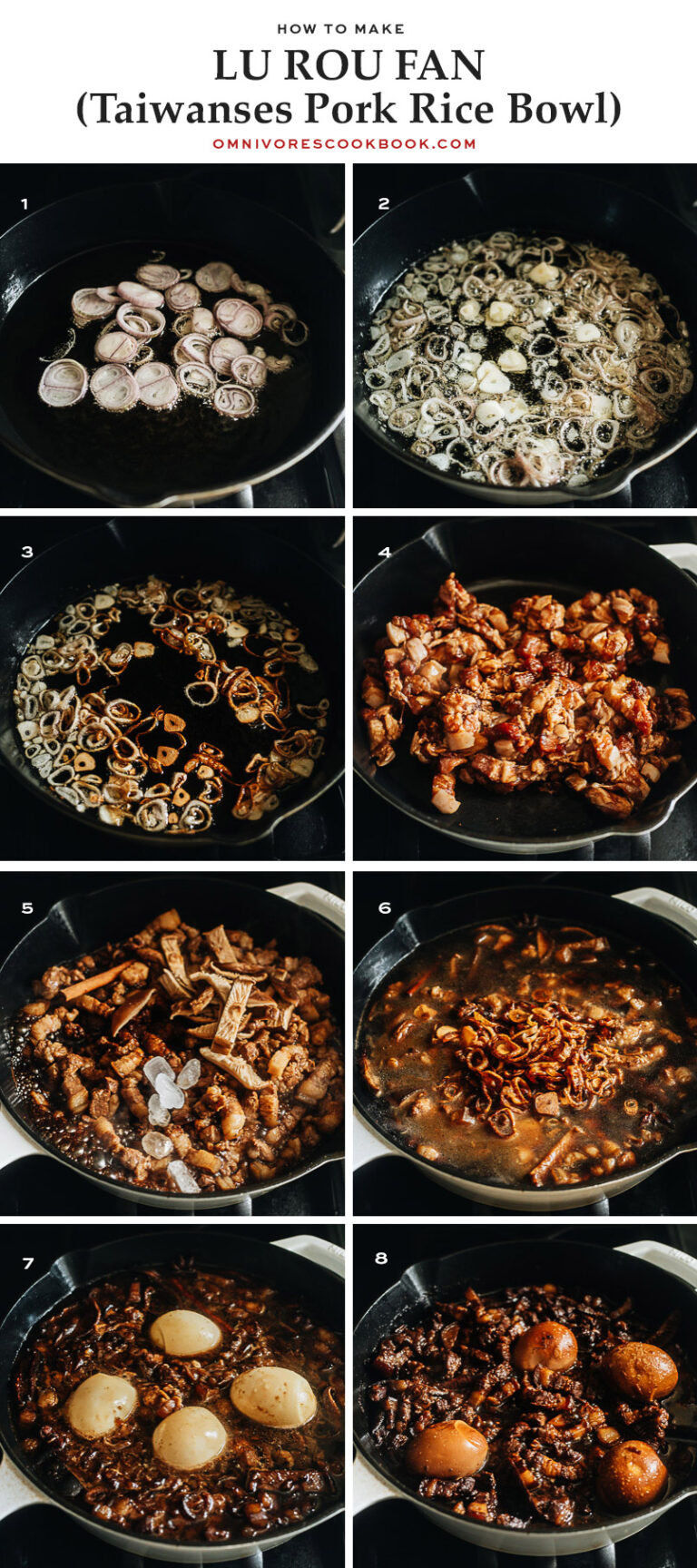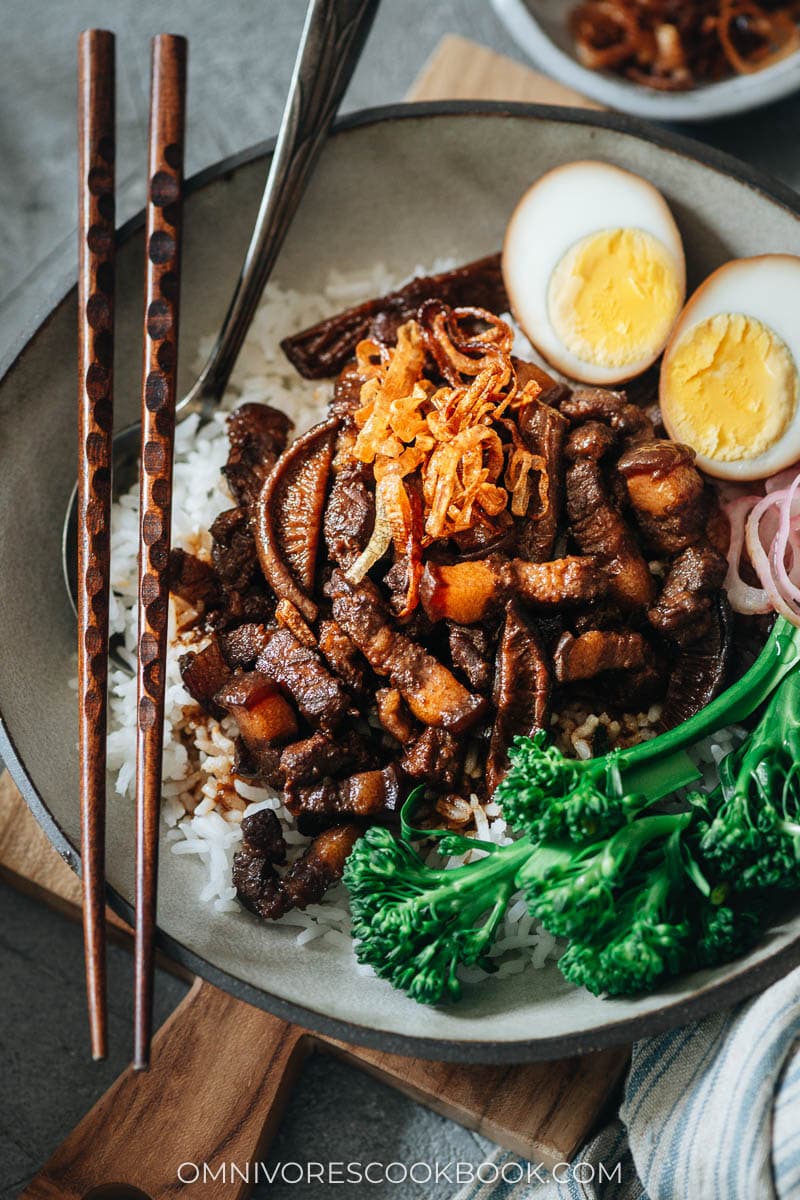 A word on the pickles
Lu Rou Fan is usually served with pickled mustard greens or pickled radish. For me, I prefer to serve whatever pickles I have on hand. If you have an extra 10 minutes, I highly recommend my quick pickled shallot recipe. It's crispy, refreshing and lightly sweet and pairs so well with the savory pork.
Lu Rou Fan is so easy to make and an ideal option for meal prep. To balance out the fatty pork and add texture to your dish, it's common to add some hard boiled eggs to the sauce and braise them together with the pork. When you combine the pork, the gravy, the eggs, and some veggies with crispy pickles on top of your steamed rice, you won't be able to stop eating it until you've scooped up every last morsel.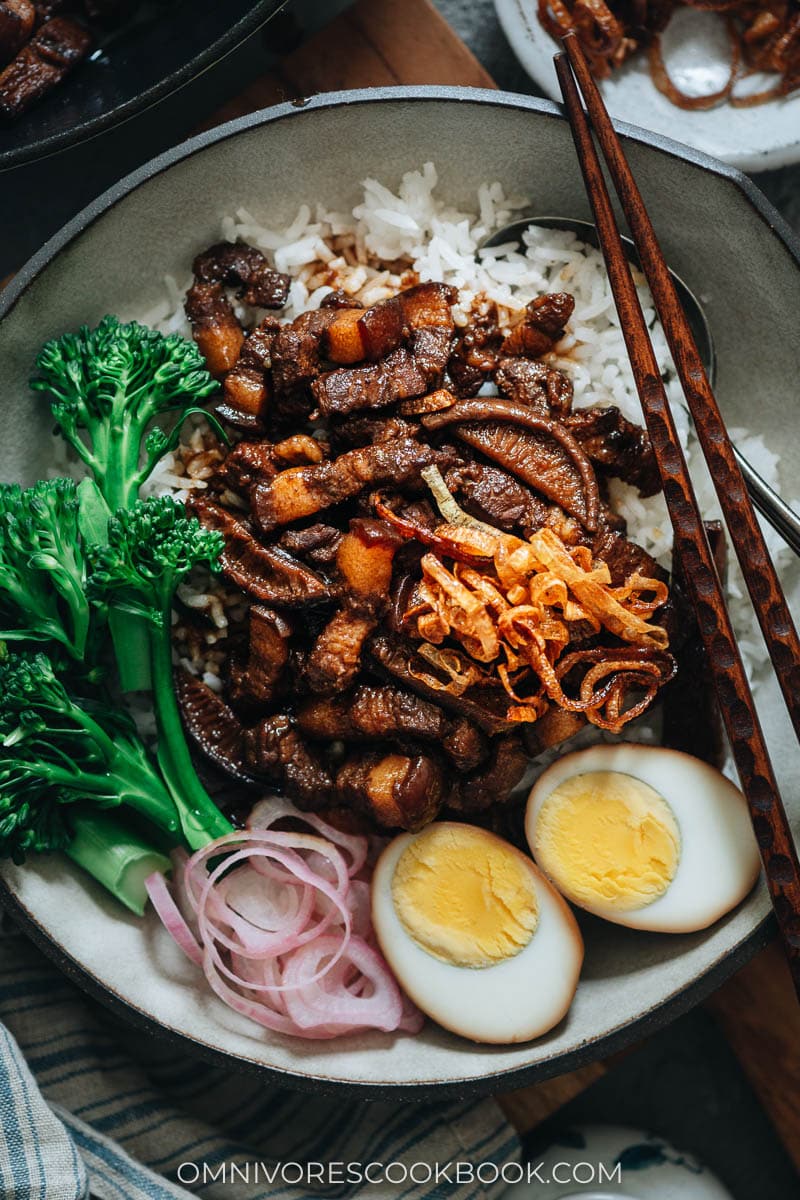 Pork really adds excitement to the table and richness to your dishes. Try to make Lu Rou Fan with pork belly if you can get your hands on it, and it will deliver a hearty dish that creates a new and unique eating experience in your dining room.
For more pork recipe ideas, be sure to check out www.pork.org/realpork.
Want to learn more about Chinese Cooking? Sign up my newsletter to receive the 5-Day Chinese Cooking Crash Course and recipe update!
Want to Know More?
Receive our 5-Day Chinese Cooking Crash Course & Recipe Updates! Subscribe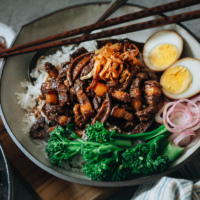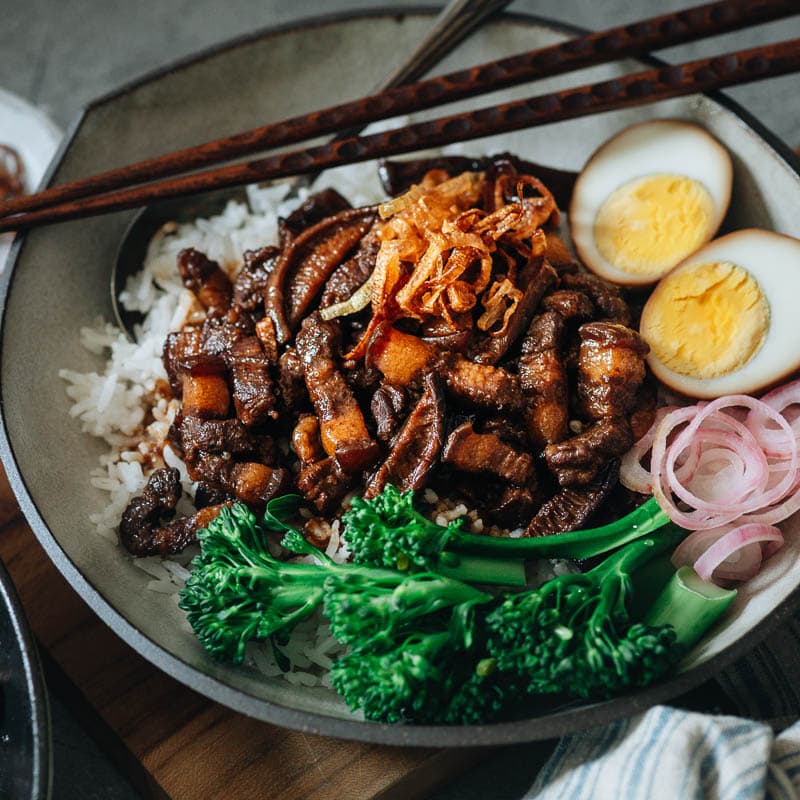 Lu Rou Fan (Taiwanses Pork Rice Bowl)
Take your taste buds to Taiwan with the classic one-bowl Lu Rou Fan: a dish of tender-braised pork belly with a rich and savory gravy, eggs, and veggies over steamed rice. To make the dish gluten free, use dry sherry instead of Shaoxing wine, and use tamari to replace the soy sauce and dark soy sauce. Note, the dish will have a lighter color due to the lack of dark soy sauce.
Ingredients
Crispy Shallots (or 1/4 cup Thai fried onion/shallot)
1

large shallot

, sliced into 1/4" rounds

2

cloves

garlic

, sliced

1/2

cup

vegetable oil
Topping options
Green veggies of your choice

, blanched

Homemade pickled shallot

(or other pickles) (*Footnote 1)

Steamed rice
Instructions
Prep
Add the dried shiitake mushrooms into a small bowl and pour in 1 cup of boiling water. Rehydrate for at least 20 minutes, or until the mushrooms turn tender throughout. Once rehydrated, remove the shiitakes from their soaking liquid, squeezing out the extra water. Slice them into 3/4"(1 cm) strips. Reserve the soaking liquid.

Cut the pork belly into thin slices, about 1/4"(1/2 cm) thick. Then cut into thin strips, about 1/4" (1/2 cm) thick. Transfer the pork belly into a medium-sized bowl. Add the Shaoxing wine and dark soy sauce. Mix well. Let marinate for 20 to 30 minutes.
Fry the shallots (Optional)
(Skip this step if using pre-fried shallots) While the pork is marinating, heat a 9" cast iron pan (or heavy-bottomed pan) over medium-low heat and add the 1/2 cup oil. Once the oil has reached around 200 to 250°F (93 to 120°C), add the shallots. Fry for around 5 minutes, then add the garlic. Fry for another 10 minutes, or until the shallots and garlic turn golden and crispy. (*Footnote 2) If some of the bits brown faster, fish them out using a slotted spoon, to prevent overcooking. Once done cooking, strain everything from the oil and set aside. Pour the oil from the pan into a heat-proof bowl, leaving a thin layer of oil in the pan. (You can save the aromatic oil to use in other recipes)
Braise the pork
Return the oiled pan to medium heat and add the marinated pork belly. Stir fry until the meat is lightly browned, about 5 minutes.

Pour in the shaoxing wine and scrape the pan with a spatula to release any brown bits. Add the soy sauce, dark soy sauce, sugar, star anise, cinnamon stick, crispy shallots, and shiitake mushrooms. Stir fry for 30 seconds, until everything is mixed together and well coated.

Add the cup of mushroom soaking liquid (being careful not to add the sediment at the bottom) and 1 cup of water.

Bring to a boil over medium-high heat then reduce to low heat. Simmer until the meat is tender and the liquid is reduced to a thin sauce, about 1 hour 30 minutes. Depending on your stove, the braising time might vary a lot. Check on the pork at the 1-hour mark, and stop cooking if the pork has turned tender and the sauce thickened.

Once the meat is set to a simmer, boil 4 eggs by bringing a pot of water to a boil, then adding the eggs to cook for 10 minutes. Run the cooked eggs under cold water to stop the cooking. Peel the eggs and add them to the braising pork during the last 30 minutes of braising.

Once the pork turns tender and the sauce has thickened, remove the pot from the heat. Serve over steamed rice with blanched veggies of your choice and pickled shallots (or other pickles you prefer).
Notes
Any sweet crispy pickles will work well here. You can also use Korean pickled radish (Danmuji), Japanese pickled ginger, or Chinese pickled mustard greens (Zha Cai).
When frying shallot and garlic, it's important to cook them until golden and remove them from the oil as soon as possible. The hot oil coated on the ingredients will further cook them once you've strained them, turning them golden brown and crisping them up further. If you wait until the shallots are browned in the pan, they will be overcooked and taste bitter later.
Nutrition
Serving:
1
serving
,
Calories:
606
kcal
,
Carbohydrates:
9.4
g
,
Protein:
16.4
g
,
Fat:
56.1
g
,
Saturated Fat:
20.2
g
,
Cholesterol:
232
mg
,
Sodium:
610
mg
,
Potassium:
191
mg
,
Fiber:
0.4
g
,
Sugar:
6.3
g
,
Calcium:
25
mg
,
Iron:
3
mg
If you give this recipe a try, let us know! Leave a comment, rate it (once you've tried it), and take a picture and tag it @omnivorescookbook on Instagram! I'd love to see what you come up with.
Other delicious pork recipes