Sichuan peppercorn (花椒, Huā Jiāo) is also known as Szechuan pepper. It is so fundamental to the region's cuisine that it is often known as 'chuān jiāo' (川椒), coupling the name of the province to its magical spice. Its unique aroma and flavor are not hot or pungent like typical black, white, or chili peppers. In fact, you can't really call it spicy. Instead, it has slight lemony overtones and creates a tingly numbness in the mouth – which can almost be described as electric – that sets the stage for hot spices.
Understand
Huā Jiāo (literally 'flower pepper' because of its shape) has an appearance and size similar to that of black pepper, but with a split-open browny-red husk.
First, the pink-red berries are harvested from a prickly ash shrub grown in the rural areas of China's southwestern province. Once dried and the seed removed, the peppercorn can be used whole or ground as a versatile ingredient in many specialty dishes or combined with other spices.
On a recent Chengdu street food adventure with Jordan from Chengdu Food Tours, I learnt just how essential this ingredient is in so many typical southwestern Chinese dishes.
Sichuan peppercorn has a pungent aroma, slightly lemony overtones, and numbing properties. If you bite into one of these small peppercorns, you'll immediately feel the tongue-tingling, buzzing, party-in-your-mouth sensation otherwise known as 'málà' – numbing spice.
Use
Depending on whether it is kept whole, chopped or ground up after being dried, Sichuan peppercorn can be put to a myriad of different uses. Given its sharp flavor, it is often used to infuse oils with its málà essence, blended into the recipe of numerous sauces such as Spicy Fermented Bean Paste, incorporated into stir fries, salads, stews, soups and braised dishes. Ground peppercorn powder is also found in Chinese Five Spice Powder. Classic Sichuan and Chongqing hotpots will also use the whole peppercorn in large quantities and sometimes still on the branch, so you have to be careful not to bite into a bunch of husks while eating!
It is very difficult to source high-quality Sichuan peppercorn outside of China, and the fresh ones make a really big difference when it comes to cooking. Luckily, Taylor from The Mala Market sources it from Hanyuan County, whose red huā jiāo is the most sought-after in the world, for the most fresh-off-the-shrub intense mouth buzz.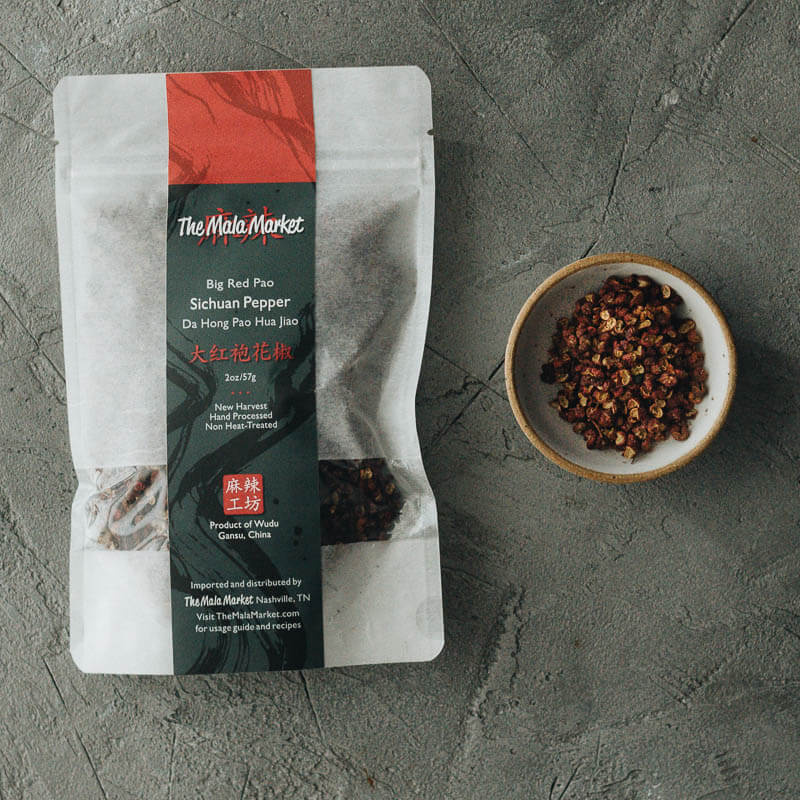 Basic cooking method
In pretty much all recipes you could cook the peppercorn in one of two main ways.
Cook whole Sichuan peppercorns in a bit of oil until they have turned brown, drain the oil, then grind the Sichuan peppercorns. Grinding eliminates the raw numbing zing and gives it a more rounded aroma. The peppers will be less potent so you can use more to add fragrance. The roasted and ground peppercorns work well in stir fried and cold dishes.
Whole Sichuan peppercorns can be directly added to a braised dish, especially one involving pork, duck or lamb. Besides adding umami to the dish, the peppercorn has another function – it removes the game flavors that some meats may release.
Although an authentic Chinese meal will contain whole peppercorns in various dishes when served, you can remove them so your guests won't accidentally bite into them.
Classic Sichuan recipes using Sichuan peppercorns
Many world-famous Chinese dishes uses Sichuan peppercorn as an essential ingredient. It can't really be compared with or substituted by any other ingredient. If you're keen to replicate traditional Sichuan food, try it out in the following dishes!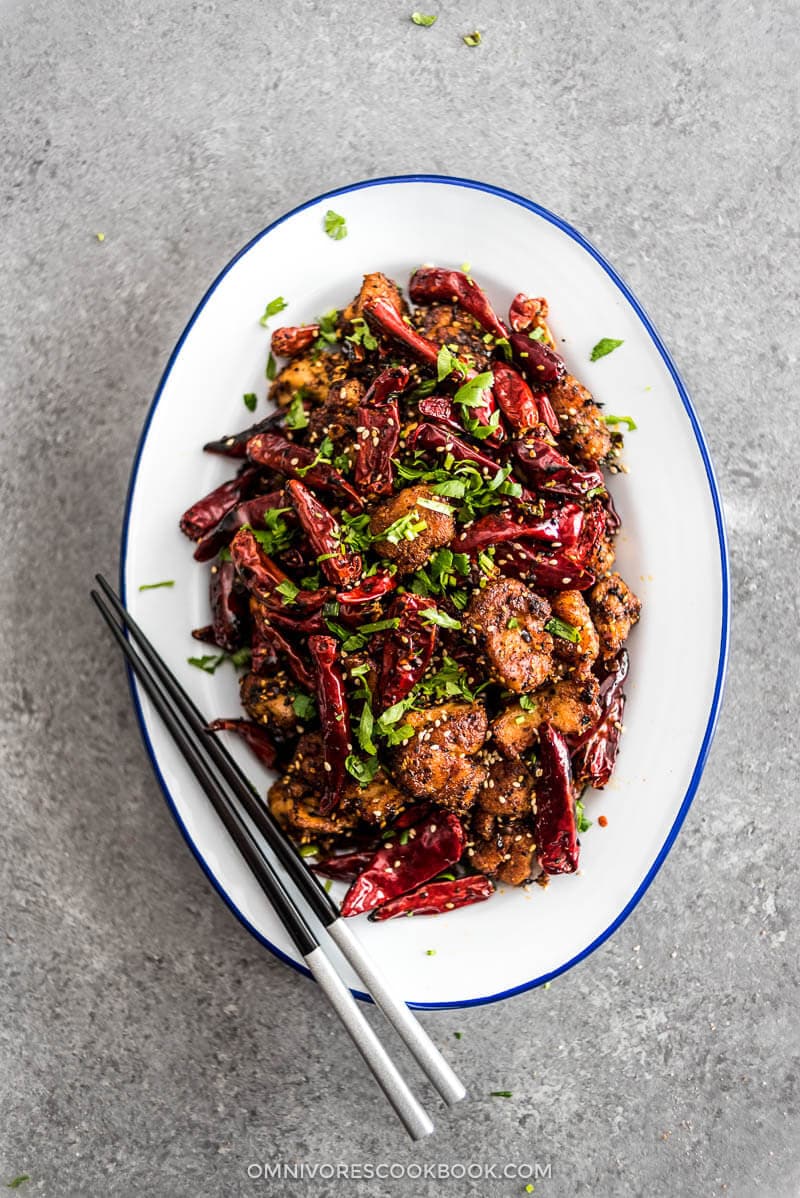 Other recipes using Sichuan peppercorns
Sichuan peppercorn has exploded in popularity across mainland China and can now be found in all kinds of regional cuisine. Here are some non-Sichuanese dishes that have used the magical properties of the peppercorn to add a new flavor profile:
Buy
Interestingly, the import of Sichuan peppercorn was actually banned from the US for almost 40 years. The ban has since been lifted, but still much of what you find in Asian supermarkets is the product after a short heating process which drastically diminishes its quality.
The Mala Market, who I mentioned earlier and whose website explains the production process here, carries premium Sichuan peppercorns that are very fresh and potent, which is super rare for this ingredient. They are the best Sichuan peppercorns I've found in the US so far and I highly recommend 😊
Store
After purchasing, keep whole Sichuan peppercorn in a sealed jar away from light or in the fridge. After a few months it will start to lose its potency, so any surplus that you want to keep long-term should either be infused in a cooking oil or be stored in the freezer as fresh as possible. Ground peppercorn loses its taste much more quickly, so should be used within a few weeks.