Introducing Northern Chinese pork and sauerkraut dumplings that have a savory, fragrant, and juicy filling and a crispy crust. They are very easy to put together compared to other types of dumplings. They are also freezer friendly and therefore perfect for making ahead of time. Use this one as an appetizer for your multi-course meal or serve it as a main course for lunch!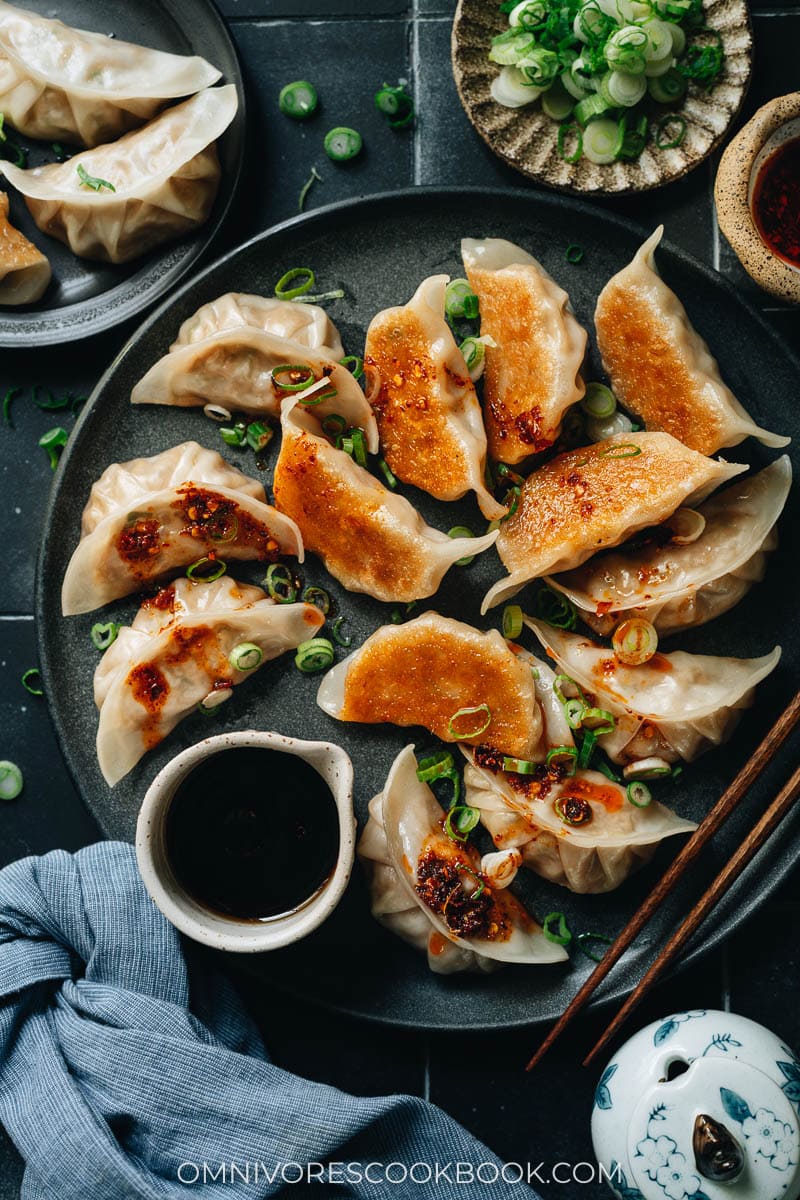 Our recent visit to Auntie Guan's Kitchen brought back so many hometown memories and since that visit I have been continuously making dishes from their menu! Today I want to introduce these Dongbei (Northeastern Chinese) style pork and sauerkraut dumplings, a popular staple.
These dumplings are filled with juicy pork and a very generous amount of sauerkraut. They're seasoned with a few simple ingredients for a fragrant and savory taste. I love how much vegetables are used in them, striking a balance that isn't too heavy, and the crunchy bits of sauerkraut work perfectly with the tender pork.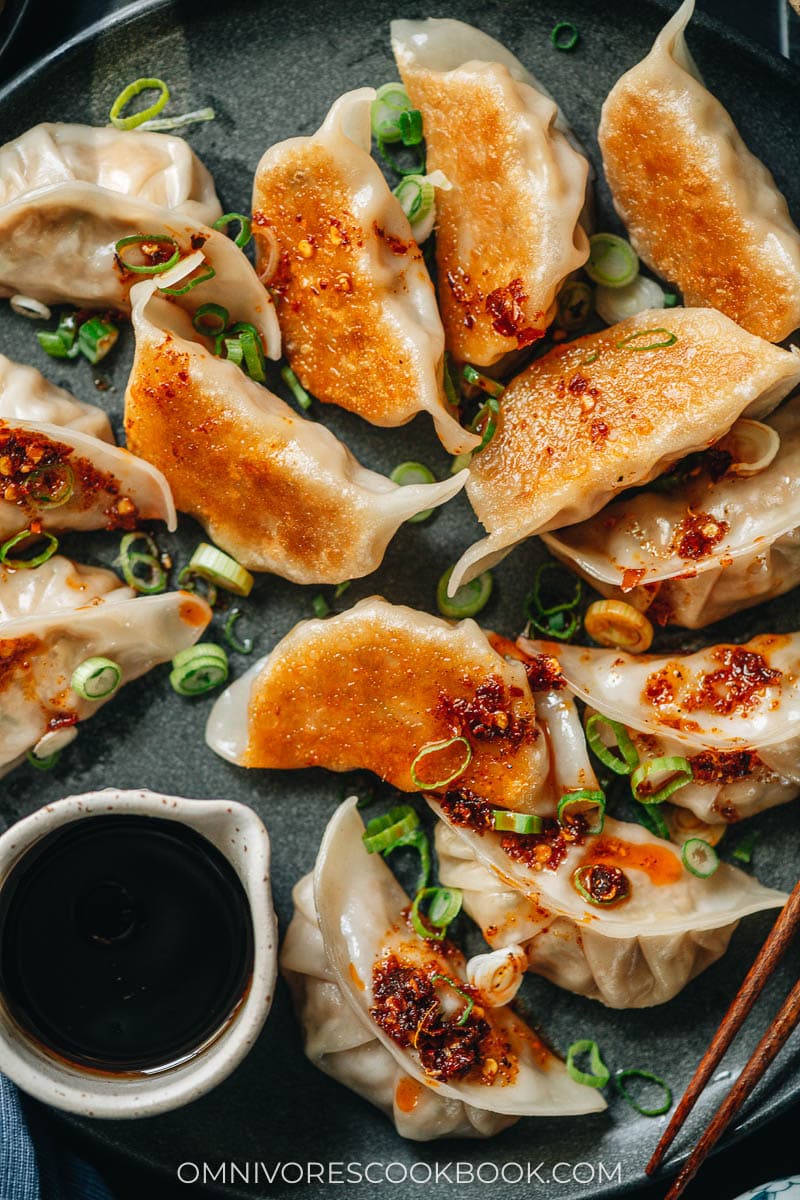 Sauerkraut in China
In Northeast China, we have the tradition of making sauerkraut (Suan Cai, 酸菜) in the winter to preserve vegetables, since there isn't much fresh produce during this season. I remember there always being a giant clay pot at my grandma's place. And she'd always make a few heads of pickled napa cabbage in the winter. Compared to the Western style sauerkraut, Chinese sauerkraut is very similar. A whole head of napa cabbage is often used, heavily seasoned with salt, then fermented until quite sour and salty. It is then sliced thin and made into stews, stir fries, and dumplings.
Frankly, I wasn't a big fan of sauerkraut when I was a kid. And sometimes I refused to eat some of the dishes my grandma made. But after growing up, I started to like the pungent taste of the sauerkraut a bit more. And I always try to add a bit here and there for the health benefits.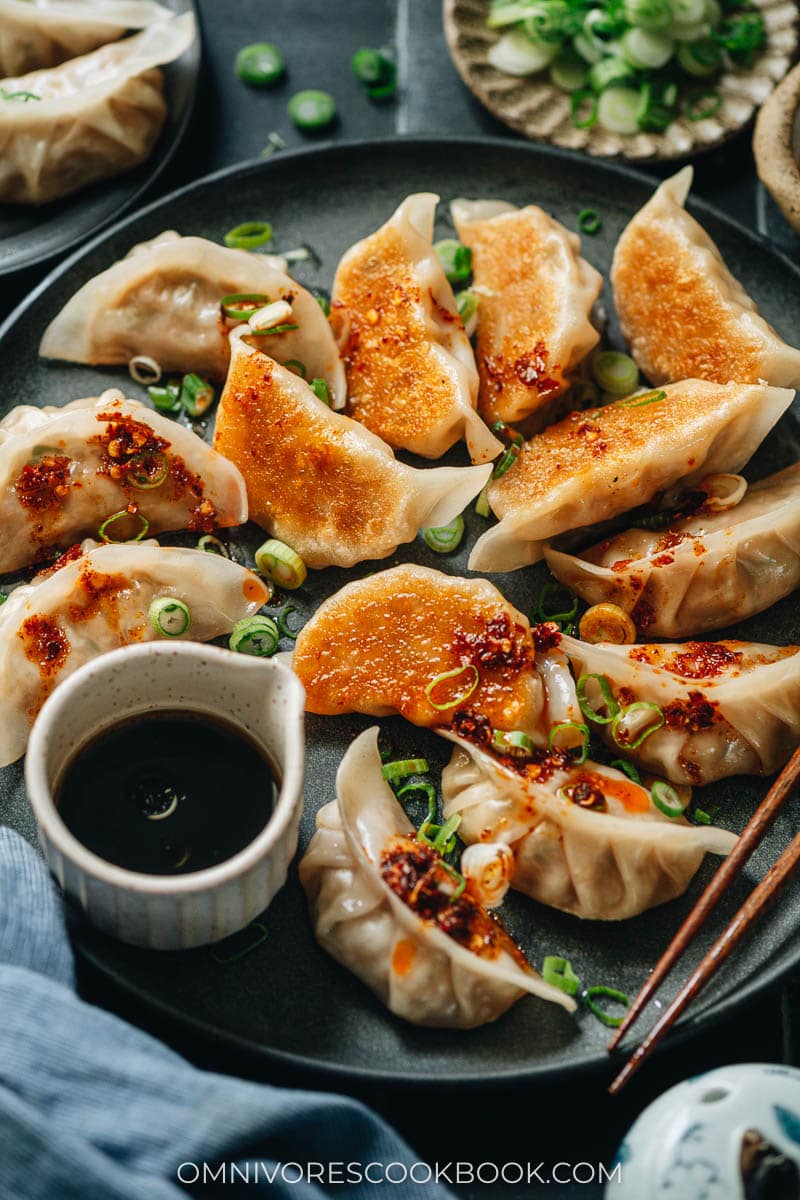 Pork and sauerkraut dumpling ingredients
What type of sauerkraut to use
Although pork and sauerkraut dumplings are traditionally made with Chinese napa cabbage sauerkraut, it's totally fine to replace that with regular cabbage sauerkraut. It's more commonly available at regular grocery stores and it creates great results.
Dumplings wrappers
You can either use Chinese dumpling wrappers (shown on the left in the picture below), or Japanese gyoza wrappers for this recipe. I usually look at the side of the package to see how thick the wrappers are. I always prefer the thinner wrappers, which are a bit easier to work with and have a better texture once cooked.
You can usually find dumpling wrappers in the freezer section, although sometimes you can find fresh refrigerated wrappers. If you're lucky enough to find the fresh dumpling wrappers, you should always use them as soon as possible (within 1 to 2 weeks of purchase), or store them in the freezer. And thaw them prior to using.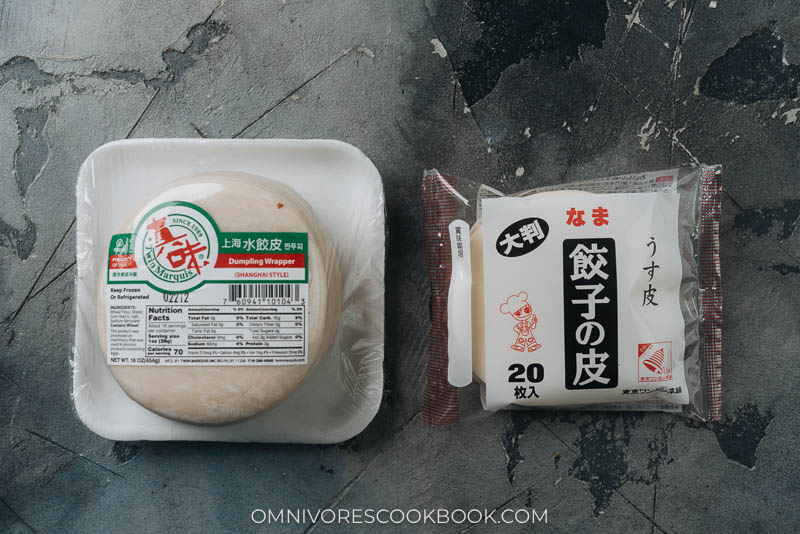 TIP: If you store dumpling wrappers in the freezer for too long, say a year, they'll gradually become dry and brittle. It is very difficult to make pleats with those wrappers because they tear apart easily. If your dumpling wrappers happen to be hard to work with, you can forgo the pleats and shape the dumplings like pierogi.
How to make the best pork and sauerkraut dumpling filling
One of the features of these pork and sauerkraut dumplings is, you will be using so much sauerkraut, almost as much as the pork. It makes the dumpling filling more balanced and gives it a better taste. Here is how to properly make the filling:
Add the pork to a medium-sized bowl and spread the aromatics on top. Heat up the peanut oil until very hot, then pour the oil evenly on top. The hot oil will sizzle and bring out the taste of the aromatics and create a better taste.
Add the rest of the seasonings and mix until all the liquid is absorbed and the pork is sticky. This step is very important. It incorporates the liquid seasonings into the pork, making it juicer and well seasoned. If you do not mix enough, the filling will be watery and fall apart during wrapping.
Dry the sauerkraut very thoroughly and add it at the end. I usually squeeze out the liquid from the sauerkraut, chop it, then further pat it dry with paper towels. 
Add the sesame oil at the end. The oil will coat the ingredients and make them less likely to lose moisture.
Once you've made the filling, it's totally OK to store it in the fridge for a couple of hours before wrapping the dumplings.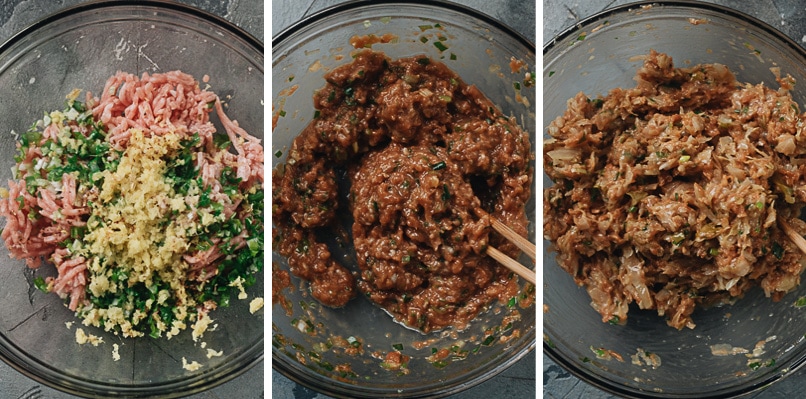 How to wrap dumplings using store-bought wrappers
Although the true Northern style dumplings are always water boiled or steamed, I decided to make fried dumplings this time. If you're interested in making your own dumpling dough, check out this dough for boiled dumplings, and this recipe for steamed dumplings. (Yes, they use totally different doughs!)
Before you start wrapping dumplings
I found store-bought dumpling wrappers difficult to work with because they are less elastic than fresh homemade ones. Their texture can be quite dry. To help with the issue, wet a few layers of paper towels and cover up the dumpling wrappers. This helps to soften the wrappers so they are easier to work with.
Dip the dumpling wrappers in water
To help seal the dumplings, I used to wet one edge of each wrapper with water. Lately I found it much better to dip the edge of the wrapper in the water, then rotate the wrapper until the entire circumference of the edge is moistened. This process softens the stiff wrappers even more, making them easier to seal.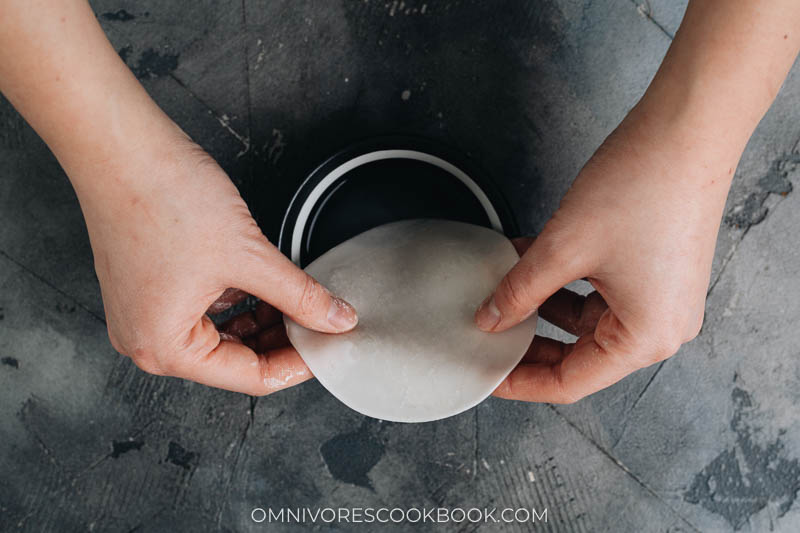 To wrap the dumplings
Place a scoop of filling in the center. You can fill the dumplings with as much filling as you can comfortably wrap in.
Pinch the center, then fold one side of the top wrapper over the center and press it together.
Repeat this process until you've folded both sides. Squeeze out the air bubbles as much as you can.
Press the folded edges together a few more times to seal well.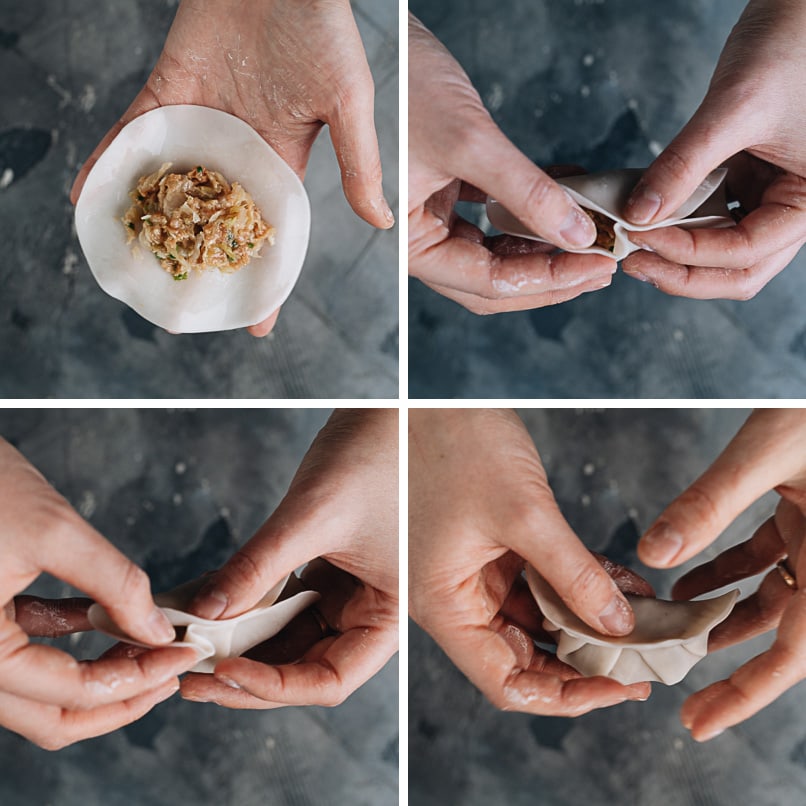 How to pan fry dumplings
What pan to use
You can use nonstick, carbon steel, or cast iron pan to fry dumplings.
I've found that the easiest is a nonstick pan. It might take a bit longer for the dumplings to brown, but nothing will stick.
Carbon steel and cast iron pans are good if you're familiar with them. You do need to watch the heat so the dumplings won't brown too fast. It's also important to not move the dumplings once you add them to the pan, as doing so will break the wrappers immediately. Once the dumplings are browned, you can easily release them with a spatula.
How to cook pork and sauerkraut dumplings
Add the dumplings into a large pan and fry until the bottom turns golden
Pour in a small bowl of water and cover immediately
Steam the dumplings with the cover on to cook the filling
Remove the lid. If there's liquid left in the pan, you can let the dumplings cook for a few more minutes until the water evaporates
The cooked dumplings should be crispy on the bottom and juicy inside.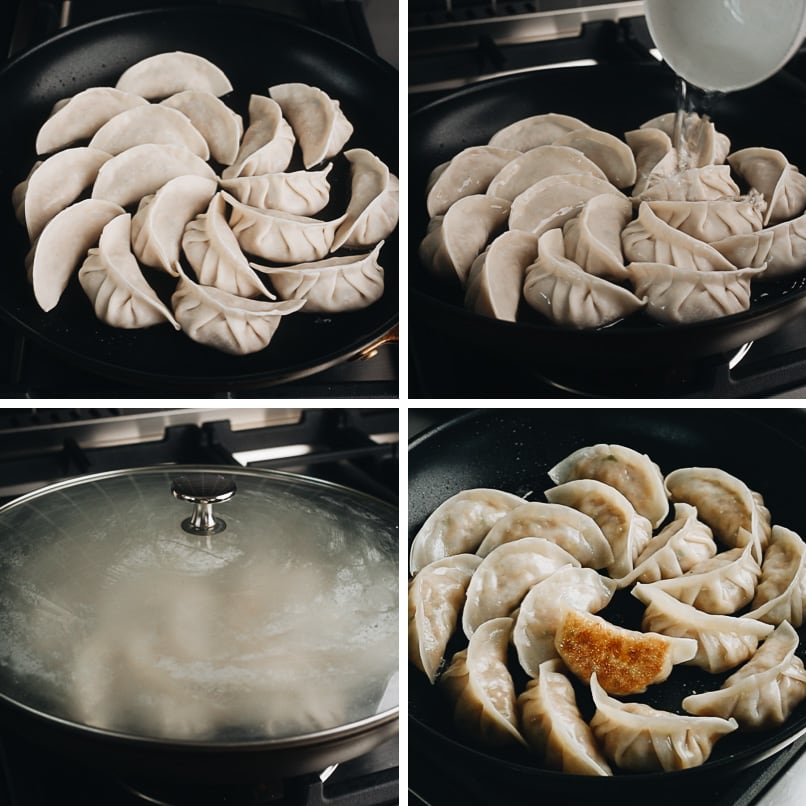 How to store pork and sauerkraut dumplings
The best way to store your pork and sauerkraut dumplings is to freeze the uncooked dumplings immediately after you wrap them. You can freeze them in a sealed container. Once they're fully frozen, you can move the dumplings to ziplock bags to save space (if needed). These dumplings freeze well and you should not thaw them before cooking.
It is possible to refrigerate the uncooked dumplings for a couple of hours, up to overnight. I usually place them in a container, loosely covered with a layer of wet paper towels to prevent the dough from drying out, and seal the container. The dumpling wrappers will become quite soft and soggy (due to the moisture from the filling) the longer you store them. So pay extra attention when you remove them from the container to prevent them from breaking apart.
Dipping sauce for pork and sauerkraut dumplings
Frankly, these pork and sauerkraut dumplings are so flavorful that most of the time I do not use a dipping sauce.
However if you prefer one, I included a very simple soy sauce and vinegar dipping sauce for these dumplings. When you make the sauce, taste the cooked dumplings first and adjust the soy sauce amount if needed. Since different brands of sauerkraut can have different salt levels, you might want to adjust the saltiness of your dipping sauce.
I also highly recommend using some chili oil with these dumplings because they pair together so well! You can either use a homemade chili oil, or a high quality store-bought one.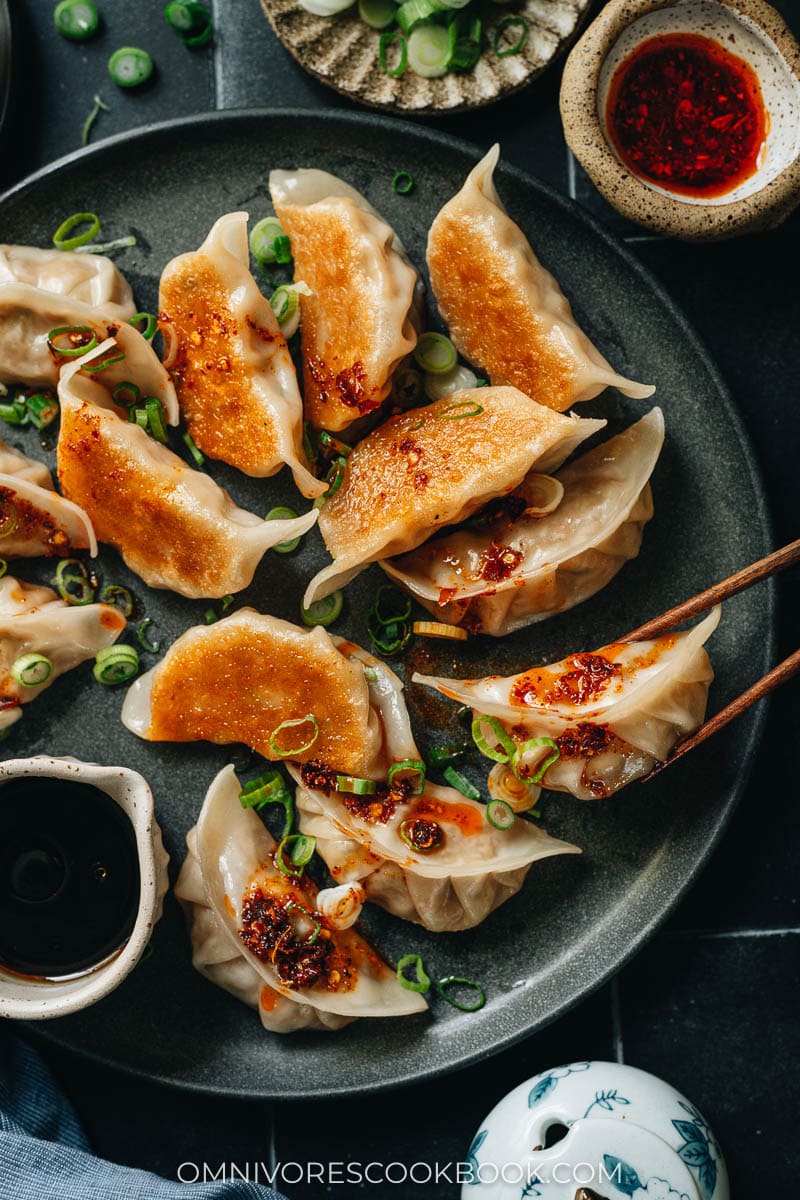 Afterthought
If you like the taste of sauerkraut, do not miss this one! I found pork and sauerkraut dumplings quite easy to make, because you only need to chop two ingredients, and the filling is quite simple. Of course, it always takes some time to wrap them. But I found it soothing to put on my favorite TV show while wrapping the dumplings at night. The best thing about dumplings is that you can always cook them easily from frozen, so I recommend you make a batch ahead of time and serve them throughout the week. It is quite a luxury when you can snack on homemade dumplings during your lunch break on a busy work day!
Want to Know More?
Receive our 5-Day Chinese Cooking Crash Course & Recipe Updates! Subscribe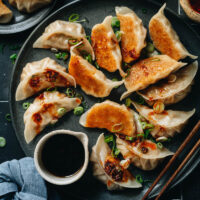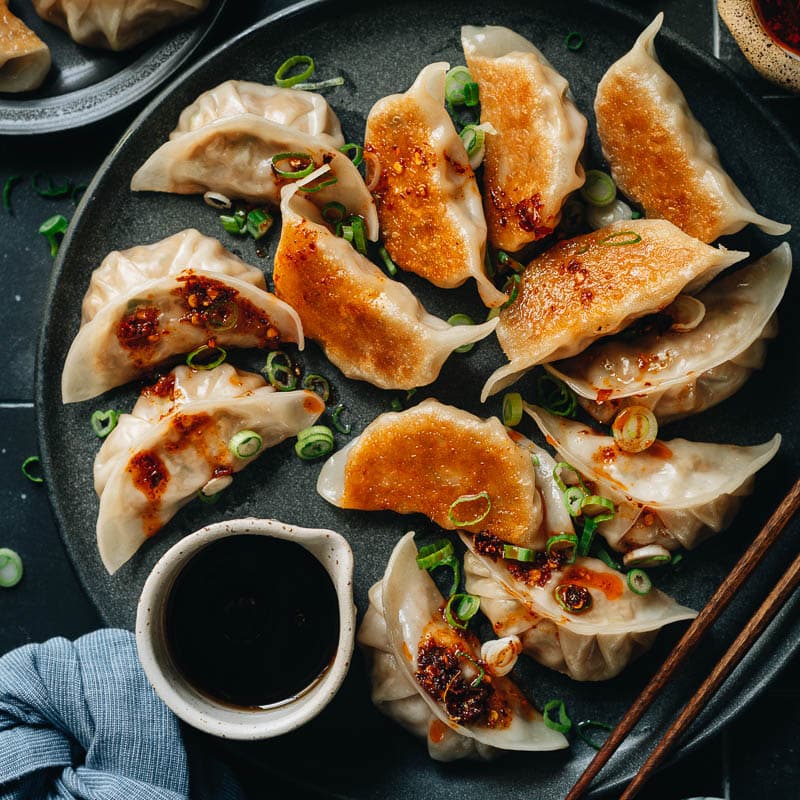 Pork and Sauerkraut Dumplings (酸菜饺子)
Introducing Northern Chinese pork and sauerkraut dumplings that have a savory, fragrant, and juicy filling and a crispy crust. They are very easy to put together compared to other types of dumplings. They are also freezer friendly and therefore perfect for making ahead of time. Use this one as an appetizer for your multi-course meal or serve it as a main course for lunch!
Ingredients
Filling
6

oz (170 g)

ground pork

(lean fat ratio 7:3)

2

green onions

, minced

1

tablespoon

grated ginger

1/4

teaspoon

ground Sichuan peppercorn

(or five spice powder)

2

tablespoons

peanut oil

1 1/2

tablespoons

light soy sauce

1

tablespoon

Shaoxing wine

(or dry sherry)

8

oz (225 g)

sauerkraut

, drained and squeezed dry, then chopped (yield about 1 loosely packed cup after chopping)

1

tablespoon

toasted sesame oil
Dumplings
1

pack dumpling wrappers

(store-bought or homemade)

2

tablespoons

peanut oil
Dipping sauce (*Footnote 1)
Instructions
To make the dumpling filling
Add ground pork into a medium-sized bowl. Spread the green onion, ginger, and Sichuan peppercorns evenly over the pork. Do not stir.

Heat the peanut oil in a small saucepan over medium-high heat until hot. Carefully pour the hot oil over the aromatics on the pork. The oil will gently cook the aromatics to release the fragrance. Let the oil cool for 2 to 3 minutes.

Add the light soy sauce and Shaoxing wine. Stir with a spatula until all the liquid has been absorbed and the pork becomes sticky.

Make sure to dry the sauerkraut as much as you can. You can even use paper towels to dry it again after chopping. Add the sauerkraut and the sesame oil to the ground pork. Stir to mix well.
To wrap and cook the dumplings
Scoop about 1 to 1.5 tablespoons of dumpling filling and place it in the center of the wrapper. Hold the dumpling with one hand and start sealing the edges with the other hand. After folding, press the edge again to seal well. You can use any method you like to fold the dumplings as long as you're comfortable with it. Place the folded dumplings on a tray or cutting board, loosely covered with wet paper towels to prevent them from drying out.

Now you can freeze these dumplings if you aren't going to cook them immediately. Place them onto a baking tray and seal with plastic wrap. Store dumplings in the freezer for up to 3 months. Once the dumplings are completely frozen, about a day, you can transfer them to a gallon bag to save freezer space. (*Footnote 2)

Cook the dumplings in batches. Heat 1 tablespoon of oil in a nonstick skillet over medium heat until hot. Add dumplings. Cook until the bottom side turns golden (*Footnote 3). Add 1/4 cup of water, and cover. Cook until the dumplings are cooked through, 2 to 3 minutes. Once done, transfer the dumplings to a plate.
Dipping sauce
Mix all the ingredients in a small bowl and stir to mix well.

Serve the dumplings hot with dipping sauce as an appetizer or main dish. Enjoy!
Notes
These dumplings are very flavorful so you might not need a dipping sauce. If you make a dipping sauce, you can also adjust it by reducing the amount of soy sauce to make it less salty. I also highly recommend using some chili oil (directly on the dumplings or in the dipping sauce), which boosts the flavor a lot.
Cooking frozen dumplings is very similar to cooking fresh ones. You don't need to thaw the dumplings prior to cooking. The only difference is that you will need to cook the frozen dumplings with the cover on for 4 to 5 minutes, to make sure the center is cooked through.
Depending on the pan you use and how long you heat your pan, the dumplings might need more time to crisp up. If using a carbon steel or cast iron pan, it takes a shorter time, 2 minutes or so. If using a nonstick, it takes a bit longer. You can also use medium-high heat with a nonstick pan to help the browning.
The nutritional facts are calculated without the dipping sauce.
Nutrition
Serving:
1
serving
,
Calories:
52
kcal
,
Carbohydrates:
4.6
g
,
Protein:
2.6
g
,
Fat:
2.6
g
,
Saturated Fat:
0.5
g
,
Cholesterol:
5
mg
,
Sodium:
166
mg
,
Potassium:
55
mg
,
Fiber:
0.5
g
,
Sugar:
0.4
g
,
Calcium:
5
mg