Introducing the great foodie city where you can eat until you drop!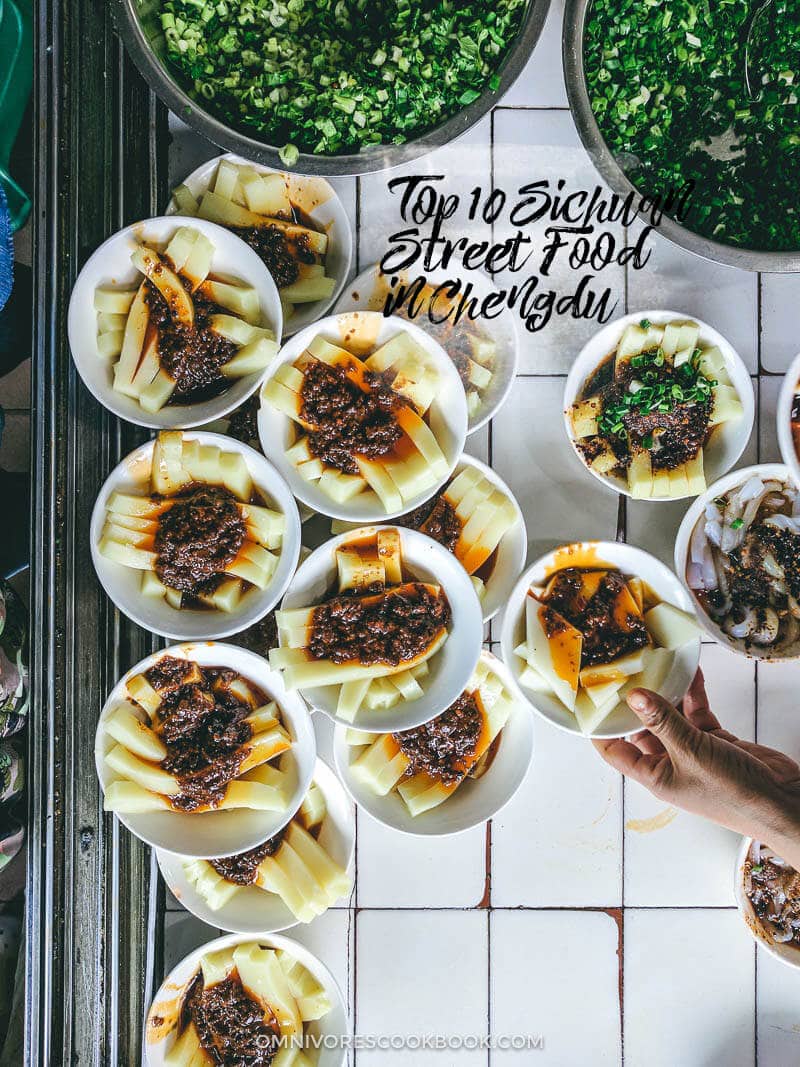 This June I was invited by Taylor at The Mala Project to join their family vacation in Chengdu, the capital of Sichuan province. It was my first time to the city. We visited the temples, wandered on the street, explored the farmer's market, and snacked on street food nonstop.
Chengdu is the type of city where you can eat until you drop. No wonder it was named a UNESCO city of gastronomy. It's too bad that there are only three meals during the day and my stomach has limitations!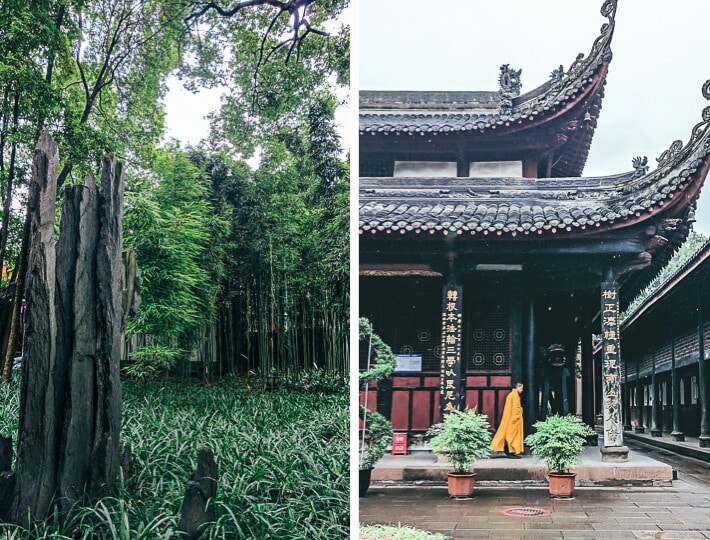 The Best Chengdu Food Tour
During the trip, we attended a food tour organized by The Chengdu Food Tours. In the post below I'll be sharing some of the most famous Sichuan street food with you. Just so you know, there are thousands of hole-in-the-wall types of diners in Chengdu. For first timers like me, you might have no idea which serves better food. Thanks to Jordan Porter, the handsome and passionate guy behind the food tour company, we got to try out some of the city's best spots.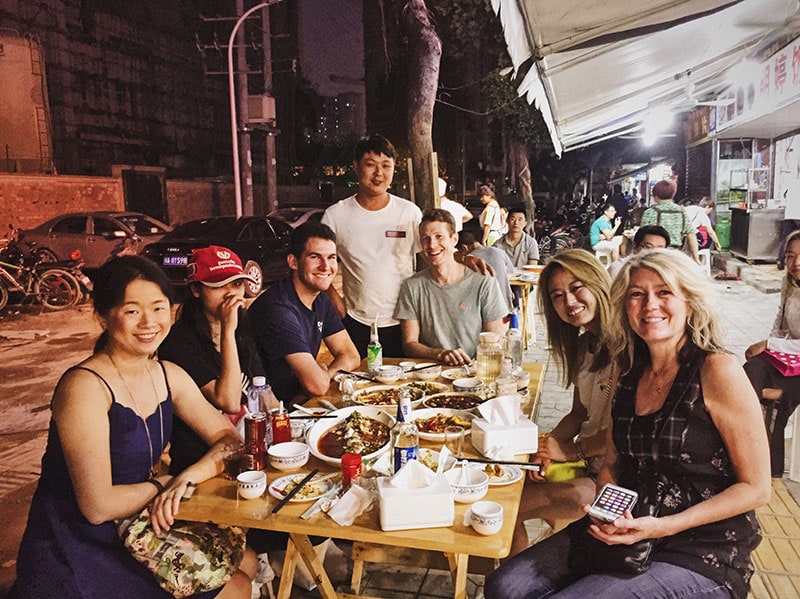 Here is a funny back story. From the minute I arrived in Chengdu, Taylor kept talking about this great food tour we were going to try out and mentioned her old friend Jordan many times. Somehow I was imagining a serious looking middle-aged Chinese dude who wears glasses and has a slightly protruding beer belly. Embarrassing enough for me, my jaw dropped to the ground when I met Jordan and "you're not Chinese!" slipped out. What a polite and well-mannered greeting…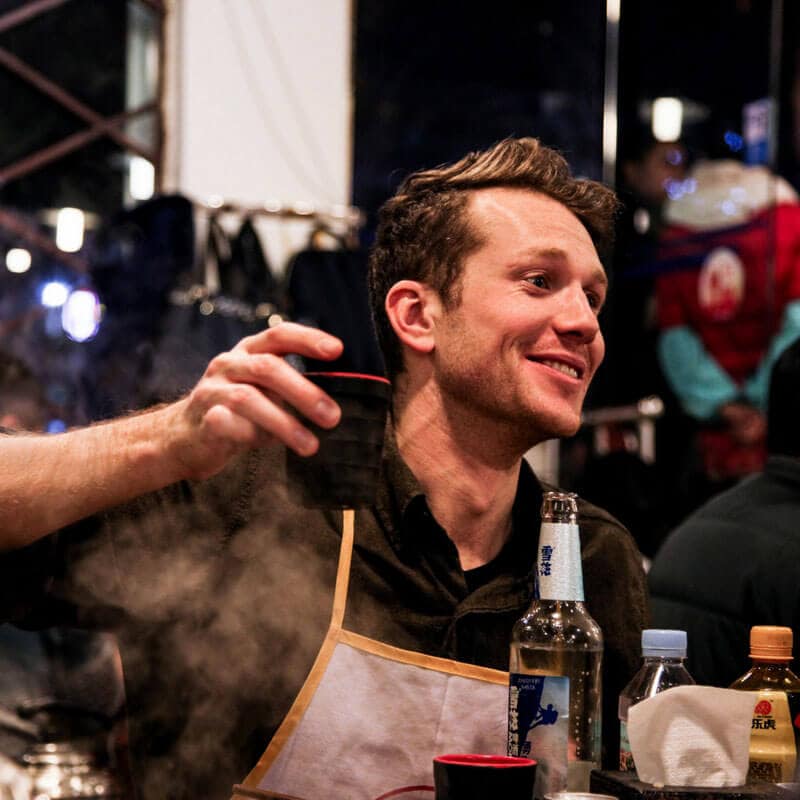 Jordan was originally from Canada and moved to Chengdu in 2010. Now he speaks fluent Sichuan dialect and bantering with vendors at farmer's market like locals. He knows his way around all the small alleys in Chengdu without the need to pull out his Google map even once. If someone told me that he knows Sichuan food in Chengdu better than most locals there, it is not an exaggeration at all.
The real-deal Sichuan food in action
Before jumping to the top 10 list of delicious street food, do watch the video below. It is a 4-minute short video that I put together from the clips I took during our 4-hour food tour. It shows you the vibe of the city. And you will have a good idea of how people cook and eat in Chengdu.
Top 10 Sichuan street food in Chengdu
Here comes more fun stuff!
Deep Fried Meat Pie (Guo Kui, 锅魁)
The making of Guo Kui is a pure art (watch the first minute of the video above if you haven't already). The tender dough is stuffed twice with ground meat, folded and rolled again into round pancakes, deep fried until golden and then baked in a charcoal pit. One bite into the meat pie, the crispy flaky bits crumble down onto the table. The chili pepper and Sichuan peppercorn spiced tender meat filling. The oozing juice piques all of the sensations in your mouth, begging for your second bite.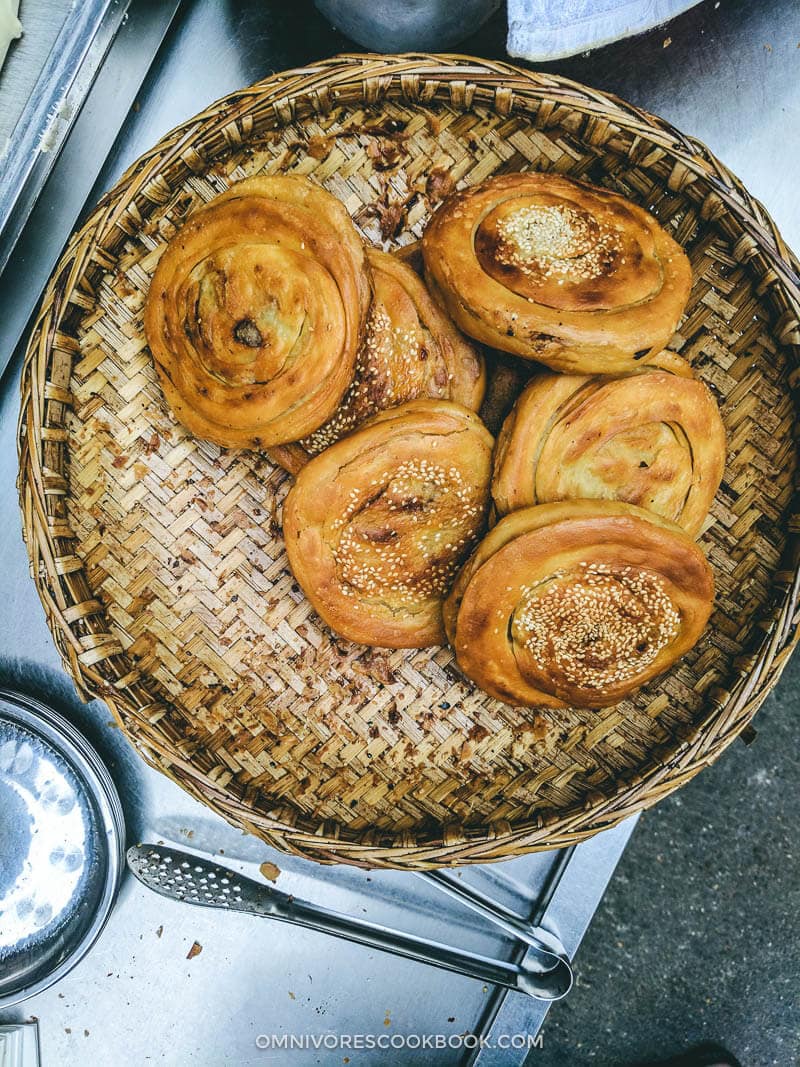 Be aware, not all the Guo Kui are created equal. Some are freshly made with a generous amount of meat filling and are fried to perfection. Some are barely filled, pre-made ahead, and left on the shelf to get cold and stale.
On the street of Chengdu, you will see hundreds of smaller diners like this—it does not look particularly nice from the outside. They have ubiquitous giant plastic banners saying something like "Family xx Special Meat Pie". On the side, you'll see a big profile photo of the owner that is probably cut off from their driver's license. These are good signs of a quality Guo Kui.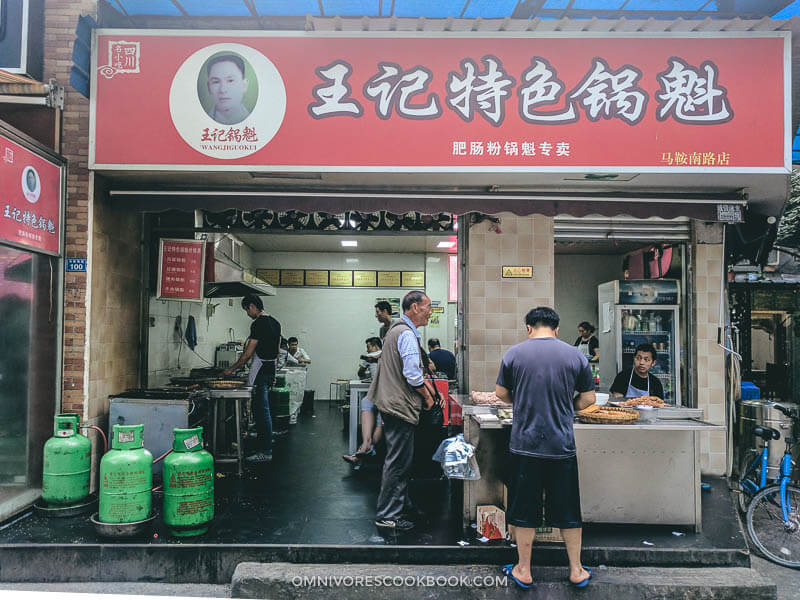 Jordan explained the good reason behind this. Since too many restaurant owners share the same family names, they differentiate their secret recipe by putting their face up there.
Avoid getting this snack at tourist areas, but rather find a spot located in a residential area.
Sweet Water Noodles (Tian Shui Mian)
The dish that surprised me the most during this trip—the noodles are sweet! It is sort of like eating cupcakes topped with maple glazed bacon. It sounds super weird at first, but makes perfect sense once you try it.
Tian Shui Mian (甜水面), or sweet water noodles directly translated, is one of the most popular street snacks that locals love. The handmade noodles shape like uneven ropes that are as thick as chopsticks. They're served in a boldly flavored sauce. A generous sprinkle of coarse granular sugar flakes touch up the final dish.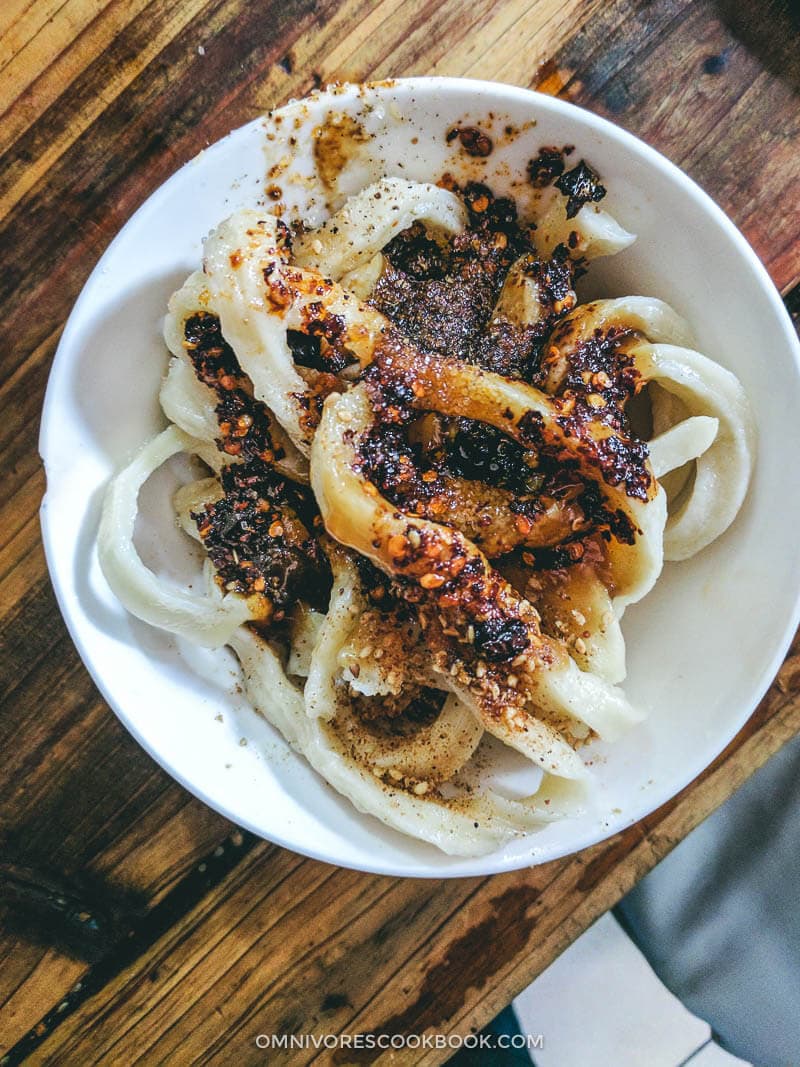 A few strips of these fat noodles will fill a small bowl. The noodles are chewy with the fresh wheaty aroma and a hint of salt. You only need to stir a few times to briefly mix the noodles and the sauce. Every bite bursts with sweetness, saltiness, spiciness, and prickly flavors. The amazing texture from crispy chili flakes and crunchy sugar is the biggest delight.
It is such a plain noodle bowl without fancy meat or veggie toppings. But I just can't get enough of it. At the end of my trip, I was so addicted to this dish that I'll have to make it at home once I'm back in the US. (The recipe is coming soon!)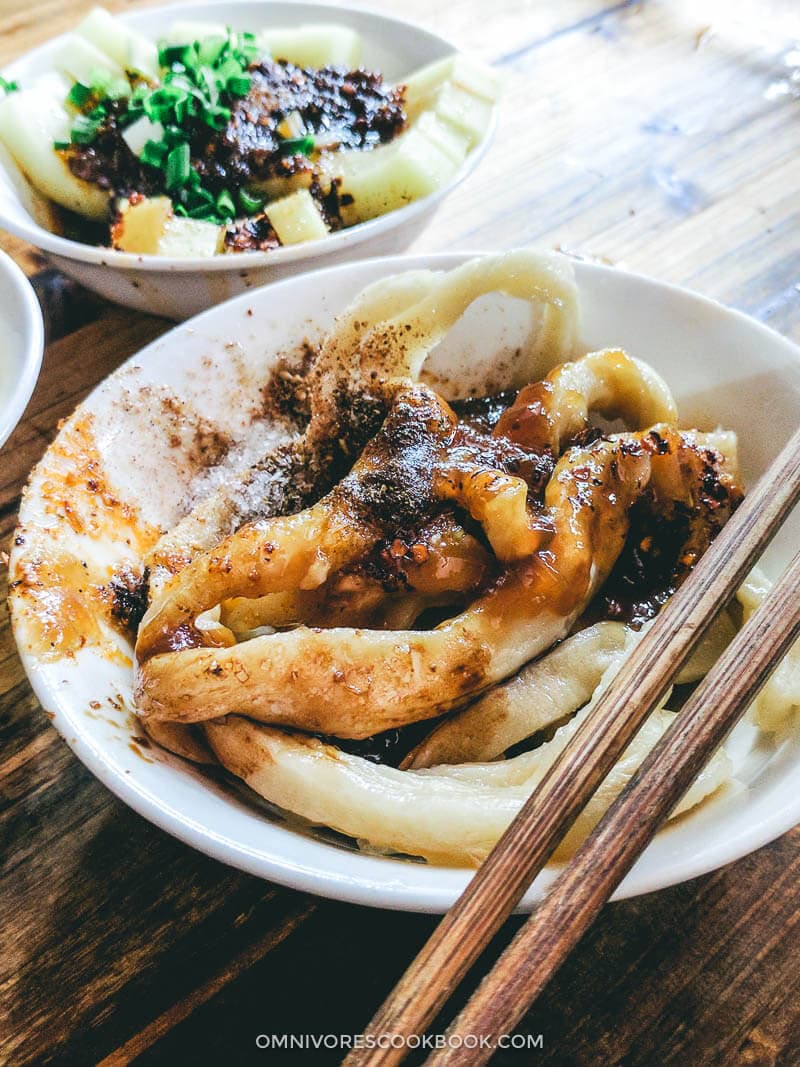 Noodle Jelly in Red Oil (Liang Fen)
At the same spot where you eat the sweet water noodles, you usually can find these fun bean noodle jellies as well.
They offer white and yellow liang fen (凉粉)—noodle jelly that is made with cornstarch and green peas, cut into fat chunks and served in different types of hot sauce. One is heavy on fermented bean paste (doubanjiang), and the other is heavy on chili oil.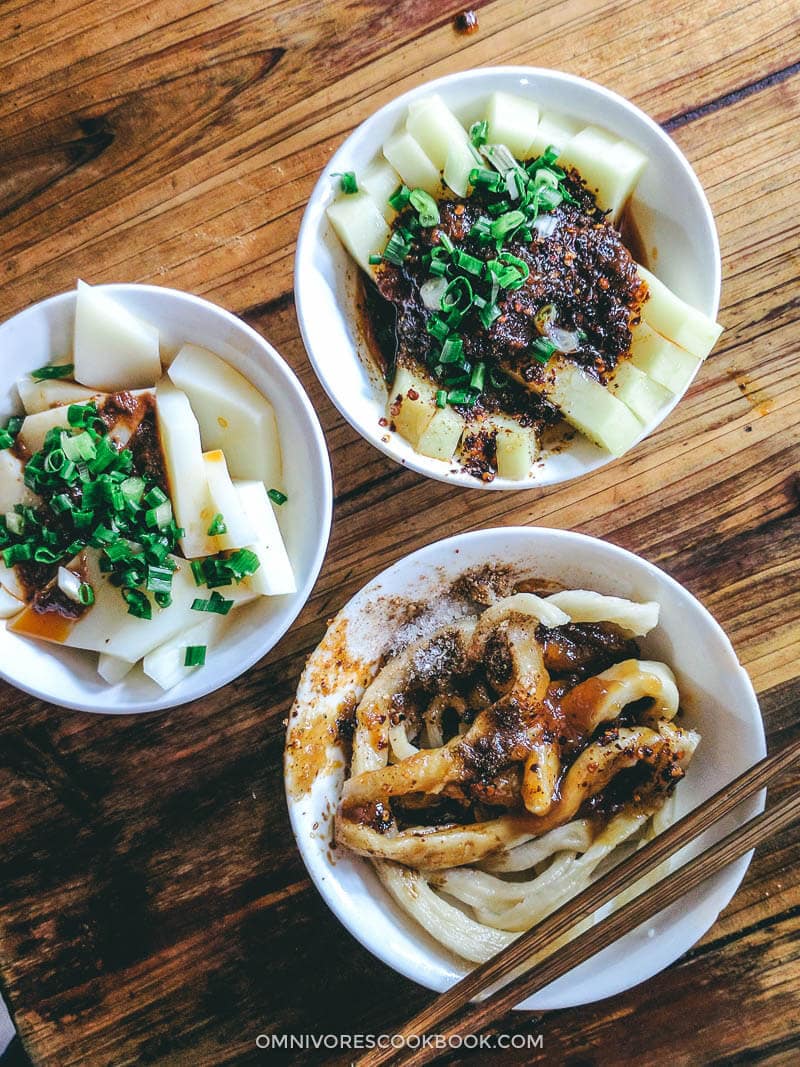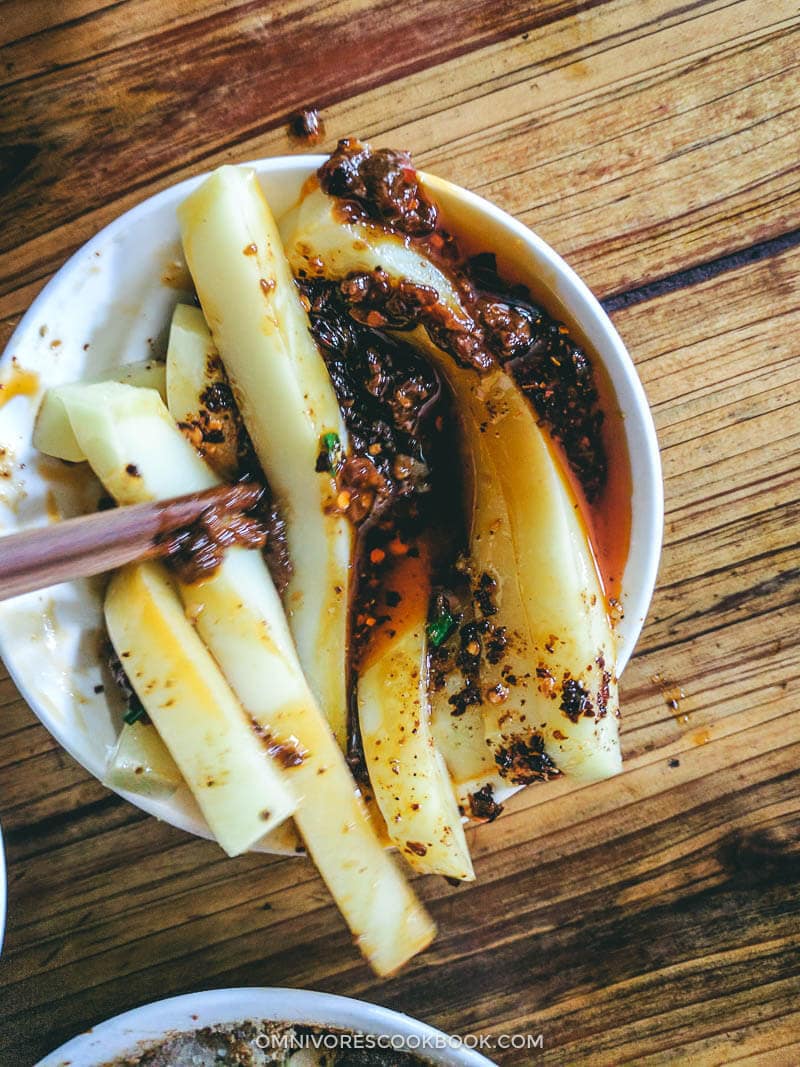 Noodle jelly is a perfect summer snack. The noodles are much lighter than wheat noodles. Their texture is similar to jelly or pudding, and easier to eat on a hot summer day. The hot sauce will help you drive the heat and humidity out of your body, help you detox, and prevent you from getting heat stroke.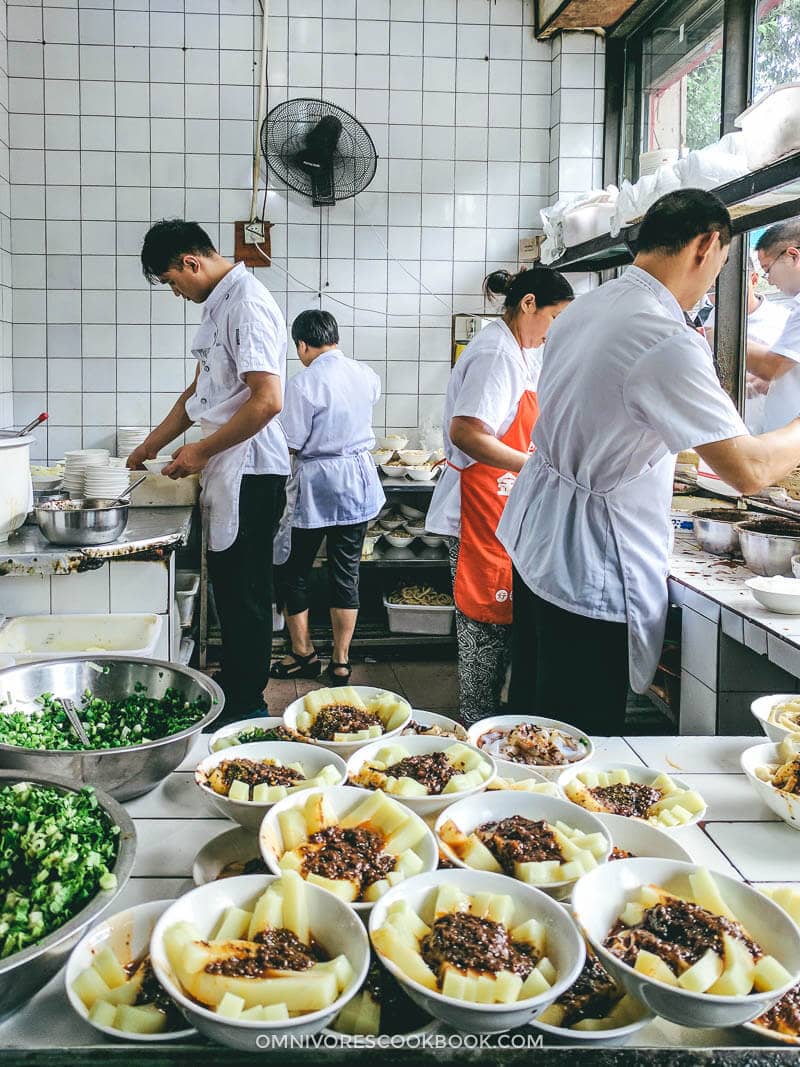 Pita Bread Sandwich (Guo Kui, 锅魁)
OK, I know this sounds confusing, but the pita bread sandwich does share the same name with the deep fried meat pie that I introduced earlier in this post.
This type of Guo Kui is a sandwich made with a less oily wheat bread and stuffed with ready-made savory or sweet fillings.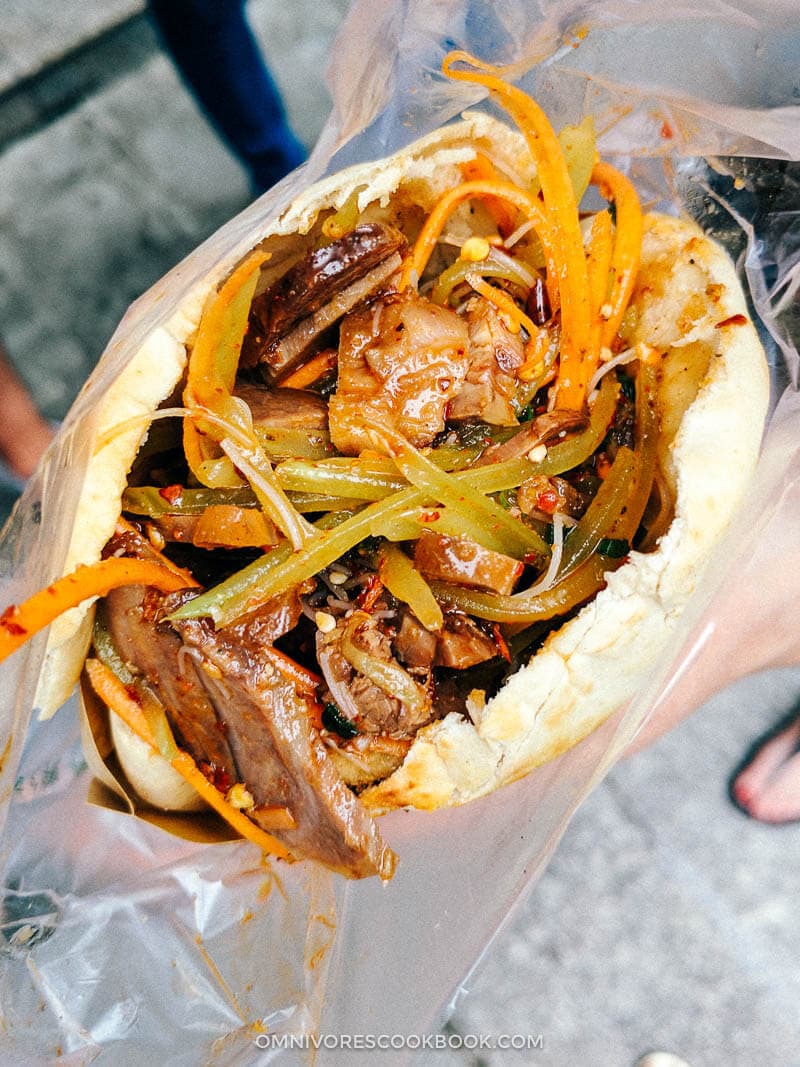 The fresh steak Guo Kui (鲜牛肉锅魁) is a classic flavor—the pita bread is grilled until crispy on the outside and tender and warm inside, filled with cold braised tender beef, carrots, celtuce, and glass noodles mixed in a spicy savory sauce. It costs about $1.5 and it's big enough for lunch.
There is a great treat for vegetarian as well. The bamboo shoots Guo Kui (笋丝锅魁) is one of my favorites. They are nothing like those canned bamboo shoots you see in the US. The sandwich filling uses fresh baby bamboos that have a crisp mouthfeel and an earthy fragrance.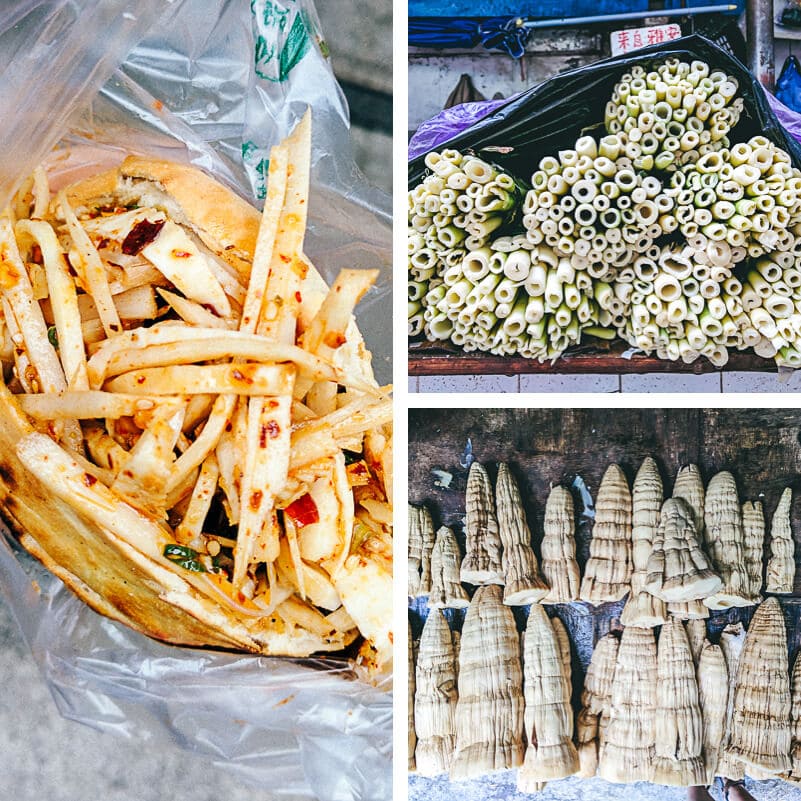 Pu Gai Mian (Bed-Spread Noodle)
It was humid and hot in Chengdu just like a Texas summer. However, I wouldn't mind eating this hot noodle soup all day long!
These noodles are directed translated into "Bed-Spread Noodle" in Chinese (盖面). The boiled noodles are super thin and wide. Their texture is tender with a light chewy mouthfeel. The noodles come soaked in the rich broth. There are a few flavors such as steak, ribs, pickles and meat, and wild chicken. The freshly made stock that's simmered overnight by using 6-month old range-free chicken. Once you try it, you'd never go back to your boxed chicken stock again.
At the back of the diner, we saw staff in action making fresh noodles. The dough is rolled into a 20-inch (50-cm) round sheet and placed over a big bowl. The staffs stand around the dough, tearing small chunks off before stretching the dough piece into a larger thin piece, and throwing it across the small kitchen window to land directly in the boiling water. (You can see the process in the video above. It is so cool!)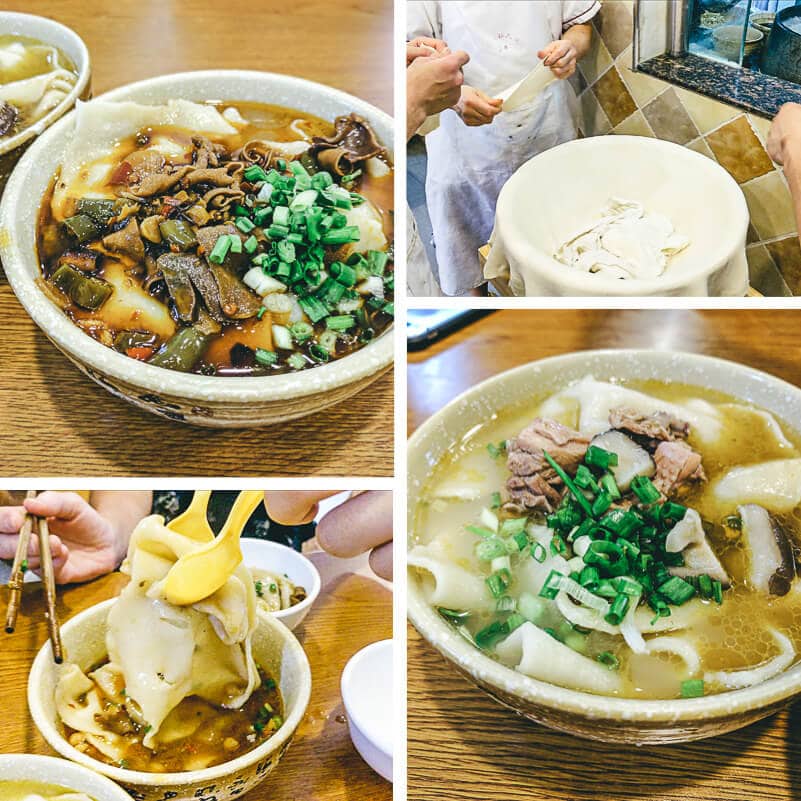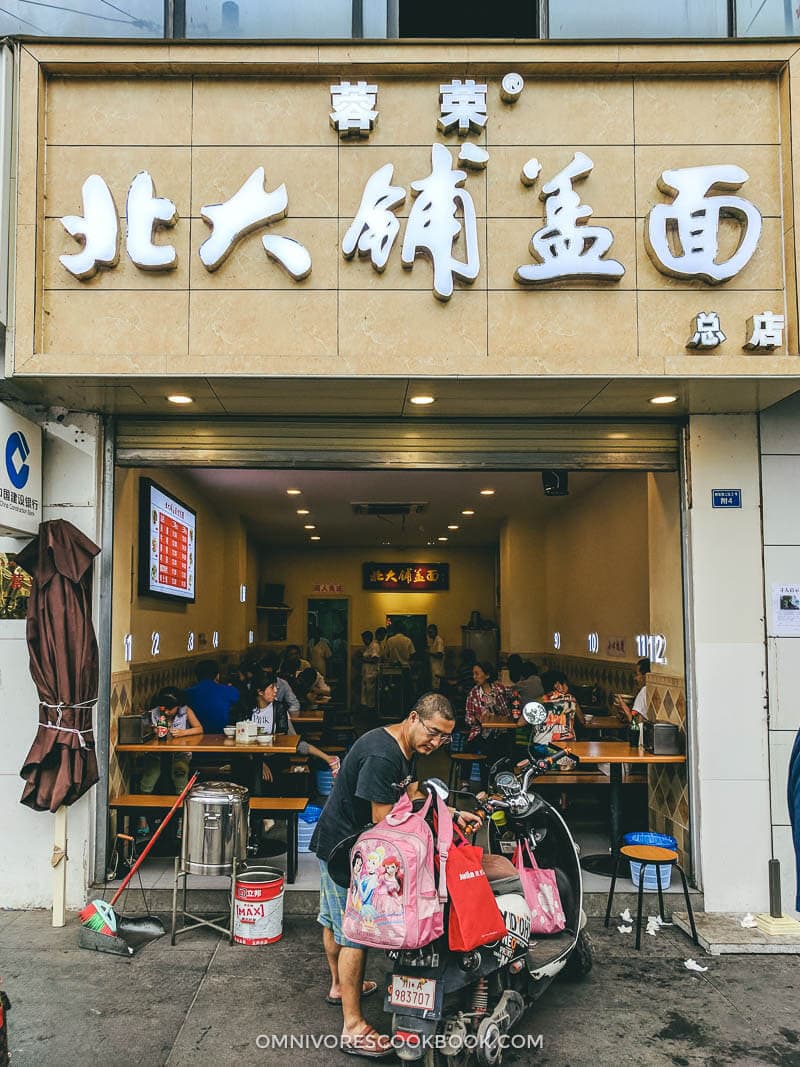 Wonton in Red Oil (红油抄手)
These wontons are made with thin fresh wrappers, pork or a pork and veggie filling, boiled in water, and served in a slightly sweet chili oil sauce.
We went to a tiny diner where they only have a couple of things on the menu, mostly noodles and wontons. Here you can try out a few Sichuan signature dishes, including the famous Dan Dan Noodles, and Green Beans Noodles (see the introduction below). They are all in good snack size so do order a few kinds and try them out.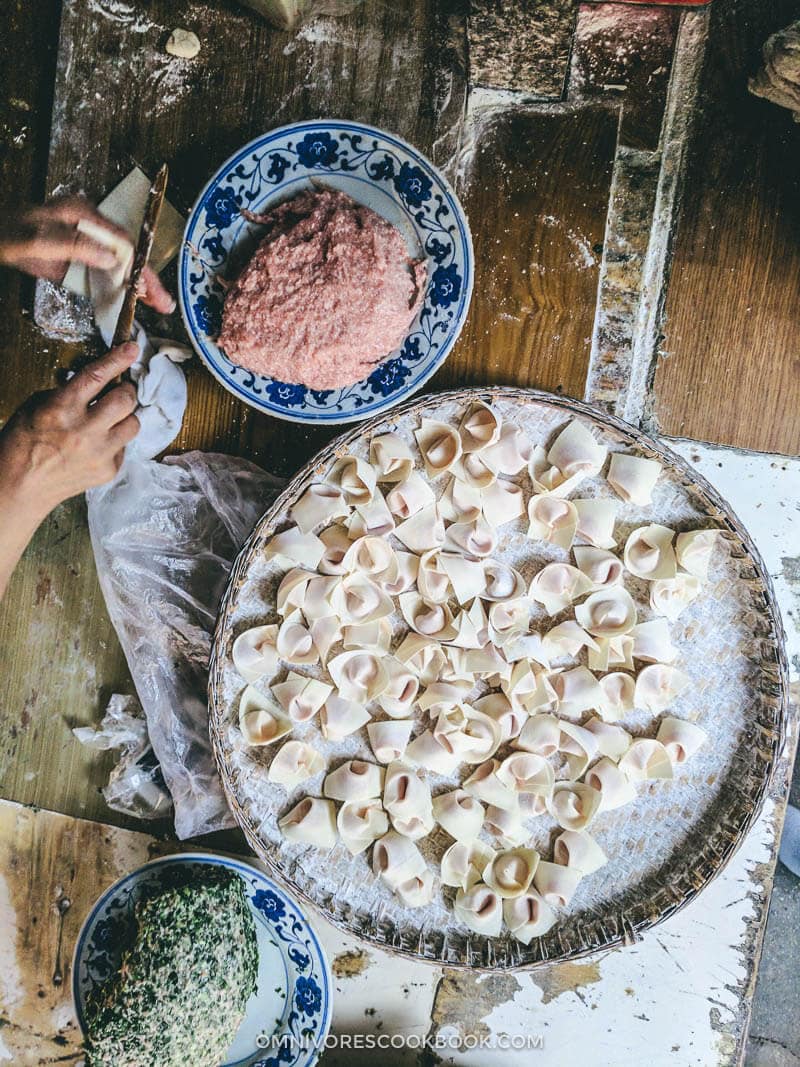 Green Beans Noodles (豇豆肉绍面)
Another surprise I came across in Chengdu. The bowl of noodles looks plain. But it is packed with flavor bombs that wake up my taste buds with every single bite.
The secret is in the pickled string beans (a.k.a cow peas). The string beans are pickled with garlic, Sichuan peppercorns, chili peppers, vinegar, and baijiu (a Chinese liquor that has a high proof as much as 70). Then they are chopped into small pieces and stir fried with minced pork along with soy sauce, Sichuan peppercorns, and aromatics. It makes a fine noodle topping that's deeply savory.
The noodles are layered on a bed of red oil, soy sauce, sesame paste, pickles, cilantro and homemade stock. They are then topped with the pork and green beans. Stir to mix everything together and be prepared to be blown away by its bold flavor.
Dan Dan Noodles (担担面)
Although it might be one of the most famous Sichuan dishes in the US, I surprisingly learned from Jordan that it's not as popular in Chengdu among locals compared to the Sweet Water Noodles. I've talked about this dish in my Dan Dan Noodle Recipe post, so I'll save some space here. But since you're already in Sichuan, definitely give it a try, just to see how locals prepare it.
Fresh Spring Rolls
If all of your spring rolls experiences are with deep fried rolls and the ones made with rice paper, you will be blown away by the Sichuan style fresh spring rolls.
First of all, these spring roll wrappers are very special. They are not the rice papers like those used in Vietnamese spring rolls, or the type of wheat flour paper that is like dumpling wrappers, or a French crepe that's made with a thin batter.
These wrappers are made with a wheat flour springy dough that has the perfect texture. They solidify while you smear a big chunk of dough onto a hot cast iron pan. The surface that touches the pan will cook immediately, forming a thin wrapper, leaving the rest of the dough uncooked (see the cool video below). As a result, it makes a super thin cooked wrapper that you can see through. It holds together well and has a slightly chewy texture.
To make the spring rolls, the vendor will mix the veggies of your choice in a big bowl, from cucumber, pickles, seaweed strips, blanched potato, glass noodles, different types of tofu and soybean products, fresh leafy veggies, and radishes. Then add homemade red oil along with other sauces, mix everything together, and stuff into the fresh spring roll.
These rolls are extremely simple yet it gives you a supreme experience from the crunchy veggies, chewy tofu, tender noodles, fresh wrapper, and a strong spicy sauce. I'd become a happy vegetarian if I can access this type of food every day.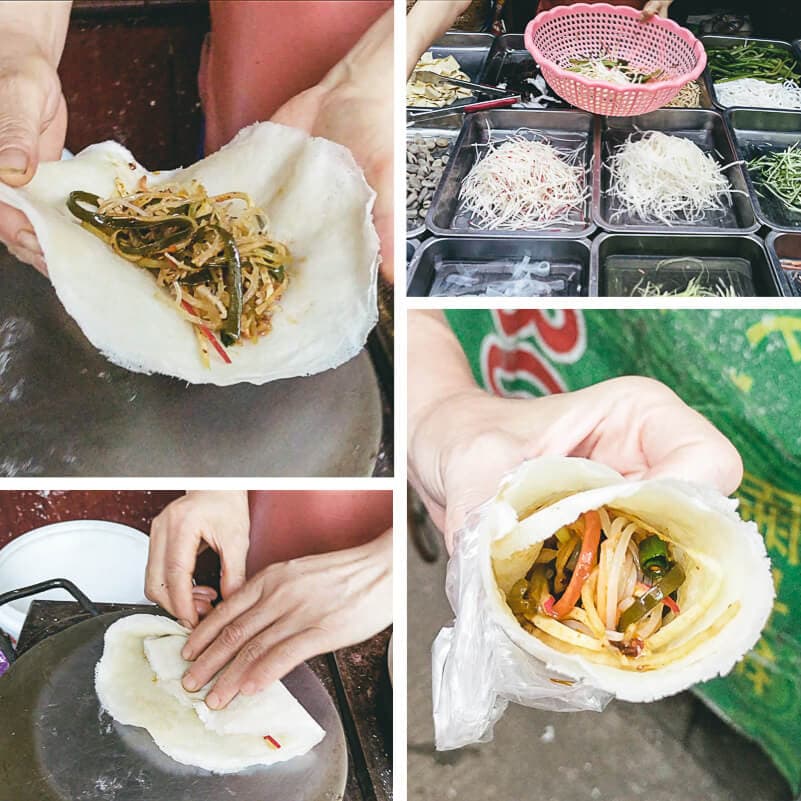 Braised meat, pickles & more fresh bread
Lastly, I want to mention a word about those awesome snacks you'll come across in any farmer's market. Strictly speaking, they are not street food, but rather the type of food that you buy and bring back home. However, they are an important part of the local food culture and are so easy to access. We snack on them all the time throughout the day. Try out the colorful pickles made with local produce, the braised
Strictly speaking, they are not street food, but rather the type of food that you buy and bring back home. However, they are an important part of the local food culture and are so easy to access. We snack on them all the time throughout the day. Try out the colorful pickles made with local produce, the braised
Try out the colorful pickles made with local produce, the braised meat and smoked tofu at the deli stand, the extra flaky and crispy scallion pancakes, and the sweet and light Chinese-style cornbread.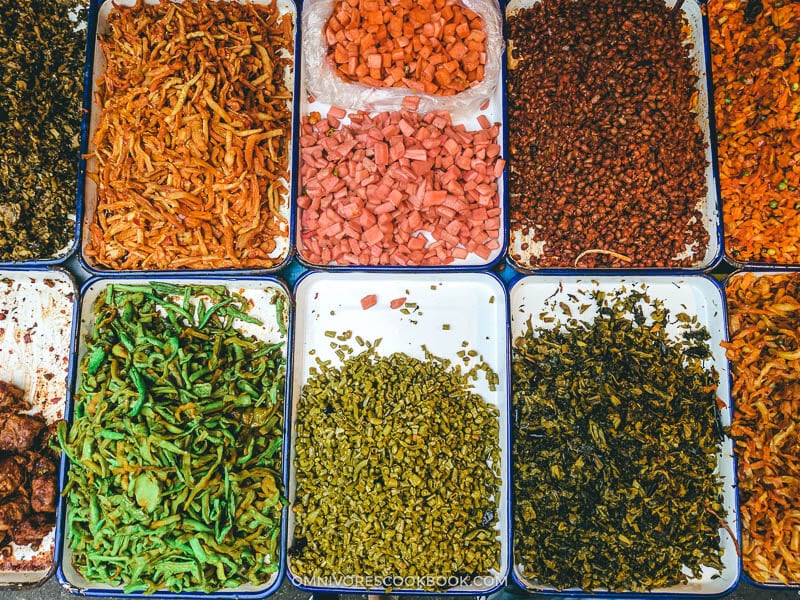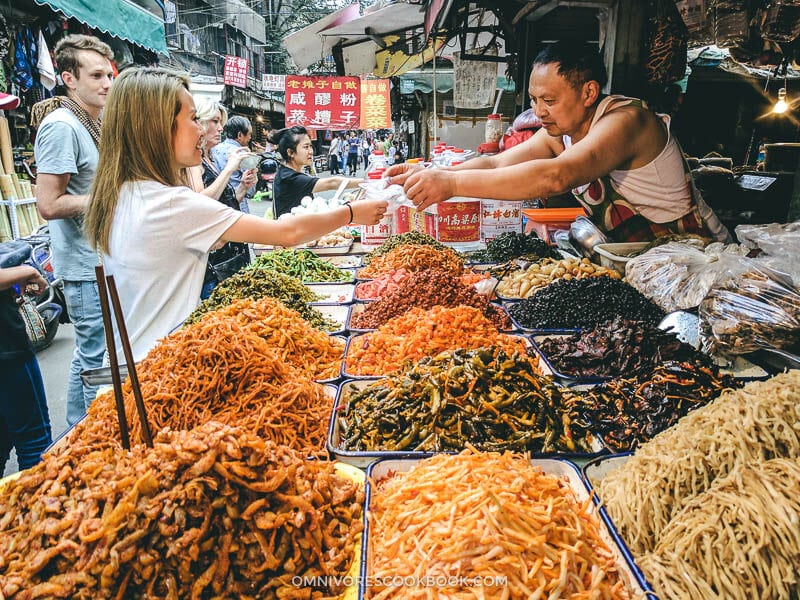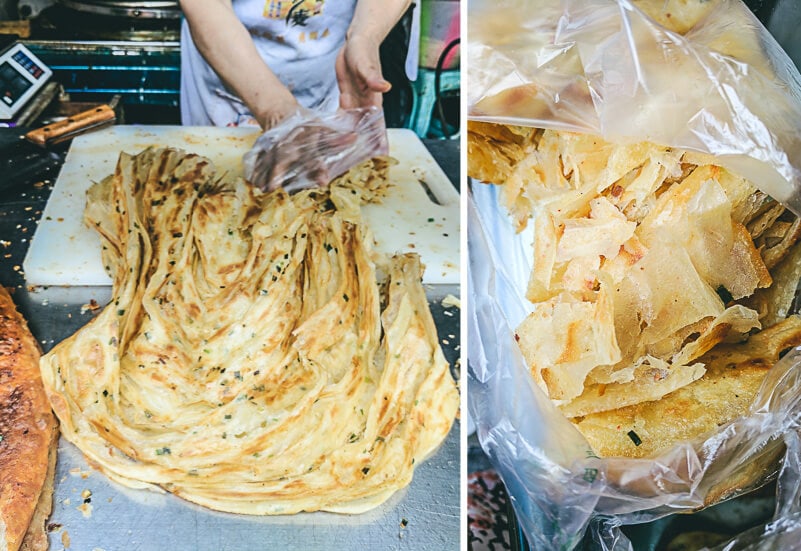 Just a gentle reminder
The service or the ambiance in the store might not be the best. These popular tiny diners are the size of your garage, but crowded with wooden tables and chairs that seat 40 people. You have to wait in line and order from the tiny window, where people will cut in and stand in front of you if you don't move. Then you have to stand so close to the people who are still eating, with the noodle bowls you just ordered in your hands, and be prepared any moment to take the seat once the people leave the table. Once you're finally sitting down, there will be people standing next to you, watching you eat, while the staff pass noodles across the top of your heads.
Don't make a big fuss over the chaos. Just relax and enjoy the buzz of the space, and consider this a part of the cultural experience 🙂
Lastly…
I want to give a big shout out to Chengdu Food Tours and Jordan's amazing team. If you're traveling to Chengdu and want to try out real-deal Sichuan food, definitely check out their food tour. It is the best way to explore local food without fuss and a language barrier. Jordan is a super funny guy. You can feel his passion towards Sichuan food if you talk with him for five minutes. Not only you will experience some of the best food the city offers, but you'll have a much better understanding of the people and culture in Chengdu.
Don't forget to follow Chengdu Food Tours on Facebook and Instagram for more delicious food pictures and Chinese food culture experiences!
I also want to thank Taylor again, the smart lady behind The Mala Market and award winning food blog The Mala Project, who invited me on this amazing trip and connected me with Jordan. If you're into real Sichuan cooking, check out her online store for the premium chili peppers and Sichuan peppercorns. They are the best you can get in the US.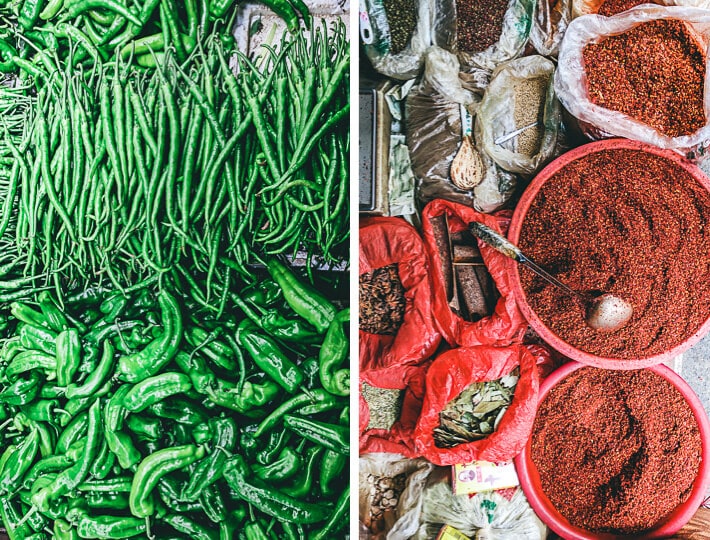 More delicious Sichuan recipes