Manhattan's Chinatown is a national cultural treasure and home to some of the tastiest and most authentic Chinese food in the country. But the neighborhood is hurting and needs our help as many longtime family-run institutions there are in danger of closing. A lot of well-known establishments have closed forever, including the Jing Fong, a landmark and the largest restaurant in Manhattan's Chinatown.
Join us for a culinary tour as we explore cheap eats, sit-down meals, and shopping and learn how you can help.
This the third post in a series about dining and shopping in Manhattan's Chinatown includes our highlights for a variety of Cantonese goodies.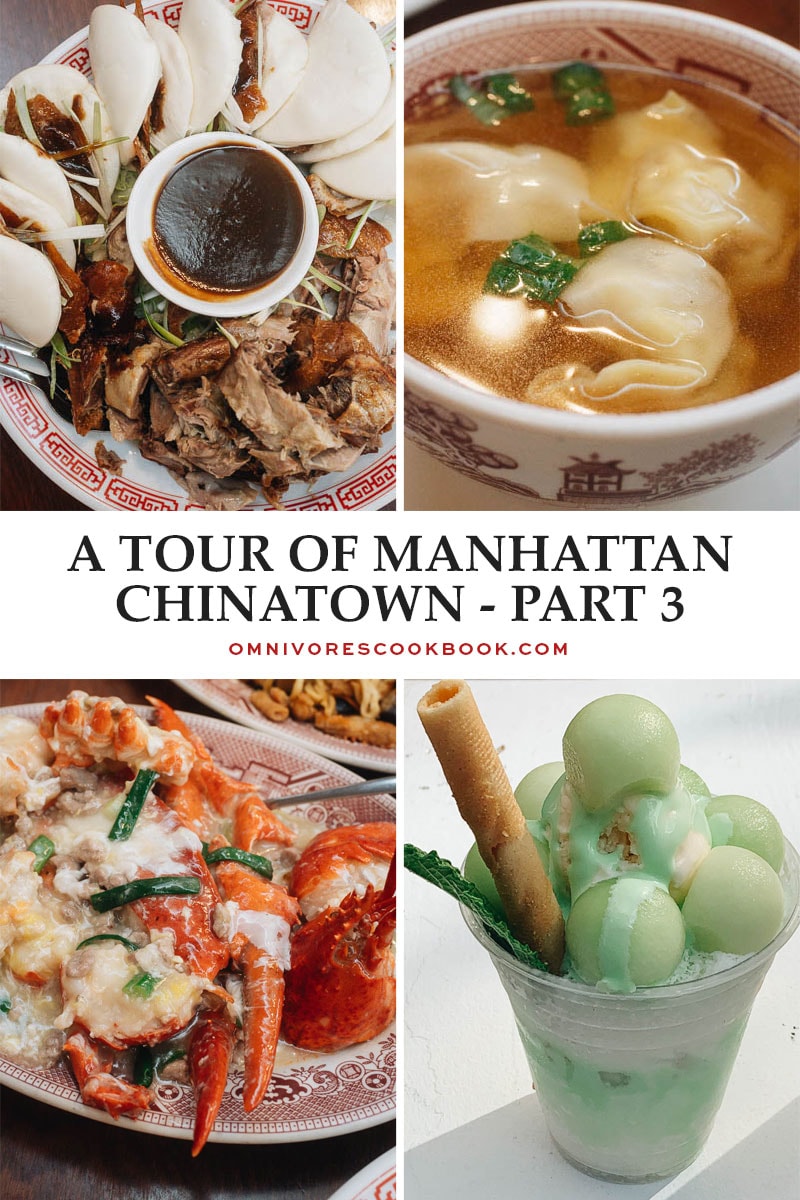 Chinatown's Cantonese Roots
Like Chinatowns throughout much of the world, Manhattan's Chinatown was initially mostly settled by Cantonese immigrants from the southern Chinese region of Guangdong. It is for this reason that the more historic long-running establishments in the neighborhood serve Cantonese food.
This fact makes Chinatown even more interesting for me. As a northerner, many Cantonese foods are new and exciting, though I can't understand a word of the language!
Chicken, Duck and Pork in Chinatown
Cantonese barbecued meat is world-renowned for its signature sweet, smoky fragrance. You'll smell this all over the neighborhood at all kinds of different shops, from bakeries, to dim sum houses, to noodle spots.
These two places serve wonderfully cooked meat that you can eat over rice as a meal, or you can even take some home to use in your own creations.
Wah Fung No. 1 Fast Food
As you walk past, Wah Fung's name and signage may not tell you much, but the aromas wafting out, roast delicacies in the window, and eager queue of people on the sidewalk tell you all you need to know.
Wah Fung has a fairly limited menu: just pork, chicken, and duck. Focusing on just these three meats, they absolutely nail it – juicy and tender with beautiful caramelization on the outside.
Wah Fung isn't just great in terms of value for money, it's great, full stop.
You can get your choice of meat by itself or over rice with sauteed cabbage (or with extra cabbage and no rice), which makes a very tasty and inexpensive ($5.50 as of March 2021) meal. They also sell whole and half birds and whole slabs of char siu if you're looking for a bit more meat.
Address: 79 Chrystie St.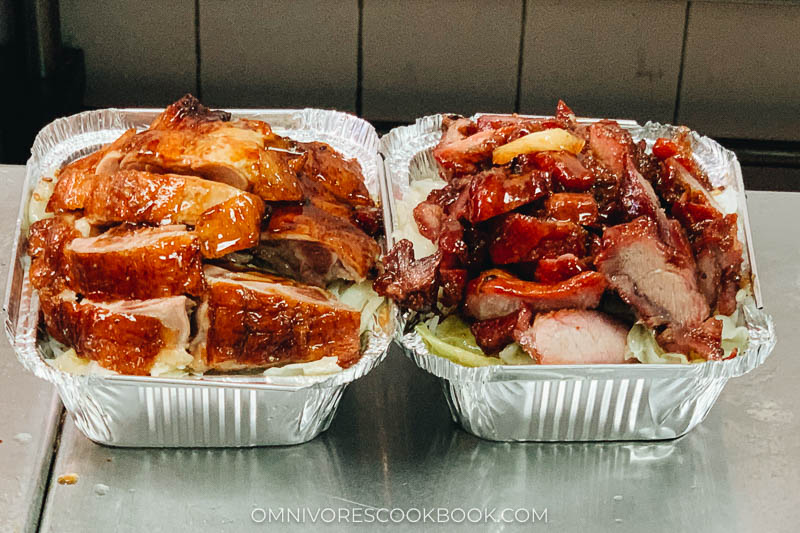 As you approach Bo Ky, you'll see rows of neatly hung, freshly cooked ducks and chickens. While they may look barbecued, they are actually poached. But they're just as tasty as barbecue.
You can get their "country style" chicken and duck by itself, over rice, or in noodle soup, depending on what you're feeling like. The birds are poached in a mixture of soy sauce, herbs, and spices for a silky-tender, fragrant treat.
(A side note, Bo Ky is a Teochow restaurant and not actually Cantonese, but I wanted to include it as it's from the same geographical area and quite special.)
(Another side note, they also serve Vietnamese food and the waitstaff evidently can speak Thai. This is not as unusual as it may seem – Teochow people have lived all over southeast Asia for many generations and their cuisine has been hugely influential throughout the region.)
Address: 80 Bayard St.
Hop Lee – A Classic Old-School Cantonese Joint
A Chinatown institution, Hop Lee has been in business for many decades and their time-tested dishes have diners eagerly coming back year after year.
Hop Lee's cuisine is conservative in the way that a long-standing diner or steakhouse might be. They don't chase trends, and the menu may not have changed much in the last 50 years. This consistency is where the beauty of the food comes from.
You're sure to find dishes to suit all palates and there won't be any tricks or surprises. Just straightforward, succulent food prepared and served by people who have spent their whole lives honing their craft. The two we enjoyed the most were:
Peking Duck – While their version is different from what I'd get in Beijing, it was really tasty. Nicely cooked, bone-in, with a good balance of rich and crispy skin and moist, tender meat. They use pillowy gua bao instead of duck pancakes, which works well with the sweet bean sauce and green onion.
Sauteed Whole Lobster with Ginger – In true Cantonese form, the tender lobster was the most prominent element of the flavor profile, and the chef made it sing. The whole dish tasted like the sea, and there were only modest highlights of pork and ginger.
Address: 16 Mott St.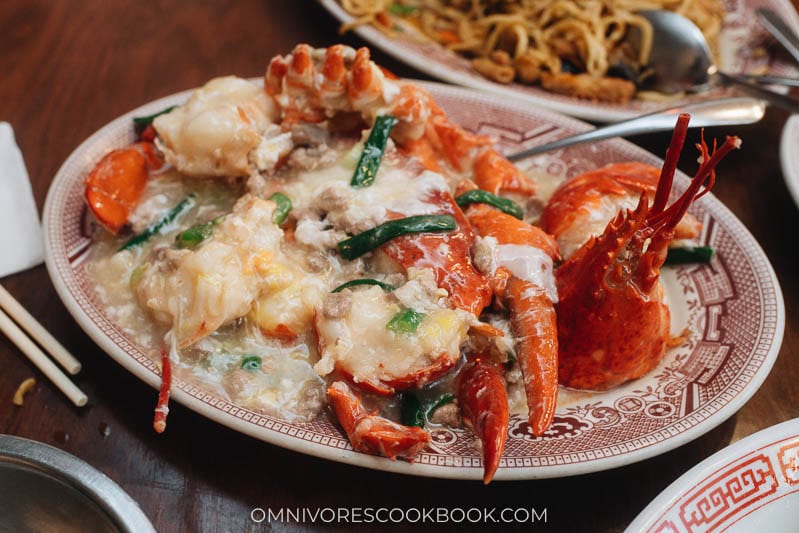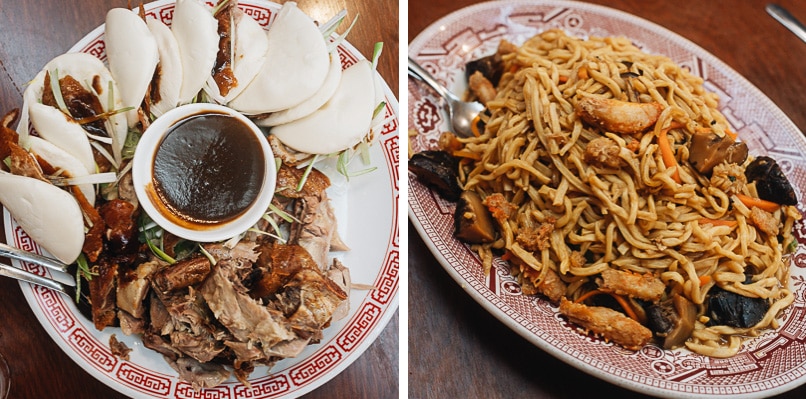 There are endless debates about what is "authentic" and while August Gatherings' menu is quite different from any other Cantonese place in the city, it would fit right in, in a hip shopping district in Beijing or Shanghai.
They use global ingredients and cooking methods to make delicious dishes true to the spirit of Cantonese cuisine – make fresh meat, seafood, and veggies shine on their own, without overpowering them with seasoning.
They have an extensive dinner menu featuring grilled steaks, whole fish, roast duck, green veggies, mushrooms, and more. It's a bit of a splurge, but everything we tried from it was on point, including:
Wensi Minced Tofu Soup – Silken tofu minced into very fine shreds and simmered in a ham-chicken-duck broth. Refined, subtle and deeply satisfying.
Okra with Black Garlic – The okra is perfectly cooked, with a wok-char and zero slime and paired with shimeji mushrooms. The real star is the black garlic, which is exploding with umami and doesn't taste much like garlic.
They also have more modestly priced all-day and lunch menus that look very promising.
This restaurant has become one of my favorite spots since I discovered it and I will be back again and again!
Address: 266 Canal St.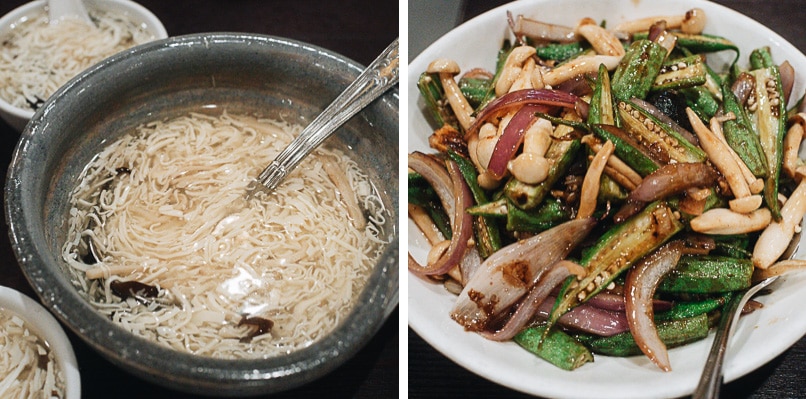 BONUS: More Chinatown Dessert Restaurants
It's not unusual in Asia to have restaurants dedicated to dessert. They serve inventive hot and cold beverages, some of which are made with tea and coffee, alongside refreshing Asian-style desserts.
Fresh fruit, sticky rice, matcha, and red bean all play a central role in these desserts, which are quite a bit lighter than their Western counterparts.
Stop by one (or both) of these shops if you have a bit of room left after your Chinatown meal!
This trendy shop features Bingsu, a Korean shaved-ice dessert, as well as other Asian-inspired drinks and desserts.
The melon Bingsu was pure refreshment, with big chunks of honeydew, tender shaved ice, some crunchy rice bits, and chewy mochi chunks.
Other goodies that caught my eye included the black sesame and red bean bingsu, matcha strawberry waffle, yuzu lemonade, and Thai latte.
Address: 106 Mott St.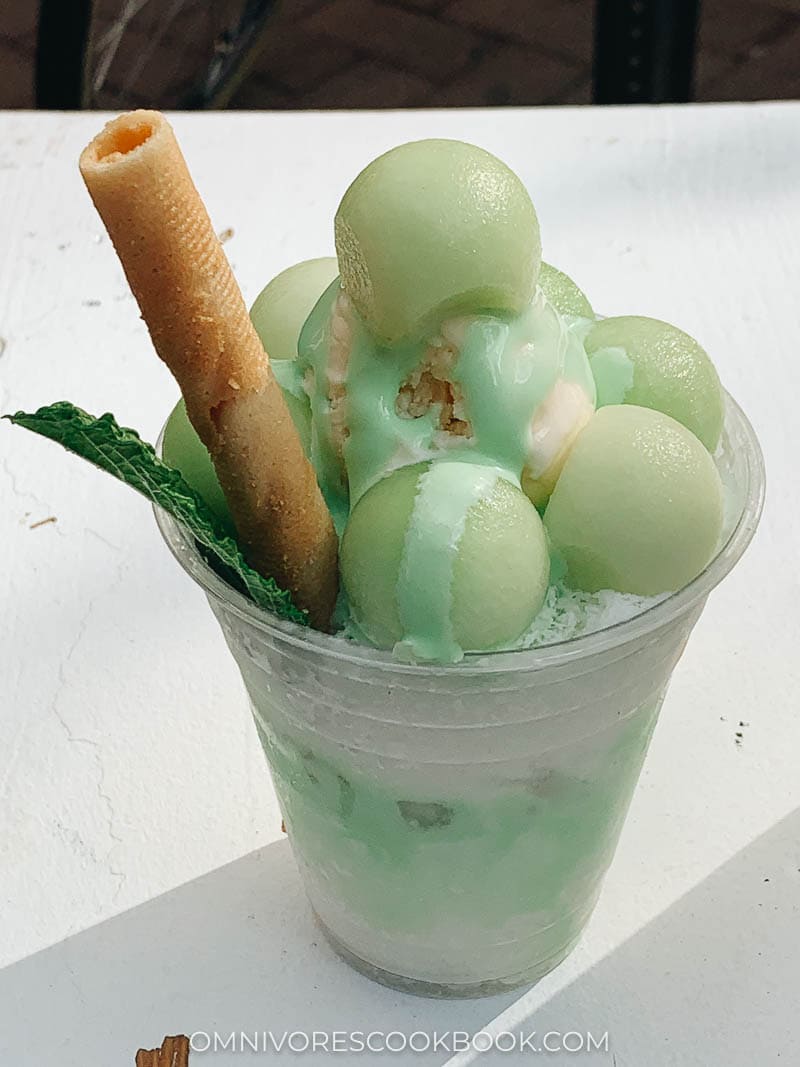 Mango is unsurprisingly featured prominently in the desserts and drinks here, though the menu is vast and has many tasty non-mango items as well.
My favorite dessert has fresh mango, sticky black rice, red bean, coconut milk, and some shaved ice. It's got so many fun flavors and textures and is not heavy at all. I even shared a recipe a few years back because I love this dessert so much.
Other classics include mille crepes cakes, fresh fruit sundaes, hot walnut soup, and watermelon smoothies.
Address: 63 Bayard St.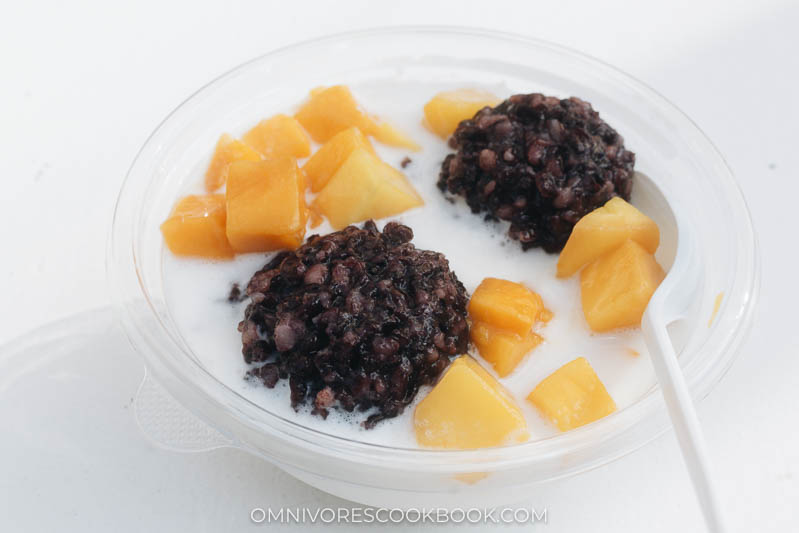 More Chinatown guide:
Do you have any favorites I didn't mention? Or questions about visiting Manhattan Chinatown? Let us know in the comments. Thanks for reading and happy eating!