If you're looking for fresh, delicious, and authentic Chinese food in NYC, you don't necessarily need to go to Lower Manhattan. Join us for a walk through Sunset Park Chinatown in Brooklyn, as we explore restaurants, cafes, bakeries, supermarkets, and produce stands to find all kinds of Chinese goodies.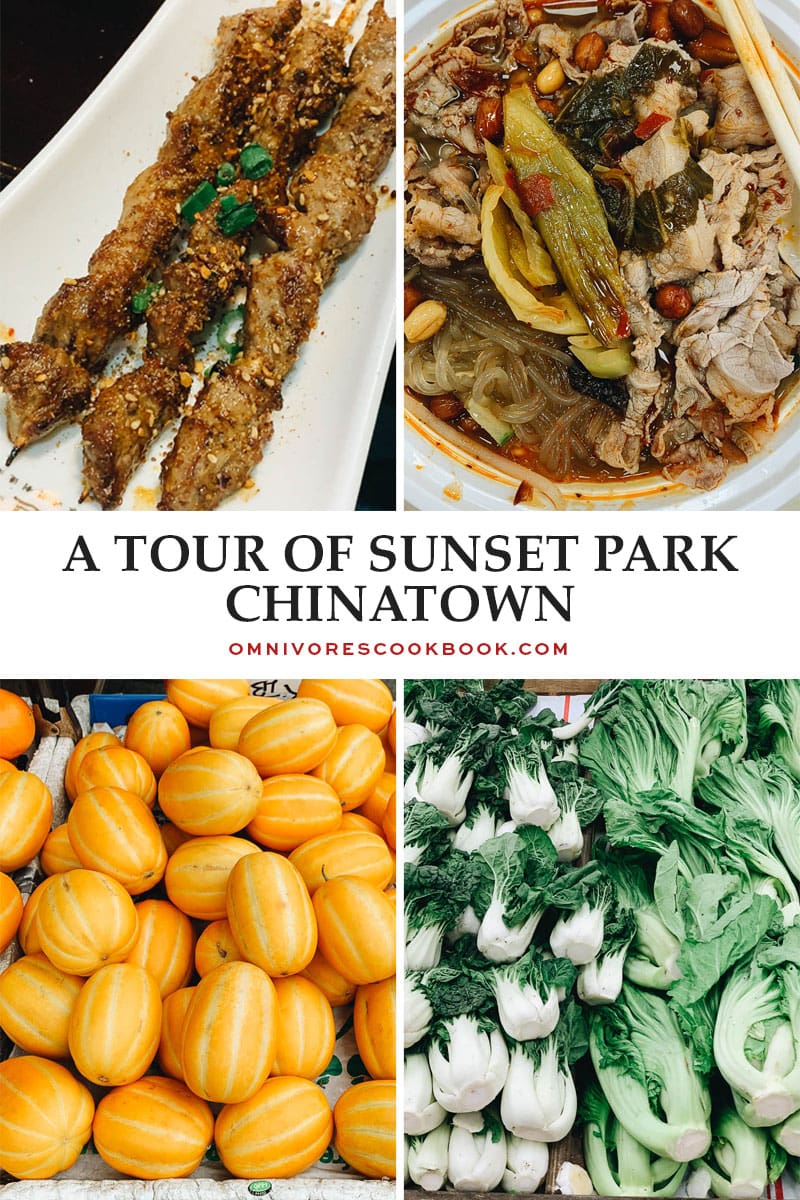 One of NYC's Many Chinatowns
While Manhattan's Chinatown is the most well-known Chinatown in New York, the city has no fewer than nine(!) of them. The three largest neighborhoods are the one in Manhattan, the one in Flushing, Queens, and the one in Sunset Park, Brooklyn.
Why Visit Sunset Park
Support Small Businesses
Part of the charm of Sunset Park is that it has more in the way of small mom-and-pop shops and fewer chains than either Manhattan or Flushing. The businesses aren't set up to cater to tourists, but rather to support the local community, which is around 30% Asian and overall very diverse.
Welcoming Community
With that diversity, the experience visiting Sunset Park is not that of a foreigner visiting a Chinese enclave, but that of collaboration between members of the larger community.
I felt this myself and noticed this from the rapport that many non-Chinese patrons had with Chinese shopkeepers, and this gives the place a vibrant communal energy.
Amazing Streetside Produce
Of the "big three" Chinatowns, I've been most impressed with the produce in Sunset Park. In all three, sellers take great care to only put out the freshest items, but Sunset Park had the best combination of variety and freshness.
The Asian varieties of sweet potatoes, celery, and chives were especially good, and less expensive than anywhere I've seen this side of the Pacific. And this time of year (April 2021), mangoes come at a very steep discount, as we're at the start of the Carribean mango season.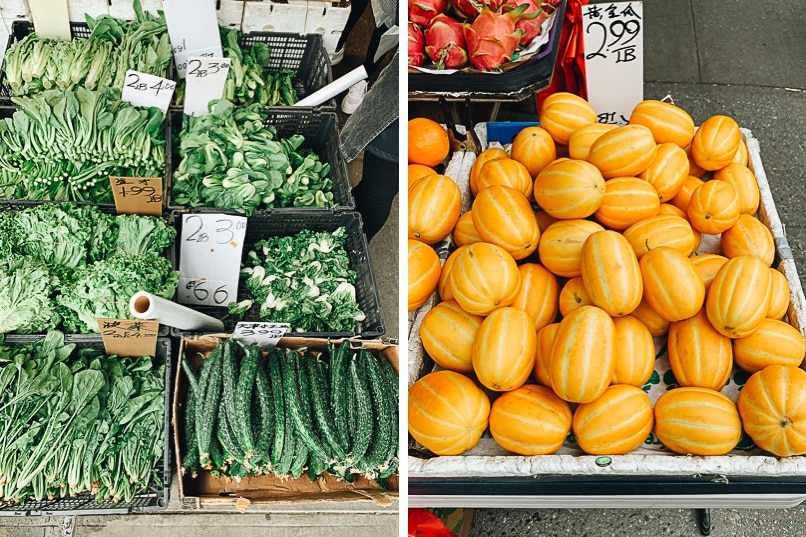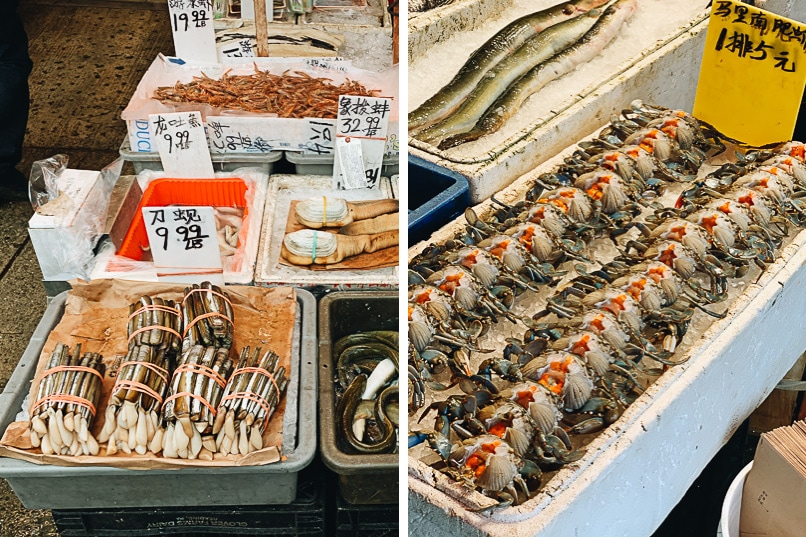 Food You Won't Find Elsewhere
There is some overlap between the types of food you'll find in each of the Chinatowns. All three have great dumplings, barbecue, and hot pot. But there are some restaurants that specialize in food I haven't found elsewhere in the city.
Sichuan Roast Fish
This is a common style of meal in China and was one of my favorites while I was still living in Beijing, but it's relatively unknown in the US.
You choose a type of fish, which is roasted whole, to develop amazing flavor, and served in a hugely flavorful sauce together with a variety of veggies, mushrooms, noodles, etc.
It's a glorious one-dish meal that you just can't stop eating. There are a number of restaurants specializing in roast fish in Sunset Park, but my favorite is…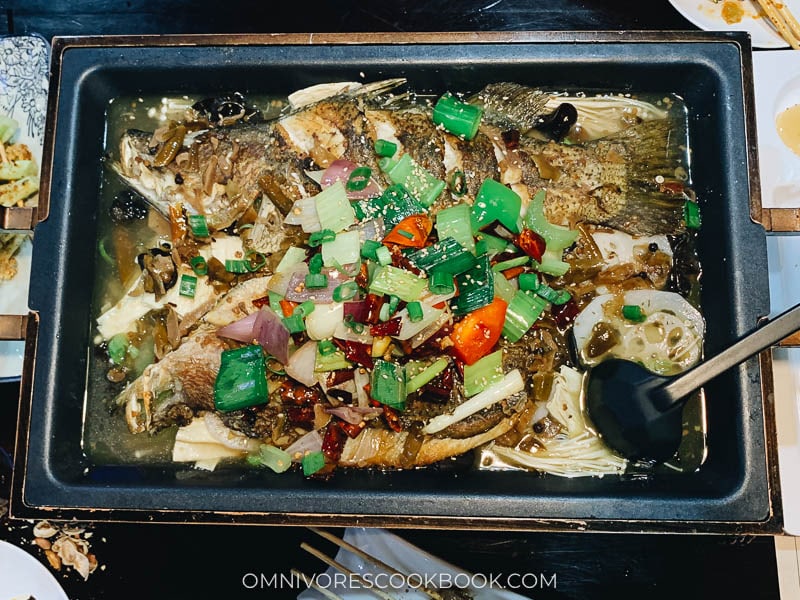 Where to Visit in Sunset Park Chinatown
Sichuan cuisine has a wide range of tasty dishes, from hot pot, to dan dan noodles, to spicy wontons. This restaurant specializes in two of my other favorites:
Sichuan Roast Fish – They offer seabass, largemouth bass, and tilapia for fish choices. For sauces, they have about 10, including the classic Sichuan spicy-numb (má là), fermented black bean (dòu chǐ), and hot and sour (suān là). And they have a wide variety of different add-ons. I love to get it with lotus root, celtuce, wood ear mushrooms, and tofu skin. If you're feeling adventurous, you can try adding spam or beef tripe!
Barbecued skewers – This is not exactly a Sichuan dish, but one that came to China from Central Asia and it is beloved around the country, especially outside during the summer. The seasoning is mostly cumin and chile powder and it goes on practically everything. They have the standard lamb, which is a must-order, plus mushrooms, cauliflower, corn on the cob, and so many more goodies. The skewers we had here really hit the spot.
Xun Yu Si Kao also has some typical Sichuan appetizers and entrees, and while we couldn't get enough of the roast fish or barbecued skewers, we did really enjoy the garlic cucumber (served cold and smashed with tons of umami) and pumpkin pancake (crispy outside, gooey on the inside with a fragrant chrysanthemum syrup).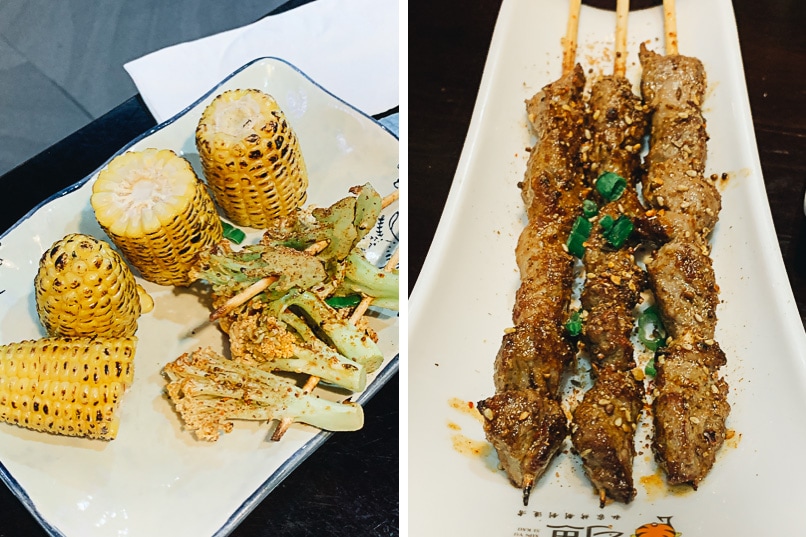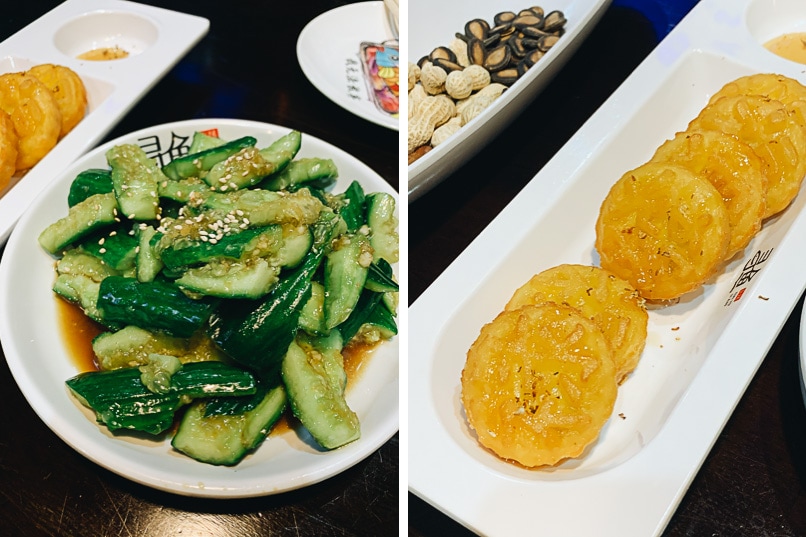 If you're looking for a spot to enjoy some hugely tasty, authentically prepared Sichuan specialities (maybe with some very reasonably priced drinks) Xun Yu Si Kao is a great choice!
Address: 5609 7th Ave, Brooklyn, NY 11220
With bubble tea places on every corner in Sunset Park Chinatown, it can be hard to decide where to go, but Mudflow has a lot to offer.
What I love about Mudflow is that they have a huge variety of different drinks, and they offer all the customizations to those drinks that you would get in China.
They have the classic teas with or without milk, creamy drinks without tea, fresh pressed juices, fresh fruit teas, and Yakult yogurt beverages. There's so much to enjoy, and everything we've tried has been very tasty.
The customizations help you make sure the drink is just right. Hot or cold? How much ice do you want? Sweetness level? Do you want tapioca pearls, herb jelly, red beans, aloe, whipped cream, etc. etc.? It is really helpful having all the options laid out so you can get the perfect combo.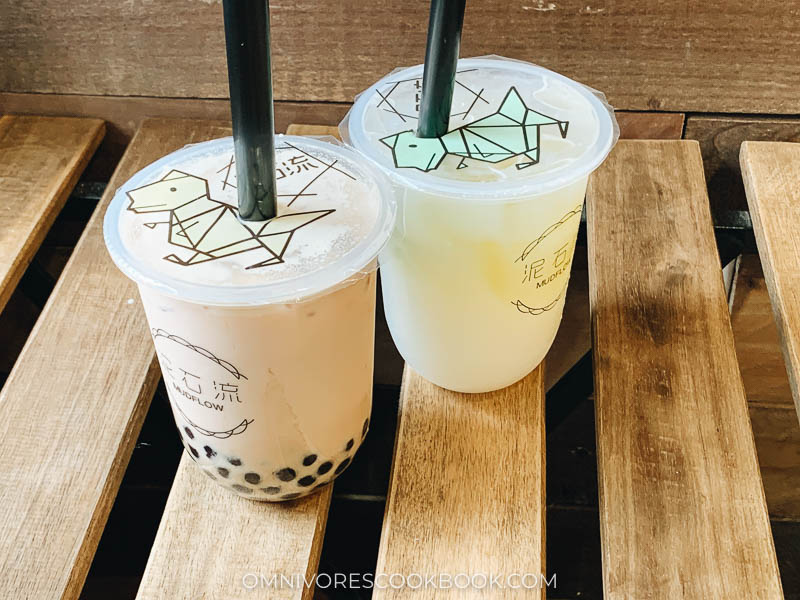 Some of our favorites are the lychee rose tea (super fragrant and quenching), the classic milk tea (exactly as it should be), and the mango Yakult yogurt (tangy and slightly creamy). While you can't go wrong with the good ol' tapioca pearls, the herb jelly and pop boba give you some really fun textures as well.
Stop in and get yourself a fun drink to sip as you explore the neighborhood!
Address: 5602 8th Ave, Brooklyn, NY 11220
Tung Sum Bakery for the Best Egg Tarts
Here you'll find a solid variety of Chinese baked goods, teas, and coffees sold by very friendly owners. While the baked goods are very good all around, they have the best Hong Kong egg tarts in the neighborhood (and possibly the city).
The shell is perfectly crispy and flaky and the filling is silky with just a touch of sweetness…
If you've never had a HK egg tart before, this is a great place to start. Pick up several – one to enjoy immediately, a few to share, and a few for later. 😉
Address: 3924 9th Ave, Brooklyn, NY 11232
Fei Long Market: Groceries and Food Court (with Parking!)
Sunset Park is optimal for navigating on foot and checking out the different food shops along the way, and if you're driving, Fei Long has a parking lot and makes a good place to start.
Their grocery selection should be sufficient to cook nearly anything on this website and their prices and selection are in line with the street vendors in the neighborhood. You may be able to find nicer produce at the smaller shops, but you can't beat the convenience at Fei Long.
They have a very extensive selection of fresh seafood and meat, again about what you'll find along the street, with some variation.
Their packaged groceries – tofu, fresh noodles, tea, snacks, etc. come in wide varieties, all authentic, so it's a great place to stock up on your favorites.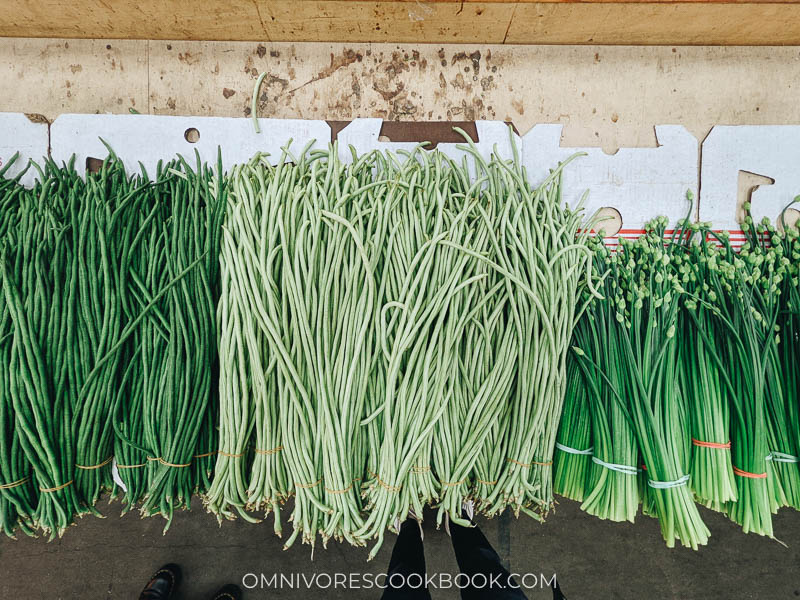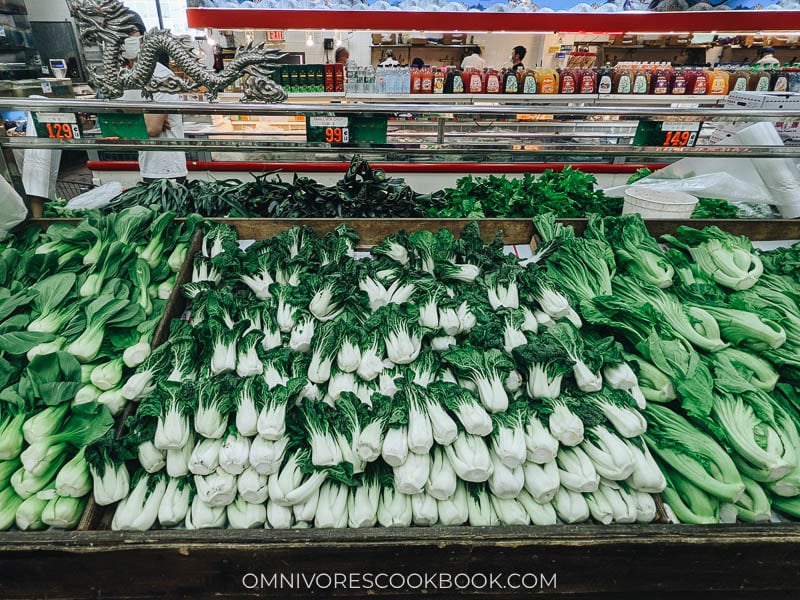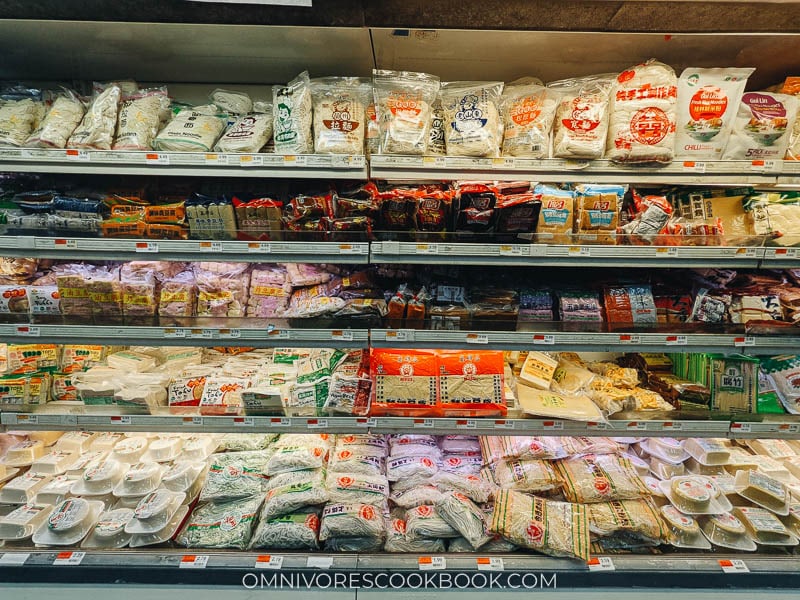 The food court, which is in the same building but has its entrance on the opposite side, is impressive. Locally owned Shanghainese, Xinjiang, Cantonese, and Sichuan restaurants sell all kinds of foods I used to enjoy back in China but that are hard to find in the US.
If you haven't seen someone making noodles or Xiao Long Bao (soup dumplings) by hand, you can watch it here. It's impressive the amount of skill and care that goes into these simple goodies.
Speaking of Xiao Long Bao, the ones at the Shanghainese restaurant by the entrance are top-notch – the skins are slightly thick and chewy and they make sure none of the rich, steamy soup leaks out until you bite into them!
(The Shanghai place also serves a $3 special that is my ultimate comfort breakfast – congee with century egg and you tiao ❤)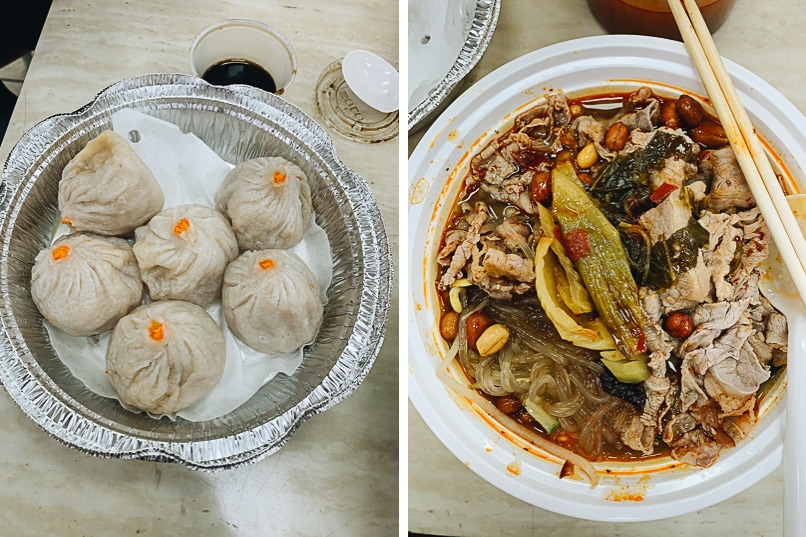 Overall, Fei Long has a lot of good things in a single place. If you are passing through and only want to visit one place, this could be it. They'll give you a free hour of parking if you show them a receipt from the supermarket with $30 spend; otherwise it's $5 per hour, which is decent (parking on the street is free but sparse).
Address: 6301 8th Ave, Brooklyn, NY 11220
Don't Forget Sunset Park Itself
You'd be remiss to visit Sunset Park's Chinatown without stopping by the neighborhood's namesake park to relax for a moment.
The park isn't huge on the scale of Central or Prospect Park, but it has great energy and a panoramic view of the Manhattan skyline and Statue of Liberty that is hard to beat.
Just sit and watch, as Chinese grannies do synchronized aerobic dances to peppy music, young parents take the whole family for a walk with the dog, and older gentlemen sit and play dominoes to pass the time.
And like parks all around the city, Sunset Park's horticulture has been carefully planned, with staggered blooms and growth, so that there are flowers and plants to appreciate at any time of year.
7th Avenue &, 43rd St, Brooklyn, NY 11232
Special Thanks to Lilja
Lilja Walter, a member of the Omnivore's Cookbook team, was instrumental in helping put this guide together. She knows the neighborhood extremely well and provided her guidance on which places to visit.
Final Thoughts
Stay tuned for more tips on where to explore, dine, and shop in New York's Chinatowns! We have much more to share, both from Sunset Park and from other neighborhoods. And if you have a favorite spot that we missed, here or elsewhere in the metro area, let us know!