Win Son in Brooklyn serves some of the best Taiwanese I've had anywhere, and they do it in a fashionable setting with a full complement of brunch and bar offerings. Read on for the full review.
Win Son: Elevated Yet Accessible Taiwanese Fare
I've been making an effort lately to share with you my favorite Chinese restaurants in the NYC area, and Win Son makes a very worthy destination thanks to their wonderfully prepared Taiwanese standards, creative takes on Chinese dishes, and great overall dining experience.
While I didn't eat Taiwanese food growing up, the flavors are instantly familiar to me, as Taiwanese cuisine is more than just Southern Chinese – in many ways it incorporates flavors and techniques from all over China.
The dishes on Win Son's menu are generally based on well-known Taiwanese (and generally Chinese) food, though they have cleverly used some more modern techniques and approaches to take many of these dishes to the next level.
And so while most of the dishes will not be served exactly as they would be, back in the old country, it was my experience that they did remain true to the spirit of the original dishes, capturing the wonderful textures and flavor and adding a bit of embellishment here and there.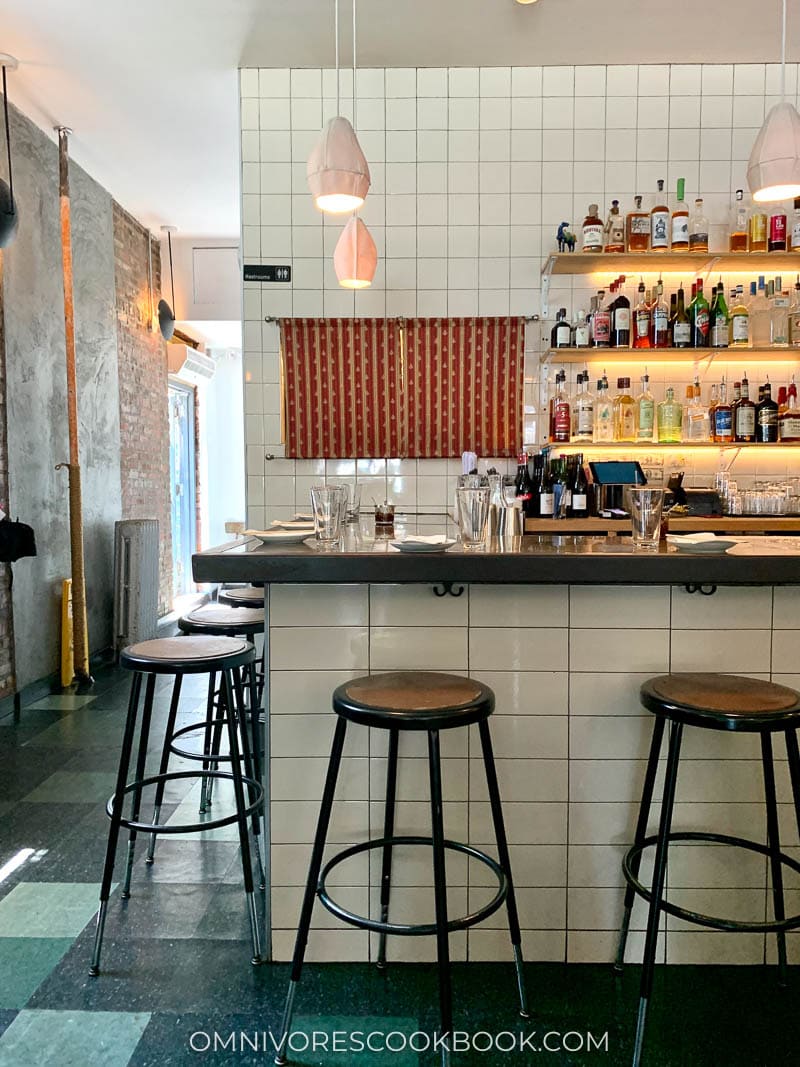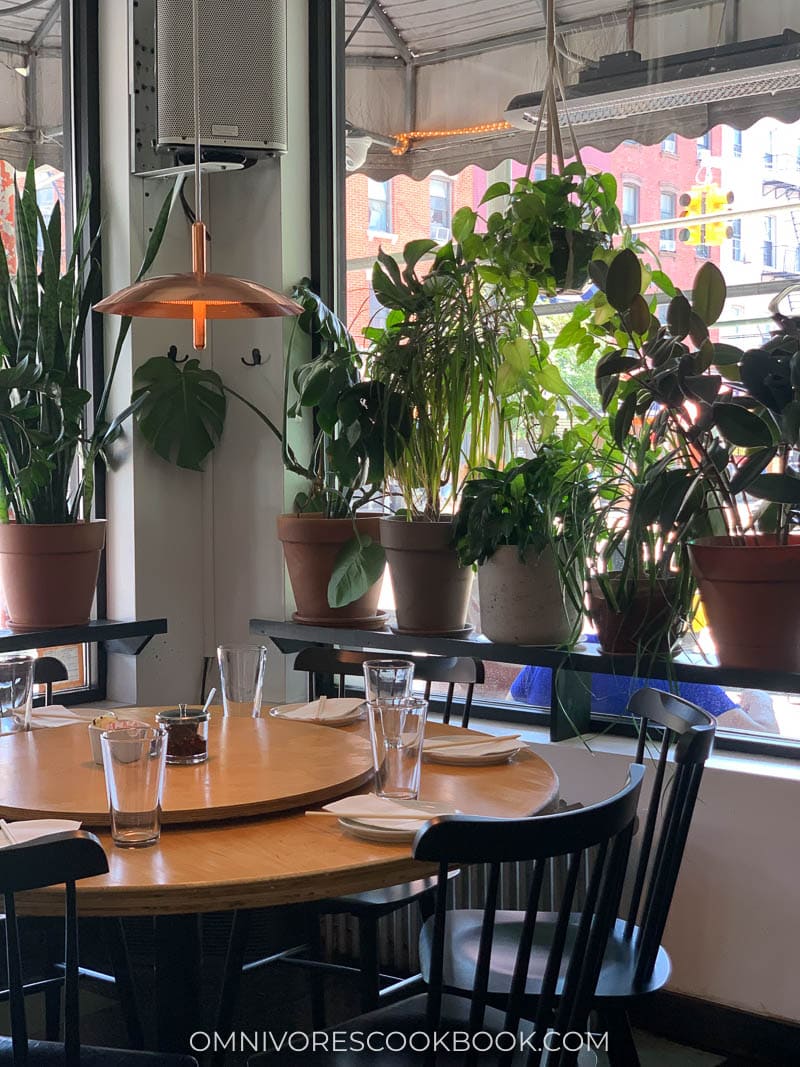 Sharing is Caring, Especially at Chinese Restaurants
I have said this in previous restaurant reviews and I'll say it again: share your food!
While the dishes at Win Son are tasty and substantial enough to warrant just ordering one thing for yourself and sticking with it, your meal will be so much better if you can share what you've got and try what others have. Or make everything you order communal.
The Dishes
Lu Rou Fan
This is a quintessential Taiwanese dish that I was familiar with (and had previously developed a recipe for) but wasn't sure what to expect at Win Son.
If I'm being honest, their version is quite a bit tastier than mine! The sauce is a perfect Chinese master sauce – super rich umami with a touch of five-spice – and their marinated eggs are right in the sweet spot of gooey runniness.
Also, this dish typically includes large chunks of pork fat, but Win Son thankfully toned that down substantially.
Overall, the dish is a comforting combination of savory pork, sunny side up egg, rice, and crispy onion. I recommend this dish above all others mentioned here.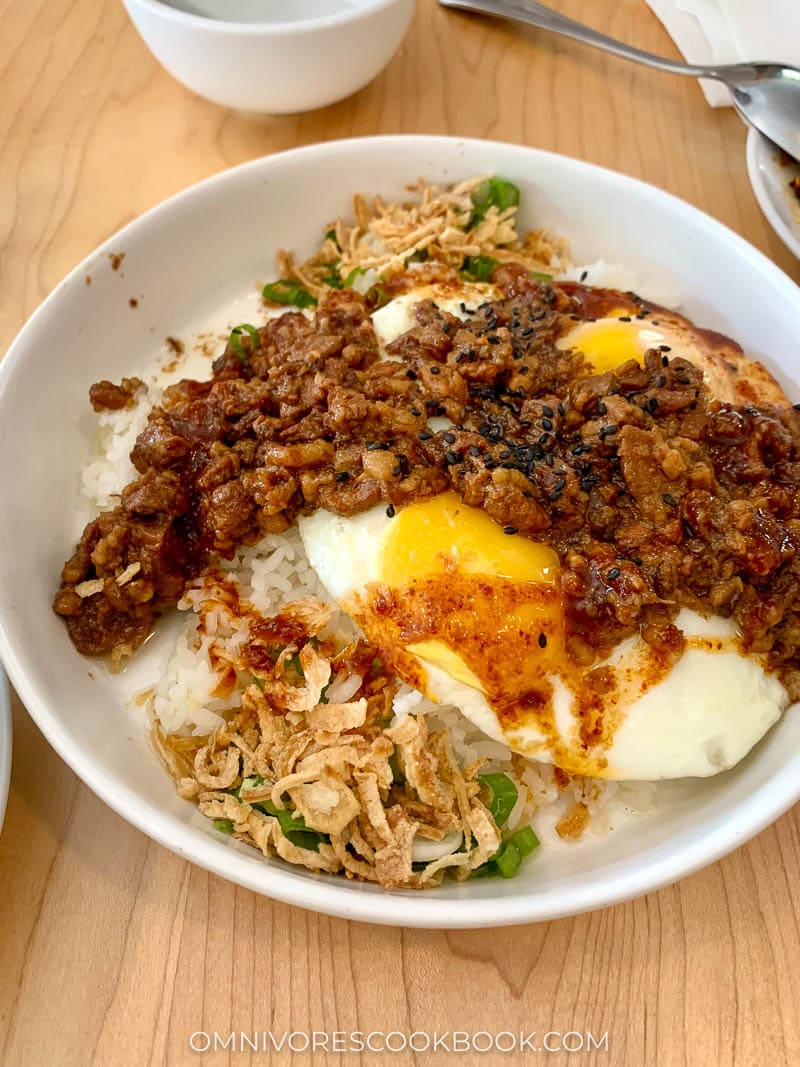 O-A Jian (Oyster Omelet)
This is another very typical Taiwanese dish, usually a street food item whereby several whole oysters are cooked into a simple egg omelet and sometimes dressed with a bit of sauce or toppings.
Win Son's version includes shrimp in the omelet as well, and there's a bit of sauce and toppings that really give the dish a lot of dimension.
The best part of this dish is biting into a just-cooked oyster buried within the egg. It's like a bite of the sea.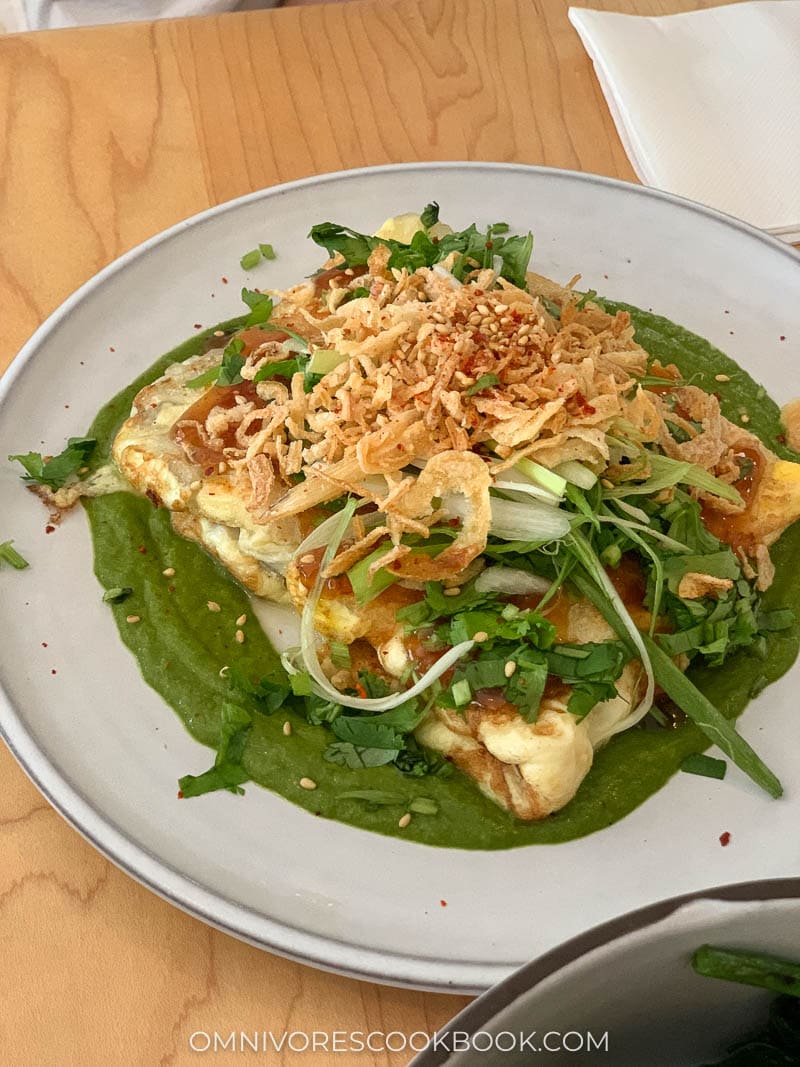 Beef Roll
I'm not sure if this is a typical food item in Taiwan, but it seemed to combine some things that I really love, and the dish was a joy to devour.
It's a wrap, where the outer layer is a scallion pancake (typical Chinese street food) and the filling consists of fantastically tender beef shin meat.
The wrap was a nice balance of chewy and flaky and oniony and the meat was on point. I haven't eaten much beef shin, but the texture was a little like beef tongue – super tender and fairly dense, with just enough fat for a great mouthfeel.
The toppings give the dish a ton of dimension – you've got lime juice, fresh herbs, garlic and ginger sauce, and chili peppers.
Overall, it's a nice meaty wrap that's so well balanced that you won't be able to stop eating it.
Pea Shoots
I'm a total sucker for pea shoots, since they're the best green vegetable to ever exist, but Win Son's shoots are especially tasty.
They impart a perfect wok hei into the shoots, so you get a lovely subtle smokiness. And they nail the delicate balance needed to cook the shoots just enough, so they're bright green and somewhere between crisp and tender.
If your spread needs a veggie dish, you can't go wrong with this.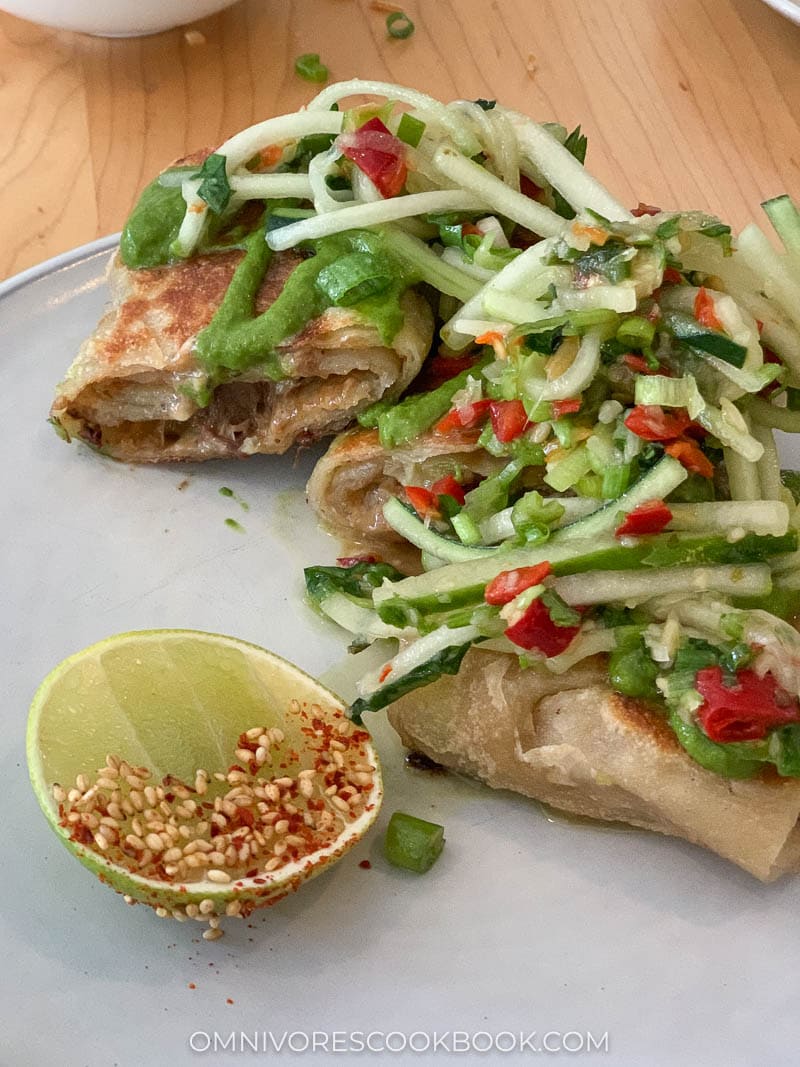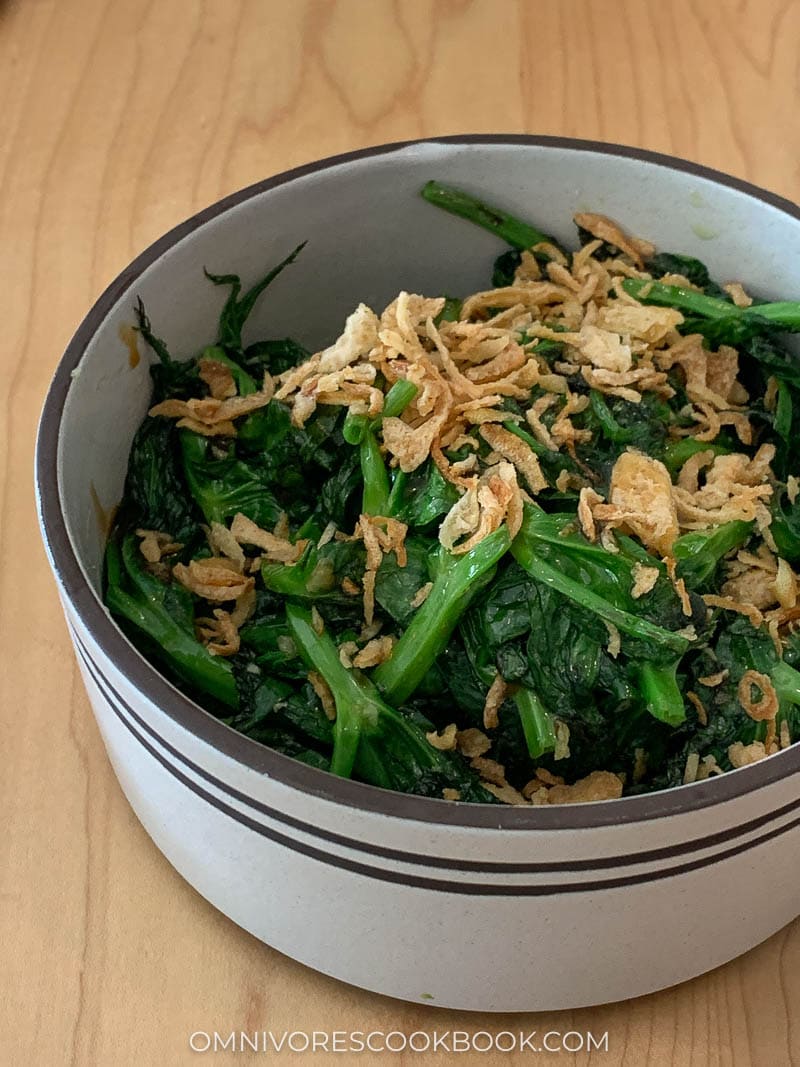 You Tiao with Soy Milk (Brunch Only)
I was delighted to see this on the menu. Somewhat of a universal breakfast in China, it's a long, fried dough stick (unsweetened donut, basically) that you dip in a bowl of sweetened (or salty) soy milk.
They fry it nice and crispy and it's just fun and satisfying to dunk it as you eat it.
You can also get this without the soy milk, but I highly recommend having something to dunk it in or drink with it, like tea or coffee.
Cocktails and Other Drinks
While the food alone is worth the visit, Win Son has also done a great job curating wine and concocting cocktails to complement the food.
Their wine list features varieties that work especially well with the umami and sometimes spicy dishes – albariño, riesling, gewürztraminer, and grüner veltliner are all wines that I've successfully paired with Chinese food.
The cocktails range from classic to unusual and may feature uncommon Asian ingredients. They range from a classic mimosa to a sesame-rum-coconut "Breakfast of Champions".
Lastly, if you're curious to try Baijiu, their Ming River Sichuan Baijiu is surprisingly nice – smooth and fruity with huge pineapple notes.
Come for Brunch or Dinner
While Win Son's menu may not be too different between brunch and dinner, there are a couple of things to consider:
There are some brunch-only items that are worth trying

You Tiao as mentioned above
Chicken and Waffles – made with a bit of Taiwanese flair, including sesame waffles and a topping of fried basil

Likewise there are some notable dishes that you can only get at dinner time:

Fly's Head – it sounds weird, but is a really tasty mix of stir fried minced pork and garlic chives; also available in a tofu version)
Zha Jiang Mian – a classic Northern Chinese fried-sauce noodle dish, which they have embellished with lamb
Final Thoughts
If you're curious about Taiwanese cuisine or just interested to try some really tasty food, Win Son will not disappoint you.
Even if nothing on the menu looks familiar, the flavors are not unusual at all, and I'd say they're really comforting.
Since I don't live in the city anymore, it's at least a half-day trip to visit Win Son, but I still find the visits well worth it. I hope you give it a try if you have the chance!
WIN SON RESTAURANT
159 graham ave
brooklyn, ny 11206
(Win Son also has a bakery / coffee shop that is right across the street. It offers light bites, Chinese pastries, coffee and tea.)