Level up your roasted potatoes with five spice powder and extra garlic!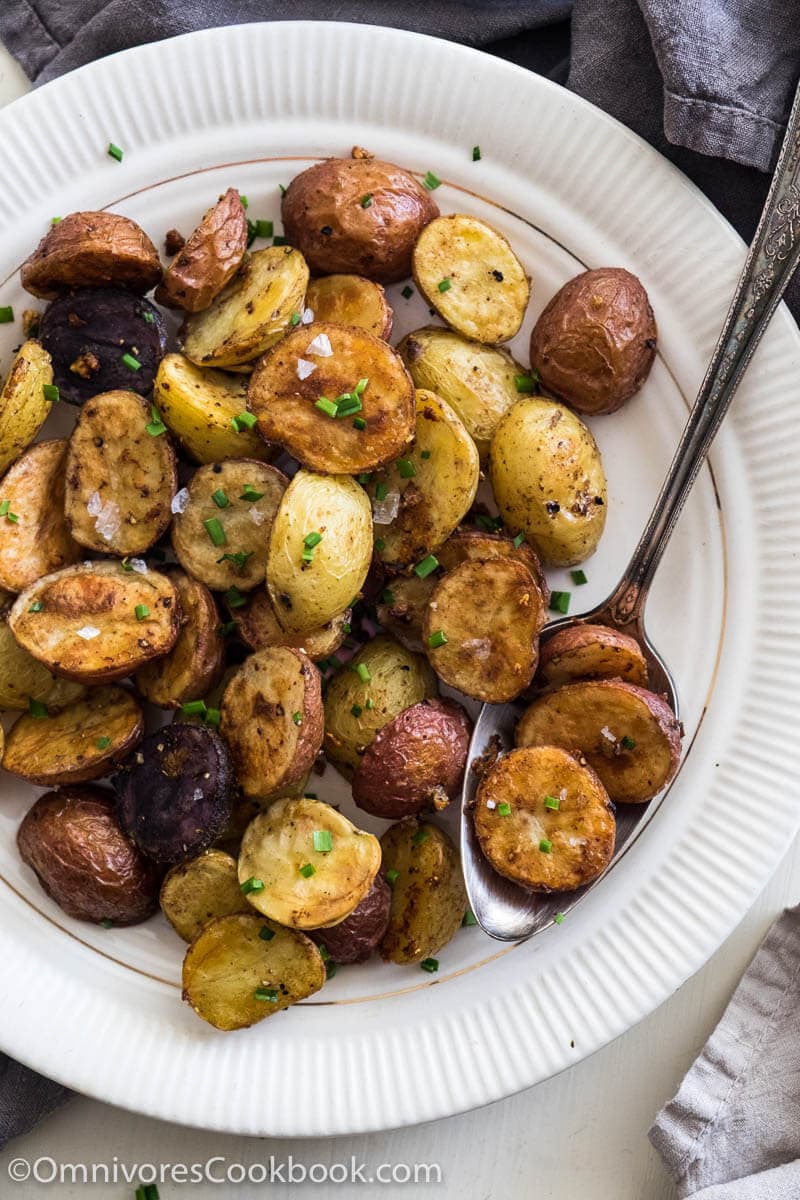 Nothing says "family gathering dinner" quite like roasted potatoes. They are beloved by kids and adults alike, take no time to prepare, and they're very easy to make.
If you like bold flavor as much as I do, try adding five spice to your roasted potatoes and you'll be surprised by the result. Simply split the baby potatoes into half, toss with olive oil, crushed garlic, five spice, salt and pepper, and stick them into a hot oven. You'll get beautifully charred potatoes with a warm taste and crispy garlic to go with it.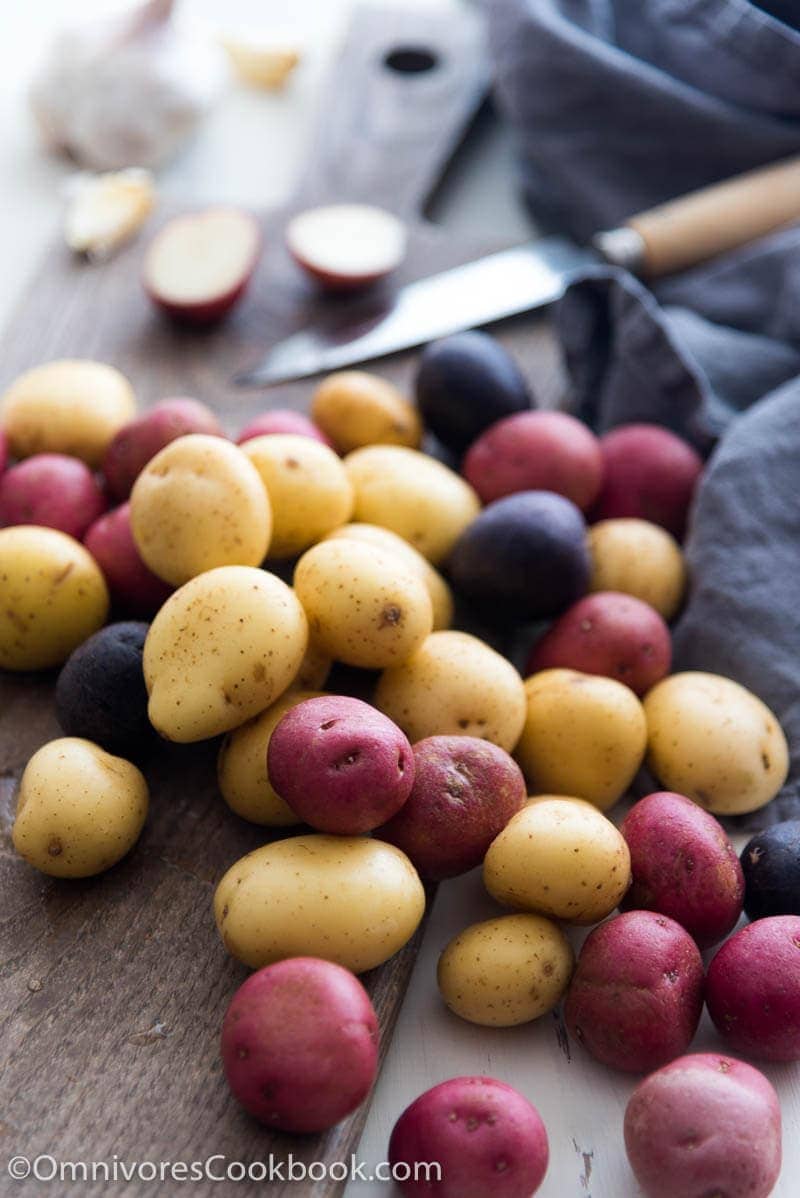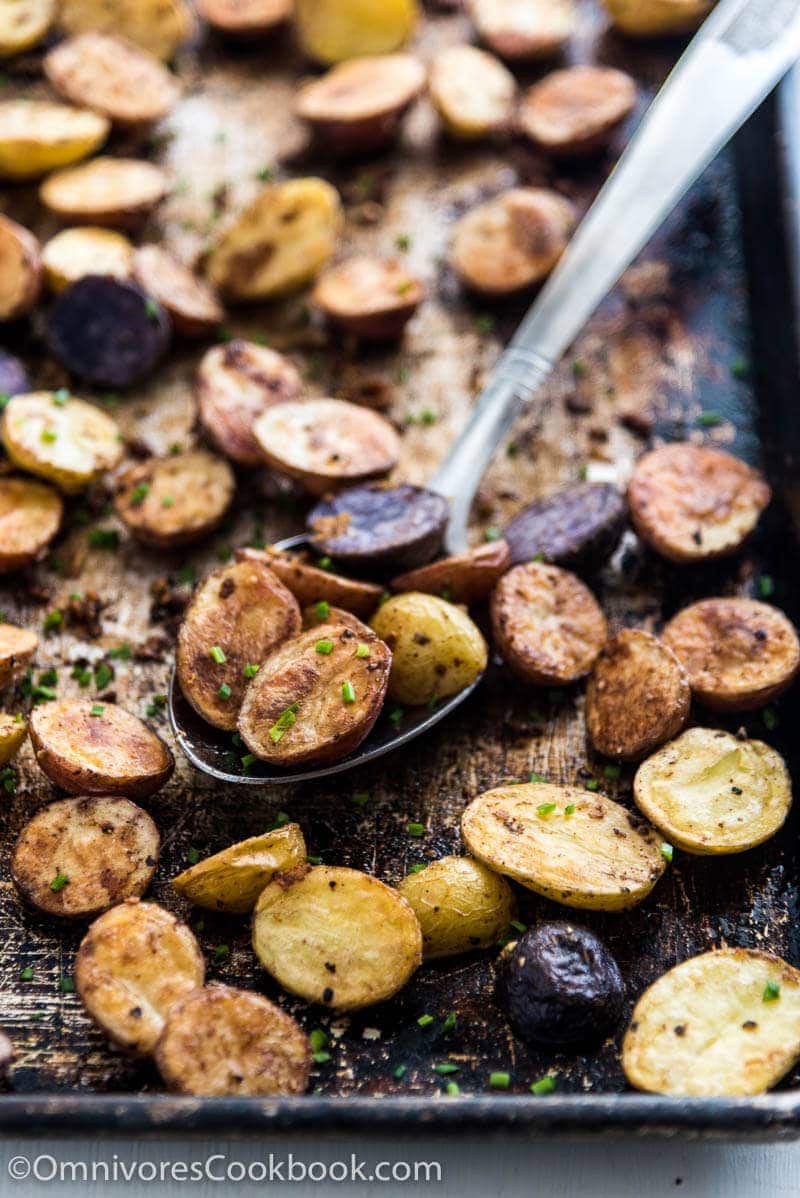 I love using colorful baby potatoes to make this dish for  great presentation, but you can use Yukon or red potatoes as well. To properly brown the potatoes, make sure to pat them dry after rinsing.
The best way to deal with garlic is to crush the cloves by using a garlic press without peeling. If you do not own a garlic press, you can grate them instead.
If you have 5 minutes extra, make sure to make your own five spice powder instead of using the bottled one from the grocery store. You'll thank me later!
You can serve these potatoes with braised pork shank, roasted turkey breast, and honey soy glazed salmon. For a light healthy dinner, serve them with a green salad and bring them together with a simple vinaigrette. They also pair beautifully with just about any poultry, steak, and fish dishes. They are also delicious and satisfying on their own, drizzled with honey sriracha yogurt sauce and topped with bacon bits.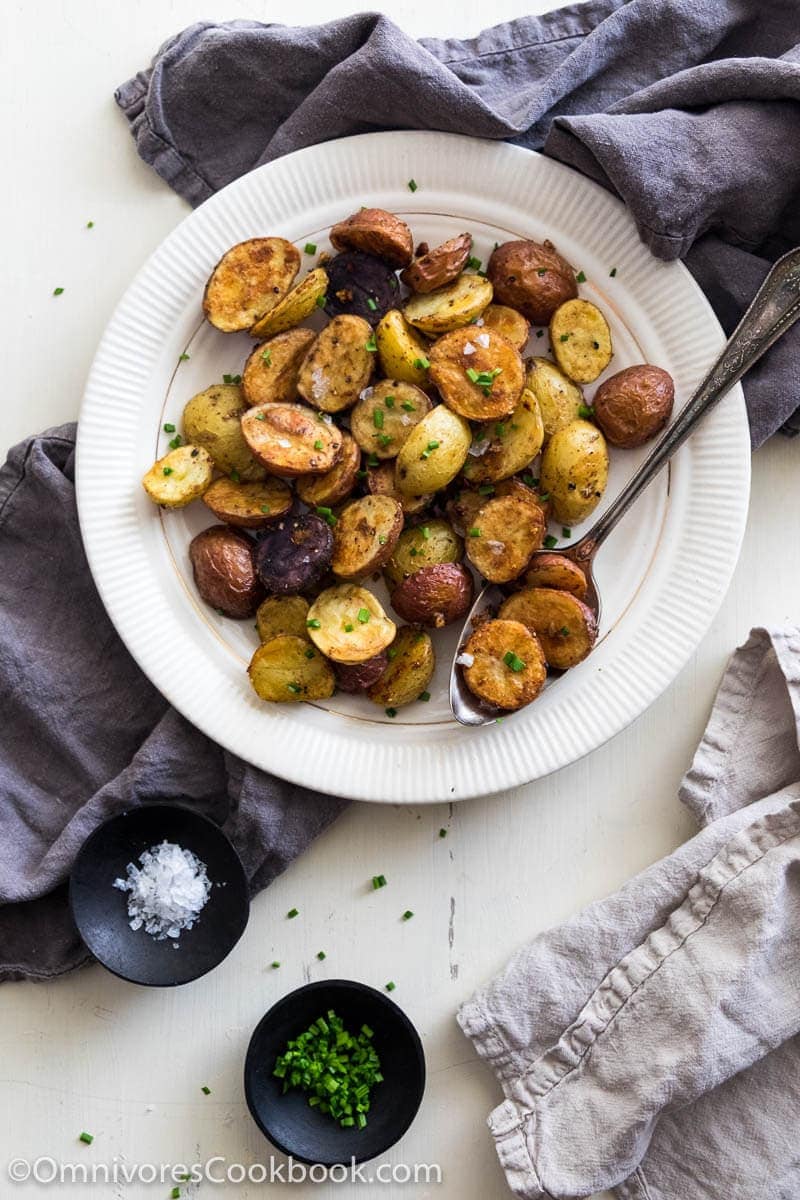 This post is for Day Three of the #PotatoPalooza event co-hosted by Bowl of Delicious, Panning the Globe and Omnivore's Cookbook. Check out what recipes the others posted today!
Special thanks to the Idaho Potato Commission for sponsoring #PotatoPalooza 2016! For more delicious potato recipes, check out Idaho® potatoes' website.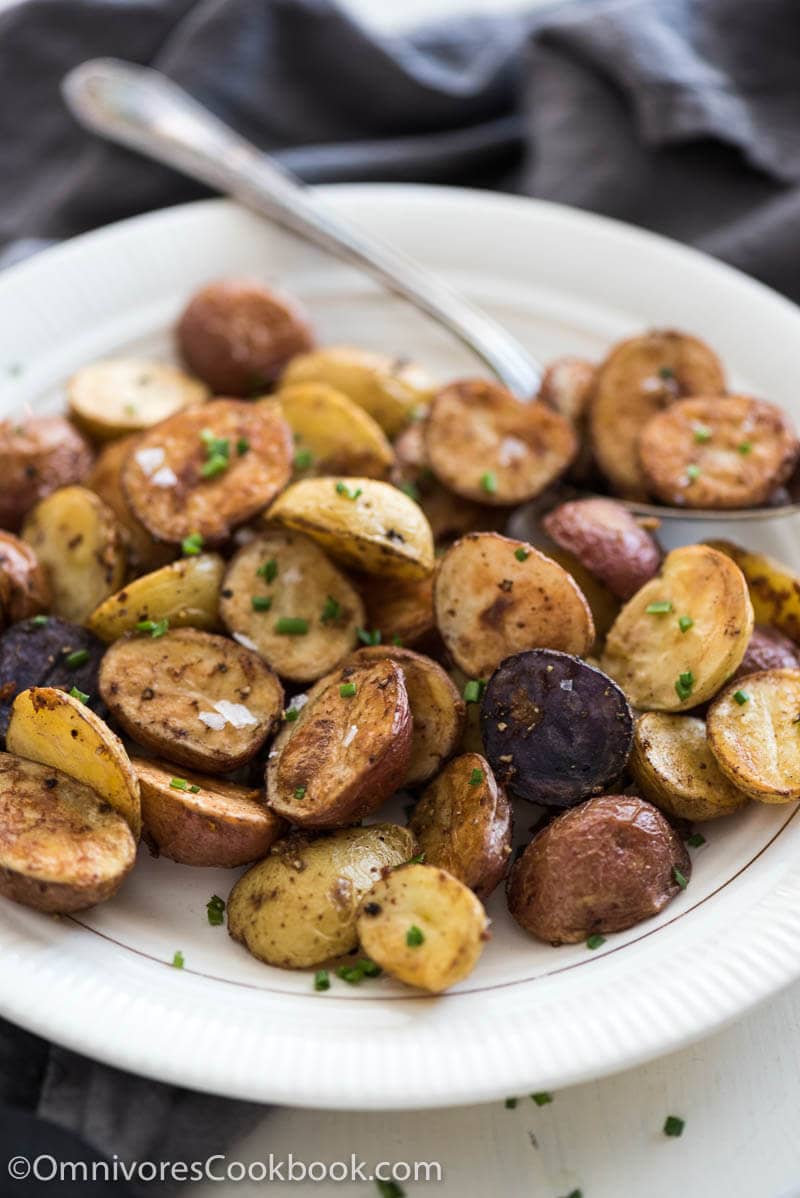 Want to Know More?
Receive our 5-Day Chinese Cooking Crash Course & Recipe Updates! Subscribe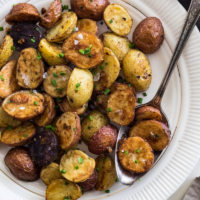 Five Spice and Garlic Roasted Potatoes
Level up your roasted potatoes with five spice powder and extra garlic!
Ingredients
1.5

pounds

baby potatoes

white or red

2

tablespoons

olive oil

3/4

teaspoon

fine sea salt

1/2

teaspoon

five spice powder

(homemade five spice powder works better)

1/2

teaspoon

black pepper

, freshly ground

6

big garlic cloves

, minced

2

teaspoons

minced chive

(or green onion for garnish)
Instructions
Preheat the oven to 200 degrees C (400 F).

Halve or quarter potatoes into even size pieces. Transfer into a big bowl. Add olive oil, salt, five spice powder, black pepper, and garlic. Toss until the potatoes are well coated.

Transfer the potatoes onto a baking sheet, and shake gently to spread to a single layer. Roast in the oven for 40 minutes to 1 hour, until browned and crisp. Shake the pan and flip the potatoes after 30 minutes to ensure even browning.

Toss potatoes with chives and serve hot.
Nutrition
Serving:
184
g
,
Calories:
185
kcal
,
Carbohydrates:
28.4
g
,
Protein:
3.2
g
,
Fat:
7.2
g
,
Saturated Fat:
1
g
,
Sodium:
362
mg
,
Potassium:
715
mg
,
Fiber:
4.2
g
,
Sugar:
2
g
,
Vitamin A:
50
IU
,
Vitamin C:
48.7
mg
,
Calcium:
30
mg
,
Iron:
1.1
mg