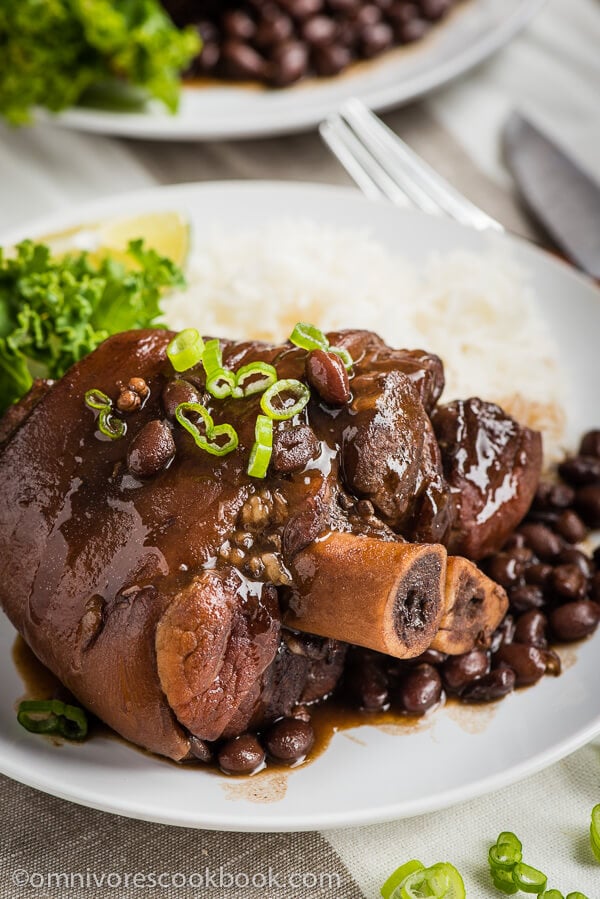 The braised pork shank is so tender that the meat falls from the bone at the slightest touch. The rich sauce is enhanced by the velvety black beans. This is an easy one-dish meal that requires very little active cooking time and ensures the best flavor.
My fridge almost never runs out of braised meat. It is so easy to cook in large batches and freeze for later use. The recipe might look a bit long, but all you really need to do is to brown the meat, dump all the spices in, and let it cook for several hours.
I have posted quite a few braised recipes on my blog, including braised spare ribs, braised chicken, and braised duck leg. Those are all part of my Mom's best series, which contains family recipes handed down from my grandma.
However, the recipe today is a bit different. It's a recipe from my reader Steve, who learned it in a cooking class taught by Chef Ying Sak in Bangkok (Thanks, Steve, for sharing this wonderful recipe!). I cooked it last weekend, with a few small tweaks, and loved how it turned out. Today I'd like to share it with you!
The finished pork shank is moist and tender, with an intense savory taste. The browning and braising will create a nice char on the skin and remove most of its fat, so it won't taste greasy at all.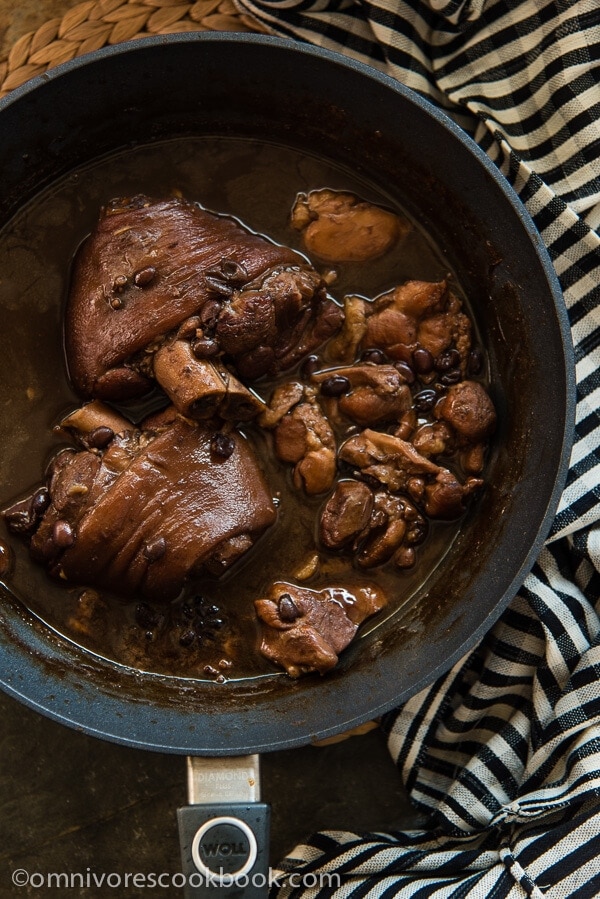 Why you should add chicken into braised pork
There is a new thing I tried when cooking this dish that I really like. I added a few chicken thighs and some black beans in the middle of braising – a super convenient way to get some extra cooking done. The pork broth infuses a great flavor into the black beans and chicken. And the starch from the beans thickens the sauce to create a velvety texture.
You can serve this chicken with rice or noodles, add it into a salad or stir fry, or use it to create pulled chicken sandwiches and tacos.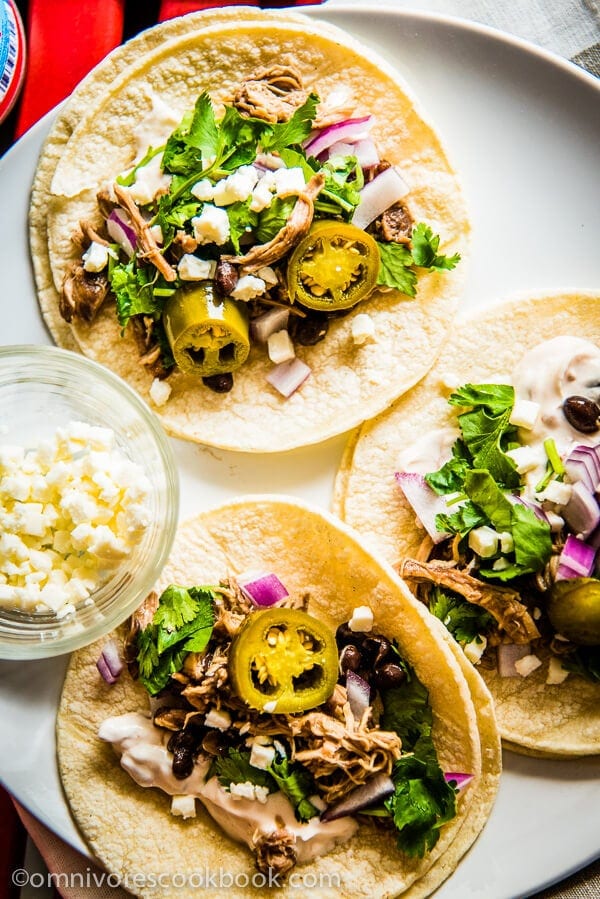 The same week I cooked this dish, I used the leftover chicken thigh to create some super delicious pulled chicken tacos for lunch. It's extremely easy to prepare and only took me 15 minutes to get 6 tacos done. I included the recipe below, but please feel free to tweak the ingredients the way you prefer. I basically used this to clean up things in the fridge.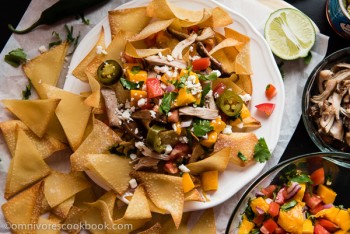 By the way, I have another bonus dish for you to use this chicken – Wonton Nachos with Pulled Chicken and Mango Salsa! It is a fun way of using wonton wrappers to create a colorful and healthy festival feast.
A few extra options when using this recipe:
You could skip the beans and chicken. If you're using a wok, the ingredients in this recipe will be enough to cook 4 pounds of pork shanks (2 big pieces or 4 if cut them into hocks).
You could add one more can of black beans to the recipe. In this case, you can create a one-dish meal with the beans and meat, without having to cook rice.
You could skip the beans and add cubed potatoes to create a one-dish meal, as well.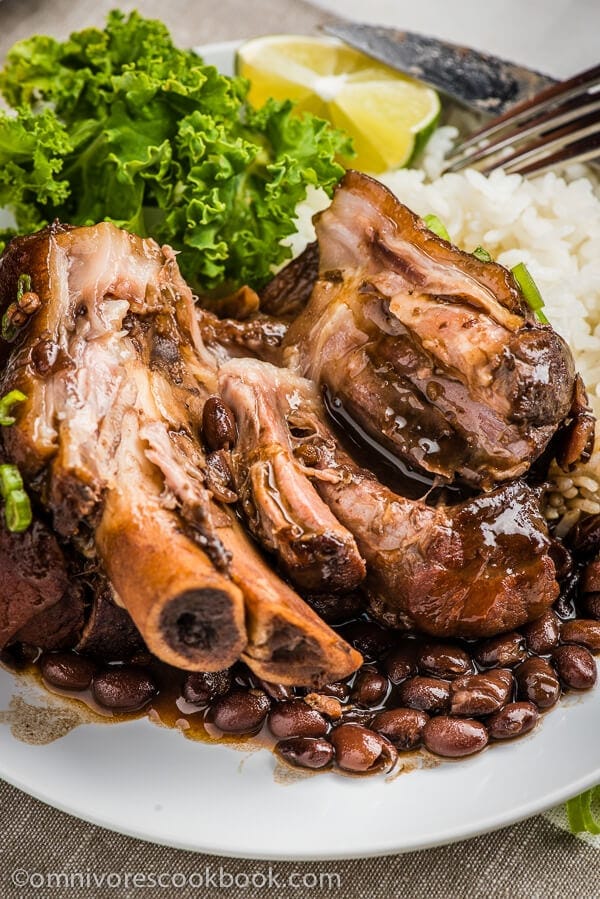 If you cook this recipe, don't forget to take a picture and post it on my Facebook fan page. I love seeing your photos!

Braised Pork Shank with Black Beans
Ingredients
1 pork shank or 2 pork hocks (about 2 pounds in total)
3 tablespoons peanut oil (or vegetable oil)
1 teaspoon coriander seed
1 teaspoon Sichuan peppercorns
5 cloves garlic
2 green onions (white part only)
1 thumb ginger, sliced
1 cinnamon stick (about 2 inches in length)
2 whole star anise
1/4 teaspoon five-spice powder
3 tablespoons light soy sauce
1 teaspoon dark soy sauce
1 tablespoon Golden Mountain Sauce (or light soy sauce)
2 tablespoons palm sugar (or white sugar)
(optional) 4 skinless chicken thighs
1 can (15 ounces / 400 grams) black beans (do not drain)
Instructions
Dry pork shank thoroughly with paper towel to remove moisture (to avoid oil splatter during frying).

Heat 2 tablespoons oil in a wok or a large dutch oven over medium high heat until warm. Add pork shank and let it roast for 2 to 3 minutes. Flip and cook the other side for another 2 to 3 minutes. Keep flipping and cooking, until the the entire surface is golden brown. Add 6 cups water (or more) to cover the pork shank.

Add Sichuan peppercorns and coriander seeds to a mesh tea strainer or infuser. (See footnote 1)
Add the tea strainer, garlic, green onion, ginger, cinnamon stick, star anise, and five-spice powder to the pot. Mix well.
Continue cooking to bring to a boil. Skim the foam from the surface until the broth is clear.
Cover and turn to low heat. Simmer for 40 minutes. The broth should continue boiling throughout the process.

Add light soy sauce, dark soy sauce, Golden Mountain Sauce and palm sugar. Mix well.

Cover and bring to a boil over medium high heat. Keep covered and simmer for 1 hour.
(Optional) Heat the remaining 1 tablespoon oil in a skillet over medium high heat until warm. Spread chicken thighs. Allow to cook without moving for 2 to 3 minutes, until the bottom side turns golden. Flip and cook the other side until golden. Transfer to the pot with the braising pork shank.

Add the black beans, along with all the liquid, into the pot with the pork. (See footnote 2)
Cover and turn bring to a boil over medium high heat. Keep covered and simmer for 1 hour, until the pork turns tender. If the broth runs low before the pork becomes tender, add warm water to cover pork.

If the broth is still thin, turn to medium high heat and cook uncovered until the sauce thickens. The starch from the black beans will help the sauce thicken, so there should be quite a lot of sauce (about half) left when it's finished cooking.

Serve the meat, beans, and sauce over steamed rice.
Store the leftovers in an airtight container in the fridge for up to a week, or in the freezer for up to 2 months.
If you have leftover sauce, do not throw them away! Add them to a bowl of noodles, so you can create a rich and hearty noodle soup effortless (see recipe here).

Notes
1. If you don't have a mesh tea strainer, you could add the spices into the wok, then scoop them out after 2 hours of braising, while the broth is still thin and the spices are floating on top.
2. You can add more beans as long as the wok (or pot, as the case may be) can hold them. You can serve the beans with the pork as a main dish without rice.
Pulled Chicken Tacos
Ingredients
2 braised chicken thigh with black beans (generated from the braised pork recipe above)
12 corn tortillas
1/2 can chipotle pepper with adobe sauce
1 cup Greek yogurt
1/4 cup chopped cilantro
1/8 red onion, minced
1/2 can pickled jalapeño
1/4 cup crumbled cheese
Instructions
Reheat chicken and black beans in the microwave until warm. Shred them with a fork.
Heat corn tortillas in a skillet on stove top until warm.
Chop and mix some canned chipotle peppers with Greek yogurt.
Chop cilantro and red onion.
Add shredded chicken and beans, yogurt sauce, red onion, cilantro, pickled jalapeño and crumbled cheese on 2 tortillas to make tacos.
Serve immediately.
The nutrition facts on the left are calculated based on 1 of the 6 servings generated by the braised pork recipe. The nutrition facts on the right are calculated based on 1 of the 6 tacos generated by the pulled chicken tacos recipe.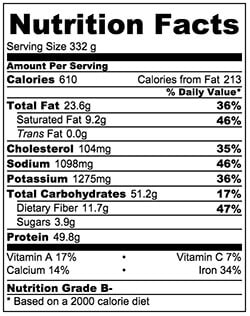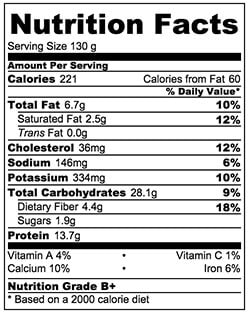 Serve the braised pork with: