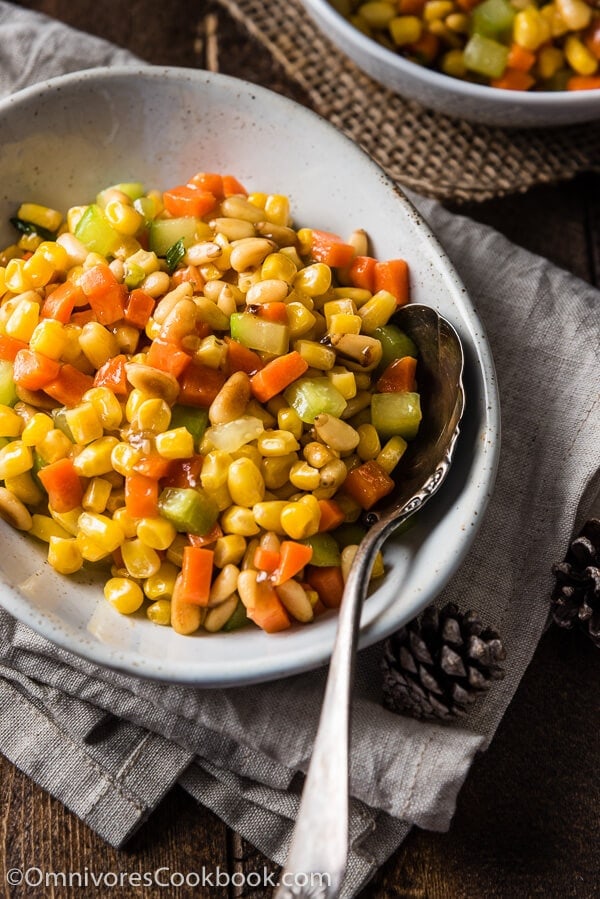 The sweet corn kernels, pine nuts, cucumber, and carrot are lightly seasoned with green onion, salt, and sugar. Every ingredient comes together to create a hearty meal that is nutty and sweet.
Stir fried corn with pine nuts (松仁玉米) is a famous northern Chinese dish I often ate growing up. It's one of those popular dishes that are quite unknown outside of China.
The dish may look plain, but it is loaded with goodies. The main ingredients are the sweet corn kernels and pine nuts. It might seem strange to cook a cheap ingredient with an expensive one, but once you try it, you'll find these two go really great together and create a very nice flavor that is nutty and sweet.

MY LATEST VIDEOS
There are quite a few versions of the corn and pine nut stir-fry. For extra color, people usually add carrot, cucumber, green peas, and/or bell peppers.
The version I'm introducing today is the northern Chinese style that I'd typically order in a restaurant. It is lightly seasoned with green onion, salt and sugar, with carrot, and cucumber for color. At the end of cooking, I use a chicken stock slurry to bring all the ingredients together.
This is a very simple recipe, but you need to take note of a few things if you want to create a delicious dish that is as good as the one in the restaurant.
The key is the ratio of the veggies. You want the main ingredient to be the corn. You can use some colorful veggies to add texture and color, but the total amount of them shouldn't exceed the amount of corn. And you should use enough pine nuts that every single bite has one or two pine nuts in it.
Unlike most of the stir fried dishes I've introduced on this site, this dish does not require a lot of herbs. In fact, it's OK to skip the green onion if you don't have any. This dish emphasizes the sweet and refreshing flavor of the corn and pine nuts, so you don't want to add anything that would overpower the main ingredients.
I added a chicken stock slurry at the end, which brings the ingredients together and makes the dish even more flavorful. If you want to make the dish vegetarian, simply replace the chicken stock with water. And if you do not like the idea of using potato starch, it is ok to skip this step too. The final dish will be slightly dry, but still taste good.
I hope you enjoy!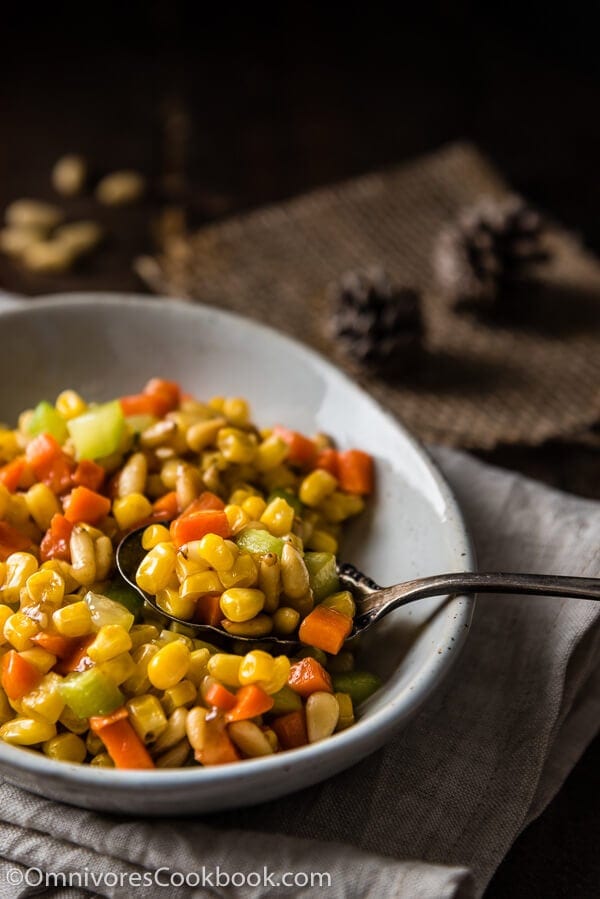 Do you like my recipes? Sign up for Omnivore's Cookbook's weekly newsletter to get the latest updates delivered to your inbox and a free e-cookbook! And stay connected via Facebook, Instagram, Pinterest and Google+. Thanks for reading and happy cooking!
Print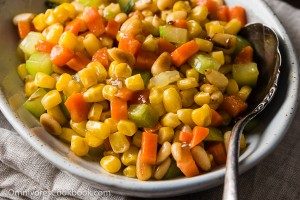 Stir Fried Corn with Pine Nuts (松仁玉米)
---
Author:

Prep Time:

5 mins

Cook Time:

5 mins

Total Time:

10 mins

Yield:

2

Category:

Side

Cuisine:

Chinese
Ingredients
1 teaspoon potato starch
2 tablespoons chicken stock (Or water)
1/4 cup pine nuts
2 teaspoons peanut oil (or vegetable oil)
1 teaspoon chopped green onion
1/3 cup cubed carrot
1 cup frozen corn
1/3 cup cubed cucumber (or frozen peas) (*See footnote 1)
1/4 teaspoon salt or to taste
1/2 teaspoon sugar
---
Instructions
Prep and chop veggies.

Whisk cornstarch into chicken stock. Set aside.
Add pine nuts into a skillet and heat over medium heat. Stir the pine nuts frequently. When the pine nuts start to turn golden brown, turn to medium low heat. Cook and stir until for another minute, until the pine nuts turn light brown. Transfer to a plate to cool.

Add oil to the same skillet and turn to medium high heat. Add green onion and stir a few times. Add carrot and corn. Stir and cook until the corn is thawed and the carrot starts to turn tender. If the skillet gets too hot, turn to medium or medium low heat. Add cucumber. Season with salt and sugar. Stir and cook for another minute, until the cucumber is cooked.

Turn off heat. Whisk the potato starch slurry again and swirl it into the skillet. Stir to mix well. (*see footnote 2)
Taste the dish and add a bit more salt if necessary.
Add toasted pine nuts. Stir to mix well.

Serve warm.
Notes
1. If you are using frozen peas instead of the cucumber, add the peas when you're adding frozen corns. They takes longer to cook than cucumber.
2. I added the chicken stock slurry at the end, so that the dish would be like the one that you'd find in a Chinese restaurant. If you want to make the dish vegetarian, simple replace the chicken stock with water. You can skip this step, too. The finished dish will be slightly dry, but still taste good.
The nutrition facts are calculated based on 1 of the 2 servings generated by this recipe.