Crispy brussels sprouts, caramelized onion, and spicy sweet sauce come together to make this irresistible vegan dish.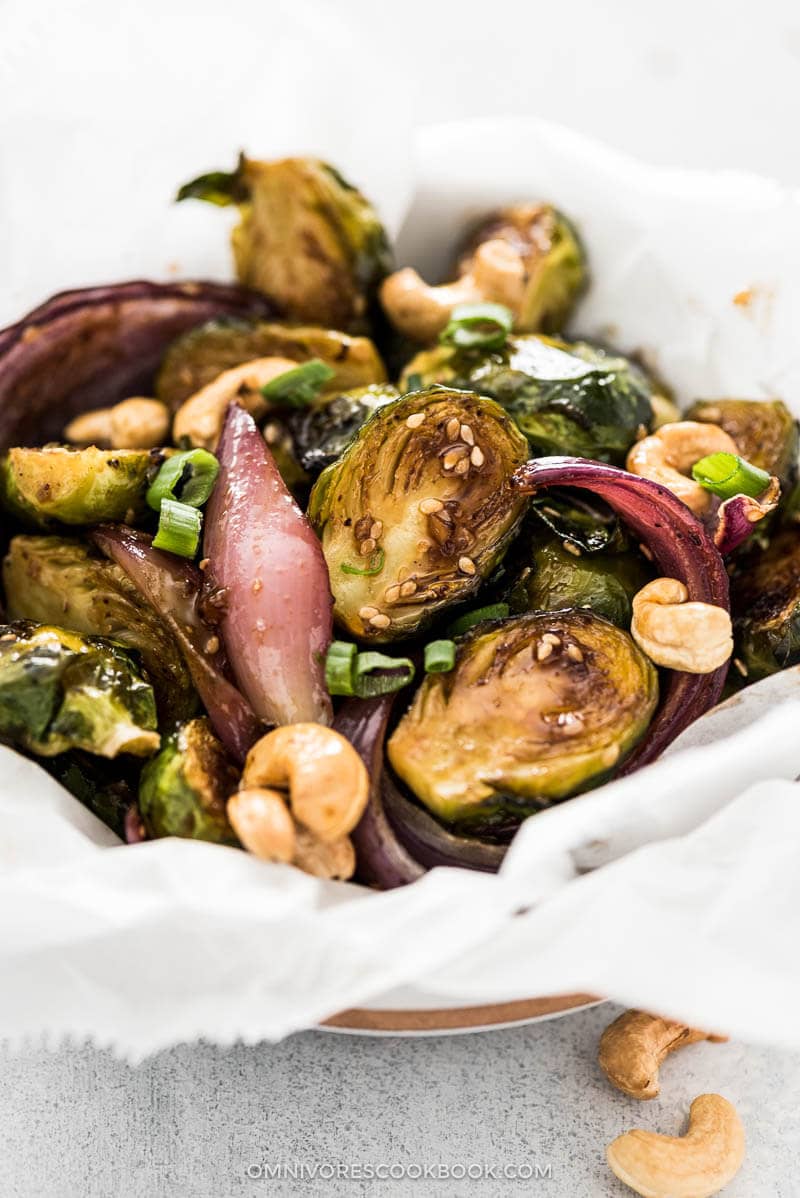 Roasted Brussels sprouts is one of my family's favorite dinner dishes. Crispy on the surface and tender inside, the sprouts have a mild flavor and are ever so slightly sweet. Somehow they give me the same sensation as eating chips, but in a much healthier way. As a quick dinner for two, I'd roast one pound of brussels sprouts, then cook some lean protein (fish fillet or chicken) on the stove top — the whole dinner comes together in 20 minutes or so.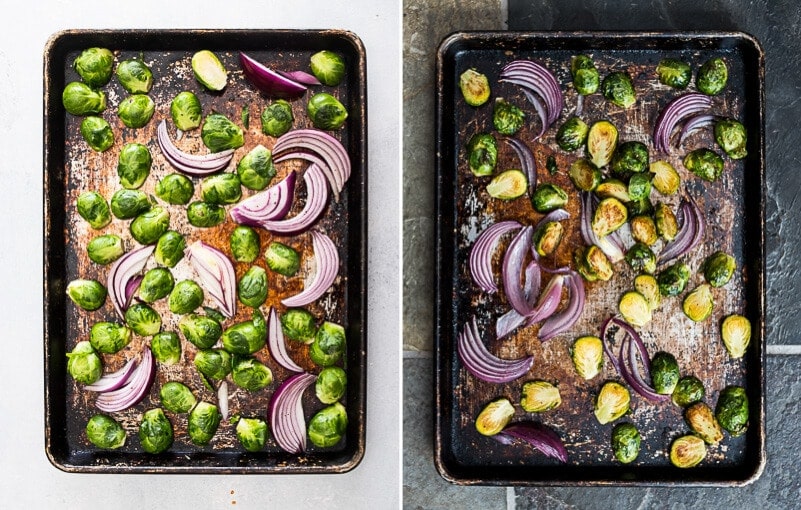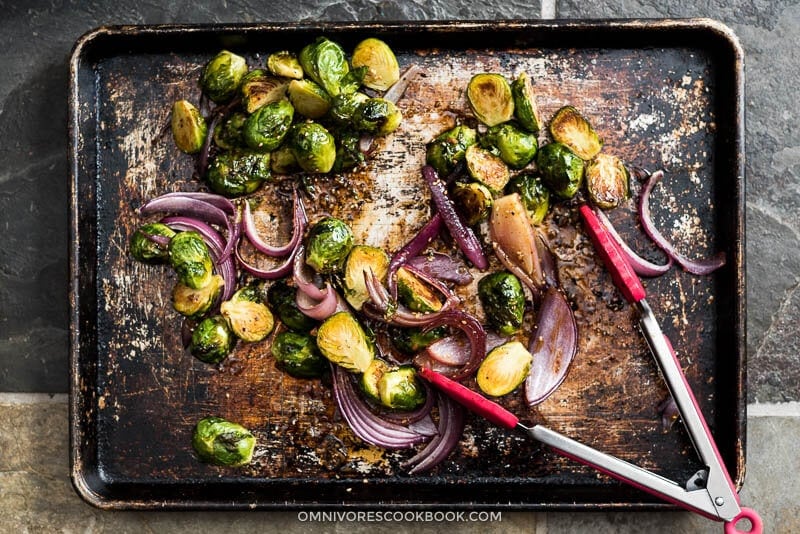 This recipe is part of my mini-blog series on homemade Kung Pao Sauce. Just as a quick recap, I show you how to make genuine Sichuan Kung Pao Sauce in advance, so you can store it and use it to cook various types of quick and easy dishes, such as Kung Pao Chicken and Kung Pao Shrimp.
In this post, I want to share a special way to use homemade Kung Pao Sauce to create scrumptious roasted Brussels sprouts, which can be served as a side dish. If you prefer a lighter dinner, you can simply serve them on the rice to make a quick buddha bowl.
The recipe requires merely 5 minutes of active cooking time if you've already made the sauce. If you haven't, no worries! I've included footnotes on how to make a small batch of sauce just for this recipe.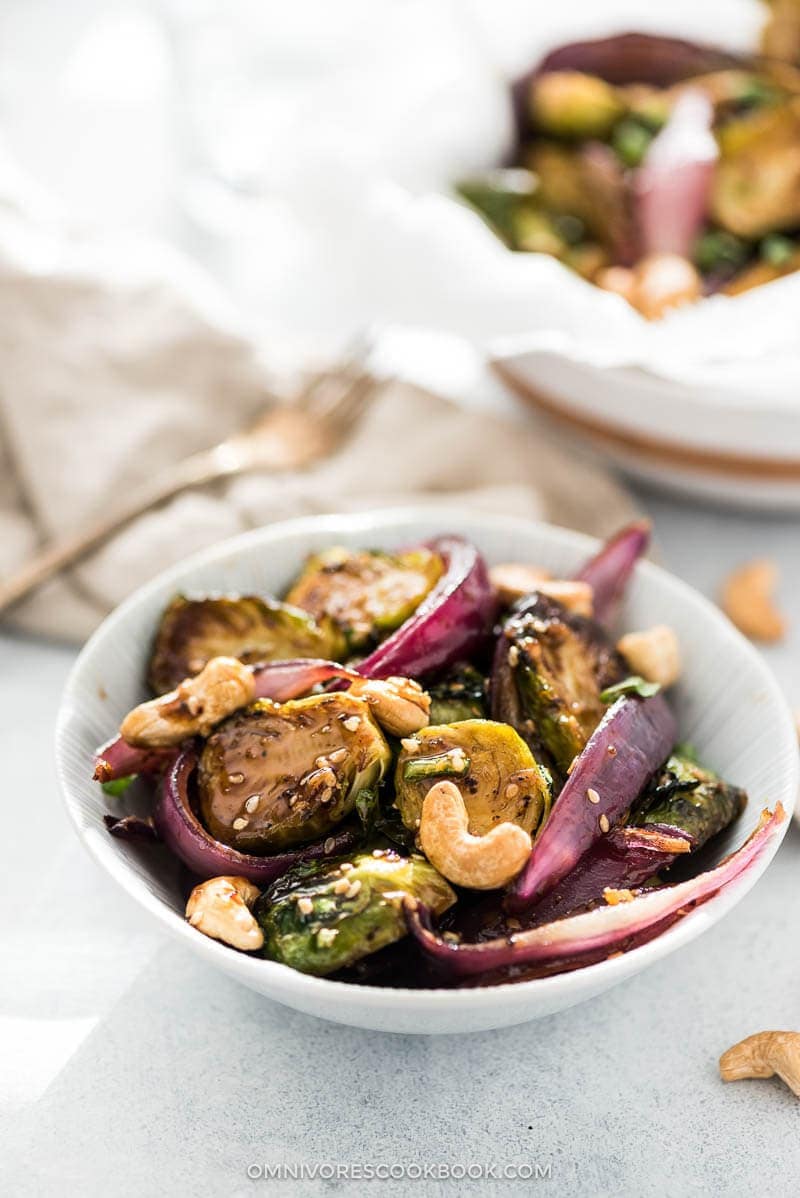 If you give this recipe a try, let us know! Leave a comment, rate it (once you've tried it), take a picture and tag it @omnivorescookbook on Instagram! I'd love to see what you come up with.
Want to Know More?
Receive our 5-Day Chinese Cooking Crash Course & Recipe Updates! Subscribe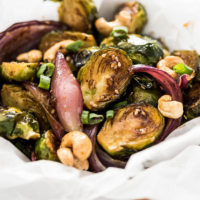 Roasted Kung Pao Brussels Sprouts
Learn how to make juicy and tender shrimp with the most scrumptious sauce. Crispy brussel sprouts, caramelized onion, and spicy sweet sauce come together to make this irresistible vegan dish.
Ingredients
450

grams (1 pound)

Brussels sprouts

1

purple onion

, sliced

3

tablespoons

olive oil

1/4

teaspoon

coarse sea salt

1/4

teaspoon

black pepper

1/3

cup

roasted cashews

(or peanuts)
Sauce (or 1/4 to 1/3 cup homemade Kung Pao Sauce)
Instructions
Preheat oven to 400 degrees F (200 C).

Remove tough ends of the Brussels sprouts and halve them. Try to keep them evenly sized; quarter very large ones if necessary.

Place Brussels sprouts and onion onto a baking sheet. Add olive oil, salt, and pepper. Toss to mix well. Arrange the Brussels sprouts so the flat sides face down. Arrange larger pieces on the edge of the baking sheet because they'll cook faster.

Bake on the middle rack for 15 minutes. Flip and bake for another 5 to 10 minutes, until the sprouts turn crispy and cooked through.

(Skip this step if using

pre-made homemade Kung Pao Sauce

) While baking the Brussels sprouts, prep and cook the Kung Pao sauce. Mix Chinkiang vinegar, soy sauce, sugar, cornstarch and salt in a small bowl. Add oil and Sichuan peppercorns in a big pan, and cook until hot. When the peppercorns turn dark brown, scoop out and discard. Add dried red chili pepper. Stir until the peppers turn dark brown. Add minced garlic and ginger. Stir a few times. Stir the vinegar based sauce to dissolve the cornstarch completely; add to the pan. Cook until the sauce thickens and remove from the stove immediately.

Once the Brussel sprouts are cooked, add the roasted cashew and Kung Pao sauce (or

pre-made Kung Pao Sauce

). Gently toss a few times and serve immediately as an appetizer, or as a main dish over steamed rice.