Learn how to cook flavorful and juicy turkey breast in an hour. No marinating and brining required!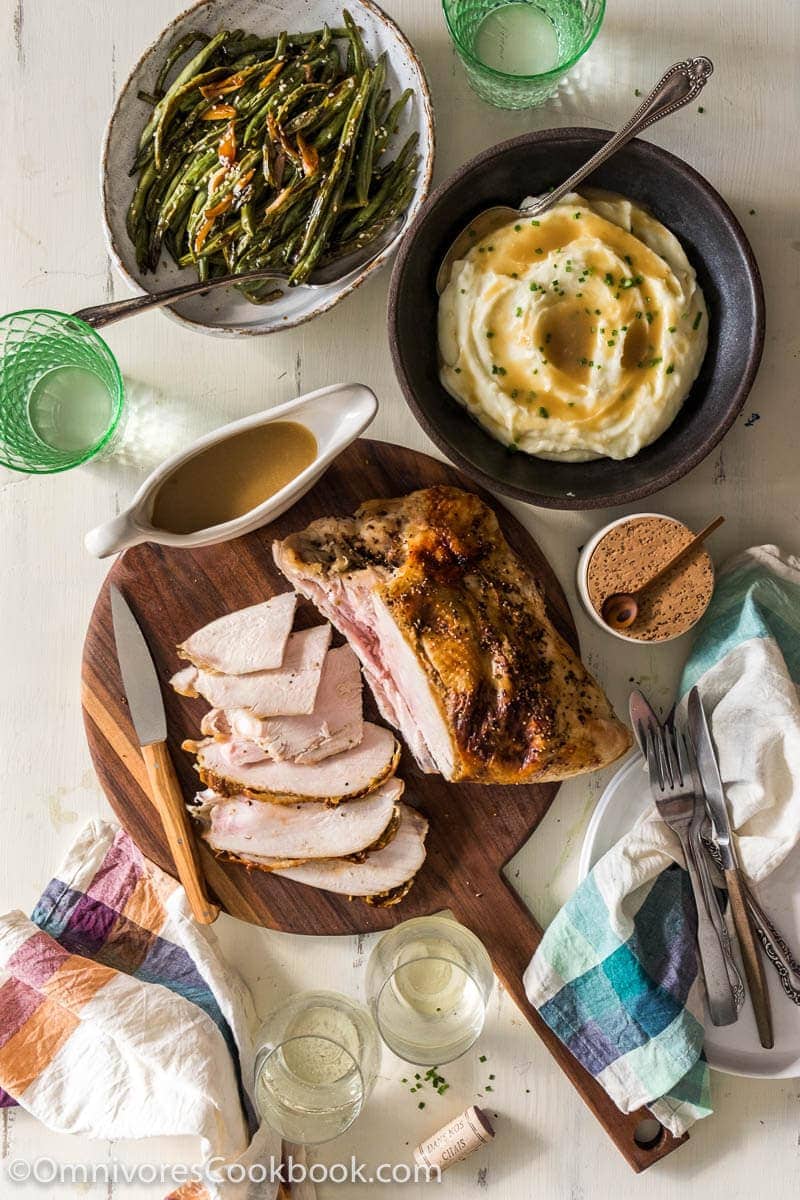 Eating and cooking with turkey is a relatively new experience to me.
I had my first slice of turkey back in 2012 at my soon-to-be in-law's place without having any high hopes because I'd heard so many bad things about turkey. According to some of my mom's friends, who are early Chinese immigrants living in the US, turkey meat was extremely bland and chewy like tree bark. The only advice I got about turkey was not to cook with it.
…Back to the first taste of turkey I had. It was a rotisserie turkey that was slowly cooked over a charcoal grill for half a day. Its surface was nearly black and it did not look very appealing. However, when the meat was sliced, I saw juicy goodness seeping out and the texture very tender.
Stuffing a piece of turkey breast into my mouth, my first thought was "OH.MY.GOD… How can white meat be so juicy and flavorful?" Then I reminded myself that hearsay is poison and you should never listen to other people's experiences without trying something for yourself.
…Fast forward to 2016. After living in the US for a year, I finally got enough courage to challenge myself to cooking turkey meat for the first time.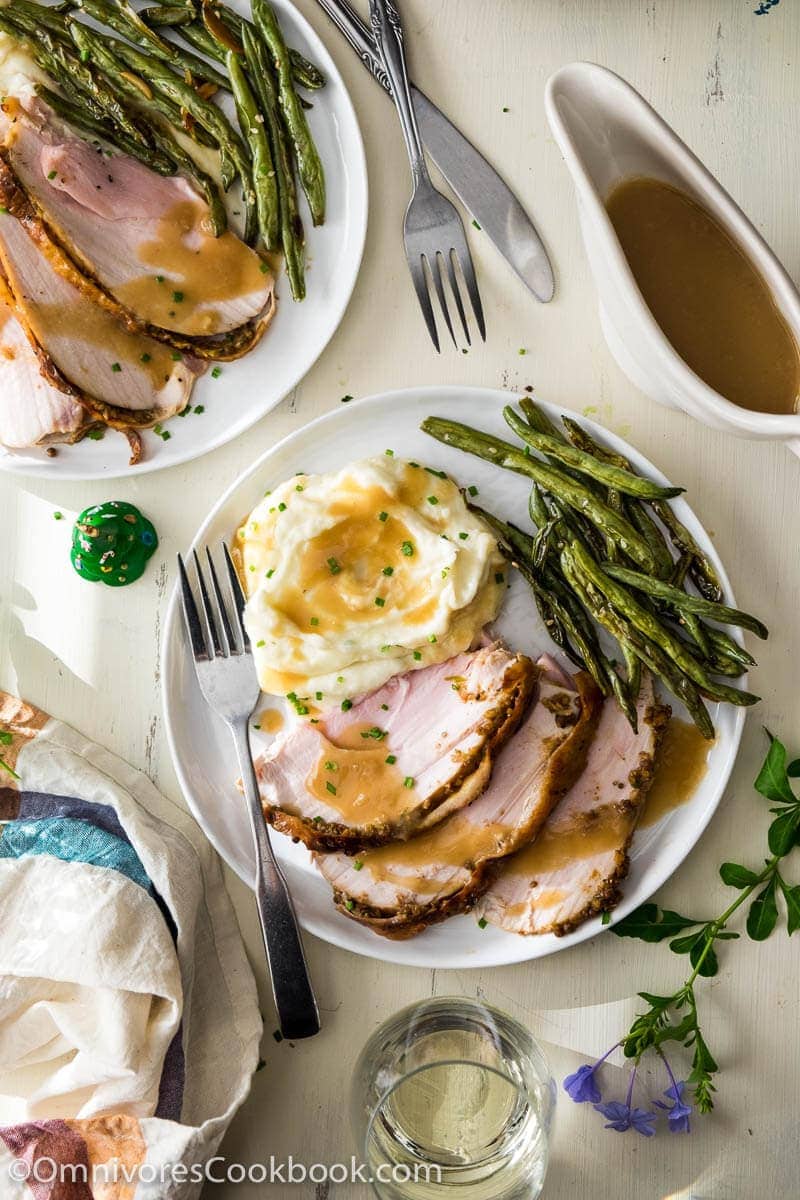 Because I was only cooking for two people, I seriously didn't want to deal with a whole turkey. So, I decided to cook a turkey breast.
With zero experience, I turned to my friend Robyn at Simply Fresh Dinners for advice. Robyn is an expert at cooking fresh and healthy dinners. She has two killer turkey recipes – Boneless, Stuffed Turkey on the Rotisserie and Roasted Turkey on the Grill, that make my mouth water just by looking at her pictures. When she passed along her advice on cooking with turkey, I knew I was in good hands.
Like Robyn suggested, I made a vegetable bed with chicken broth, and placed the turkey breast on top. So, once I finished baking, I would have enough liquid for making gravy. I gave the seasoning an Asian twist, by making a hoisin-butter sauce with Chinese seasoning and stuffed it under the turkey skin. This method gives extra flavor to the turkey meat while keeping the skin crispy.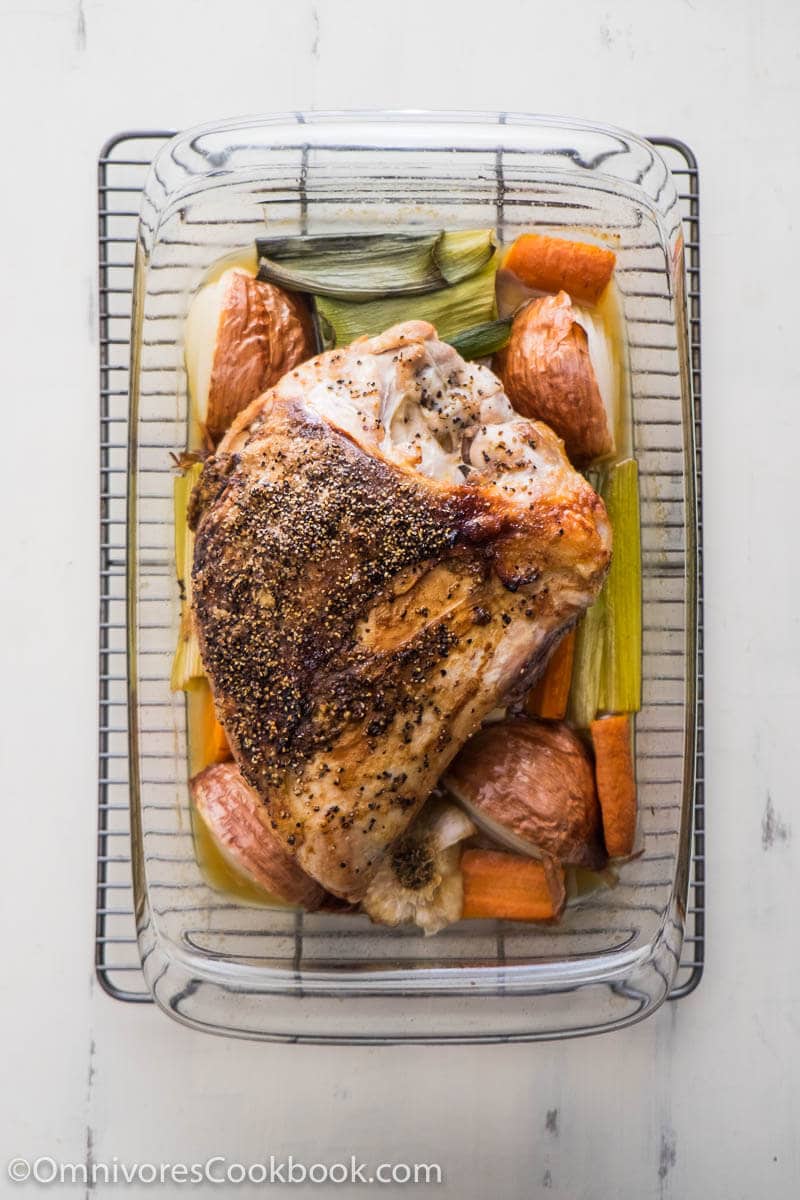 After a few trials and errors, I realized that turkey meat can be overcooked so fast that the classic "low-heat first, then high-heat" method didn't work so well. In the end, I chose to use a high temperature for baking, so the skin crisps at the same time when the meat is cooked through.
I'm super picky when it comes to white meat because I hate dry and bland meat. You will notice that the meat attached to the bones is still a bit pink in my pictures. At this stage the turkey meat is extremely juicy. In my kitchen, I'd rather keep the bird slightly undercooked without risking having dry meat. If this freaks you out, simply cook the turkey 10 minutes longer. By the way, if you look at Japanese raw chicken sashimi, a little pink like this is really nothing.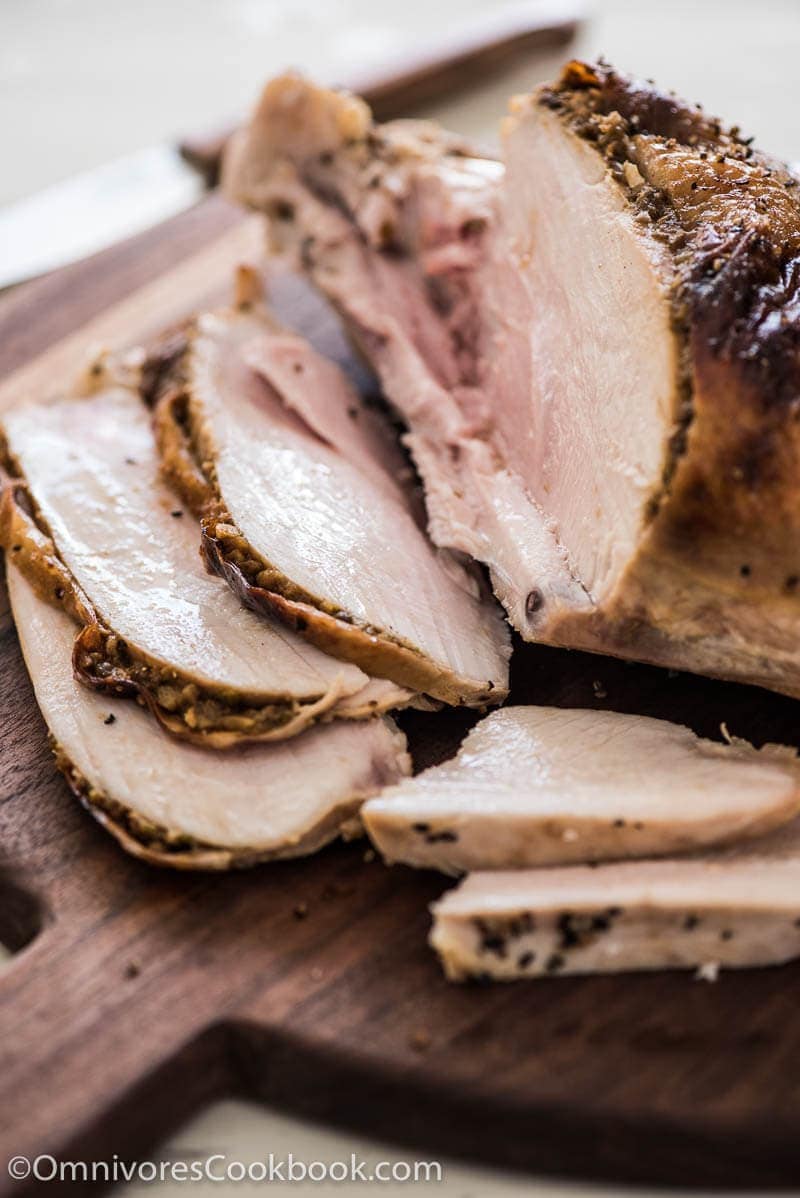 Thanksgiving for two
This recipe is perfect for a quick weekend dinner or a mini-Thanksgiving party.
If you're only cooking for 2 to 4 people for Thanksgiving this year, here is a menu to try out:
Main: Chinese-style roasted turkey breast
Side 1: Mashed potato with gravy
Workflow:
Preheat oven, prepare hoisin butter sauce, and chop vegetables for turkey.
Bake turkey, 50 minutes to 1 hour.
Cook potatoes for mashed potato while baking turkey. It takes about 20 minutes.
Wash and trim green beans. Prepare soy garlic glaze. 15 minutes.
When the potatoes are cooked, heat up butter and milk, then mash them and cover with aluminum foil to keep warm.
When the turkey is cooked, cover and let rest for 30 minutes.
Start baking green beans while letting the turkey rest. 12 minutes.
Cook soy garlic glaze while baking the green beans. Then combine together and bake to finish up. 10 minutes.
After the green beans are ready, cover and set aside. Cook gravy.
Serve sliced turkey with mashed potato, green beans and gravy.
The reasons I love this menu are:
You can finish all the prep and cook within 2 hours.
You will have just enough leftovers for the next few days.
The meal is as comforting as a traditional Thanksgiving dinner, but offers something new.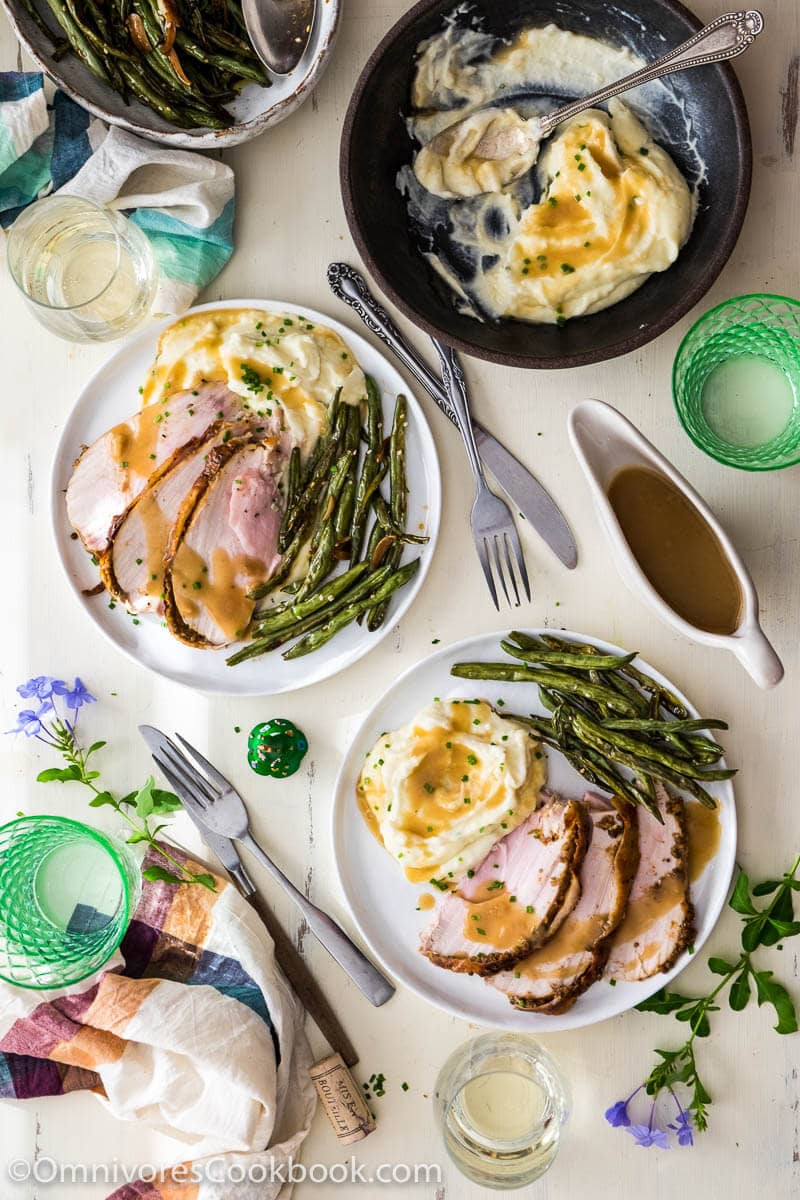 What's your favorite way to cook turkey breast? Leave a comment to share your experience with us so we can learn and grow together!
Want to Know More?
Receive our 5-Day Chinese Cooking Crash Course & Recipe Updates! Subscribe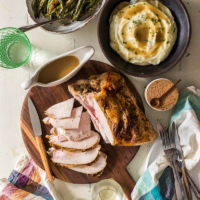 Chinese-Style Roasted Turkey Breast
Learn how to cook flavorful and juicy turkey breast in an hour. No marinating and brining required!
Ingredients
1

bone-in skin-on half turkey breast

about 1.4-kg / 3 pounds (*Footnote 1)

1

teaspoon

sea salt

1

teaspoon

coarsely ground black pepper
Hoisin butter
2

tablespoons

unsalted butter

2

tablespoons

hoisin sauce

2

tablespoons

soy sauce

1

tablespoon

Shaoxing wine

1

tablespoon

coriander

1/4

teaspoon

five spice powder

3

cloves

garlic

2

green onions

, coarsely chopped

1/2

thumb ginger

, sliced
Bake
1

carrot

, coarsely chopped

1

leek

, coarsely chopped

1

white onion

, quarter unpeeled

1

head garlic

, halve unpeeled

1

cup

chicken stocks

(and extra for cooking gravy)
Gravy
2

tablespoons

butter

2

tablespoons

flour

2

cups

turkey juice and/or stock

(*footnote 2)
Instructions
Pat the turkey breast dry with a paper towel. Let rest at room temperature for 30 minutes while you prepare other ingredients.

Preheat oven to 220 degrees C (425 degree F).

Prepare a roasting pan. Spread out the carrot, leek, white onion and garlic. Add chicken stock.

Combine all the ingredients for the hoisin butter sauce into a food processor. Puree until it becomes a fine paste. If you don't have a food processor, finely chop garlic, green onion, shallot, and ginger. Mix everything together by using a mortar and pestle to form a paste.

Separate the skin from the turkey breast by gently sliding your finger between the meat and the skin. Try not to tear the skin. Leave the edges attached, so it shape a pocket to hold the butter. If you cannot stuff all the butter in, save the rest to use later (as chicken marinade or sauce).

Pour the paste in between the skin and the meat. Press your finger on top of the skin to distribute the paste evenly underneath. Sprinkle sea salt on both sides of the turkey breast.

Place the turkey breast onto the roasting pan with vegetables. Bake until the internal temperature reaches 60 degrees C (140 F), 50 minutes to 1 hour. The residue heat will keep cooking the turkey while resting.

Once the turkey is cooked through, remove it from the roasting pan and place onto a plate. Loosely cover with foil and let rest for 15 to 30 minutes.
Gravy
Strain the liquid from the roasting pan into a big measuring cup. Discard the solid ingredients. Skin off the fat with a ladle and discard, if needed. Reserve the juice. Add more stock, so you should have 2 cups of stock in total.

Add butter into a saucepan and cook over medium heat until melted. Turn to medium low heat. Whisk in flour. Stir and cook until golden brown.

Gradually add turkey drippings and stock, keep stirring, until it forms a silky paste. Cook until boiling before adding more turkey drippings, so the gravy won't separate. Once the turkey drippings are added, bring to a light boil. Let simmer and cook until it reduces to 3 cups, after 10 to 15 minutes. Taste the gravy and season accordingly by adding salt and pepper to taste.

Serve immediately in a gravy boat with turkey.
Notes
You can also use this recipe to cook a whole turkey breast. Note that in this case you should adjust the oven rack to a lower position, so the whole breast will be right in the middle of the oven.
In this recipe I made extra gravy so you can serve it with mashed potatoes.
Nutrition
Serving:
424
g
,
Calories:
361
kcal
,
Carbohydrates:
21.5
g
,
Protein:
40.6
g
,
Fat:
12
g
,
Saturated Fat:
5.7
g
,
Cholesterol:
118
mg
,
Sodium:
3158
mg
,
Potassium:
822
mg
,
Fiber:
2.5
g
,
Sugar:
12.5
g
,
Vitamin A:
2300
IU
,
Vitamin C:
24.8
mg
,
Calcium:
50
mg
,
Iron:
4.1
mg