The spinach salad is served with a refreshing sweet and sour vinaigrette, sweet mango slices, and toasted pine nuts. It takes no time to put together and adds delicious greens to your main dish!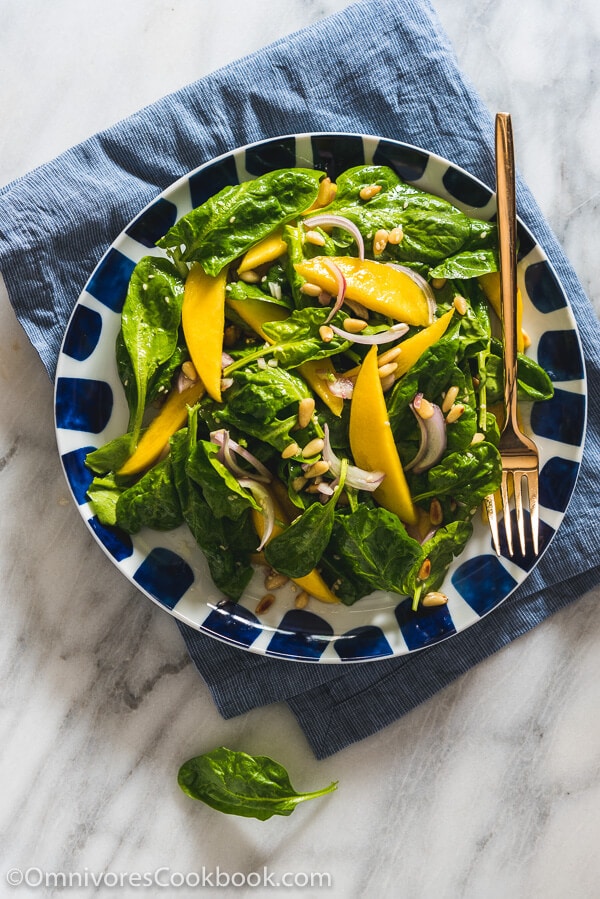 There are two ways I usually add greens to my dinner table. One is to do a quick stir-fry, the other is to make a salad. We used to buy a lot of mixed salads in big boxes. It came washed and ready to use. So it saved a lot of time cleaning, chopping, and drying.
When I have time on the weekend, I buy whole heads of salad greens and make a big salad. It does take a bit more time and effort, but it makes your salad extra fresh and tasty. Just like the one in this picture. When you're using whole heads of salad greens, be sure to use a salad spinner to get rid of any extra water. And let them sit a bit longer to air dry. This step is crucial. Having wet salad leaves will make your dressing watery and difficult to coat on the ingredients.
This recipe is inspired by a cranberry spinach salad I like. The original recipe uses cider vinegar, white wine vinegar, and a lot of sugar. I wanted an Asian style dressing to go with the mango, so I chose a mild vinegar – rice vinegar – instead. I used honey instead of sugar because it is healthier and adds a nice aroma to the dressing. The shallots and toasted sesame seeds are added to give the dressing more dimension.
Creating a delicious salad is easy when you get the key components right.
– Use the ratio of 3 parts oil to 1 part vinegar (or citrus juice). It does not need to be this extract ratio every time, but if you're inventing something in the kitchen, this ratio will put most of your creations right on the money.
– You don't need to add too many things into your salad. Sometimes less is more. What I usually like is: something green, something sweet, something nutty, and something pungent.
– Do toast the nuts. It only takes a few minutes and it brings out the fragrance of the nuts and makes your salad extra delicious.
– Combine all the ingredients for the salad dressing in a jar and shake it. The dressing will emulsify thoroughly with a few shakes. Plus, you can put any leftover dressing directly into the fridge. It usually stays good for 2 to 3 days.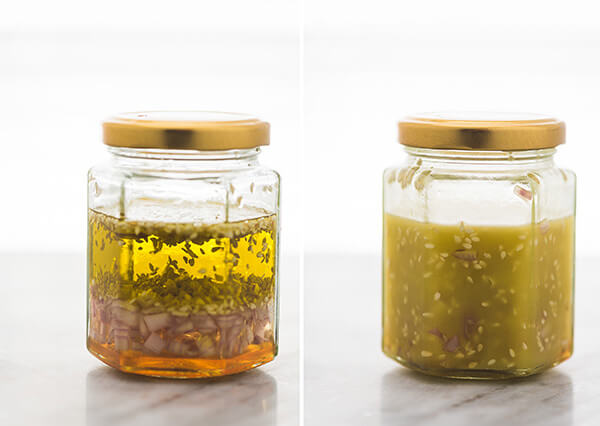 – Toss the salad gently with your hands in a large bowl, right before serving. I used to serve salad with the dressing on the side. Then I learned from my culinary program that I was doing it wrong. Tossing salad mixes the ingredients, coating them evenly with dressing. It will make your salad taste better using less dressing. Now I make sure I toss the salad thoroughly, every single time, before serving it.
That's it! We especially enjoy serving this salad with grilled chicken, roast duck, and braised lamb meat. When you're cooking the main, just spend a few minutes to get the salad ready, so you'll have a healthy and delicious meal that is colorful and nutritious.
I hope you enjoy the dish!
Do you like my recipes? Sign up our for weekly newsletter to get the latest updates delivered to your inbox and a FREE e-cookbook that contains my top 30 most popular recipes!
Want to Know More?
Receive our 5-Day Chinese Cooking Crash Course & Recipe Updates! Subscribe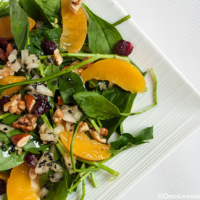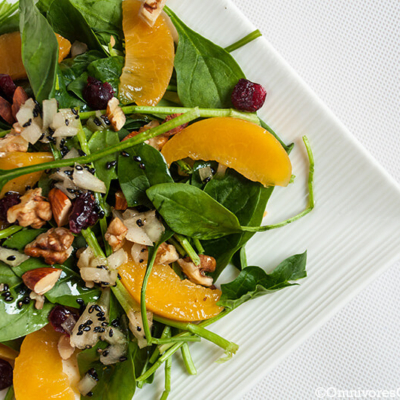 Spinach Salad with Mangoes
Ingredients
Dressing
6

tablespoons

olive oil

2

tablespoons

rice vinegar

1/2

shallot

finely minced (generates about 2 tablespoons)

1

tablespoon

honey

1

tablespoon

toasted sesame seeds

Salt and black pepper to taste
Ingredients for salad
5 to 6

cups

spinach

1

red mango

generates about 1.5 cups sliced mango

1/3

cup

pine nuts

toasted

1/2

shallot

thinly sliced
Instructions
Wash spinach thoroughly with running water. Remove and discard broken leaves and tough stems. Tear large pieces into bite size. If using immediately, use a

salad spinner

to get rid of any extra water, then gently toss it, and let air dry a bit more.

Add sesame seeds into a small pan and cook over medium heat. When the pan turns hot, turn to medium low heat. Stir and cook the sesame seeds until they turn slightly golden. Transfer to a plate and spread to cool. Add the pine nuts into the same pan. Toast and stir until both sides turn golden brown. Transfer to another plate to cool.

Prep and chop the rest of the veggies and fruits.

Mix all the ingredients for the dressing in a small jar. Shake to combine.

Add all the ingredients for the salad into a large bowl. The salad shouldn't fill over 2/3 of the bowl.

Add half of the dressing right before serving. Gently toss it with both hands to coat the salad evenly with dressing. Taste the salad. Add a bit more dressing and toss, if necessary.

Serve immediately. You can save the remaining dressing in the fridge for 2 to 3 days.
Notes
Place salad dressing in room temperature for 30 minutes to 1 hour to let the flavors blend well. Or store in fridge for longer. The dressing will taste milder and less sour if placed in the fridge overnight. It can be stored in the fridge up to 2 days.
The nutrition facts are calculated based on 1 of the 4 servings generated by this recipe.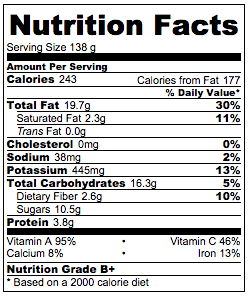 This post and recipe were updated on May 11th 2016.