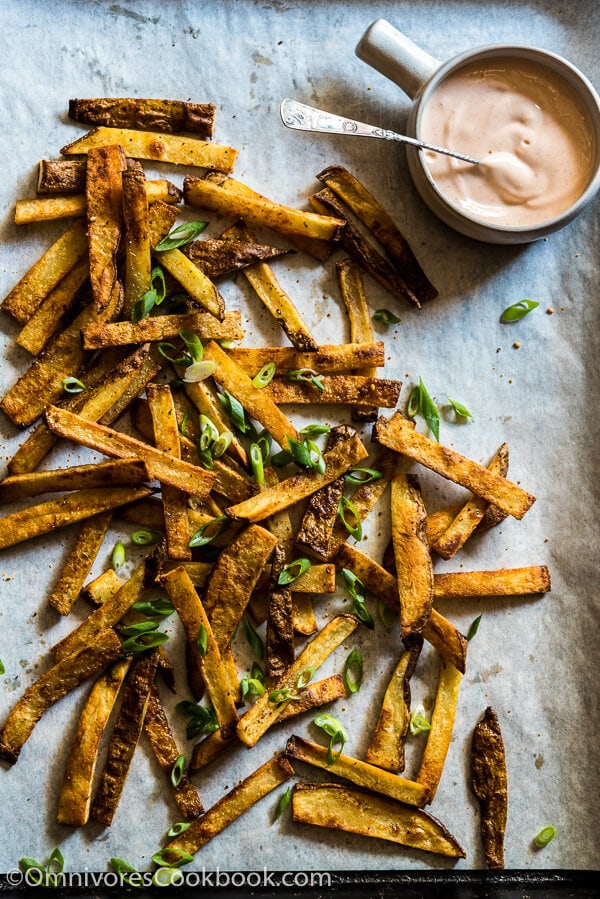 These french fries are baked until crunchy and crispy. They are served with a creamy and healthy honey sriracha sauce. Only 218 calories per serving. Now you can enjoy french fries guilt-free!
Since moving to Austin, I have been learning new cooking techniques in my American kitchen. Baking vegetables is one of them. This might sound absurd to you. But I thought baking was super intimidating. I'd rather break down a whole chicken for a stir fry than throw some wings into the oven. I bought a winter squash three months ago and it's still on my kitchen counter now, because I don't know how to roast it.
It made me realize that calling some of my Chinese recipes "easy" is not really fair to you, my dear readers. Although I can make fried rice with my eyes closed, it does not necessarily mean it's easy. It's easy to me because I've done it a thousand times.
Now that I have a big oven that can go up to 550F (my Chinese oven was quite tiny and only went up to 400 F), sweet! Now it's time to practice baking.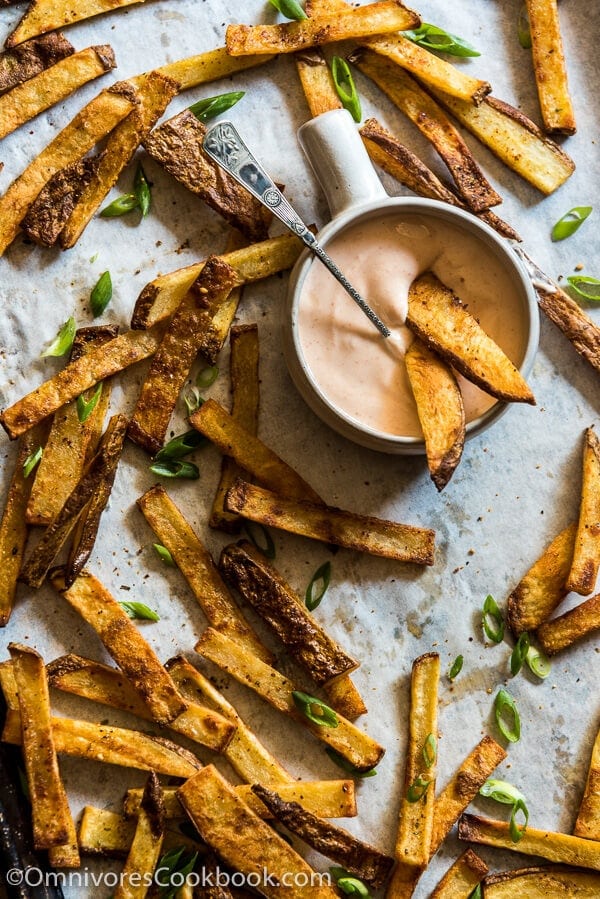 A few months later, I delightfully discovered I could crisp up almost any veggie very easily in the oven. I was hooked.
Since then I've been roasting green beans and eggplant much more often than stir-frying for dinner. Thomas joked that I got Americanized too quickly!
Baked french fries + yogurt sauce wonderland
Back in China, we do cook with potatoes, and quite a lot. We either braise them, boil them, or stir fry them. They taste good, but I've never been crazy about them. Except the mashed potatoes with gravy from KFC, anyway 😉
Then I tried roasting potatoes. I was amazed at how they could be as crispy as fried ones. Even better, these baked fries got a crunchy texture because the potatoes lost some moisture during baking. Now, I've started serving roast potatoes as the staple with dinner, instead of steamed rice.
If you love extra crispy fries, like me, try the cutting method in the recipe below. I cut it into a wide strip that's pretty thin. This way, the fries will crisp up even more.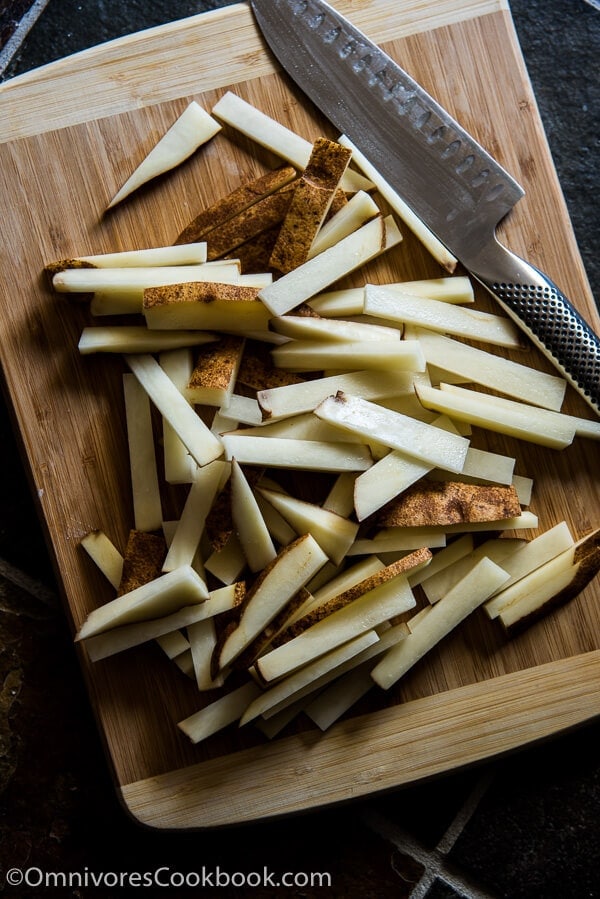 The other thing I learned after moving to the US is that there can never be too much sauce. It's a new mentality that I'm still trying to pick up.
It's not exactly something I want to brag about, but once I started adding mayonnaise onto everything, it was difficult to stop. After a month, I was forced to stop. My mom has been nagging from the opposite side of the earth me that my face has gotten too round.
That's why I started exploring other possibilities to make healthier sauces. Luckily, it took about 3 seconds to figure that out.
Thanks to Thomas, we always keep a three-pound tub of Greek yogurt at home. I made this healthier version of honey Sriracha dipping sauce with it, instead of mayo. It contains four ingredients – Greek yogurt, Sriracha, soy sauce, and a spoonful of honey. I promise, it tastes as addictive as Sriracha mayo, even though it uses non-fat Greek yogurt.
A cup of Sriracha mayo contains 1500 calories. This one only contains 233 cal per cup. Isn't it amazing? I wouldn't mind drinking it!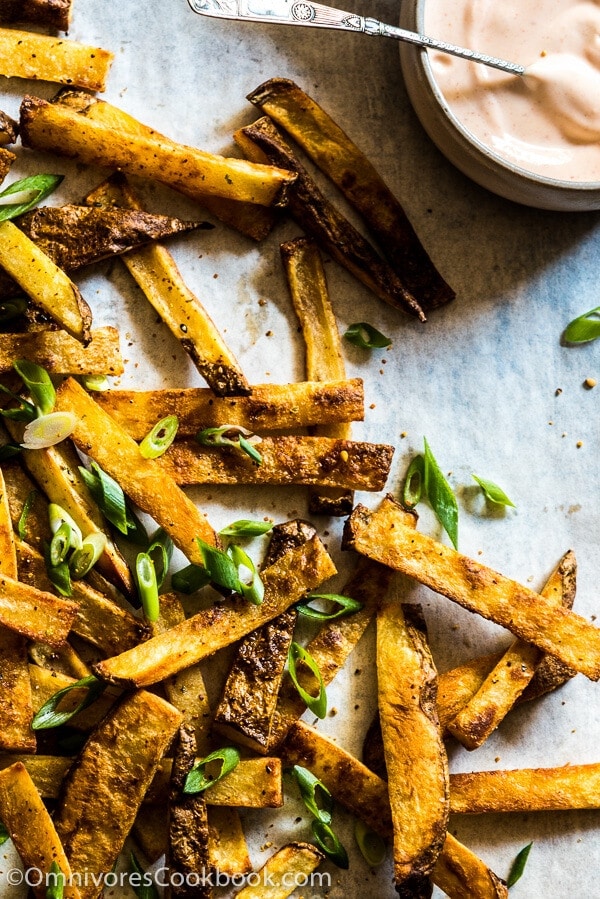 Don't forget to grab a jar of Shichimi Togarashi – Japanese red pepper mix. Shichi means seven in Japanese. Like its name suggests, the spice mix contains seven ingredients, including chili pepper, sesame seeds, roasted seaweed, and ginger. It will spice up your french fries a bit and add a nice umami. This way, you won't need to add tons of salt to your fries.
If you've never tried baked french fries before, do it today, with the Sriracha dipping sauce. Serve it with a simple salad and some roast fish. Or serve it with a simple stir fry with veggies. Cooking a healthy and comforting dinner couldn't be easier!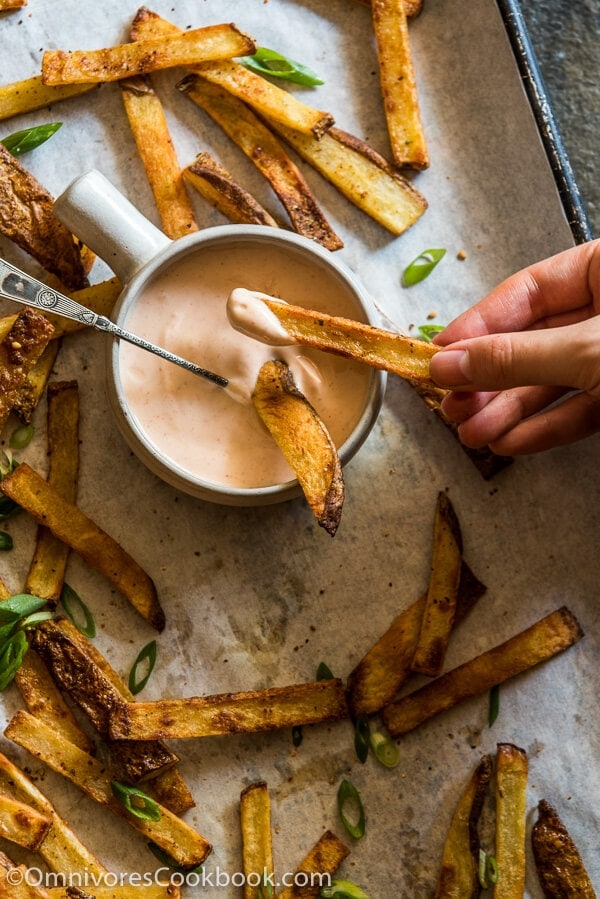 If you give this recipe a try, let us know! Leave a comment, rate it (once you've tried it), and take a picture and tag it #omnivorescookbook on Instagram! I'd love to see what you come up with. Cheers, friends!
Want to Know More?
Receive our 5-Day Chinese Cooking Crash Course & Recipe Updates! Subscribe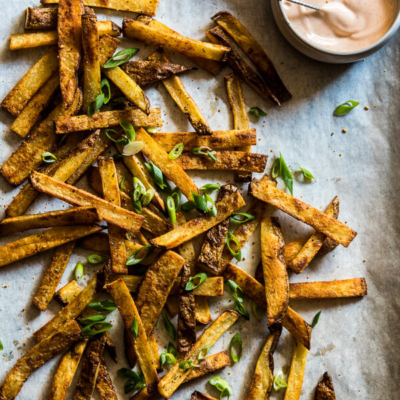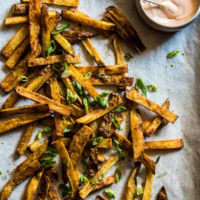 Crispy Baked French Fries with Honey Sriracha Dip
These french fries are baked until crunchy and crispy. They are served with a creamy and healthy honey sriracha sauce. Only 218 calories per serving. Now you can enjoy french fries guilt-free!
Ingredients
French fries
2

large baking potatoes

russet

2 to 4

tablespoons

olive oil

Japanese red pepper mix

Shichimi Togarashi

Sea salt
Dipping
1

cup

greek yogurt

1

tablespoon

honey

1

teaspoon

soy sauce

1

tablespoon

Sriracha

2 green onions, chopped

(Optional)
Instructions
French fries
Preheat oven to 230 degrees C (450 F). Line two baking sheets with aluminum foil (for easy cleaning) (*see footnote 1). Spray an even layer of oil onto the foil.

Halve potatoes crosswise if using very large potatoes. Slice into 1-cm (1/3-inch) thick pieces, and then cut into 1/2-cm (1/6-inch) wedges.

Spread the potatoes onto the lined, oiled baking sheet. Do not crowd the potatoes, otherwise they will be steamed instead of fried. Generously spray oil on top of the potatoes (very important, otherwise your fries will dry up instead of turning crispy). Sprinkle sea salt and Japanese red pepper mix onto the potatoes.

Bake until the bottom of the potatoes is charred, 25 to 30 minutes. Stir the potatoes once. Return to the oven and bake for another 15 minutes.

Mix Greek yogurt, honey, soy sauce, and Sriracha in a small bowl.

When the fries are cooked, let them rest for 5 minutes to cool. This step will further crisp up the fries. Sprinkle green onions on top (if using) and gently mix a few times with a spatula.

Serve warm with the dipping sauce.
Notes
You might need to play with the temperature the first time, depending on how you cut the potatoes, and depending on your actual oven temperature. For thick-cut wedges, try using 218 C (425 F) or 200 C (400 F) instead.
Nutrition
Serving:
206
g
,
Calories:
218
kcal
,
Carbohydrates:
30.7
g
,
Protein:
7.9
g
,
Fat:
8.2
g
,
Saturated Fat:
1.8
g
,
Cholesterol:
3
mg
,
Sodium:
423
mg
,
Potassium:
643
mg
,
Fiber:
2
g
,
Sugar:
7.4
g
,
Vitamin A:
100
IU
,
Vitamin C:
34.7
mg
,
Calcium:
70
mg
,
Iron:
1.3
mg