Homemade You Tiao (Chinese Donuts) are crispy on the surface, extra airy, fluffy, and tender inside. Learn how to make the classic Chinese breakfast staple with safe ingredients while achieving the best texture, just like the street vendors.
You Tiao is a savory donut that has a beautiful golden color, is lightly seasoned with salt, with a crispy crust and super airy and fluffy interior that is mostly air. It is addictively TASTY!
These savory fried donuts are usually served with soy sauce, rice congee, or douhua (dou fu nao in Northern China) to create a breakfast that is hearty and delicious. It's something I ate all the time growing up in Beijing and is one of the things I've missed the most since moving to the US.
In the old days, you could easily find You Tiao everywhere, mostly sold by street vendors with a small cart by the side of the road. It was common practice for vendors to use chemicals that did not comply with food safety regulations in order to achieve the perfect texture. In recent years, most of the street food vendors have disappeared and you need to go to a breakfast place or a restaurant chain to find You Tiao. However, none of them are as fresh, crispy, and fluffy as the unsafe ones that the street vendors used to produce.
Why this recipe
We tried to develop a dough that has a golden ratio of crispy outer layers and light and airy insides, using common ingredients that you already have in your pantry. The challenge was to recreate the very light texture without using the hard chemicals that street vendors use. After many tests, we eventually did it!
You only need four ingredients.
The dough is very easy to handle and does not require any equipment to knead it.
This recipe makes shorter donuts, which require less oil and are easier to make in your home kitchen.
The result is perfectly crispy and light You Tiao just like the street vendors serve.
Definitely give this recipe a try if you've been missing the authentic taste of China.
Ingredients
The ingredients for You Tiao are super simple. You probably already have them in your pantry.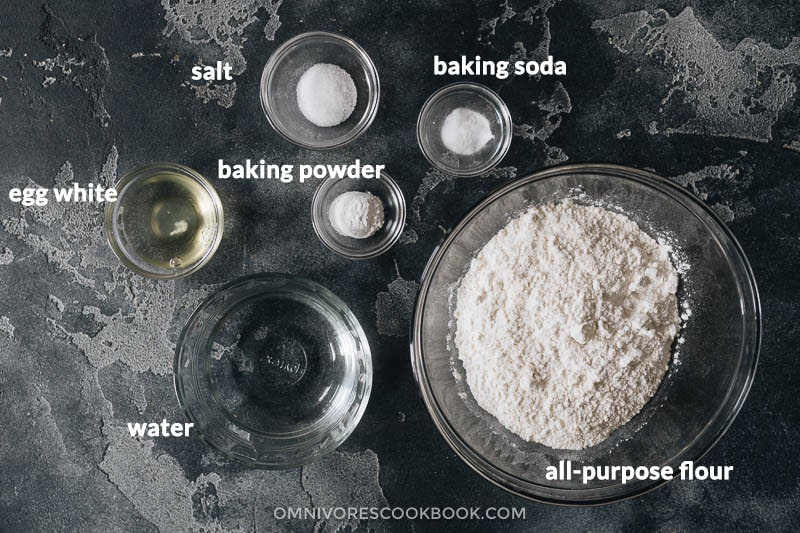 Cooking equipment
I hate deep-frying food, but there's no way around if you want to make the best donuts. I found the best practice is to use a smaller pot (mine is about 9" / 22 cm across and 4.5" / 12 cm tall), so you can use less oil. The dough will be easier to work with and it will cause very little splatter on your counter.
Cooking oil
I usually buy a 48 oz. (1.4 L) bottle of cheap vegetable oil and use the whole thing. Once I'm done cooking, I wait until the oil cools down completely and pour it back into the original bottle. Depending on my upcoming cooking plans, I'll either throw away the bottle of used oil or reuse it for other fried foods.
Cooking process
There are 4 steps to making You Tiao.
Step 1 – Prepare the dough (1st rise)
Sift the flour
Dissolve the baking soda and baking powder in water to activate them
Combine the liquid and dry ingredients
Mix until it forms a coarse dough
Knead the dough for 5 minutes
Rest the dough for 30 minutes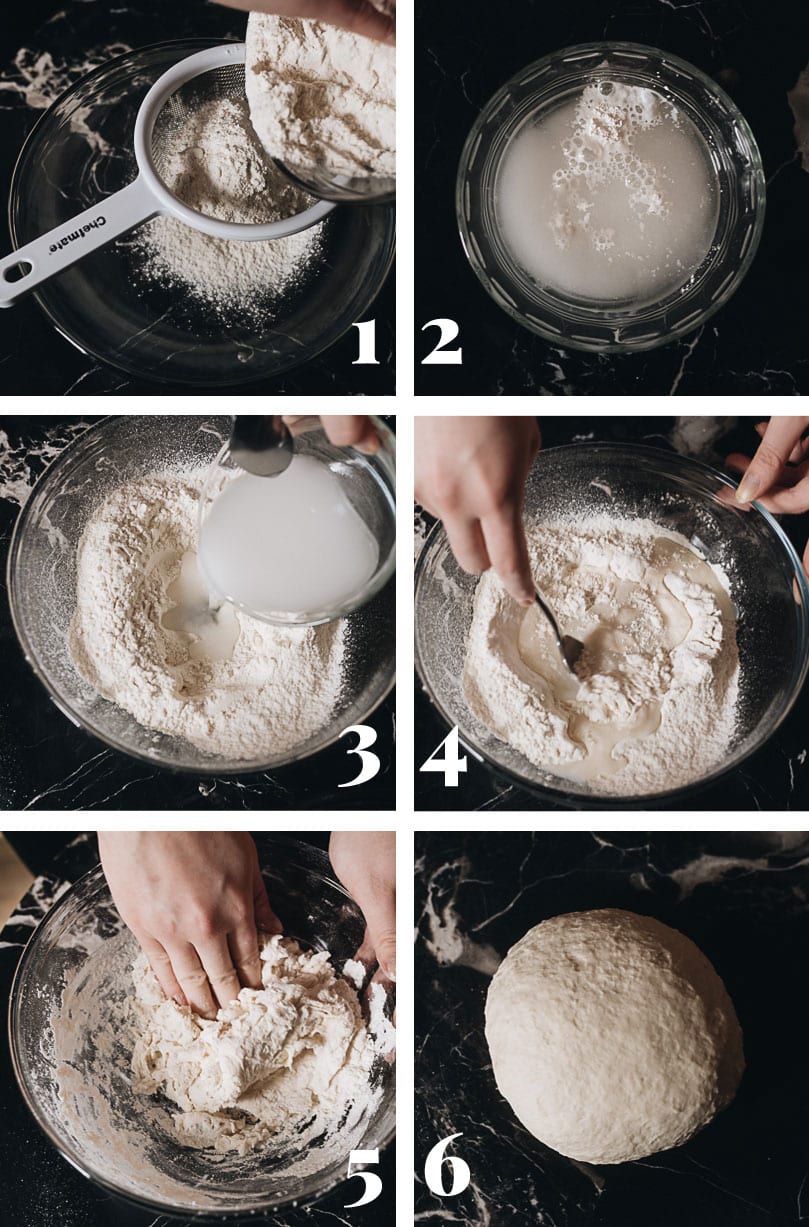 Step 2 – 2nd rise
Once the dough is rested, knead it a couple of times. You'll notice the dough is much smoother now. Cover the dough again and rest it for the 2nd time.
NOTE: The 2nd rise is crucial for the final texture. We found that the dough that rests overnight in the fridge has the best taste and texture. But if you're short on time, you can rest the dough at room temperature for 2 hours.
Step 3 – Shape the You Tiao
Divide the dough in half and roll it into a long strip.
You can use both hands to gently stretch the dough to help to shape it.
Cut the dough into small rectangles
Press half of the rectangles with a skewer (or the back of your knife)
Place the unpressed rectangles onto the pressed ones
Press the dough again.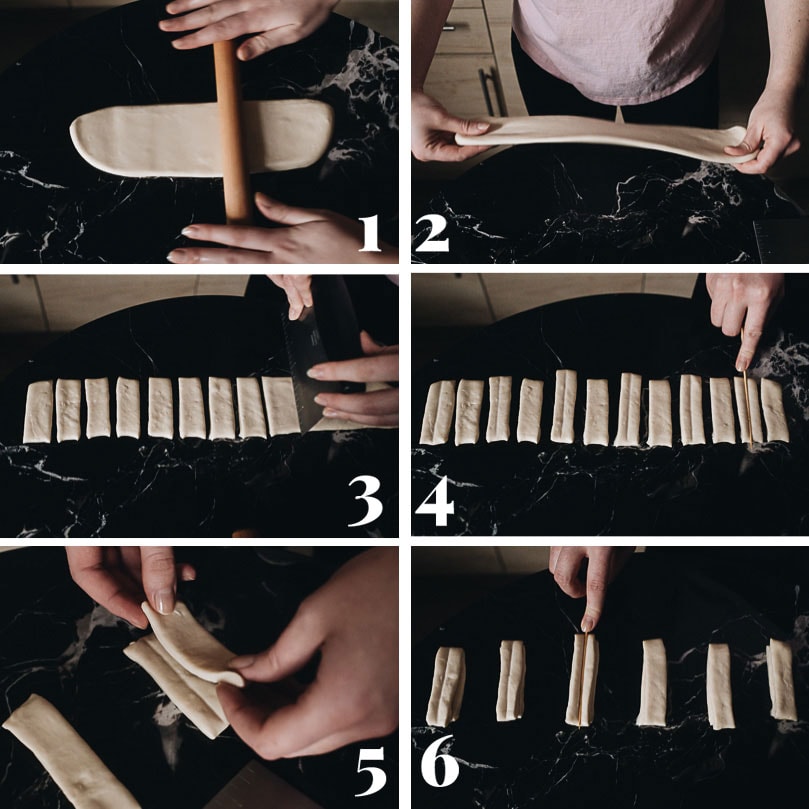 NOTE: You want to make the two rectangular dough pieces attach together when frying, but easily be torn apart once cooked. So you should press them together, but not too hard.
Step 4 – 3rd rise & cook
Rest the shaped You Tiao again while heating the oil
Stretch the dough pieces into long strips
Fry the dough strips, 2 to 3 at a time
The doughnuts are done once they are golden brown on both sides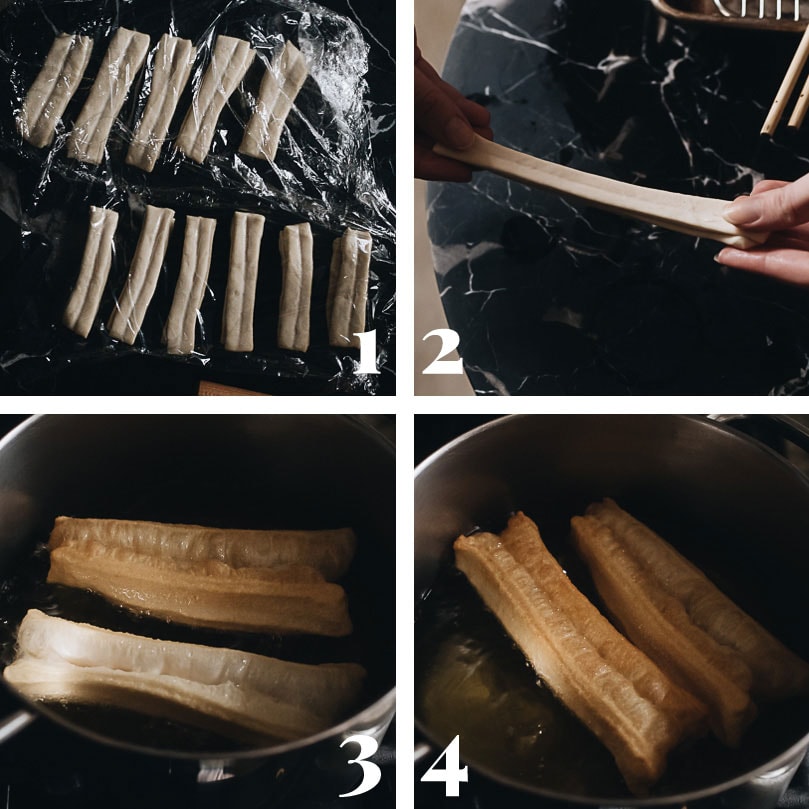 Now you can enjoy these savory donuts with soy sauce or any breakfast beverage you like!
Storage
You Tiao taste best when served fresh. But you can store them and reheat them later. I've tried storing them at room temperature, in the fridge, and in the freezer. They all worked, but I think that frozen You Tiao have the best texture when reheated.
To get the fried dough crispy again, you should heat it up at 400 °F (200 °C) in the oven or use an air fryer. You can even overcook it a bit so the surface will be very crispy (in this case, the inside may become a bit chewy).
Afterthought
I admit that you'll need to spend some time and effort to make this Chinese breakfast classic. But the result is so rewarding! The donuts will turn out crispy, fluffy, and airy. It tastes SO GOOD that it's hard not to overeat. Traditionally it's a breakfast item. But I can eat it any time of day, when I'm craving a salty snack.
I hope you enjoy it as much as I do!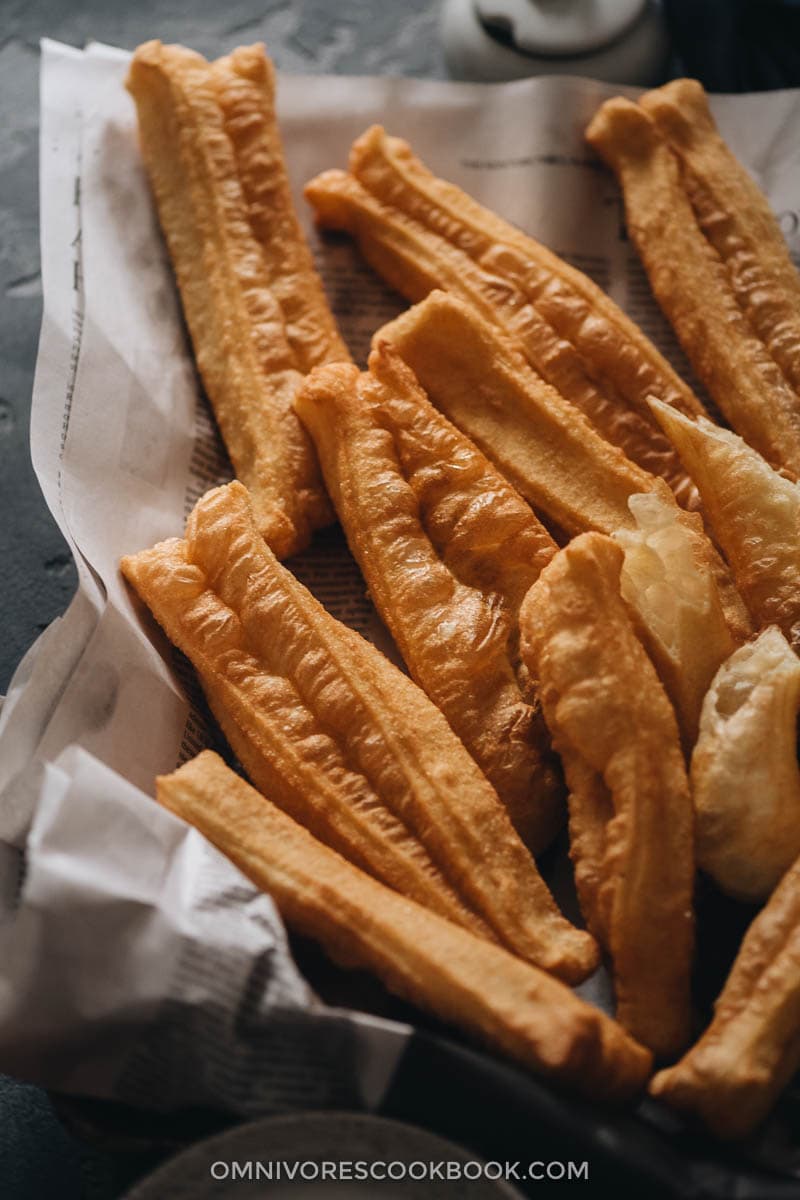 Other delicious Chinese breakfast recipes
If you give this recipe a try, let us know! Leave a comment, rate it (once you've tried it), and take a picture and tag it @omnivorescookbook on Instagram! I'd love to see what you come up with.

Want to Know More?
Receive our 5-Day Chinese Cooking Crash Course & Recipe Updates! Subscribe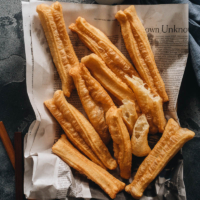 You Tiao (Chinese Donuts) 油条
Homemade You Tiao (Chinese Donuts) are crispy on the surface, extra airy, fluffy, and tender inside. Learn how to make the classic Chinese breakfast staple with safe ingredients while achieving the best texture, just like the street vendors.
Ingredients
200

g (1 and 1/2 cup)

all-purpose flour

115

g (1/2 cup)

water

, cool to room temperature

4

g (1 teaspoon)

baking powder

2

g (1/2 teaspoon)

baking soda

6

g (1 and 1/4 teaspoon)

salt

1

egg white

Vegetable oil for deep-frying
Instructions
Prepare the dough
Prepare a large bowl with a mesh strainer on top. Sift the flour into the bowl.

Combine the water, baking powder, and baking soda in a small bowl. Stir to mix well.

Add the water mixture, egg white and salt into the flour. Stir with a fork until a coarse dough forms.

Knead the dough for 5 minutes. Cover the dough with plastic wrap and let it rest for 30 minutes.
2nd Rise
On a clean working surface, knead the dough the second time for another 2 minutes. Cover it with plastic again and let it rest for at least 2 hours or overnight in the fridge (*See Footnote 1).
Make donuts (see the blog post above for step pictures)
While heating the oil, prepare the donut dough: Divide the dough into two even pieces. Work on them one at a time.

On a lightly oiled surface, roll the dough into a long strip. You can use your hands to hold both ends of the dough and stretch it gently so it's easier to form a long shape. Once the dough is 4" (10 cm) wide and 1/4" (0.5 cm) thick, cut off both ends so it forms a rectangle.

Cut across the rectangular sheet, making 1" (2.5 cm) width 4" (10 cm) rectangles.

Dip a skewer or the back of a knife into water. Press it into the center of half of the rectangles. Place the unpressed strips on top of the the pressed strips and press into the center again, so the two pieces of dough are attached to each other. (*Footnote 2)

Once the donuts are formed, let them rest for another 10 minutes.
Fry the donuts
Heat a tall medium-sized pot with 3" (7 cm) of oil over medium heat until it reaches 375 °F (190 °C).

Line a cooling rack on top of a baking sheet.

Work on the donuts one at a time. Use your fingers to pinch the two ends, and gently stretch it into a thin long strip that is about 8" (20 cm) long. Then gently lower it into the oil. You can cook 2 to 3 donuts at a time, depending on the size of your pot.

Cook each side for 2 minutes or so, until it turns golden color for a soft crispy texture, or a golden brown color for a crispier texture.

Use a pair of tongs to remove the donuts from the oil, gently shake off the excess oil, then transfer them onto the cooling rack.

Enjoy the donuts while they're hot or warm.
Store
To store the leftover donuts, wait until they cool down completely, then transfer them into a ziplock bag. Store them in the fridge for 2 to 3 days or in the freezer for up to a month.

To reheat the donuts, preheat the oven to 400 °F (200 °C). Place the donuts on a baking tray and bake until heated through, 5 minutes for refrigerated or 8 minutes for frozen donuts.
Notes
We found that the flavor and the texture of the donuts will be slightly better if the dough rests in the fridge overnight. However, 2 hours' resting works well enough.
The goal is to attach the two pieces of dough to fry them together. But the dough shouldn't be pressed too much, because you also want to be able to easily separate them after frying.
Nutrition
Serving:
1
donut
,
Calories:
103
kcal
,
Carbohydrates:
12.9
g
,
Protein:
2
g
,
Fat:
4.7
g
,
Saturated Fat:
0.9
g
,
Sodium:
244
mg
,
Potassium:
56
mg
,
Fiber:
0.5
g
,
Sugar:
0.1
g
,
Calcium:
17
mg
,
Iron:
1
mg
Lilja Walter is a part of the Omnivore's Cookbook team and worked with Maggie closely to develop and test this recipe.