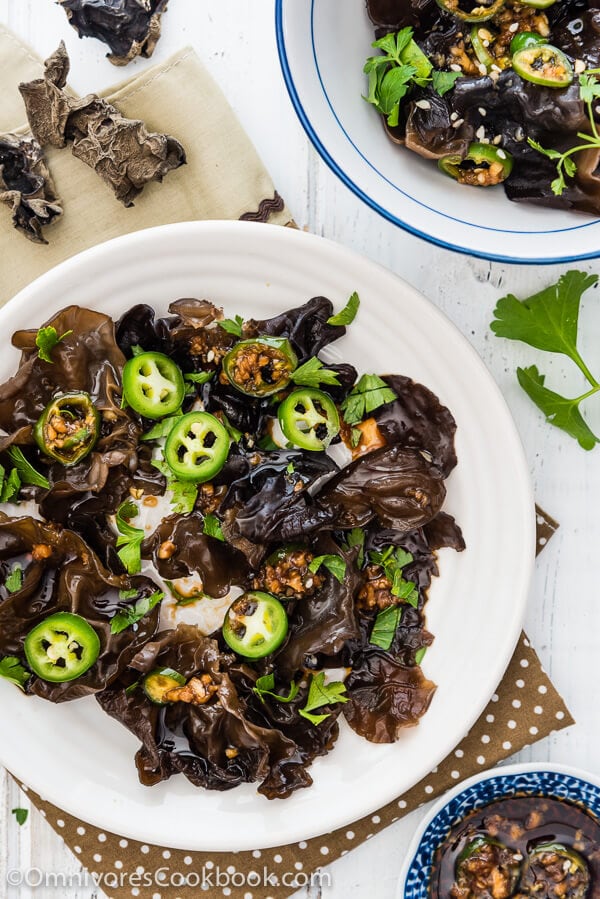 This wood ear mushroom salad is a simple and refreshing cold appetizer that is wildly popular in China but unknown in the rest of the world. Learn this recipe and start cooking like a real local!
If you like real-deal Chinese cuisine, you should definitely get familiar with wood ear mushrooms and keep some in your pantry.
The wood ear mushroom is also called black fungus in English and mu er (木耳) in Chinese. Mu er literally means "wood ear" in Chinese. Unlike the average mushroom, mu er does not have a spongy texture and does not absorb a lot of water. After cooking, it has a crunchy and clean mouthfeel, slightly like that of jellyfish. A raw wood ear mushroom has a grassy and woody fragrance, but doesn't have a strong taste once cooked. Or, you could say, it tastes like whatever sauce it's cooked with.
In Chinese cooking, wood ear mushrooms can be added to all sorts of dishes to add texture. It is one of the key ingredients in the famous moo shu pork. It's often used in northern style noodles with gravy. It is commonly used in dumpling fillings, too.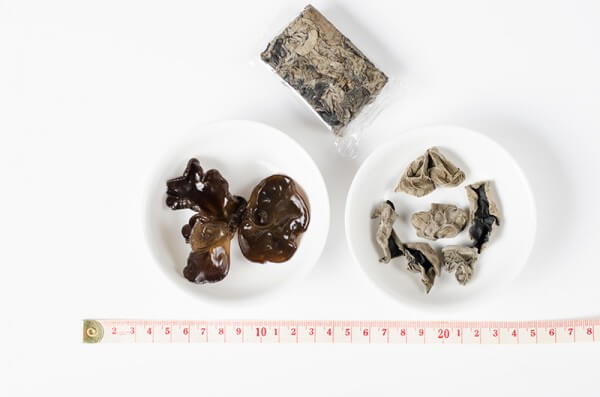 Dried wood ear mushrooms are a must-have item in the Chinese kitchen because they have a super long shelf life and magically make every dish taste better. To cook with wood ears, simply soak them in water until rehydrated. As I said, although the mushroom does not have a strong flavor itself, it holds sauce very well and adds a nice woody aroma and texture to a dish.
All this talking leads us to the dish I want to share today – wood ear mushroom salad, a very popular cold dish in China. It appears on menus everywhere, from small cafeterias in office buildings to large restaurants serving fancy food.
Not only does it taste simple, refreshing, and delicious, it is recently being marketed as a superfood that will cleanse the pollution-related toxins from your lungs. Google "Beijing pollution" and you'll see why this kind of marketing is popular.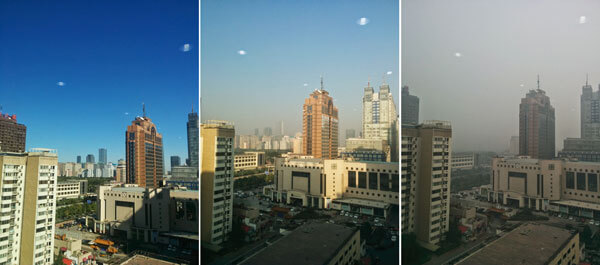 Of course, I'm sharing this recipe because of its flavor, not because of its supposed magical powers. You might find the ingredient list a bit long. The truth is, there are many, many versions of this salad and I found that it even tastes good with just a few drops of soy sauce and sesame oil. I'm sharing this slightly complicated version because it is the best one I've tried so far. It uses a Sichuan peppercorn infused hot oil, so it has an extra pungent flavor. If you think this is too much trouble, feel free to use sesame oil itself, instead of cooking the peppercorn oil.
Next time you're cooking dumplings or buns, add this simple appetizer to your table and you'll be eating like a real local. 🙂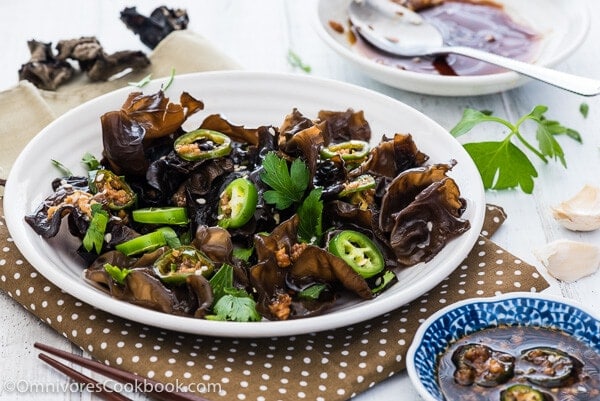 Do you like my recipes? Sign up for Omnivore's Cookbook's weekly newsletter to get the latest updates delivered to your inbox and a free e-cookbook! And stay connected via Facebook, Instagram, Pinterest and Google+. Thanks for reading and happy cooking!
Want to Know More?
Receive our 5-Day Chinese Cooking Crash Course & Recipe Updates! Subscribe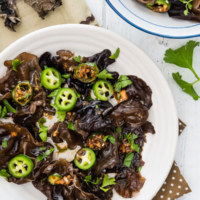 Wood Ear Mushroom Salad (凉拌木耳)
This wood ear mushroom salad is a simple and refreshing cold appetizer that is wildly popular in China but unknown in the rest of the world. Learn this recipe and start cooking like a real local!
Ingredients
1/3 to 1/2

cup

dried wood ear

black fungus

2

cloves

garlic

, grated

1 Thai chili pepper (or 1/2 serrano pepper), chopped

(Optional)

1

tablespoon

light soy sauce

1

teaspoon

black rice vinegar

1/2

teaspoon

sugar

1/8

teaspoon

salt

1

tablespoon

peanut oil

(or vegetable oil)

1

teaspoon

Sichuan peppercorn

1/4

cup

cilantro

, chopped
Instructions
Combine wood ear mushrooms with 3 cups water in a large bowl. Rehydrate for 2 to 3 hours. If you are in a hurry, you can use hot water instead. It will shorten the rehydration time to 20 minutes. Gently rinse the rehydrated mushrooms with tap water. Remove the tough ends and tear into small pieces.

Bring a pot of water to a boil. Add wood ear mushrooms and cook for 3 minutes. Drain, rinse the mushrooms with cold water, drain again, and set aside.

Combine garlic, chili pepper (if using), light soy sauce, black rice vinegar, sugar, and salt in a small bowl. Stir to mix well.

Heat peanut oil in a small skillet until warm. Add Sichuan peppercorn. Cook until you can smell a strong fragrance, 2 to 3 minutes. Stop heat. Remove all the peppercorns with a slotted spoon.

Pour the hot oil into the small bowl of soy sauce based mixture. Mix well.

Combine the sauce and wood ear mushrooms in a bowl, toss a few times.

Garnish with cilantro and serve as a cold appetizer.