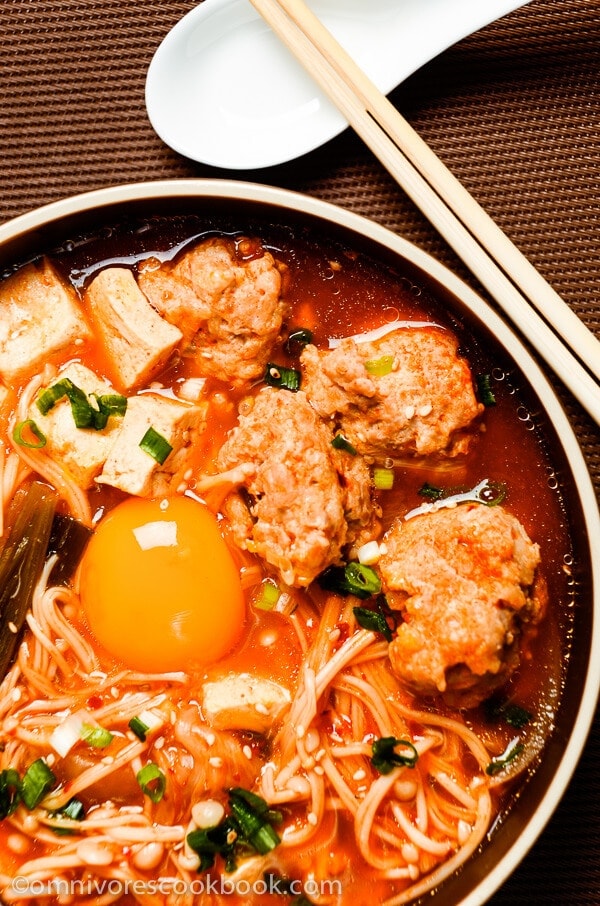 Kimchi Tofu Meatball Stew is a perfect hot soup for a cold winter night. It is appetizing, healthy, and extremely easy to make. Unlike traditional kimchi soup, this recipe uses ground pork instead of pork slices to create flavorful, juicy and tender meatballs. The soup tastes so fulfilling that you can serve it alone as a dinner. It also goes great with steamed rice.
Kimchi stew was one of my favorite comfort foods while I was living in Japan. Back then, I was not so good at cooking, so I usually purchased Korean style soup base from the supermarket. To cook a hearty dinner, the only thing I needed to do was to dump the soup, some veggies, and some meat into the pot and boil it for ten minutes. My favorite combination was Chinese cabbage, mushroom, tofu and shrimp. Those ingredients were cheap and didn't require a lot of prep.
After I started to cook more often, I found it quite easy to recreate the kimchi soup at home. You can use kimchi, Korean chili paste, sugar, and salt to create a great soup base. I was so happy when I discovered the secret to making the soup. Now I can enjoy the stew any time, even if I can't find the soup base in a local supermarket.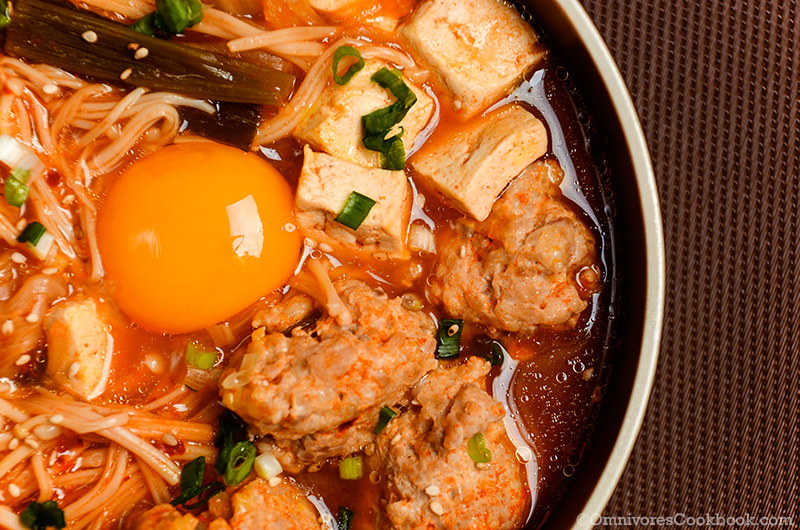 I referred to Maangchi's recipe – kimchi jjigae and made a few tweaks. The major star in this stew is the meatball. Although it's not authentic to use meatballs in this soup, they taste much more flavorful and fulfilling in this soup than pork slices do. I don't like using pork, because it tends to become chewy and plain after boiling. The exception to this rule is if you can find some super thinly sliced pork, as thin as a piece of paper (you can usually find them in Japanese markets). Besides meatballs, you can use seafood as an alternative. You can also add other vegetables or use different types of mushrooms in the stew.
The key to making tender and juicy meatballs
(1) Add bread crumbs (panko) into the ground pork – The bread crumbs will soften the texture and make the meatballs fluffy. Use a teaspoon of cornstarch if you don't have any bread crumbs.
(2) Add meatballs at the end of braising and cook over low heat. The meat is easily cooked through and will continue to cook in the hot stew even after you turn off the heat. Boiling for a long time will harden its texture.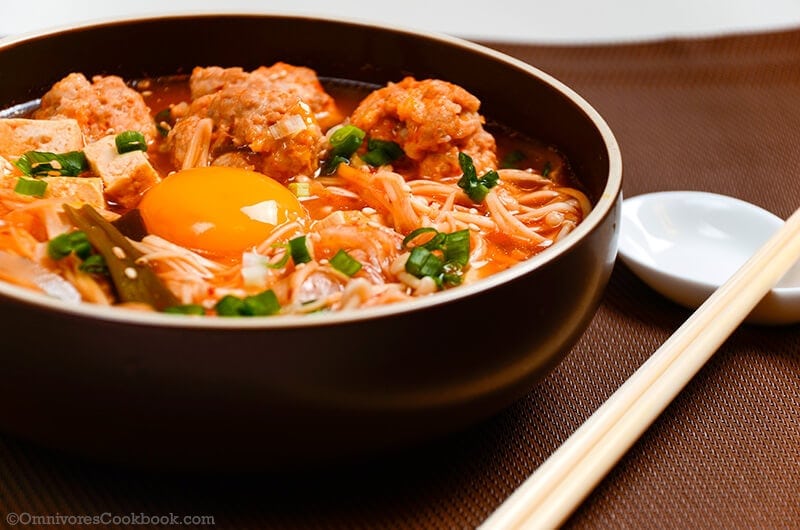 Kimchi Tofu Meatball Stew
Author:
Omnivore's Cookbook
Ingredients
250 grams (9 ounces) ground pork
1/2 teaspoon minced ginger
2 teaspoons soy sauce
1 tablespoon Japanese Sake (or Chinese cooking wine)
400 grams (14 ounces / 2 cups) kimchi
1/4 white onion, sliced
1 pack firm tofu
2 cups golden needle mushrooms, tough ends removed
4 - 5 (1 cup) green onions, chopped into 5 centimeter (1 inch) long pieces
1 teaspoon Korean chili paste (gochujang)
1 tablespoon sugar
2 teaspoons salt
1 tablespoon bread crumbs
1 egg white
egg yolk, green onion, and/or toasted sesame seeds for garnish (optional)
Instructions
Combine ground pork, ginger, soy sauce and Sake in a small bowl. Mix well and set aside at room temperature to marinate.
Combine kimchi, onion, tofu, green onion, and mushroom in a large pot or dutch oven. Add chili paste, sugar, and salt. Pour in 3 cups of water, or add water until it covers all ingredients. Bring to a boil over medium high heat. Turn to lowest heat and simmer, covered, for 15 minutes.
While simmering the soup, add bread crumbs and egg white into ground pork and mix well.
When the ingredients in the soup are cooked through, use a medium-sized spoon to scoop the ground pork, shape it into a ball, and add it into the soup. Continue making the rest of the meatballs one at a time, in the same manner. Turn to medium heat until the stew starts to boil. Turn to lowest heat and simmer, covered, for about 5 minutes, or until meatballs are cooked through but still very soft. You can take out a meatball and cut it to check whether it's cooked. Turn off heat immediately.
Pour the stew into serving bowls and garnish with egg yolk, green onion, and sesame seeds. Serve hot with rice or bread.
The post was updated 13 November 2014.