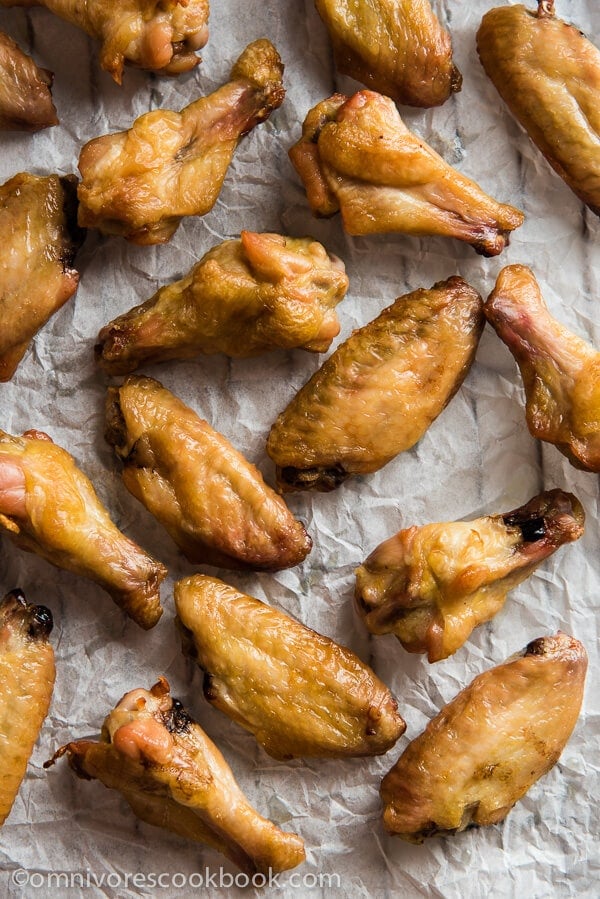 These are the most crispy oven baked wings ever! Serve them with the sticky Korean BBQ sauce, and I guarantee you won't have any left, as you'll devour the whole batch!
Wings are classic. Why? Because they have a magical power to cheer you up, whatever the occasion may be.
Yesterday I officially retired.
The first thing I did – I took a nice morning walk to a nearby supermarket, bought a batch of chicken wings, cooked them using this recipe, and ate them all with a chilled bottle of Chardonnay. I felt good immediately.
I know, I know, I should have washed them down with cold beer. But I happened to have a white wine in the fridge (well, I always have a bottle in the fridge).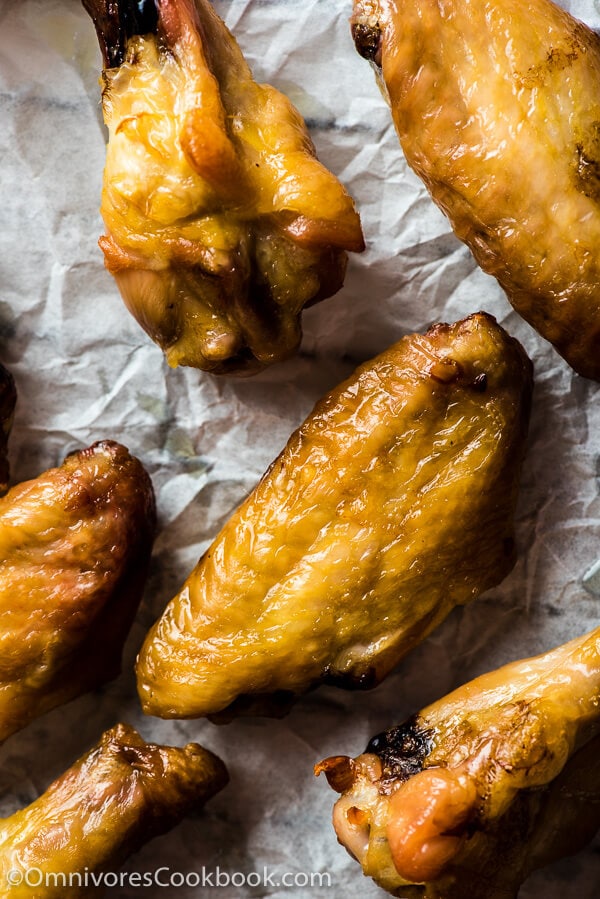 Wait a moment. Did I just mention I retired? I mean, I haven't reached retirement age yet (which for me will probably be 90). However, I quit my corporate job and became a freelancer. When people hear the word "freelancer", they tell me "Congrats on your retirement!" Why? Because the word has "free" in it.
What does free really mean? It means that every day, I don't have to spend 2 hours commuting while reading a nice book, sitting in a wide and sunny office for 8 hours where I have free coffee to drink and can chat with colleagues during lunch break, all the while some sweet cash money gets automatically transferred into my bank account on the 25th of each month.
Now I'm really free, and I don't have to do any of that.
Instead, I can wake up without an alarm, and then suddenly freak out about the fact that I won't have any income at the end of the month. I started working on my own project (which is pro bono) for ninety-nine percent of the time. The moment I was freed from my boss, I became servant to my clients.
Sweet!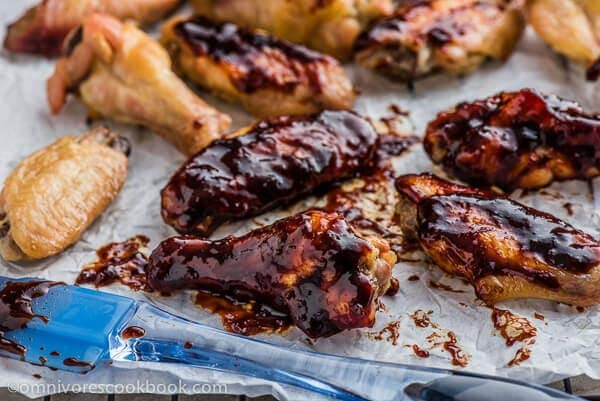 I admit, I just had a tiny panic attack yesterday. But then, I did a thing that always makes me feel better – I cooked some wings and ate them.
These are not just some normal wings that I randomly picked from some website. The recipe was adapted from Truly Crispy Baked Chicken Wings by RecipeTin Eats. Her food blog is full of easy-to-cook recipes that are guaranteed to have great flavor. By great flavor, I mean BOLD flavor. Who doesn't like that?
I have been trying out quite a lot of baked wings recipes, and this one generates the most crispy outcome. The secrets are: dry the wings thoroughly, mix them with baking powder, and bake them at low temperature before moving to high temperature. That's it.
The Korean BBQ sauce is a nice addition, but the crispy wings are delicious enough to serve by themselves.
Once you try out this method, you'll use it again and again. And again. By the way, that's why you see some different process pictures than the final ones in this post. I cooked them so many times. The first time I tried the recipe, the wings didn't survive long enough to make it to the final photo shoot (they were that good!).
Want more chicken wings recipes? Check out Chinese Baked Hot Wings, Easy Japanese Baked Chicken Wings, and 15 Chicken Wings Recipes that Will Blow your Mind.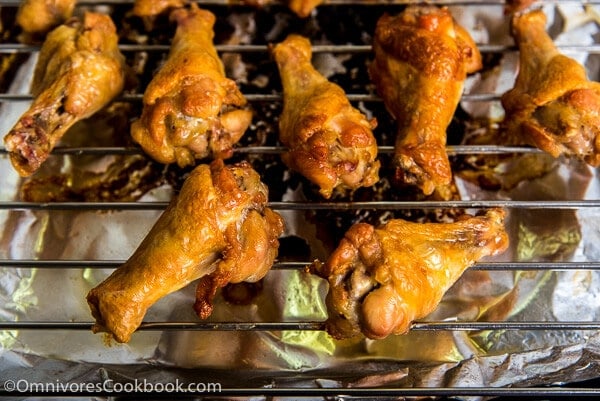 Do you like my recipes? Sign up for Omnivore's Cookbook's weekly newsletter to get the latest updates delivered to your inbox and a free e-cookbook!
Want to Know More?
Receive our 5-Day Chinese Cooking Crash Course & Recipe Updates! Subscribe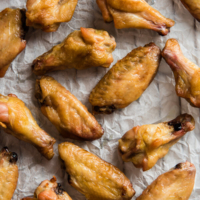 Oven Fried Chicken Wings with Korean BBQ Sauce
These are the most crispy oven baked wings ever! Serve them with the sticky Korean BBQ sauce, and I guarantee you won't have any left, as you'll devour the whole batch!
Ingredients
For the wings
4

pounds (2 kilograms)

chicken wings

2

teaspoons

baking powder

1

and 3/4 teaspoon

salt

Oil spray
For the Korean BBQ dipping sauce
1

tablespoon

peanut oil

(or vegetable oil)

4

cloves

garlic

, grated

1/2

thumb ginger

, grated

4

tablespoons

gochujang

Korean fermented chili garlic sauce

2

tablespoons

light soy sauce

1

tablespoon

rice vinegar

2

tablespoons

sugar
Instructions
To cook the wings
Arrange the wings on a baking rack without overlapping them. Place the rack in the fridge for a few hours or overnight to dry the wings. Alternatively, you may dry the wings thoroughly with a paper towel.

Preheat oven to 120 degrees C (250 F).

Add the wings, baking powder and salt into a large Ziploc bag. Shake to coat the wings evenly.

Line a baking tray with aluminium foil. Place a baking rack on top. Spray the rack with a thin layer of oil. Arrange chicken on the rack and make sure there is some space between the wings.

Place the wings on the lower rack of the oven and bake for 30 minutes at 120 degrees C (250 F).

Move the baking tray to the upper level of the oven. Increase the oven temperature to 220 degrees C (425 F). Continue to bake for another 40 minutes, until the surface turns dark golden brown and crispy.
To make the dipping sauce
Mix gochujang, light soy sauce, rice vinegar and sugar in a bowl.

Add oil to a saucepan and heat over medium low heat until warm.

Add ginger and garlic. Stir until fragrant.

Add the mixed sauce. Cook and stir over low heat for 2 to 3 minutes, until the sauce turns to even thickness, without boiling. Transfer to a bowl.

Serve the wings warm with sauce.
Nutrition
Serving:
243
g
,
Calories:
455
kcal
,
Carbohydrates:
5.6
g
,
Protein:
66.1
g
,
Fat:
16.8
g
,
Saturated Fat:
4.6
g
,
Cholesterol:
202
mg
,
Sodium:
980
mg
,
Potassium:
692
mg
,
Sugar:
3.8
g
,
Vitamin A:
100
IU
,
Vitamin C:
0.8
mg
,
Calcium:
90
mg
,
Iron:
2.9
mg