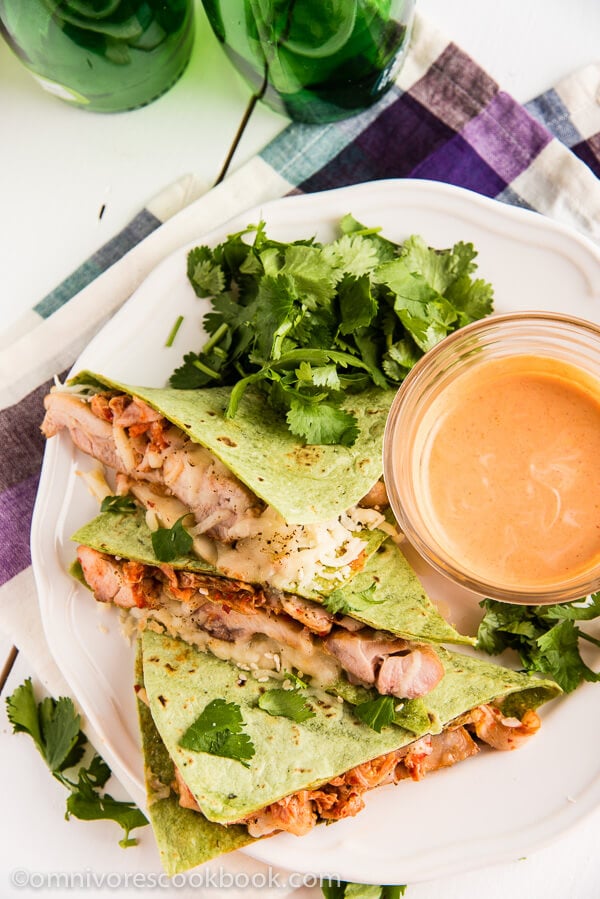 Kimchi chicken quesadillas use minimal seasoning to create the best flavor. Tender chicken + pungent kimchi + melted cheese = perfection!
The minute I took a big bite of the kimchi quesadilla from Chi'lantro, I knew I would be stealing the idea. And I did.
Chi'lantro serves creative Korean fusion Tex-Mex. They have a restaurant and a food truck in Austin. Thomas and I visited the food truck for a quick lunch. We ordered spicy chicken quesadillas and the original kimchi fries. It was like a dream come true – everything on the menu had kimchi on it! The quesadillas were loaded with cheese and big cuts of tender chicken. They came with a wonderful garlic mayo that I was tempted to drink all of.
You see, this is the charm of Austin. You don't need to make a reservation a day ahead or spend a fortune to get great food. Just park your car next to a food truck park, choose a truck that strikes your fancy, and you'll have some fresh-off-the-stove-finger-licking goodies in 5 minutes, at a very reasonable price.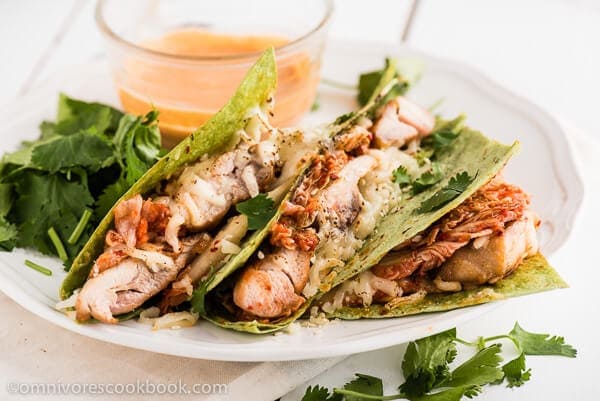 To speak of kimchi. If you haven't added it to your must-have pantry list, stop what you're doing, hop into your car, drive to the nearest Asian market and get a big jar of it. By the way, I got mine at H-E-B, which proves kimchi is a totally average American household ingredient!
The reason I love kimchi is that you can never go wrong with it in the kitchen. Kimchi itself contains ginger and garlic and has a sour-savory taste as a result of fermentation. It has such a bold and delicious flavor that you could easily season a dish with it in no time.
I've cooked a lot of dishes with kimchi, such as kimchi meatball stew, kimchi fried rice, and kimchi pancake. Among them, kimchi steamed buns are the most popular. If you look at the ingredient list, you'll find it only requires four ingredients. No, that's not a typo. You can create the best dumpling filling with minimal effort, thanks to the omnipotent kimchi.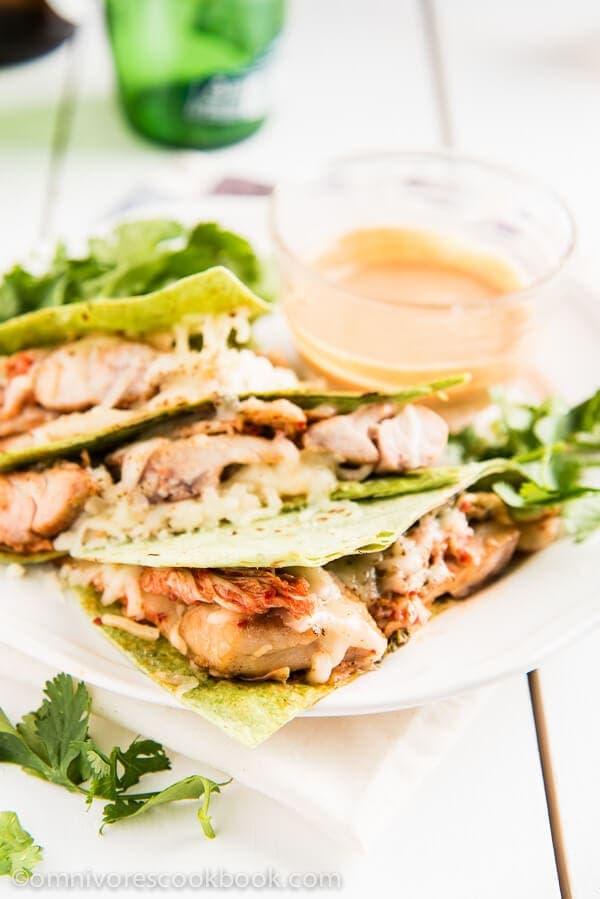 The same logic applies to this recipe. You don't really need to marinate the chicken with tons of seasoning to get a flavorful dish. The kimchi does all the work for you. I used light soy sauce here to give the chicken a golden color and a nice char. I coated it with cornstarch (a trick we use in every Chinese stir fried dish), so I could get a very tender and juicy chicken on the stove top without overcooking it. That's it! You can then assemble the quesadillas and serve the feast in 5 minutes.
I created a nutty sauce to go with the dish. Instead of mayonnaise as a base, I went for the healthier option of Greek yogurt and honey. But even if you don't serve the quesadillas with any sauce, you'll still find yourself devouring them all, after you've picked them up from the stove and before you can set them on the dinner table!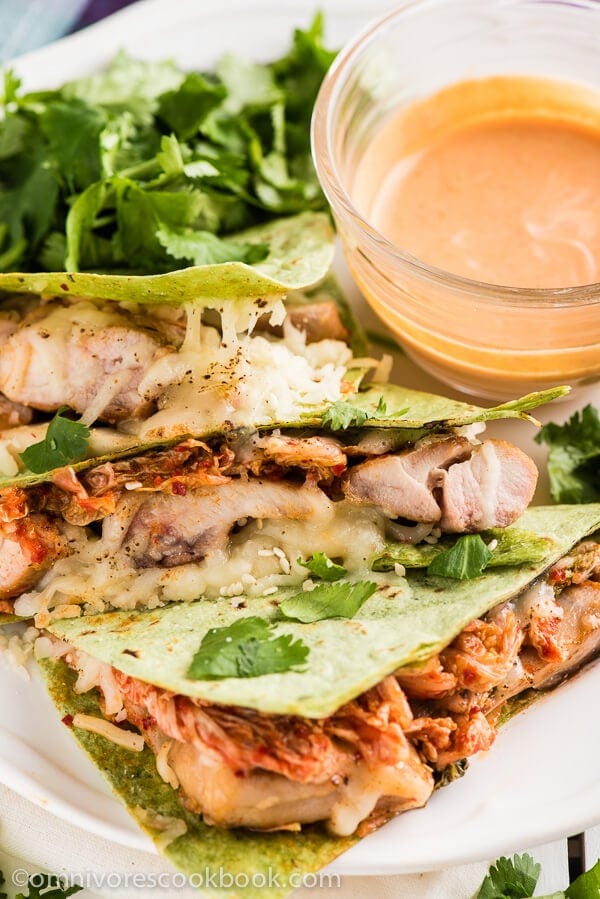 Want to Know More?
Receive our 5-Day Chinese Cooking Crash Course & Recipe Updates! Subscribe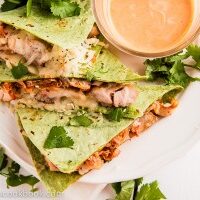 Kimchi Chicken Quesadillas
Kimchi chicken quesadillas use minimal seasoning to create the best flavor. Tender chicken + pungent kimchi + melted cheese = perfection!
Servings:
2
big Quesadillas
Ingredients
For the quesadillas
2

boneless skinless chicken thighs

(or 1 chicken breast, sliced)

1

tablespoon

light soy sauce

2

teaspoons

cornstarch

1

tablespoon

vegetable oil

1

cups

kimchi

, chopped

1/2

cup

mozzarella cheese

, shredded

2

10"/26 cm flour tortillas

(burrito-sized) (*see footnote)
Instructions
Mix all the ingredients for the sauce together in a small bowl. Set aside.

Add chicken, light soy sauce and cornstarch to a bowl. Mix by hand until the chicken is evenly covered with a thin layer of starch.

Heat a skillet with vegetable oil over medium heat until warm. Spread chicken onto pan without overlapping. Cook until the bottom side turns golden, about 2 minutes. Flip to cook the other side, until the chicken is cooked through, about a minute and a half. Transfer the chicken to a plate.

Assemble quesadillas one at a time. Spread chicken on one side of a tortilla, add a layer of kimchi, and scatter with cheese. Fold the tortilla into the shape of a half moon.

Heat a big skillet over low heat until warm. Place quesadillas in the skillet. Cook until the bottom side crisps. Flip and cook the other side, until the cheese melts.

Slice the quesadillas into 3 to 4 wedges. Serve warm with dipping sauce.
Notes
I used spinach tortillas in this recipe, because the green color made the dish a bit fancier looking. You can use standard flour tortillas if you like.
Nutrition
Serving:
226
g
,
Calories:
417
kcal
,
Carbohydrates:
18.4
g
,
Protein:
37.7
g
,
Fat:
20.7
g
,
Saturated Fat:
7.6
g
,
Cholesterol:
104
mg
,
Sodium:
1169
mg
,
Potassium:
326
mg
,
Fiber:
1.7
g
,
Sugar:
2.6
g
,
Vitamin A:
300
IU
,
Calcium:
250
mg
,
Iron:
1.8
mg
You might also like: