These wontons are filled with fresh herbs, juicy tomatoes, and beef, creating a rich and moist texture, and they're served in a refreshing tomato egg drop soup.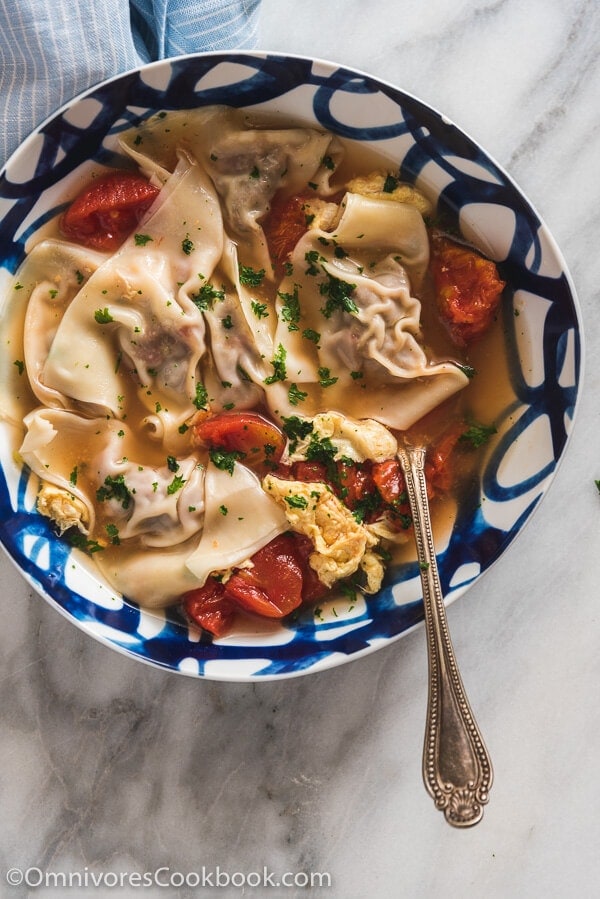 You don't usually see Chinese home cooks use beef in dumplings and wontons. Compared to the most popular dumpling filling, pork, beef is usually tougher in texture and contains less fat. If you're not careful when selecting ingredients for your dumpling filling, the dumplings will end up dry.
Adding tomatoes into the filling solves the dryness. It creates a rich and fresh flavor with a juicy texture. When making tomato beef wontons, you just need to add a handful of fresh herbs and lightly season the filling with a touch of soy sauce and Sichuan peppercorn to bring out the great flavor of the ingredients.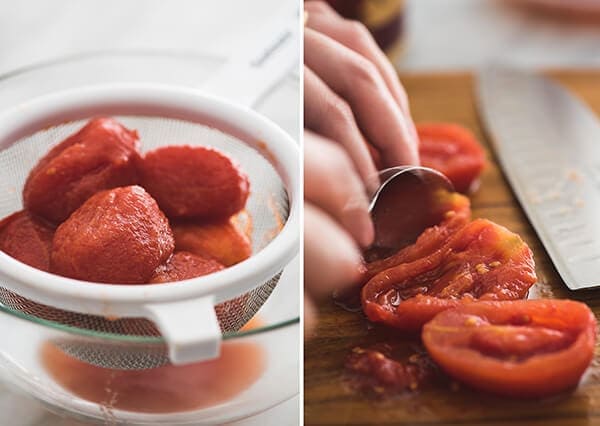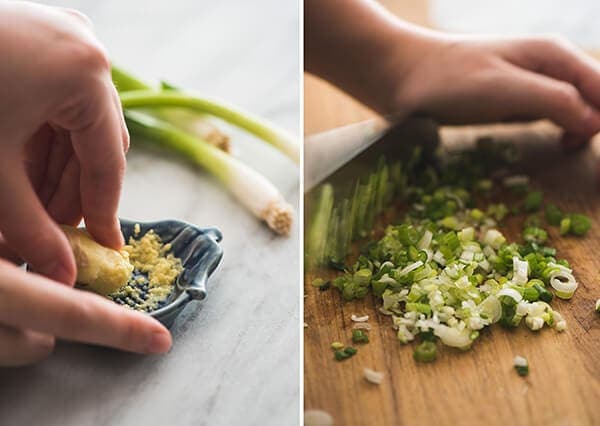 You need to pay extra attention when using tomatoes in wonton filling. Do remove the tomato skins and seeds so you get a silky mouthfeel without a bitter aftertaste. Tomatoes contain a high percentage of moisture, which will make the filling watery. Draining the tomatoes thoroughly before mixing them into the filling will make the wrapping process much easier.
If you've been following my blog, you know that I always prioritize fresh ingredients in my cooking. However in this case, I prefer to use canned tomatoes instead of fresh ones.
Canned tomatoes are usually picked at their peak and packed into cans to preserve the flavor. On the other hand, fresh tomatoes at the supermarket are usually not fully ripened and still a little tough, which allows them to be transported without being crushed and allows them to sit on the shelf for days.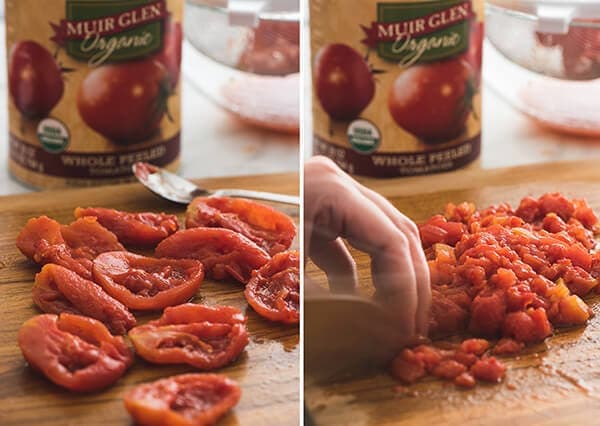 To make great tasting tomato beef wontons, the trickiest part is to keep the filling flavorful without it turning watery. By using Muir Glen peeled whole tomatoes, you get a more concentrated flavor from just a small amount of tomato meat. Plus, you can skip the process of roasting and peeling the tomatoes that you'd need if you were using fresh.
There are many ways to serve these wontons. I created a simple egg drop soup here with tomatoes from the same can. It takes about 5 minutes to make and brings out the fresh flavor of the wontons. Alternatively, you can use the chicken soy sauce soup base from my Cantonese wonton recipe.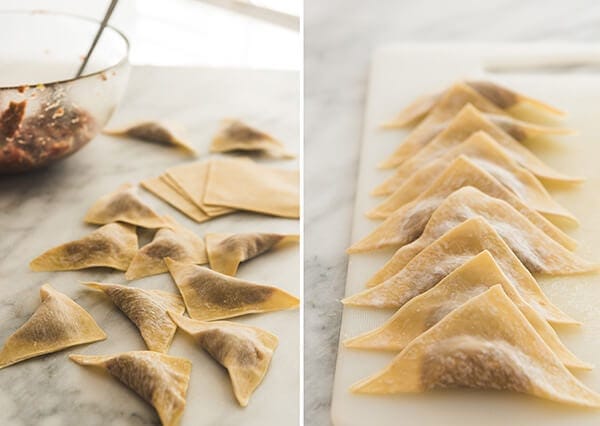 You could pan-fry the wontons, as well, and serve them as an appetizer. Please note, since wonton wrappers are much thinner than dumpling wrappers, some of the juice may escape from the filling and cause oil splatter. That's why I always cover the pan when cooking wontons this way.  I don't recommend deep-frying these wontons for the same reason.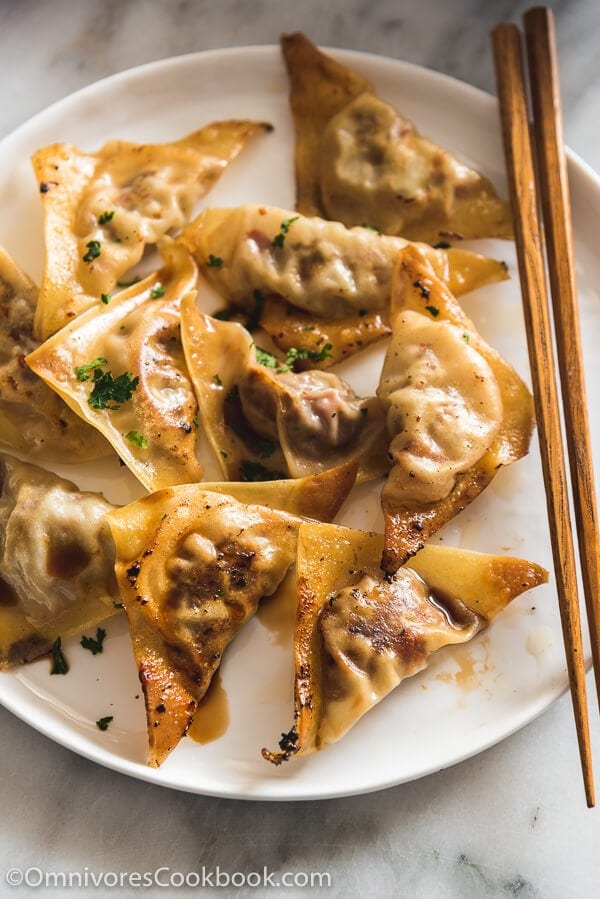 Of course, you can use round shaped dumpling wrappers to make proper potstickers with the tomato beef filling. Watch the video from this post to learn how to wrap dumplings. Or you can even make your own dumpling dough from scratch.
UPDATE: I cooked the leftover wontons for lunch today and just realized I can use the tomato juice saved from the can to make a quick sweet and sour soup base. To make this soup (per serving), bring 1 to 1.5 cups chicken stock to a boil. Add a few spoonfuls of leftover tomato juice from the can. Add 1/2 teaspoon sugar or more, until the soup doesn't taste too sour. Bring to a simmer. Prepare a large serving bowl, add 1 teaspoon soy sauce and 1/2 teaspoon sesame oil. Pour the soup into the bowl, add cooked wontons, and garnish with minced chives (or green onion). The soup is rich and goes great with these wontons.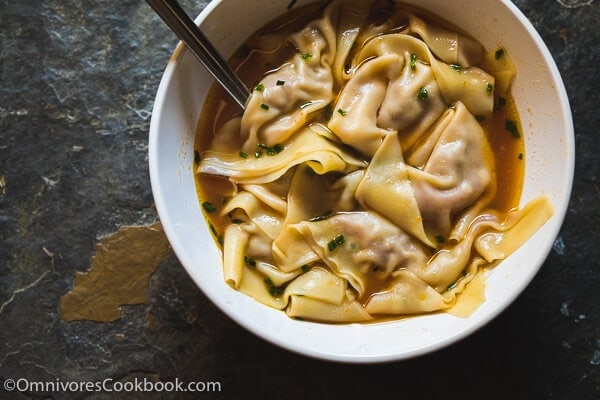 If you give this recipe a try, let us know! Leave a comment, rate it (once you've tried it), and take a picture and tag it #omnivorescookbook on Instagram! I'd love to see what you come up with. Cheers, friends!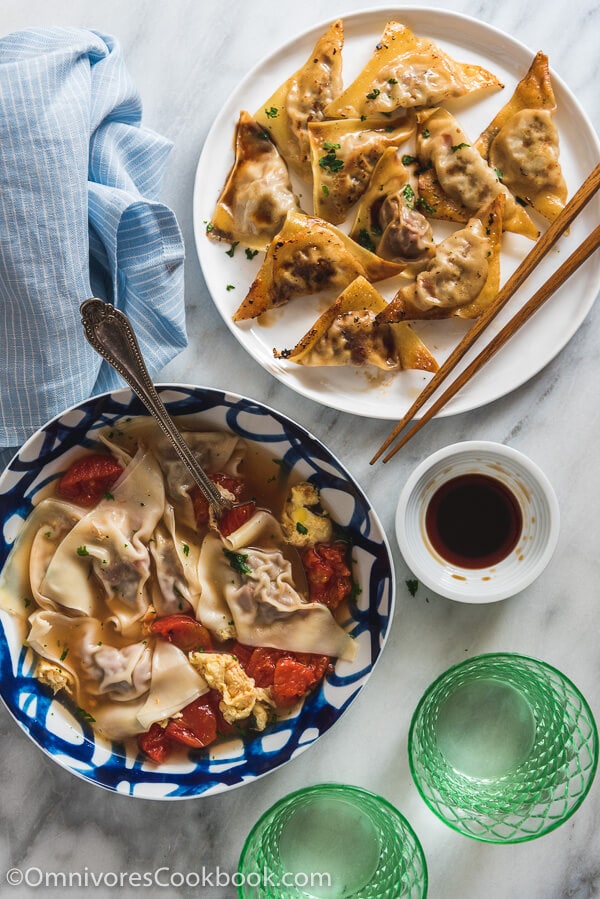 I'm partnering with Muir Glen Organic to share this recipe with you. All opinions/endorsements are my own. Thanks for your support!
Want to Know More?
Receive our 5-Day Chinese Cooking Crash Course & Recipe Updates! Subscribe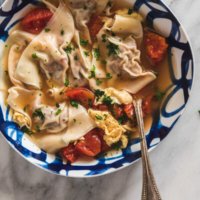 Tomato Beef Wonton
These wontons are filled with fresh herbs, juicy tomatoes, and beef, creating a rich and moist texture, and they're served in a refreshing tomato egg drop soup.

Ingredients
1

can (28 oz)

Muir Glen whole peeled tomatoes

(*see footnote 1)
Wonton
1/2

pound (220 grams)

ground beef

2

to 3

green onions

, finely chopped

1

tablespoon

light soy sauce

(or soy sauce)

1

tablespoon

rice wine

(or Shaoxing wine) (Optional)

1/4

teaspoons

ground Sichuan peppercorns

(or ground black pepper)

1/2

teaspoon

ginger

, grated

1

teaspoon

sugar

1/2

teaspoon

salt

1

tablespoon

toasted sesame oil

(or vegetable oil)

1

pack

wonton wrappers

(or dumpling wrappers) (*see footnote 2)
Quick tomato egg drop soup
4

cups

chicken stock

2

eggs

1

piece

ginger

Chopped cilantro for garnish

(Optional)
Instructions
Prepare tomatoes
Transfer the whole tomatoes into a colander placed on a large bowl to drain the extra liquid. You can save the liquid to use later (see the last paragraph in the post to make a sweet and sour soup base, in a dish such as this tomato sauce fried noodles, or use it in various dishes). While draining the tomatoes, you can start to prepare the dumpling filling.

Remove the seeds from the tomatoes. Gently squeeze them to remove extra moisture. This process is very important, so the wontons won't end up watery.

Finely dice 5 of the tomatoes to 2/3-cm (1/4-inch) pieces. Coarsely chop the rest of the tomatoes, and transfer them into another bowl for the egg drop soup later.
Make wontons
Combine ground beef, green onion, light soy sauce, Sichuan peppercorns, ginger, and sugar in a large bowl. Stir to mix well. Let marinate for 5 to 10 minutes.

When you're ready to wrap the wontons, add the 5 diced whole peeled tomatoes, salt, and sesame oil into the bowl with the beef (*see footnote 3). Mix well with a spatula.

Prepare a small bowl of water. Prepare a tray or a large airtight container (one you can store in the freezer), and spray a thin layer of oil onto it. This will prevent wontons from sticking to the bottom.

Work on the wontons one by one.

Place 1 teaspoon of filling onto the center of the wonton wrapper (*see footnote 4). Wet the edge of the wrapper with your finger. Fold the wonton so it forms a triangle. Squeeze as much air as possible from the wonton, and press the edge to seal. Place completed wonton onto the tray (or container).

When you've finished wrapping 20 wontons, seal the tray and store it in the freezer. This process keeps the wontons fresh and prevents drying out.
Tomato egg drop soup
Add chicken stock into a pot and bring to a boil. Add the chopped whole tomatoes.

When the stock starts to simmer again, turn to low heat. Put a spatula (or a fork) against one end of the bowl with the egg in it. Slowly drizzle egg into the soup in a swirling motion. Mix the soup and taste it with a small spoon (be careful, the soup is very hot!). Add salt to adjust seasoning, if necessary.

Turn to lowest heat to keep the soup warm.
Cook wontons
Now, you should have two batches of wontons, 20 frozen and the rest fresh. Cook them separately, fresh first.

(Option 1) Wonton soup (*see footnote 5) - Bring a large pot of water to a boil over medium high heat. Add wontons one by one. Gently stir with a ladle to prevent sticking. Cook until the wontons are floating on top and start to inflate like balloons. Remove a wonton and carefully taste it to see whether it's cooked through. If yes, transfer wontons to each serving bowl. Add the tomato egg drop soup. Garnish with cilantro, if using. Serve immediately.

(Option 2) Pan-fried wontons - Heat 1 tablespoon oil in a large nonstick pan over medium high heat until hot. Place wontons into the pan. Add 2 to 3 tablespoons water and cover immediately. Turn to medium heat. Let steam for 2 to 3 minutes (you will need more time if you made larger dumplings, or if you're cooking with frozen wontons), or until the bottom turns golden. Remove a wonton and carefully taste it to see whether it's cooked through. If yes, transfer the wontons to a large plate.

Serve warm with the tomato egg drop soup as a side.
Notes
If you don't cook the egg drop soup, you can use a 14.5-oz. can of whole peeled tomatoes instead.
You can use store-bought dumpling wrappers or homemade dumpling wrappers, as well. Read more about how to seal the dumplings here

. Learn how to make dumpling wrappers

here

.

Always add salt right before you wrap the wontons. Salt draws moisture out from the ingredients, and the filling will become watery if you add salt too early.
If you're using dumpling wrappers (not wonton wrappers), you can use more filling per dumpling.
Only use this method if you make the dish with wonton wrappers or homemade dumpling wrappers. Store-bought dumplings wrappers are very dry and thick. They usually won't stay sealed when boiling.
Nutrition
Serving:
617
g
,
Calories:
460
kcal
,
Carbohydrates:
57.9
g
,
Protein:
31.6
g
,
Fat:
10.7
g
,
Saturated Fat:
2.7
g
,
Cholesterol:
138
mg
,
Sodium:
1123
mg
,
Potassium:
838
mg
,
Fiber:
4.3
g
,
Sugar:
6.7
g
,
Vitamin A:
1900
IU
,
Vitamin C:
40.4
mg
,
Calcium:
80
mg
,
Iron:
14.8
mg