An elegant vegetarian dumpling that uses carrots, bamboo shoots, mushrooms, and eggs to create a fresh, moist, and rich filling. It will make a lovely addition to your dim sum party.
After introducing pork and shrimp dumplings and lamb dumplings, I've gotten many requests for a vegetarian dumpling recipe. So today I want to share this carrot and egg dumpling with you.
There are many ways to create Chinese vegetarian dumplings. You can use many types of vegetables in the filling. To make the filling delicious, the general rule of thumb is to use ingredients with different textures. Also make sure you use some dried foods (e.g. mushrooms) to add umami, so you can create a full, rich flavor, even without meat.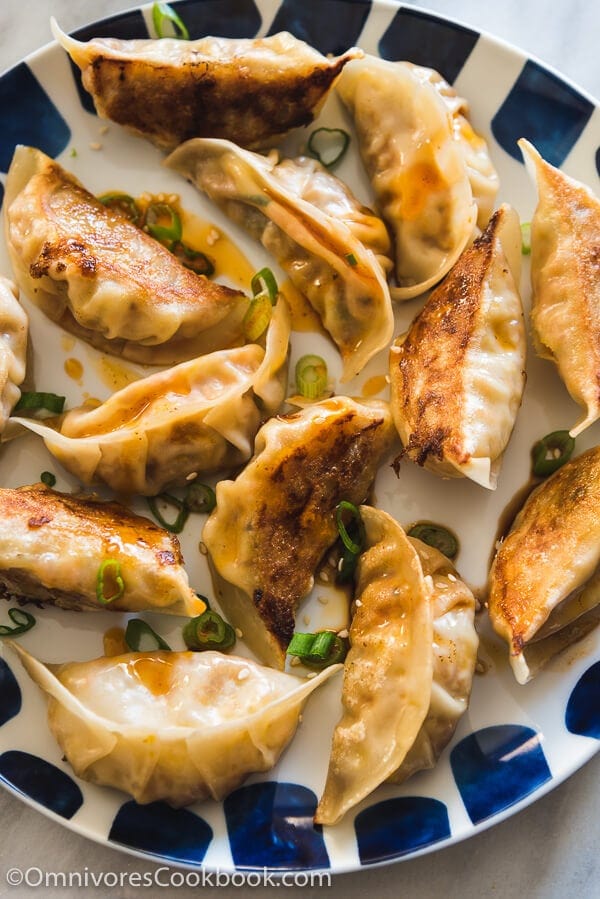 Most vegetarian dumplings in China include wood ear mushrooms, dried shiitake mushrooms, cooked egg, bamboo shoots, fried tofu (or fried dough), and pickled vegetables. These ingredients add very different textures and flavors as compared with other vegetables. They are the essential ingredients for vegetable dumplings.
Unlike in my previous dumpling recipes, you'll need to cook the filling before wrapping it in this recipe. Just like you would when making egg rolls.
One of the challenges to making vegetarian dumplings is that you don't have the meat to "glue" the filling together. If you are using many vegetables in the filling, you might find it challenging to stuff everything into a tiny dumpling wrapper. That is why we rarely make water-boiled or pan-fried vegetarian dumplings. Instead, we make steamed dumplings that are much larger in size and use freshly made dough.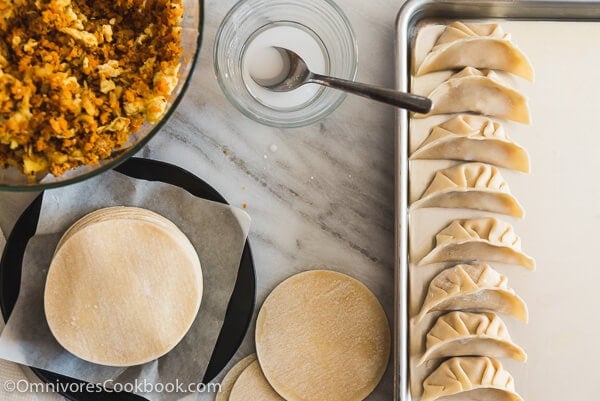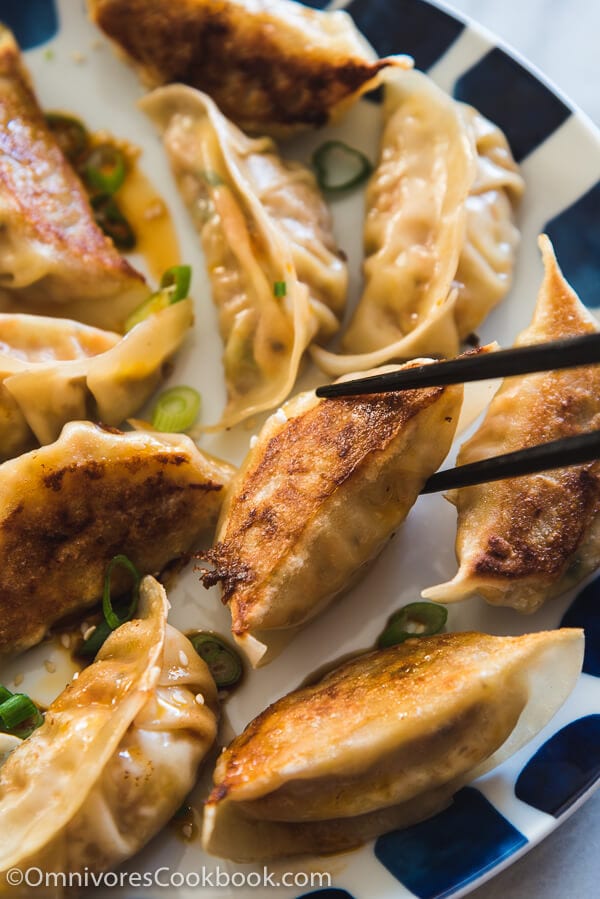 Of course, not everyone has time to make dumpling dough and wrappers from scratch. And neither do I! So I decided to develop a simple vegetarian potsticker that you can easily make with supermarket-bought dumpling wrappers.
The main ingredient in this recipe is carrot. After stir frying the carrot with garlic and ginger, it will taste sweet and aromatic. I used dried shiitake mushrooms to add umami, bamboo shoots to add a crunchy texture, and eggs for a different, meaty texture. The seasoning remains simple, with a spoonful of soy sauce and pinch of salt. This way you can just enjoy the simple freshness of the ingredients.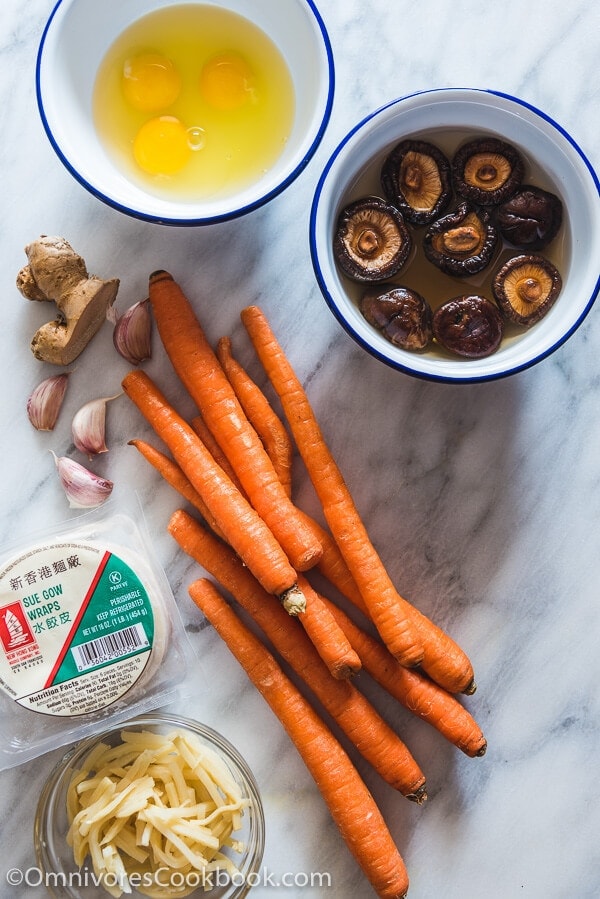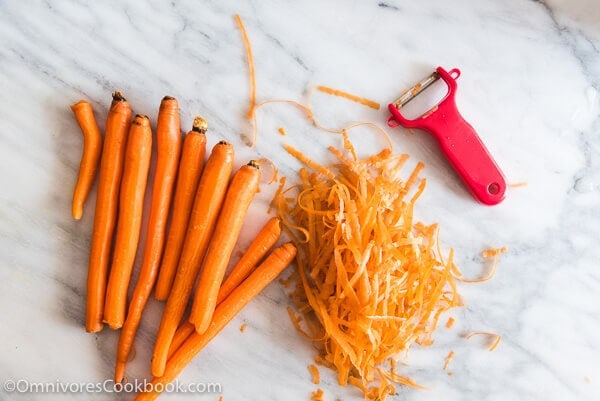 To make this recipe work, you will want to use a bit more oil than you would for your average stir-fry. My mom's number-one rule of making dumplings is: always add enough fat to make the dumpling filling moist and juicy. She is picky about her dumplings. And she thinks that any dumpling with a dry texture is a failed dumpling. In the case of vegetable dumplings, we need to use plenty of sesame oil. It adds a rich, nutty flavor and keeps the filling juicy.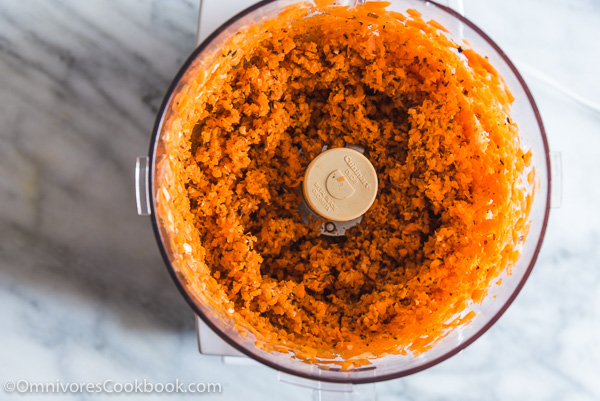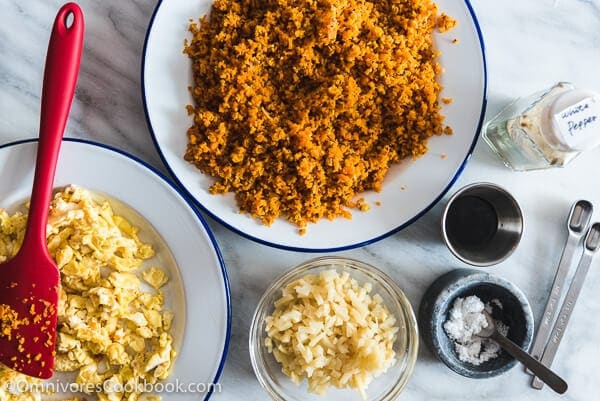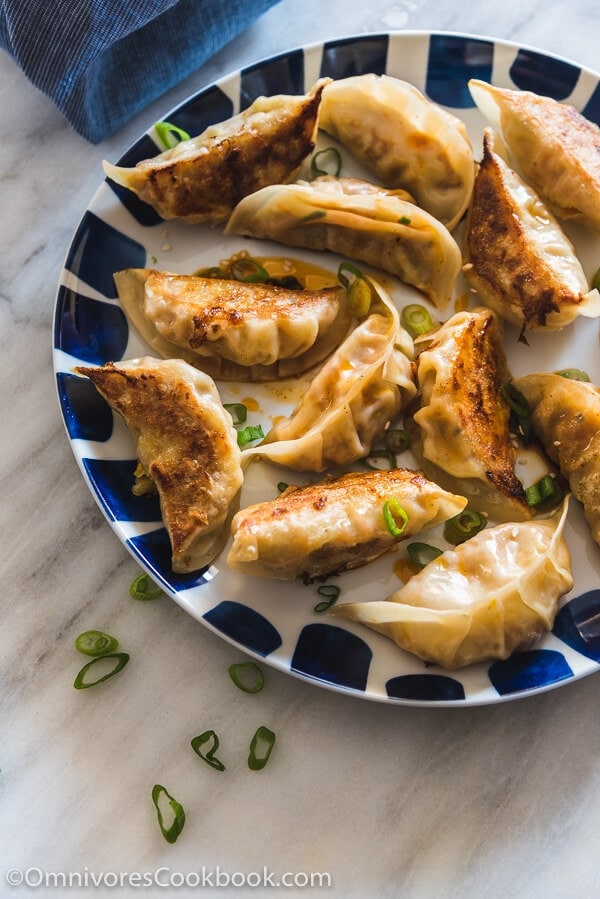 I used a food processor to make the dumpling filling in this recipe. If you don't have a food processor, you can use a mandoline to grate the carrot, and mince the shiitake mushroom with your knife.
The recipe makes 45 dumplings, which might sound like a lot. I suggest you make a full batch on the weekend, so there will be no need to rush. Freeze the extra dumplings after wrapping them. You can always cook them in the pan later – it's very easy to whip up a plate of freshly made potstickers that are crispy on the outside and meaty (but contain no meat!) on the inside.
I hope you enjoy this dish!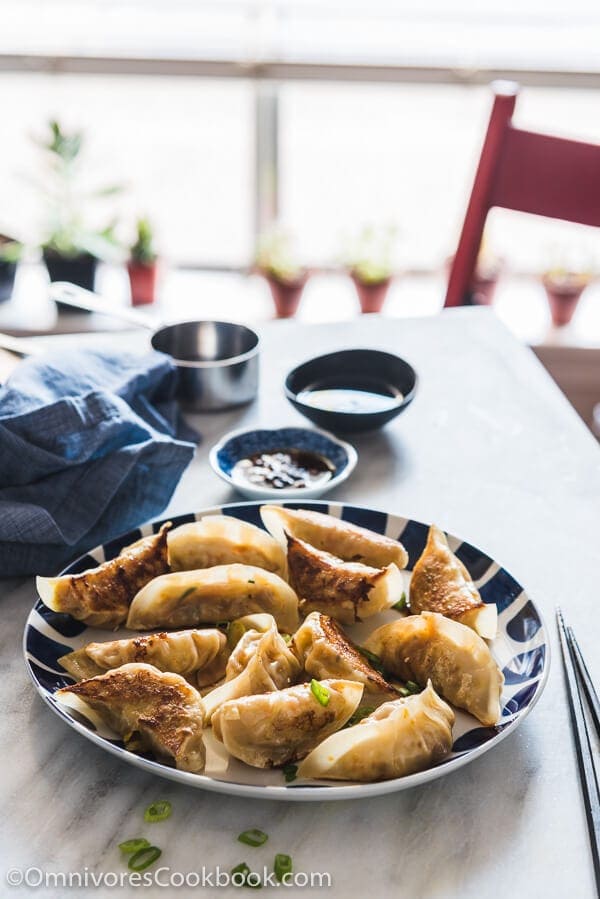 Do you like my recipes? Sign up our weekly newsletter to get the latest updates delivered to your inbox and a FREE e-cookbook that contains my top 30 most popular recipes!
Want to Know More?
Receive our 5-Day Chinese Cooking Crash Course & Recipe Updates! Subscribe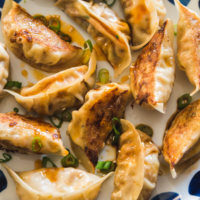 Carrot Dumplings
An elegant vegetarian dumpling that uses carrots, bamboo shoots, mushrooms, and eggs to create a fresh, moist, and rich filling. It will make a lovely addition to your dim sum party.
Ingredients
45

dumpling wrappers

2

teaspoons

potato starch

(or cornstarch)
Instructions
Prepare filling
Rinse shiitake mushrooms and transfer them to a bowl. Add hot water to cover. Rehydrate for 30 minutes, or until tender. Rinse with water again and gently rub by hand to remove dirt from the surface. Drain and set aside.

Add carrots, shiitake mushrooms, garlic, and ginger into a food processor. Pulse until all the ingredients are minced, but not turned to mush.

Heat 2 tablespoons oil in a nonstick skillet over medium heat until warm (*see footnote 1). Add the minced carrot and shiitake mushrooms. Cook and still until the carrot is completely cooked through. Transfer to a large plate to cool.

Heat the remaining 1 tablespoon oil in the same skillet. Add the beaten eggs. Stir and chop the eggs with a spatula, until the eggs are cooked through and turned to small bits. Transfer to a large plate to cool.

When the eggs and carrot mixture have cooled, transfer them to a large bowl. Add bamboo shoot, white pepper powder, light soy sauce, and salt. Mix with a spatula, until everything is mixed well.
Wrap dumplings
Combine potato starch with 2 tablespoons water, mix well.

Prepare a large tray. Spray a thin layer of oil onto it to prevent dumplings from sticking.

Wrap dumplings one at a time. Brush the potato starch slurry onto the edge of the wrapper. Place 1 to 1.5 tablespoon filling onto the center of the wrapper. Pinch the edges together to seal the dumplings. Please see

my video

on how to wrap dumplings, or

this video

for many other different ways to wrap dumplings. Place dumplings on the tray.

While wrapping dumplings, wet a few pieces of paper towel and cover the dumpling wrappers with it. Wet another few pieces of paper towel and cover the finished dumplings, to prevent them from drying out.
Storage
If you're not going to cook the dumplings immediately, seal the tray of dumplings with plastic wrap and place it in the freezer. When the dumplings are completely frozen, you can transfer them into a large ziplock bag to free up freezer space. Store dumplings in the freezer for up to 3 months.
Cook dumplings
Heat vegetable oil in a large skillet over medium high heat until warm. Align pot stickers in the pan. When the dumplings start to sizzle, pour in 1/4 cup water. Cover immediately and turn to medium heat.

Cook until the liquid is fully evaporated and the dumpling dough is cooked through, 3 to 5 minutes for fresh dumplings, 5 to 8 minutes for frozen dumplings. Uncover. Cook for another minute or so, until the bottom of the pot stickers turns golden brown. Transfer to a plate.

Mix all the ingredients for the sauce in a small bowl.

Serve warm with the sauce.
Notes
If you have a wok or cast iron skillet, do use it here. It will create better caramelization on the carrot and make it extra delicious.
Nutrition
Serving:
28
g
,
Calories:
38
kcal
,
Carbohydrates:
5.1
g
,
Protein:
1.4
g
,
Fat:
1.4
g
,
Cholesterol:
17
mg
,
Sodium:
68
mg
,
Potassium:
72
mg
,
Sugar:
0.8
g
,
Vitamin A:
1700
IU
,
Vitamin C:
0.8
mg
,
Calcium:
10
mg
,
Iron:
0.4
mg