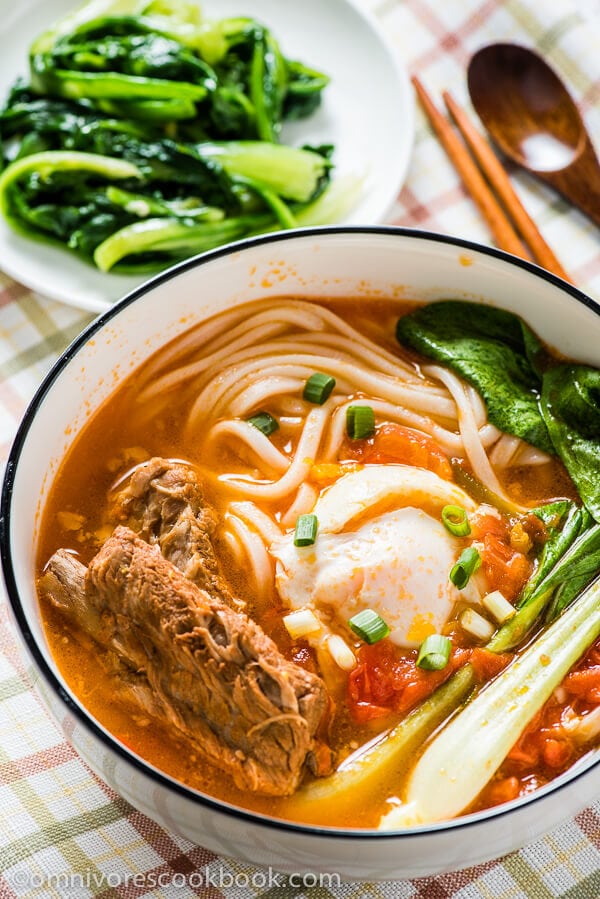 This simple dish is the one that gets me through every winter and makes me feel better when I am sick.
Tomato noodle soup is the ultimate comfort food for me and the rest of my family. I cook this whenever I feel under the weather or just want to be lazy. The beauty of the soup is that it is the most versatile dish – you can add nearly anything left in your pantry or fridge. And you can prep and cook a whole meal in less than 30 minutes. Plus, the meal contains carbs, vegetables, and protein.
The purpose of this recipe is to merely serve as a guide. I hope you can use the principles here to cook a wonderful noodle soup with whatever ingredients you have on hand.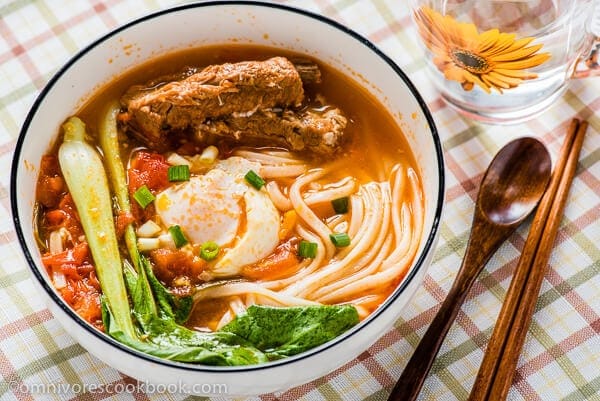 Tips & Tricks
Let's look at the tips and options below to create the best comfort dish for you.
The highlight of the soup is the tomato base, which is similar to the idea of using a tomato sauce on pizza or pasta. You use some herb infused oil to cook the tomato into a paste, then use it in the soup broth. Here, I really love to add a handful of green onion to the tomato. It adds a delightful flavor that goes perfect with noodles.
Using pork or chicken stock can make the soup very rich. But you can skip this if you don't have any stock at home. Adding 1 teaspoon chicken bouillon will enhance the flavor, too.
The pork ribs can be replaced with any leftover stew or braised meat you have, or can be skipped. The idea is to infuse the noodle soup with a rich meaty flavor, so the soup will be hearty and fulfilling. Plus, for people who need to eat meat for every meal (like me), this is the perfect place to add it.
Remember to add a spoonful of gravy from the stew. The tomato base goes well with almost any flavor of stew, no matter whether Asian or Western style. Remember to save the gravy next time you finish the meat in a stew. It can add tons of flavor here, and might even allow you to skip using stock in the soup.
The udon noodles can be replaced by frozen wontons or dumplings. In this case, you really don't need to add much meat to the dish, because wontons and dumplings can be quite filling.
A great way to make a delicious vegetarian broth is to add shiitake mushrooms into the soup after the the tomato paste is added. They add a great flavor to the broth and I love their texture! Of course, you can also use vegetable broth to turn this soup into a vegetarian one. In this case, I recommend you use vegetarian wontons or dumplings instead of noodles, to make the dish more satisfying.
The eggs are optional but a half cooked egg goes best with noodles. A yolky egg makes every dish taste better, doesn't it?
The baby bok choy is optional, and you can use spinach and gai lan (Chinese broccoli) as alternatives. In this case,you should blanch the vegetables beforehand, because these veggies take longer time to get cooked through.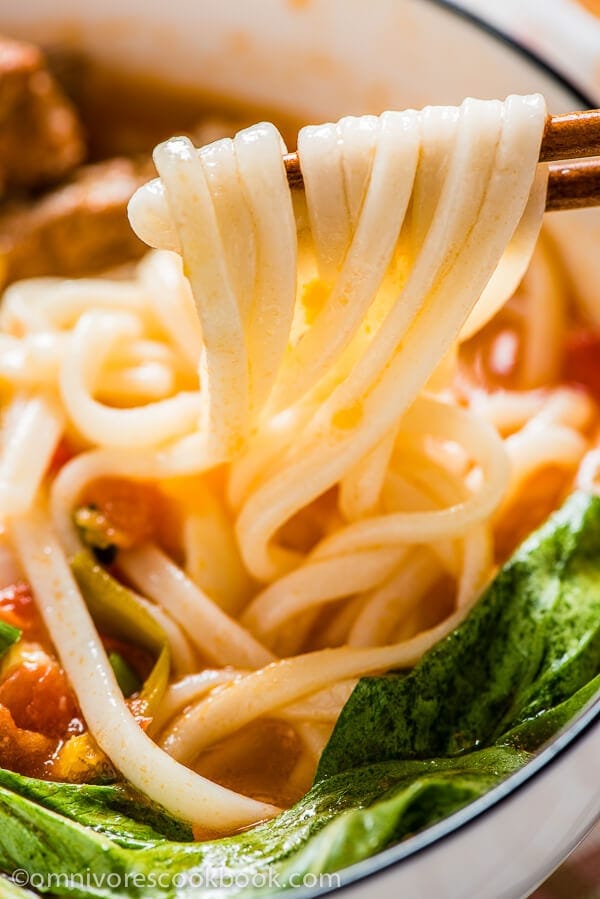 If you're feeling fancy, you might want to cook some handmade wontons. I used a different broth in that recipe, but these wontons go great with the tomato soup, too! My point here, is that the tomato based soup goes well with a lot of combinations, so feel free to use your imagination and create your own version of the ultimate comfort dish!
Do you like my recipes? Sign up for Omnivore's Cookbook's weekly newsletter to get the latest updates delivered to your inbox and a free e-cookbook!
Want to Know More?
Receive our 5-Day Chinese Cooking Crash Course & Recipe Updates! Subscribe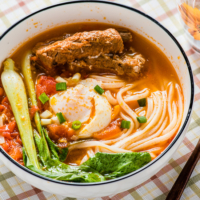 Tomato Noodle Soup - The Ultimate Comfort Food
This simple dish is the one that gets me through every winter and makes me feel better when I am sick.


Ingredients
1

tablespoon

vegetable oil

2

tablespoons

green onion

, chopped

3

tomatoes

, chopped (or 2 16-ounce cans tomato)

8

cups

pork stock

(or chicken stock or water)

200

grams (7 ounces)

udon noodles

, dried (or frozen wontons)

8

braised pork ribs (or beef or chicken stew leftover with gravy)

salt

, to taste

4

eggs

(Optional)

2

cups

baby bok choy

, for decoration (Optional)
Instructions
Bring a pot of water to a boil in order to cook the noodles.

Heat oil in a large skillet over medium high heat until warm. Add green onion and stir a few times until fragrant. Add tomato and stir and chop until it almost becomes a paste, 3 to 5 minutes.

Transfer the tomato paste to a large pot. Add pork stock (or chicken stock or water) and bring to a boil over over medium high heat. Turn to low heat, cover, and let simmer.

While simmering the broth, cook the noodles according to the instructions.

Five minutes before noodles are done, add pork ribs (or whatever leftover meat you're using) and a spoonful of gravy to the noodle soup. Stir a few times until the gravy is mixed well with the broth. Taste the broth and add more salt if necessary. The broth should taste slightly salty by itself. Add eggs. Cover and simmer for another 2 to 3 minutes, until the eggs are half cooked (or longer if you like them to be fully cooked).

Drain the noodles and divide them among 3 large bowls. Top the noodles with bok choy (optional). Pour the tomato broth over the bok choy so that the hot broth quickly cooks it (be careful not to break the egg yolks!). Transfer an egg and a couple of pork ribs to each bowl.

Serve immediately.
Nutrition
Serving:
739
g
,
Calories:
423
kcal
,
Carbohydrates:
40.6
g
,
Protein:
27.7
g
,
Fat:
17.7
g
,
Saturated Fat:
5.1
g
,
Cholesterol:
194
mg
,
Sodium:
2005
mg
,
Potassium:
529
mg
,
Fiber:
4.3
g
,
Sugar:
7.8
g
,
Vitamin A:
2600
IU
,
Vitamin C:
39.6
mg
,
Calcium:
70
mg
,
Iron:
3.1
mg