All you need to do is put everything in the slow cooker and wait a few hours to make these fall-off-the-bone ribs. The broth created in the slow cooker can also be made into a scrumptious BBQ sauce!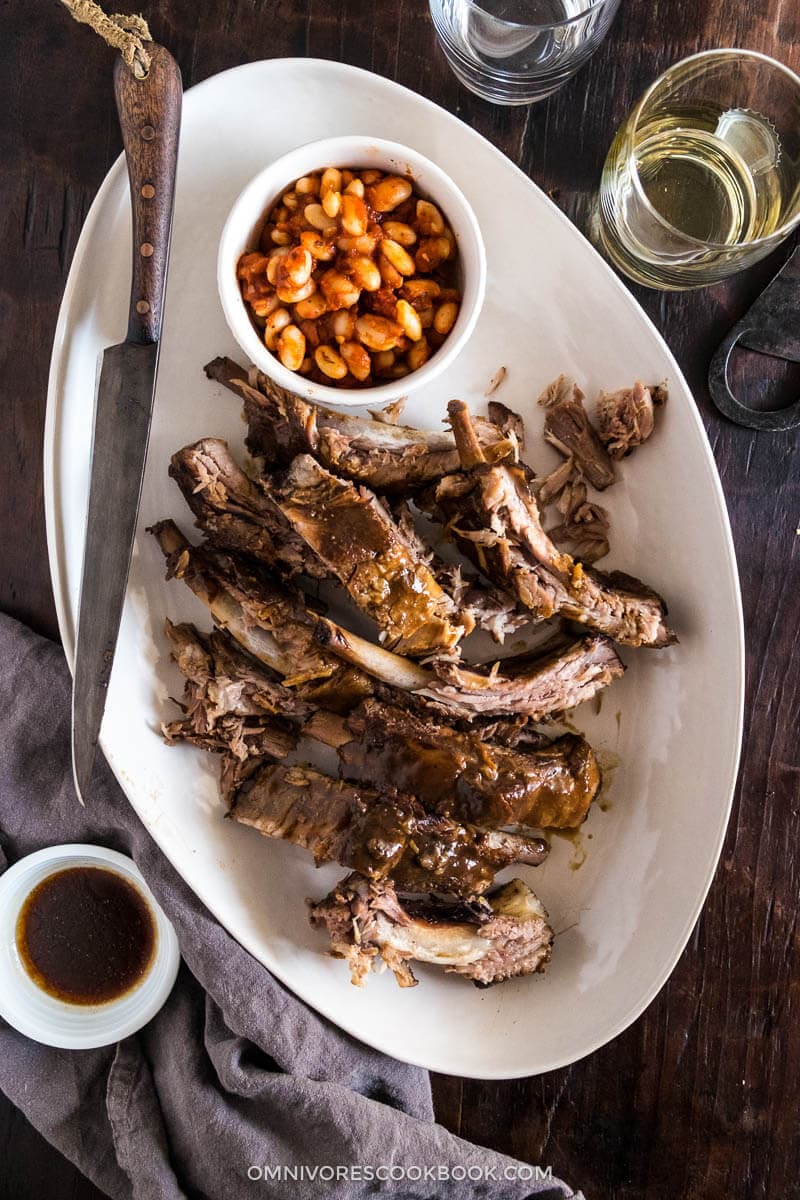 It has been 1 year and 3 months since I moved from China to Austin, Texas. So far, I've learned how to roast vegetables in the oven, how to grill food over charcoal, and how to bake dessert – many things that we don't do in China.
Getting a slow cooker is just a baby step towards my Americanization process. I was always skeptical about the whole concept. I didn't understand why people would want to cook a dish in 8 hours if they could do it in 2 hours, on the stove top or in the oven. Until my friend explained it to me – the slow cooker is very convenient for busy moms or people who have full-time day jobs. They can throw in all the ingredients in the morning and get warm dinner once they get home.
That makes sense!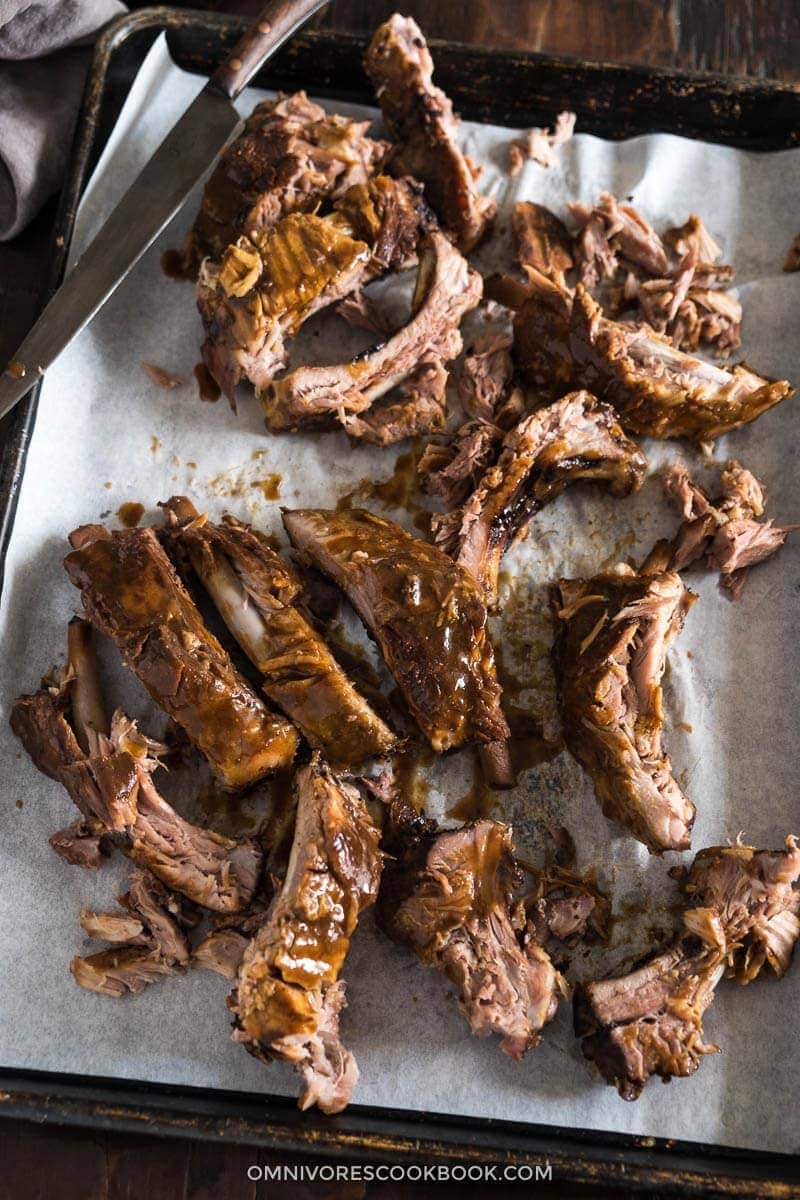 Finally, I decided to find out what the fuss was about this cooking device. I purchased a CuisinArt Slow Cooker. And set it on the shelf for 3 months and totally forgot about it.
The other day when I saw Diana Kuan's Chinese Pork Ribs with Plum Preserves, I started drooling and suddenly remembered my slow cooker.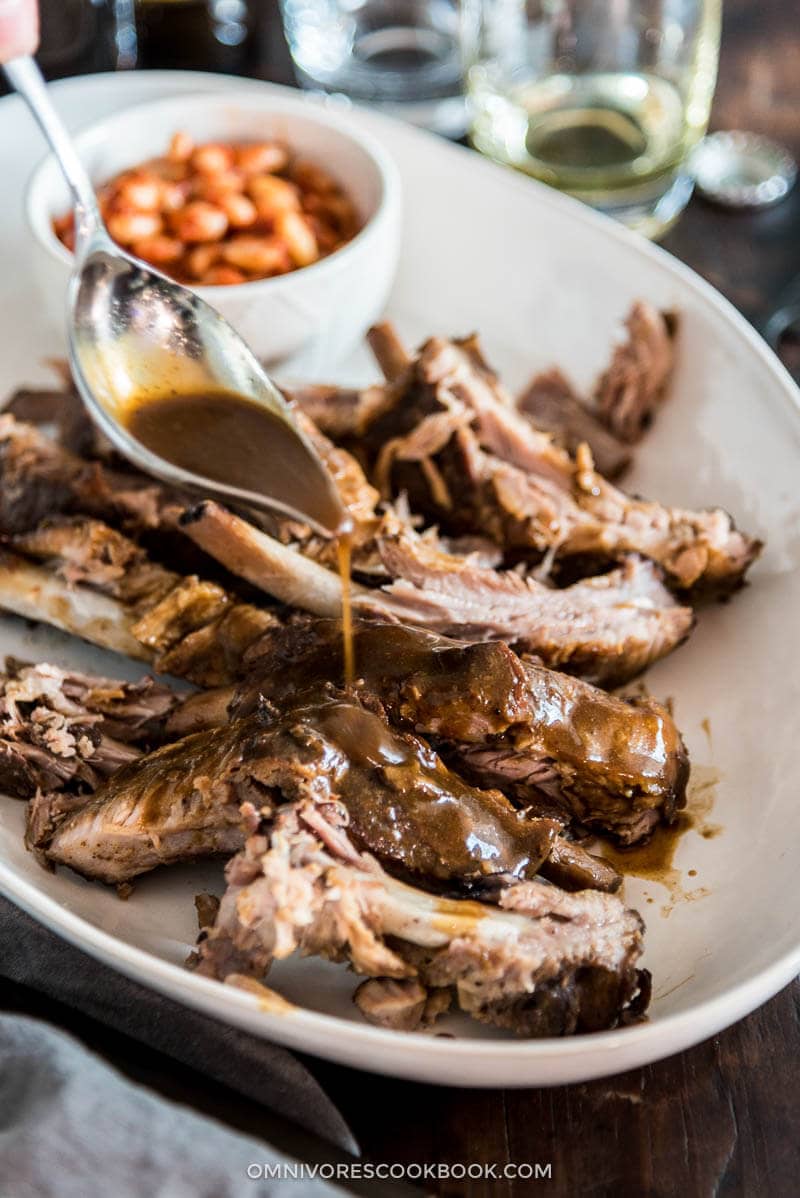 If you haven't heard of Diana, she is a Chinese cooking expert, a cooking teacher, and the author of The Chinese Takeout Cookbook – one of the most popular Chinese cookbooks on Amazon. You can find a lot of delicious Chinese recipes from her blog, Appetite for China, too.
To make these pork ribs, I slightly altered the ingredient ratio and threw in extra spices to make it even more flavorful. The cooking couldn't be easier. I put everything into the slow cooker and turned it on low. After 8 hours, the succulent ribs were ready, with a super flavorful broth that can be reduced directly into a BBQ sauce. What magic! I can't believe I waited until now to try out my slow cooker.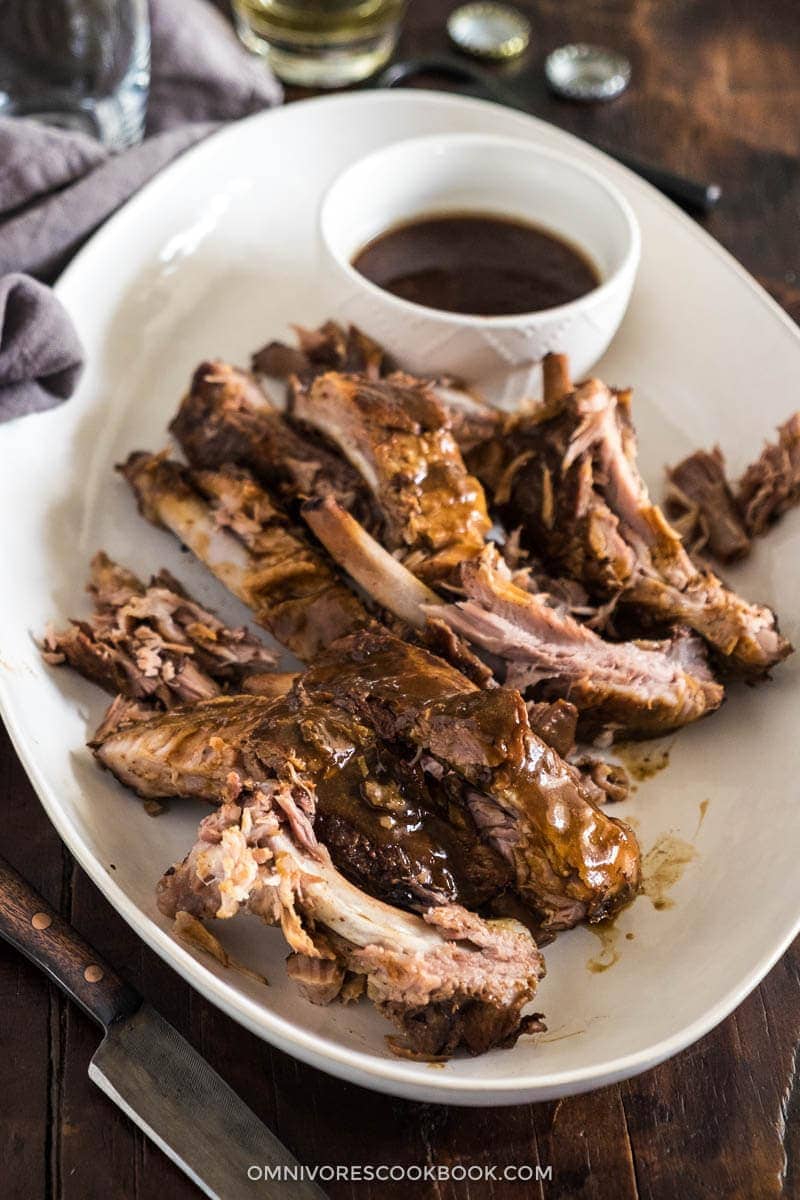 To serve along side these ribs, try out my restaurant-style mashed potatoes and Roasted Green Beans with Garlic Soy Glaze. Other recommended sides include Five Spice and Garlic Roasted Potatoes, Miso Glazed Carrots, and Crispy Baked French Fries.
Cooking video
I recorded a short video to show you how easy it is to cook this dish. Find more videos to learn Chinese cooking on my YouTube channel!
If you make this dish, don't forget to take a picture and tag @OmnivoresCookbook on Instagram! I'd love to see your work!
Which Chinese dish would you like me to cook in the slow cooker next time? Leave a comment below to let me know!
Want to Know More?
Receive our 5-Day Chinese Cooking Crash Course & Recipe Updates! Subscribe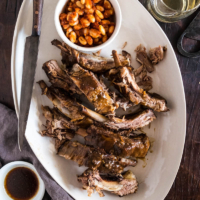 Slow Cooker Spare Ribs with Plum Glaze
All you need to do is put everything in the slow cooker and wait a few hours to make these fall-off-the-bone ribs. The broth created in the slow cooker can also be made into a scrumptious BBQ sauce!
Ingredients
Sauce
1/4

cup

plum jam

1/4

cup

soy sauce

1/4

cup

Shaoxing wine

(or dry sherry)

2

tablespoon

rice vinegar

1

tablespoon

hoisin sauce

(or homemade hoisin sauce)

1/2

teaspoon

five spice powder

(or homemade five spice powder)

1/4

teaspoon

cayenne powder

(or paprika powder for a less spicy option)
Slow-cooker
4

pound (1.8 kg)

pork baby back ribs

4

green onion

2

to 3 slices

ginger

6

cloves

garlic

, crushed with knife

1

cup

chicken stock

(or vegetable stock, or water)
Instructions
Combine the plum jam, soy sauce, Shaoxing wine, rice vinegar, hoisin sauce, five spice powder, and cayenne powder in a bowl. Stir to mix well.

Place the pork ribs into the slow cooker, meat side down. Pour the sauce over the ribs. Add green onion, ginger, garlic, and chicken stock.

Cover and cook on the low setting for 7 to 8 hours, or on the high setting for 3 to 4 hours.

When the ribs are so tender that you can easily pull the meat from the bones, transfer them onto a big plate and cover with aluminum foil to keep warm.

Drain the broth by using a fine colander to remove solid ingredients. Skim the fat from the broth and discard.

Transfer the broth into a sauce pan. Cook over medium high heat until the sauce thickens, after 20 to 30 minutes. The sauce should reduce to about a third and be enough to cover a spoon. (*Footnote 1)

Drizzle half of the sauce over the ribs. Serve the ribs with rest of the sauce on the side.
Notes
You can also use a cornstarch slurry to thicken the sauce to make this process faster. To make cornstarch slurry, combine 1 tablespoon cornstarch and 1/4 cup water in a small bowl. Stir to until the cornstarch is dissolved completely. Slowly drizzle to the broth and stir constantly. Simmer until the sauce thickens.
Nutrition
Serving:
284
g
,
Calories:
638
kcal
,
Carbohydrates:
3.2
g
,
Protein:
61.1
g
,
Fat:
40.4
g
,
Saturated Fat:
14.3
g
,
Trans Fat:
0.3
g
,
Cholesterol:
234
mg
,
Sodium:
710
mg
,
Potassium:
709
mg
,
Sugar:
1.2
g
,
Vitamin A:
100
IU
,
Vitamin C:
3.3
mg
,
Calcium:
90
mg
,
Iron:
3.4
mg