Find the secrets of how to cook silky, light and creamy restaurant-style mashed potatoes in your own kitchen!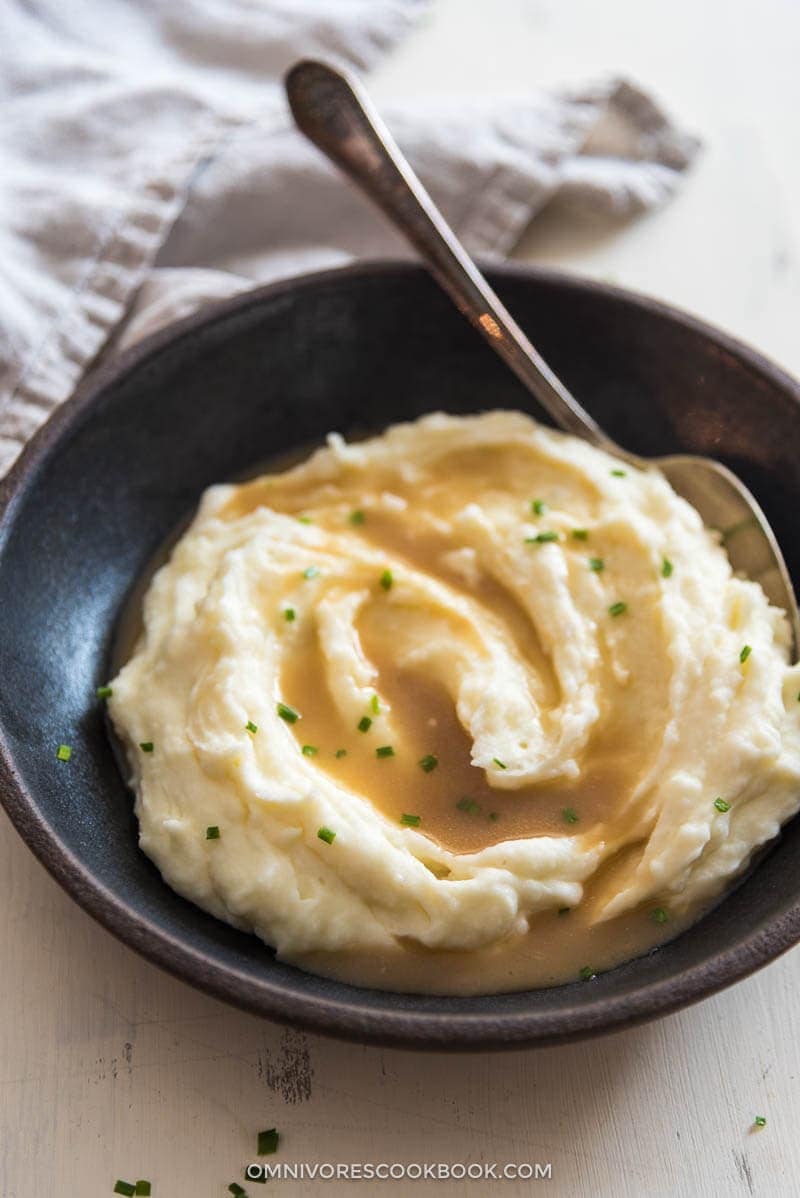 The foundation of restaurant-style mashed potatoes is perfectly cooked potatoes, with a light texture, silky mouthfeel, and a buttery taste. To achieve these goals, you only need to do three things:
Steam the potatoes instead of boiling them.
Add plenty of fat.
Whip potatoes by using a hand mixer.
Steam the potatoes
Here're the reason that you should always steam your potatoes instead of boiling:
The potatoes won't be water-loaded.
It won't be a problem even if you overcook the potatoes (which happens more often than you'd think when you're preparing multiple dishes for a party).
Thus, it's a hands-off method compared to boiled potatoes.
It preserves more nutrients and flavors in the potatoes.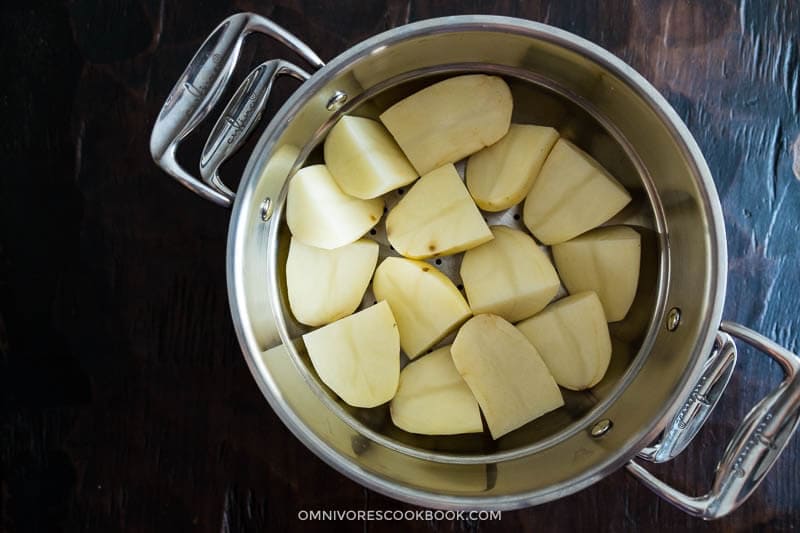 Steaming creates potatoes with such a fresh flavor and perfect texture, that you can simply season the dish with a pinch of salt and a few tablespoons of butter to get delicious and healthy mashed potatoes. However, since I'm cooking a side dish for the holiday season, I chose to prioritize the taste.
Add fat – plenty of it
You want the silky texture instead of grainy one, so you need to whip a lot of fat into the potatoes.
One stick of butter might seem like a lot, but I promise you that this method will create the best mashed potato you've ever had. This recipe is actually a lighter version, adapted from and based on the mashed potatoes recipe from Serious Eats. The original recipe uses 3 sticks of butter per 2-pound potatoes! I reduced the amount of butter and sour cream, and replaced heavy creamy with milk.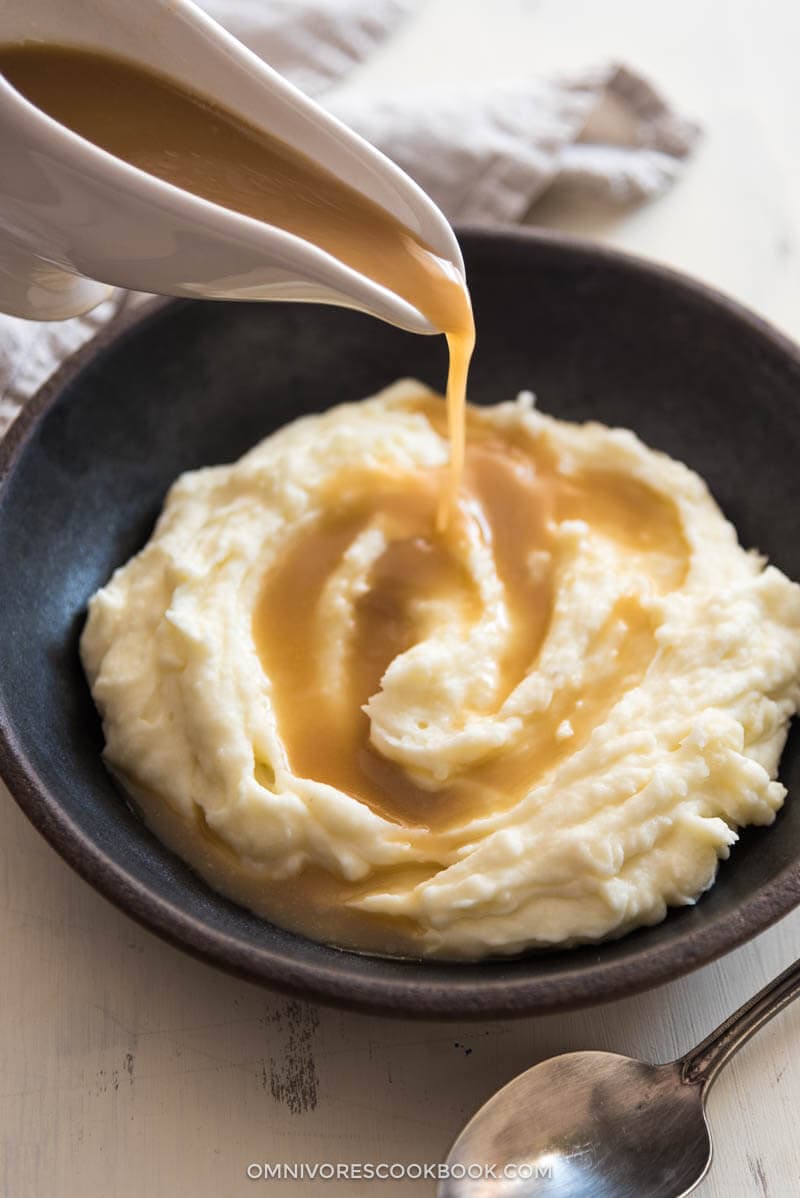 Pull out your hand blender
The debate about making the perfect mashed potatoes never ends. Some people insist that you should use a food mill or a ricer to make mashed potatoes. For me, this method is too much trouble and it involves a LOT of work if you're cooking for a crowd.
My secret weapon for making restaurant style mashed potatoes is a hand mixer.
NOTE: Not a hand blender! A hand blender (immersion blender) will release too much starch from the potatoes and result in heavy and gummy mashed potatoes. When you use a hand mixer, you can whip in much more liquid and fat without releasing too much starch from the potatoes. It also results in a very smooth and creamy texture.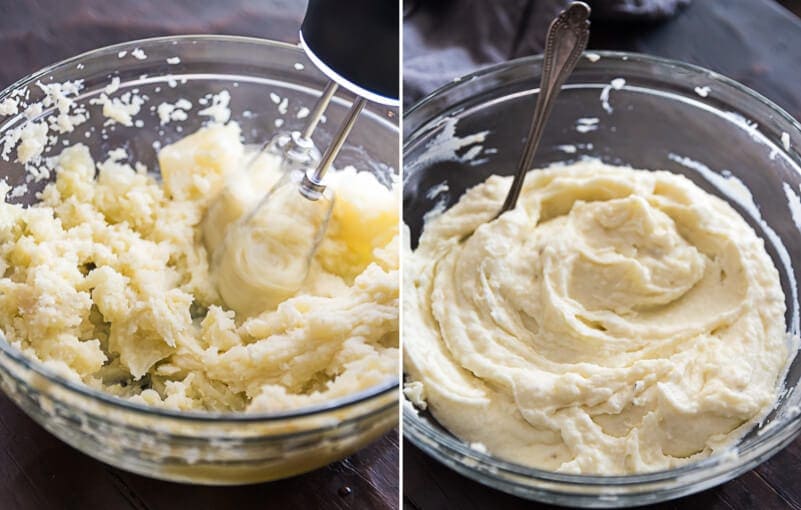 That's it! Once you have followed these three tips, you can create your own restaurant-style mashed potatoes by altering the ratios of ingredients and adjust the seasoning to your taste. In the recipe below, I've added the tips of how to cook non-dairy and vegan mashed potatoes in the footer. Hope you enjoy!
Looking for holiday dishes? Don't forget to check out my Oven Roasted Green Beans with Garlic Soy Glaze and Chinese-Style Roasted Turkey Breast to make a delicious meal in under 2 hours!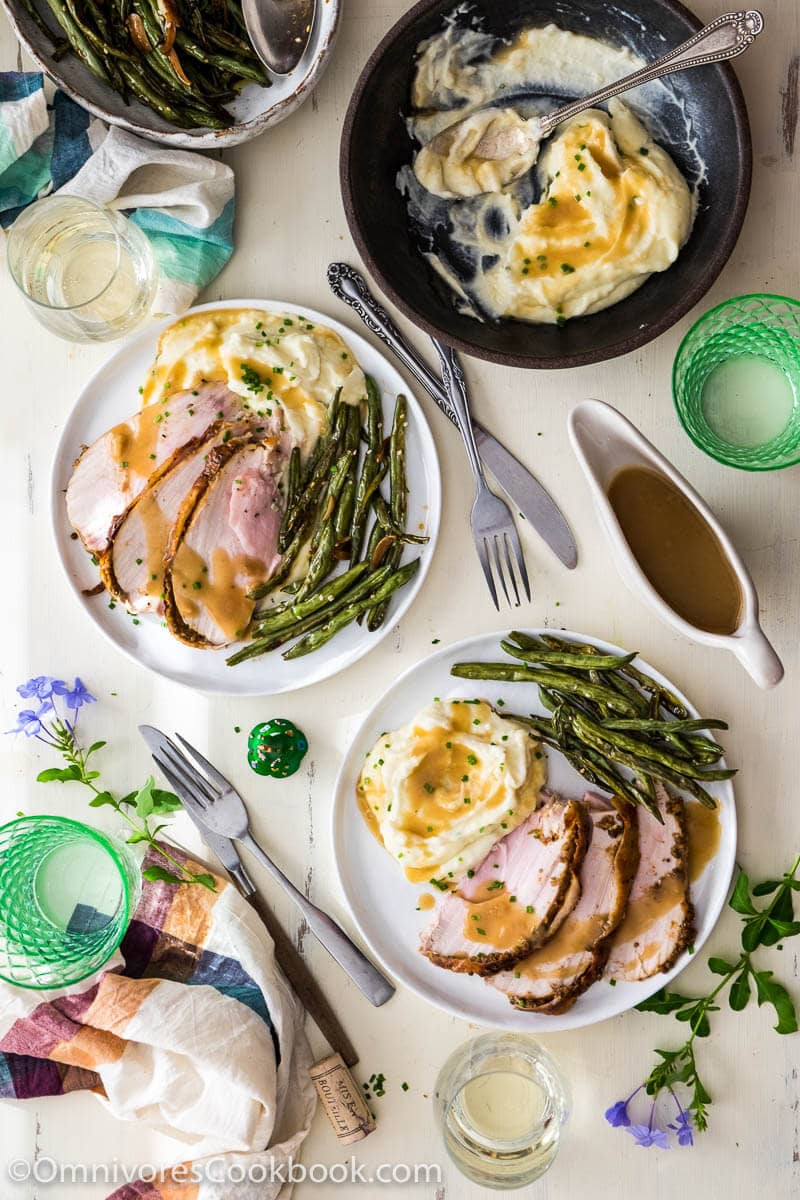 What is your favorite mashed potatoes recipe? Do you like your mashed potatoes to be a bit lumpy or smooth? Leave a comment below to share your thoughts!
This post is for Day Four of the #PotatoPalooza event co-hosted by Bowl of Delicious, Panning the Globe and Omnivore's Cookbook. Check out what recipes the others have posted!
Special thanks to the Idaho Potato Commission For Sponsoring #PotatoPalooza 2016! For more delicious potato recipes, check out the Idaho® potatoes website.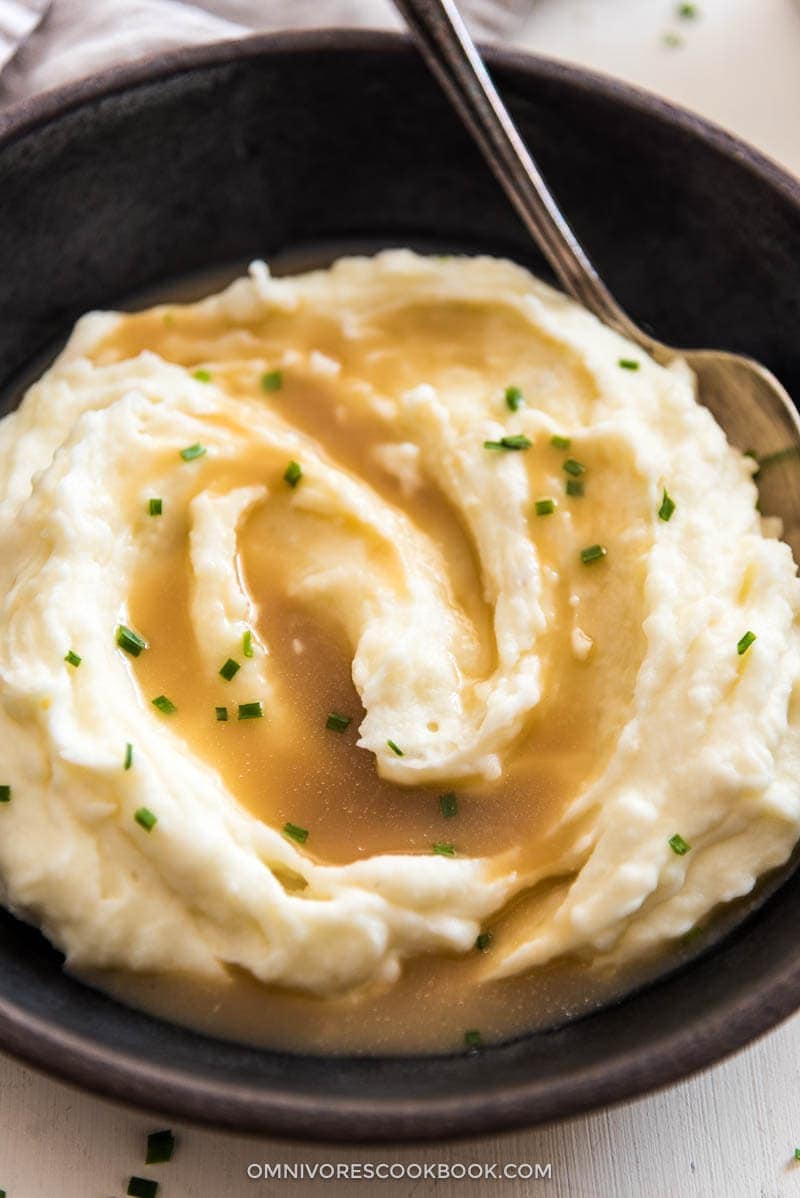 Want to Know More?
Receive our 5-Day Chinese Cooking Crash Course & Recipe Updates! Subscribe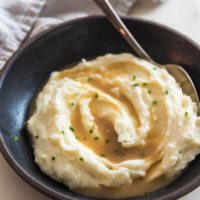 Restaurant Style Mashed Potatoes
Find the secrets of how to cook silky, light and creamy restaurant-style mashed potatoes in your own kitchen!
Ingredients
2

pound (1 kg)

russet potatoes

, peeled and cut into 2-inch chunks

1

stick unsalted butter

(*footnote 3)

1/2

cup

milk

(*footnote 4)

1/4

cup

sour cream

(or Greek yogurt) (*footnote 5)

1/2

teaspoon

fine sea salt

(or to taste)

Minced chive for garnish

(Optional)

Homemade gravy to serve with

(Optional)
Instructions
Add 1 inch water to your steamer and cook until boiling (*footnote 1). Place potatoes in a steamer basket (*footnote 2). Transfer into the steamer above boiling water. Cook covered for 25 minutes, or until very tender.

Place butter in a large glass bowl and heat in microwave for 1 minute, or until the butter melts and the bowl is hot.

Put on oven mitts and carefully transfer the bowl onto the kitchen counter and add potatoes. Be careful, the bowl is very hot.

Use a hand mixer, coarsely mash the potatoes a few times, then whip on low speed until the butter is fully blended.

Add milk. Keep whipping until fully combined.

Add sour cream. Keep whipping until the potato is smooth and silky.

If you need to keep the mashed potato warm for a longer time before serving, place the bowl of mashed potato back into the steamer, cover, and turn on the lowest heat. The mashed potato will keep warm without drying out this way.

Garnish with minced chive and serve warm with gravy.
Notes
If you don't have a steamer, you can quickly make one by placing a deep plate upside down in a large pot and add water. Then you can place the bowl of potatoes onto the plate.
If you like garlic flavored mashed potato, place 4 to 5 cloves peeled garlic into the steamer to cook with the potatoes. Once they're cooked, mashed the garlic with potatoes.
You can replace butter with olive oil or other vegetable oil.
To cook non-dairy mashed potato, replace milk with plant based milk (coconut, cashew, or almond milk etc.) or stock (chicken or vegetable stock).
The mashed potatoes will taste great with a bit of acid. For non-dairy alternatives, adding 1 to 2 teaspoons of vinegar will do the trick.
Nutrition
Serving:
378
g
,
Calories:
659
kcal
,
Carbohydrates:
41.1
g
,
Protein:
7.4
g
,
Fat:
53.4
g
,
Saturated Fat:
33.6
g
,
Cholesterol:
139
mg
,
Sodium:
852
mg
,
Potassium:
1028
mg
,
Fiber:
5.5
g
,
Sugar:
5.5
g
,
Vitamin A:
1650
IU
,
Vitamin C:
63.5
mg
,
Calcium:
150
mg
,
Iron:
1.3
mg