This miso glaze is slightly sweet, buttery, and slightly charred to release its umami, which makes the carrots more irresistible than candy.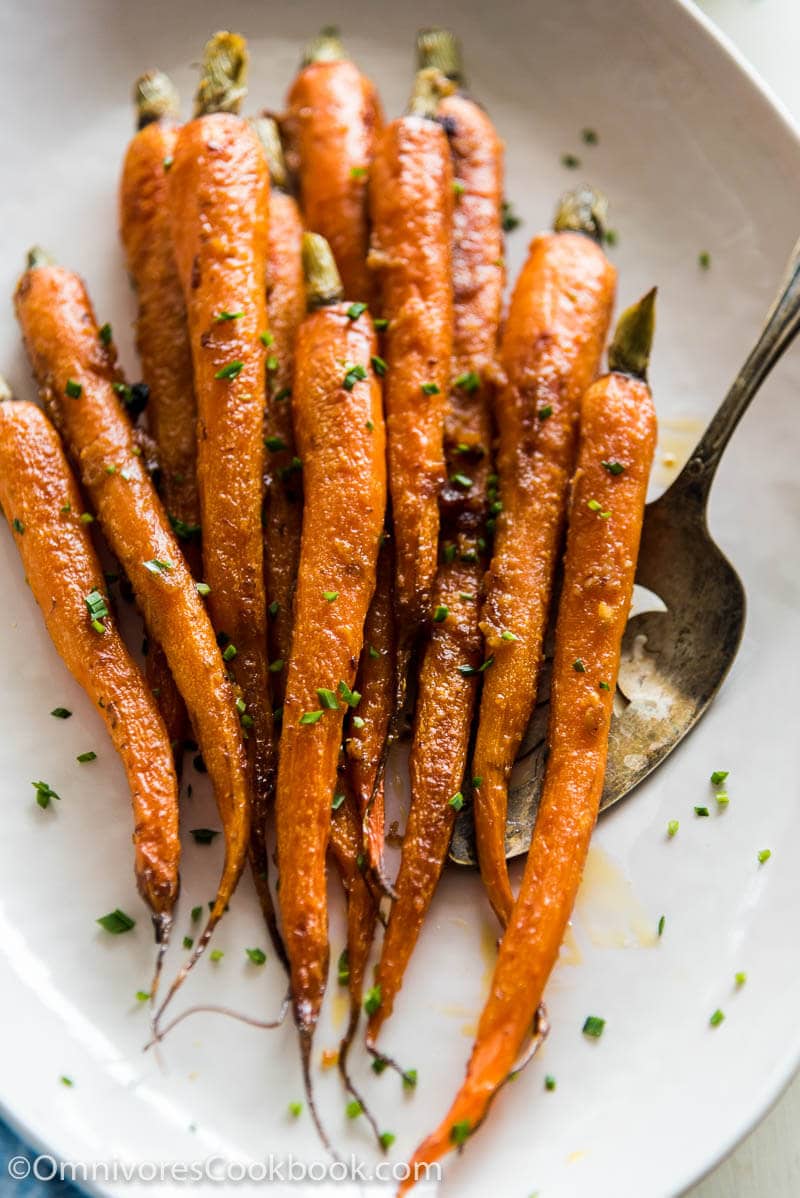 Miso paste is a versatile ingredient that works magic on vegetables. David Chang mentioned in Momofuku, that when mixing miso with egg, it yields a taste that resembles hollandaise sauce. How amazing is that?
When I was tired of roasting carrots with salt and pepper and wanted something new, miso paste came to my mind in a second. It is an ingredient never disappoints me, especially when you get it charred in the oven.
There are quite a few miso glazed carrots recipes, but they all use red miso. It works, but my preference is white miso.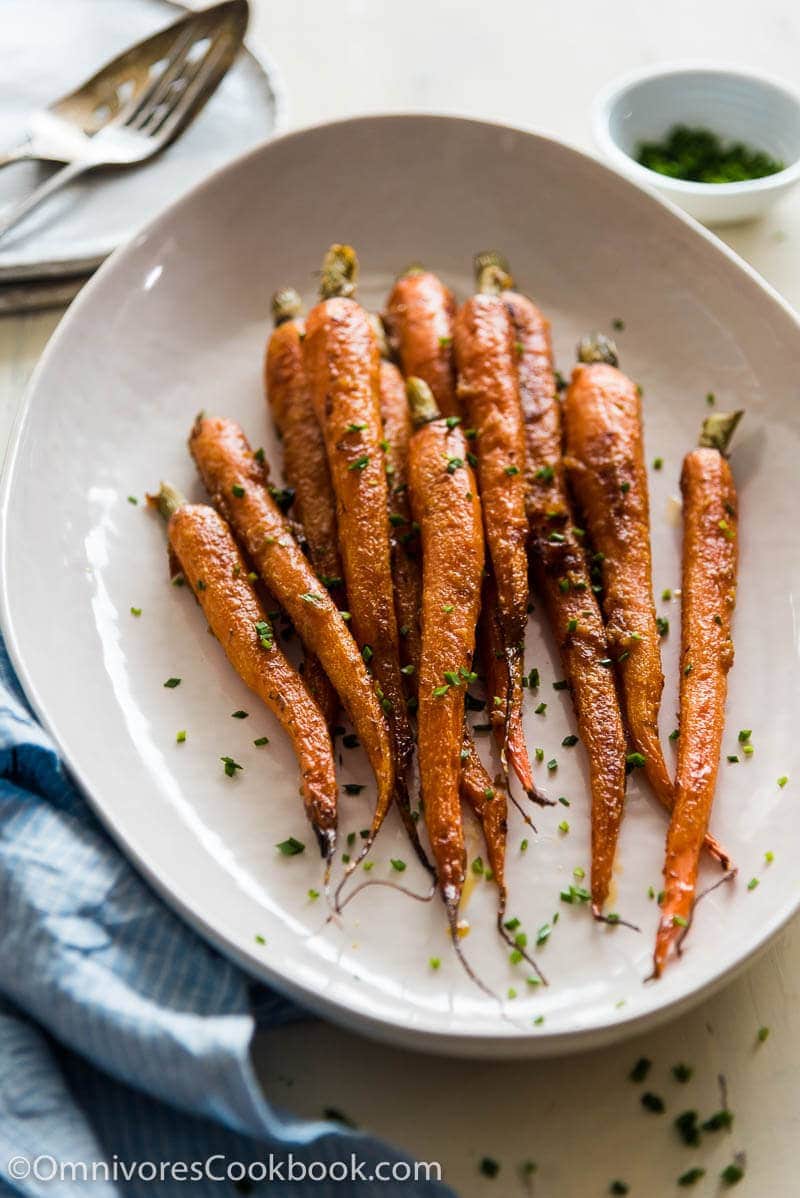 Here is a quick fact about miso paste. You usually see three types of miso paste in Japanese markets – red, white, and blended miso. They are all made with fermented soy beans. White miso uses much more rice and has a shorter fermentation time compared to red miso. It has a lighter color, a milder and sweet flavor, and a smoother texture.
Red miso can easily overpower the sweet flavor of carrots. That's why I prefer using white miso here, which only adds a buttery umami that enhance the nature flavor of carrots. After all, you want to appreciate the freshness of the vegetables not just tasting the seasonings.
As for roasting method, I've tried chopped carrots and leaving them whole. The latter method  won without a doubt. It saves you time, creates tender carrots with a beautifully caramelized surface, and won't taste too salty after the glaze. To prevent the miso paste from burning, I roasted the carrots and then brushed on the miso paste halfway through.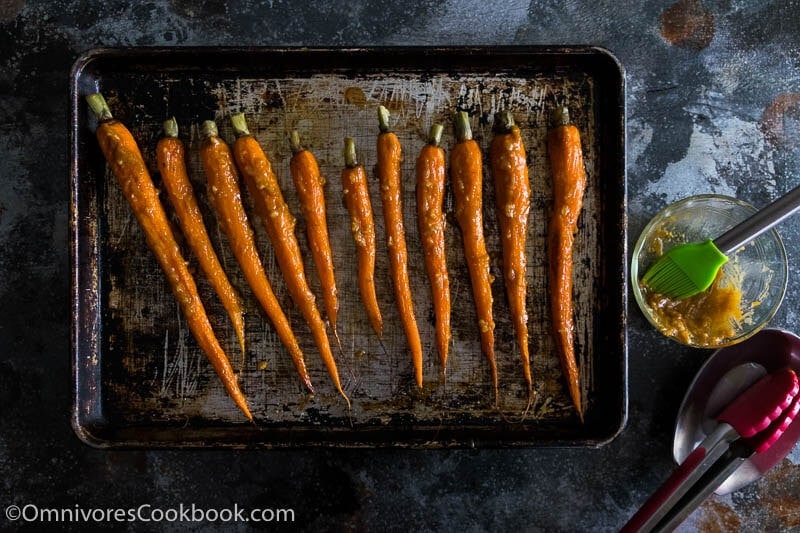 Two pounds of carrots sounds like a lot, but these are even more irresistible than candy. My husband and I always finish the whole tray in one sitting. Next time you're looking for an easy side dish for a quick weekday dinner or a weekend gathering, try this recipe and make your plate extra colorful and nutritious!
Bon Apetit!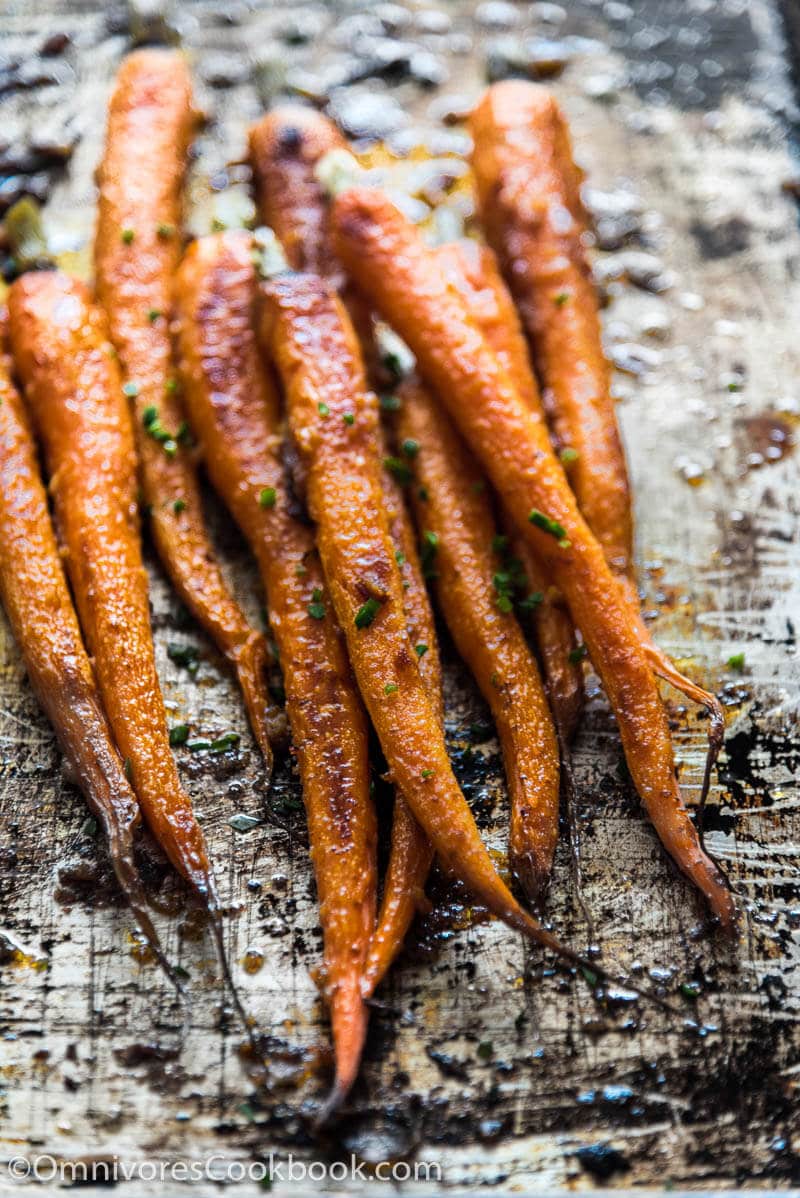 For more easy side dishes, check out Roasted Brussels Sprouts with Plum Sauce, Roasted baby squash, and Blanched Broccoli with Oyster Sauce.
Want to Know More?
Receive our 5-Day Chinese Cooking Crash Course & Recipe Updates! Subscribe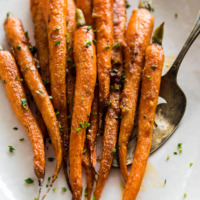 Miso Glazed Carrots
This miso glaze is slightly sweet, buttery, and slightly charred to release its umami, which makes the carrots more irresistible than candy.
Ingredients
1

and 1/2 to 2 pounds (700 to 900 grams)

carrots

, peeled (*Footnote 1)

2

tablespoons

olive oil

1/4

teaspoon

fine sea salt

1 tablespoon chopped chive for garnish

(Optional)
Glaze
1

tablespoon

olive oil

3

cloves

garlic

, minced

2

tablespoons

white miso paste

(*footnote 2)

1

tablespoon

maple syrup

1/2

teaspoon

cayenne pepper

(or paprika for less spiciness)
Instructions
Preheat oven to 175 degrees C (350 F). Line a baking sheet with aluminum foil for easy clean up, if needed.

Dry carrots thoroughly and place onto the baking tray, drizzle with olive oil, sprinkle with salt. Toss with a pair of tongs to evenly coat carrots with oil.

Bake for 20 to 30 minutes, until the carrots just start to turn tender but are still chewy inside. (*Footnote 3)

Mix all the ingredients for the glaze while roasting.

Brush the miso sauce onto both sides of the carrots. You might have a bit of leftover sauce depending on how many carrots you used.

Return the baking sheet to the oven and roast for a further 20 to 30 minutes, until the carrots turns tender while piercing with a fork, and the surface is lightly caramelized.

Serve warm as a side.
Notes
I used large carrots and it took me 55 minutes in total to roast. If you're using smaller carrots, especially new carrots, you might halve the time.
White miso generates the best result, but red and mixed miso work too.
If you're using much smaller carrots and found out they have turned quite tender before applying miso glaze, you can turn up oven temperature to 400 F to caramelize the glaze without overcooking the carrots.
Nutrition
Serving:
196
g
,
Calories:
161
kcal
,
Carbohydrates:
22.9
g
,
Protein:
2.3
g
,
Fat:
7.4
g
,
Saturated Fat:
1.1
g
,
Sodium:
420
mg
,
Potassium:
594
mg
,
Fiber:
4.7
g
,
Sugar:
12
g
,
Vitamin A:
29350
IU
,
Vitamin C:
14.9
mg
,
Calcium:
70
mg
,
Iron:
0.7
mg