A paleo-friendly one-bowl feast that is perfect for your weekday dinner. It is quick to cook, can be prepared ahead of time, and is balanced in nutrition.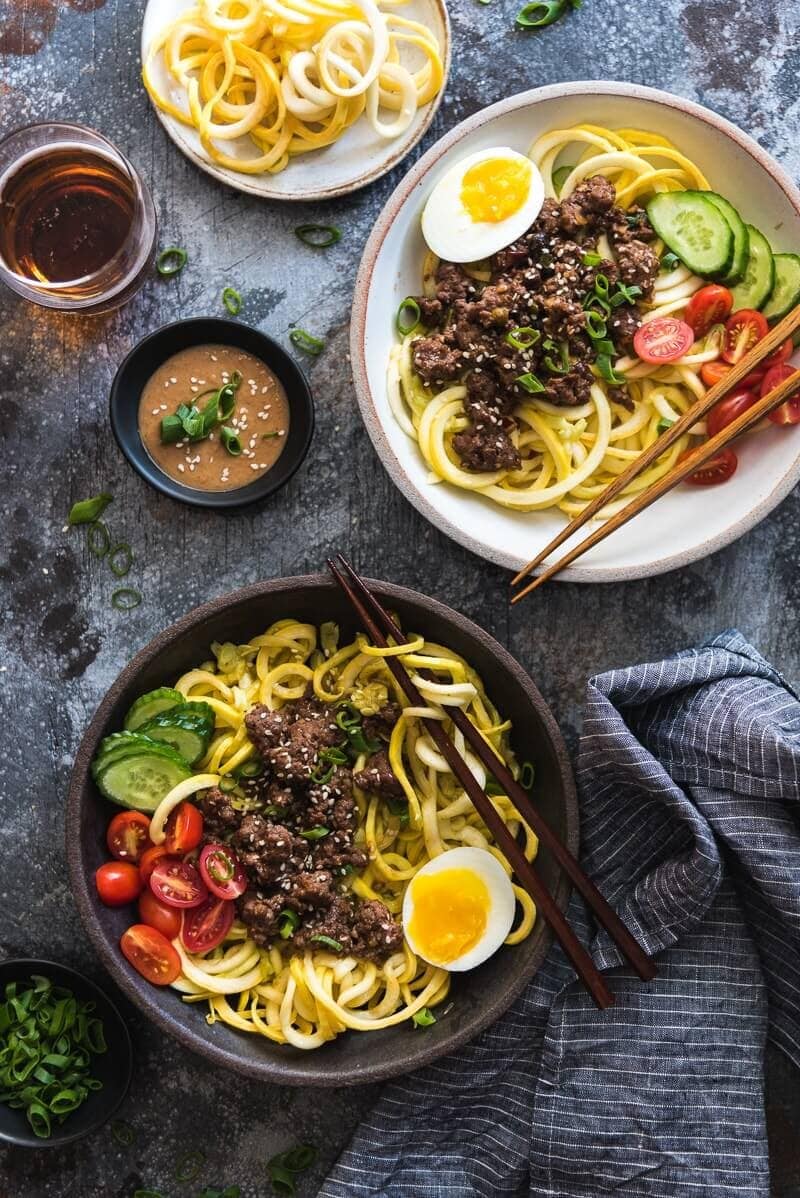 As a food blogger, I face different daily challenges when it comes to dinner.
"What should I cook for dinner?" of course is the question that I ask myself almost daily.
A few days back my husband tossed me a new request that almost gave me a small panic attack.
"We need to talk."
My heart skipped a beat immediately.
"I've put on a few pounds lately and my clothes aren't fitting as well. We need to stop eating carbs all the time." He told me the other day. The conversation might have gone a bit like this.
Phew! That wasn't as bad as I imagined!
On second thought, that is indeed a problem. Because it meant if we were going to eat the same things, I had to cross off rice, noodles, dumplings, and congee from the dinner menu.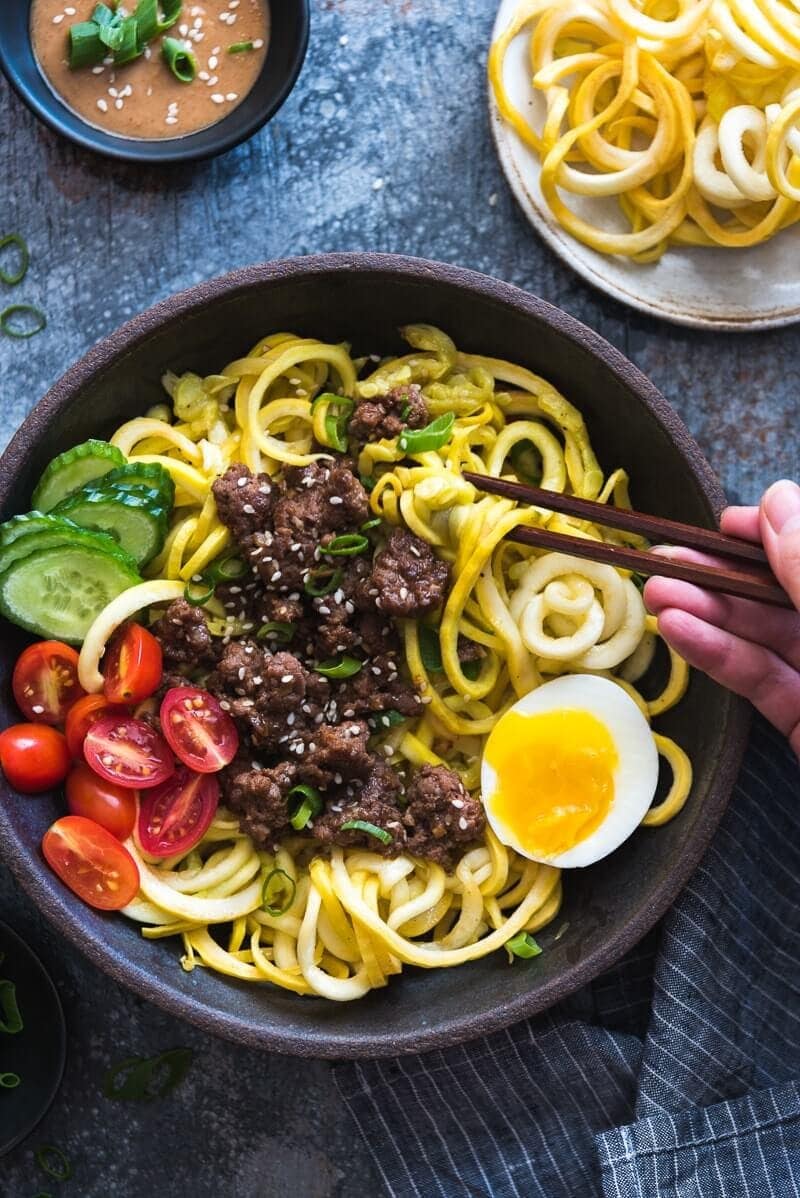 Well, there goes almost every Chinese food, ever! Now what?
Then the spiralizer came to the rescue. Turns out, that small gadget went viral for a good reason.
I've never been a person who's on top of trends. In fact, I'm the opposite. I always tend to resist trendy things. When zoodle recipes were popping up on eighty percent of food blogs, I laughed at the idea. Why on earth would you use zoodles when you can simply use pre-made wheat noodles and get a better tasting dish?
Now this question started to laugh back at me.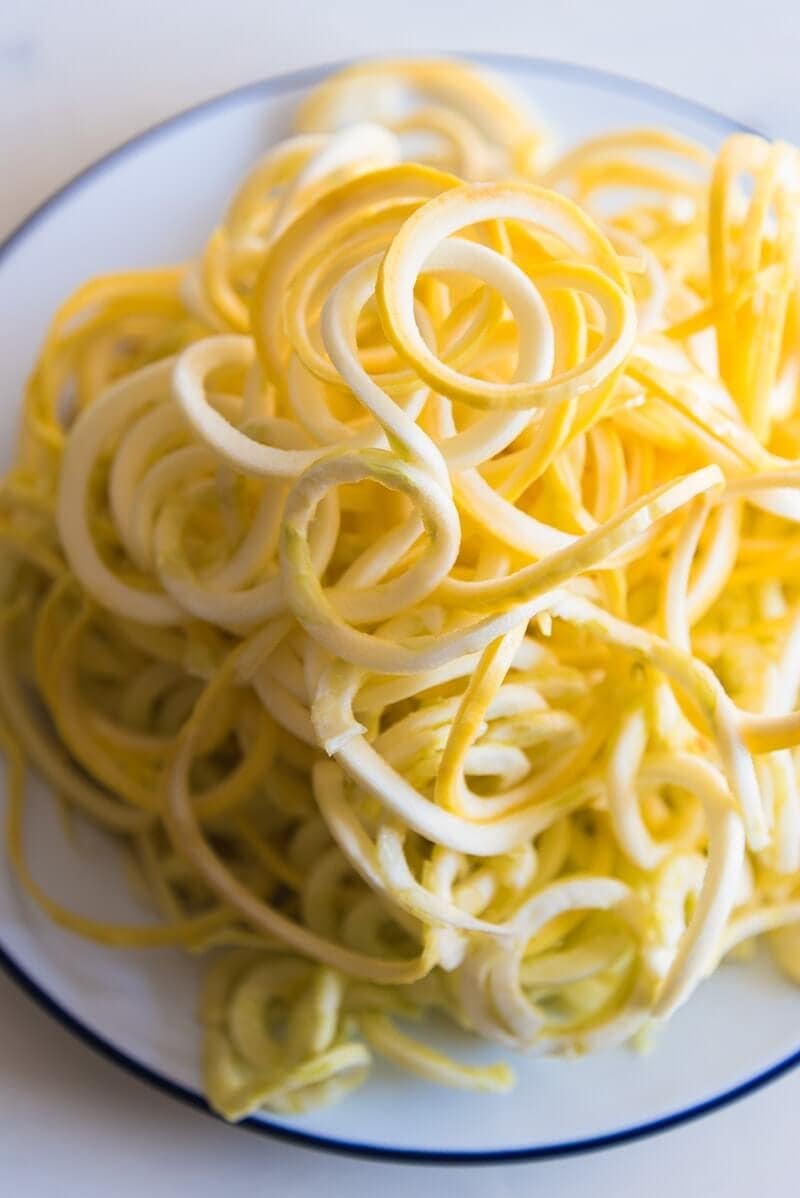 I discovered that when you cut zucchini into a different shape, say, a noodle-like shape, it does taste better. Plus, it almost feels like you're eating "real" noodles without eating carbs. What magic!
My dinner problem solved itself quickly after finding the carb replacement. Here is it, the classic sesame beef noodle bowl with peanut sauce, using summer squash noodles. Way less calories, more vitamins and fiber, and it tastes as good as the original version.
The whole dish takes about 40 minutes to prep and cook if you start from scratch.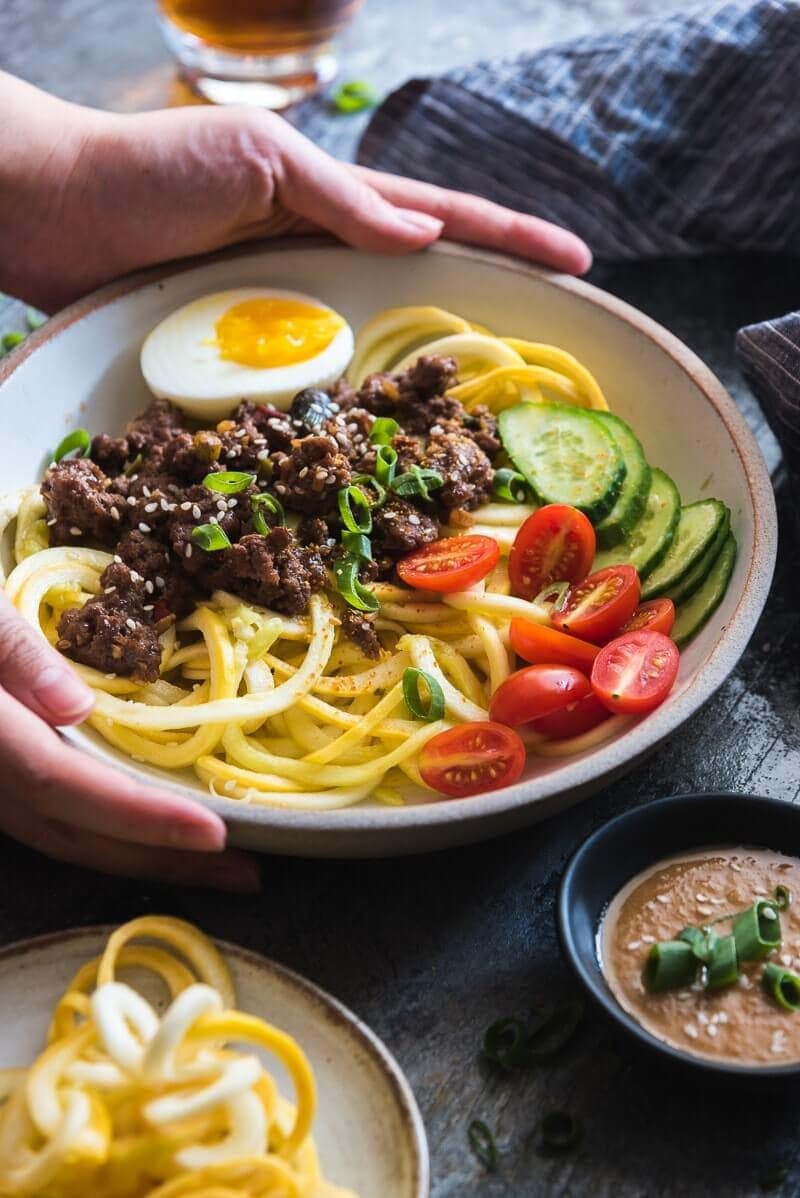 I used ground beef here, so you won't have to cut any meat. If you don't separate the beef into tiny bits while cooking, it will end up with small chunks of tender and flavorful beef.
The best part is that you can cook everything ahead of time. The beef will stay good in the fridge for 2 to 3 days, and taste good hot, warm, or at room temperature. The sauce lasts almost a week in the fridge. It goes great with almost anything, including salad, blanched beans, and leftover chicken. The noodles are the only thing I suggest you make fresh. It takes just a few minutes to cook. But it will stay in good shape for up to a day in the fridge, if you plan to cook ahead. You can use zucchini as a replacement for summer squash, too.
To serve the bowl, you can add any other toppings, as you prefer. Just peek into your fridge and see what veggies you have on hand. Onions, lettuce, mustard greens, carrots, sliced cabbage, avocado, and pickled vegetables. They all work well in this dish.
I hope you enjoy!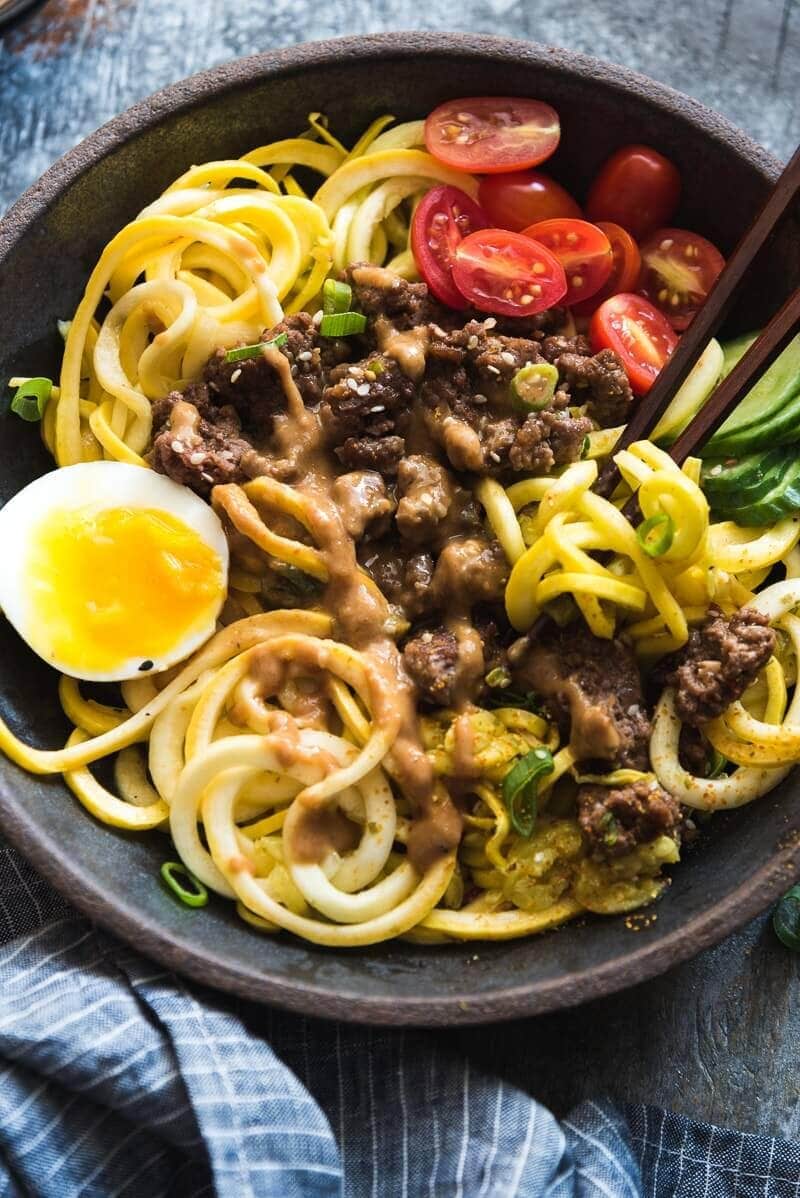 If you give this recipe a try, let us know! Leave a comment, rate it (once you've tried it), and take a picture and tag it #omnivorescookbook on Instagram! I'd love to see what you come up with. Cheers, friends!
Want to Know More?
Receive our 5-Day Chinese Cooking Crash Course & Recipe Updates! Subscribe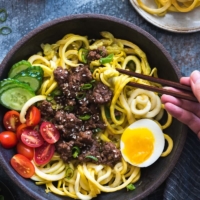 Sesame Beef Squash Noodle Bowl
A paleo-friendly one-bowl feast that is perfect for your weekday dinner. It is quick to cook, can be prepared ahead of time, and is balanced in nutrition.
Ingredients
Sesame beef
1

pound (450 grams)

ground beef

1

tablespoon

potato starch

(or cornstarch)

1/4

teaspoon

salt

2

tablespoons

soy sauce

2

tablespoons

Shaoxing wine

2

tablespoons

sugar

2

teaspoons

doubanjiang

spicy fermented bean paste

1

tablespoon

peanut oil

(or vegetable oil)

3

cloves

garlic

, minced

1

teaspoon

ginger

, minced

4

green onions

, chopped (save green parts for garnish later)

2

tablespoons

sesame seeds
Peanut sauce
1/4

cup

natural peanut butter

1

tablespoon

soy sauce

1

tablespoon

Chinkiang vinegar

1

tablespoon

honey

Homemade chili oil to taste

(Optional)
Bowl
6

summer squash

, sliced into strips with spiralizer or julienne peeler

Toppings Sliced tomato, cucumber, or other vegetables

4 poached eggs (or fried, or soft boiled)

(Optional)
Instructions
Combine ground beef, potato starch, and pinch of salt in a bowl. Mix well and let marinate for 10 minutes.

Combine soy sauce, Shaoxing wine, sugar, and doubanjiang in a small bowl. Mix well.

Combine all the ingredients and 1/4 cup water for the peanut sauce in a bowl. Stir to mix well until it forms a smooth sauce. Set aside.

Heat oil in a large skillet (or a wok) over medium high heat until hot. Add garlic, ginger, and green onion. Stir a few times until fragrant.

Add Beef. Cook and chop with spatula, to separate the ground beef into small chunks. When the surface turns white, add the soy sauce mixture. Stir and cook until the beef is just cooked through. Add sesame seeds and stir a few times to mix well. Transfer everything to a plate.

Your skillet should have a thin later of oil. If not, add a teaspoon oil. Add half of the squash noodles and a pinch of salt. Cook and stir until it turns soft, or desired doneness. Transfer to a plate. Cook the rest squash by the same method.

To serve, place some summer squash noodles and sliced carrot into each serving bowl. Top with ground beef, sliced vegetables, and egg (if using). Garnish with green onion.

Serve warm or cold with peanut sauce.
Nutrition
Serving:
512
g
,
Calories:
533
kcal
,
Carbohydrates:
28.2
g
,
Protein:
49.5
g
,
Fat:
25.8
g
,
Saturated Fat:
6.6
g
,
Cholesterol:
265
mg
,
Sodium:
891
mg
,
Potassium:
1194
mg
,
Fiber:
4.7
g
,
Sugar:
18.2
g
,
Vitamin A:
850
IU
,
Vitamin C:
61.1
mg
,
Calcium:
140
mg
,
Iron:
26.5
mg