Tired of reheating your leftover chicken in the microwave and having the same flavor over and over again? Try the cool dishes below to turn boring, dried out chicken into a fast and hearty meal!
#1 Pan roast leftover chicken: tastes almost like fried chicken from KFC
This is one of my favorite ways to use up a lot of leftover roast or poached chicken. I learned it while living in Japan and have been using it ever since.
Recipe:
Cut / tear chicken into small pieces. The smaller the pieces, the crispier and more flavorful they'll taste after cooking.
Coat chicken generously with flour. Season with salt and pepper.
Heat a nonstick skillet with 1 to 2 spoonfuls of oil, depending on the amount of chicken. Spread chicken in the skillet without overlapping. When the bottom side turns golden brown, turn to the other side to cook until crispy. If the chicken pieces are too small, you can use a spatula to stir and flip them occasionally throughout cooking.
(Optional) Make Buffalo hot sauce, combine 4 tablespoons unsalted melted butter, 1/2 cup Frank's Original Red Hot Sauce, 1 tablespoon sugar, and 1/4 teaspoon salt in a small bowl. Mix well.
Serve warm with the hot dipping sauce.
I enjoy eating the chicken with or without sauce. Seriously, it tastes as great as fried chicken!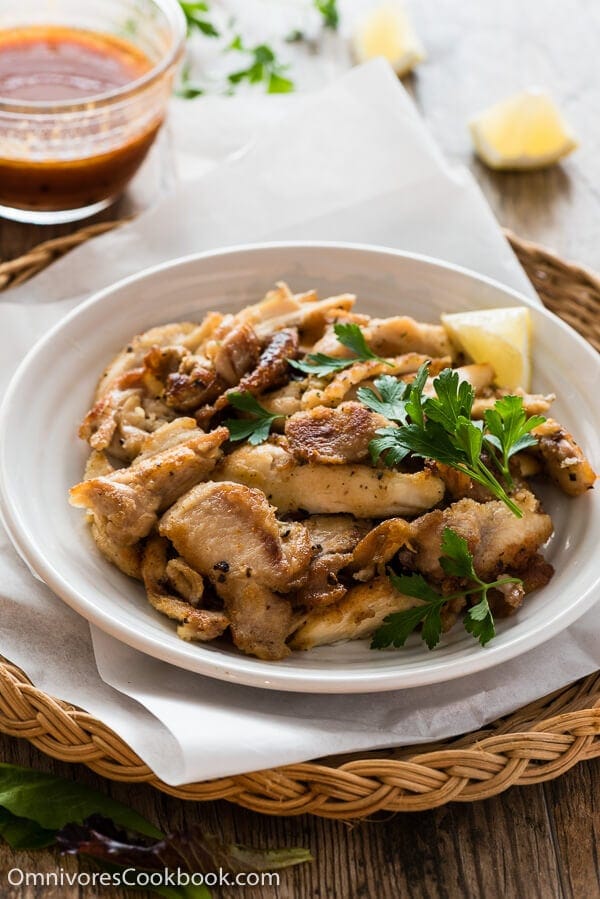 #2 Use leftover braised chicken or chicken stew to make easy chicken chow mein or chicken noodle soup
OK, I actually used braised pork in that noodle soup recipe, but you get the idea. The thick sauce from braised chicken or chicken stew adds great flavor to a noodle dish – like chicken stock, but better. Adding chopped or frozen veggies, you can fix a comforting, delicious, and healthy one-dish meal in 15 minutes.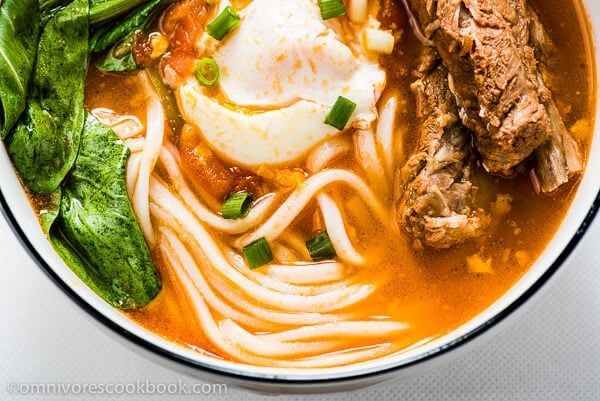 #3 Use leftover grilled or poached chicken to cook a savory pancake
This works best when you have small quantity of leftover chicken. You don't need to add too much of it to enhance the flavor and texture of a pancake. On the other hand, if you add too much chicken, the pancake batter won't hold together very well.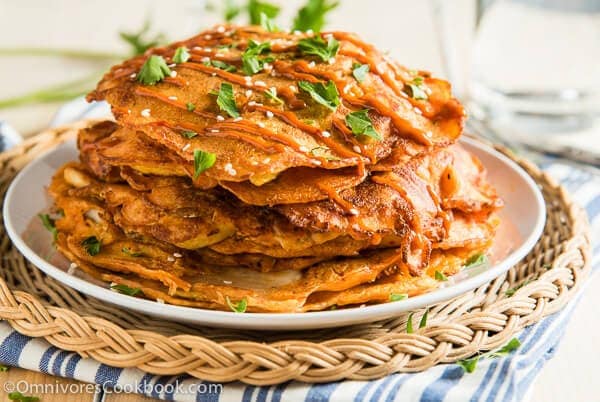 #4 Use leftover chicken bones to make chicken stock.
This is a recipe from my sister-in-law and I like it a lot.
Save the bones from all the poultry you eat (wings, thighs, turkey legs, rotisserie chicken from the grocery store, everything) in a gallon-sized bag in the freezer, letting them accumulate until the bag is full.
Thaw the bones. Drizzle with oil, toss, and roast, covered, in dutch oven at 400 for an hour. Stir them up about halfway through.
Take them out of the oven, add water to cover, add a halved onion, several cloves of garlic and a halved carrot (or you can use the Asian approach and add a few slices ginger and 2 to 3 whole green onions).
Simmer until reduced by half.
Strain all the bones and veggies out, and after that, reduce to about 3 cups of liquid. You can use it immediately or store it in the fridge (or freezer).
The stock will be so rich that it became a beautiful gel in the fridge. It tastes even better than the ones made from a whole chicken.
You might think it would take you forever to collect a gallon of chicken bones, but if you enjoy bone-in and whole chicken (like me), it takes less time than you'd expect. For me, it takes less than a month, sometimes as little as two weeks.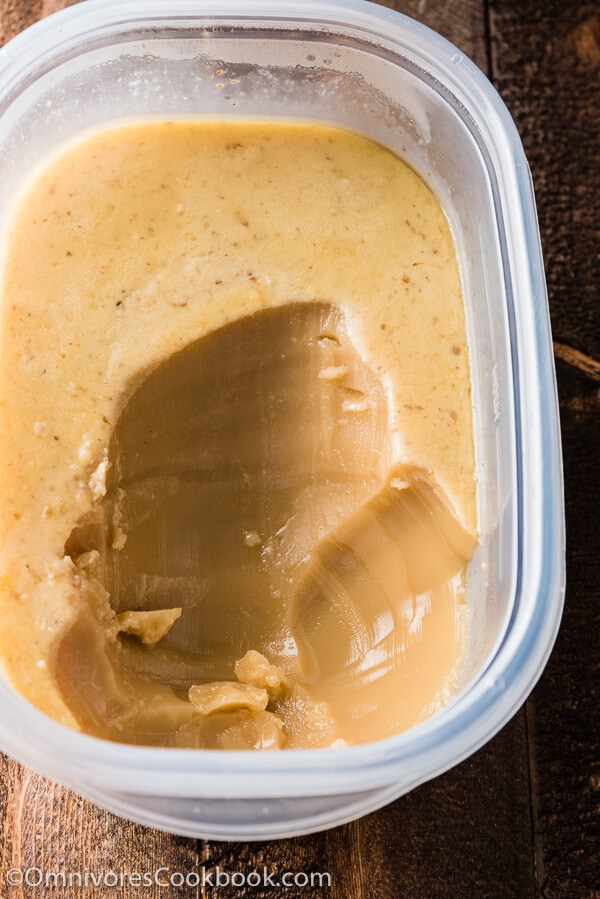 #5 Use leftover roasted chicken to cook fried rice. It will save you tons of time and your rice will taste so GOOD!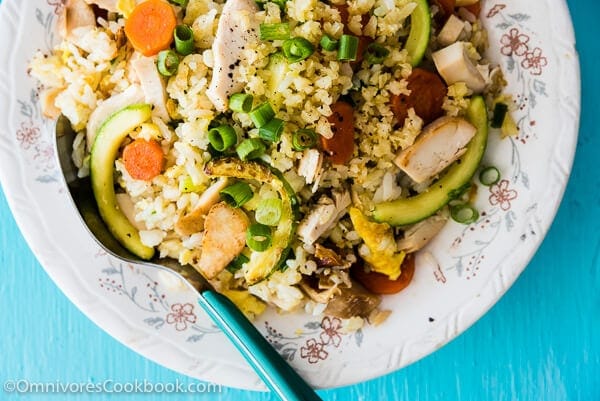 #6 Use leftover poached chicken to make a Chinese cold appetizer
If you love Szechuan food, try using the less flavorful leftover parts to make red oil chicken or bang bang chicken (not as spicy). These Sichuan cold dishes use a super pungent sauce to make poached chicken very flavorful. If you're using leftover chicken breast, tear it into thin strips instead of cutting it. It'll absorb flavor better this way. Make your chili oil at home for the most authentic and fresh taste!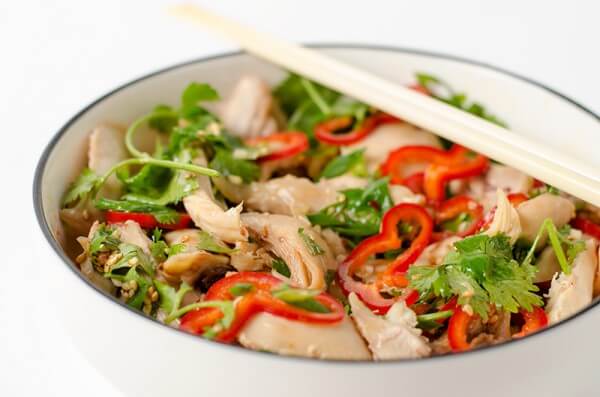 #7 Use the chicken to make crispy egg rolls.
Well, simply using leftover chicken won't make this recipe all that easy. But the truth is, you can use leftover veggies too, such as cabbage, carrot, potato, and green peas. These make great egg roll fillings. Don't want the hassle of frying them in tons of oil? No problem! Try out this baked version to save a bit of time without sacrificing any tastiness!
#8 Shred the leftover chicken and make pulled chicken nachos. These are no normal nachos – they're wonton nachos! This method works best with more flavorful chicken, such as grilled, roasted, and braised.
#9 Make chicken potato salad.
Leftover chicken breast works great in this recipe. It's a Russian dish I ate often while growing up and one of the most comforting to me. Lately I have been adding a handful of chopped salami into this salad to make it even more scrumptious. You save yourself the time and trouble of making crispy bacon and still get this wonderful potato salad.
#10 Serve leftover chicken in a sandwich, wrap, or quesadilla
Well this one may sound a bit obvious, but seriously, it always works. You can use grilled or roasted chicken to make this Taco bell copycat cheesy quesadilla, or this fusion kimchi chicken quesadilla. Or make grilled cheese, chicken sandwich, or burritos. The list goes on!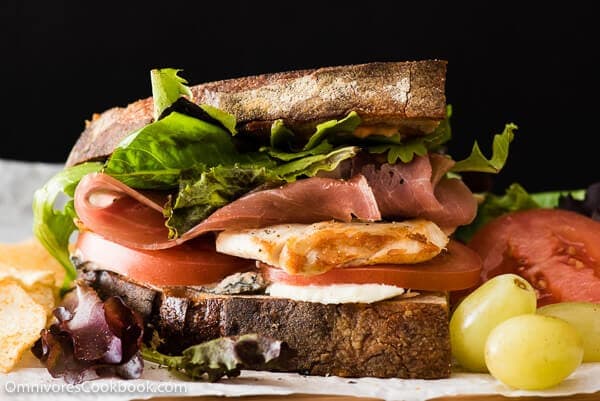 Do you like my blog? Sign up for Omnivore's Cookbook's weekly newsletter to get the latest updates delivered to your inbox and a free e-cookbook! And stay connected via Facebook, Instagram, Pinterest and Google+. Thanks for reading and happy cooking!