Chinese spicy fermented bean paste (豆瓣酱, dòu bàn jiàng) is also known as doubanjiang, broad bean paste or chili bean sauce. It is thick and dark reddish-brown in color. And it has a strong fermented savory, salty and spicy taste. It might look and sound a little unwelcoming, but its pungency and versatility have made this ingredient a mainstay of classic dishes such as Mapo Tofu and Twice-Cooked Pork. This stuff adds a complexity of flavor to dinner centerpieces like nothing you've tried before!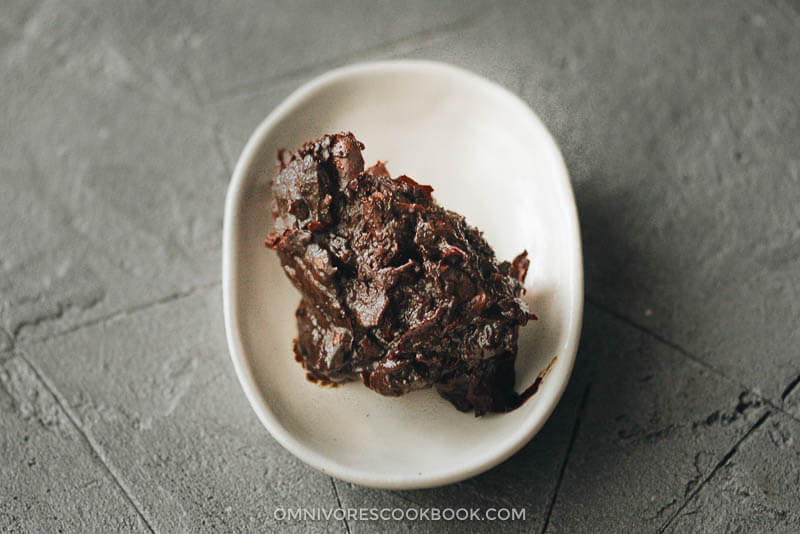 Understand
Doubanjiang is a very salty condiment made predominantly from fermented broad (fava) beans. Its savoriness is complemented by spices such as salt, chili and sesame oil. Named the 'soul of Sichuan cuisine', this bean paste belongs to the extensive family of fermented brown sauces and is rich in protein. Aged for as little as a year to up to 8 years, it always has a deep umami flavor like soy sauce but with an even stronger, fermented fragrance. On a recent Chengdu street food adventure with Jordan from Chengdu Food Tours, I learnt just how essential this ingredient is in so many typical southwestern Chinese dishes.
Use
Although spicy fermented bean paste is a well-known condiment in Sichuan food, it is actually widely used in various Chinese regional cuisines, including those of Hebei, Shandong, Anhui, Chongqing, and Shanxi. However, the oldest and most authentic recipe comes from Pixian, a district in Sichuan province famous for producing broad bean paste of the highest quality. The Mala Market sources this 3-year aged dòu bàn jiàng from Pixian for a pure concentration of spicy, salty, natural umami.
Given its sharp flavor, one of the most common ways to use spicy fermented bean paste is to add it to various types of Chinese dishes, such as salads, stews, soups, marinades, and stir-fries for an extra punch. Classic Sichuan and Chongqing hotpots will also use this bean paste in large quantities. In its cooked form, it is mainly used for accompanying meals, much like Lao Gan Ma Spicy Fermented Black Bean Sauce. These sauces taste really rich and can be used as a dip for dumplings or as a dressing for cooked food.
As the name suggests, the paste is very spicy and salty, so be mindful of the amount you use when cooking and reduce or eliminate the amount of salt accordingly.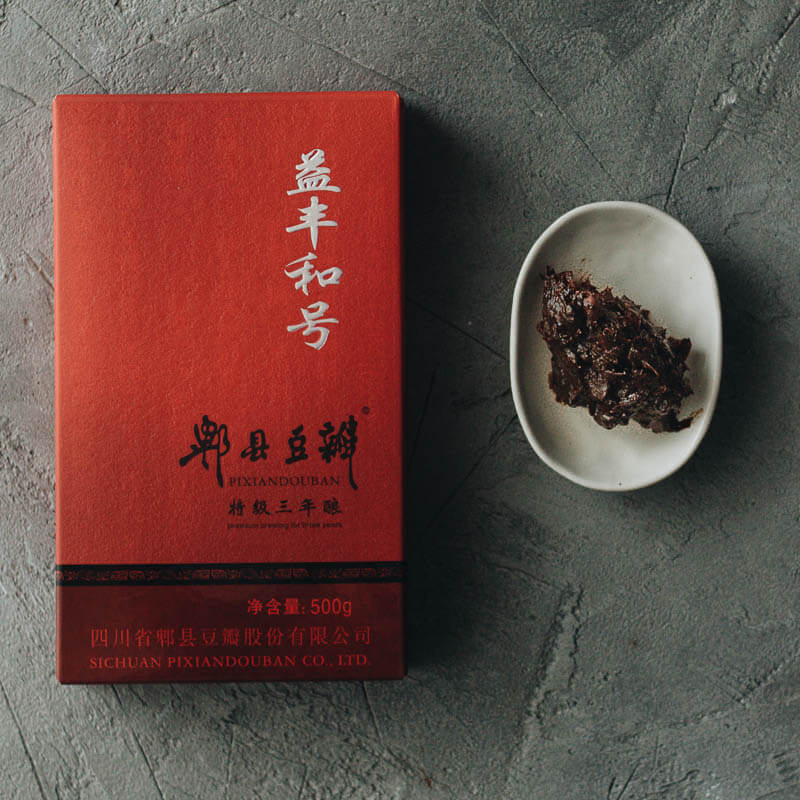 Example recipes
Some of the world-famous Chinese dishes you may have heard of use spicy fermented bean paste as an essential ingredient. It's a great replacement for processed salt and really tingles the palate in a new way. If you're keen to replicate traditional Sichuan food, try it out in the following dishes!
Alternatively, you can also use fermented bean paste in these other Chinese dishes for an added spicy note:

Buy
You can find spicy fermented bean paste at your local Chinatown or Asian market. Try to find the authentic brand – Pi Xian Dòu bàn jiàng (or Pixian Broad Bean Paste). It's honestly the best approach for cooking quality Sichuanese or other Chinese dishes.
If you live some way from an Asian store or don't have enough time to visit one, you can find various types of spicy fermented beans including Pixian Broad Bean Paste on Amazon and other online stores. I'd highly recommend purchasing the 3-year Fermented Doubanjiang or the 1-year Fermented Doubanjiang from the Mala Market. Because their products are directly imported from Sichuan and much fresher than the Asian market product.
Note
Be aware that there are many Asian condiments that go by the name "fermented bean paste", including Japanese miso and Korean gochujang. There are also several Chinese condiments that are always referred to as fermented bean paste, for example, dòu chǐ jiàng (black bean paste) and huáng jiàng (yellow soybean paste). They have very distinct flavors and shouldn't be used as alternatives. Try to jot down the ingredient's original name in Chinese before shopping, so you can be sure to pick the right type.
Store
Once opened, the spicy fermented bean paste can be stored in an airtight container or jar in the fridge for up to 3 months.
Happy cooking!