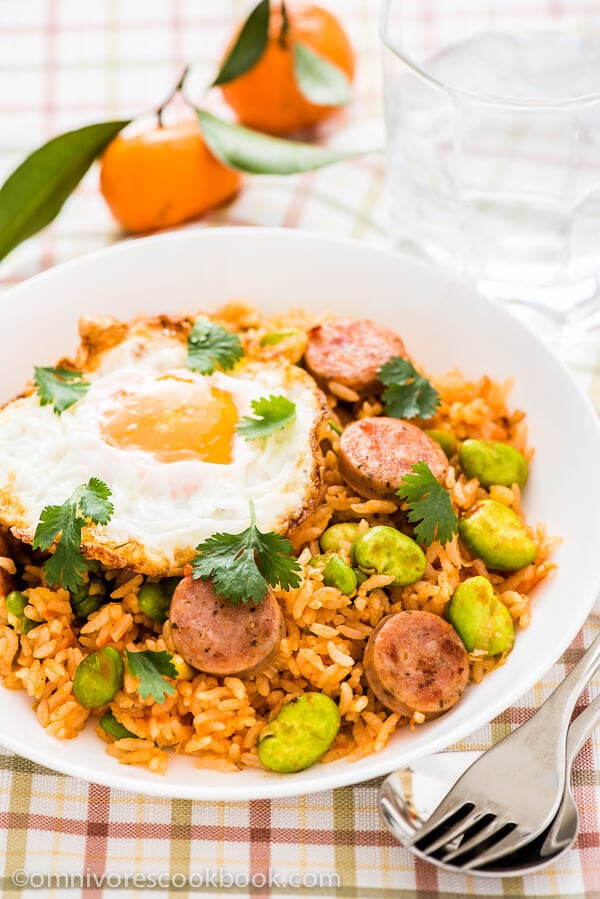 Tomato fried rice with sausage has a rich tomato base that is slightly sweet and goes great with the sausage and rice. The first thing to do – slice the sunny egg so the yolk mingles with the appetizing sweet-sour rice. A taste of happiness!
Have you ever served fried rice for breakfast or brunch? If you think it's a bit strange to serve rice for breakfast, I'd like to introduce this dish to you.
This fried rice recipe contains almost every breakfast item I love – a sunny-side-up egg, sausage, tomato, and beans! By the way, if you're feeling fancy, you can add a slice of cheese to the just out-of-the-wok rice, and then place the egg on top of the cheese. The cheese will melt into the rice and make the dish even more heavenly!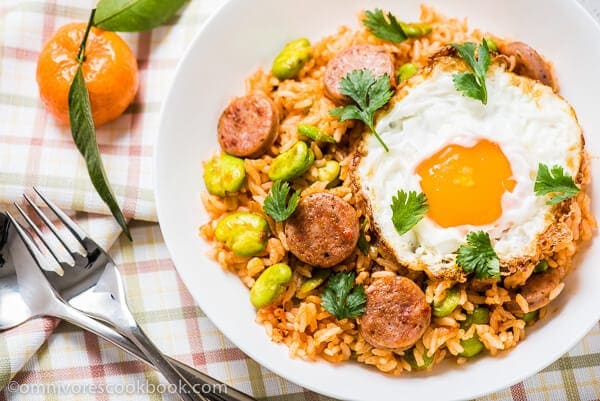 If you've never tried fried rice with tomato before, give this one a shot and you'll immediately add this dish to your breakfast, lunch, and dinner repertoire. Rice is one of the most important ingredients in Chinese cooking, and people eat it at any time of the day. Fried rice is one of the most convenient ways to cook a one-dish meal. Not only can you use the leftovers from your fridge, but you can also add carbs, veggies, protein, and plenty of flavor to a meal in under 30 minutes. Isn't it perfect?
Chinese restaurants will normally use ketchup to cook this one, but I wanted to make it a bit healthier and richer in taste. So I used tomato to make a thick paste, like for a tomato pizza sauce, and then I added a bit of ketchup and sugar to further enhance the flavor. I normally use tomato paste at this step, but I just run out of it that day and used ketchup instead.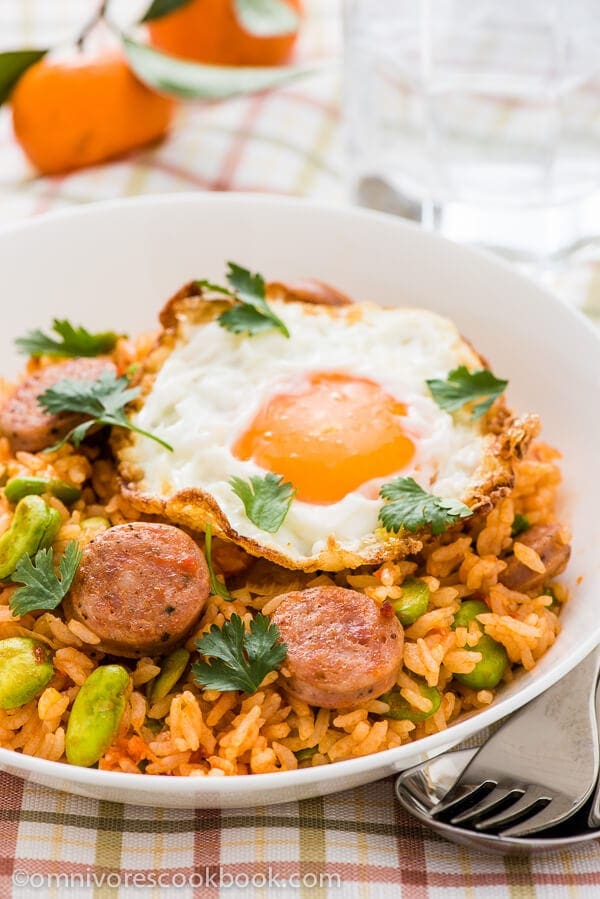 A few quick tips
The key to this recipe is to cook the sauce long enough, so the water will be mostly evaporated. Otherwise the fried rice will turn to a soggy mush.
The skin of the tomato is removed to achieve a better mouthfeel, but you can skip this step to save time.
I added a handful of fresh broad beans to add color and nutrition, but do feel free to replace it with peas, cubed cucumber, or corn, or even eliminate if you don't have any of these in your kitchen.
You can replace the sausage with leftover roast chicken or beef. Instead of cooking the sausage and beans separately, you can skip step 2, quickly blanch the beans, then add the meat and beans after adding the rice.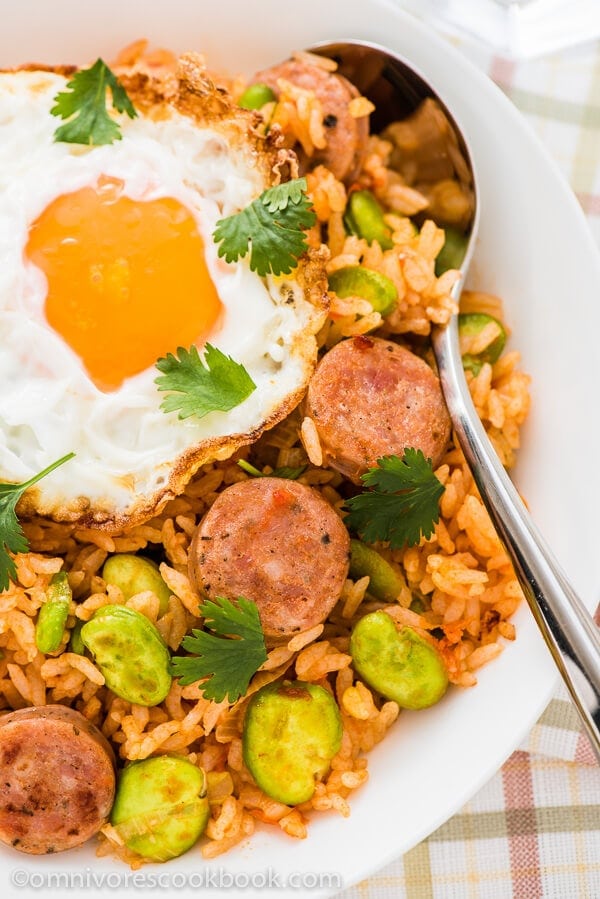 Want to Know More?
Receive our 5-Day Chinese Cooking Crash Course & Recipe Updates! Subscribe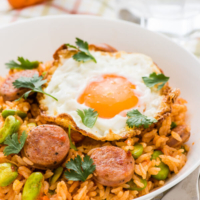 Tomato Fried Rice with Sausage
Ingredients
1

medium-sized tomato

1

tablespoon

vegetable oil

1/2

cup

chopped sausage

1/2

cup

fresh broad beans

or peas

3

tablespoons

scallion

or green onion

2

tablespoons

ketchup

or tomato paste

1

teaspoon

sugar or to taste

2

cups

cooked rice

3/4

teaspoon

salt or to taste

optional 2 eggs
Instructions
Use a knife to gently score a cross pattern into the bottom of the tomato. Bring a small pot of water to a boil and add the tomato. When the skin of the tomato starts to roll, immediately transfer it to a cutting board. Let it cool down a bit until can be handled. Peel the skin and discard it. Chop tomato into bite sized pieces.

Heat 1 teaspoon oil in a nonstick skillet over medium high heat until warm. Add sausage and broad beans (or peas). Stir and cook until cooked through, 4 to 5 minutes. Transfer to a plate and set aside.

Add the remaining 2 teaspoons of oil into the same skillet. Add scallion (or green onion) and stir a few times until fragrant. Add tomato. Stir and chop tomato until it becomes a paste. Add ketchup (or tomato paste). Keep stirring and cooking until the water is mostly evaporated and the paste becomes very thick.

Turn to low heat. Add sugar to adjust the seasoning (you will need double or triple the sugar if using tomato paste), until the paste tastes slightly sweet and isn't too sour.

Add the rice and turn back to medium high heat. Chop and stir until the rice is evenly coated with tomato paste. Add back sausage and broad beans and stir to mix well. Turn to medium heat. Sprinkle salt and stir to mix well. Turn to lowest heat and taste the rice (be careful - it's hot). Add more salt and sugar to adjust seasoning, if necessary. Transfer to a serving plate.

(Optional) Cook 2 eggs sunny side up (or to the preferred doneness) and place on top of the rice.

Serve warm as a main or snack.
The nutrition facts are calculated based on 1 of the 2 servings generated from this recipe.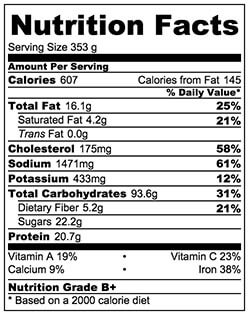 More fried rice recipe you might like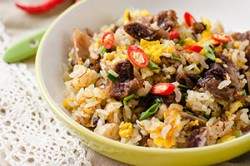 Mongolian Beef Fried Rice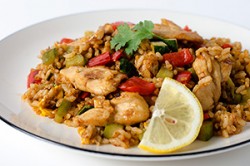 Thai Curry Fried Rice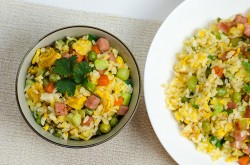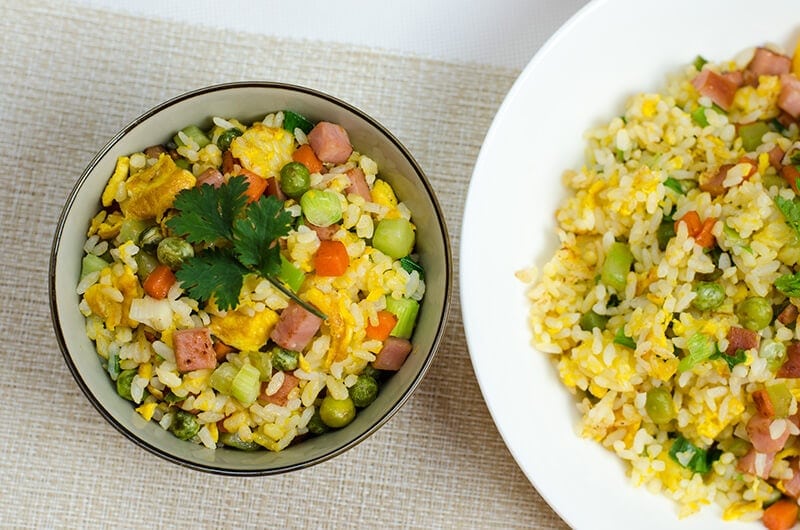 Vegetable Egg and Ham Fried Rice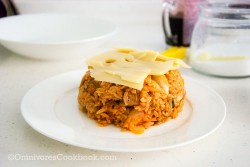 Kimchi Fried Rice