This post is sponsored by the National Peanut Board. I received compensation for this work, but all opinions and content are my own.
This Christmas, make this nutty creamy peanut butter eggnog milk tea to spice up your party! The recipe includes an easy homemade eggnog recipe. But you can use store-bought eggnog to make it a 3-ingredient recipe that takes no time to put together!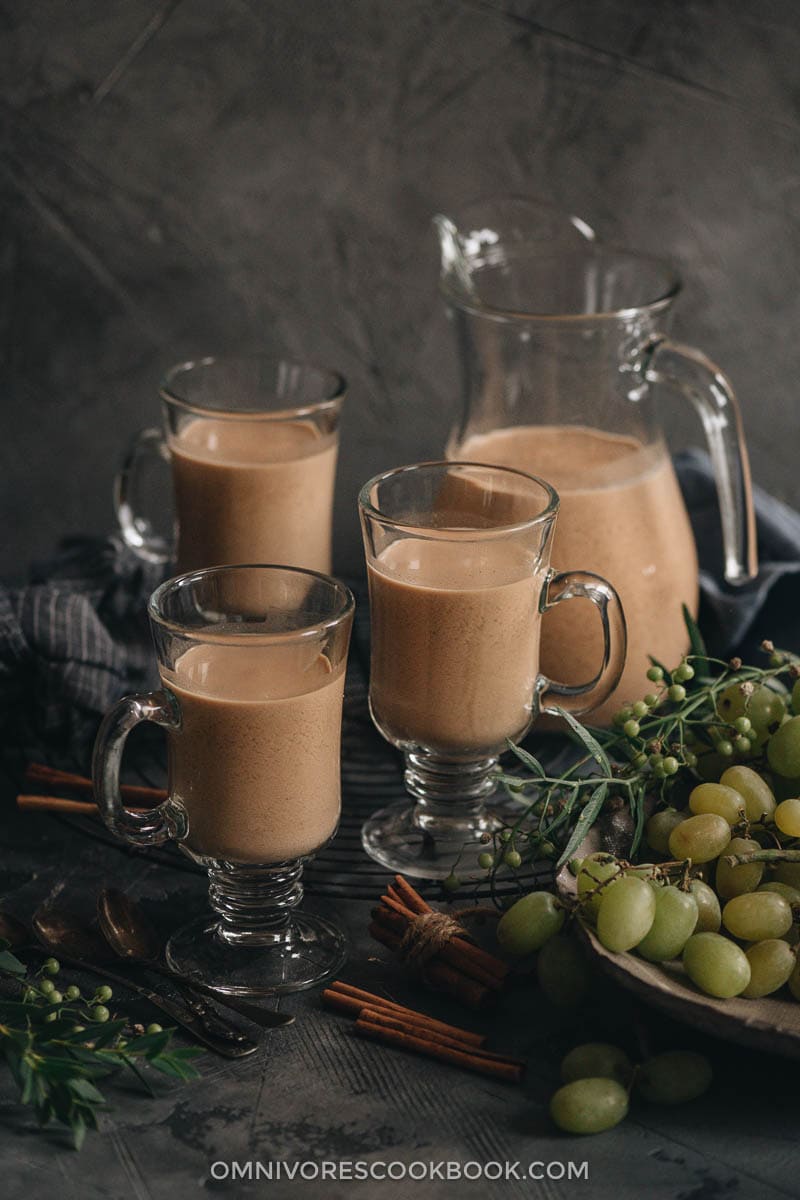 Peanut butter is such a staple in my family. It's one of those things that I always have in the cabinet, like soy sauce. Not only because my husband needs his fix of PB&J very often, but also because we use it as a cooking ingredient. For example, we use it to make savory sauces for sesame noodles and bang bang chicken. We also use it to make braised dishes and soups. For example, African chicken and Thai peanut ramen. The nutty taste of peanut butter balances well with spices, thickens up sauce and adds a heavenly creaminess to your dish.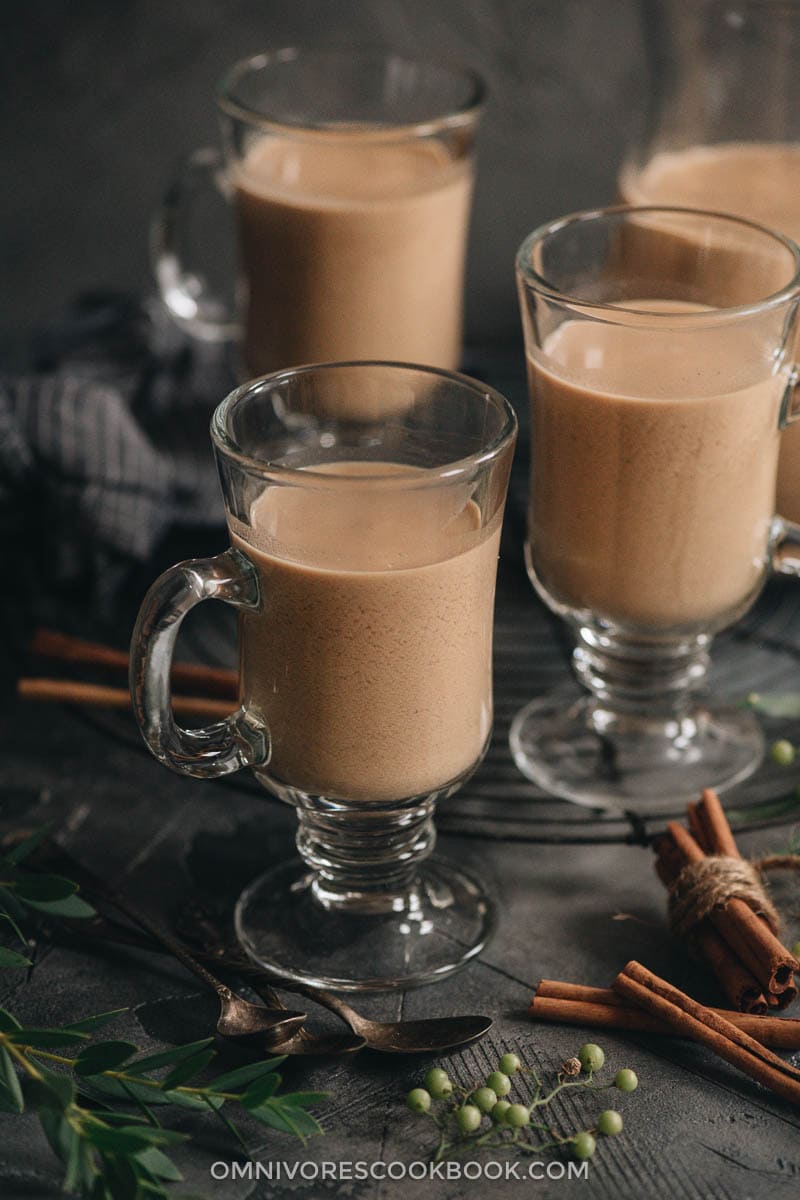 What is peanut butter eggnog milk tea?
Now that the holiday season is upon us, we wanted to use our favorite ingredient to make our holiday drink more creative and interesting.
We all love to add some booze to the traditional Christmas eggnog. But did you know that the spices in eggnog work perfectly with tea and peanut butter as well? All you need to do is brew a very strong black tea, then blend it into the eggnog. Then add a big scoop of unsweetened peanut butter.
The taste of peanut butter eggnog milk tea is somewhere between that of Chai and Asian bubble tea, with a bit of holiday spirit sprinkled on top and a texture that's extra creamy and hearty.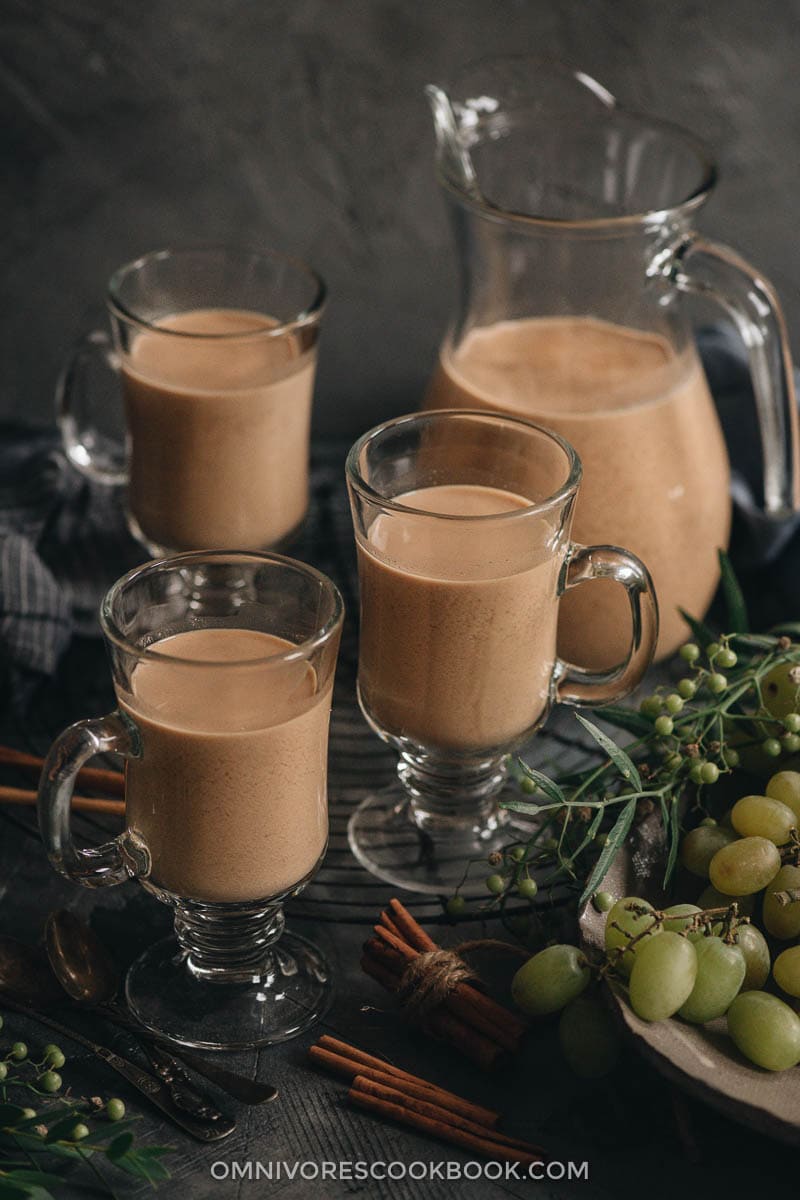 Cooking notes
We made the eggnog from scratch. But you can always use store-bought eggnog to make this drink. In that case, you only need to mix the eggnog with the black tea and peanut butter. It's quite easy to mix everything together with a spatula. You can mix it in a blender, as well.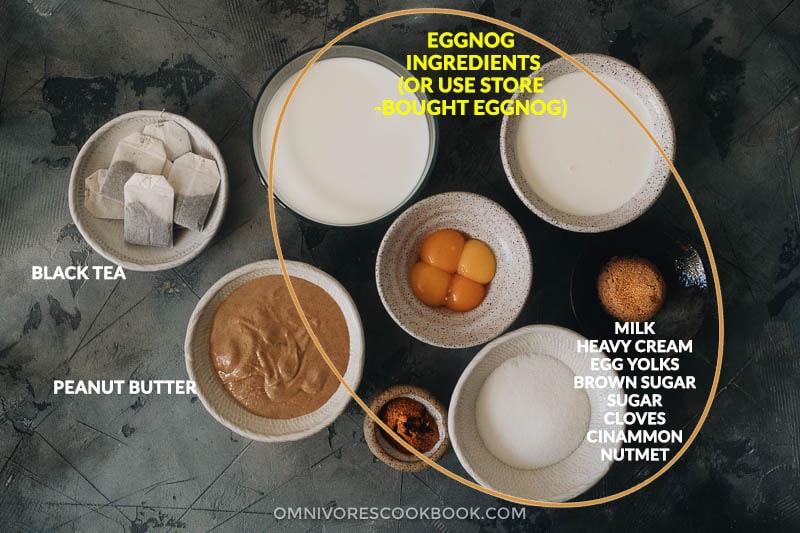 1. Homemade eggnog
Compared to many other eggnog recipes out there, this version uses less egg yolk. So the end result won't be too thick. It also uses a bit of brown sugar to give the drink a bit of caramel taste.
The only tricky part about making eggnog at home is tampering the eggs. You need to heat up the liquid until warm, but not too hot, then whisk it into the egg yolk mixture without cooking the eggs. The best way is to always use a thermometer before adding the liquid,= to make sure it's not too hot.
Sometimes, if you're not whisking the yolk and liquid mixture fast enough, you might see small bits of cooked egg here and there. Don't worry. Your batch is still usable as long as you don't see large lumps. Simply filter out the egg bits (steps included in the recipe) and you're all set.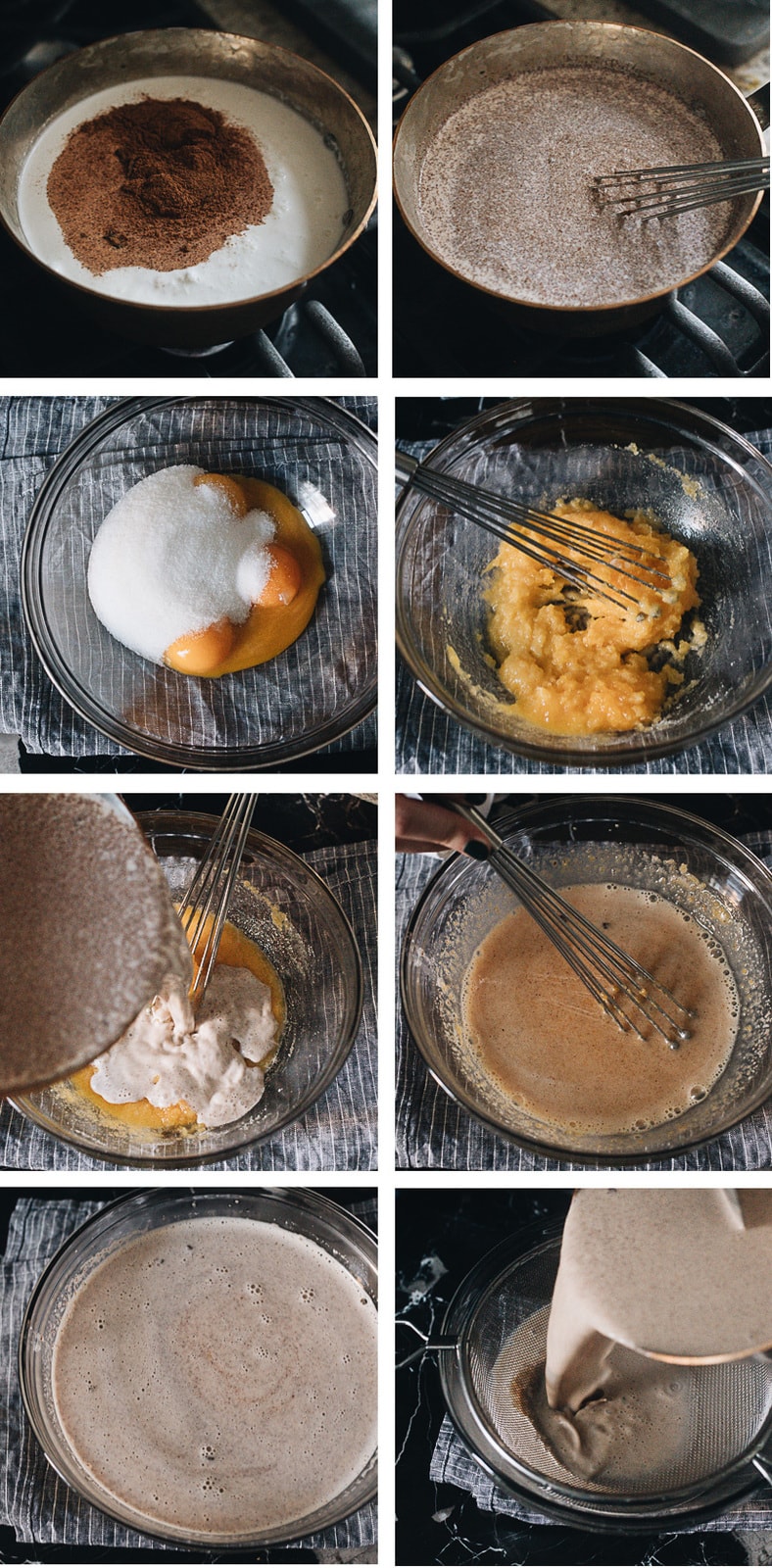 2. Add the peanut butter
Make sure to use unsweetened natural peanut butter in this recipe. I found it's quite easy to mix the peanut butter with the drink using a spatula. But you can also use a blender to make the process even easier.
3. Brew extra strong tea
We used 6 black tea bags and simmered it for a solid 10 minutes. Traditional milk tea usually uses finely ground loose-leaf tea to make the tea extra strong. But we think bagged tea creates the same effect as long as you use enough bags and simmer it on the stove top.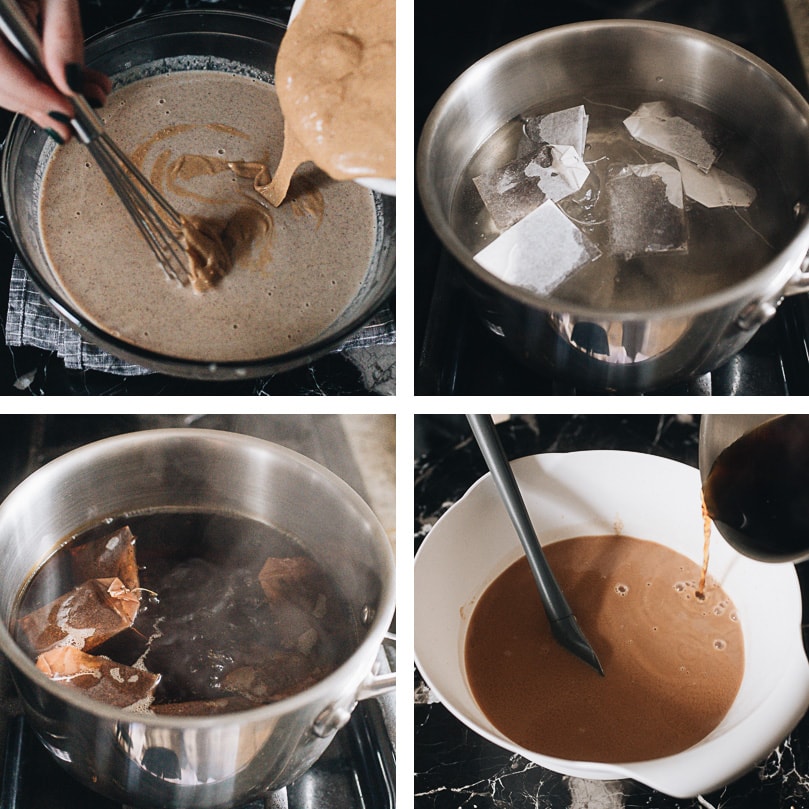 3. How to serve and store
The finished peanut butter eggnog milk tea has a perfect creamy texture. I love serving it hot, but it's perfect served cold with ice as well.
If you want to adjust the taste, you can add more tea or milk to make the drink stronger or milder. The drink is quite sweet to my Asian taste buds. But you can add more syrup if needed.
To store the peanut butter eggnog milk tea, simply keep it in the fridge in a sealed container. It tastes best when freshly made. It will stay fresh for 3 to 4 days in the fridge. But I've kept it in the fridge for a week without any issues.
After storing the drink, be sure to stir it to mix it well before serving.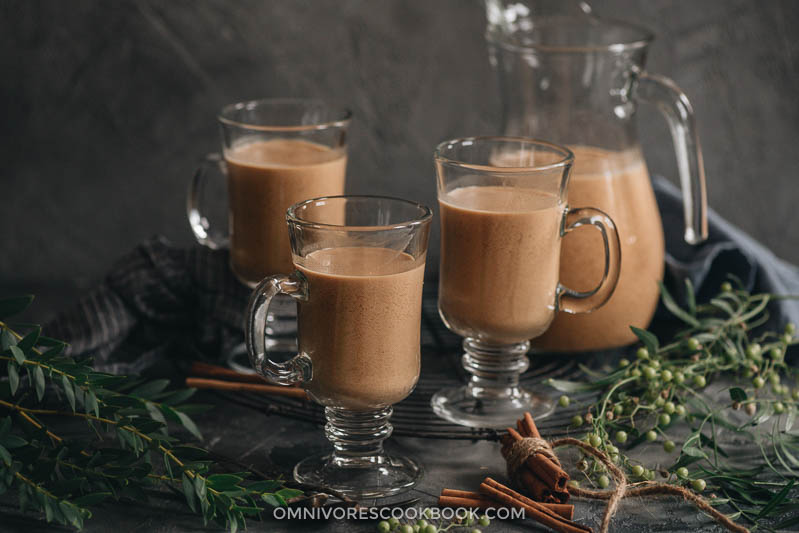 Afterthoughts
There are certain comfort foods in my life that I would never change a thing about. But for holiday dishes, I love to change things up and make a traditional dish more interesting. How about you?
Now it's your turn to spread the peanut butter love! Share your favorite peanut butter recipe in the comments with the hashtag #HowDoYouPB and visit here for additional peanut butter recipes!
More delicious peanut butter recipes
If you make the peanut butter eggnog milk tea, let us know! Leave a comment, rate it (once you've tried it), and take a picture and tag it @omnivorescookbook on Instagram! I'd love to see what you come up with.
Want to Know More?
Receive our 5-Day Chinese Cooking Crash Course & Recipe Updates! Subscribe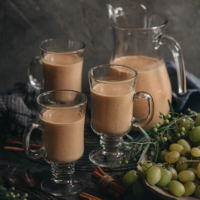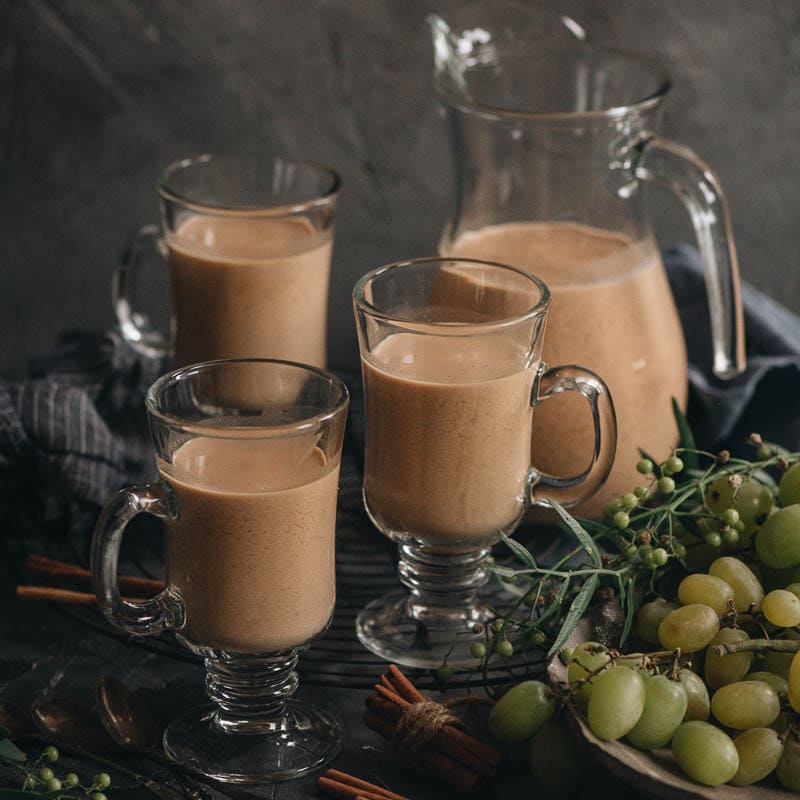 Peanut Butter Eggnog Milk Tea
This Christmas, make this nutty creamy peanut butter eggnog milk tea to spice up your party! The recipe includes an easy homemade eggnog recipe. But you can use store-bought eggnog to make it a 3-ingredient recipe that takes no time to put together!
Ingredients
Eggnog (Or 5 cups store bought Eggnog)
2

cups

milk

1

cup

heavy cream

1/4

cup

brown sugar

8

whole cloves

2

teaspoons

cinnamon powder

2

teaspoons

nutmeg powder

4

large egg yolks

1/2

cup

sugar
Tea
1

cup

unsweetened natural peanut butter

6

bags

black tea

5

cups

water
Instructions
Make eggnog (skip this step if using store-bought eggnog)
Combine milk, heavy cream, brown sugar, cloves, cinnamon powder, and nutmeg powder in a medium saucepan. Heat over medium-high heat and stir frequently until it turns warm, about 120 F/ 49 C (no more than 150 F / 65 C).

Combine the egg yolks and sugar in a large bowl. Stir with a spatula, until the sugar is fully combined.

Slowly drizzle about 1/4 cup of the warm milk mixture into the egg yolk mixture and immediately stir with a whisk, until it forms an even, silky paste. Add more milk mixture, 1/2 cup at a time, and keep mixing until fully combined. After adding liquid 3 to 4 times, you can pour more milk mixture into it and whisk, until it reaches a thin, smooth mixture.

Return all the liquid back to the saucepan. Heat over medium heat until it reaches a low simmer. Remove the pan from the stove.

Line a large bowl with a strainer. Pour the eggnog over the strainer. Discard any solid bits.
Make the milk tea
Heat 5 cups of water in a small saucepan over medium heat until boiling. Turn to medium-low heat.

Clip the paper tags from the tea bags and discard the paper (I do this to prevent the paper from catching fire on the stove). Throw the tea bags into the water. Simmer covered for 10 minutes. Remove the tea bags using a strainer and discard them.

While brewing the tea, add the peanut butter into the eggnog. If using natural peanut butter and it is separated into oil and solids, make sure to stir the peanut butter thoroughly in the jar before measuring it out, for 5 minutes, so you can get a more consistent texture.

Stir until the peanut butter is fully blended into the eggnog.

Once the tea has finished brewing, pour it into the eggnog mixture. Stir to mix well. The drink is ready to serve!

You can serve the drink hot, at room temperature, or cold. It will be very delicious either way.
Storage and serve
Freshly made PB eggnog milk tea has the perfect consistency. You can heat it in the microwave and serve it hot, or add ice cubes to it and serve it cold.

You can keep the drink in an airtight container in the fridge for up to 4 days. The texture will thicken quite a bit after chilling. You can add more black tea and / or milk to dilute it before serving.
Nutrition
Serving:
1
serving
,
Calories:
356
kcal
,
Carbohydrates:
26.9
g
,
Protein:
9.7
g
,
Fat:
25.3
g
,
Saturated Fat:
8.2
g
,
Cholesterol:
130
mg
,
Sodium:
44
mg
,
Potassium:
65
mg
,
Fiber:
2.1
g
,
Sugar:
21.9
g
,
Calcium:
102
mg
,
Iron:
1
mg